October, 12, 2014
Oct 12
2:30
AM ET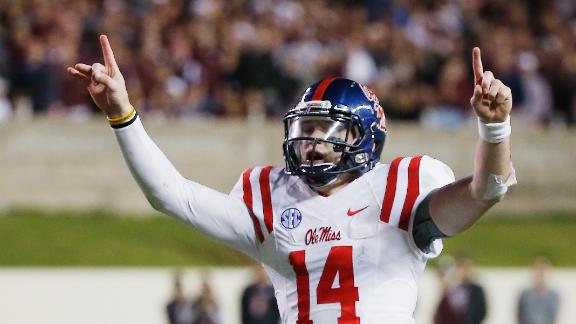 COLLEGE STATION, Texas -- As seconds dripped off the clock,
Bo Wallace
roamed the visiting sideline at Kyle Field to give high-fives and handshakes to his Ole Miss teammates.
Before he began his journey, an Ole Miss fan sitting in the first row near midfield attempted to get the senior quarterback's attention.
"Great game, Bo," the fan yelled. "Proud of you."
Wallace looked up toward the fan. "Appreciate it," he responded. Then three young boys further down the sideline wearing red Rebel jerseys leaned over the rail with hands outstretched, waiting for high-fives to which Wallace obliged. Later, after doing a postgame interview, Wallace was the last Rebel to head to the locker room, and as he jogged toward the southeast tunnel, an entire section of fans draped in red and blue stood and roared for their quarterback.
Hotty Toddy, gosh almighty, the Rebels fans are loving Wallace these days.
Why not? After his performance in No. 3 Ole Miss'
35-20 win
over No. 14 Texas A&M, which followed a stellar performance against Alabama the previous week, Wallace is deserving of the adulation. For all the talk of "Good Bo" and "Bad Bo" that permeated earlier this season, Wallace appears to be putting that talk to bed.
In the last two weeks against two ranked opponents, Wallace excelled. In the Rebels' 23-17 takedown of Alabama, he threw for 251 yards and three touchdowns. Saturday versus the Aggies, his passing numbers were much more modest (13-of-19, 178 yards and a touchdown) but that was partially because of the lead the Rebels had going into the second half and coach Hugh Freeze's desire to not take too many risks in the second half with a lead and his defense playing the way it was and has been all season.
[+] Enlarge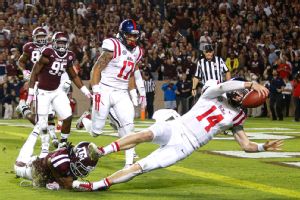 Troy Taormina/USA TODAY SportsBo Wallace passed for 178 yards and a touchdown against Texas A&M. He also ran for two scores and has yet to throw an interception in SEC play.
The key to Wallace's day against the Aggies was the timing of his lone touchdown pass and the work he did on the ground, leading the team with 50 rushing yards and two early touchdown runs that got the Rebels out in front of the Aggies 14-0 in the first quarter.
Wallace was accurate, made good decisions and kept the Aggies' defense off balance for much of the first half. Then when the Aggies were trying to creep back into the game late in the third quarter, Wallace delivered one of the biggest third-down conversions of the night,
doing his best Superman impression by leaping and reaching out for a first down on third-and-8
while met by multiple A&M defenders. The conversion kept a drive alive that he finished with a 33-yard strike to
Quincy Adeboyejo
that extended the Ole Miss lead to 28-7.
"No one's ever doubted his competitive spirit and that shows it," Freeze said. "We needed a first down. Bo is an extremely competitive kid."
The most important number in Wallace's stat line the last two weeks? Zero interceptions. He hasn't thrown a single pick in conference play and if the Rebels are truly a College Football Playoff contender -- which their 6-0 start, lofty ranking and last two wins suggest -- then quality quarterback play from Wallace is a must.
"It's huge," Ole Miss co-offensive coordinator and quarterbacks coach Dan Werner said of Wallace's play. "When you get into a game against a really good football team -- which we're going to see about five more -- it depends on the quarterback making good decisions. You can play great defense, you can run the ball and all that, but if the quarterback makes bad decisions, you're probably going to get beat. So far, he's done good with that."
Much of the attention and credit for Ole Miss undefeated first half of the season has gone to its defense and rightfully so.
The "Landsharks" have been stellar this year and were again on Saturday. The first-string defense allowed only one touchdown in the first five games and shut the Aggies' high-powered offense to basically 14 points (the Aggies' final six came as time expired and the game was out of reach). As a whole, the Rebels have allowed 71 points in six games and seven of those are courtesy of an Alabama fumble return.
The defense is clearly championship-caliber, but it takes more than that to reach the pinnacle. A productive, efficient offense and a capable quarterback are needed also and if the last two weeks are any indication, Wallace is poised to say goodbye to his "Bad Bo" alter-ego.
After the Rebels beat the Crimson Tide, Wallace voiced his annoyance with the whole concept, telling reporters afterward,
"I must be the only quarterback in the country to throw an interception."
If he keeps playing like he has the last two weeks, it'll be gone for good.
"He hasn't thrown an interception in an SEC game," Werner said. "That tells you he's protecting the football, he's making big plays when they're there and we're winning."
August, 29, 2014
Aug 29
1:10
AM ET
ATLANTA -- It was by no means a pretty win, but it was a win nonetheless for No. 18 Ole Miss. In a game that featured eight Ole Miss false starts and seven total interceptions (a record for the Chick-fil-A Kickoff Game), the Rebels trudged their way to a sloppy
35-13 win
over Boise State inside the Georgia Dome. It most be noted that 28 of those Ole Miss points came in the fourth quarter.
Momentum awkwardly traveled back and forth between the teams before Ole Miss sophomore wide receiver
Laquon Treadwell
put the Rebels ahead by eight with a beastly 14-yard touchdown grab with 12:26 remaining in the fourth quarter.
1. Finding that menacing Megaquon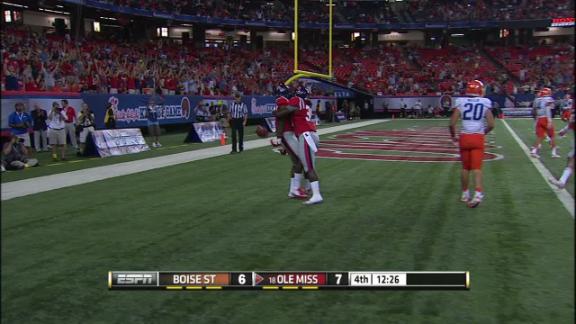 Quarterback
Bo Wallace
, who was having one of his more forgettable performances to this point, saw the obvious mismatch with the 6-foot-2, 229-pound Treadwell facing Boise State cornerback
Cleshawn Page
(5-9, 178) to his left. Without hesitation, Wallace looked to his left and zipped a pass to where only a leaping Treadwell could get it. The sophomore caught the pass at the 2 and tumbled into the end zone to give the Rebels a 14-6 lead.
Offensive coordinator Dan Werner:
"We felt like if we could get him singled up, which they weren't letting that happen very often, but if we did, we were going to audible and run the fade. Bo did a nice job; he saw that they were bringing the free safety, so we had one-on-one coverage and he just threw it up high and let Laquon make a play."
Treadwell:
"Man-to-man, throw it up. That's really all I saw. I knew he was pressing. He tried to jump jam, but he kinda jumped offside. After he did that, I knew he was beat, and I was just waiting for Bo to throw the ball, really."
2. Bouncing Adeboyejo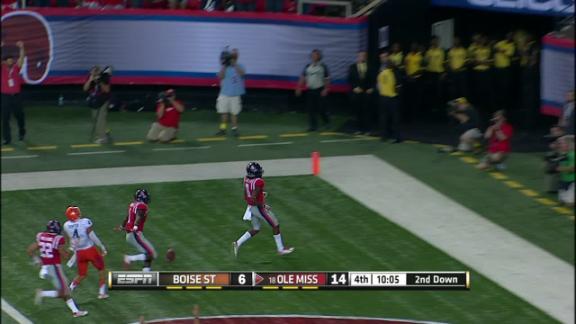 Not to be outdone a couple minutes later was fellow sophomore receiver
Quincy Adeboyejo
, who officially put the game away with a springy 31-yard touchdown catch. Adeboyejo, whose touchdown was set up by a fantastic interception by safety
Tony Conner
two plays earlier, caught a bullet of a pass from Wallace at Boise's 10-yard line before bouncing off two defenders and into the end zone to make it 21-6.
Treadwell:
"I think that broke Quincy out of his shell. Quincy's a great player and we know he can play. It's just that he's inconsistent, but now I think that broke him out of his shell, really, and he should have a great season. I think that really helped the offense."
3. Can't catch Cody Core
So this is what Ole Miss' offense was supposed to look like, huh? An offensive line that struggled all night (did I mention those eight false starts?) held its ground for the second Wallace needed to find Core sprinting through the middle of the field. Core caught the ball in space and was gone.
Wallace:
"It was just a vertical route. We swung the backs so maybe the husky would jump out and give us leverage, and they did, so we got it. It's something that we ran in camp that when we first put it in, it was tough on our defense. We felt like that would be a good play for us."
Core:
"I saw the field open and I trusted my teammates and just cut loose. I actually didn't [see the linebacker jump out], but I knew the cornerback was behind me so if I cut over to the other side, it would be for the field."
May, 7, 2012
5/07/12
10:50
AM ET
OXFORD, Miss. --
Donte Moncrief
isn't afraid to be your typical wide receiver.
Ole Miss' sophomore-to-be craves glory like the next self-assured wideout, and he shouldn't be ashamed of it. Quarterbacks get all the love, but they'd be nothing without their receivers, and the good ones know that.
So, it's no shocker that Moncrief is enjoying coach Hugh Freeze's spread offense. While it took some time to adjust from last season's more pro-style attack, Moncrief said he's having more fun in a more wide open scheme because, well, he has the opportunity to get more touches.
[+] Enlarge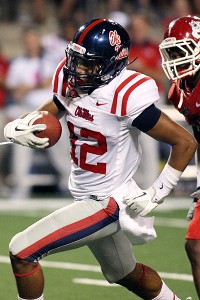 AP Photo/Gary KazanjianDonte Moncrief led the Rebels with 31 catches for 454 yards and four touchdowns last season.
"This offense is kind of better for a receiver, because you can get the ball a lot," said Moncrief, who, as a freshman, led the Rebels with 31 catches for 454 yards and four touchdowns in 2011.
Regardless of the type of offense Ole Miss runs, there aren't many scenarios where Moncrief isn't the focal point of the passing game. He's easily Ole Miss' most talented receiving target, and at 6-foot-2 and 214 pounds, he isn't afraid to get physical and make the tougher catches.
Moncrief, the leader of a pretty raw and inexperienced receiving group, wants to be the star, and might
have
to be. However, for an Ole Miss team that ranked 11th in both passing and total offense in the SEC last season, there's still work to be done before fall arrives.
"Everybody expects me to be the big playmaker when we need a play," he said, "so I'm going to have to try a little harder this summer, get stronger, faster and catch more balls, and be ready to help my team.
"That's the stuff I'm going to work on and get better at so I can become one of the best to come through [Ole Miss' program]."
By try harder, Moncrief means studying his playbook a little more so he can memorize his routes better this season. It was easier to get away with freshman mistakes and botched routes at times in last season's offense, but Moncrief said that with so much going on in the spread, those mistakes won't fly.
Outside of learning new terminology, Moncrief said the toughest thing for him was memorization. Instead of always looking to the quarterback, hand signals from the sidelines, especially when the Rebels crank up the tempo, dictate plays.
He also has to get used to the quickness of this offense. Freeze and offensive coordinator Dan Werner want plays to operate as quickly as possible. Five-step quarterback drops are a thing of the past for the Rebels. As soon as the quarterback has the ball, Moncrief said the play is nearly over.
"It's some fast plays, so you want to get the defense on its heels so you can score real quick," he said.
Outside of the mental part, Moncrief still has some fine-tuning to do physically. He shed some pounds to get faster, but is putting in more time with strength coach Paul Jackson to up his on-field physicality. Fortunately for Moncrief, he craves physical play and actually likes to block, so taking on defenders is rewarding. He thinks it'll benefit him more, because he believes defenders grow weary of seeing receivers that can deliver a bone-rattling block out of nowhere to spring a running back.
"I like it. I love contact," Moncrief said with a sinister smile beaming off his face.
While Moncrief's rambunctious demeanor toward opposing defenders is probably adored by his coaches, Moncrief knows that his first job is to catch passes -- lots of them. Even though he's improving his blocking ability, Moncrief still says he's still the most dangerous in-stride, and he believes he'll be even tougher for defenders to keep up with in 2012.
"Hopefully, there will be a lot of deep balls this year," he said.
April, 24, 2012
4/24/12
10:23
AM ET
Ole Miss quarterback
Barry Brunetti
has seen a lot of change during his two years as a college quarterback.
He's seen two different campuses -- after starting his career at West Virginia -- and attempted to learn his third different offense under his third different offensive coordinator this spring.
[+] Enlarge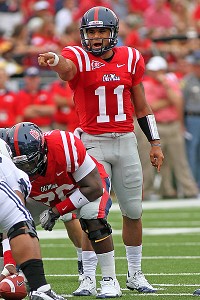 Spruce Derden/US PresswireOle Miss quarterback Barry Brunetti finds himself in another competition for a starting job.
As much as things have changed for the rising junior, one thing has stayed constant: Brunetti has had a fight on his hands each step of the way.
"I've been competing since ninth grade for a spot, so it kind of comes natural to me," Brunetti said. "It's nothing new to me. It's something I do every day. It comes natural."
Brunetti lost out to favorite
Geno Smith
at WVU back in 2010, and after carrying the starting torch at the beginning of last season at his new school, he quickly lost it before the season opener even ended and watched as
Randall Mackey
and
Zack Stoudt
took over for most of the year.
Sitting behind Smith wasn't a surprise, but Brunetti was blindsided by his sudden fall in 2011. Former coach Houston Nutt even said during the season that he wished he had redshirted Brunetti, who played in just four games and threw for 144 yards on 19 of 35 passing.
The benching crushed Brunetti, but he still doesn't know the reasoning behind the move by Nutt and then offensive coordinator David Lee.
"I wish I could tell you, but I can't," Brunetti said.
"I try not to dread on last year. I try not to think about it."
So as Brunetti's second spring at Ole Miss ends, he's yet again in a fight, but this time he's more comfortable with where he stands because Ole Miss' offense has now morphed into the spread. Once he got the terminology down, Brunetti said he grasped the offense quickly, because it was very similar to what he ran at West Virginia and high school.
"I'm very comfortable now," he said. "This is back to what I do."
Brunetti led the competition last spring, but heads into the summer tied with junior college transfer Bo Wallace. Wallace had the edge early in the competition, because he knew the offense after being with new coach Hugh Freeze at Arkansas State. That lead quickly shrank as Brunetti took more reps.
Brunetti said he operates best in the spread because he prefers the quick routes and throws, and loves to use his feet. He passed for just 62 yards, while running for 109 in Ole Miss' spring game, but offensive coordinator Dan Werner said Brunetti made tremendous progress this spring.
"This is suited for him," Werner said. "He has a quick release, he has quick feet, and that's what we try to do is get rid if the ball quick. Also, he runs the ball well, and we want to be able to use his abilities there, too."
Werner made sure the battle between Brunetti and Wallace, who threw for 240 yards, two touchdowns and an interception in the spring game, was intense. Once it became clear that they were the front-runners the reps evened out -- each one just as important as the other.
Every snap taken and every question Werner asked contributed to Werner's thoughts on which was the right quarterback.
He left spring without a clear answer.
Brunetti wants to be the answer. As he looks to reinvent himself and his career, Brunetti also wants to help reinvent Ole Miss. The program has been on a free fall for two years, resulting in six wins and 14 straight conference losses.
Brunetti hopes to turn that around.
"I've been in college for two years, man, and I'm itching to be a starter for a season," he said. "I really want people to see what I can do, and what I can do with this team, because we have great young talent.
"I really want to win this job. I think about it every day before I go to sleep."