NCF Nation:

Daniel Glauser
September, 15, 2012
9/15/12
11:54
AM ET
TALLAHASSEE, Fla. -- Florida State has opened the year with big expectations before, but for the past six seasons, that early hype has worn off by Week 3.
The Seminoles haven't opened a season 3-0 since 2005, and to snap that streak this year they'll need to get by a Wake Forest team that has won four of its last six meetings with Florida State.
"They're much more athletic that people think," FSU coach Jimbo Fisher said. "Wake's got good players."
Despite the history and Fisher's words of warning, Florida State remains a four-touchdown favorite for the game.
Perhaps a bigger concern for the Seminoles is the fact that their starters have only played about three quarters through two games, both blowout wins over FCS opponents. Wake Forest represents both the opening of conference play and by far Florida State's biggest test thus far.
"I don't think the fact that we haven't played a whole lot will bother us at all," quarterback
EJ Manuel
said. "I think if I still played, I'd have had the same focus and mentality. I don't think it's going to affect us. If anything, it's going to help us because we're more rested. Those guys have had two dog fights."
Florida State right tackle
Menelik Watson
missed several practices this week with an ankle injury, but he was on the field for warm-ups and Fisher said he expects the junior to be available for the game. Still, fellow junior college transfer
Daniel Glauser
will get the start at right tackle.
Wake Forest, on the other hand, will be without starting nose guard
Nikita Whitlock
, who had seven tackles and a sack in last year's win over the Seminoles.
August, 27, 2012
8/27/12
2:00
PM ET
For once, Andrea Adelson and I are on the same page. Both of us think this is the year Florida State will live up to the hype. Shocking, I know.
Our opinions differ, though, on exactly how they need to do that.
Will the offensive line and running game be the key? Or will it be quarterback
EJ Manuel
and the development of his receivers?
[+] Enlarge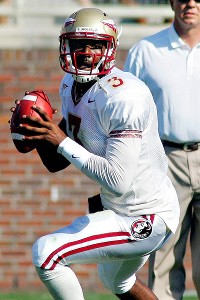 AP Photo/Phil SearsEJ Manuel is going to require a lot of help from his offensive line to his receiving corps in order to get FSU some wins this season.
Depends, of course, on who you ask ...
Heather Dinich:
It's a good thing Florida State offensive line coach Rick Trickett is a Harley Davidson-driving, cigar-gnawing, old-school, kick-in-the-pants kind of coach -- because Florida State's offensive line couldn't afford anything less this summer.
If the No. 7-ranked Seminoles are going to stay in the top 10 -- if they're going to win the ACC and aim for something even higher -- the offensive line must go from the weak link in 2011 to one of the team's greatest strengths in 2012. The running game must improve, and it all starts up front with a group that introduced four freshmen in the starting lineup against Notre Dame last year in the Champs Sports Bowl.
Last year, Florida State's running game finished No. 104 in the country. The Noles tied for No. 110 in sacks allowed. And the linemen didn't create enough holes for the running backs, who also had too many mental errors.
Does that sound like a top-10 team? Well, that's why it wasn't. The Noles sank to No. 23 last year in the final Associated Press Top 25 after starting out No. 6 in the preseason poll.
Florida State can't possibly expect to change that with only 95 total yards of offense against Florida again. It can't possibly win its first ACC title since 2005 with only 63 rushing yards against Miami. And it certainly can't be taken seriously as a national title contender with only 41 rushing yards against Notre Dame.
Florida State's defense and its super special teams were the difference for the Noles last year. If the offensive line and ground game could match that, Florida State would be seemingly unstoppable.
It's getting closer.
The experience sophomore guards
Josue Matias
and
Tre' Jackson
got in the bowl game last year was priceless, and they continued that progress this summer. Cameron Erving's seamless transition from defensive tackle to left tackle was one of the top story lines in Tallahassee, and all three have likely earned starting jobs for the season opener against Murray State. The questions continue at center and right tackle, though, and the competition could, too. During fall camp,
Austin Barron
and
Bryan Stork
were the frontrunners at center, and junior-college transfers
Menelik Watson
and
Daniel Glauser
were the leaders at right tackle.
Overall, the Noles' offensive line has gotten bigger and stronger, but it still needs to prove that it has also gotten better.
Andrea Adelson:
We have heard plenty already this preseason about the depth Florida State has at wide receiver.
Depth is an excellent commodity to have. But here is my question -- how about playmakers? Do the Seminoles have a game-breaker at receiver who will be able to help Manuel carry this offense from good to championship caliber?
I grew up in South Florida, and have watched every Miami-Florida State game going back to the early 1980s. During the heyday of both programs, you could always count on at least one receiver that made you, well, nervous. Florida State had them in spades, between guys like Lawrence Dawsey, Tamarick Vanover, Peter Warrick, Laveranues Coles, Snoop Minnis, E.G. Green, Anquan Boldin and the like.
To that point -- FSU had one receiver on the ACC first team between 1993 and 2000. Since then, the Noles have had just one -- Craphonso Thorpe in 2003. There are a variety of reasons this program has hit a major dip in recent years. One of them has been a lack of some major talent at the skill positions.
The lack of a 1,000-yard rusher (none since 1996) or 1,000-yard receiver (none since 2002) are proof. So is the fact that Florida State has not had a receiver drafted since Willie Davis in 2007. For a program in talent-rich Florida, it is almost inexcusable for there to be a dearth of game-changers at either running back or receiver. A player like
Sammy Watkins
? He used to be found at Florida State.
The Noles have an opportunity to change that this season given some of the talent that is returning. What FSU fans will tell you is Manuel has been good at spreading the ball around to his various receivers, and that has been nearly as good as having one go-to guy emerge. Three players had 30 or more catches last season --
Rashad Greene
,
Rodney Smith
and
Kenny Shaw
.
They all return.
Willie Haulstead
also is back after sitting out last season.
Christian Green
and
Greg Dent
each averaged over 17 yards a catch last season. They are back, too.
Expectations are high for redshirt freshman
Kelvin Benjamin
to emerge as a game-changer. Florida State also has true freshman
Marvin Bracy
, a player with world class speed who may not even see the field this year. That is a testament to the depth at the position, something that is not in dispute.
But what the Noles truly need is a dynamic presence at receiver to put fear into the opposition, the way they used to do. To me, that is going to be a deciding factor in whether the Seminoles live up to all the preseason hype.
March, 19, 2012
3/19/12
9:00
AM ET
TALLAHASSEE, Fla. -- Florida State offensive line coach Rick Trickett likes to joke that the Seminoles have their own version of the United Nations.
Star defensive end
Bjoern Werner
is a native of Berlin, Germany, and the Seminoles' starting offensive tackles this coming season might be from England and Switzerland.
Anything might be better than the inexperienced group the Seminoles put on the field last season. Because of injuries, Florida State started four freshman offensive linemen in its 18-14 victory over Notre Dame in the Champs Sports Bowl.
[+] Enlarge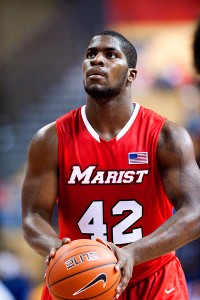 Cal Sports Media via AP ImagesMenelik Watson -- a Manchester, England, native -- played basketball and considered boxing before commiting to football.
As FSU begins spring practice, those freshmen are now sophomores, and two JUCO transfers -- Daniel Glauser and Menelik Watson -- might step in to anchor the offensive line.
Glauser, a native of Rheinfelden, Switzerland, enrolled at FSU in January and is participating in spring practice. Watson, from Manchester, England, is expected to join the Seminoles this summer.
"The [foreign-born] players are more mature," FSU coach Jimbo Fisher said.
But when it comes to football, Glauser and Watson are relatively inexperienced. Glauser grew up playing soccer in Switzerland, but he was encouraged to move to the U.S. by his American-born coach to play college football. Glauser, 6-foot-6 and 315 pounds, spent the past two seasons at New Mexico Military Institute. Fisher was so impressed with Glauser that he offered him a scholarship even though he'll have only one season of eligibility at FSU.
"New Mexico Institute didn't know they could have redshirted him," Fisher said. "They didn't know. We didn't know."
Watson took an even longer route to Florida State. He came to the U.S. to play basketball at Marist College in Poughkeepsie, N.Y. Watson, 6-6 and 320 pounds, averaged 4.4 points and 3.3 rebounds for the Red Foxes during the 2010-11 season.
"Watson was a Division I basketball player," Fisher said. "He was 270 pounds and was a wing, not a post player. He wasn't scoring with his back to the basket. He was making moves and driving to the basket."
Because of his size, Watson figured he'd reached his ceiling as a basketball player. After briefly considering a professional boxing career, Watson enrolled at Saddleback College in Mission Viejo, Calif., where he not only had to learn how to play offensive tackle but also the game's rules. He played in eight games at Saddleback last season. The Gauchos' other offensive tackle was Kyle Long, son of NFL Hall of Famer Howie Long, who signed with Oregon.
Watson still has a long way to go in his development, but he'll probably compete with Glauser and sophomore
Bobby Hart
for the starting offensive tackle jobs this coming season. The Seminoles lost departed senior tackles Zebrie Sanders and Andrew Datko, who combined to play in 90 games in their FSU careers. Datko missed all of last season because of shoulder injuries and chose to turn pro, instead of appealing to the NCAA for another season of college eligibility.
Sophomores
Austin Barron
, Tre' Jackson and
Josue Matias
, who started against Notre Dame at center, right guard and left guard, respectively, are coming back to compete in the middle of the offensive line.
Cameron Erving
, a converted defensive tackle, also will be in the tackle mix.
"I like the young guys," Fisher said. "They're all sophomores. They're big and athletic. They actually know they can play with the way they came back [against Notre Dame]. They're confident now. They don't have to walk on the field and think, 'Can I play?' They know they can play."
Right guard
Bryan Stork
said continuity and staying healthy are keys for FSU's offensive line this coming season.
"Before you're at the top, you're always at the bottom," Stork said. "I feel like we're a diamond in the rough. We've got the guys. It's just everybody getting better together."