NCF Nation:

Daniel Te'o-Nesheim
September, 1, 2010
9/01/10
11:16
AM ET
Jake Locker
, Jake Locker, Jake Locker. This isn't an article about him.
It's about something that has been doing a perhaps surprisingly good job making Locker's life difficult the past few weeks: The Washington defense.
[+] Enlarge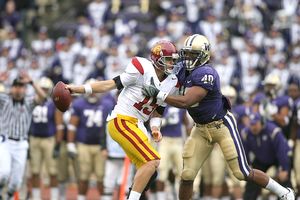 Tom Hauck/Getty ImagesMason Foster thinks the defense will be just as good as the team's highly-touted offense.
"We are actually holding the offense and making stops," linebacker Mason Foster said. "We've had pretty good battles throughout camp."
I know. No way. The Huskies lost their two best defensive players -- linebacker Donald Butler and end Daniel Te'o-Nesheim -- to the NFL from a unit that ranked eighth in the Pac-10 in total defense (389.5 yards per game) and ninth in scoring defense (26.7 ppg).
But the Huskies defense has consistently hinted during fall camp that it's not going to be the weakling counterpart to what should be an explosive offense.
"They've caused us some problems on offense," said coach Steve Sarkisian, who calls the offensive plays. "They've caused turnovers. They've gotten after the quarterback."
Foster, a senior and all-conference candidate, said the young guys who were forced into action last year are in far better physical condition. Along those lines, Sarkisian noted that junior noseguard Alameda Ta'amu is no longer just a massive mound of inert space filler -- who at his best is merely hard to move. After dropping 30 pounds to 330, he's a guy who can get into the backfield and make plays.
The secondary also appears significantly improved with corners Desmond Trufant and Quinton Richardson and safeties Nate Fellner, Nate Williams and Will Shamburger. The apparent successful return of end Everrette Thompson from a torn Achilles should bolster the pass rush.
But it's not just about maturing physically, getting healthy and conditioning better. A year ago, coordinator Nick Holt was only that slightly menacing guy who was always barking at them about not understanding what it takes to play great defense. Now the defensive guys and Holt are playing the same tune, one that probably sounds a bit like Rage Against the Machine.
"They've got a real mentality right now," Sarkisian said. "What I like most about it is they've really adopted Nick's personality. They are aggressive. They are tough. They are smart."
Of course, this also merely could be preseason optimism (or maybe the Huskies offense won't be all that potent). The unit certainly will be tested at BYU on Saturday. Sure, the Cougars only have 11 starters back and are replacing quarterback Max Hall. But they have won 43 games over the past four seasons: They are fairly close to the proverbial "reload not rebuild" category.
While there may be some sentiment about the trip for Sarkisian -- he was BYU's quarterback in 1995-96 -- the Huskies players probably don't look too fondly at the Cougars. In their 2008 game in Seattle, Locker scored what appeared to be a game-tying touchdown in the waning moments -- pending the PAT -- but he was flagged for a celebration penalty after flicking the ball into the air.
Just about everyone thought the penalty ridiculous, at least outside of Provo. Of course, barely anyone would remember the call if the Huskies hadn't blown the extra point and subsequently lost 28-27.
That was about as close to respectability as the Huskies would come during an 0-12 season that ended the Tyrone Willingham Era and brought in Sarkisian.
Moreover, one of BYU's quarterbacks -- it appears two will play versus the Huskies -- is true freshman Jake Heaps, a product of Washington State powerhouse Skyline High School. He picked BYU over Washington last winter, and there are just a few whispers that some of the Huskies might be eager to make him feel like he made a mistake.
"I didn't even really know he was from around here until a couple weeks ago," Foster said. "That's going to make it a little more exciting -- a big-time recruit from the state of Washington that went to another school and will play as a true freshman. It's going to be fun to get a couple of hits on him."
The Huskies -- suddenly -- have high expectations. Only two years removed from an 0-12 season, they are thinking about more than just earning their first bowl berth since 2002.
"It's a total turnaround," Foster said. "No more losing every game. The mindset is different. We're really looking forward to coming out in competing at the top of the conference this year."
A total turnaround likely would make Locker a leading Heisman Trophy candidate.
But that's not going to happen if the defense can't make stops.
April, 12, 2010
4/12/10
1:09
PM ET
SEATTLE -- Home for the holidays. What a joy!
Unless you're a BCS college football coach, when being home for the holidays in nearly every case means your season was a failure.
So this past Christmas was odd on multiple levels for Washington's Steve Sarkisian. For one, after having coached seven years at USC, he wasn't accustomed to not reviewing game tape while the Yule Log burned.
And his experience was even stranger when he went out to do his holiday shopping around Seattle. Folks were so ... complimentary.
[+] Enlarge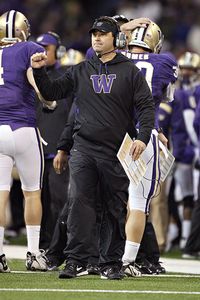 Otto Greule Jr/Getty ImagesWhile he has seen improvement, Steve Sarkisian wants his team to become more physical.
"I've never been congratulated so much for a five-win season," he said.
Ah, but context is everything. For the Trojans, a 9-4 season, which included a loss to Sarkisian's Huskies, was a disaster. For the Huskies, going 5-7 sparked hope among the beleaguered purple-clad masses, who were but a season removed from the worst finish in program history: oh no! and 12.
It's hard to overstate the stunning transformation under Sarkisian.
In 2008, the Huskies lost all 12 games by an average of more than 25 points. In 2009, they beat four teams who won at least eight games, three of whom spent much of the season nationally ranked.
They concluded the season by stomping rival Washington State 30-0 and No. 19 California 42-10.
And now they are in the midst of spring practices preparing for what many believe will be the rebirth of a Pac-10 and national power, one that hasn't played in a bowl game since 2002. Nineteen starters are back, and one of them is quarterback
Jake Locker
, who could end up the top pick of the 2011 NFL draft.
After signing a touted recruiting class --
ranked 20th
in the nation by ESPN.com's Scouts Inc. -- the positive momentum is unmistakable.
"From where we started, to where we've come, to where we're headed, it's exciting," Sarkisian said. "The mantra of expecting to win is there now. It's not just something that's up on a board or on a T-shirt. It's a real belief."
The question is how could such a dramatic turnaround take place, particularly against what was among the nation's toughest schedules?
Sarkisian and defensive coordinator Nick Holt are due a lot of credit, obviously. But there's also the issue that the previous administration was doing a lousy job. Tyrone Willingham's Huskies in 2008 weren't good, but they shouldn't have lost every game.
"I felt like a lot of guys didn't want to play for the coaches we had [in 2008]," linebacker Mason Foster said. "I hate to say that because I love Coach Willingham and they were great coaches, but I don't think they were relating to the players. Guys didn't want to come here and play for the coaches. They were just showing up because they had to. Now, everybody wants to come, wants to compete. They're not just showing up because they have to to get their scholarship check. People want to play for Coach Sark. People want to play for Coach Holt. That's the biggest difference."
April, 8, 2010
4/08/10
9:46
PM ET
Think of college football players like stocks for a moment.
If you had purchased 1,000 shares of Washington linebacker Donald Butler at this time last year, folks would be comparing you to Warren Buffett. Butler went from a no-good, nobody on an 0-12 team to second-team All-Pac-10 and a potential early-round NFL draft pick.
So, per Huskies coach Steve Sarkisian's insider information, we're putting a buy rating on linebacker Mason Foster.
[+] Enlarge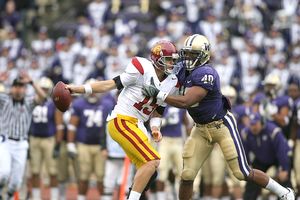 Tom Hauck/Getty ImagesWashington coach Steve Sarkisian thinks linebacker Mason Foster will have a big year.
"I love Mason Foster. He's an All-Pac-10, Player-of-the-Year-type of guy in this conference," Sarkisian said.
Of course, your returns won't be as extraordinary as they were on Butler. Foster, a 6-foot-2, 244-pound senior, is underrated but hardly unknown.
For one, you can't set a school record, lead the conference and rank third in the nation with six forced fumbles and remain completely obscure. Moreover, Foster's name causes all Arizona fans indigestion because he was the opportunistic fellow who grabbed that ball that bounced off Wildcats receiver
Delashaun Dean
's foot and returned the interception 37 yards for a go-ahead touchdown in the Huskies stunning upset win.
And, of course, he won the Earle T. Glant "Tough Husky" Award at the UW's postseason banquet.
Still, while Butler made a name for himself in 2009, Foster was mostly in the background.
"It's my turn to show what I can do now," Foster said.
One thing Foster does is make plays. His six forced fumbles and his three interceptions mean he was personally responsible for nine take-aways. He also ranked second on the Huskies with 85 tackles and third with 7.5 tackles for a loss. He led all conference linebackers with nine passes defended.
The tackles and forced fumbles? Foster can hit you. The passes defended? Foster can make plays as an athlete in the back-half.
Considering four of the six linebackers who earned All-Conference status are gone, it's easy to see why Foster's price-earnings ratio is tempting.
Of course, the defense around Foster is questionable. While the Huskies only lose two and a half starters -- the half being part-time starting end Darrion Jones -- the two were big presences for the front-seven: Butler and end Daniel Te'o-Nesheim. The 2009 Huskies ranked ninth in the conference in scoring defense (26.7 ppg) and eighth in total defense (389.5 yards per game).
Foster doesn't seem worried.
"Don't count us out," he said. "We've got a lot of young, athletic guys."
On the plus side, the defense surged late, shutting out Washington State and holding California to just 10 points.
And, of course, the unit was vastly better under new, fiery coordinator Nick Holt than the 2008 crew that ranked 116th in the nation, surrendering nearly 40 points per game for an 0-12 team.
"It's totally different -- completely different," Foster said. "We don't even like to think about [0-12] anymore. I love coming here every day, being around all the guys and the coaches."
That new-found energy and enthusiasm has the Huskies thinking that after going 5-7, they will break through and earn the program's first bowl berth since 2002.
"This feels great compared to how it was before," Foster said.
Is a bull market at hand for Foster and the Huskies?
February, 19, 2010
2/19/10
11:47
AM ET
Taking a look at what to watch for as teams head into spring practices, officially ringing the bell on preparations for the 2010 season.

Arizona
Spring practice starts:
March 5
Spring game
: April 10
What to watch
:
The new coordinators
: The Wildcats lost two outstanding coordinators -- Sonny Dykes on offense and Mark Stoops on defense -- and decided to replace them with four guys. Tim Kish, promoted from linebackers coach, and Greg Brown, hired away from Colorado, will run the defense, while Bill Bedenbaugh and Seth Littrell, both promoted from within, will run the offense, with an assist from new quarterbacks coach Frank Scelfo. These guys will need to develop a coaching rhythm this spring that will ensure things go smoothly in the fall.
The JC linebackers
: The Wildcats must replace three starting linebackers, and JC transfers Derek Earls and Paul Vassallo weren't brought in to watch. If they step into starting spots, then guys like sophomore Jake Fischer, redshirt freshman Trevor Erno and redshirt freshman Cordarius Golston can fight over the third spot and add depth.
Foles 2.0
: Quarterback
Nick Foles
was dynamic when he was on last year, but the shutout loss in the Holiday Bowl served as a reminder that he's not there yet. He's going to be surrounded by a lot of weapons at the skill positions, so he should be able to take another step forward this spring, even with the loss of Dykes.

Arizona State
Spring practice starts:
March 30
Spring game
: April 24
What to watch
:
The QB battle
: It's a wide-open battle between Michigan transfer
Steven Threet
and
Brock Osweiler
, though the new guy -- Threet -- is perhaps the most intriguing.
Samson Szakacsy
was supposed to join the battle, but his elbow problem is acting up again, coach Dennis Erickson said Thursday. The competition will be overseen by new offensive coordinator Noel Mazzone, who's been handed an offense that has sputtered the past two seasons.
O-line issues (take 3):
The Sun Devils' offensive line has struggled three years running, and it won't matter who starts at QB if the unit continues to get pushed around. First off is health. Will Matt Hustad, Zach Schlink, Garth Gerhart, Mike Marcisz and Adam Tello be ready to battle the entire spring? If so, there should be good competition here, particularly with a couple of JC transfers looking to break through.
The secondary
: The Sun Devils were very good against the pass last year, but three starters in the secondary need to be replaced. Both starting corners are gone -- though if Omar Bolden successfully returns from a knee injury he should step in on one side -- as well as strong safety Ryan McFoy. The good news is a number of guys saw action here last fall, so the rebuilt unit won't be completely green.

California
Spring practice starts:
March 6
Spring game:
N/A
What to watch
:
Embattled Riley
: When things go well, the quarterback often gets too much credit. When things go badly... well, you know. Senior
Kevin Riley
has started 22 games and has played well at times. But there's a reason he's in a quarterback competition for a third consecutive season. Will he be able to hold off a rising
Beau Sweeney
this spring?
Rebuilding the D
: The Bears had questions on defense even before coordinator Bob Gregory unexpectedly bolted for Boise State. Five starters need to be replaced, including mainstays like end Tyson Alualu and cornerback Syd'Quan Thompson, both first-team All-Pac-10 performers. And with Gregory gone, a new, likely more aggressive scheme now must be incorporated.
RB depth
:
Shane Vereen
is the obvious starter after the departure of
Jahvid Best
, but Cal has, during the Tedford years, always used two backs. So who's the No. 2? Sophomore
Covaughn DeBoskie
was third on the team with 211 yards rushing last year, while promising freshman
Dasarte Yarnway
redshirted. One or the other will look to create separation.

Oregon
Spring practice starts:
March 30
Spring game:
May 1
What to watch
:
The D-line:
The Ducks lost perennially underrated end Will Tukuafu, tackle Blake Ferras and backup Simi Toeaina up front. Considering the plan is to run an eight-deep rotation, there will be plenty of opportunities for players like ends Terrell Turner and Taylor Hart and tackles Anthony Anderson, Zac Clark, Wade Keliikipi as well as 6-foot-7 JC transfer Isaac Remington to work their way into the rotation.
The passing game
: The Ducks' passing game was inconsistent last year, though by season's end receiver
Jeff Maehl
was playing at a high level. Refining that part of the offense with quarterback
Jeremiah Masoli
would make the spread-option even more dangerous. The receiving corps is looking for playmakers, which means youngsters, such as redshirt freshman
Diante Jackson
, might break through.
Who steps in for Ed Dickson
? Oregon only loses one starter on offense, but tight end Ed Dickson is a big one.
David Paulson
was a capable backup last year, and mercurial
Malachi Lewis
may be ready to step up. Expect JC transfer Brandon Williams to work his way into the mix.

Oregon State
Spring practice starts:
March 29
Spring game:
May 1
What to watch:
Katz steps in
:
Sean Canfield
is off to the NFL, so the Beavers' biggest question this spring is crowning a new starting quarterback. Most observers feel the job is
Ryan Katz
's to lose, and the sophomore looks good throwing the rock around. Still, being a quarterback is about more than a good arm. If he falters, Virginia transfer
Peter Lalich
might offer an alternative.
Better defensive pressure
: The Beavers run a high-pressure defensive scheme, so when the stat sheet says they only recorded 17 sacks in 2009, which ranked ninth in the conference and was 22 fewer than in 2008, you know something is wrong. The entire defensive line is back, so the hope is a year of seasoning, particularly for ends Gabe Miller, Matt LaGrone and Kevin Frahm will mean better production this fall.
The O-line grows up
: The Beavers' offensive line returns four starters from a unit that got better as the year went on. Still, it yielded 29 sacks and the run game struggled at times --
Jacquizz Rodgers
often had to make yards on his own. Talented left tackle Michael Philipp, who did a solid job as a true freshman starter, should be much improved. A second year playing together with underrated senior center Alex Linnenkohl also should help.

Stanford
Spring practice starts:
March 1
Spring game:
April 17
What to watch:
Replacing Toby:
How do you replace
Toby Gerhart
and his 1,871 yards and 28 touchdowns? You do not. But the hope is sophomores
Tyler Gaffney
and
Stepfan Taylor
and senior
Jeremy Stewart
will provide a solid answer that keeps the Cardinal's power-running game churning. It helps to have four starters back from a good offensive line.
Rebuilding the D:
If you toss in linebacker Clinton Snyder and end Erik Lorig, Stanford must replace six defensive starters from a unit that ranked near the bottom of the conference in 2009. The secondary is a particular concern after giving up 23 touchdown passes and a 63 percent completion rate. The hope is good recruiting from coach Jim Harbaugh will provide better athleticism in the back-half. Another issue: There was huge coaching turnover, particularly on defense during the offseason, so new coordinator Vic Fangio & Co. will be implementing new schemes and learning about what sort of talent they have to work with.
Luck steps up
: This was Gerhart's team in 2009. Now it's Luck's. He might be the most talented QB in the conference. Heck, he might become a Heisman Trophy candidate before he's done. But life won't be as easy without defenses crowding the line of scrimmage because they are fretting about Gerhart. Luck will need to step up his game -- and leadership -- to meet the challenge.

UCLA
Spring practice starts:
April 1
Spring game:
April 24
What to watch:
Prince becomes king?
The fact that offensive coordinator Norm Chow has been such an advocate for sophomore quarterback
Kevin Prince
should tell you something: He's got the ability. Prince flashed some skills during an injury-plagued 2009 season, and it's important to remember he was a redshirt freshman playing with a questionable supporting cast, particularly the O-line. Prince needs to improve his decision-making, and the passing game needs to develop a big-play capability that stretches defenses.
Front seven rebuilding:
UCLA not only must replace six starters on defense, it must replace six guys everyone in the Pac-10 has heard of. And five of the lost starters come from the front seven, and the guys who were listed as backups on the 2009 depth chart won't necessarily inspire confidence. In other words, the Bruins will try to take a step forward in the conference with what figures to be an extremely green defense, particularly up front.
The running game?
Know what would help Prince and a young defense? A better running game. The Bruins were significantly better in 2009 than in 2008, but that merely means one of the worst rushing attacks in the nation moved up to ninth in the conference. There's a logjam of options at running back -- with a couple of dynamic runners in the incoming recruiting class -- and the offensive line welcomes back a wealth of experience. It would mean a lot if the Bruins could boost their rushing total to around 150 yards per game (from 114.6 in 2009).

USC
Spring practice starts:
TBA
Spring game:
TBA
What to watch:
Welcome, Lane Kiffin:
The Pete Carroll era is over. Enter Lane Kiffin & Co. In terms of scheme, things will be fairly consistent, seeing that Kiffin was formerly Carroll's offensive coordinator and Monte Kiffin was Carroll's defensive mentor. But there will be a period of adjustment. The guess is the hyper-intense Ed Orgeron might provide a bit of a shock to the D-linemen.
Matt Barkley Year 2:
Barkley won't have the president of his fan club -- Carroll -- around anymore. He's a true talent. Everyone knows that, even without Carroll's daily sonnets about his ability. But the numbers show he threw 14 interceptions in 12 games vs. 15 TD passes last year, so he's obviously not arrived. Kiffin runs the offense, so you can expect these two to work closely together. Barkley will have plenty of help on offense, but the talent won't be as good as it was in 2009, with six starters needing to be replaced, including his top two targets (receiver
Damian Williams
and tight end
Anthony McCoy
).
Secondary questions
: All four starters from the defensive backfield are gone, including center fielder Taylor Mays. It helps that cornerback Shareece Wright, an academic casualty in 2009, will be back. He was a projected starter last fall. There's plenty of talent on hand, but last year's team proved that the Trojans don't always just plug-and-play.

Washington
Spring practice starts:
March 30
Spring game:
April 30
What to watch:
Unleashing Locker:
The return of quarterback
Jake Locker
was the best news any Pac-10 team received this offseason. Locker's passing improved dramatically in just one year under coach Steve Sarkisian, so it's not unreasonable to expect him to be even better in 2010, particularly with nine starters back on offense and just about every skill player on the depth chart.
Replacing Te'o-Nesheim:
Daniel Te'o-Nesheim was a four-year starter who blossomed into an All-Pac-10 performer despite almost no supporting cast. He led the Huskies with 11 sacks in 2009, which was 8.5 more than any other player. Also, opposite end Darrion Jones is gone, and the cast at the position is extremely young. Who's the next pass-rushing threat?
The Butler did it:
Linebacker Donald Butler blossomed last year, earning second-team All-Pac-10 honors and leading the Huskies in tackles and tackles for loss (15.5). Toss in E.J. Savannah's failure to earn a sixth year of eligibility from the NCAA, and the Huskies have some questions at linebacker. Mason Foster is a sure thing at one outside position, and Cort Dennison likely will fill a second gap, but there's an opportunity for a young player to fill void No. 3.

Washington State
Spring practice starts:
March 25
Spring game:
April 24
What to watch:
Tuel time:
Coach Paul Wulff decided that freshman
Jeff Tuel
was the Cougars' quarterback of the future last year, so he opted to start him instead of going with a redshirt season. Tuel showed promise in six games, completing 59 percent of his passes with six touchdowns and five picks. Most of his supporting cast is back on offense, so the expectation is the Cougars' offense could take a significant step forward this fall.
O-line intrigue:
Some of the Cougars starting on the offensive line last fall didn't look like Pac-10 players. Injuries and youth made the line a glaring area of weakness, even with veteran Kenny Alfred at center. Alfred is gone, but the expectations are that last year's youth will be saltier after taking their knocks. Plus, a couple of juco additions should be in the mix for starting jobs.
Growing up:
There is hope in that 19 starters are back from a team that played a lot of underclassmen in 2009. That youth should mature in 2010. And solid recruiting classes the past two seasons should offer an infusion of young promise.
February, 8, 2010
2/08/10
10:52
AM ET
After every season, starters leave. But not all starters are created equal.
Here are the biggest shoes to fill in the Pac-10 with spring practices just around the corner.
Toby Gerhart, RB, Stanford
How do you replace the best running back in the nation, a guy who scored 28 touchdowns and rushed for 1,871 yards? You don't. Those sorts don't come around every season.
The Contenders
:
Stepfan Taylor
and Tyler Gafney will get first crack, as well as
Jeremy Stewart
, who's coming back from a knee injury. Incoming freshman Anthony Wilkerson could be a dark horse.
Sean Canfield, QB, Oregon State
The first-team All-Pac-10 quarterback became an NFL prospect during a strong senior season. He led the conference with 3,271 yards passing and 21 touchdowns, which tied with Washington's
Jake Locker
.
The Contenders
: This will be a showdown between
Ryan Katz
and
Peter Lalich
this spring, with Katz starting as the leader.
Brian Price, DT, UCLA
Price could be an NFL first-round draft pick. He led the Pac-10 with 23.5 tackles for a loss in 2009. 'Nuff said.
The Contenders
: Good question. The Bruins are perilously thin here, considering both tackles need to be replaced and only senior David Carter has much experience. The answers here might be in the Bruins'
recruiting class
.
Syd'Quan Thompson, CB, California
The Cal secondary was a huge disappointment this season, but Thompson, a four-year starter and two-time first-team All-Pac-10 performer, was mostly his usually stellar self.
The Contenders
: Will Darian Hagan step up in his senior season? Perhaps the answer is sophomore Josh Hill? Or maybe a redshirt guy? The Bears only signed one player listed as a corner in their most recent recruiting class. Expect there to be a lot of competition here this spring.
Daniel Te'o-Nesheim, DE, Washington
Te'o-Nesheim, a high-motor guy who started four years and earned second-team All-Pac-10 honors his final two seasons, ranking third in the conference with 9.5 sacks.
The Contenders
: Considering the other end, Darrion Jones, also is gone, the Huskies will trend young here. Andru Pulu was listed behind Te'o-Nesheim on the depth chart, with Talia Crichton and Kalani Aldrich on the other side. There also will be opportunities for younger players here.
Ed Dickson, TE, Oregon
Dickson not only was the Ducks' second-leading receiver with 42 receptions for 551 yards and six touchdowns, the matchup problems he presented forced defenses to scheme specifically for him. That helps an offense in ways that aren't accounted for in statistics.
The Contenders
: Junior
David Paulson
was Dickson's backup last year, and he had some nice moments, but he's no Dickson. JC transfer Brandon Williams and touted incoming freshman Curtis White will be in the mix here.
Kenny Alfred, C, Washington State
Alfred, a four-year starter, was a good player on a bad -- and beaten up -- line. His brain as well as his physical ability will be hard to replace.
The Contenders
: Walk-on junior Chris Prummer was listed as Alfred's backup -- largely due to injury -- but Andrew Roxas, who redshirted this year after contracting viral hepatitis, is probably the leader here, though Steven Ayers could move inside to challenge him. Or there could be some reshuffling.
December, 8, 2009
12/08/09
3:07
PM ET
We copped out at running back, but it just didn't seem fair to recognize only two.
First-team offense

QB
Sean Canfield
, Sr., Oregon State
RB
Toby Gerhart
, Sr., Stanford
RB
Jacquizz Rodgers
, So., Oregon State
RB
LaMichael James
, RFr., Oregon
WR
James Rodgers
, Jr., Oregon State
WR
Damian Williams
, Jr., USC
TE
Ed Dickson
, Sr., Oregon
OG Jeff Byers, Sr., USC
OG Gregg Peat, Sr., Oregon State
OT Charles Brown, Sr., USC
OT Chris Marinelli, Sr., Stanford
C Kenny Alfred, Sr., Washington State
K Kai Forbath, Jr., UCLA
First-team defense

DT Brian Price, Jr., UCLA
DT Stephen Paea, Jr., Oregon State
DE Tyson Alualu, Sr., California
DE Daniel Te'o-Nesheim, Washington
LB Keaton Kristick, Sr., Oregon State
LB Mike Mohamed, Jr., California
LB Donald Butler, Sr., Washington
S Rahim Moore, So., UCLA
S Taylor Mays, Sr., USC
CB Trevin Wade, So., Arizona
CB Alterraun Verner, Sr., UCLA
P Trevor Hankins, Jr., Arizona State
October, 6, 2009
10/06/09
6:52
PM ET

Posted by ESPN.com's Ted Miller
Here's a list of players: defensive end Dexter Davis and defensive tackle Lawrence Guy -- both from Arizona State -- Arizona defensive end Brooks Reed, California defensive end Cameron Jordan, Oregon State defensive tackle Stephen Paea and Washington defensive end Daniel Te'o-Nesheim.
That is a stout crew. Each is a likely NFL draft pick -- a few on the first day -- when their time comes to go pro.
| | |
| --- | --- |
| | |
| | Scott Cunningham/Getty Images |
| | Dexter Davis has 27.5 career sacks, but none so far this season. |
Yet those six defensive linemen, each a contender for all-conference honors, have combined for just two sacks and 5.5 tackles for loss.
Meanwhile, USC freshman Nick Perry, who's not even a starter and mostly missed the California game due a bruised knee, has six sacks and seven tackles for loss.
Arizona's "other" defensive end, Ricky Elmore, has 4.5 sacks. Stanford end Thomas Keiser has 4.5 sacks and 7.5 tackles for loss.
In other words, the big names aren't hanging up big numbers while more obscure guys are.
What gives?
Apparently lots of double-teams. And toss in a few injuries.
One thing is clear, however: No coach was ready to rip his putative defensive star.
"Brooks is playing phenomenal," Arizona coach Mike Stoops said. "Sometimes statistics don't tell the whole story, and in Brooks' case that's certainly evident. You just turn the film on. He's a very productive player."
It also hurts that Reed has been hurting. He sprained his ankle against Iowa, missed the Oregon State game and is questionable for Saturday at Washington.
Stoops also said Elmore, a junior like Reed, isn't simply benefiting from offenses focusing on Reed.
"I think Ricky's gotten better as a player," Stoops said.
Davis is a four-year starter with 27.5 career sacks but he has zero sacks thus far in 2009, with only one tackle for loss.
"He's not playing bad. He's getting doubled a lot, which we expect," Sun Devils coach coach Dennis Erickson said, before adding. "We're not getting to the quarterback with those other guys. It's not so much Dexter as the other three guys -- or five guys or six guys who play -- when they double him and they are one-on-one."
One of those "guys" is Guy, who had 10 tackles for loss last year. He's only made five tackles this season with 0.5 TFL and zero sacks. He's also been battling a biceps injury that knocked him out of the season -opener.
Still, it's noteworthy that Arizona State, which is tied for last in the conference with three sacks, ranks third in the nation in total defense. If they maintain an elite overall ranking, then there's not much to gripe about, even if Davis and Guy fail to hang up big numbers.
The situation is not the same at Oregon State, which is tied with the Sun Devils with just three sacks. While the Beavers' defense took a step forward at Arizona State last weekend, it's still not the high-pressure unit of years past.
Coach Mike Riley doesn't blame Paea for that, though.
"I think he's doing a great job," Riley said. "He's getting a lot of attention. He is a disruptive force in the middle."
Paea had five sacks and 11 TFL last year, but he's got two new defensive ends flanking him who aren't stressing the opposing offensive line as much as Slade Norris and Victor Butler did a year ago.
As for Jordan (one sack), the junior been overshadowed by the Bears' other end, senior Tyson Alualu, who's recorded 26 tackles -- tops among conference D-linemen -- with 4.5 sacks. At Washington, Te'o-Nesheim (one sack) is much like Davis and Reed -- he's getting lots of attention from opposing offenses.
Of course, Te'o-Nesheim commanded lots of attention last year. He got off to a slow start but still ended up with eight sacks and 11.5 tackles for loss. In fact, he got his first three sacks of 2008 in Game 5 against Arizona.
Guess who's coming to Husky Stadium on Saturday?
In other words, there's plenty of time for the "name" guys to still live up to their, er, names.
April, 15, 2009
4/15/09
10:00
AM ET
Posted by ESPN.com's Ted Miller
Nick Holt left the seven-time defending Pac-10 champions, USC -- and sunny Southern California -- to follow Steve Sarkisian to Washington, which has won 11 games over the previous four seasons, including a 0-12 finish in 2008.
Hmm.
| | |
| --- | --- |
| | |
| | Jeff Golden/Getty Images |
| | Nick Holt knows he has his work cut out for him at Washington. |
He left the Trojans' defense -- the nation's best unit -- to oversee the Huskies defense, which ranked 116th in the nation in 2008 after giving up 38.6 points per game.
The good news is things can only get better under Holt and Sarkisian. The question for long-suffering Huskies fans: How long is it going to take?
Washington is heading into the home stretch of spring practices, so it seemed like a good time to check in with the man charged with restoring a once-proud program's defensive tradition.
So, how are you adjusting to a beautiful Seattle spring?
Nick Holt: [Laugh] I'm adjusting. I have to get used to all the wetness. Heck, when it's sunny, it's really beautiful. You've just got to get used to wearing rain gear sometimes.
How hard was it to leave USC? You guys kind of had a nice thing going down there, particularly on defense?
NH: It's always hard to leave a really, really good place. But you look for opportunities, and you look to keep motivated and keep stimulated and to keep moving up the professional ladder. You keep on changing. That makes the world go around. It was a good opportunity and I think the world of Steve Sarkisian. I think he's a tremendous football coach and I wanted to be part of the program.
When you were at USC, what did the Trojan coaching staff think of Washington? Was it hard to get guys motivated to play the Huskies?
NH: In 2006, they played us tough [26-20 final]. It came down to the wire and we won on the last series of the football game. They were driving and time ran out. And in 2007, it came down to the last part of the fourth quarter [27-24 final]. We barely got out of Seattle. They always played us really competitively. Down at USC, we always respected the University of Washington. When we first got into the conference in 2001, during our early years at USC, Washington was one of the better teams in the Pac-10. It just so happens this past year they had a disappointing season. But whenever they had Jake Locker in the football game, we always had to be ready because he's such a good athlete. We were fortunate we didn't have to play him last year [58-0 final]. He was hurt. That kind of hurt their season. So, to answer your question, we've always respected the University of Washington. We've always thought it was a tough place to play because Husky Stadium is so loud and they have such great fans.
After you were hired at Washington, what did you do to evaluate the talent presently on the roster?
NH: The first thing we always do is look at film and make evaluations through cut-ups. Obviously, when we first got here we were recruiting, so we were multi-tasking. We're doing a bunch of things all at once. But we had our graduate assistants on the job right away, getting them to make evaluations cut-ups of all the returning players and all of the freshmen. The kids that didn't have game film, we went through practice films. We got about 20 to 25 plays on each player who was coming back. That was one of the first things we did after signing day -- we started evaluating what we have coming back and how they are going to fit into our package. And obviously during winter conditioning we got to see kids do agility drills and conditioning drills and you get further evaluations and information on these kids.
October, 10, 2008
10/10/08
7:07
PM ET
Posted by ESPN.com's Ted Miller
Factoids, notes and quotes from around the Pac-10...
Curious Stat of the Week...
Which team leads the Pac-10 in third-down conversion rate?
0-5 Washington, at 53.2 percent
Bet you didn't see that one coming.
ARIZONA STATE (2-3, 1-1) at USC (3-1, 1-1)
USC is a perfect 8-0 vs ASU this decade, last losing to the Sun Devils in 1999. Over the eight wins, USC has averaged 39.8 PPG.
The Trojans are going for their 400th victory at the Coliseum.
ASU coach Dennis Erickson has faced USC six times with three different Pac-10 teams, going 1-5.
In USC's 44-34 win last year, the Sun Devils mustered just 16 yards rushing and 259 total yards. USC also racked up six sacks.

ARIZONA (4-1, 2-0) at STANFORD (3-3, 2-1)
Stanford is only 3-7 at home against Arizona (6-6 in Tucson).
Stanford has won four of five in the series.
Arizona leads the Pac-10 and is second in the nation in total defense allowing just 226.2 yards per game.
Arizona leads the conference in scoring with 43.6 points per game

WASHINGTON STATE (1-5, 0-3) at OREGON STATE (2-3, 1-1)
In Oregon State's 52-17 win last year, the Beavers running game accounted for 218 yards and six touchdowns. The Beaver defense picked off seven Cougars passes.
Mike Riley is looking for his 50th victory as Oregon State's coach.
The Cougars offense has been mostly terrible, but receiver Brandon Gibson ranks second in the Pac-10 in receptions per game (6.0) and third in receiving yards per game (76.7). He's caught at least one pass in 29 straight games, tied with Arizona's Mike Thomas for longest current streak in the conference.

UCLA (2-3, 1-1) at OREGON (4-2, 2-1)
UCLA is 14-6 in Eugene.
Last year, the Bruins blanked the then-No. 9 Ducks 16-0. The Bruins defense held Oregon -- which lost quarterback Dennis Dixon the week before when it was upset at Arizona -- to 12 first downs and 148 yards total offense and forced four turnovers. UCLA only had 220 total yards.
UCLA quarterback Kevin Craft was intercepted four times in the first half of the opener against Tennessee but has thrown just one pick since then and hasn't thrown an interception in three games.
UCLA has lost 11 of its last 14 road games and has been outscored 423-160 in those losses, according to the LA Times.
They said it...
Arizona State coach Dennis Erickson on his defense in the second half of last weekend's loss at California.
"We played probably as well as the defense has played since I've been here. We ran to the football, played very physical, very aggressive, created a turnover, did a lot of things and took the run away from them."
USC coach Pete Carroll on Arizona State quarterback Rudy Carpenter
"This guy is going to be a good NFL player. He's going to be a high draft pick I think when guys take a look at him."
Further....
Arizona and California own the conference's longest winning streaks: two games.
The conference is 13-15 in nonconference games with three remaining (USC and Washington vs. Notre Dame; Washington State at Hawaii)
California has intercepted 10 passes in five games -- tops in the conference --matching the Bears total from all of 2007.
Oregon State has given up the fewest turnovers in the conference, losing the ball only six times in five games. Washington State has the most, yielding 19 turnovers in six games.
Arizona has scored touchdowns in 22 of 28 red zone trips.
California freshman punter Bryan Anger is 7th in the nation with an average of 45.1 yards per boot. He's the only freshman ranked among the top-17 punters, 13 of whom are juniors or seniors.
Oregon defensive ends Nick Reed and Will Tukuafu are Nos. 1 and 2 in the conference in sacks (six and five) and tackles for a loss (both with 9.5), and the Ducks are tops in the conference with 18 sacks (3.0 per game).
Washington defensive end Daniel Te'o-Nesheim had three QB sacks last week at Arizona, the Huskies first sacks of the season.
In 12 Pac-10 games, the home team is 9-3.
August, 25, 2008
8/25/08
10:39
AM ET
Posted by ESPN.coms' Ted Miller
Just think: 119 sets of fans are optimistic right now. Wonder what that number will be in a week?
July, 30, 2008
7/30/08
4:27
PM ET
Posted by ESPN.com's Ted Miller

Ed Donatell was not afraid to take, perhaps, the toughest job in Pac-10 coaching this season.
For one, he joined Tyrone Willingham's staff at Washington. As everyone knows, Willingham is decidedly on the hot seat and probably needs to lead the Huskies to a bowl game to retain his job for a fifth season.
Second, Donatell takes over the Pac-10's worst defense from 2007 -- statistically the worst in the history of the program.
Third, only six starters return from that unit, including only one with significant experience on the defensive line.
And, finally, beleaguered Husky fans love defense. They've been suffering for a while now watching various lineups flub around on the field with the memory of Don James' stingy units still fresh in many boosters' memories.
Donatell, who did get the security of a two-year contract worth $334,000 annually, brings a fresh perspective. He spent 12 of the past 13 seasons in the NFL and coordinated defenses for the Green Bay Packers (2000-2003) and Atlanta Falcons (2004-2006). Over the years, he's coached with Pete Carroll, Bruce Coslet, Mike Shanahan and Mike Sherman.
He said he likes attacking defenses, and Huskies fans surely would love to duplicate his 2004 Falcons unit that led the NFC in sacks.
How did you end up at Washington?
Ed Donatell: In a nutshell, with the Atlanta Falcons, it was my seventh year as a NFL defensive coordinator. When [Falcons coach Jim Mora] was let go, I wanted to remain a coordinator and did not get that done. So I went and worked with the Jets as a senior assistant. I looked at [NFL] coordinator positions and didn't get one last year. So I just kept moving along and this Washington thing came up. I knew it was a storied university with a great tradition and I've always believed teams that won in the past can win again. And the reputation of Tyrone Willingham and the people on the staff, it seemed like a good match for me to join up with them. I wanted to continue as a guy leading defenses.