NCF Nation:

Daquan Hargrett
April, 13, 2011
4/13/11
9:00
AM ET
The number 1,000 is like Mount Everest for a college running back. Forget for a moment that over 12 regular season games plus a bowl, a runner has to average fewer than 77 yards per game to reach the milestone of 1,000 yards in a year. It's still a magical number.
The Big East has been blessed with top tailbacks the past few seasons, including five 1,000-yard rushers in 2010 (and two more guys who topped 920 yards last season).
Who will get there in 2011? Let's take a look at the top candidates, in order:
[+] Enlarge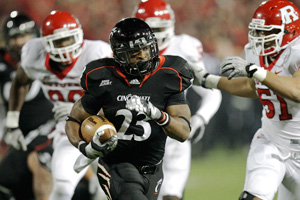 AP Photo/Al BehrmanCincinnati's Isaiah Pead is the Big East's leading returning rusher.
1. Isaiah Pead, Cincinnati:
Pead is the Big East's leading returning rusher this season, having produced 1,029 yards last season. The senior could be in for an even bigger year in '11 if he can stay healthy and the Bearcats offense can remain committed to the run.
2. Ray Graham, Pittsburgh:
Graham ran for 922 yards and averaged 6.2 yards per carry despite splitting carries with
Dion Lewis
last season. Now as the featured back -- and the only experienced ball carrier -- in new coach Todd Graham's fast-paced offense, Graham might be the safest bet of any Big East player to top 1,000 yards this year.
3. Antwon Bailey, Syracuse:
Bailey rushed for 554 yards last season and now should be the starting tailback behind a veteran Orange offensive line.
Delone Carter
topped 1,000 yards each of the past two seasons in this offense, so Bailey could do the same if given the same opportunities.
4. D.J. Shoemate or some other Connecticut back:
Picking a UConn back to go over 1,000 used to be a given. Donald Brown eclipsed 2,000 in 2008, two backs got into four figures in 2009, and
Jordan Todman
finished second nationally in rushing a year ago. The Huskies still have a powerful offensive line that will pave holes, and the running game will be important with an unproven quarterback. But there's no clear heir to Todman. Shoemate has gotten most of the reps this spring but must prove he's elusive enough to be an elite tailback. If not, perhaps
Lyle McCombs
or an incoming freshman will get a shot.
5. Unknown West Virginia back:
Most of the focus on Dana Holgorsen's offense centers on the passing game. But Holgorsen had a 1,500-yard back last year at Oklahoma State and 1,200-yard one at Houston in 2008. So the Mountaineers could definitely see a player cross that threshold. The question remains whether that would be
Ryan Clarke
,
Shawne Alston
,
Daquan Hargrett
, Andrew Buie or whomever.
6. Jeremy Wright, Louisville:
The sophomore likely will succeed
Bilal Powell
, who finished as the second best runner in the Big East last year. Wright showed his ability in limited time when Powell was hurt a year ago, and the Cardinals proved their commitment to running the ball under Charlie Strong in 2010. But Wright has also missed this spring with an injury, and the offensive line must replace four starters. Senior
Victor Anderson
has a 1,000-yard season under his belt but must regain his freshman form.
7. Darrell Scott/Demetris Murray/Dontae Aycock, South Florida:
Call them the 3-D backfield. It's unclear which back will emerge as the leader in the USF backfield, whether it's the Colorado transfer Scott, the Auburn transfer Aycock or Murray, who ran for 542 yards a year ago. They might split carries so much that no one guy reaches 1,000.
8. Savon Huggins or another Rutgers back:
The Scarlet Knights haven't had a 1,000-yard rusher since Ray Rice, though
Joe Martinek
got close two years ago. The conventional wisdom is that super-recruit Huggins will earn the running back mantle when he arrives this summer. But first he'll have to beat out
Jeremy Deering
,
De'Antwan Williams
and
Jawan Jamison
. And the Rutgers offensive line will have to be a whole lot better to clear the way toward 1,000 yards for any one back.
April, 6, 2011
4/06/11
12:25
PM ET
MORGANTOWN, W. Va. -- Some quick thoughts after attending the viewing window of West Virginia's spring practice on Wednesday, the Mountaineers' first day in full pads:
I was excited to see Dana Holgorsen's new offense in person, and it's not hard to see the reasons for optimism. The Mountaineers have speed at receiver, a promising young quarterback in Geno Smith and were giving their own defenses problems with the mix of run and pass. Bill Stewart had told me on Monday that the team hadn't looked downfield much yet in practice, but Smith threw deep a few times during the 11-on-11 period, and with good success. It wasn't all passing, though, as the offense lined up with two backs frequently and did some inside zone running.
Holgorsen mostly stands on the sidelines during the team periods, signaling in the calls as he will on gameday. He doesn't say a whole lot during practice, letting his assistants handle the bulk of the talking. Holgorsen gives out a lot more instructions during film review, the players say.
No worries about Smith's health. He was participating in all drills and running around well on his surgically repaired foot. This offense doesn't ask him to run much, anyway.
Freshman Paul Millard got the second-team reps and throws a nice ball. Holgorsen told me he's far ahead of fellow freshman Brian Athey at this point, mostly owing to the fact that he played 5-A Texas high school ball. How this kid went unrecruited is baffling.
Still no real standouts at tailback, but Daquan Hargrett had some nice runs while I was watching, including a burst up the middle for a long touchdown.
Brad Starks got behind the defense for a long completion. He looks great and could be poised for a big senior year. Ivan McCartney dropped a pass early but later caught a short one and completely juked Brodrick Jenkins out of his shoes. McCartney has major potential if he continues to develop and mature. J.D. Woods also made a nice catch in traffic. Tyler Urban also got involved, and it will be interesting to see how the offense uses him.
The defense wasn't allowed to tackle the quarterback, of course, but Bruce Irvin was in the backfield a lot -- "No one can block him yet," Stewart said -- and Julian Miller wasn't far behind. That's not surprising, especially since starting offensive tackles Don Barclay and Jeff Braun are out this spring with injuries. Irvin and a few other players were wearing the gold shoes from last year's special Nike Pro Combat uniforms, which made me happy to see.
Linebacker Tyler Anderson had an interception off a tipped ball. Stewart then told him he should have stayed up and tried to score instead of falling on the ground. About the only thing last year's defense didn't do right last year was get turnovers and points.
Overall impression: The Mountaineers weren't as sharp or crisp defensively as they were a year ago at this time, but that's almost a given after losing seven starters. There is still a lot of talent and speed here, and it's just going to take a little time for the defense to gel and the offense to get the system down. If it all comes together, this could easily be the best team in the Big East this year. But there's a long way to go.
April, 5, 2011
4/05/11
11:00
AM ET
MORGANTOWN, W.Va. -- It's early, real early, this spring for West Virginia, which began practice later than any Big East team. But one thing seems pretty clear in the initial going: the Mountaineers have a wide-open competition at running back.
This is something new around these parts, as West Virginia could count on
Noel Devine
and Steve Slaton before him to claim the ball-carrying load for the past several years. With a new offensive system and different types of backs on the roster this year, though, that position looks uncertain.
[+] Enlarge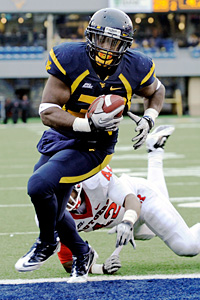 AP Photo/Jeff GentnerAt 230 pounds, Ryan Clarke is not the protypical running back for Dana Holgorsen's offense.
"I have not seen that Noel Devine or that Steve Slaton guy," head coach Bill Stewart said. "I have not seen that jump cut. Is it there? We'll see. But I haven't seen it yet."
The most experienced running backs on the team are 230-pound
Ryan Clarke
, 220-pound
Shawne Alston
and 235-pound
Matt Lindamood
. Those aren't the types of runners that Dana Holgorsen is used to using in his spread offense.
"The main back has always been a little quicker, a shiftier guy," Holgorsen said. "Someone who can get involved in the passing game, get the ball out in space and go score."
Kendall Hunter
, who ran for more than 1,500 yards under Holgorsen last season at Oklahoma State, was a 200-pounder. He coached smaller, quicker backs at both Houston and Texas Tech before that.
Holgorsen will adapt his offense to his personnel -- see his three-back, diamond formation last season at Oklahoma State -- and West Virginia will be able to throw some serious power looks at teams with Clarke, Austin, Lindamood and even
Tyler Urban
, who will see some time in the backfield as the tight end is phased out.
But it seems likely that a younger, more fleet-footed tailback will get some opportunities in an offense based on speed.
"A guy like
Daquan Hargrett
or a
Trey Johnson
, those guys have got a chance to see the field and touch the ball a lot more than they did last year," Holgorsen said. "That doesn't mean we're giving up on Alston and Clarke."
The Mountaineers will also bring in two shiftier players this summer in highly-regarded running back prospect Andrew Buie, a 190-pounder, and highly-productive Texas high school runner Dustin Garrison, who measures 5-foot-8 and 160. Both could see some action right away, just as Slaton and Devine did as true freshmen.
It might be until the summer, at least, before West Virginia discovers the heir to those former stars.
February, 17, 2011
2/17/11
4:15
PM ET
There's no more intriguing figure in the Big East for 2011 than Dana Holgorsen. The new West Virginia offensive coordinator/head-coach-in-waiting brings his high-powered offense to Morgantown, as everyone will be watching how the relationship between him and Bill Stewart works out. He's also a colorful character.
I talked to Holgorsen earlier this week about a host of topics, and here is Part I of our conversation. Look for Part II on Friday.
Now that you've gotten a chance to take a breath after signing day and actually settle in a bit, how important is this time period right now?
Dana Holgorsen:
It's pretty important. That signing day week, we started to get the know the kids, and now with the five weeks of offseason [before spring practice], we've really got to take advantage from a watching film standpoint. It's about us offensive coaches, and the defensive coaches as well, getting on the same page and getting a plan for spring. And also, 1) getting to know the guys and 2) getting them lined up and 3) watching film of the offense, that way they've got an idea of what's going on the first day of spring. We don't want to start teaching them the first day of spring. We want to start teaching them now.
[+] Enlarge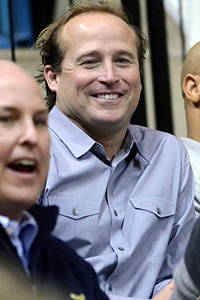 AP Photo/Jeff GentnerDana Holgorsen is spending time during the offseason familiarizing himself with his personnel.
Have you gotten a sense of what the players can do by watching film and in what little you can interact with them at this point?
DH:
I watched just a little bit of tape on what they did last year from a personnel standpoint. Everybody is kind of starting over. We've got a lot of experience coming back from guys who have played. But it's a new system. It's going to be a chance for a lot of kids to wipe the slate clean and start over and mature. There are a bunch of guys who had redshirted or hadn't played very much who are going to develop. We've got to figure out who those guys are. It will take practice time to do it.
Do you feel like you've got the speed and skill you need to run the offense the way you want?
DH:
I think so. There is more experience at the receiver position here than there was at Houston when I first got to Houston or at Oklahoma State when I first got to Oklahoma State. There are probably guys here who have played more football, though that doesn't necessarily mean they're better. It doesn't mean they're going to develop. But I think there are some guys with more experience at the skill positions -- not at running back but at receiver. At receiver, I think we've got about five guys who are a proven commodity, while at running back I think we've got guys have played a little bit, but they played behind [Noel] Devine for a couple of years.
At Houston and Oklahoma State, you were able to get your offense installed and be highly productive right away. What's the secret to that?
DH:
Each place is different. Both at Houston and Oklahoma State, I was coming into a situation where we had only three returning starters. But there were bodies on campus. We have more returning starters here than any of the two previous places I was at. It's about how they adjust and how they jell more than anything. We've done it before, and the system isn't any different than it's been the last three years. So we'll teach them and then line them up and then it's just a matter of meshing together.
Do you feel like it's a system that can be easily learned, without a lot of confusing terminology and such?
DH:
I think one thing we've always done a good job of, and it's probably the biggest thing I learned from Mike Leach, is the organization of how we present it and how we practice it. I've made some changes at each stop each year to try and make it a little easier for these guys to grasp, but the key is to grasp it as quickly as possible. We're taking advantage of the meeting time we have over the next five weeks so they'll have a quicker grasp of it and get better at it. I don't want them thinking about what they're doing all the time. I want them just reacting.
What are your initial impressions of Geno Smith?
DH:
Calm. He's pretty poised. He's played a lot of football and won a lot of games. People gravitate toward him, so whether he wants to be a leader or not, he's one of those guys who is. He's got a lot to learn, and he's got to prove he can do it. But watching him on film, he seems pretty poised in the pocket. He doesn't get rattled and doesn't panic.
Do you think he fits with what you want to do offensively?
DH:
Yeah, I think he does. We don't have much on campus. We've got him and we've got two true freshmen who were midterm enrollees, so we have three quarterbacks. Geno is the returning starter, and then there are two high kids that are both 6-foot-3, good-looking kids who've thrown the ball a bunch. But you never know how those guys are going to develop. They've got a guy in front of them that has played games and has proved to be able to win.
How about the running back position, where you've got some bigger backs than West Virginia has had in a while?
DH:
I just don't know a whole lot about them. There's
Shawne Alston
, but he's battling an injury and I haven't seen him run around. [Note: Alston is dealing with a knee injury but is expected to participate in spring practice].
Ryan Clarke
has been impressive. He's a physical kid who does a good job in the weight room. He's a bigger back but also athletic as heck now. Those two guys have some snaps under their belt. We have to look at guys like
Daquan Hargrett
and
Trey Johnson
, and then a midterm guy like Vernard Roberts, who's a freshman. That gives you five people to line up and figure out what they can do.
And your system is adaptable for bigger backs?
DH:
Either they get yards or they don't get yards. We had a first-team all-conference fullback at Oklahoma State who played about 35 snaps a game. So you've just got to evaluate your personnel and get the best ones out there. I don't care what they look like. It's about production, and if your better players are bigger people, then put 'em in there.