May, 12, 2014
May 12
9:30
AM ET
The biggest non-game on the American sporting calendar is
all done
, as the 2014 NFL draft wrapped up Saturday afternoon in New York. After
arguably its worst draft in the modern era
in 2013, the Big Ten performed better this year with 30 picks. Still, the league finished fourth among conferences in selections, trailing the SEC (49), ACC (42) and Pac-12 (34).
After a big Friday night with six second-round selections -- including four in a row -- and six third-round selections, the Big Ten's momentum slowed a bit Saturday in the final four rounds. The league had only one sixth-round pick and only four in the seventh round.
Let's start the breakdown by listing Big Ten draftees by round (with comments below). Maryland and Rutgers players aren't included here because neither group competed in the Big Ten (Terrapins CB Dexter McDougle went in the third round; Rutgers had no players drafted).
FIRST ROUND (4)
[+] Enlarge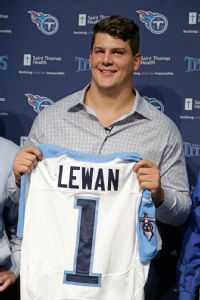 AP Photo/Mark HumphreyTaylor Lewan was the first Big Ten player selected, going 11th overall to the Tennessee Titans.
Analysis:
Click here for my first-round thoughts
SECOND ROUND (6)
Analysis:
Hageman ends up in a really good spot with the Falcons. Although Latimer had an excellent pre-draft performance, it wasn't surprising to see him end up in the middle of the second round. Hyde waited longer than many anticipated, but he enters a great situation with a team that loves to play power football. Robinson joins a new-look Jaguars passing attack featuring quarterback
Blake Bortles
and wideout
Marqise Lee
.
THIRD ROUND (6)
Analysis:
Everyone had Southward going before Borland, right? Borland, the 2013 Big Ten defensive player of the year, had an exceptional college career, but concerns about his height and perhaps his injury history moved him down the draft boards. The Iowa Effect shows up here as both Fiedorowicz and Kirksey were swept up by teams that respect what the Hawkeyes do. What does it say that Michigan's offensive line struggled mightily in 2013 but had two tackles drafted in the first three rounds? Those young Wolverines linemen had better step up this fall.
FOURTH ROUND (4)
Analysis:
Some really good pickups in this round, especially White, who will fit in very well with New England's offense. Although
James Morris
received the most accolades among Iowa's linebackers at the college level, both Kirksey and Hitchens were mid-round selections, while Morris went undrafted and signed with New England as a free agent. As a Chicago Bears fan, I love the Vereen pick. He's a smart, athletic versatile player who knows from his older brother what it takes to succeed in the NFL.
FIFTH ROUND (5)
[+] Enlarge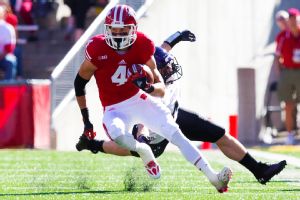 Jeff Hanisch/USA TODAY SportsJared Abbrederis isn't venturing far from Madison as he was drafted by the Green Bay Packers.
Analysis:
Like his teammate Borland, Abbrederis had a much longer wait than expected but lands in a very familiar spot with Green Bay. I think he's a steal and will surprise people with his ability to make plays despite less-than-ideal measurables. Pamphile had a fairly quiet college career but is seen as a project and could develop into a better pro. Urschel is another player who lacks the ideal physical traits sought in the NFL, but could make up for it with exceptional intelligence.
SIXTH ROUND (1)
Analysis:
Enunwa complemented his superb blocking skills with big-play ability in the pass game as a senior. He's a good value for a Jets team that needs to boost the league's 31st-ranked pass offense.
SEVENTH ROUND (4)
Analysis:
All four players could be very good values. Bolser is an athletic tight end who had 15 career touchdown catches. Allen showed versatility as a senior, transitioning to a 3-4 scheme. Gallon heads to a Patriots team that has had success with smaller, productive receivers. Bryant likely would have been selected higher if not for major leg and ankle injuries last season.
Here are the draft picks per B1G team:
Ohio State:
6
Wisconsin:
5
Michigan:
3
Penn State:
3
Nebraska:
3
Iowa:
3
Purdue:
2
Minnesota:
2
Indiana:
2
Michigan State:
1
The big surprise is a Michigan State team that dominated Big Ten play and won the Rose Bowl had just one player selected, as standout linebackers
Max Bullough
and
Denicos Allen
didn't have their names called. Only four teams -- LSU, Alabama, Notre Dame and Florida State -- had more selections than Ohio State. Illinois, which led the Big Ten in draft picks last season (4) and had 18 picks between 2009-13, had no selections. Northwestern also went without a draft pick for the second straight year.
Curious about the Big Ten's undrafted free-agent signings? Check back in a bit as we take a look.
September, 14, 2013
9/14/13
11:15
PM ET
STATE COLLEGE, Pa. --
Deion Barnes
stared blankly ahead once the coaches shook hands near midfield. There was no changing the blinking lights on the scoreboard. Barnes hurriedly unbuckled his chin strap and headed to the tunnel.
The defensive end's stare told the story of the Nittany Lions' day. Barnes seemed angry, frustrated and in disbelief. Most of the fans were, too.
The Nittany Lions' defense was supposed to be the strong point of this team. The rush defense was supposed to be nearly impenetrable. (It had allowed just 1.8 yards a carry.) The secondary was supposed to be much improved. But against George O'Leary's Knights, these Nittany Lions allowed 507 yards -- including nearly 6 yards a carry.
Bill O'Brien called it a team loss, but it was clear it was the defense that disappointed.
"We knew what we had to do to stop them," defensive coordinator John Butler said between swigs of orange sports drink. "And, to be honest with you, we couldn't stop what we needed to stop."
Safety
Adrian Amos
didn't remove his helmet while fans swayed to the alma mater. He wasn't the only one. Neither Amos nor Barnes, staples of the interview room, stopped to chat with reporters after their first loss of the season.
Instead, Butler took center stage and tried his best to answer questions -- minutes after O'Brien tried to deflect most by reiterating that he'll watch the tape. Butler did, too, but he tried his best to explain just how PSU managed to allow 15 plays that went for 10 yards or more.
The defensive coordinator knew people would blame PSU's thud practices, in which no one is tackled to the ground, for the missed tackles. And he didn't try to dismiss that explanation, either.
"I think it's fair," Butler said. "But that's just a decision we have to make because when you only have 62 scholarship players, you've got to do your best to get what you have to the field. You don't want to take it to 57 because you're tackling in practice, and maybe two of those five players you lose are your best players.
"So I think we drill it, and I think we have to keep drilling it. And part of it's leverage and their athletes."
The defense had its chances to stop UCF and give the offense a chance at the comeback. In the final quarter, with PSU trailing by just a touchdown and with the students' deafening chants,
Jordan Lucas
was flagged for a pass-interference penalty on third-and-9. ("Shoot, I thought we had a stop," Lucas said.) Later on that same drive, on third-and-2,
William Stanback
rumbled ahead for the first down.
And then, on UCF's final drive, PSU allowed a 13-yard pass on second-and-9 to seal the game.
"Yeah, I feel like we should've won this game," defensive tackle
DaQuan Jones
said. "But, at the same time, we didn't. They were the better team today."
DE
C.J. Olaniyan
missed a critical stop in the backfield. CBs
Trevor Williams
and Lucas led the team with six tackles apiece. And PSU came up with no sacks and no quarterback hurries.
The problem with the defense was that there was more than just one problem. At one point, wideout-turned-cornerback Williams took the bench while safety Amos moved back to cornerback.
Blake Bortles
completed nearly 75 percent of his passes, so PSU needed to do something. Still, it didn't work. Butler moved around personnel, tried different game plans, but nothing seemed to slow down UCF.
"We tried everything. That's the one thing I know I can say," Butler said. "We emptied the game plan. We tried to play man, we tried to play zone, we tried to play half-man, half-zone. They did a good job."
Christian Hackenberg
and
Allen Robinson
showed they can hang tough in a shootout. The unit with the most question marks -- PSU's passing game -- played well.
O'Brien said he'll have more answers by Tuesday. So hopefully, for the Nittany Lions, they'll find some answers for their defense in time for the Big Ten season.
September, 10, 2013
9/10/13
9:00
AM ET
STATE COLLEGE, Pa. --
DaQuan Jones
doesn't blush at all from the praise. He's relaxed after peeling off his helmet, and any compliments seem to slide off his shoulders like sweat from a two-hour workout.
[+] Enlarge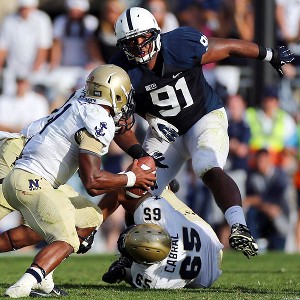 Rob Christy/USA TODAY SportsDT DaQuan Jones lived up to the preseason hype and led the Nittany Lions in stops in the backfield and was fifth on the team in tackles.
The praise rolls on and Jones nods, but he's heard most of it before. Yes, he knows Gil Brandt rated him the top senior DT this season -- he found out on social media -- but that's a title he's not yet earned. Yes, he knows he leads the team in sacks (two), but he counters by saying the season's young.
But, every now and then, Jones is thrown off. You know, one reporter tells him, former cornerback Stephon Morris tweeted about how he should be a Heisman contender. Forget about Johnny Football and those billboard-grabbing quarterbacks.
"That's a bit too much," Jones said, shaking his head as if it were an insult. "That's for the skill guys."
Still, while the Heisman race might be a bit out of the humble senior's grasp, other awards like the Lombardi might just be within reach. After two games, he has five stops in the backfield. And, perhaps most impressively, he leads the Nittany Lions in tackles with 18. Only two players in the Big Ten -- Illinois LB
Jonathan Brown
and Iowa LB
Anthony Hitchens
-- have more. And Jones still has more solo stops than those two leaders.
"Seriously?" the defensive tackle asked Saturday, turning his head. "Man, that's crazy."
Crazy is right. On the field, Penn State's 318-pound defensive tackle -- who was 330-plus before laying off the local chicken-wing shop -- is focused like a prizefighter. He's friendly and gregarious after the game, like any other college student waiting to meet up with his family for a Saturday dinner, but he's another person on the field.
He talks with a slight lisp, not unlike
Mike Tyson
. It's a comparison others have drawn, and it's not a reach considering he constantly delivers knockout blows to the opposing line. He's mean, he's strong, and he's not a player the opposition looks forward to crossing.
"I like double teams better," he said matter-of-factly, as if he was asked his favorite ice cream flavor. "I'm a physical guy, and I like the contact. I don't shy away from them."
Added 240-pound tailback
Zach Zwinak
: "Even in our thud practices [where no one goes to the ground], he's definitely laid a few hits. He's a big boy."
In two games, Penn State has limited rushers to just 1.8 yards a carry and Jones has become the main ingredient in those three-and-outs. Against Syracuse, on three straight rushing plays to end the half, Jones came up with three straight tackles -- even when the Orange tried to avoid Jones by running off to the right on third down. (Jones happened to bring the ball-carrier down in the backfield for a one-yard loss, anyway.)
Trying to stop Jones is about as easy as about as trying to stop a run-away tractor trailer. You can try … but you'll probably get hurt in the process. Still, maybe that shouldn't be so surprising given the school's history at defensive tackle. Jones isn't an exception; he's really part of a trend.
He landed in Happy Valley months after the Miami Dolphins drafted Jared Odrick in the first round. He watched teammate Devon Still become a second-rounder in 2012 and then saw
Jordan Hill
head to the Seattle Seahawks in the third round this past offseason. Compare him to the past DT greats, say he's better, say he's worse -- but Jones is remaining level-headed.
"I want to be known for who I am," Jones said. "I didn't come here to live in anyone's shadows."
Jones is sincere and soft-spoken. When he says he's playing for fun and not awards, it's easy to believe him. He'll laugh when he talks about his pregame ritual with teammate
Deion Barnes
and how they'll just slap the back of each other's heads if one doesn't seem loose enough. And he'll narrow his eyebrows and softly glare, as if to say "Seriously?," when someone dishes out some praise. Part of the reason might just be because he doesn't yet believe himself that he's posted up some mind-boggling numbers.
Here's another: Last season, Jones started 11 games and finished the season with eight solo tackles and two tackles-for-loss. In Week 1 of this year, he already had eight solo tackles and three-tackles-for-loss.
"You know, it came up last week that somebody mentioned people were concerned about our interior defensive line play," defensive coordinator John Butler said. "But that's one of our strengths. DaQuan Jones is a great player. … DaQuan is very unselfish. If he keeps playing the way he's playing, he's going to have a long future playing football after Penn State."
Jones is as comfortable on the gridiron as he is off it. This is his final Penn State season and his last year as a college student, so he said he's going to enjoy it. And so far -- much to the chagrin of opposing offenses -- he sure has.
September, 9, 2013
9/09/13
9:02
AM ET
The top half of the Power Rankings remains exactly the same, but some interesting story lines are starting to develop.

Is Ohio State or Michigan the Big Ten's best team? Michigan made its case Saturday night against Notre Dame, while Ohio State's bigger tests await in Weeks 5 and 6 (Wisconsin and Northwestern). For now, we're keeping the Buckeyes at No. 1, but we'll need to see a strong performance this week on the road against Cal's high-powered offense.
Northwestern and Wisconsin held steady, and both Nebraska and Penn State looked better in Week 2. Illinois is the big mover after Saturday's dominant win against Cincinnati, while Indiana, Michigan State and Iowa fall. There's some separation after the top six, and Nos. 7-9 really could appear in any order.
These are consistent with our rankings in the ESPN.com power poll.
Here's one last look at the
previous Big Ten rankings
.
To the rundown …
1. Ohio State (2-0, last week: 1):
Braxton Miller
's knee injury created some tense moments in Columbus, but Ohio State fans settled down and settled in to the smooth sounds of Kenny G (Guiton, that is). One of the nation's best backup quarterbacks torched San Diego State for three touchdowns as a Buckeyes team that sleepwalked through the second half in Week 1 took charge from the get-go. Ohio State's young defense will be tested much more this week by the "Bear Raid" offense at Cal.
2. Michigan (2-0, last week: 2):
Debate the Notre Dame-Michigan rivalry all you want, but
it mattered a lot
for quarterback
Devin Gardner
and the Wolverines. Gardner proved he's a big-game quarterback and triggered an impressive offensive performance against Notre Dame's physical defense. Although Michigan's defense had some issues, it made timely plays against the Irish. The Wolverines have the look of a BCS bowl team and possibly a Big Ten champion.
3. Northwestern (2-0, last week: 3):
Week 1 was all about survival for Northwestern. Saturday night, the Wildcats showed why they should contend for the Legends Division title this season. Quarterbacks
Kain Colter
and
Trevor Siemian
had their way with Syracuse's defense, and wideout
Tony Jones
had a huge night as Northwestern easily improved to 2-0. The Wildcats should be 4-0 in three weeks when Ohio State visits Evanston, and star running back
Venric Mark
should be healthy by then.
4. Wisconsin (2-0, last week: 4):
The run game has been dominant, the defense suffocating and the competition level horrendous. What do we make of these Badgers after two not surprisingly dominant performances against lowly Massachusetts and Tennessee Tech? Wisconsin deserves credit for handling its business with few if any mistakes, recording back-to-back shutouts to open a season for the first time since 1958. Quarterback
Joel Stave
looks comfortable. But the competition goes up -- way, way up -- this week at Arizona State.
5. Nebraska (2-0, last week: 5):
The Huskers defense doesn't deserve the "Blackshirts" label quite yet, but at least the unit avoided less-flattering terms for a week. Cornerbacks
Stanley Jean-Baptiste
and
Ciante Evans
set the tone for a rebound performance with pick-sixes in the first quarter, and junior-college transfer
Randy Gregory
applied pressure all game. The defense needs a better performance this week against UCLA, potentially the only team that can beat the Huskers during the first two months of the season.
6. Penn State (2-0, last week: 6):
After a rough start, freshman quarterback
Christian Hackenberg
settled down in his Beaver Stadium debut. He also got a ton of help from the run game, which had struggled in the opener but broke out for 251 yards and five touchdowns. Tackle
DaQuan Jones
triggered a suffocating Lions defense, which will be tested much more this week when
Blake Bortles
and Central Florida visit Happy Valley.
7. Minnesota (2-0, last week: 8):
Although Aggie Vision was the real highlight Saturday night, Minnesota provided a few of its own in an easy win against New Mexico State. The Gophers continue to find creative ways to score, adding a special teams touchdown and a defensive touchdown in a
44-21 romp
. Despite being short-handed at running back, Minnesota got the ground game going behind Rodrick Williams (148 yards, 1 TD),
David Cobb
(56 yards, 1 TD) and quarterback
Philip Nelson
(122 rush yards, 1 TD). The Gophers have another tuneup this week before their first real test Sept. 21 against San Jose State.
8. Michigan State (2-0, last week: 7):
Can
Shilique Calhoun
play quarterback? The sophomore defensive end has been Michigan State's best offensive weapon in the first two games, scoring one more touchdown than the entire Spartans offense. Michigan State's defense has added a dynamic playmaking element early this season. Unfortunately, the problems on offense only seem to be worsening and the quarterback situation is anyone's guess right now.
9. Illinois (2-0, last week: 11):
Surprise, surprise, the Illini are unquestionably on the rise. Few saw it coming, but Illinois walloped Cincinnati behind another impressive performance by quarterback
Nathan Scheelhaase
and the offense. One of the nation's worst offenses has surged under coordinator Bill Cubit, scoring 87 points in the first two games. Linebacker
Mason Monheim
and the defense rebounded nicely after a shaky Week 1 effort. Can the Illini pull off another upset this week against Washington at Chicago's Soldier Field?
10. Indiana (1-1, last week: 9):
Kevin Wilson
's words last week proved prophetic
as Indiana's offense lacked the efficiency it needed early on against Navy's ball-control offense. But eventually a defense has to make some stops and Indiana's once again couldn't, especially in the closing minutes. The Hoosiers surrendered 444 rush yards in a
41-35 loss
, once again showing that this program hasn't turned a corner. Things get tougher this week as a very good Bowling Green squad comes to Memorial Stadium.
11. Iowa (1-1, last week: 10):
Some Iowa fans undoubtedly felt better about their team after last week's loss to Northern Illinois than Saturday's win against FCS Missouri State. The Hawkeyes had just seven points through the first 37 minutes before
Mark Weisman
(180 rush yards, 2 TDs) took over down the stretch. Quarterback
Jake Rudock
showed good mobility but also threw a pick-six. Iowa faces a must-win this week as it hits the road to face rival Iowa State.
12. Purdue (1-1, last week: 12):
The Boilers got a win Saturday, but they won't win many more if they don't clean up their problems on offense. If Purdue can't punch the ball into the end zone against Indiana State from inside the 5-yard line, what's going to happen against Big Ten defenses? Defensive tackle
Bruce Gaston
had a big day, but the Boilers need many others to elevate their play as Notre Dame visits Ross-Ade Stadium this week.
September, 3, 2013
9/03/13
9:00
AM ET
After several mostly speculative versions of the Big Ten power rankings, we finally had a chance to evaluate these teams in games. The Week 1 competition mostly wasn't great, and the Big Ten's overall performance left something to be desired. We'll learn a lot more about most of these teams in the coming weeks.

We try to keep these rankings consistent with our ESPN.com national power rankings, so Ohio State remains No. 1, ahead of Michigan, even though the Wolverines looked more impressive against their MAC opponent than Ohio State did. But a Michigan win against Notre Dame this week could change things.
Wisconsin and Nebraska trade places in the rankings, and so do Penn State and Michigan State.
Here's one last look at the
preseason power rankings
.
Let's get to the rundown ...
1. Ohio State (1-0, preseason: 1):
The Buckeyes had a flawless record in 2012, but they were a flawed team. They still are, and they showed some warts during the final three quarters of a 40-20 win against a plucky Buffalo squad. Quarterback
Braxton Miller
has improved and has a much better supporting cast, including running back
Jordan Hall
, but the Buckeyes need to take better care of the ball. A soft schedule should give Ohio State's young defense time to develop.
2. Michigan (1-0, preseason: 2):
This year's opener went just a tad better than last year's for Brady Hoke's Wolverines. Michigan made big plays in all three phases and received contributions from many different players, delivering the most impressive debut in the league. Quarterback
Devin Gardner
(162 pass yards, 52 rush yards, three total touchdowns, two interceptions) can build off of this performance before facing a talented Notre Dame defense under the lights next week.
3. Northwestern (1-0, preseason: 3):
The Wildcats remain in the three hole but solidified themselves after a resilient performance on the road against Cal. They played most of the game without their dynamic backfield of quarterback
Kain Colter
and running back
Venric Mark
, which fundamentally changed the offense. Thanks to unlikely heroes such as linebacker
Collin Ellis
and running back
Treyvon Green
, Northwestern remained perfect in openers under Pat Fitzgerald. Up next, Syracuse.
4. Wisconsin (1-0, preseason: 5):
Fortunately, Wisconsin's next three openers (LSU twice, Alabama) will provide a lot more clues about the Badgers than Saturday's laugher against FBS bottom-feeder UMass. But you play the team across the field, and to Wisconsin's credit, it completely dismantled the Minutemen on both sides of the ball. The three-headed rushing attack of
James White
,
Melvin Gordon
and
Corey Clement
sparkled, combining for 388 yards and three touchdowns on 40 carries.
5. Nebraska (1-0, preseason: 4):
The concerns about Nebraska's young defense weren't merely confirmed in the opener against Wyoming. They grew. Nebraska surrendered 35 first downs and 602 yards and nearly blew a 16-point fourth-quarter lead before surviving 37-34. Coach Bo Pelini didn't sound too discouraged Monday, but defensive coordinator John Papuchis said the defense has "nowhere to go but up." Nebraska needs a crisper performance this week against Southern Miss.
6. Penn State (1-0, preseason: 7):
Like Northwestern, Penn State fought through some adversity to beat another major-conference team away from its home stadium. Freshman quarterback
Christian Hackenberg
backed up the hype for the most part, and tackle
DaQuan Jones
and safety
Stephen Obeng-Agyapong
sparked the defense. The Lions must get better on third down (1-of-15) before Central Florida comes to town in Week 3.
7. Michigan State (1-0, preseason: 6):
As dominant as the Spartan Dawgs were against Western Michigan -- and could be the entire season -- the big concern here is an offense that appears to have regressed, if that's even possible. The quarterbacks remain the focus, but Michigan State isn't getting enough from any part of its offense. If things don't change, expect another season of games that can go either way. MSU has a chance to get well this week against slumping South Florida.
8. Minnesota (1-0, preseason: 8):
Credit defensive tackle
Ra'Shede Hageman
and the Gophers for making big plays in all three phases in their opener against UNLV. But the 51-23 final score masked some of the issues Jerry Kill's team must address before the competition level improves. Minnesota needs a more physical effort from its offensive line, and it has to get off the field on defense after allowing UNLV to go 4-for-4 on fourth down. The Gophers need to clean things up this week on the road against New Mexico State.
9. Indiana (1-0, preseason: 9):
A loaded Hoosiers offense set a
Memorial Stadium record with 73 points
against Indiana State, and Indiana has multiple weapons at quarterback, running back and wide receiver. But we've seen big offense from Indiana before. Can the Hoosiers' defense improve enough to boost the win total to bowl eligibility? IU's discipline will be tested this week against Navy's tricky triple-option offense.
10. Iowa (0-1, preseason: 11):
Yes, the Hawkeyes actually move up a spot despite a loss (it has more to do with Purdue's plunge). Iowa in some ways looked like a better team against Northern Illinois, surviving a sluggish start to take control behind quarterback
Jake Rudock
, linebacker
Christian Kirksey
and a physical defense. But breakdowns on both sides of the ball doomed Iowa down the stretch, and Rudock's interception led to NIU's game-winning field goal. Iowa really needed a win and must regroup this week against Missouri State.
11. Illinois (1-0, preseason: 12):
Senior quarterback
Nathan Scheelhaase
looks much more comfortable in Bill Cubit's offense and threw for a career-high 416 yards and two touchdowns against Southern Illinois. That's the good news. Illinois still has many areas to fix, especially on defense after nearly blowing a 22-point third-quarter lead. We'll learn a lot more about this team the next two weeks against Cincinnati and Washington.
12. Purdue (0-1, preseason: 10):
What a mess. Nothing went right for the Boilers in coach Darrell Hazell's debut. The defense couldn't get off of the field on third down or fourth down.
Rob Henry
struggled and the offense committed three turnovers. Aside from a Cincinnati special-teams blunder, Saturday was a nightmare for the Boilers, who fell 42-7. Fortunately, Indiana State is next, but there's a lot of work to do.
June, 19, 2013
6/19/13
5:00
PM ET
Big Ten bloggers Adam Rittenberg and Brian Bennett will occasionally give their takes on a burning question facing the league. We'll both have strong opinions, but not necessarily the same view. We'll let you decide which blogger is right.
We're in the process of projecting the Big Ten's statistical leaders for the 2013 season. We've already covered our choices for the league's
top rusher
,
top passer
and
top receiver
. We don't want to forget the defense in this exercise, however. So
today's Take Two topic
is: Who will lead the Big Ten in sacks this year?
Take 1: Brian Bennett
[+] Enlarge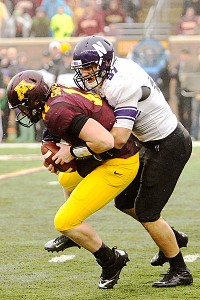 Brian Ekart/Icon SMITyler Scott was Northwestern's defensive MVP last season, notching nine sacks to tie for the conference lead.
I covered some of the candidates in this post earlier this month and noted that the Big Ten did not have a player reach double digits in sacks in 2012. Four of the top five sack masters from last season have moved on, so the floor is open for a new sack leader.
There's a good chance that some younger guys will lead the way this season. Ohio State's
Adolphus Washington
and
Noah Spence
look like superstars in the making. Penn State's
Deion Barnes
was the league's freshman of the year last season and could easily improve on his six-sack total from 2012. Junior college transfer Randy Gregory could wreak some havoc for Nebraska.
But I'll go with a safer choice in a proven veteran: Northwestern's
Tyler Scott
. After all, the senior did tie for the conference lead last year with nine quarterback takedowns, showing excellent improvement from his sophomore to junior years. He is one of the strongest players in the Big Ten and a weight room warrior, and I'm sure he's working his butt off this summer to be an even better player. The Wildcats' defense should be pretty solid up front, and they will play some teams like Cal, Syracuse, Michigan State and Illinois that should offer opportunities for Scott to get into the offensive backfield. I say he does that a lot on his way to a league-best 11 sacks in 2013.
Take 2: Adam Rittenberg
Scott is a strong choice, BB. He's an extremely hard worker who
placed a major emphasis on the pass rush
after the 2011 season, when he recorded only two sacks. Although Northwestern's overall pass pressure improved, Scott certainly stood out in the group. I expect a solid senior season from him, but I think the sacks will be spread around a little more in 2013 as Northwestern boasts better depth, experience and speed at the end spot with
Dean Lowry
,
Deonte Gibson
and
Ifeadi Odenigbo
.
That's why I'm going with Penn State's Barnes as the Big Ten's sacks leader. He was an easy pick for the league's freshman of the year award and should only get better with another offseason with elite line coach Larry Johnson. Barnes already has the body of an upperclassmen and a skill set that projects extremely well to the NFL. His challenge this season is two-fold: He's no longer an unknown and will be at the top of every opponent's scouting report, and he no longer has All-Big Ten defensive tackle
Jordan Hill
to attract some of the attention. Barnes will have to defeat double-teams and get some help from
DaQuan Jones
and others to have a big sophomore season. But I think he gets it done and puts up 11 or 12 sacks to lead the conference.
May, 13, 2013
5/13/13
9:00
AM ET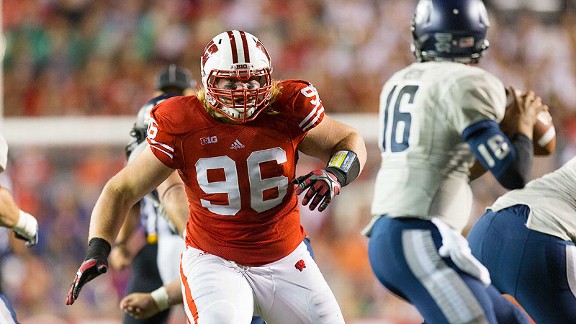 Jeff Hanisch/USA TODAY SportsWisconsin will again be counting on Beau Allen to be a force on the defensive line.
You can bemoan the Big Ten's recent lack of elite talent at some positions like quarterback and wide receiver. But one spot where the league has been traditionally strong is at defensive tackle.
That has been arguably the conference's deepest and strongest position in the past two years, filled with stars like Devon Still, Mike Martin, Jerel Worthy,
Jordan Hill
, Kawann Short and Johnathan Hankins, to name a few. In an otherwise slow NFL draft for the league, the Big Ten saw four defensive tackles get selected last month, including two underclassmen (Hankins and Akeem Spence). In 2012, the conference had five defensive tackles get drafted.
That's why it's notable that, heading into the 2013 season, the Big Ten has no established stars on the defensive interior. Several schools lost top players to either graduation or the draft, including Ohio State (both starters, Hankins and
Garrett Goebel
are gone), Penn State (Hill), Purdue (Short), Michigan (Will Campbell), Indiana (Adam Replogle and Larry Black Jr.), Illinois (Akeem Spence and Glenn Foster), Nebraska (
Baker Steinkuhler
), Northwestern (Brian Arnfelt) and Michigan State (Anthony Rashad White).
That's a big talent drain for one position. None of the returning defensive tackles in the league have ever made first- or second-team All-Big Ten. The top veteran tackles in the conference look like this (in alphabetical order):
All of those guys have been solid contributors, but hardly superstars. They're also all seniors, so maybe they'll go out with a bang.
Or maybe it's younger guys who emerge as the next wave of great Big Ten defensive tackles. Iowa's
Carl Davis
had a huge spring game and has always had talent but not health. Injuries have also held back Nebraska's
Thad Randle
and Ohio State's
Michael Bennett
. Michigan State's
Lawrence Thomas
, Michigan's
Ondre Pipkins
, Nebraska's
Aaron Curry
and Penn State's
Austin Johnson
could be on the rise. Recruiting and developing stud defensive tackles may be one of the hardest things to do in football, however.
On paper, the Big Ten defensive tackle situation looks to be down from the past couple of years. But new stars are sure to step forward in the fall. Several of them will have to do if the league's recent strong tradition at the position is to continue.
April, 17, 2013
4/17/13
2:30
PM ET
It's become something of a tradition of late for a Penn State defensive tackle to rise up and turn in a standout senior year.
That happened with Devon Still in 2011, when he won Big Ten defensive player of the year honors.
Jordan Hill
took the baton and ran with it in 2012. Could
DaQuan Jones
be next in line? As the only senior with any starting experience on the line, he fits the profile.
"I definitely think he has the potential to do that," defensive end
Deion Barnes
told ESPN.com. "He has a great opportunity this year. Even though he's got the target on his back, he can do it."
[+] Enlarge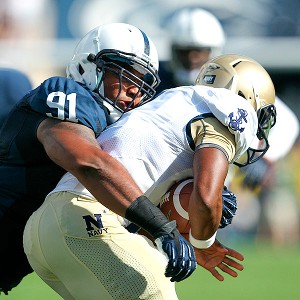 Vinny Carchietta/Icon SMIPenn State defensive tackle DaQuan Jones had 22 tackles and two tackles for loss last season.
At 6-foot-3 and 333 pounds, Jones sure looks like a guy who can throw his weight around in the middle of the line, even if he hasn't put up numbers to back that up. He had 22 tackles and only two tackles for loss last year, hardly Still or Hill type stats.
When asked to assess his first three years at Penn State, Jones said, "Decent. Average. I felt like I can do a lot more personally. I know I could have done a lot better."
Jones, though, says he's not focusing on his own improvement this spring as much as making sure he helps others around him get better. A trio of redshirt freshmen --
Austin Johnson
,
Derek Dowrey
and
Brian Gaia
-- are all vying to replace Hill at nose tackle this spring.
"I'll try to take the role and become the next guy," Jones said of following the Still and Hill tradition. "But at the same time, I'm not going to be as good as them if I don't have the support players. If I shine, I shine, and if I don't, I don't. I just want defensive line to do good, and I'm happy with that."
Barnes said Jones is "setting the bar for the younger guys" as a leader this spring.
"I like to watch film," Jones said. "Every day, twice a day. I'm just trying to get the young guys in there to watch film. Learning with each other what we have to do so that when we go on the field we don't make mistakes."
Jones has been dealing with a lower back issue that has limited his reps, and he says he's unsure if he'll play in Saturday's spring game. But he said he and the training staff are mostly being cautious with the injury, and that it's not something that should cause him problems this fall.
He played next to Hill last season and saw what Hill did on his way to All-Big Ten honors. Jones keeps in close contact with Hill, and watches film of him.
"We'll never have another Jordan Hill," he said. "I can't tell you I'll be another Jordan Hill. What he brought to the table was special, and he just did a lot of things other defensive tackles can't do. We're going to miss him a lot. But at the same time, I think we have guys who can step up and fill that role."
Maybe it will end up being Jones who fills that role. If so, he'll be carrying on a tradition.
"I'm going to be more of an aggressive player," he said. "Last year, I felt like I just trying to do my job and help out other D-line guys. This year, I'm going to try to be more aggressive and make big plays."
March, 29, 2013
3/29/13
11:00
AM ET
Penn State's
Deion Barnes
distinguished himself the way many young defensive linemen do: by beating tackles around the edge and putting quarterbacks on the ground.
Barnes led the Nittany Lions in both sacks (6) and tackles for loss (10) and tied for the team lead in forced fumbles (3) as a redshirt freshman in 2012. He was an easy pick for Big Ten Freshman of the Year after making eight starts and appearing in all 12 contests. In a program known for producing star defensive linemen and linebackers, Barnes looks every bit like the next man in line.
But is he a finished product? Not even close.
"I did well in pass rush, but I didn't do as well as I wanted to in the run game," Barnes told ESPN.com this week. "I still need [to make] more plays, way more plays. I missed a bunch of sacks."
[+] Enlarge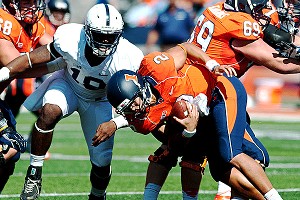 Bradley Leeb/USA TODAY SportsPenn State's Deion Barnes made his mark as a pass-rusher last season. Now he aims to be a better run stuffer and team leader.
Barnes sets high standards for himself as a pass-rusher, but he also admits it comes naturally to him. He recorded 13 sacks and 25 tackles for loss as a senior at Northeast High School in Philadelphia. The 6-foot-4, 244-pound Barnes credits longtime PSU defensive line coach Larry Johnson for helping him take another step as a rusher.
The next phase is clear: get better against the run.
"I basically had to work on my hand placement," Barnes said, "getting my hands out faster on the tackles in the run game so I could lock the tackles out and see the ball better. Coach Johnson said they don't want that to ever be a weakness for me, so [opponents say], 'Let's just run at No. 18.'"
Penn State's opponents probably are talking about running away from Barnes after his breakout season in 2012. Johnson has told Barnes that he'll be noticed after winning the Freshman of the Year honor, and Barnes "definitely" expects more double teams when the season rolls around.
Another challenge for Barnes is leadership, an area Johnson wants him to grasp this season. Senior defensive tackle
DaQuan Jones
has taken the reins so far this spring, but Barnes is expected to help.
"I'm a type of guy who leads by example," Barnes said. "I don't really do it vocally. If I make a play or something like that, it gets the team up, to want to make more plays. If you see a big hit, you're going to want to do the same thing as the person who just did it."
After delivering several big hits in 2012, Barnes hopes to play a bigger role in takeaways, an area being stressed by new defensive coordinator John Butler this spring. Although Barnes had the three forced fumbles, he wasn't much of a factor against the pass.
Penn State finished in the middle of the pack in the Big Ten and nationally in takeaways with 22.
"We had a lot of missed opportunities with interceptions and sack-fumbles," Barnes said.
Barnes appears to be capitalizing more this spring. Penn State starting tackle
Adam Gress
called the sophomore
, "one of the best defensive ends I've played against."
Barnes undoubtedly raised the bar for himself in 2012, but he also gained a greater comfort level to reach it in 2013.
"Last year, my eyes were wide open," he said. "I had never seen zone-reads and the way things were going, the power reads with the quarterbacks. Now I can see it and I'm like, 'Oh, OK, that's what they're trying to do.' I see getting more into the offensive schemes and understanding what's going on better.
"I have a lot more confidence in making plays."
March, 18, 2013
3/18/13
9:00
AM ET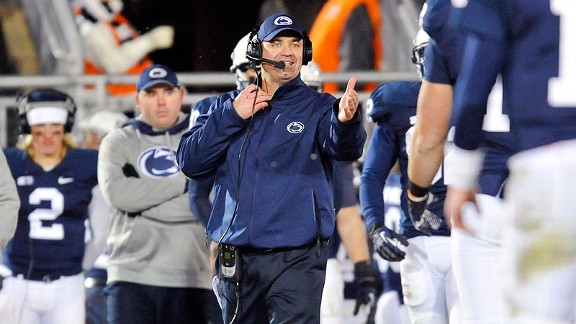 Randy Litzinger/Icon SMIBill O'Brien is excited about his team as he heads into his second season at Penn State.
The last time we saw Penn State, the Lions were celebrating a surprisingly strong finish to the 2012 season and saying farewell to a special senior class. Penn State since has turned the page and will begin spring practice Monday with a mix of familiarity and uncertainty. Bill O'Brien is not the "new coach" in Happy Valley anymore, and players have acclimated to O'Brien and his staff. But the Lions are looking for a starting quarterback for the second consecutive spring. They also must replace several outstanding defenders and fill holes on both lines. But the
depth crisis many of us envisioned
for the Lions when the NCAA sanctions came down last summer simply isn't there in State College.
ESPN.com caught up with O'Brien late last week to discuss spring ball.
What are some of the main objectives you're looking for when you get on the field again?
Bill O'Brien:
The No. 1 objective offensively is to make sure we come out of this spring practice with improvement from the quarterback position. We won't name a starter coming out of the spring, but at least at the end of 15 practices we'll have a good idea of how well these guys are grasping the system, Tyler Ferguson and
Steven Bench
. So that's a big deal for us offensively.
And defensively, some new guys will be in there, and seeing how those guys do, whether it's
Nyeem Wartman
at linebacker or
Jordan Lucas
at corner or some other guys who are going to be playing a little bit more next year, how much they improve. And then we'll work our special teams every single day, so hopefully we'll find some core special-teams players this spring.
What's your message to Steven and Tyler going into the spring? You're not naming the starter, but what do you want to see out of them?
BO'B:
[Thursday] I was talking to them, and I said, 'Look, I just want you guys to put your head down and go to work. Don't worry about what everybody else on the outside of the program thinks about your performance, whether it's in scrimmages or the Blue-White Game or whatever it is. Just try to get better every single day.' These are two really, really good kids. They're smart, they work hard at it, they're grasping it pretty well to this point. We're pretty excited about getting started with them. I don't want them to think about anything other than trying to improve and be as good a leader as they can be.
Will you have to change the offense for one or the other? Do they fit in with what you did last year?
BO'B:
We'll definitely be different. We'll be different in many ways. Matt [McGloin] had certain strengths we tried to play to, no question about it. Our system is expansive enough that you can have different parts in there to take advantage of the talents of the quarterbacks who are playing. So we'll be a different offense than we were last year.
Anything specific on what might change with these two quarterbacks or areas you can draw out more?
BO'B:
I'd rather not get into all of that, but I can tell you these are two guys who are big, they're strong, they're fast, they look to be accurate passers. We're just looking forward to working with them.
July, 17, 2012
7/17/12
1:00
PM ET
Before spring practice, Penn State defensive backs
Malcolm Willis
and
Stephon Morris
sat in their apartment, brainstorming a way to motivate the secondary.
They decided to tell their teammates the truth. At least the truth according to those outside the program.
At the end of each workout in the spring and now in the summer, Willis and Morris gather the other Lions defensive backs.
[+] Enlarge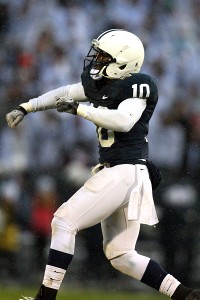 Rob Christy/US PresswireMalcolm Willis has challenged Penn State's younger defensive backs to step up this season.
"We huddle them up, we talk to them and say, 'We're supposedly the worst unit on this team,'" Willis told ESPN.com "Everybody is doubting us, everybody is doubting our ability. We know what we can do. We know the ability we have and what we're capable of."
The outside skepticism makes sense. Penn State loses all four starters from 2011: safeties Nick Sukay and Drew Astorino, and cornerbacks D'Anton Lynn and Chaz Powell. Although players like Willis, Morris and sophomore cornerback
Adrian Amos
have been very much in the mix -- they combined for 65 tackles, two interceptions and nine pass breakups in 2011 -- depth is a significant question mark, especially with the offseason departures of cornerbacks
Derrick Thomas
and
Curtis Drake
.
The Lions will need their young defensive backs to step up in a big way. And that's who Willis and Morris direct their message to following workouts.
"Every day we say that, these younger guys, they're hyped up, they're juiced up and they want to do extra work," Willis said. "Right after that, they want to go watch some film with us, or they want to go work on their footwork, just giving that extra effort and that extra attention to detail. It really shows me these guys want to be great this year."
Penn State's defensive fortunes could hinge on the secondary this season. While there are significant changes in State College, namely the arrival of new defensive coordinator Ted Roof and his "multiply aggressive" scheme, several elements remain the same.
The front seven, as usual, should be very strong. First-team All-Big Ten linebacker
Gerald Hodges
returns, along with
Michael Mauti
, back from a knee injury.
Pete Massaro
also returns at defensive end and joins a line featuring tackle
Jordan Hill
, end
Sean Stanley
, tackle
DaQuan Jones
and end
Deion Barnes
, an extremely promising redshirt freshman. The line and linebackers also both return their position coaches -- Larry Johnson and Ron Vanderlinden, the only two holdovers from the previous staff -- while the secondary has a new boss (John Butler).
Add in the new scheme, which includes some Cover 3 but not nearly as much as the system under Tom Bradley, and the secondary can be seen as one giant question mark.
"A lot of people say we're the weakest group on the team," Willis said. "We were like, 'We need to motivate these guys to let them know what people think.' Reading it is one thing on the Internet, but when somebody says it to your face, it has to hit a nerve. And you really have to be offended by it."
Willis and Morris are getting the desired result so far. Willis has been impressed with the way fellow safeties
Stephen Obeng-Agyapong
and
Tim Buckley
have approached the offseason. Obeng-Agyapong is projected to start alongside Willis, while Buckley saw some time with the first-team defense this spring.
"When I see the D-backs, I see a whole bunch of hard-working people," wide receiver
Justin Brown
said. "They're always out there trying to get better, trying to do one-on-ones, anything to help the defense.
"I don't see any weak link."
March, 26, 2012
3/26/12
9:00
AM ET
Penn State opens spring practice without Joe Paterno for the first time in decades Monday. New coach Bill O'Brien, who's won some supporters by the way he has recruited and carried himself of late, will conduct his first official practices. I recently caught up with O'Brien for a brief preview of the Nittany Lions' spring:
Are you settled in now as the Penn State coach?

Bill O'Brien:
I'm settled in. We had a good winter, and we're ready to go for spring. We've got a bunch of really good kids want to be coached and want to play well and win. So I'm settled in.
We'll get to spring practice in a second, but first I wanted to ask you about how well you've recruited the past couple of months. I know you can't talk about specific recruits, but how have you been able to sell the program through some difficult times?

O'Brien:
We just talk about Penn State. We talk about our vision for the football program here. We talk about the university. There are 16 majors to choose from here. It's just a great college town, we have a 108,000-seat stadium, a tremendous football facility, a great, brand-new weight room, and a great indoor facility. We just sell Penn State, and there's a bunch of things about Penn State to sell. The student body, the coaching staff here, the players on our football team here. So all we do is talk about Penn State.
How has the reception to that pitch gone?

O'Brien:
We feel good about the reception. Again, this is a special place that obviously people recognize and have great respect for, so we've gotten a good reception.
What are your main objectives this spring?

O'Brien:
We want the kids to understand how fast we want to play, the tempo we want to play at. We want to get in our base systems on offense, defense and special teams, and we want these guys to understand how we want them to play football. We want them to play fast, play hard, play tough, be situationally smart. So those our are goals.
The players have been doing things this offseason to learn the offense, so how far along do you expect them to be when you get started?

O'Brien:
It will be baby steps. We'll put it in one day at a time. We're not in a rush to get a bunch of things in. We're just in a rush to find out who our best football players are, so that's what we'll begin to do on Monday.
How much do you really know these players?

BO'B:
I really know them from winter workouts and just speaking to them in my office. I've been very impressed with this group. We have about 124 guys on the team and we have a bunch of hard-working guys. I've been very impressed and proud to be associated with them.
Let's talk about the quarterback situation. Is it a true open competition this spring?

O'Brien:
Yeah, its definitely an open competition. Every position on the team is an open competition. Now, obviously guys who have experience have the upper hand because they've played, but nobody has a starting position right now. Guys are going to get a bunch of reps, we're going to play fast and we'll evaluate the roster as we go along.
What are you looking for in a quarterback?

O'Brien:
He's got to be a good decision-maker. He's got to be accurate when he throws it. He's got to take care of the football. He's got to have really good knowledge of defensive alignments, the coverages and fronts and pressures. He's got to be a good leader. He's got to mentally tough and physically tough. That's basically what I'm looking for.
Two spots that were hit hard by graduation were the secondary and the offensive line. What's the outlook like for those positions this spring?

O'Brien:
I feel good about both those positions. I made a couple of position moves to move some guys over to the secondary, and you guys will get that when we start spring practice. So we've got better numbers over there. And I feel good about the offensive line. We've got four guys on that offensive line that are dean's-list students. We've got smart guys guys that play hard and love Penn State, and so I feel good about both positions.
How about the receiver position, where Derek Moye was the No. 1 guy last year?

O'Brien:
It's tough to replace a guy like Derek Moye, and I wish he had more eligibility. But we feel very good about our receiving corps. We've got
Justin Brown
,
Shawney Kersey
,
Devon Smith
,
Brandon Moseby-Felder
and
Christian Kuntz
. We've got a number of guys with good size that can run. And they've got two jobs: get open and catch the ball. So we'll see how that goes as we go through spring.
You're going to be very involved on offense, so how will you split your time this spring in practice?

O'Brien:
We've got a great staff on offense and on defense, so I'll be able to be involved with every facet of the football team, absolutely no problem.
Have leaders emerged yet from this offseason?

O'Brien:
There's a lot of leaders. There really are. We have a lot of good kids. Once you come back and ask me that after spring, I'll have a better feel. But I think we've got the potential to have a lot of strong leaders on this team.
How do you replace Devon Still on defense? Can you do it with just one guy?

O'Brien:
It's hard to replace a guy like Devon Still. He's a potential first round draft pick. But we feel really good about our defensive line that exists right now with
Jordan Hill
,
DaQuan Jones
,
Pete Massaro
,
Sean Stanley
,
James Terry
, C.J. Olaniyin. I could go on and on. We're deep up front.
How much will we be seeing you use the tight ends in your offense, even in spring practice?

O'Brien:
Yeah, we'll definitely be using the tight ends quite a bit.
Lastly, how do you think the team has responded this offseason during winter workouts and other activities?

O'Brien:
I've been very impressed with this football team, just with their work ethic. I'm proud to be their coach. Now we've got to put it out on the field and see how it translates to playing football. But to this point, I've been very impressed with them.
July, 26, 2011
7/26/11
3:45
PM ET
You could say that Devon Still got an early start to a potentially big 2011.
In the Outback Bowl on New Year's Day, the Penn State defensive tackle had the most productive game of his career. He harassed Florida offensive linemen all day and finished with 3.5 tackles for loss, most by a Nittany Lions player all season.
"That game definitely boosted my confidence," Still said. "It let me know I could go out there and be the dominant player I want to be. I just want to carry over the play I had against Florida into this season."
[+] Enlarge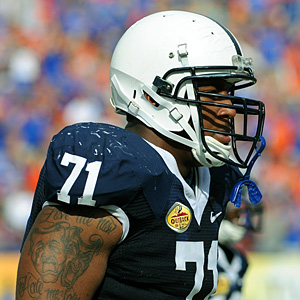 Al Messerschmidt/Getty ImagesDevon Still hopes to build off of his big game in last season's Outback Bowl.
Penn State wants to return to the days of having a dominant defensive line, and Still could be the starting point for that resurgence. A fifth-year senior who battled injury earlier in his career, he has developed into a steadying force and one of the best defensive tackles in a league that's stacked at the position. Still led the Nittany Lions in both sacks (four) and tackles for loss last year (10). And yet, Penn State's sack leader should probably have more than four all season.
Injuries and inconsistent play have hurt the defensive front. But Still thinks things are on the rise. He likes what he sees out of junior Jordan Hill, who is penciled in as the other starting tackle, and sophomore DaQuan Jones. If Jack Crawford and Eric Latimore can return from their injuries, they will add experience to the defensive end spots.
"I had to fight a lot of double teams last year," Still said. "I'm sure in the beginning of the season I'll see the same amount of double teams. But when teams see what type of player Jordan is or DaQuan is or Jack is, they're going to have to focus on all of them and not just one person."
Still has slimmed down a bit this offseason, dropping about five pounds from his listed weight of 305 last year. He's hoping to start this season around 298 or less because he feels he can do more when he's lighter on his feet. That could be bad news for opponents.
"I'm learning how to play full speed and not take off any plays," he said. "I want to be one of the best defensive linemen to ever come out of Penn State."
But team success means more to Still. After all, despite his great game in the Outback Bowl, Penn State did lose to Florida. He and the defense want to keep those results from repeating.
"We want to be a team that competes for a national championship," he said. "We had a fantastic spring. We just need to push forward through training camp and hope we come out of it a dominant defense."