NCF Nation:

Darian Stewart
September, 25, 2009
9/25/09
2:36
AM ET

Posted by ESPN.com's Chris Low
COLUMBIA, S.C. -- South Carolina senior receiver
Moe Brown
called his teammates together Wednesday night at the team hotel and offered a brief history lesson that's been pure misery for anybody who's followed this program.
It's called the Chicken Curse, and it goes something like this: The Gamecocks are allowed to get close, many times agonizingly close, but they just can't seem to break through.
They entered Thursday night's game against No. 4-ranked Ole Miss having never beaten a top-5 team at home, and they'd lost 22 straight games overall to top-5 teams.
| | |
| --- | --- |
| | |
| | Paul Abell/US Presswire |
| | Steve Spurrier had to rely on his defense to defeat Ole Miss Thursday night. |
Brown's message to his teammates: We've been close to winning some of these. Let's finish this thing and get it done.
"We wanted to come in and show the world what we can do. Now they know," South Carolina safety Darian Stewart said. "This is the new Carolina."
New Carolina or old Carolina,
these Gamecocks are 3-1
and one play away at Georgia two weeks ago from being 4-0.
They're doing it with old-school defense, just enough plays on offense and a genuine belief that this is their time to finally break through in the SEC.
It was Steve Spurrier's biggest win at South Carolina since beating Florida his first season in Columbia.
"Our defense was sensational," said Spurrier, marveling over the Gamecocks' ability to hold the Rebels to 1-of-13 on third down. "We relied on our defense to win the game. It's as simple as that."
That may not be the ideal blueprint to win a game in the offensive-minded eyes of the Head Ball Coach, but he's not giving this one back, either.
Not after so many near misses that have defined this program long before he showed up in Columbia.
"It was good for our team to get a big win at home, especially for our fans," said Spurrier, who improved to 6-13 at South Carolina against nationally ranked teams.
The surest sign that perhaps this one was going to be different came in the second quarter when Ole Miss' Marshay Green took off on a punt return and cut back across the field on his way to what looked like a sure touchdown.
But South Carolina junior punter Spencer Lanning made a textbook tackle in the open field to save a touchdown. The Rebels ended up getting no points because they faked a field goal that was snuffed out by the Gamecocks.
"The biggest play of the game was our punter making a tackle. We're going to bring him over and let him show some tackling drills to our perimeter people," joked Ellis Johnson, South Carolina's assistant head coach for the defense.
Yep, it was that kind of night for the Gamecocks, the kind they expect to have many more of on down the road.
"College football is about being resilient," said senior outside linebacker Eric Norwood, who had two more sacks and leads the SEC with six. "We don't care about what's happened in the past here. It's about what's going on right now."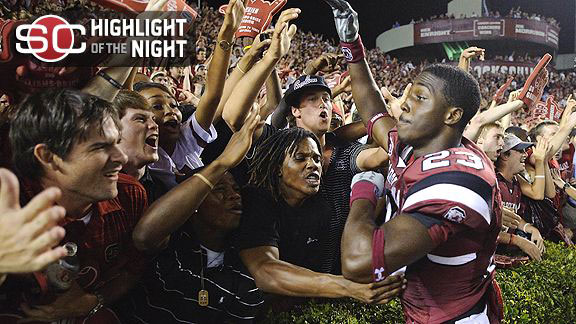 September, 21, 2009
9/21/09
11:47
AM ET

Posted by ESPN.com's Chris Low
It's the last thing South Carolina's defense needed to happen.
The Gamecocks have played three games, with No. 4-ranked Ole Miss coming to town Thursday, and they're already scrambling to keep guys on the field because of injuries.
Six starters or backups are nursing injuries on defense, which not only has a short week to get ready, but is facing its greatest challenge yet in a
Jevan Snead
-led Ole Miss offense that's fresh and leading the SEC in scoring.
"We don't have a defensive unit right now. We have a bunch of bodies and a bunch of guys trying hard," said Ellis Johnson, South Carolina's assistant head coach for the defense. "We're young in some spots. We're beat up in other spots. We're thin in some spots. And right now, there's nothing you can look at out there except for effort and heart and say we can hang our hat on that."
It's questionable at this point whether the Gamecocks will get defensive tackle Nathan Pepper back for the Ole Miss game. He and backup tackle Kenny Davis both have high ankle sprains. Pepper was already dealing with knee issues and missed the Florida Atlantic game.
Strong safety Darian Stewart and end Cliff Matthews both played with neck stingers in the Florida Atlantic game, while All-SEC outside linebacker Eric Norwood didn't play at all in the second half after suffering a shoulder contusion. The Gamecocks were already missing middle linebacker Rodney Paulk, who's out for the season with a torn ACL.
Johnson didn't want to take any chances with Norwood, which is the reason he pulled him in the second half. He's going to play against Ole Miss, but the problem is that the Gamecocks are right on that threshold of being in major trouble if anybody else goes down in the front seven.
"It's frustrating because we have to cut back to almost vanilla because there are so many young players out there and so many kids out there that haven't practiced," Johnson said. "We're not good enough physically to overcome that right now. Hopefully, we'll get some of those guys back and go from there."
The Gamecocks will get junior tackle Ladi Ajiboye back from a three-game suspension, and that will help.
The other area where all these injuries come into play is special teams. The Gamecocks started the season with younger players on kickoff coverage, and that unit suffered. They've since added several starters to the coverage teams, but that really gets dicey when so many guys on defense are already banged up.