NCF Nation:

Darian Thompson
December, 10, 2014
Dec 10
11:00
AM ET
When Boise State started recruiting an under-the-radar running back from Texas in 2010, a little research was required.
Jay Ajayi
did not know much about the program some 1,600 miles north of his hometown. So he went on YouTube and typed in "Boise State football." The first item that popped up: Fiesta Bowl highlights from 2006 and 2009.
Ajayi watched. He soon learned about the plucky program from the blue turf, identifying with its underdog story more and more. He committed to the Broncos early and stayed committed despite garnering more interest during his senior year.
[+] Enlarge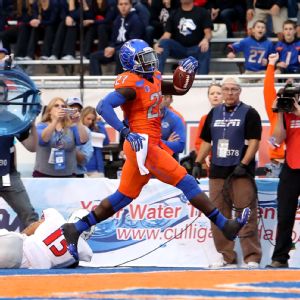 Darin Oswald/Idaho Statesman/Getty ImagesWith star running back Jay Ajayi leading the way, the No. 20 Broncos will take on No. 10 Arizona in the Fiesta Bowl at 4 p.m. ET on Dec. 31.
He had to get himself to a Fiesta Bowl, had to continue on the winning tradition.
Now the No. 20 Broncos (11-2) are back in the Fiesta Bowl against No. 10 Arizona (10-3), in the first year of the College Football Playoff. It seems fitting, really, the BCS-bustin' Broncos are back in the game where they announced themselves to the nation eight years ago.
The format may be new, but the representative from the Group of 5 remains the same. There's no keeping these Broncos down. Not for long, anyway.
Boise State is back. And the Broncos do not plan on going anywhere.
"We really went into this year and we wanted to reaffirm our brand of winning football and I feel just where we've come from the beginning of the season to now, we've proven Boise State is back," Ajayi said in a recent phone interview. "Now we have another opportunity in the Fiesta Bowl, where we have had a great history and great tradition to once again try and bring one of those trophies back to Boise State."
To understand what happened this season, we have to go back to last season. Boise State went an uncharacteristic 8-5, the first time since 2005 the Broncos failed to win 10 or more games. Chris Petersen left for Washington, leaving many to wonder whether Boise State would sink back among the Group of 5 pack after carrying the flag for so long.
Bryan Harsin stepped in, returning to his Boise roots. He brought new energy, new passion and new life to the program. The first -- and only -- goal he set for his team when he arrived: win the Mountain West championship.
As much as Boise State had dominated its competition in recent years, the Broncos had last won an outright conference championship in 2009, when they ran through the WAC unbeaten to make their second Fiesta Bowl appearance.
There was no talk about the new playoff system, and no talk about the new format that would guarantee a spot in a New Year's bowl to the highest-ranked Group of 5 team. Harsin got his players ready to play.
They opened with
a loss to Ole Miss
. Disheartening, yes, but not a season changer. One month later, everything did change. Boise State lost on the road to Air Force
28-14
, turning the ball over seven times in an abysmal performance.
Harsin looked at his team after the game ended and saw a group playing with the weight of pressure and expectations on its shoulders. They so desperately wanted to prove they were not an 8-5 group anymore, that they could not let the past go.
"We got in that Air Force game, we were tight, and we played that way," Harsin said. "Air Force played well, no doubt about it. After that game, we had a bye and I was like, 'Guys, if we're going to continue this season this way, it's going to be miserable. We may not win every game, but we need to enjoy what we're doing and enjoy the process leading up to the game and not feel every time we go play we have to do this, we have to do that.'"
He put on a confident face, telling his players they just had to go 1-0 every weekend from there on out. But the truth was, he had no idea whether his team would win the Mountain West championship. It was not until a
38-29 win over San Diego State
last month that Harsin realized he might have a championship team on his hands.
Ajayi has been a big reason why. The "Jay-Train" has rushed for 1,689 yards and 25 touchdowns in his junior season, while
Grant Hedrick
settled down after the Air Force game and became a steadying force behind center. When
Boise State beat Fresno State
for the Mountain West championship, the Broncos allowed themselves to think about the Fiesta.
"Going 8-5 is not Boise State football, and that's not the way that people see the program ," safety
Darian Thompson
said. "To be able to bounce back and win a championship meant a lot not only to the team but Boise Nation."
While there still remain doubts about whether an unbeaten Boise State would ever make the top four in the College Football Playoff, there are no doubts the new system in place benefited the program. In the old system, Boise State had to go undefeated to make a BCS game. One of its best teams, in 2010, finished 12-1 but
ended up in the Las Vegas Bowl
.
Now, a two-loss Boise State team gets a more prestigious slot, opposite Arizona in a national spotlight game.
Boise State most recent successful runs were punctuated by big wins against power teams, programs such as Oklahoma, Georgia, Virginia Tech, Washington and Oregon. But the last time the Broncos beat a team from a Power 5 conference was in the
2012 Las Vegas Bowl
. While the vitriol surrounding the Boise State program may not be as intense -- it has two losses, after all -- critics still want to see the Broncos win their games on the national stage as a way to validate their success.
"We have to win this game and that's not just because of validation," Ajayi said. "We need to win this game because that's what our goal is: to win a Mountain West championship and a bowl game. Our mentality going into the Fiesta Bowl is just like another championship game because we don't want to just go to the Fiesta Bowl and just be OK with being on the stage and just getting blinded by the big lights. We want to go out and be able to attack on the field and we want to be able to win. That's our motivation."
It all sounds so familiar.
March, 13, 2012
3/13/12
9:00
AM ET
Boise State opened spring practice Monday with a radically different look -- its record-setting senior class is gone. No
Kellen Moore
, no
Doug Martin
, no
Shea McClellin
.

That means for the first time in a long while, major positions are open for competition. Here is a quick preview of what to watch for the Broncos.
Spring changes:
Boise State lost is offensive coordinator yet again, as Brent Pease left to take a job with Florida. In comes Robert Prince, who will continue to coach the receivers. What coach Chris Petersen has done to help mitigate the losses is promote from within, a system that has served him well over the past several seasons. Boise State will continue to run its offensive scheme, as no wholesale changes are expected. The Broncos also have three new position coaches: defensive line coach Andy Avalos, defensive backs coach Jimmy Lake, and quarterbacks coach Jonathan Smith.
But the personnel changes are what folks are going to notice most, heading into the spring, as Boise State returns just 10 starters. Here are some position battles to watch:
Quarterback.
You are going to be hearing a lot more about this throughout the course of the spring and the fall. Moore led Boise State to uncharted heights, and became the all-time winningest quarterback in NCAA history. Now that he is gone, four players are competing to win the starting job: backup
Joe Southwick
; sophomore
Grant Hedrick
; redshirt freshman
Jimmy Laughrea
; highly touted true freshman Nick Patti. All four are more mobile than Moore, but don't expect the Broncos to morph into a Wildcat team. Patti has drawn the most comparisons to Moore. To ease the pressure, Petersen has made all four off-limits to interviews this spring.
Defensive line.
All four starters are gone, leaving the Broncos in a serious bind. And it is not as if the four starters they are losing were slackers. All four were major contributors to a line that has been solid for several years.
Tyrone Crawford
, McClellin,
Billy Winn
and
Chase Baker
are out. Those four combined for 36.5 tackles for loss and and 16.5 sacks (Boise State only had a total of 24). Valuable backup
Jarrell Root
is gone, leaving inexperienced players like
Tyler Horn
,
Darren Koontz
,
Ricky Tjong-A-Tjoe
,
Robert Ash
and Jeff Worthy.
Secondary.
This was a group that was hit hard by injuries last season, and now will be hit hard again with the loss of
George Iloka
,
Cedric Febis
,
Travis Stanaway
and
Hunter White
. The good news is
Jerrell Gavins
and
Jamar Taylor
are slated to return, so that should help the cornerbacks. But safety is an area of concern going into spring, and players like
Jeremy Ioane
,
Darian Thompson
and
Hazen Moss
-- among others -- have to step up.