NCF Nation:

Darius Ashley
June, 21, 2011
6/21/11
7:42
AM ET
Louisville cornerback Darius Ashley was
arrested on a drunken driving charge
for the second time since December after he rear-ended a police car this past weekend.
According to the Louisville Courier-Journal, Ashley had a blood-alcohol level of 0.186, more than twice the legal limit. He hit the car at a stoplight early Saturday morning and told police his phone had distracted him. A team spokesman told the newspaper that coach Charlie Strong is aware of the incident but declined comment.
Ashley pleaded guilty to DUI in April following his arrest in December, when he was found unconscious at a drive-through with his car running. His blood alcohol level at the time was 0.192. Even though he missed spring practice, Ashley was considered to be one of the favorites to win a starting cornerback job this season.
June, 1, 2010
6/01/10
4:15
PM ET
It's time to get back to our post-spring rankings of each Big East position group. A lot of teams have question marks in their secondaries heading into this summer; let's look at how they stand in comparison to one another:
[+] Enlarge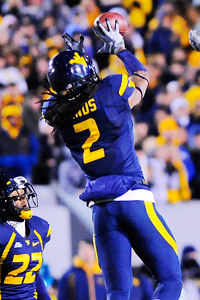 AP Photo/Jeff GentnerRobert Sands snagged five interceptions last season.
1. West Virginia:
The Mountaineers play five defensive backs in their 3-3-5 alignment and should be well stocked for 2010. Safety Robert Sands should compete for league defensive player of the year honors if he continues his rapid development, while senior Sidney Glover is an experienced playmaker at one of the other safety spots. West Virginia needs Brandon Hogan to rediscover his form and for Keith Tandy to keep improving, and this could be one of the team's strongest units.
2. Rutgers:
The Scarlet Knights lost the best cornerback in the Big East when Devin McCourty took his skills to the NFL, but I still like the group that's returning. Joe Lefeged should step up and assume McCourty's leadership role as a senior safety, while Khaseem Greene looks ready to become a front-line safety. David Rowe is a solid corner, and either Brandon Bing or Logan Ryan should fill the other spot. The Scarlet Knights have a lot of talented young players here to provide quality depth, as well.
3. Syracuse:
The Orange officially have five returning starters in the secondary because of injuries last year, and several players gained valuable experience during 2009. There's a good mixture of veteran leadership with guys like seniors Mike Holmes, Da'Mon Merkerson and Max Suter as well as rising stars like Shamarko Thomas and Phillip Thomas.
4. Pittsburgh:
Antwuan Reed helped answer a big question with a strong spring at cornerback. The other corner spot will likely be filled by either junior college transfer Saheed Imoru or Buddy Jackson, with Ricky Gary around to add depth. The safety position should be in good shape when Dom DeCicco and Andrew Taglianetti return from their injuries, while Jarred Holley established himself as a dependable safety last year.
5. South Florida:
The Bulls lost a pair of draft picks in Nate Allen and Jerome Murphy and have some young players moving into key roles this season. The good news is those youngsters have talent. The key will be whether Quenton Washington and Kayvon Webster can hold down the cornerback spots.
6. Cincinnati:
There's healthy competition in the secondary for the Bearcats, who increasingly gave up big plays in the passing game as the 2009 season wore on. Dominique Battle, Camerron Cheatham, Chris Williams and Reuben Johnson all vied for playing time at corner this spring. Drew Frey is a steady safety. The group needs to make more plays than it did a year ago but should embrace a more aggressive scheme this year.
7. Connecticut:
The Huskies ranked last in pass defense last season and lost two senior stalwarts from the secondary. The defensive backfield was in disarray at times this spring. The return of Blidi Wreh-Wilson from his shoulder injury this summer should help out the cornerback spot with Dwayne Gratz. Jerome Junior should be solid at one safety spot, while Kijuan Dabney is trying to win the other job after moving from linebacker. The Huskies are counting on a lot of young players to improve quickly before the season begins.
8. Louisville:
The Cardinals had so much trouble finding playmakers in the secondary this spring that running back
Darius Ashley
moved to corner to help out. Johnny Patrick is one of the league's better cornerbacks but needs help in the defensive backfield. The healthy return of safety Terence Simien would provide a boost, but this remains a trouble spot heading into the fall.
March, 31, 2010
3/31/10
8:06
PM ET
LOUISVILLE, Ky. -- Some quick thoughts and impressions from tonight's Louisville practice:
This was my third Big East practice but the first one with full contact. It was good to finally see some hitting and tackling. Although there wasn't nearly enough of that from the defense. It was a bad, bad day for that side of the ball. But don't take my word for it."It was definitely a rough day," defensive lineman Greg Scruggs said. "We've got to get tougher, mentally and physically. We've got to stay disciplined when we get tired. If we don't, then what you saw today will happen. The defense will get run through, the offense will score 50 points and that will be the ball game."The problems for the defense started early and never stopped. The team went through a drill in which running backs were matched up with linebackers in an open-space tackling test. Not a single defender made a stop the entire drill.

"Can't one guy tackle a running back?" head coach Charlie Strong barked in exasperation.

Fed up, Strong stopped the drill and made the linebackers do pushups. Receivers were going against defensive backs a few yards away in the same drill and they weren't having any success either. The defense got plowed during 7-on-7 and 11-on-11 work as well.

Strong definitely isn't in Gainesville any more. The defense needs a ton of work and lacks bodies on the line and in the defensive backfield. A lot of young players are going to have to play and grow up in a hurry.
Strong, not surprisingly, runs an intense practice. He and his assistants get after players when they mess up, and there were many, uh, teaching moments tonight. Strong is not afraid to run after a guy and get in his face to make his point, and most of his staff is just as intense. It's definitely a change from Steve Kragthorpe, who was a little more laid back in practice.
It may just be a function of the defense, but offensively the Cardinals looked pretty solid. Justin Burke took the majority of the first-team reps as he and Adam Froman continue to split them at quarterback. Will Stein was on crutches and wearing a walking boot and is probably done for the spring, so it's a two-man race. I continue to believe the starter will ultimately be Froman, if not Dominique Brown. But that's just my opinion.
The receiving group doesn't seem to have many deep threats, but Doug Beaumont caught just about everything thrown his way. Andrell Smith, a 6-4 sophomore, really needs to come on this year. And I keep waiting for Troy Pascley to have a big year.
Tight end Cameron Graham hauled in a few nice catches. He has a lot of ability and just needs to be more consistent.
I won't give away plays and formations, but suffice it to say we saw evidence of the Florida spread. Look for this team to run some two-back sets with some option thrown in. Works better with Tim Tebow, of course, but Froman ended the practice with a 65-yard touchdown run.
A couple of guys who caught my eye in an otherwise forgettable day for the defense: Malcom Mitchell made a tremendous spin move off the edge during line vs. line drills. Shenard Holton put a big hit on Smith to break up a passing play.
Notably missing from practice were defensive linemen Rock Keys and Joe Townsend and quarterback Luke Woodley, a midyear enrollee. Woodley went home, though the team hopes he'll return for the fall.
November, 8, 2009
11/08/09
8:37
AM ET
Posted by ESPN.com's Brian Bennett

Zach Collaros, QB, Cincinnati: Collaros set a Big East record with 555 yards of total offense, throwing for 480 yards and running for 75 more in the Bearcats' 47-45 win over UConn.
Mardy Gilyard, WR, Cincinnati: The senior had 12 catches for 172 yards.
Jordan Todman, RB, UConn: Todman carried 26 times for 162 yards and four touchdowns in the loss.
Dion Lewis, RB, Pitt: The freshman had 18 carries for 119 yards and a touchdown in a 37-10 win over Syracuse.
Darius Ashley, RB, Louisville: The freshman had 33 carries for 164 yards as the Cardinals lost 17-9 at West Virginia.
November, 1, 2009
11/01/09
12:13
PM ET
Posted by ESPN.com's Brian Bennett

October, 22, 2009
10/22/09
8:39
AM ET
Posted by ESPN.com's Brian Bennett
1. Honoring Howard:
The rest of the country will watch to see how Connecticut reacts to the stabbing death of its starting cornerback, Jasper Howard. There will be a moment of silence before the West Virginia game, and both teams will be wearing decals to honor Howard's legacy. Perhaps the best tribute the Huskies could pay to their fallen teammate is to play with passion and pull off a victory.
2. Jarrett Brown:
The West Virginia quarterback is supposedly feeling much better from his mild concussion last week against Marshall. If he does indeed start, will he be his usual effective self? Or will he be gun shy at all when he takes off to run?
3. Battle of the front fours:
Pitt and South Florida probably have the best defensive lines in the Big East, and it will be a treat to see both on the same field Saturday. Who gets the upper hand in the showdown of defensive end duos? The Bulls' George Selvie and Jason Pierre-Paul or the Panthers' Greg Romeus and Jabaal Sheard? All of them could be on an NFL field very soon.

4. B.J. Daniels:
The South Florida quarterback was an acrobat in escaping from Cincinnati's pass rush last week, but many times he was just running around in the backfield and not coming up with positive plays. Pitt's defense is quick and athletic and can slow him down on the option-read plays. Where Daniels can make something happen is in the deep passing game against the Panthers' secondary. Provided, of course, that he's not spending all his time dancing around would-be tacklers.
5. Dion Lewis:
The true freshman leads the Big East and is second in the nation in rushing and will obviously be a key to Pitt's chances against the Bulls. As strong as South Florida's pass rush is, you can run right at them. Pounding Lewis between the tackles -- and he loves to run inside despite his small stature -- will keep those defensive ends at bay.
6. Cincinnati's quarterback situation:
As of Thursday morning, it's unclear who will start under center for the Bearcats. It could be
Tony Pike
, who underwent an operation to repair a plate in his left arm Tuesday morning. Or it could be one of the backups,
Chazz Anderson
or
Zach Collaros
. The situation bears monitoring. Can Pike sustain his level of play with another cast on his arm? And can Cincinnati keep the same offensive pace with one of his understudies in the game?
7. Louisville's running back health:
The Cardinals' top three tailbacks --
Victor Anderson
,
Bilal Powell
and
Darius Ashley
-- were all hurt during last week's game at Connecticut, and the team turned to former walk-on
Blayne Donnell
late in the fourth quarter. The trio is supposed to be better this week. For Louisville to have any chance against Cincinnati, it will need all hands on deck.
8. Rutgers' offense:
The Scarlet Knights had four different players either line up at quarterback or attempt a pass last week against Pitt. There is creativity, and then there is desperation. This offense is still seeking an identity. Army, of course, provides our nation with great defense. But the Black Knights shouldn't be able to stop a capable Big East attack. Rutgers needs to go out and have a big night on the ground and through the air in West Point.
9. Greg Paulus:
Doug Marrone insists that Paulus is still his guy. Paulus says he's as confident as ever. Still, after throwing six interceptions in six quarters and being pulled for the second half against West Virginia, the quarterback could use a strong performance this week. If he can't avoid mistakes against the Akron defense, there will be questions about whether it's time to turn to
Ryan Nassib
.
10. The BCS standings:
Cincinnati was barely ahead of Iowa in this week's initial
BCS standings
. Can the Bearcats maintain their No. 5 position, or even move up? Iowa plays at Michigan State, while No. 4 Boise State has to go to Hawaii. Another game that could help Cincinnati's computer ranking is Oregon State at USC, since the Bearcats beat the Beavers earlier this season. The suspense will continue each week as long as Brian Kelly's team is hovering near BCS title game qualification.
March, 4, 2009
3/04/09
11:28
AM ET
Posted by ESPN.com's Brian Bennett
Louisville will begin spring practice on Sunday, the first school in the Big East to get back on the field. It will be an important time for the Cardinals, who are trying to fill several holes after a second straight season that ended without a bowl game. I caught up this week with head coach Steve Kragthorpe for the latest installment of our spring Big East Q&A series.
Is spring time an exciting time for the coaching staff?
| | |
| --- | --- |
| | |
| | AP Photo/Mel Evans |
| | Steve Kragthorpe will take on offensive coordinator duties this season. |
Steve Kragthorpe: To me, spring ball is always one of the fun parts of our job, in terms of taking a new group of guys and molding them together, seeing how all the pieces start to fit together. We've got a lot of guys who've maybe had no roles at all that are going to jump into roles and some guys who've had minor roles who are now going to jump up into major roles. And the fun part about spring practice is there's always a surprise or two, a guy you weren't quite sure was ready to play who jumps up and says, "Hey, I'm ready to take one of these spots."
How do you see the quarterback competition shaping up, and how will you divvy up the spring reps there?
SK: We'll divide them up pretty much equally for the major part of the spring and start to see guys separate from each other. And as guys start to separate, we'll give them a few more repetitions. But my goal is not to name a starting quarterback by the end of spring practice. We will do that about 10 days before the first game. But I'm looking for guys to be consistent, I'm looking for guys that move the chains, I'm looking for guys to lead the other 10 guys on that field and I'm looking for guys who, over a continuum of time, can be a consistent performer.
You have to shape your offense around the talents of the quarterback, obviously. So how do you, as your own offensive coordinator, do that now if you don't yet know who will be your starter?
SK: We're going to install concepts and make sure we do a good job of establishing an identity on offense, establishing a way of playing the position of quarterback and a way of going about playing offense. And then from there we'll wrinkle, based upon what guys do well, based upon what guys are stepping up ... For us, we want to make sure we're very conceptual on offense, we're very concise in terms of our teaching and we establish a system. And from that system we'll wrinkle based on the guys who need the ball in their hands.