NCF Nation:

Darius Hamilton
July, 1, 2014
Jul 1
10:00
AM ET
Maryland and Rutgers officially made the leap on Tuesday. In less than two months, they'll be playing football as members of the Big Ten.
We've been talking about this moment since November 2012. Rarely, have the Terrapins and Scarlet Knights been mentioned as contenders in their new league. But change comes fast in college football.
It could happen here, too. On this historic day as the Big Ten goes from 12 to 14, here are six reasons to believe that Maryland and Rutgers, as a pair and individually, can experience success in the Big Ten:
The Big Ten just isn't that good. You've heard about this, right? The league last played for a national championship seven years ago and hasn't won a title since January 2003. It has performed poorly of late against the major-conference competition and went 2-5 in bowls last season, though Michigan State did win the Rose Bowl – the Big Ten's second triumph in Pasadena since New Year's Day 2000. How does any of this impact Maryland and Rutgers, expected by many to finish 6-7 in the Big Ten East Division? It means no conference foe is unbeatable. It means there's hope.
For a while, at least, they're going to get noticed. Rutgers has long operated in the shadow of pro sports in its region, while Maryland football played second fiddle amid the ACC basketball buzz. The Big Ten figures to change some of that. The Terps have already benefited in recruiting from the move. Rutgers needs to capitalize on the attention to make a dent in a deep pool of New Jersey prep talent. You want excitement? Check out Rutgers' Big Ten opener, Sept. 13, when Penn State visits for the first meeting in the series since 1995. Expect Maryland's first Big Ten home game, three weeks later against Ohio State, to equally move the needle.
The Terps are trending up. Coach Randy Edsall took Maryland from a two-win team in 2011 to six in 2012 and seven last year. The Terrapins remained an average program in the ACC, but Edsall and his staff have begun to stack the pieces in place, notably on offense, to make a move in the Big Ten. For quarterback C.J. Brown, the time is now to make a mark in the new league. Brown, from Cranberry Township, Pennsylvania, is a dual threat who knows the Big Ten style. He works well with coordinator Mike Locksley, an innovative offensive mind. Meanwhile, Maryland's incoming class, bolstered by the impending move, ranked 50th nationally, featuring home grown star Damian Prince at offensive tackle.
Deon Long and Stefon Diggs are healthy. Diggs, a junior, and the senior Long form perhaps the best receiving duo in the Big Ten. Both wideouts suffered leg fractures on Oct. 19 in the Terps' 34-10 loss at Wake Forest. Long broke the fibula and tibia in his right leg; Diggs broke the fibula in his right leg, triggering a stretch of four Maryland losses in five games before a regular season-ending win at North Carolina State. Long and Diggs returned for spring practice and appear on track to torment even the best of secondaries in the Big Ten this fall.
Gary Nova is back at the helm. This could go either way, depending on whom you ask at Rutgers. But we say it's good for the Scarlet Knights to go through a transformation such as this in with a steady hand at quarterback. Nova has started 28 games and ranks third in school history with 51 touchdown throws. He was benched in favor of Chas Dodd after winning five of 10 starts in 2013, but Nova has won consistently, dating to his unbeaten days as a starter at Don Bosco Prep. To help his cause, Rutgers returns five starters on the offensive line and its top four rushers.
There's new energy on the Rutgers defense and strength up the middle. Joe Rossi, the 35-year Rutgers defensive coordinator promoted this offseason from special teams coach, offers a new start for a unit that endured struggles last season. Its strength comes against the run, which figures to suit Rutgers better in the Big Ten than it did in the AAC. And through the core of its defense, tackle Darius Hamilton, middle linebacker Kevin Snyder -- who switched spots with linebacker Steve Longa -- and safety Lorenzo Waters form a backbone of veteran leadership.
April, 10, 2013
4/10/13
4:00
PM ET
Tommy Tuberville closed out his first spring with Cincinnati on Wednesday morning. Shortly afterward, he made his biggest move as the Bearcats' new head coach.

Tuberville
landed former Notre Dame star
quarterback
Gunner Kiel
, a former four-star prospect who, yes, has raised several red flags despite never stepping foot in a college game yet.
He has gone from the Big Ten (Indiana) to the SEC (LSU) to Notre Dame, drawing the public ire of Les Miles and three different fan bases along the way.
But getting past the (hopefully) subsided drama, there is a reason Kiel drew so much attention in the first place.
He is good. At 6-foot-4, 210 pounds, Kiel was ESPN's No. 3 quarterback and No. 52 overall player out of the recruiting class of 2012.
That is quality. And not simply American Athletic Conference quality.
No player ranked higher than him committed to a school currently in the conference. In fact, outside of Rutgers'
Darius Hamilton
(No. 69 overall in 2012) and Louisville's
James Quick
(No. 79 overall in 2013), no one in the top-100 from either the 2012 or 2013 class committed to a current conference school. And Hamilton and Quick will be in the Big Ten and ACC, respectively, by the time Kiel is finally eligible to take the field for the Bearcats, in 2014.
"Cincinnati was the best fit for me because the relationship I have with [quarterbacks] coach [Darin] Hinshaw is like nothing else. He is a great overall person and is someone I know I can get coached by," Kiel told ESPN's Joe Schad on Wednesday. "The group of guys I'm going to be around is second to none. I love where they are heading and the future is bright."
The Columbus, Ind., native will be roughly 90 minutes from home at his new destination. And though
Brendon Kay
and
Munchie Legaux
are slugging it out for the right to start this coming season, both will be gone by the time Kiel is eligible.
Cincinnati welcomed in three quarterback commits during this recruiting cycle, but it is unlikely that Tuberville would pursue such a high-profile transfer had he not envisioned big plans for him.
The coach's pro-style offense seemingly suits Kiel perfectly, and the success of recent Tuberville signal callers -- Texas Tech quarterbacks finished in the top-10 nationally in passing yards per game in each of Tuberville's three seasons there -- should serve as validation.
When Louisville and Rutgers announced that they were departing next year, Cincinnati looked like the class of remaining conference schools. Landing a high-profile prospect like Kiel only re-affirms that moving forward.
May, 30, 2012
5/30/12
3:00
PM ET
The question surrounds Rutgers defensive end Darius Hamilton in the same way it surrounded running back
Savon Huggins
at this time last year.
Can Hamilton be an impact true freshman for the Scarlet Knights?

Hamilton began his first day of summer classes at Rutgers on Tuesday, and coach Kyle Flood expects to see plenty out of his highly touted defensive lineman when fall camp rolls around. Defensive line, particularly end, is an area where depth must be developed. Where better to turn to for help than the No. 69-ranked player on the 2012 ESPN 150 prospects list, and one of the top prospects in the state of New Jersey.
"How much of a role and how quickly he has a role will be determined by him," Flood said during an interview at the Big East spring meetings. "I always try to remind people Anthony Davis didn't start until Game 4. Kenny Britt didn't start his first game at Rutgers. Ray Rice did, but running back is a little bit different.
Art Forst
started as a freshman, not until the fourth or fifth game. So it's not an easy thing to do.
"Sometimes the excitement of recruiting builds unrealistic expectations and people forget recent history. When you look back at how many linemen have started their first game as a college football player, it's not many. Do I think he's talented enough to help us this year? I do. We see him in the plans. Now we have to get to training camp and let him show it to us."
The hype followed Huggins last season. He remains the highest-rated prospect to ever sign with the Scarlet Knights, and many thought he could help turn around a mediocre run game. But Huggins was tentative at best and then got hurt. Now going into his sophomore year, expectations are higher for him to be a major contributor.
As for the 6-foot-4, 260-pound Hamilton, there is an opening at one of the defensive end spots so he will have an opportunity to win the starting job the way Huggins did last season. Flood said, "
Marcus Thompson
,
Max Issaka
,
Michael Larrow
and Darius are all going to get an opportunity to see where they end up." At the other end position, Flood envisions
Ka'Lial Glaud
and
Marvin Booker
splitting the game and getting equal reps.
February, 2, 2012
2/02/12
3:00
PM ET
The speculation began as soon as the vacancies hit.
What would happen to the recruiting classes at Pitt and Rutgers after their head coaches surprisingly bolted? Both schools had amassed quite a bit of four-star talent under Todd Graham and Greg Schiano. It would take a herculean effort to retain everybody in the fold, many pundits said.
[+] Enlarge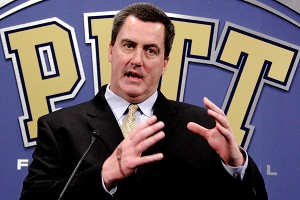 AP Photo/Gene J. PuskarPaul Chryst and Pitt picked up a few more stellar players on Wednesday.
Well, consider Paul Chryst and Kyle Flood the Goliaths of the Big East. The two first-year coaches delivered top notch classes on signing day Wednesday, retaining every four-star player who committed under their predecessors while also picking up a few more stellar players along the way.
Rutgers finished in the ESPN Recruiting Nation Top 25, at No. 24 with Flood leading the way. Both the Scarlet Knights and Pitt earned
B-minus grades
from the ESPN recruiting experts -- the highest grades given out to any Big East team. Stop and consider that first-year coach Rich Rodriguez at Arizona got a C for his class, and Graham got a C-plus for his class at Arizona State.
"There's a group of guys, Pitt was the place for them," Chryst said. "They wanted to be here. They've got a unique bond because of sticking together and going through what they went through. Recruiting is about finding the right fit and they believe that Pitt is the best fit for them. It's exciting. It gives me encouragement that [Pitt] stands on its own."
Just how rare is it for first-year coaches to do well? Aside from Urban Meyer at Ohio State, Flood was the only new coach to have a Top 25 class. And he did it in an incredibly compressed time frame, something that deserves a standing ovation. Schiano left six days before signing day. Flood was named interim head coach and went to work holding his class together. He assured recruits he would be the next head coach at Rutgers, and that gave them a sense of relief.
[+] Enlarge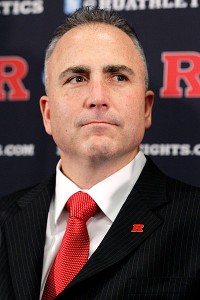 AP Photo/Mel EvansRutgers' Kyle Flood delivered a top notch class on signing day Wednesday despite not having a lot of time.
Flood was hired Monday and formally introduced as Schiano's successor on Tuesday afternoon. Later that night, Rutgers picked up its best commitment of the class -- ESPNU150 defensive end
Darius Hamilton
, the No. 1 player in the state of New Jersey. Flood lost one committed player to Boston College, but that was minimal when you consider he added one of the best players in the nation.
Rutgers ended up with six four-star players -- double what it got last year.
"It has been a great testament to what I have always believed about recruiting and I think sometimes this gets distorted," Flood said. "If you recruit good people and you deal with them honestly, you can get through any situation. That was what we were able to do with this recruiting class, because at every stage of events from Friday to Monday to Wednesday we were completely open, completely honest and one of the best things that we did was bring (athletic director) Tim Pernetti on the road with us as an assistant coach to show them that.
"We didn't hide anything. When I said that night that I fully expected to be the head coach at Rutgers they believed me and they stayed with us. When that came true on Monday it just gave more credit to that way of dealing with people. I think if you deal with people like that in recruiting you have a chance to get through anything."
As for Pitt, Chryst had a much larger time frame with which to work. He was hired in late December, and almost immediately the big-name commitments who gave their word to Graham came out and re-affirmed their pledge to the Panthers. None was bigger than seeing four-star quarterback
Chad Voytik
and ESPNU150 running back
Rushel Shell
say they still wanted to go to Pitt.
Chryst did lose several three-star players who had committed under Graham, but he also picked up a huge signature on signing day from four-star linebacker
Deaysean Rippy
, the No. 12 player in the state of Pennsylvania. That gave Pitt five four-star players in its class. Last year, the Panthers had one.
February, 1, 2012
2/01/12
9:56
AM ET

New Rutgers coach Kyle Flood deserves a huge amount of credit.
He has made an already strong class even better in the last 24 hours.
After
Darius Hamilton
committed on Tuesday night, Rutgers
signed three-star receiver
Ian Thomas
on Wednesday morning. Thomas had taken an official visit to Notre Dame and had offers from many other schools.
Three-star cornerback
Jevon Tyree
also has committed to play for Rutgers. He is a cousin of outgoing Rutgers receiver
Mohamed Sanu
. Rutgers now has six four-stars and 12 three-stars expected to be a part of the best class in school history.
January, 31, 2012
1/31/12
9:15
PM ET
Rutgers' decision to move quickly on a head coach has paid off in a big way.
The school got a commitment

from highly-regarded defensive end Darius Hamilton Tuesday night. Hamilton announced he had chosen Rutgers over Florida and Miami. He is the best commitment yet in a star-studded class for the Scarlet Knights.
Hamilton,
a four-star prospect
, is ranked No. 69 on the ESPNU150 and is the third-best player in New Jersey. Though some doomsday scenarios were painted when Greg Schiano left for the Tampa Bay Buccaneers last week, it appears Rutgers will be able to hold onto the best class in school history. That might be due in part to the promotion of assistant Kyle Flood to head coach.
National signing day is Wednesday.