January, 8, 2012
1/08/12
7:00
PM ET
NEW ORLEANS -- There has been no shortage of complaining since the Allstate BCS National Championship Game teams were announced.


It's understandable when you consider that No. 1 LSU (13-0, 8-0) and No. 2 Alabama (11-1, 7-1) have already played. But most of the protests stemmed from the fact neither team scored a touchdown when they played in November.
Something called "defense" was played in Tuscaloosa, Ala., but apparently there was too much.
Monday, you won't see PlayStation-like numbers that have been the norm during bowl season, but both teams promise things will be different when they have the ball.
"We're going to have a better game plan this time and hopefully put some more points on the board," LSU wide receiver
Rueben Randle
said.
"I don't think anyone's going to be able to come out 9-6 and win this game."
For Monday's rematch to look different, some things need to change on both sides. Here's a look at why things will be different inside the Mercedes-Benz Superdome:
[+] Enlarge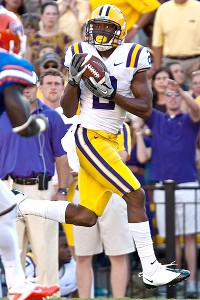 Rob Foldy/Icon SMI"Our passing game is going to have to loosen some things up in order to get our running game started," LSU receiver Rueben Randle said.
LSU's passing game will be more vertical
In November, LSU's passing game was ineffective.
Jordan Jefferson
and
Jarrett Lee
combined to throw under the century mark and just four passes for double-digit yardage.
Now, the talk from LSU's side is how vertical the Tigers want to get against Alabama's defense. LSU ran for 148 yards last time, so Alabama will be keying in on the run.
LSU will want to start on the ground but wants Jefferson to air it out a little more.
"Our passing game is going to have to loosen some things up in order to get our running game started," Randle said. "They're going to fill that box to stop the run, so we need to be ready as receivers to make those plays down field."
Alabama's wide receivers want to prove themselves
Alabama might have had 100 more passing yards than LSU in November, but it never looked great. Quarterback
AJ McCarron
made some mistakes, but wide receiver
Darius Hanks
said the ones who catch the ball need to step up.
Alabama got two catches from tight ends and eight from receivers. Hanks, who caught two, said that should improve Monday.
"Our tight ends and our receivers will be the difference-makers in this game," he said. "They think that if they stop our run game, then they're going to win the game, but I feel differently.
"We can see a lot of their weaknesses, so we're going to attack those areas, go strong and put the ball in the air this time."
He also expects to spearhead Alabama's passing game because he feels he can beat All-American cornerbacks Morris Claiborne and Tyrann Mathieu.
"I definitely feel like those guys, they can't cover me," he said.
P.J. Lonergan is 100 percent
Last time, LSU's starting center wasn't at full speed. He was hobbled by an ankle injury and played sparingly against Alabama.
While LSU was able to run the ball well without Lonergan, he should bolster LSU's pass blocking, which will give Jefferson more time to look downfield.
"It's definitely good that he's back healthy," LSU offensive guard Will Blackwell said.
"A healthy P.J. now will definitely be better than the P.J. that played Nov. 5."
Alabama is prepared for the option
The Tide's defense wasn't as ready for Jefferson and the option in November. The team was prepared to see more of Lee, so when Jefferson came in, holes opened up in Alabama's rush defense.
Now, Alabama knows that Jefferson will be LSU's guy and the defense knows that Jefferson likes the option. LSU might want to throw more, but the running game is the heart of the offense.
Tide defensive tackle Josh Chapman said the key will be locking up the run gaps that were open too often when Jefferson ran the ball. Players were out of position because they weren't ready.
"If we keep our running lanes right and affect him," he said, "we'll have a great ballgame."
[+] Enlarge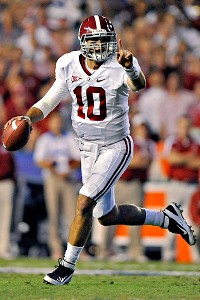 AP Photo/Rick Wilson"I definitely gotta come out and play with emotion in this game like I always do," Alabama quarterback AJ McCarron said.
McCarron will have more confidence and emotion
McCarron didn't play his game last time. He toned down the emotion and that sucked away his confidence.
His teammates had nothing to feed off of, and that hurt Alabama. McCarron has been given the green light to ramp up those emotions, and that should keep his spirits up against LSU's defense.
"I definitely gotta come out and play with emotion in this game like I always do," McCarron said. "Just play my game."
If McCarron can get going, it will help Alabama in the red zone. The Tide moved the ball well between the 30s against LSU but reached the red zone just once.
Alabama's secondary is nicked up
LSU could move the ball through the air better this time because Alabama's secondary is banged up. Safety Mark Barron injured his ribs against Auburn, while cornerbacks DeQuan Menzie and Dee Milliner have leg injuries.
Menzie has a hamstring injury that bothered him all season, while Milliner suffered a thigh injury against Auburn. They say they're fine, but they're called "nagging" for a reason.
Backup safety Will Lowery is also out with a season-ending knee injury he suffered against Georgia Southern.
On the flip side, LSU is healthier.
"The most important thing about this break is we're fresh," LSU linebacker Ryan Baker said. "Going into Nov. 5, guys were nicked up. … The game plan is pretty much the same, it's just those guys [who weren't healthy] will be making plays."
Most of the focus will be on points, but these teams are too old school for this to be a track meet. Defense will continue to be the constant for both teams.
"I'd expect it to be big-boy football," LSU coach Les Miles said. "And I'd expect it to be very, very physical and that it would be a game that would be representative of two quality football teams."
October, 23, 2011
10/23/11
1:14
AM ET
TUSCALOOSA, Ala. -- It can finally begin. The wait is over and the Crimson Tide can finally utter three little letters that cause the ground to shake around these parts.
"We can all talk about LSU now," Alabama wide receiver
Darius Hanks
said while sporting an ear-to-ear smile.
"I'm looking forward to it. Lot of talk about LSU."
The distraction that is LSU might have come close to being the undoing of this team in a lazy, unorthodox first half that saw just six points next to Alabama's name on the scoreboard.
Thanks to a Nick Saban halftime speech in which Hanks said Saban "jumped our butts," the energy level rose to the degree that the 101,821 in attendance expected and Alabama rolled right over Tennessee for the
37-6 victory
.
Hanks didn't think that the team was necessarily looking two weeks ahead -- though players were huddled around watching LSU's win over Auburn before the game -- and attributed Alabama's sluggish start to arrogance more than anything.
[+] Enlarge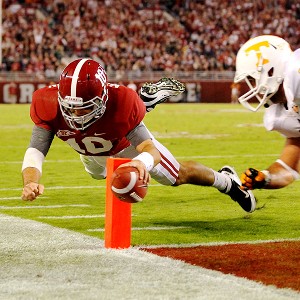 Kevin C. Cox/Getty ImagesAJ McCarron rallied Alabama early in the third quarter with a passing TD and this rushing score.
"I think that guys thought that Tennessee was going to come out tonight and lay down and let us get a victory very easy, which they didn't," he said.
"It was nothing that Tennessee did. It was all us. The game was on our back the whole game."
There was an uneasiness circulating throughout the stadium at halftime. Fundamentally, players agreed that they were fine. Though there were some uncharacteristic mistakes, like missed blocks and tackles, the players felt what really kept them back was the team's attitude. The focus wasn't there in the first half.
Saban said he worried about a lackluster start well before game. With all the hype surrounding the Nov. 5 showdown with LSU, he feared during the week that talk would trickle into his locker room. He cringed when he heard the word "LSU" and wished he could have hid his players from the outside world until after Saturday.
What he saw during the first 30 minutes was what he expected. Alabama managed just six first downs, rushed for 35 yards, allowed 61 rushing yards after it gave up just 84 total rushing yards in its first three SEC games. It didn't play sound football.
AJ McCarron
floated passes and both lines were pushed around by Tennessee.
"The biggest lesson is we're a really average team when we don't play to the standard of excellence that we set for ourselves and that's what happened tonight," offensive lineman Barrett Jones said. "We came out and we didn't execute and that made us average."
Then, the second half came. The junior varsity squad hit the showers and the grownups showed up.
Tennessee's offense crumbled as it failed to gain a first down and totaled just 41 yards in the second half. Alabama lit up the Vols with big hits and overwhelmed Tennessee's offensive line with blitz after blitz.
Offensively, Alabama came out throwing. With so many Vols in the box, McCarron lit up the Vols, completing his first eight passes of the second half and grabbing two touchdowns (one rushing, one passing). With the air attack flourishing,
Trent Richardson
and the ground game wore down the Vols as the Tide scored 31 straight points.
"The biggest thing is the players responded with a whole different energy level, passion, enthusiasm in the second half, which made all the difference in the world," Saban said. "As we talked about before, when we don't have that we become very average and when we have it, we can be pretty good."
The traditional victory cigar smell seeped into the press box with more than 10 minutes left in the fourth and the "LSU" chants, which were egged on by Alabama players, echoed throughout Bryant-Denny Stadium with about 2:36 left.
Saban said that with the bye week upcoming, LSU preparation will begin later in the week, but his players expect it to start up sooner. First, Saban wants to get back to improving on fundamentals and get healthy before they can talk Tigers.
Regardless, Saban said quality control will be the most important thing with his team. The LSU talk is only going to increase and become more deafening, and Saban doesn't want that to consume his players.
"I'm sure there will be a lot of hype about this game, but I think everybody needs to chill out, mentally physically and every other way for a few days," he said. "Then we'll have plenty of time to get ready for that game."
October, 23, 2011
10/23/11
12:15
AM ET
By
ESPN.com staff
| ESPN.com
ESPN.com SEC blogger Edward Aschoff talks with Alabama receiver
Darius Hanks
.
October, 9, 2011
10/09/11
12:20
AM ET
There certainly wasn't any letdown from Alabama after an emotional win at Florida.


The Tide blasted Vanderbilt out of Tuscaloosa with a
34-0 win
Saturday. Alabama held the Commodores to just eight first downs, one third-down conversion on 10 attempts and 190 total yards.
Alabama also didn't need its dominating running game to put Vandy away. Alabama let quarterback
AJ McCarron
toss the ball a little more, as the sophomore threw for 237 yards and four touchdowns.
The Tide used Saturday to spread the ball around more in the passing game.
Marquis Maze
grabbed nine catches for 93 yards,
Darius Hanks
caught five balls for 60 yards and
DeAndrew White
caught three passes for 58 yards and two touchdowns. His 5-yard touchdown grab in the second quarter was truly one for the highlight reel as well.
There certainly weren't a handful of people who picked the tremendously unlikely upset here and Alabama played like it was supposed to. This team didn't head in so overconfident that it made sloppy mistakes (Alabama had zero turnovers) and the defense played like it was on a mission.
This is exactly how Alabama should play week in and week out. The days are ticking down to the monumental matchup between Alabama and LSU on Nov. 5, and keeping the focus until then won't be easy, but both teams have done quite well with it thus far.
September, 6, 2011
9/06/11
4:07
PM ET
Alabama coach Nick Saban isn't much for being shy.
He's pretty matter-of-fact and when it came to talking about his young wide receivers after the season-opener against Kent State he didn't really hold back his frustration about their play.
"I don't think they played fast all the time," Saban said.
"I think there was a lot of anxiety. I don't think we had very good ball security. I don't think we looked balls in. I think we played in a hurry -- cut the routes a little bit short, don't do it exactly right, which sort of affects the timing of what you're trying to do and makes it a little bit more difficult for everybody."
Despite some issues in the receiving game, Alabama's quarterbacks still passed for 299 yards on 21 completions in the 48-7 win over the Golden Flashes. Eight of those catches and 118 of those yards came from senior
Marquis Maze
. He also had Alabama's lone receiving touchdown.
Outside of Maze, six receivers/tight ends combined for nine more catches. Four of them and 44 yards came from freshman
DeAndrew White
, who earned a lot of praise from his coaches and teammates during the preseason. With his speed, White has what it takes to be a deep threat for the Tide. He's also an elusive runner, which should continue to make him one of the Tide's top receiving options going forward.
Running backs
Eddie Lacy
and
Trent Richardson
combined for the rest of the 92 yards, with Lacy grabbing 76 yards and Richardson getting 16.
Alabama will be able to get away with dumping passes off to its running backs from time to time, but in order for this offense to take the next step with its young quarterbacks in
AJ McCarron
and
Phillip Sims
, Tide receivers will have to step their game up.
"A lot of players are going to learn a lot from that game, and I think it will help their performance in the future," Saban said.
What will help the future is that heralded junior college transfer and former Ohio State receiver Duron Carter is expected to play this weekend. Carter finally joined the team last week after he was held out because of transcript issues.
Once Carter, the son of NFL great Cris Carter, gets into the proper football shape, he should provide a big spark in the passing game. Check out some of his highlights circulating around the Internet when you get a chance. He has "big-play" written all over him.
And things should improve after Week 2 when senior
Darius Hanks
returns. Hanks had to sit out the first two games because he registered five plays in one game as a redshirt freshman.
The passing game wasn't the prettiest to look at, but it will get better.
June, 16, 2011
6/16/11
9:17
AM ET
Today we take a look at the wide receiver/tight end positions in the SEC. This one gets tricky since we're basing rankings on two different positions.
Let's take a look at what we came up with:
[+] Enlarge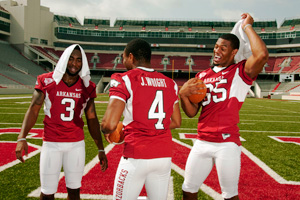 AP Photo/April L. BrownJoe Adams, Jarius Wright and Greg Childs combined for 2,260 yards last season.
1. Arkansas:
The Razorbacks could have the best wide receiver corps in the country. Making things even better for Arkansas is that each member of its tremendous trio is a senior. First, there's
Greg Childs
, who would have taken part in the NFL draft this year had he not suffered a knee injury late in the season. Childs is Arkansas' best receiver when he's healthy.
Joe Adams
really came on strong last year, especially after Childs went down. He's the best when he gets the ball in open space and will command the slot. Then there's
Jarius Wright
, who is the fastest of the three and got even stronger this spring as well. The three have 324 combined career receptions for 5,404 yards and 41 touchdowns.
2. LSU:
The Tigers might have lost
Terrence Toliver
, but they'll still have weapons at receiver. Junior
Rueben Randle
is expected to be the go-to guy in LSU's offense and is coming off a season where he caught 33 passes for 544 yards and three touchdowns.
Russell Shepard
was right behind him last season, catching the same amount of balls, but only totaled 254 yards and one touchdown. He looked sharper this spring and is looking to break out this fall. Tight end
Deangelo Peterson
should also get more attention this fall. He only caught 16 passes, but that number should increase.
3. South Carolina:
For starters, the Gamecocks have the league's best receiver in
Alshon Jeffery
. The 6-foot-4, 233-pound freak snatched just about everything that came his way last fall and registered 1,517 yards and nine touchdowns. He's nearly impossible to stop in one-on-one situations. Senior
Jason Barnes
didn't make a major impact in 2010, but he does have 60 career receptions under his belt. The smaller
Ace Sanders
should be even better after bursting onto the scene with 25 receptions for 316 yards and two touchdowns.
D.L. Moore
, who caught 17 passes in 2010, should have a more expanded role as well.
[+] Enlarge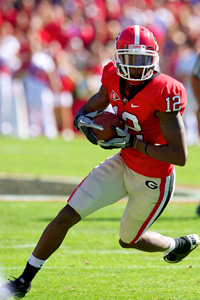 Dale Zanine/US PresswireWith A.J. Green in the NFL, Tavarres King should become the Bulldogs' main receiving threat.
4. Georgia:
The Bulldogs are still looking for a few playmakers at receiver, but there is definitely talent in Athens. Junior
Tavarres King
has moved into A.J. Green's flanker spot and while he's not Green, he proved this spring that he's ready to be the Bulldogs' main receiving threat. Tight end
Orson Charles
is the best at his position and can flex out to receiver if needed. His 26 catches for 422 yards should increase this upcoming season.
Marlon Brown
also made strides this spring and should be the No. 2 receiver.
5. Tennessee:
Neither
Justin Hunter
nor
Da'Rick Rogers
had a ton of catches last fall, but that will change with a strong passing game in 2011. Hunter caught 16 passes, but registered 415 yards and seven touchdowns in the process. He's a solid deep threat and playmaker. Rogers also only caught 16 passes, and while he didn't have the yardage Hunter had, he made tremendous strides this spring. Tight end
Mychal Rivera
caught 11 passes in 2010 and with Luke Stocker gone he takes over as the Vols' weapon at tight end.
6. Alabama:
There aren't a lot of questions surrounding the Crimson Tide, but receiver isn't Alabama's best area. Seniors
Marquis Maze
and
Darius Hanks
should get the brunt of the catches. They combined for 70 catches for 1,013 yards and six touchdowns last season. There is a long list of other inexperienced players who should grab some catches as well and former Ohio State receiver Duron Carter, who just transferred in, could be a factor this fall.
7. Florida:
The Gators have talent at wide receiver, and Florida should have a more pass-friendly offense, but the group is very unproven. Frankie Hammond Jr. could be Florida's best weapon at receiver with his speed and athleticism.
Omarius Hines
has the size and speed to be a major mismatch for defenders in the slot and on the outside. Freshman
Quinton Dunbar
was Florida's top deep threat this spring and should get ample playing time. At tight end,
Jordan Reed
was called Florida's best athlete and could end up being the Gators' top playmaker.
Trey Burton
should catch a few more passes as well.
[+] Enlarge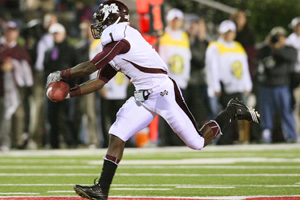 Marvin Gentry/US PresswireMississippi State's Chad Bumphis caught 44 passes for 634 yards and five touchdowns last season.
8. Mississippi State:
The Bulldogs have a ton of depth at receiver, starting with
Chad Bumphis
. The junior has yet to really break out, but this could be the year he finally puts it together. Alongside him, Mississippi State has
Chris Smith
,
Brandon Heavens
and Arceto Clark, who all had solid springs. Those four combined for 115 catches last fall. The Bulldogs also have a host of young receivers who appear ready to compete.
9. Auburn:
There is still some talent left on the Plains at receiver. Sure,
Darvin Adams
and
Terrell Zachery
are gone, but the Tigers will look to
Emory Blake
and
Trovon Reed
to make up for their departures. Blake is the leading returning receiver, while Reed will be used all over the field by Auburn's coaches. He can be a threat in the slot and on the outside.
Philip Lutzenkirchen
will be more of a staple in the offense as the Tigers' trusted H-back.
10. Ole Miss:
Athletically, the Rebels are fine. However, this group is very inexperienced and was inconsistent this spring. The incoming freshmen will have every opportunity to take a starting spot and Tobias Singleton could be the best option of Ole Miss' youngsters. Of the returners,
Melvin Harris
did the most in 2010, catching 30 passes for 408 yards and three touchdowns. Redshirt freshman
Vincent Sanders
will also get a chance to heavily contribute after making strong strides this spring.
11. Vanderbilt:
Four of Vanderbilt's five receiving leaders return, but the group wasn't tremendously productive last fall. The Commodores didn't have a receiver go over 320 yards last season and tight end
Brandon Barden
caught a team-high 34 passes for 425 yards. Vanderbilt's top two wideouts --
John Cole
and
Jonathan Krause
-- are back, but the Commodores might have to turn to their youngsters for help.
12. Kentucky:
The Wildcats lost a lot when do-everything Randall Cobb left early for the NFL and things didn't get any better by losing No. 2 wideout
Chris Matthews
. Now, it's back to the drawing board in Lexington.
La'Rod King
should be the top target for quarterback
Morgan Newton
, but he disappointed at times this spring.
Matt Roark
and
E.J. Fields
will compete for time, but both need vast improvement. The top athlete could be
Brian Adams
, but he spent spring playing for Kentucky's baseball team.