NCF Nation:

Darius Jennings
October, 28, 2013
10/28/13
9:00
AM ET
We have status quo in the top three this week. But there was plenty of shuffling in the middle of the pack. Again. Par for the course in the ACC.

1. Florida State (7-0, 5-0 ACC, last week: 1).
The Seminoles remain in the hunt for a national championship after a thoroughly dominant win over NC State.
Jameis Winston
threw for 229 yards and three touchdowns in the first quarter -- the most pass yards in the first quarter of any quarterback this season. Another top-10 matchup looms this weekend, this time against rival Miami.
2. Miami (7-0, 3-0, LW: 2).
The Hurricanes have had to overcome double-digit deficits in their last two games to stay undefeated. In fact, ESPN Stats & Information says Miami had less than a 25 percent chance of winning in the fourth quarter against both North Carolina and Wake Forest. Voila -- Miami beat the odds thanks to its run game and now has to face revved-up Florida State in Tallahassee.
3. Clemson (7-1, 5-1, LW: 3).
The Tigers did not look pretty at times in their win over Maryland. But the key word in that sentence -- win. Clemson remained in the conversation for an at-large BCS berth thanks to solid performances from
Sammy Watkins
(single-game school record 14 catches), Rod McDowell (season-high 161 yards) and
Tajh Boyd
(15th 300-yard passing game).
4. Duke (6-2, 2-2, LW: 7).
Congratulations are in order for the Blue Devils, who became bowl-eligible for the second consecutive season with a win over No. 14 Virginia Tech, their first win over a Top 25 team since 1994. It also happened to be the first Duke win over Virginia Tech since 1981. When you consider how badly the offense struggled throughout, major props go to a vastly improved defense that has put the clamps down in the second half in its last three games.
5. Virginia Tech (6-2, 3-1, LW: 4).
You could probably pick a lot of words to describe the Hokies' loss to Duke. Disappointing fits best, considering another stellar defensive effort was wasted in one of the worst offensive performances of the season.
Logan Thomas
threw four interceptions, ending a string of three straight games without one. The loss kicked Virginia Tech clear out of the rankings.
6. Georgia Tech (5-3, 4-2, LW: 5).
Welcome to the murky part of the ACC power rankings. Georgia Tech beat Duke earlier this year, but also lost to Miami and Virginia Tech. The Jackets also played a terrible game against Virginia -- turning the ball over five times -- and still managed to win. At this point, we have no idea which Georgia Tech team will show up every week.
7. Wake Forest (4-4, 2-3, LW: 8).
The Deacs did lose, but they led Miami for nearly the entire game and played well enough to beat a top-10 team. Wake Forest is playing much better today than at the start of the season, and you can easily tell when you flip on the television. That is a big reason we have them here. Plus, they beat Maryland head-to-head.
8. Maryland (5-3, 1-3, LW: 9).
After a 4-0 start, Maryland has lost three of its last four and is going to have to fight for a bowl spot. The Terps put up a valiant effort with just about every key offensive player on the bench against the Tigers. They get a week to rest before playing Syracuse at home. That game could get them to win No. 6, especially if
C.J. Brown
and
Brandon Ross
are healthy enough to return.
9. Pitt (4-3, 2-2, LW: 6).
The Panthers lost on a last-second field goal to Navy, a team that Duke blew out earlier this year. They essentially let a winnable game against an average nonconference team slip from their grasp. These are the types of games ACC teams have to win. Pitt lost, and as a result has to take a tumble down.
10. Boston College (3-4, 1-3, LW: 10).
We both thought Boston College would go into Chapel Hill and win. Instead, the Eagles lost 34-10, unable to find any consistency on offense against one of the worst defenses in the ACC. The bye week did not seem to do them any favors.
11. Syracuse (3-4, 1-2, LW: 11).
Speaking of bye weeks, Syracuse was off after a demoralizing loss to Georgia Tech. We will see how the Orange regroup this week against Wake Forest, a game with major bowl implications for both teams.
12. North Carolina (2-5, 1-3, LW: 13).
Congrats to the Tar Heels for picking up their first league win of the season. The two-quarterback system Larry Fedora is now using with
Bryn Renner
and
Marquise Williams
seems to be working, at least for now.
13. NC State (3-4, 0-4, LW: 12).
The Wolfpack have lost three straight and are off to their first 0-4 start in league play since 2009. Coach Dave Doeren has had to deal with his fair share of injuries, but still, nobody expected this team to be winless in ACC play headed into November.
14. Virginia (2-6, 0-4, LW: 14).
The Hoos have now lost five straight. How did this team beat BYU again? Virginia got career games from
Darius Jennings
and
Tim Smith
, five gift-wrapped turnovers from Georgia Tech, and still lost 35-25. It gets worse: They still have to play Clemson, Miami and Virginia Tech.
August, 27, 2012
8/27/12
3:45
PM ET
Virginia quarterback
Michael Rocco
has been able to hold on to his starting job despite competition from Alabama transfer
Phillip Sims
, coach Mike London announced Monday.
Rocco started all 13 games last season, throwing for 2,671 yards with 13 touchdowns and 12 interceptions. But London opened up the competition once Sims arrived and was granted his immediate eligibility. Rocco, Sims and
David Watford
were involved in an open quarterback competition during preseason practice, but London always maintained that Rocco had the edge over the other two quarterbacks in the race to win the job.
He confirmed that Monday.
"It just became apparent that Michael has the best grasp of the offense right now," London said during his weekly news conference. "He's the guy that we feel most comfortable with right now because of what he knows, knowing the system and the schemes and knowing the players he'll be throwing the ball to or handing the ball off to. He's done nothing to lose his position. We talked about his leadership, his knowledge of the offense, and so he's put himself in a position to be the guy right now and I'm quite sure he'll work hard at it, he takes pride in it. That's how it worked out."
"I believe that I was the starter throughout the spring and the summer," Rocco said. "It was my job to lose. I root for Phil and David as hard as I can. I would never want anything bad to happen in their career and their life. But I believe I'm here to play quarterback at a high level. I was excited when I heard Coach London was going with me, but in my mind I was preparing to be the starting quarterback. I was excited, but I had a confidence in my mind, too."
London added that he knew it would be a tall order for Sims to overtake Rocco while learning a new offensive system.
"With respect to Phillip, he has a big arm, strong arm, been in college games as well. He's a guy that's learning our offense," London said. "To expect him to know our whole offense by the time the season started, I don't think that would be fair on him. He knows enough of the offense that we understand his situation will be on-the-job training as the season goes on, how much he picks up, the communication, all those things."
London also said he would try to redshirt Watford, who served as the backup to Rocco last season.
"With David, it was a tough call," London said. "David has done everything that we've asked and then some. He's matured tremendously, his physical talents and skills improved greatly. They are three selfless players. They want what's best for the team. My plan is to try to redshirt him."
A few other UVa notes:
August, 13, 2012
8/13/12
4:00
PM ET
Virginia coach Mike London held a teleconference with reporters Monday. Here is a little of what he had to say.
London gave a quick update on what is happening at quarterback, with Michael Rocco, David Watford and Alabama transfer Phillip Sims. "We're at a point where Phil is now this week is going to be exposed to more things," London said. "We're going to have a couple scrimmages. The only way you can really know is when coaches are off the field and they're calling plays and have to execute. They're progressing nicely. Michael, his knowledge of the offense continues to improve, same with David. With Phillip having been in a pro-style offense before, he understands the concepts." What will they be judged on? "Accuracy, every throw they make, every situation they're in -- whether it's one-on-one, team, throwing with running backs, tight ends on air, they they they're being evaluated. This is an important week for us to see if there is going to be some separation made."
Finding players to step up in the defensive backfield is of paramount importance this season, with only one starter returning. Though it is early in camp, one true freshman has stood out so far -- Maurice Canady, a versatile in-state athlete who played a variety of positions in high school. Canady came into Virginia and wanted to try and play defensive back first. What has helped him so far is his background as a receiver and quarterback, because he understands route running, from how deep a route goes to where a quarterback is going to throw the ball. "So far he's shown the physical and athletic skills that show promise for him," London said. "Now as we start to add more coverages, more things, we're going to see if he can handle it. But right now, he's doing a nice job."
London also has been pleased with the way receivers Dominique Terrell and Darius Jennings have started to mentor the younger players. Terrell and Jennings are not exactly veterans themselves, with Tim Smith being the elder statesman of the group, but they are actively helping out in any way they can. "What you see is more of a mature approach," London said. "They're guys that played in college games before. ... They want everybody to get it. They know our passing game is a timing game. If these young guys understand how to run their routes, it's going to help the entire team."
There is plenty of talent and depth at the running back position, and London said the team will explore creative ways to get all of his playmakers involved. That means seeing more guys on special teams, specifically a player like Khalek Shepherd on punt returns. "People talk about two halfbacks in the game, which is very possible, very doable for us because of the matchups they present," London said. "We'll come up with creative ways, not only through offense but also through special teams. We are going to try to utilize all their skills, that's for sure. As we get the plays and the opportunities, I can guarantee each one will be cheering each other on."
At guard, another player who has stood out is Cody Wallace. "Cody's a tough guy, tenacious guy," London said. "Might not be the most athletic guy, but he'll try to hit you, bite you on your ankles, whatever it takes. You like that kind of attitude from a guy. He's quietly inserted himself or put him in position to battle for that guard position. Right now, Cody has that spot because of what he's done to this point."
September, 8, 2011
9/08/11
10:15
AM ET
There aren't any games on the ACC schedule this week that are going to really earn much national spotlight, but there are some important games and potential upsets brewing. Here are 10 things to watch in Week 2, in no particular order:
1. Records at Virginia Tech.
Coach Frank Beamer is one win shy of 200 during his career at Virginia Tech, and receiver
Jarrett Boykin
needs just two more catches to become the school's all-time leader in receptions. If Beamer beats East Carolina, he will join only nine other FBS head coaches who have won that many games at one school.
[+] Enlarge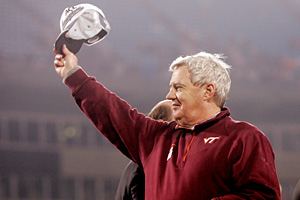 Jeff Blake/US PresswireFrank Beamer can win his 200th game at Virginia Tech this weekend.
2. NC State's offensive line.
Quarterback
Mike Glennon
put up respectable numbers in his starting debut, but it didn't help that he was sacked four times, including a blind-side hit that jarred the ball loose and was returned for a touchdown.
3. Wake Forest linebacker Kyle Wilber.
Speaking of sacks against NC State, Wilber is one shy of moving into the top 10 on the school's career list for sacks. He's also worth watching on special teams. He had the fourth blocked kick of his career against Syracuse when he knocked down a field goal attempt with 2:07 left to play.
4. Georgia Tech's passing game.
The Yellow Jackets' passing game flourished like never before under coach Paul Johnson, but can they keep it up on the road against better competition?
5. Boston College's defense.
The Eagles led the nation a year ago in rushing defense, but allowed Northwestern 227 yards on the ground last weekend. Next up is a Central Florida offense that just racked up 560 total yards against an overmatched Charleston Southern team.
6. Talented true freshmen.
There were rookies making their debuts all over the ACC last weekend, but some proved right away they're going to make an impact this year. At Virginia, true freshman cornerback Demetrious Nicholson returned an interception 31 yards and
Darius Jennings
had a team-best 13 plays that went for 20 or more yards. At Clemson, three different freshmen scored touchdowns in
Sammy Watkins
,
Mike Bellamy
and
D.J. Howard
. FSU played 11 true freshmen.
7. Florida State's defense.
It was definitely a highlight in the season opener against Louisiana-Monroe, but the program has never posted back-to-back shutouts during its tenure in the ACC. This could be the first, as Charleston Southern is coming off a 62-0 drubbing by Central Florida. The Noles haven't had back-to-back shutouts since 1980.
8. Clemson quarterback Tajh Boyd.
He was a different player between the first and second half against Troy last week. Which one will show up for four quarters against Wofford on Saturday? At halftime Clemson trailed 16-13, and Boyd was just 6-of-12 for 65 yards. He wound up throwing for 264 yards and three touchdowns.
9. BC receiver Jonathan Coleman.
He is taking over for injured teammate
Ifeanyi Momah
, who suffered a season-ending left knee injury (ACL) against Northwestern. The sophomore played in all 12 games last year and had 14 catches for 260 yards. More will be needed from him now.
10. UNC cornerback Charles Brown.
He's making his first appearance this year after missing all of last season as a result of the NCAA's academic investigation and sitting out the James Madison game for accepting $86.94 worth of benefits. Brown has six career interceptions for 191 yards.