NCF Nation:

Darius Millines
May, 15, 2013
5/15/13
2:50
PM ET
Illinois' search for playmakers to spark its sputtering offense in 2013 won't include wide receiver
Darius Millines
.

Head coach Tim Beckman confirmed to The (Champaign) News-Gazette that Millines and defensive lineman
Darrius Caldwell
are
no longer members of the Illini program
because of an unspecified violation of team policy. Millines was
suspended in March for violating team policy
and missed spring practice, and Caldwell also sat out the spring because of academic issues.
"We gave them both opportunities," Beckman told The News-Gazette.
Millines, a senior, started three games as a true freshman in 2010 and had been pegged to be a major contributor, but injuries limited his production the past two seasons. He still finished second on the team last season with 319 receiving yards on 32 catches despite being hobbled.
Caldwell appeared in all 12 games last season in a defensive end/linebacker hybrid role, and showed some promise with 2.5 sacks and five tackles for loss. He could have been in the mix to start at the "Leo" position, but that job likely will go to
Houston Bates
this season.
Beckman didn't specify why Millines and Caldwell aren't playing this season, and didn't say where they could transfer.
Illinois made
Miles Osei
and
Steve Hull
full-time receivers this spring, and both players should be part of a rotation that will include
Ryan Lankford
, last season's leading receiver, junior-college transfer
Martize Barr
, and
Spencer Harris
.
March, 28, 2012
3/28/12
10:00
AM ET
CHAMPAIGN, Ill. -- After the 2011 season, Illinois center
Graham Pocic
sat down with his linemate,
Jeff Allen
, to compile a highlight tape for Allen to show NFL talent evaluators.
It sounded like a fun exercise. And for a little while, it was.
Pocic and Allen took great joy in reviewing the first six games from the past year. Illinois was winning and scoring points. Life was good.
Then Week 7 arrived. Cracks began to form as Illinois lost 17-7 to an Ohio State team that completed only one pass.
Pocic's and Allen's review session soon made them want to avert their eyes.
"It was really depressing," Pocic said. "All the great opportunities we had, especially after starting 6-0. Mostly I was trying to figure out what went wrong with the offensive line, with the running game, why we couldn't run the ball like we did with Mikel [Leshoure] the year before.
"It was hard to find a reason why certain things happened."
Illinois dropped six consecutive games after its record 6-0 start, and the offense bore the brunt of the struggles. After scoring 33 points or more in four of the first six games, including a combined 79 points in the first two weeks of Big Ten play, Illinois failed to tally more than 17 points during its six-game slide and finished three games with just seven points.
Even when Illinois ended its slide in the Kraft Fight Hunger Bowl against UCLA, it was hardly an offensive explosion (20 points).
The Illini finished the season ranked in the top 15 nationally in several major defensive categories, including points allowed and yards allowed. While the team had other problems, namely special teams, its evaporating offense was most disheartening.
[+] Enlarge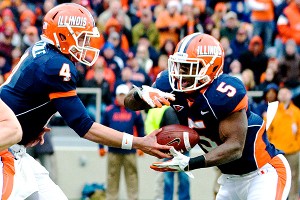 Bradley Leeb/US PresswireQuarterback Reilly O'Toole (4) and running back Donovann Young are entering their sophomore seasons with a brand-new offense.
Chris Beatty knew all about Illinois' season of extremes on offense, even though he didn't witness it firsthand. And while Beatty and Billy Gonzales, the team's new co-offensive coordinators, are spending spring practice installing their system, they're also trying to foster something less tangible.
"You get beat down a little bit when you struggle at the end of the year," Beatty said. "So you want to get some kind of swagger back. The only way to do that is to lay a good foundation as far as making some plays, getting a good knowledge base. Confidence comes with some success and knowing what you're doing.
"Those things, we're trying to build up because obviously, the last six games, there were some struggles."
When Beatty reviewed the final six regular-season games, he saw some issues along the offensive line and with the running game, and few consistent skill players aside from receiver
A.J. Jenkins
. But he also saw a group that lacked confidence.
"It's hard to have a swagger," quarterback
Reilly O'Toole
said, "with no points on the board."
The offense won't be able to light up the scoreboard until September, but spring practice has provided the platform to rebuild morale. Players like O'Toole and Pocic are excited about the multiple spread offense being installed.
Pocic said he's never been in such a complex offense. O'Toole said that while other Big Ten teams run spread offenses, Illinois' system will be unique in its flexibility and the number of angles from which the offense can attack.
"Unpredictable," wide receiver
Darius Millines
said of the new offense.
"We may run a play, and someone may think we're coming back with the same play, like a running play to the left. And we may play-action with it and throw deep over your head," he continued. "The defense has to be on their P's and Q's at all times."
And while the installation process is gradual and Illinois must build depth at running back, receiver and along the offensive line, there are mini-breakthroughs, like the one at Monday night's practice.
"We made some good plays and the offense was getting hyped, and we actually got rolling for a little bit," Millines said. "We actually felt how we felt in the beginning of last year. We got into a little rhythm, and our whole offense, we took that into consideration, that, 'OK, if we keep making plays, we can't be stopped.'"
November, 8, 2011
11/08/11
9:00
AM ET
Illinois offensive coordinator Paul Petrino entered the season brimming with confidence, and for good reason.
His unit had set team records for scoring (423 points) and points per game (32.5) in 2010 and returned most of its key pieces, namely quarterback
Nathan Scheelhaase
. Most of the questions about Illinois rested with a defense that had lost three players to the NFL draft, including first-round pick Corey Liuget.
[+] Enlarge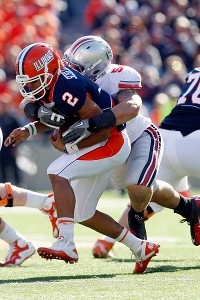 Jerry Lai/US PresswireQB Nathan Scheelhaase, 2, and the Illinois offense have struggled the past three games.
"We're always going to set our expectations high,"
Petrino told ESPN.com in August
. "We set the school record last year, and we're going to break it this year."
Petrino looked prophetic through the first six games, as Illinois averaged 34.7 points and 447.7 yards. The Illini recorded 32 plays of 20 yards or longer. Scheelhaase and wide receiver
A.J. Jenkins
formed the Big Ten's most dangerous passing connection, as Jenkins soared to the top of the national receiving chart with 815 yards and seven touchdowns.
A surprisingly effective defense complemented the offense, and Illinois swept its first six games to get off to its best start since 1951.
But the Illini since have backslid, dropping three straight games. While the defense continues to perform well, the offense has disappeared.
Illinois has scored only 28 points during the losing streak, including none in the first half and only seven before the fourth quarter. Amazingly, the Illini had more yards and more first downs than any of its past three opponents -- Ohio State, Purdue and Penn State -- and dropped all three contests.
What's wrong with the Illini offense? It's not complicated, according to Petrino.
"Blocking, protecting, throwing and catching -- the basics," Petrino told ESPN.com. "You've got to block people. You've got to hit people when they're open. You've got to catch the ball. And then you've got to run through some tackles. Just the basic stuff we've got to do better. We've kind of hurt ourselves from that standpoint in the last three games.
"We've got to do it better."
They need to start Saturday against No. 24 Michigan at Memorial Stadium. Illinois' once-promising season could go down the drain if the offense doesn't resurface.
A potential turnaround for the Illini starts with the offensive line, considered one of the Big Ten's best before the season. Illinois boasts experience up front and continuity, as there has been only one change in the starting lineup all season.
But Illinois' front five has struggled against some of the Big Ten's best defensive linemen, allowing too many negative-yardage plays. Opposing teams have recorded 24 tackles for loss and eight sacks during Illinois' losing streak.
"A lot of times we've been getting beat up front," Petrino said. "That doesn't necessarily mean it's always the O-line. Sometimes it's the tight end or the back, [and the] quarterback a couple times needed to get the ball out of his hands quicker."
Petrino also is looking for more big plays. Jenkins and Scheelhaase provided a bunch of them early in the season, but defenses have done better at limiting Jenkins' effectiveness the past three games.
Illinois has recorded just three plays of 20 yards or longer in the past three games -- all passes from Scheelhaase to Jenkins.
"Some of the other guys have got to do it, too," Petrino said. "
Darius Millines
did it early in the year and he was hurt for a while, but I think he's getting back, being closer to being 100 percent, so that will help.
Jon Davis
, our freshman tight end, has made some plays for us.
Ryan Lankford
has got to start making some plays.
"And then in the running game, we've got to bust through the holes and get some long runs, also."
Senior running back
Jason Ford
has been a bright spot, recording 183 rush yards on 34 carries in the past two games. But Ford's longest run this season is just 18 yards.
"Bottom line, defenses are too good this day and age if you go three, four yards the whole time," Petrino said. "You've got to get some big plays."
Illinois also needs to start games better, especially against a Michigan team that has improved as games go along. The Illini averaged 17.5 points in the first half through the first six games, but they've since limped out of the gate.
"We haven't played worth a darn in the first quarter of the last three games," Petrino said. "It's something we take pride in. We script our opening plays and we work on them all week.
"So we've got to go out and play fast and definitely get going early."
Saturday would be a good time for a better start.
October, 15, 2011
10/15/11
3:20
PM ET
CHAMPAIGN, Ill. -- A few notes from warm-ups as Ohio State and Illinois are about to get started here at Memorial Stadium.
Ohio State's quarterback rotation started off with Braxton Miller, Joe Bauserman, Kenny Guiton and Taylor Graham. But Guiton worked a good amount with the second-team offense. We'll see if Bauserman gets the first shot behind Miller, or if it will be Guiton.
I didn't see Illinois wide receiver Darius Millines in warm-ups. He's expected to miss another game with a foot injury.
Miller seemed to be moving around well. He'll get a boost from having Dan Herron back in the lineup.
October, 15, 2011
10/15/11
2:15
PM ET
CHAMPAIGN, Ill. -- Greetings from central Illinois, where today the 16th-ranked Fighting Illini try to maintain their undefeated record against a desperate Ohio State team. The teams are playing for the
Illibuck
, which Ohio State has retained since 2008.


Ohio State leads the series 63-30-4 and holds a 34-12 edge in Champaign.
It's a beautiful day for football, as the skies are clear and there's a slight chill in the air. The wind could be a factor as it's blowing at a decent clip to the southeast. A good atmosphere around the stadium today, as Illinois fans are understandably excited about their team, which is off to its best start since 1951.
Illinois is the undefeated team, but most of the pressure rests with Ohio State today. The Buckeyes are trying to avoid dropping below .500 this late in the year for the first time since 1988, the team's last losing season. With Wisconsin coming to Columbus on Oct. 29, Ohio State wants to avoid going 0-for-October. An offense that performed well for two and a half quarters at Nebraska regains the services of senior running back
Dan Herron
, who returns from suspension. It will be interesting to see how Herron is used among Ohio State's other backs (
Carlos Hyde
,
Jordan Hall
).
Braxton Miller
's health will be a big storyline today. The Buckeyes freshman will start at quarterback after leaving the Nebraska game with a sprained right ankle. The sprain doesn't appear too severe, but how it affects his mobility remains to be seen. Illinois defensive coordinator Vic Koenning has been effectively aggressive and creative all season. He'll look for ways to put Miller under pressure, and Ohio State will need a strong performance from its line and its backs in protection.
The Illinois offense comes in with a lot of confidence, as quarterback
Nathan Scheelhaase
and wide receiver
A.J. Jenkins
both are playing at an All-Big Ten level. Ohio State's defense needs to rebound after being steamrolled by Nebraska in the final 23 minutes in Lincoln. It's important for Illinois to develop weapons other than Jenkins, whether it's through the run game or with the pass.
Darius Millines
, the team's No. 2 receiver, will be a game-time decision after missing the past two games with a foot injury.
Illinois has shown impressive resilience this season, fighting through mistakes to get wins. But the Illini need to be careful against an Ohio State team with its back against the wall.
Much more to come throughout the day, so don't go anywhere.
October, 1, 2011
10/01/11
1:36
PM ET
They've reached halftime at Memorial Stadium in Champaign, so let's take a quick look.


Northwestern 14, Illinois 10:
After a shaky start, Northwestern QB
Dan Persa
settled down a bit in his first appearance of the season. Persa threw two touchdown passes to spark a Northwestern offense that came into the game ranked ninth in the league in passing. The senior is 5-for-9 for only 48 yards. He hasn't tried to go downfield much as Northwestern has emphasized the run game with
Mike Trumpy
(50 yards) and others.
Illinois has moved the ball well at times, especially through the air against Northwestern's soft zone defense. But the Illini are beating themselves with penalties (5) and turnovers (2). For the first time this season, they paid for it. An Illinois defense that had prevented any points off of six giveaways finally caved late in the half as Persa found
Jeremy Ebert
for a touchdown. Quarterback
Nathan Scheelhaase
needs to be more disciplined with the football, particularly in the red zone, where Illinois needs to improve its touchdown efficiency.
The Wildcats' defense clearly benefited from the bye week, as returning players like Collin Ellis have helped apply more pressure on Scheelhaase and the Illini rushing attack. Injuries are cropping up for the Illini, who are without No. 2 receiver
Darius Millines
.
September, 8, 2011
9/08/11
10:15
AM ET
Week 2 is just around the corner, and it brings us a few more appealing matchups around the Big Ten.
Here are 10 items to track during a 12-pack of games Saturday.
1. The Big House in prime time:
Michigan has played 520 games at Michigan Stadium, but none has kicked off at night. History will be made Saturday at the Big House as Michigan takes on Notre Dame under the lights. It should be an electric atmosphere at Stadium and Main as more than 110,000 fans will watch two of the game's iconic programs, who will honor the occasion with retro uniforms. Trust me, they're better than Maryland's.
[+] Enlarge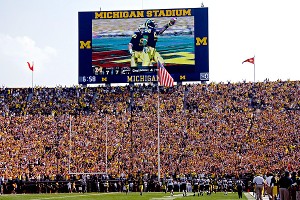 AP Photo/Tony DingMichigan Stadium will host its first night kickoff in its more than 80-year history.
2. Opportunity knocks for Nits:
Penn State wants to be viewed as a legitimate Big Ten title contender and a team that belongs among the nation's elite. There's
no better opportunity to make a statement
than Saturday's game against No. 3 Alabama. Penn State hasn't beaten a top-5 team in the Associated Press poll since crushing Arizona in the 1999 season opener. An upset of Alabama would put the Penn State program -- and not just its iconic coach Joe Paterno -- in the national spotlight.
3. Coker tries to rebound:
Iowa running back
Marcus Coker
entered the season with a lot of hype but fumbled twice in the season opener, earning him a trip to the bench. Coach Kirk Ferentz remains confident in the sophomore and was pleased Coker didn't use the lousy weather conditions as an excuse. Coker gets a great chance to redeem himself on the road against in-state rival Iowa State, which last week surrendered 204 rush yards to FCS Northern Iowa.
4. Bauserman's building blocks:
Joe Bauserman
took a step toward securing Ohio State's starting quarterback spot in the opener, completing 12 of 16 pass attempts with three touchdown strikes to tight end
Jake Stoneburner
. Although freshman
Braxton Miller
remains very much in the mix and should see time Saturday against Toledo, another strong performance from Bauserman should establish the senior as the team's top option before a Week 3 trip to Miami.
5. Linebacker U. vs. Trent Richardson:
Penn State will lean heavily on its defense, and particularly its linebackers, as it aims for the upset against Alabama. Linebacker U appears to be back as the Lions boast excellent depth in the defensive midsection with Michael Mauti, Nate Stupar, Glenn Carson, Khairi Fortt, Mike Hull and Gerald Hodges, who got hurt last year in Tuscaloosa but could be a difference-maker Saturday. The linebackers must contain one of the nation's top running backs in Heisman Trophy candidate Trent Richardson.
6. Huskers' offense under the gun:
Nebraska scored 40 points in its opener but left plenty of questions on the offensive side. Coordinator
Tim Beck is looking for fewer mental mistakes
and better execution Saturday night against a Fresno State team that surrendered 36 points and 417 yards to Cal last week. Quarterback
Taylor Martinez
must show greater accuracy as a passer, while an offensive line dealing with youth and injuries needs to show it can control the line of scrimmage before the competition level gets tougher.
7. Gophers, Hoosiers look for first wins:
Minnesota and Indiana were the only Big Ten teams to lose last week, although the teams came away feeling differently about their performances. The Gophers never quit at USC and nearly stunned the Trojans. They return home to TCF Bank Stadium and look for a strong effort against a New Mexico State squad that lost its opener 44-24 to Ohio. Indiana faces a much tougher challenge in Virginia and looks for better play up front on both sides of the ball,
not to mention more enthusiasm
, as it makes its home debut at Memorial Stadium.
8. The Denard Show, Act II:
Quarterback
Denard Robinson
carried Michigan to a dramatic victory last year with a record-setting performance at Notre Dame Stadium. Can "Shoelace" replicate his heroics Saturday night against the Irish? He'll face what looks like a stronger Notre Dame defense, and he's still transitioning to a new offensive system. But Robinson also works behind a strong offensive line and finally appears to have some help at running back with
Fitzgerald Toussaint
and
Michael Shaw
. It will be interesting to see if Notre Dame can contain a Michigan quarterback after being flummoxed by Robinson and Tate Forcier the past two seasons.
9. Backup QBs try to maintain winning ways:
Northwestern's
Kain Colter
and Purdue's
Caleb TerBush
both recorded victories in their first career starts at quarterback last week. Colter, filling in for the still-rehabbing
Dan Persa
, showed improved passing skills to complement his running ability against Boston College. He needs to limit hits and build more confidence against FCS Eastern Illinois. TerBush made big throws in clutch situations against Middle Tennessee but must limit mistakes on the road at Rice. Purdue's
Robert Marve
also could return to the field.
10. Receiving orders:
Week 1 was huge for Big Ten wideouts, as five players eclipsed 100 receiving yards in the opening games. Illinois continues to look for big things from
A.J. Jenkins
and
Darius Millines
this week against South Dakota State. Michigan State's
B.J. Cunningham
needs one catch to become the team's all-time receptions leader. Other receivers like Iowa's
Marvin McNutt
and Indiana's
Damarlo Belcher
try to build on impressive opening performances.
September, 6, 2011
9/06/11
9:00
AM ET
»
Power Rankings
:
ACC
|
Big 12
|
Big East
|
Big Ten
|
Pac-12
|
SEC
A week of games against mostly inferior competition doesn't provide the most accurate gauge of which teams go where, but it's a starting point. There are a few small moves in this week's rankings, which reward squads for how they looked and, in some cases, for who they played.
The middle five teams -- Penn State, Northwestern, Iowa, Michigan and Illinois -- still could be placed in pretty much any order, and it will take a bit of time to see separation there. But we do reward for quality wins, and Northwestern recorded one at Boston College under tough circumstances.
Let's get started.
1. Wisconsin (1-0):
Quarterback transfer
Russell Wilson
and the Badgers made a strong opening statement on national TV. Wilson led the offense to scores on eight consecutive possessions before departing, and running back
Montee Ball
looked like a totally different player. The defense needs to tighten up when the competition gets better.
2. Nebraska (1-0):
We're leaving Nebraska here for now, but we want to see a more polished performance from the offense this week against Fresno State. Not surprisingly, the offense had mixed results in its first game with the new system. The defensive line looked stellar as
Cameron Meredith
had a big opener.
3. Ohio State (1-0):
The Buckeyes move up a spot after thoroughly dominating Akron on Saturday.
Joe Bauserman
stated his case to be the starting quarterback and tight end
Jake Stoneburner
hauled in three touchdown passes. The 42-0 score amazingly made the game seem closer than it actually was.
4. Michigan State (1-0):
After a sloppy first half, Michigan State found a rhythm in the second half and pulled away from Youngstown State. Receiver
B.J. Cunningham
had a big night, but coach Mark Dantonio will look for greater efficiency and better discipline (eight penalties) from his squad this week against Florida Atlantic.
5. Penn State (1-0):
The Lions didn't get much clarity at the quarterback position, but they didn't need it against Indiana State.
Silas Redd
led a potent rushing attack, and Penn State had a strong defensive effort and received a special teams boost from Chaz Powell on the opening kickoff return. Joe Paterno's squad has a great chance to make a national statement this week against Alabama.
6. Iowa (1-0):
Kirk Ferentz saw some sloppiness in the opener, but Iowa had little trouble pulling away from Tennessee Tech. The Hawkeyes need running back
Marcus Coker
to rebound against Iowa State after two fumbles. Shaun Prater and James Morris had long interception returns to set up scores.
7. Northwestern (1-0):
The Wildcats move up after recording the Big Ten's most impressive victory of Week 1. They beat Boston College on the road without star quarterback
Dan Persa
. The offensive line stepped up to spark backup quarterback
Kain Colter
and the run game, and the defensive front stuffed Boston College's run game.
8. Michigan (1-0):
We don't know how the final 17 minutes would have played out Saturday, but Michigan was rolling against Western Michigan before the lightning came (again). The defense covered up issues with three takeaways, including two touchdown returns by linebacker Brandon Herron. The offensive line looked strong as it adapts to a scheme based more around power.
9. Illinois (1-0):
This isn't a knock on Illinois, which pulled away from Arkansas State after a slow start. If the Illini keep winning, they'll climb the power rankings. The passing attack looked strong with quarterback
Nathan Scheelhaase
and receivers
A.J. Jenkins
and
Darius Millines
. Illinois' defense will need to tighten up before Arizona State arrives in Week 3.
10. Minnesota (0-1):
Jerry Kill's squad didn't beat USC but gained a lot of respect for the way it fought against the 25th-ranked Trojans. Minnesota's defense struggled against the pass (304 yards) but limited points, and Gophers freshman quarterback
Max Shortell
showed impressive poise in relief of MarQueis Gray. Watch for Minnesota to make some noise this fall.
11. Purdue (1-0):
It took a furious rally for the Boilers to beat Middle Tennessee, and Danny Hope's squad has plenty to work on in the coming weeks. The good news is the schedule favors Purdue, which faces Rice and Southeast Missouri State before an open week. Defense has to be the focus this week after Purdue surrendered 460 yards Saturday.
12. Indiana (0-1):
Getting pushed around by Ball State at the line of scrimmage gets you a swift kick to the bottom of the power rankings. Indiana must get tougher up front on both sides of the ball, especially with Virginia visiting Bloomington this week. Quarterback Ed Wright-Baker did some good things, but IU must put together a more complete performance for new coach Kevin Wilson.
September, 3, 2011
9/03/11
5:09
PM ET
Adam is monitoring things at the Big House, so let's take a look at what's going on at halftime of the other 3:30 p.m. kickoffs in the Big Ten:
USC 19, Minnesota 3:
We knew this was going to be a tough assignment for the Gophers, and so far they've had little answer for the
Matt Barkley
-
Robert Woods
combo by the Trojans. Barkley is a razor sharp 18-of-20 for 157 yards and three touchdowns, all of which have been caught by Woods, who has 11 receptions and 115 yards. Those are ridiculous halftime numbers for a receiver. Minnesota wasn't able to get much going on offense until a field goal late in the half. This could get ugly in the second half if the Gophers' defense doesn't improve.
Nebraska 20, Chattanooga 0:
Not too many surprises here, as the Huskers rolled out to a big lead and their defense is pitching a shutout so far.
Taylor Martinez
is 7-of-10 passing and has run for two touchdowns, including a 43-yarder late in the half on fourth down. This should be a cruise to the finish in Lincoln.
Illinois 17, Arkansas State 8:
This is the mild surprise of the afternoon thus far. The Illini trailed until
Nathan Scheelhaase
found
Darius Millines
for a 45-yard touchdown in the final two minutes of the half. They added a field goal just before the break following a timeout parade. The Illinois offense which was so sharp at the end of last season hasn't been nearly as efficient and the Illini even gave up a safety when
Jason Ford
was tackled in his own end zone. Arkansas State hasn't done much offensively but has hit two long field goals along with that safety.
August, 29, 2011
8/29/11
10:00
AM ET
The 2011 season is right around the corner, and it means the power rankings are back. Every Monday morning. Mark it down.
This year's rankings are a collaborative effort, so when you have complaints, as I'm sure you will, feel free to direct them to both of us. As a reminder, the power rankings are a snapshot of where we see the league at this very moment. They are fluid and will change throughout the course of the season.
The Big Ten can be separated into three groups entering the fall: the top four, the next five and the bottom three. There's virtually nothing separating Nos. 5-9 right now. You can easily arrange these teams in any order, and we expect some shuffling there.
Let's get to it.
1. Wisconsin:
Russell Wilson
looks as good as advertised, and his smooth transition in Madison could put the Badgers over the top in the Big Ten. The offense could be just as powerful as it was in 2010, and if linebacker Chris Borland stays healthy, the defense has a chance to make plenty of plays.
2. Nebraska:
The Blackshirts are the biggest reason to believe in Big Red, as All-America candidates Jared Crick, Lavonte David and Alfonzo Dennard lead a unit that might rank among the nation's best. Quarterback
Taylor Martinez
drew good marks in camp and should have plenty of help in the backfield with Rex Burkhead and others.
3. Michigan State:
The defense showed promise during camp, as Michigan State should have more depth along the defensive line and retain playmaking ability in the secondary. A new-look offensive line could be the key to the season, but quarterback
Kirk Cousins
is surrounded by plenty of weapons.
4. Ohio State:
It's a close call between Ohio State and Michigan State for the No. 3 spot, but the Buckeyes have a few more holes to fill. Quarterbacks
Joe Bauserman
and
Braxton Miller
emerged in camp, but both men have plenty to prove on Saturdays. The Buckeyes displayed good depth at running back, and the defense should once again be stout.
5. Penn State:
There's no word yet on a starting quarterback, as
Rob Bolden
and Matt McGloin continue to compete. Penn State appears to have more answers on defense, particularly in the back seven, which boasts talent and very good depth. There's are question marks up front on both sides of the ball, and line play likely will determine how big a step Penn State can take in 2011.
6. Iowa:
Despite some key personnel losses from 2010, Iowa isn't a team that should be overlooked this season. We expect big things from sophomore running back
Marcus Coker
, who will run behind a seasoned offensive line. There's uncertainty along the defensive line and quarterback
James Vandenberg
must prove himself again, but Iowa has a good chance to exceed expectations.
7. Illinois:
Ron Zook's squad had a high-tempo camp where several players emerged on the offensive side, including receiver
Darius Millines
and running backs
Jason Ford
and
Donovonn Young
. As long as quarterback
Nathan Scheelhaase
stays healthy, Illinois should have one of the Big Ten's most powerful offenses this season. The defense still must fill several big holes.
8. Michigan:
There likely will be an adjustment period, but the Wolverines could take a significant step in Brady Hoke's first season, especially on defense. The unit will benefit from a new scheme and a veteran coordinator in Greg Mattison, although depth is a concern. Quarterback
Denard Robinson
still will get some freedom to make plays, but he has to show he can execute a new offensive system.
9. Northwestern:
The uncertainty surrounding quarterback
Dan Persa
is the main reason why the Wildcats aren't higher. Northwestern must prove it can win if Persa is limited, and while backup quarterback
Kain Colter
had a good camp, the run game still looks spotty. The defense should be stronger up front, but there are questions at linebacker.
10. Purdue:
Is there a more snakebitten team in America than the Boilers? The loss of quarterback
Rob Henry
to a torn ACL is a significant blow, as he made significant strides during the offseason and had the trust and respect of the locker room. With
Robert Marve
still hobbled, Purdue now turns to
Caleb TerBush
for answers. It will be very interesting to see how the Boilers respond to their latest major injury setback.
11. Minnesota:
New coach Jerry Kill is being realistic about the expectations in his first season, citing the team's youth and lack of depth at several positions. The good news is Kill knows what it takes to turn programs around, and Minnesota should show some flashes on offense behind quarterback MarQueis Gray. A trip to USC is a tough first assignment.
12. Indiana:
Kevin Wilson didn't sound too jazzed about his quarterbacks last week, and there likely will be some growing pains with whoever starts the opener against Ball State. Wilson has brought a new attitude to Bloomington and could elevate the program's profile, but it will take a bit of time. There are too many issues on both sides of the ball.