September, 19, 2012
9/19/12
9:00
AM ET
Georgia Tech and Miami play an important Coastal Division game this Saturday with some pretty important implications for both teams.
While the Jackets looked great in a win over Virginia last week, they have fallen under a Miami spell of late. The Hurricanes have won three straight in the series, outscoring them 92-34. The highest point total Georgia Tech has put up in those three games -- 17.
Meanwhile, Miami sits 1-0 in the ACC but the Hurricanes are in major need of defensive improvement and consistency out of quarterback
Stephen Morris
, who has been up and down this season. Given the way both teams have played in three games, Georgia Tech has the edge on paper going into this one.
[+] Enlarge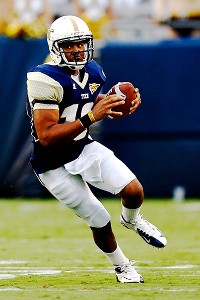 Josh D. Weiss/US PresswireTevin Washington is looking to help Georgia Tech stop Miami's recent dominance over the Yellow Jackets.
Did I mention the Miami spell?
"I think they've played well and we haven't," Georgia Tech coach Paul Johnson said this week when asked why Miami has won three straight. "We haven't gotten off to good starts and have gotten behind. Down there a year ago, we kind of grinded it out and got back 14-7 on a long drive that took forever to get down there. In the last 50 seconds, they scored again to go up 21-7 at the half after they ran the kickoff back. We tried to play catch up. It's important that we get off to a good start."
That is exactly what Georgia Tech did last week in its 56-20 win over Virginia. When the first quarter was over, the Jackets led 21-7. At halftime, their lead grew to 35-7.
Tevin Washington
had three touchdown runs and a 70-yard touchdown pass to
Zach Laskey
, who has played well since entering the starting lineup a few weeks ago.
Johnson said
David Sims
will be back this week so both Sims and Laskey will see time at B-back.
Orwin Smith
played well last week, too, as Georgia Tech racked up 461 yards rushing. Consider Georgia Tech had 469 yards rushing the week before against FCS Presbyterian, and the Jackets have gained nearly 1,000 yards on the ground in two games.
Stopping the run has been a bugaboo for the Miami defense this year, as the Canes have allowed an average of 205.7 yards on the ground this season. The pass defense has not been much better, though priority No. 1 against Georgia Tech always is to stop the run, and Miami has done an excellent job of that in the past three games against the Jackets. Only once in those three games has Georgia Tech gone over 200 yards rushing -- in 2010. Last season, Georgia Tech had 134 yards on the ground and only 95 back in 2009.
But this Miami defense is young and depleted. Injuries have taken a major toll, and Miami will be without starting middle linebacker
Denzel Perryman
, who was hurt in the Bethune-Cookman game last week. Coach Al Golden knows how big this task is awaiting his team, but believes his players are up for the challenge.
So long as they step up to the challenge.
"What better challenge do you have than stopping the team that's the best at running the ball?" Golden said. "That's the way I approach it, I know that's the way the defensive coaches approach it. With Denzel down, we're going to need some guys to step up.
Jimmy Gaines
and
Gionni Paul
are going to have to step up. Some of those guys that have been on the field versus this look in the past --
Tyrone Cornileus
, (Kelvin) Cain,
Darius Smith
, (Anthony) Chickillo, (Brandon) McGee are going to have to step up for us and play really well."
April, 3, 2012
4/03/12
2:30
PM ET
Andrea Adelson had a chance to sit down with Miami coach Al Golden during a recent visit to Coral Gables. Here is a little of what he had to say.
I know depth is an area of concern. How are you working to address that this spring?
Al Golden
: Any time you're bringing in a class of 33, that's three starting units. Obviously, those guys are going to have an impact somewhere on your depth. You never want to have a year where you take six receivers or seven defensive backs, but the symmetry at those positions was not good. It was not vertical depth. It wasn't fifth-year seniors, fourth-year seniors, juniors, sophomores, freshmen, then incoming guys. It didn't exist. So that was a blanket approach of trying to bring in a lot of guys to fix a depth issue. Between the depth and those guys challenging for playing time as starters, that's going to improve our team. I'm not worried about playing young guys. We'll find a way to get them in a game if they're talented and they learn it and they're in good condition. I don't care whether they're freshmen or seniors, I just need guys who want to execute.
You lost some senior leaders. How is that aspect of your team developing?
[+] Enlarge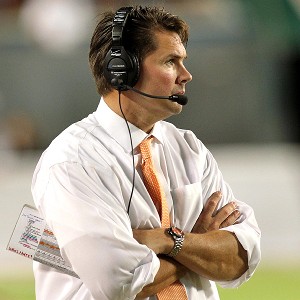 Robert Mayer/US PresswireCoach Al Golden has been impressed with the physicality of the linebacking corps this spring.
AG
: So far it's been good.
Mike James
and
Eduardo Clements
at running back,
Stephen Morris
at quarterback. (Brandon) Linder on the offensive line has been very good.
David Perry
at tight end has been a nice surprise for us.
Allen Hurns
at wideout has done a nice job with the leadership. Defensively, (Ramon) Buchanan will be a leader for us, Ray Armstrong will be a leader for us, Jimmy Gaines has been and will be a leader for us. It's been positive in terms of that. We just have to continue to develop leaders and give them opportunities to lead.
How about some questions that have been answered about your defense so far?
AG
: I think the one thing that jumped out in the (first scrimmage) is we had a lot of linebackers that played physical. So that part of it was good. Even the young guys, [Raphael] Kirby was physical,
Gionni Paul
was physical, Denzel [Perryman] was physical on top of [Tyrone] Cornileus and Jimmy Gaines and those guys. Seeing that was good. We tackled a lot better in Scrimmage 1 this year than Scrimmage 1 a year ago, which was important, and we're still trying to develop our depth on the defensive line and at cornerback. Those are two positions we need to bolster this spring.
Speaking of the defensive line, you don't have many players with starts or experience. What do you want to see out of that group this spring?
AG
: I want to see, like
Curtis Porter
, I'd like to see him take his game to the next level.
Darius Smith
has got to continue to improve. Then we're going to have a host of other guys at the defensive tackle position that need to compete and improve their game. At defensive end,
Shayon Green
's had a good spring for us so far, and really at defensive end, we're going to have in addition to what we have right now, we're going to have three defensive ends coming in that are going to have to compete for starting jobs and also add depth.
Right now, do you have any idea of what team you will have in the fall?
AG
: We have a long way to go. I just think before these other 23 players come in, because 10 are here now, you have to assess where you are at every position and see how they come out of it. We have a long way to go to get through spring ball, and then from April 14 until Aug. 5 there's a great opportunity for them to grow and develop. It's too early to assess where we are right now as a team.
A year into the job, what are your impressions of coaching at Miami, a place where championships are always expected?
AG
: We're not at that level right now. The first order of business when you're trying to fix something or you're trying to build something is to recognize where you are and then to not only plot a course but then to follow that path, follow that strategy and execute it. I'm glad the standards are where they are, and I'm glad we produce NFL players, and I'm glad we have so many things to offer young people. It's the reason why you take the job. But we can't jump from where we are right now to there without taking all the steps we need to take in between. We're just trying to implement our schemes and our system and follow the process on a daily basis.