November, 14, 2013
11/14/13
8:00
AM ET
DeKALB, Ill. --
Jordan Lynch
walked into the Northern Illinois media room with a pair of teammates and his coach, Rod Carey, who wasted no time in getting straight to the point for the handful of national media members and seven NFL scouts who made it out here for a Wednesday night MAC game.
"Now I'm just going to say this, and don't anybody take offense, and you guys can just close your ears for a second," said Carey, looking at his players at the end. "I don't know -- if Jordan isn't in the conversation for the Heisman, I don't know what people are watching. They obviously were asleep, OK? So in my estimation, that trophy goes to the best player in the nation, OK? Well with the performance that he had today -- and he had help, believe me, we had a lot of good plays out there from everybody -- but from the performance he had tonight, he dang sure should be in that conversation. I'll head that off right now as we go.
"So with that we'll open it for questions."
The more emphatic statement had come in the three hours prior, when Lynch, in front of his biggest opponent and on his biggest stage yet this season, did not disappoint. The redshirt senior completed 26 of 32 passes, despite several drops, for a season-high 345 yards. He had two touchdown passes and no interceptions. He carried the ball 20 times for 123 yards and two more scores. Most importantly, he helped the No. 15 Huskies beat Ball State 48-27 in a game not nearly as lopsided as the final score indicates.
And, just like Carey had instructed him to, he put on his earmuffs for the postgame plea from his coach.
"I wasn't listening. I closed my ears. So I don't know what you're talking about," Lynch said. "But it's great. Anytime a coach believes in you and has trust in you, it's a pretty good feeling."
[+] Enlarge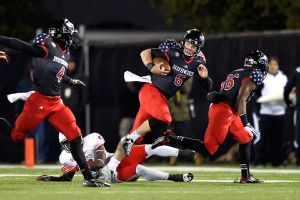 Brian Kersey/Getty ImagesAnother virtuoso performance by Northern Illinois QB Jordan Lynch has his coach thinking that he should be a serious Heisman candidate.
Lynch had entered the media room with a black NIU baseball cap with red, white and blue lettering. He was holding a blue Sharpie throughout the press conference, just minutes after delivering a couple of signature plays that, should the 10-0 Huskies run the table, crash the BCS party again and -- just maybe -- get their quarterback to New York for the Heisman ceremony, will be replayed over and over.
There was the third-and-10 run from his own 28 midway through the third quarter, when Lynch literally carried Cardinals end
Jonathan Newsome
for a few yards before finally shedding him on a spin -- withstanding a hit from linebacker
Ben Ingle
, for good measure -- and then sprinting down the visiting sideline and diving for a first down that was confirmed after a measurement.
That kept alive a drive that ended with a fourth-down touchdown run from
Cameron Stingily
that gave the Huskies a 27-24 lead.
Then there was the third-and-11 pass from his own 38 midway through the fourth quarter, with Ingle and Newsome again the victims of not taking Lynch down when they had him in their grasp, as they were then forced to watch the signal-caller scramble and find
Matt Williams
for a 25-yard completion.
Two plays later, Lynch lofted a beautiful pass to a wide open
Da'Ron Brown
for a 36-yard touchdown that made it 34-27.
After a key fourth-and-1 stop on Ball State's ensuing drive, Lynch officially iced things with a 16-yard touchdown run himself at the 1:26 mark. B-C-S chants broke out in the student section, lasting for the rest of the game -- which included a
Joe Windsor
pick-six -- and through the on-field celebration afterward.
Lynch pleaded ignorance to the chants, as he was doing a television interview at the time. He said he changes the channel whenever Heisman chatter comes on the air.
But he admitted that the serious chatter would be good for NIU and the MAC, and he senses discrimination toward the conference whenever the words "Heisman" or "BCS" get thrown around.
"I feel like we get disrespected all over the place," Lynch said. "All we do is do our job and win games. And I feel like we shouldn't be punished for that."
This narrative is not entirely new to this place. Lynch finished seventh in the Heisman voting a year ago, but a 31-10 Orange Bowl loss to Florida State sent the Huskies into the offseason on a sour note.
"After losing that game we had a bad taste in our mouth," Lynch said. "We came up with a motto: Finish the Fight. That's what we want to do this year. We want to get back to a BCS bowl and we want to win."
That will probably require a loss from Fresno State somewhere between now and the Mountain West Conference title game on Dec. 7.
Still, Lynch insisted the best is yet to come from him and from this program. For a man who surpassed the 9,000-yard mark for his career Wednesday night and tallied his ninth career 200-yard passing, 100-yard rushing game, those are strong words.
After 468 total yards of offense -- the fifth-most in school history -- he had to ask a school official if this latest act put his squad at 9-0 or 10-0.
Ten and 0, she told him, though the latter number is all he really needed to know in making NIU's BCS case.
"I'm focused on the next game, you know what I mean?" Lynch said. "We keep playing how we do, we take it one game at a time, I'm a firm believer that everything will take care of itself."
January, 2, 2013
1/02/13
12:42
AM ET
It wasn't exactly the easy win so many predicted, but Florida State's size and speed advantage helped the Seminoles outlast upstart Northern Illinois
31-10
to win their first Orange Bowl since 1996.
Record-setting NIU quarterback
Jordan Lynch
found no room to work, and Florida State's dominant defense showed few flaws in its first game without departed coordinator Mark Stoops, while
EJ Manuel
accounted for 321 yards of offense and two touchdowns to lead the Seminoles.


It was over when:
Xavier Rhodes
forced a fumble from
Da'Ron Brown
on a second-down run with 11:15 left to play in the game. Northern Illinois had just converted a fourth-and-1 and was driving in hopes of cutting FSU's lead to seven, but the fumble was the dagger that ended any hopes of an upset. The play was reviewed, but officials ruled the ball was coming out of Brown's grip before his knee hit the ground, and the Seminoles quickly capitalized on the turnover with a
Lonnie Pryor
touchdown.
Game ball goes to:
Pryor. The senior fullback has toiled in the shadows for four years at Florida State, earning immense respect within the locker room but relatively little fanfare outside it. Tuesday's game was different. While the rest of the FSU running game struggled, Pryor was brilliant. He opened the scoring with a 60-yard touchdown run -- the longest of his career -- and put the icing on the cake with his 37-yard touchdown after NIU's fourth-quarter fumble.
Turning point:
There were plenty, but NIU's two turnovers were killer. The fumble by Brown was the last straw, but a third-quarter interception by
Terrence Brooks
squelched another promising Huskies drive. Brooks picked off Lynch at the FSU 13-yard line to protect a slim seven-point lead.
Stat of the game:
Lynch entered the game as one of the most dynamic offensive players in college football, but he found out yards are far tougher to come by against Florida State. Coming into the game, Lynch had racked up 1,771 rushing yards -- fourth most in the nation -- and was averaging 6.5 yards per carry. But
Christian Jones
,
Telvin Smith
,
Vince Williams
and the FSU linebacking corps was exceptional, hitting him repeatedly and giving him nowhere to run. Lynch had bragged earlier in the week that NIU planned to wear FSU down late, but the opposite was true, and the junior quarterback finished with just 44 yards rushing on 23 carries, while completing just 36 percent of his throws.
Unsung hero:
It's tough to call Manuel an unsung hero, but in a season in which he's earned just as much criticism as praise -- and maybe more -- he wrapped up a five-year career at Florida State with a solid performance. Manuel completed 27 of 39 passes for 296 yards through the air and added another 26 rushing with a touchdown. He missed a few passes -- something his critics will be happy to note -- but he connected on far more. When the FSU offense needed him, he made the throws he had to make. Manuel never lived up to his immense promise at FSU, but he was surely a very good quarterback, and he ends his career as an Orange Bowl champion and winner of four straight bowl games.
What it means:
Northern Illinois shrugged off the legions of doubters and proved an unexpectedly competitive opponent, but in the end, Lynch and the Huskies simply didn't have enough to make a late charge. For Florida State, it was yet another inconsistent performance in a season that has been filled with them. But it was also the school's first BCS win in 12 years, and it marked just the second time in program history that FSU has won 12 games in a season.