NCF Nation:

Darrel Williams
October, 3, 2014
Oct 3
9:00
AM ET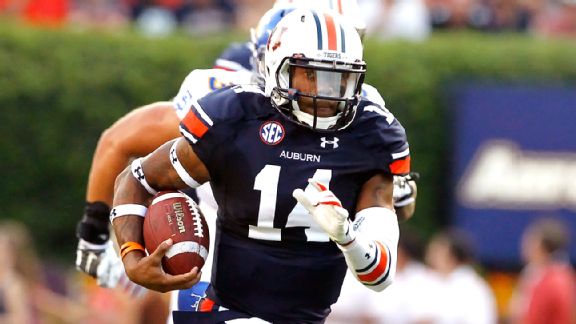 AP Photo/Butch DillContaining Auburn quarterback Nick Marshall will be one of LSU's main tasks this week.
BATON ROUGE, La. -- This will become a familiar scenario for No. 15 LSU (4-1, 0-1 SEC) for at least the foreseeable future. Entering Saturday's game against No. 5 Auburn (4-0, 1-0), LSU probably can't afford another division loss if it wants to remain in contention in the SEC West -- much less a spot in the inaugural College Football Playoff.
That's a tall order this weekend, considering Auburn hasn't lost at Jordan-Hare Stadium since Gus Malzahn became coach last season (11-0) and LSU will have a true freshman quarterback,
Brandon Harris
, making his first career start.
LSU has won six of the past seven games in this series, but getting a win Saturday will be a major challenge. Let's look at three key factors as kickoff approaches, with some help from ESPN's Stats & Information group:
Who can run and who can stop it
Both starting quarterbacks -- Harris and Auburn's
Nick Marshall
-- are understandably getting plenty of attention ahead of this game. But it's the teams' respective running games -- and whether the defenses can slow them -- that might be the most important factors.
Auburn ranks 17th nationally with 260.5 rushing yards per game and boasts two of the SEC's most productive runners in
Cameron Artis-Payne
(86 carries, 468 yards, 5 touchdowns, fourth in the SEC with 97.2 YPG) and Marshall (42 carries, 273 yards, 2 touchdowns).
Meanwhile, LSU has struggled against the run, ranking 12th in the SEC and 70th nationally by allowing 161.6 rushing YPG. Coordinator John Chavis' defense is thin at defensive tackle, and its problems there were evident against Mississippi State, which rushed for 302 yards against LSU two weeks ago. Wisconsin also rushed for more than 250 yards against LSU.
Auburn is 13-0 when it runs for at least 250 yards under Malzahn and 3-2 when it does not.
On the other side, LSU's struggling run game got a boost last week when it picked up 363 yards on 54 attempts against New Mexico State. LSU is sixth in the SEC with 226.2 rushing YPG, but Auburn has been stingy against the run (third in the SEC with 90.8 YPG). If coordinator Ellis Johnson's defense is able to shut down
Leonard Fournette
(LSU's leading rusher with 322 yards on 56 attempts, 64.4 YPG),
Kenny Hilliard
(57 carries, 298 yards, 59.6 YPG),
Darrel Williams
(33 carries, 165 yards, 41.2 YPG) and
Terrence Magee
(34 carries, 144 yards, 28.8 YPG), that will place even more pressure on Harris' shoulders.
Defending the zone read/QB run
Let's dig a little deeper into the running game. To have any chance on Saturday, LSU must contain Marshall and Auburn's option runs.
Auburn has been one of the nation's most effective teams at using the zone-read run since the start of last season. It is averaging 144.39 rushing yards and 6.8 yards per carry in those games.
It's worth noting, however, that Kansas State kept itself in the game against Auburn two weeks ago by slowing Marshall and the zone-read runs. The Wildcats held the Tigers to just 62 yards and 3.1 yards per carry off the zone-read, holding them below 200 total rushing yards for only the second time in Malzhn's tenure as Auburn's coach.
LSU was atrocious against the zone-read in its 34-29 loss to Mississippi State two weeks ago. The Bulldogs ran 20 times for 192 yards from that look, averaging 9.1 yards per carry and breaking five runs of at least 10 yards.
The key element here is slowing Marshall, but LSU has struggled to do that against mobile quarterbacks. LSU has allowed the sixth-most rushing yards to opposing quarterbacks (56 carries for 260 yards) of all FBS programs this season. That includes a 79-yard touchdown last week against New Mexico State and a 56-yard run by Mississippi State's Dak Prescott.
Marshall has 1,341 rushing yards since the start of last season, which ranks third among active FBS quarterbacks.
Harris vs. Auburn pass defense
This subject has been beaten to death all week, but Harris is in rare air for an LSU quarterback. He's the first LSU true freshman to start at the position since Jordan Jefferson in 2008 and the first since Jamie Howard in 1992 to start by Game 6.
He clearly outplayed
Anthony Jennings
against Mississippi State and New Mexico State, but both of those outings were off the bench. Making his first road start against a better-than-average Auburn defense -- Johnson's defense is fourth in the SEC in total defense (313.2 ypg) and sixth in scoring defense (16.2 ppg) -- won't be easy.
However, Auburn has yet to face a prolific passing team. Its opponents thus far rank 107th nationally (Arkansas, 167.8 ypg), 62nd (San Jose State, 243.0), 59th (Kansas State, 246.3) and 55th (Louisiana Tech, 248.4) in passing offense and yet Auburn still ranks seventh in the SEC in pass defense at 222.5 ypg.
We'll see whether Harris can settle his nerves enough to exploit it, but Auburn is vulnerable against the pass -- especially if veteran safety
Jermaine Whitehead
remains on suspension for a third straight game.
October, 1, 2014
Oct 1
1:25
PM ET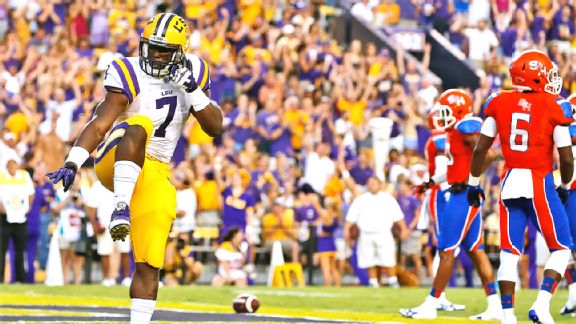 AP Photo/Jonathan BachmanLSU freshman running back Leonard Fournette was criticized for striking the pose.
BATON ROUGE, La. -- All of his life,
Leonard Fournette
has been ahead of the athletic curve, so naturally he was disappointed when his first college game didn't go according to plan.
In LSU's season-opening win against Wisconsin, Fournette ran eight times for 18 yards and returned five kickoffs for 117 yards, while senior
Kenny Hilliard
instead carried the Tigers' running game. It was an OK debut for a typical freshman running back, but not for the player who was ESPN's No. 1 overall prospect in the 2014 recruiting class, whom many college football analysts had compared to the greatest college running backs of the last 20 years.
"I was kind of hard on myself because I was so used to having 200-plus rushing yards in a game and I didn't have that, so I was kind of disappointed," Fournette said. "But I talked to Coach, talked to my father and my mother and they were like, 'This is college now. It's not going to happen [in college] like it used to happen.' "
Maybe that early disappointment also made Fournette want to fast forward his collegiate development. A week later came Fournette's most memorable college moment to date -- one that brought more criticism than praise.
After a 4-yard touchdown run against Sam Houston State, Fournette's first college score, he struck the Heisman Trophy pose in the end zone. LSU coach Les Miles immediately gave Fournette an earful over the freshman's me-first moment and he later apologized to his teammates for what could easily be called a premature celebration.
All of a sudden, he was the subject of national ridicule -- a rude awakening for a player who had been roundly praised since middle school.
"I prayed on it, my parents talked to me, Coach Miles talked to me and just told me, 'Don't worry about it,' so I got over it," Fournette said of the Heisman backlash.
Ever since then, Fournette has quietly shown steady improvement. Other SEC freshmen like Tennessee's
Jalen Hurd
and Texas A&M's
Myles Garrett
have made bigger national splashes, but last Saturday's win against New Mexico State marked the fourth straight game that Fournette led No. 15 LSU (4-1, 0-1 SEC) in rushing.
Each week since the Wisconsin game, Fournette has averaged at least 5 yards per carry, which he believes is a result of improved patience.
"We'll be in the meeting room and watching practice and I'll be seeing [senior running back
Terrence Magee
] making cuts like I used to make in high school," Fournette said. "I'll just be like, 'Man I wonder why I can't do that?' I'm always rushing, so I feel like I've just got to be patient, slow down. I've been taking all that to heed and I've been slowing it down and the cuts will be there for me."
Running room and cutback space were certainly available last weekend against New Mexico State, when Fournette broke the 100-yard barrier for the first time at LSU. He finished with 122 yards and two touchdowns on 18 carries, all career highs, and credited his offensive line and seniors Magee and Hilliard afterward -- exemplifying another lesson in humility that he learned from the Heisman hoopla.
"Thanks to Kenny, thanks to Terrence, like they're really my mentors. Anything I have a problem with, I come to them," Fournette said. "I never really had a big brother on the football team. I always was the big brother, so I have them and they help me a lot."
The veterans, in turn, credit the rookie for his personal growth. Making the transition from high school legend to SEC freshman can be difficult, but Magee said Fournette adjusted his expectations to fit what LSU has asked of him thus far.
"Every game you're not going to go out and rush for 200 yards, 100 yards, so I think he's a lot more comfortable than what he [was] now and starting to relax and just play his game," Magee said.
That said, Fournette has not fully tapped into his massive potential yet. As Fournette mentioned, he hasn't hit holes decisively at times and, for a player listed at 230 pounds, he has been surprisingly ineffective at breaking tackles.
According to ESPN Stats & Information, Fournette ranks 11th in the SEC and 59th nationally with 3.48 yards per carry before making contact with a defender. And yet he's fourth among regulars in his own backfield in yards after contact. Freshman
Darrel Williams
(3.64 ypc after contact) and Magee (3.18) both rank in the SEC's top 10, but Fournette's average of 2.27 ypc also ranks behind Hilliard (2.53) among LSU regulars.
His game remains a work in progress, but it is easy to envision a game-breaking finished product on the occasions when Fournette accelerates past defenders or leaves one in the dust with a well-placed stiff-arm, as he did on his first touchdown run against NMSU.
Those brief flashes are signs that Fournette is coming along fine, even if he didn't achieve instant superstardom like some expected.
"That's hard, especially with those expectations," center
Elliott Porter
said. "I don't think nobody in the last 10 years faced quite that much hype."
August, 21, 2014
Aug 21
9:00
AM ET
BATON ROUGE, La. --
Brandon Harris
and
Leonard Fournette
have been waiting for this opportunity since well before they became roommates at LSU this summer.
With barely a week to go before they make their college debuts against Wisconsin, Fournette and Harris -- ESPN's No. 1 and 37 overall prospects in the ESPN 300 -- have done nothing to slow the hype about what their futures hold.
[+] Enlarge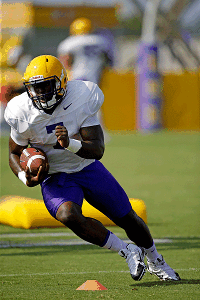 AP Photo/Gerald HerbertLeonard Fournette is one of several standout freshmen expected to get extensive playing time for LSU.
"We've talked about this since before we got here, just dreaming it up, texting all the time during the season and hearing about him breaking every record and doing this and that," Harris said of Fournette, the only player ever to win Louisiana's Gatorade Player of the Year award twice. "So nothing surprises me, what he does."
LSU fans' expectations are sky high over what Fournette might accomplish once the running back takes the field in purple and gold. But they aren't much lower for the other offensive skill-position standouts who helped him make the Tigers' 2014 recruiting class one of the best in school history.
You have early enrollee Harris, who is still competing with
Anthony Jennings
to become the starting quarterback. Harris clearly outplayed Jennings in LSU's spring game and has flashed impressive running ability as well as a powerful throwing arm.
"At practice, man, his arm is so live," Fournette marveled. "Everything with him is [hard]. Sometimes it'll be hard to catch."
And then there are receivers
Malachi Dupre
and
Trey Quinn
, who are among the candidates to step into departed stars Jarvis Landry and Odell Beckham's roles as the Tigers' go-to pass-catchers.
Dupre was ESPN's top receiver prospect, No. 17 overall, and Quinn was the No. 3 receiver and ranked No. 29 overall on the ESPN 300. But asking them to immediately fill in for Landry and Beckham, who combined for 2,345 of LSU's 3,263 receiving yards last season, is an awfully tall order.
"I don't feel any pressure," Dupre said. "I'll leave it up to the coaches to make the proper game calls and just do what I do and make plays and try to be the best that I can be and not worry about what they did in the past. But also definitely try and pick up where they left off at because they were definitely two great receivers. Hopefully I can become as good as they were, but we'll see what happens."
In truth, it's Quinn who appears more ready to take over a big role at wideout. Dupre dealt with an undisclosed injury for a portion of preseason camp -- he participated in his first scrimmage on Tuesday and LSU coach Les Miles said he should be fine now -- but Quinn has already turned heads among coaches and teammates.
He might not look like a prototypical NFL prospect -- LSU's roster lists him at 6-foot and 194 pounds -- but don't bother labeling Quinn as a possession receiver. Not to offensive coordinator Cam Cameron, anyway.
"He's not a possession receiver at all. He can run, he's tough, he can catch," Cameron said. "I had [Denver Broncos receiver] Wes Welker as a rookie and … he got labeled that possession guy and I watched him run by corners on the outside every day in practice. So he's a football player, he's an outside receiver, he's a blocker, he's smart. All he needs is time and college experience and I think he'll be an outstanding player."
In fact, many an LSU veteran has complimented Quinn in particular for acting like he belonged as soon as he arrived on campus. Then again, football has typically come easily for Quinn, who set a national career record with 6,566 receiving yards at Barbe High School in Lake Charles, Louisiana. He knows his pinch-me moments are still ahead next week when LSU's fall semester begins and then he caps the week by facing a ranked opponent in his first college game.
"I think I'm going to go through that first week of college with everybody being on campus, just seeing numbers and numbers of students, and by that first Saturday in Houston, that's going to be that athletic part where I'm just like, 'Wow. I'm an LSU Tiger, I play football,'" Quinn predicted. "And it's go time from there. There's no looking back."
That's the way most LSU freshmen think, and it's particularly the case among the four freshman stars who are still trying to carve out a niche for their first SEC season. All four players would admit that they have a lot to learn, but they were recruited to contribute immediately and it seems highly likely that all four will do so.
Fournette will absolutely get his share of the carries alongside seniors
Terrence Magee
and
Kenny Hilliard
and fellow signee
Darrel Williams
. LSU lacks proven receivers other than
Travin Dural
, so Miles said Dupre, Quinn and freshman
D.J. Chark
will all play roles in the passing game. And even if Harris doesn't start against Wisconsin, it would be a major surprise if he fails to see the field.
Not only will the members of that group contribute, Miles said, they will hold their own. That's the LSU way.
"Young players are going to play," Miles said. "I say that with the idea that they're talented and they were recruited to fill that void and we're going to coach them hard. We're going to make sure that we try to anticipate mistakes and avoid them. But yeah, I'm not anticipating just terrible growing pains there."
August, 12, 2014
Aug 12
10:30
AM ET
»
More team previews:
ACC
|
Big 12
|
Big Ten
|
Pac-12
|
SEC
Previewing the 2014 season for the
LSU Tigers
:
2013 record:
10-3 (5-3 SEC). Beat Iowa 21-14 in the Outback Bowl.
Key losses:
QB
Zach Mettenberger
, RB
Jeremy Hill
, WR
Odell Beckham
, WR
Jarvis Landry
, LB
Lamin Barrow
, S
Craig Loston
, DT
Ego Ferguson
, DT
Anthony Johnson
, RB
Alfred Blue
.
[+] Enlarge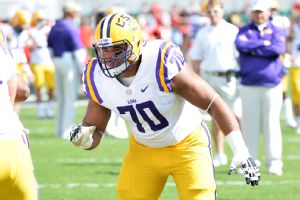 Scott Clarke/ESPN ImagesLa'el Collins will anchor an LSU offensive line that will try to pave the way for the Tigers' inexperienced, albeit talented, skill-position players.
Key returnees:
OT
La'el Collins
, DE
Danielle Hunter
, DE
Jermauria Rasco
, RB
Terrence Magee
, CB
Tre'Davious White
, OG
Vadal Alexander
, WR
Travin Dural
, LB
D.J. Welter
, LB
Kwon Alexander
, OT
Jerald Hawkins
, S
Jalen Mills
.
Instant impact newcomers:
RB
Leonard Fournette
, QB
Brandon Harris
, WR
Malachi Dupre
, WR
Trey Quinn
, LB
Clifton Garrett
, S
Jamal Adams
, CB
Ed Paris
, DB
John Battle
.
Breakout player:
It's tempting to focus on Hunter or sophomore cornerbacks White and
Rashard Robinson
here, but let's go with Fournette. As the nation's No. 1 overall prospect and headliner of ESPN's second-ranked 2014 recruiting class, the star tailback has already generated a ton of buzz. Magee,
Kenny Hilliard
and freshman
Darrel Williams
will all get some touches, but anything short of immediate stardom for Fournette would be a bit of a letdown.
Key position battle:
Quarterback competitions always generate the most attention, and that will be the case this August at LSU. The battle between early enrollee Harris and sophomore
Anthony Jennings
started in spring practice -- and the freshman won the first round by clearly outplaying Jennings in the spring game. LSU's coaches were in no rush to name a starter at the time, though, so Jennings still has a chance to prove he deserves the job. He engineered the game-winning, 99-yard touchdown drive to beat Arkansas after replacing an injured Mettenberger and got a win (despite a disappointing performance) in his lone start, the bowl win over Iowa. Impressive dual-threat talent Harris is going to be awfully difficult to hold off, however.
Most important game: Oct. 4 at Auburn.
Sure, the Alabama game (Nov. 8 at Tiger Stadium) is the game every LSU fan has circled, and the Aug. 30 opener against Wisconsin carries plenty of intrigue, but the Tigers' midseason visit to the defending SEC champs might be the key to the season. LSU handed Auburn its only regular-season loss last season and has won six of the past seven in the series.
Biggest question mark:
LSU is inexperienced at several key positions (most notably quarterback, receiver and defensive tackle), so the new starters' abilities to quickly adapt to the grind of SEC football will likely determine whether the Tigers become serious contenders in the Western Division this season.
Upset special: Oct. 11 at Florida.
The Tigers will be only a week removed from what could be a street fight against Auburn when they visit The Swamp. Injury-depleted Florida became a punch line last season, but the Gators have plenty of talent and a chip on their shoulders after crumbling in 2013. LSU is understandably favored here, but getting a win will not be easy here.
Key stat: 12-211.
With Landry and Beckham combining for 72 percent of LSU's receiving production (2,345 of 3,263 yards), there weren't a lot of balls to go around to everyone else. LSU's tight ends combined for just 12 catches and 211 yards, led by
Dillon Gordon
(6-88) and
Travis Dickson
(5-109). Cam Cameron's offenses have typically made good use of the tight end, and the group believes it will be more active in the passing game this fall. Keep an eye on sophomore
DeSean Smith
(1-14), who caught a touchdown in LSU's spring game -- a day when the tight ends combined for eight catches and 131 yards.
Preseason predictions:
ESPN Stats & Information:
8.01 wins
Bovada over-under:
9 wins
Our take:
Les Miles has led the Tigers to a school-record four straight seasons with at least 10 wins. Because of the massive production losses on offense -- including the first combination of a 3,000-yard passer, a 1,000-yard rusher and two 1,000-yard receivers in SEC history -- the Tigers are one of the biggest wild cards in the SEC. The defense looks like it's rounding into the impressive form that characterized LSU's best teams of the 2000s, but the Tigers' record will likely rest on the progress the new quarterback makes, whether Fournette immediately lives up to his advance billing, and whether at least a couple of the young receivers can handle big roles. The window for this team is probably somewhere between eight and 10 wins. Let's split the difference in our prediction and go with 9-3.
July, 8, 2014
Jul 8
9:00
AM ET
BATON ROUGE, La. -- In April, we broke down how
LSU's offense led the nation in third-down efficiency
last season by converting for a first down or touchdown 57.1 percent of the time.
The three key names in that endeavor were quarterback Zach Mettenberger, receiver Jarvis Landry and tailback Jeremy Hill -- all of whom ranked among the nation's most clutch third-down performers. All three are in the NFL now, however, so it will be important for LSU to identify new players capable of keeping drives alive on those all-important downs.
Let's take a look at what could become the key factors in LSU's attempt to remain successful on third down.
Quarterback efficiency, running ability
[+] Enlarge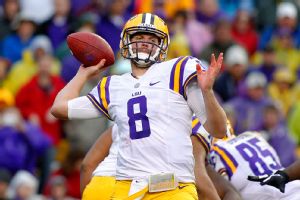 AP Photo, Cal Sport MediaLSU will have a hard time matching the success on third down of departed quarterback Zach Mettenberger.
One of the two April posts focused on the need for the Tigers' quarterbacks to play efficiently.
Let's face it, whoever wins the starting job -- whether it's freshman
Brandon Harris
or sophomore
Anthony Jennings
-- he's not going to zing third-down completions like Mettenberger did last year.
The fifth-year senior's 96.7 Total Quarterback Rating on third down trailed only that of Heisman Trophy winner
Jameis Winston
(96.9) among FBS quarterbacks. Mettenberger was 58-for-89 for 974 yards, nine touchdowns and one interception on third down according to ESPN Stats & Information. Of those 58 completions, 21 went for 20 yards or more -- a total that was second only to Louisville's Teddy Bridgewater (22).
Talented though they may be, a green freshman and a sophomore with one shaky start under his belt are not going to match that kind of passing production. As LSU offensive coordinator Cam Cameron indicated after the Tigers' spring game, they'll have to play it smart early in possessions in order to keep the offense in manageable down-and-distance situations.
Give the young quarterbacks this, though: both of them have an ability that Mettenberger simply does not possess, and it will almost certainly come in handy this fall. Both are good runners, so don't be surprised to see designed runs -- and scrambles after plays break down -- that result in first downs.
Jennings was credited with six rushing attempts on third downs last season, with two of them achieving first downs and another achieving a touchdown. Harris showed off some impressive wheels in LSU's spring game, rushing three times on third down for 45 yards and a touchdown. We'll certainly see more of that in 2014 than when the slow-footed Mettenberger was under center.
Filling Landry's shoes
The question isn't which LSU player replaces Landry's absurd production on third down. It's highly unlikely that one player will do that -- not this fall anyhow -- seeing as how Landry ranked third in the FBS in third-down receptions (28), second in receiving yards (474) and tied for first with six touchdown catches according to ESPN Stats & Information.
2013 FBS Leaders
Third-down receptions
35 -- Jace Amaro, Texas Tech
30 --
Justin Hardy
, East Carolina
28 -- Jarvis Landry, LSU
27 -- Allen Robinson, Penn State
26 -- Willie Snead, Ball State
Third-down receiving yards
478 -- Jace Amaro, Texas Tech
474 -- Jarvis Landry, LSU
432 --
Shaun Joplin
, Bowling Green
407 --
Ty Montgomery
, Stanford
402 --
Antwan Goodley
, Baylor
[+] Enlarge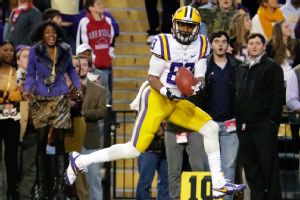 AP Photo/Bill HaberTravin Dural caught the game-winning touchdown against Arkansas on third down.
LSU has only one returning wide receiver who was even targeted with a third-down pass last season --
Travin Dural
caught 5 of 11 third-down passes where he was the intended target and scored two touchdowns, including the game winner against Arkansas -- so it would make sense for the Tigers to spread around the opportunities more evenly this fall.
But who will get those chances?
Dural is a given, followed by lots of uncertainty. Freshmen like
John Diarse
,
Malachi Dupre
,
Trey Quinn
,
D.J. Chark
and
Tony Upchurch
will be in the mix, but it's possible that the quarterbacks will look more often to players at other positions.
Using veterans at TE, RB in passing game
Since the receiving corps is loaded with inexperience, a good alternative might be the positions where the Tigers return some experience.
They're extremely deep at tight end, and one of the talking points of LSU's spring practice was about how the position should be more active this season.
Last season, the Tigers targeted the tight end 10 times on third down, but came away with only three completions for 35 yards and one first down. In other words, this will be a two-way street. The tight ends must hold onto the ball consistently if the quarterbacks are to look their way more often.
If LSU's spring game was any indication, the chances will be there. Jennings and Harris targeted tight ends on four of their 12 third-down passes, with
DeSean Smith
catching two of them for 36 yards and a touchdown.
Likewise, tailback
Terrence Magee
made it a point this spring that he'd like to catch more balls out of the backfield this fall. The former receiver could be dangerous as a third-down target judging by his three receptions for 46 yards in that role last season.
Fullback
Connor Neighbors
(one catch on two targets for 4 yards and a first down in 2013) could also become more of a factor in the passing games now that he's taking over for J.C. Copeland in the backfield.
Who handles the backfield workload?
Hill was arguably the nation's most explosive third-down back in 2013, leading the FBS with an average of 13.28 yards per carry on third down according to ESPN Stats & Information. Although dozens of players carried the ball more times on third down than Hill's 18 attempts, he ranked 10th nationally with 239 yards thanks in large part to his touchdown runs of 37, 49 and 69 yards.
2013 FBS Leaders
Third-down yards per carry
13.28 -- Jeremy Hill, LSU (18-239)
11.92 --
Kenneth Dixon
, Louisiana Tech (13-155)
10.76 --
Duke Johnson
, Miami (17-183)
10.50 --
Larry Dixon
, Army (12-126)
10.20 --
Tevin Coleman
, Indiana (10-102)
Seniors Magee (eight carries, 44 yards, three first downs, one touchdown in 2013) and
Kenny Hilliard
(eight carries, 36 yards, two first downs, two touchdowns) have handled short-yardage duty well in limited work, but the X-factors might be freshmen
Leonard Fournette
and
Darrel Williams
.
ESPN's No. 1 overall prospect for 2014, Fournette has LSU fans drooling over his combination of size, power and breakaway speed. He'll almost certainly play a leading role on third down -- and in every other type of running situation -- early in his college career. And Williams was no slouch himself as a prep star, rushing for 2,201 yards and 32 touchdowns as a senior at John Ehret High School in Marrero, Louisiana.
It's possible that LSU could use all four tailbacks in some capacity, similar to a 2011 backfield that utilized Hilliard, Spencer Ware,
Michael Ford
and Alfred Blue. Ware led the Tigers with 92 yards on 25 third-down rushing attempts that year, while Blue (16 carries for 85 yards) and Ford (13 carries for 77 yards) led the way with two touchdown runs apiece.
With inexperience at quarterback and receiver and a next-level talent like Fournette joining the backfield, conventional wisdom indicates that LSU will lean heavily on its veteran offensive line and the ground game, especially on third downs. The previously mentioned factors will certainly play an enormous role in LSU's attempt to remain effective on third down, but this might be a season where the rushing attack is the most important element in keeping the chains moving.
March, 28, 2014
Mar 28
9:00
AM ET
BATON ROUGE, La. -- Les Miles' official title is head football coach at
LSU
, but he might as well add "fortune teller" to the list of roles he fills in his job.
On some level, every big-time college football coaching staff deals with the dilemma that Miles currently faces, but a spate of NFL early entries in recent seasons has made predicting the future an even more vital element in LSU's success. Specifically, Miles and his staff must lead an incomplete 2014 squad through 15 spring practices while also attempting to project whether players who aren't yet on campus will be ready to play key roles this fall.
[+] Enlarge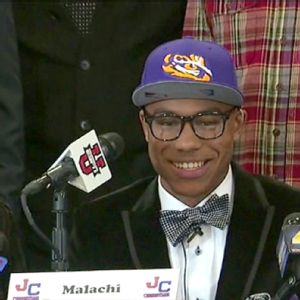 ESPNMalachi Dupre won't be on campus until this summer, but he's one of several LSU freshmen who could vie for playing time immediately.
"We absolutely have to," Miles said after last Saturday's scrimmage. "I think we're trying make a determination as we design the summer plans that, 'This is where this guy's going to be, this is where this guy's going to be' and how to operate it.
"I think the skill players on offense are going to be musts and I think the skill players on defense, with the safeties stepping in there and being able to play -- I just think the recruiting class will hit us just where we need to be hit."
At some positions, LSU's needs are great. At others, it's simply that the caliber of athlete is high enough that Miles' staff knows to include him in its 2014 plans. In some cases, both scenarios are in play.
Take receiver and running back, for example.
When 2014 signees
Malachi Dupre
-- the nation's No. 1 receiver prospect -- and tailback
Darrel Williams
showed up to observe the Tigers' first spring practice, Miles joked afterward that he wished the two players could have participated in the team's workout.
The Tigers are short on proven performers at receiver -- and thanks to several recent injuries at the position, they've been short on warm bodies to even run through drills -- and have only two scholarship tailbacks available this spring.
Those depth shortages are a direct result of several NFL draft early entries in the last couple of seasons. LSU lost two tailbacks to the draft after the 2012 season and two more this year when
Jeremy Hill
and
Alfred Blue
both turned pro. It's a similar story at wideout, where the only two accomplished players on the roster,
Odell Beckham
and
Jarvis Landry
, opted to skip their senior seasons.
Miles' staff addressed those issues in phenomenal fashion on signing day, adding Williams and the nation's No. 1 overall prospect,
Leonard Fournette
, at tailback, plus arguably the top collection of receivers that any program signed in 2014 -- a group that also includes No. 3 wideout
Trey Quinn
and two more ESPN 300 recruits in
D.J. Chark
and
Tony Upchurch
.
The problem is that no member of that group is on campus yet, forcing LSU's coaches to both evaluate what they have at present and how the signees' summer arrival will affect the group dynamic.
"I just think that some of those guys are going to get first-[team] snaps," Miles said of the receiver signees. "They're going to be advantages for us and we've got to use them well."
As Miles mentioned, a high-quality group of safety signees could dent the depth chart in similar fashion. The Tigers have a few returning veterans and have moved
Jalen Mills
over from cornerback to shore up their needs at safety, but signees such as No. 2 safety
Jamal Adams
, ESPN 300 prospect
Devin Voorhies
and
John Battle
could shake up the competition in August.
It's not that those players' absences have made this spring useless for LSU. But Miles and his staff must function this spring with the knowledge that they're coaching an incomplete roster.
That's not much different from Alabama or Texas A&M or Auburn, which also lost players to the draft and have key signees who haven't arrived, but the situation is more extreme in Baton Rouge. If Miles balances the magician part of his job correctly, perhaps he can pull a rabbit out of his famous hat by the end of August, when the Tigers open the season against Wisconsin in Houston.
"Here's what you get out of 15 practices in the spring of the year: You practice the team that you have with you and you advance them and get them taught and get them improved. You teach technique and whatever you can get to, you get to with that team," Miles said recently.
"Before the next team, that next part of your team, shows up, you anticipate where your direction goes. You anticipate that, 'That guy goes here and that guy goes here' and you fit it. Then in the first game, you hope that you prepared them well enough to win and play well in the first game. If you win and play well in the first game, you're all on track."