NCF Nation:

Darren Sproles
January, 13, 2014
Jan 13
10:00
AM ET
After 16 years, the BCS era is finally over. Next season, college football will have a playoff instead.
With the BCS done, we've come up with our Big 12 all-BCS era team (1998-2013) below:
Offense
[+] Enlarge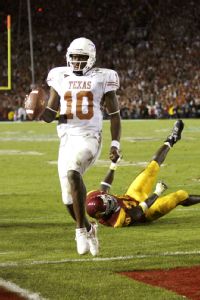 Scott Clarke/Getty ImagesWith Vince Young at the helm, Texas won a national title and Rose Bowl.
QB: Vince Young, Texas (2003-05) --
Young led Texas to its first national title in 35 years with an unforgettable performance in the Rose Bowl against USC. The Heisman runner-up also became the first QB in college football history to throw for 3,000 yards and run for 1,000 in the same season.
RB: Ricky Williams, Texas (1998) --
Williams was part of the BCS era for only one season, but what a season it was. He rushed for 2,327 yards and won the Heisman Trophy going away. Only Wisconsin's
Ron Dayne
has more career rushing yards than Williams (6,279).
RB: Adrian Peterson, Oklahoma (2004-06) --
Despite battling injuries throughout his career, Peterson still was a beast in college. After rushing for 1,925 yards while leading the Sooners to the national title game, he finished second in the '04 Heisman voting, even though there was still a stigma then in voting for a freshman.
WR: Michael Crabtree, Texas Tech (2007-08) --
Crabtree became the first two-time winner of the Biletnikoff Award, given to the nation's top receiver. In '08, he and QB
Graham Harrell
led the Red Raiders to an upset of Texas and a No. 2 ranking in the polls.
WR: Justin Blackmon, Oklahoma State (2009-11) --
Blackmon became the second and only other two-time winner of the Biletnikoff. In his final two seasons, he finished with 233 receptions, 3,304 receiving yards and 38 touchdowns, and he helped propel the Cowboys to their first Big 12 title in '11.
TE: Chase Coffman, Missouri (2005-08) --
Coffman had a monster statistical college career for a tight end with 247 catches for 2,659 receiving yards and 30 touchdowns. He won the '08 Mackey Award, given to the nation's top tight end. Missouri won 37 games during the four years Coffman was in the lineup.
OT: Jammal Brown, Oklahoma (2001-04) --
Brown was a unanimous All-American and a three-time All-Big 12 selection. He became the fifth Sooner to win the Outland Trophy, awarded to the nation's top interior lineman.
OT: Russell Okung, Oklahoma State (2007-09) --
In Okung's final two seasons, Oklahoma State led the Big 12 in rushing yards. The Cowboys were also third in the country in '07 in fewest sacks allowed with Okung at left tackle. He was a unanimous All-American and Outland finalist in '09 and became the sixth overall pick in the '10 NFL draft.
OG: Cyril Richardson, Baylor (2010-13) --
Richardson became Baylor's seventh all-time unanimous All-American. The Outland finalist was also a key piece on the nation's highest-scoring offense this season.
OG: Justin Blalock, Texas (2003-06) --
Though a guard in the NFL, Blalock actually started 50 games for Texas, most coming at right tackle. He was a three-time, first-team All-Big 12 selection and a consensus All-American in 2006.
C: Dominic Raiola, Nebraska (1998-2000) --
Raiola was the inaugural winner of the Rimington Award, named after former Nebraska center Dave Rimington, which recognizes the best center in college football. He was an Outland finalist and a consensus All-American.
APB: Darren Sproles, Kansas State (2001-04) --
One of the most prolific all-purpose performers in college football history, Sproles finished his career with 6,812 all-purpose yards. Among his 39 consecutive starts, his most memorable performance came in the '03 Big 12 championship, when he had 235 yards rushing and 88 receiving, as K-State upset top-ranked Oklahoma 35-7.
Defense
DE: Brian Orakpo, Texas (2005-08) --
Orakpo captured the '08 Nagurski Award as the most outstanding defensive player in the country, and the Lombardi Award, given to the best college lineman or linebacker. He also was the Big 12 Defensive Player of the Year and a consensus All-American while piling up 11 sacks his senior year.
DE: Von Miller, Texas A&M (2007-10) --
Out of a hybrid defensive end/linebacker role, Miller led the nation with 17 sacks in '09. He was a two-time All-American and won the Butkus Award in '10 as the nation's top linebacker.
DT: Ndamukong Suh, Nebraska (2005-09) --
There was no more dominant defensive player in college football during the BCS era. Suh finished fourth in the Heisman voting in '09 and won several national awards, including the Outland, Lombardi, Nagurski (most outstanding defensive player)and Bednarik (defensive player of the year). He was also a unanimous All-American and the Big 12 Defensive Player of the Year.
DT: Tommie Harris, Oklahoma (2001-03) --
Harris was a force from the beginning as a freshman on the OU defensive line. He won the Lombardi his junior year, and he was a two-time consensus All-American, garnering unanimous honors in '03.
LB: Derrick Johnson, Texas (2001-04) --
Johnson was a menacing linebacker for the Longhorns, earning consensus All-American honors in '03 and unanimous honors in '04. He was also a three-time, first-team All-Big 12 selection, and won the Butkus (best linebacker) and Nagurski awards as a senior. Johnson finished his career with 458 tackles.
LB: Rocky Calmus, Oklahoma (1998-2001) --
Calmus played a major role in OU's resurgence under Bob Stoops. He won the Butkus in '01 and was a finalist for the Nagurski and Bednarik. A three-time All-Big 12 pick, Calmus led the Sooners in tackles in all three of those seasons.
LB: Teddy Lehman, Oklahoma (2000-03) --
Lehman too won the Butkus, beating out Johnson for the award in '03. He also was Big 12 Defensive Player of the Year, captured the Bednarik, was a unanimous All-American and played in two national championship games.
[+] Enlarge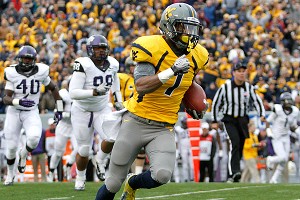 Justin K. Aller/Getty ImagesWest Virginia receiver and returner Tavon Austin had a huge 2012 season.
CB: Terence Newman, Kansas State (1999-2002) --
Newman was a solid player for Bill Snyder his first three seasons, then broke out as a senior. Newman was the Big 12 Defensive Player of the Year, a unanimous All-American and the Thorpe winner, given to college football's top defensive back.
CB: Derrick Strait, Oklahoma (2000-03) --
A four-year starter, Strait finished with a school-record 52 career pass breakups. He also won the Thorpe, and was a unanimous All-American.
S: Roy Williams, Oklahoma (1999-2001) --
Nicknamed "Superman," Williams was the Big 12's most dominating defensive player until Suh came along. He won the Thorpe and Nagurski in '01, and was the Big 12 Defensive Player of the Year and a unanimous All-American the same season. He also famously skied over the Texas offensive line to force the game-clinching interception to earn his moniker.
S: Michael Huff, Texas (2002-05) --
Huff became the first Longhorn to win the Thorpe, and was the leader of the '05 national championship defense. He was also a unanimous All-American that season.
Special teams
K: Mason Crosby, Colorado (2003-06) --
Crosby was three-time, first-team All-Big 12 selection, and twice was a consensus All-American even though he never won the Lou Groza Award, given to the nation's top kicker. He was also the Big 12 Special Teams Player of the Year as a junior, and converted 66 field goals in his career.
P: Quinn Sharp, Oklahoma State (2009-12) --
Sharp became the first three-time All-American in Oklahoma State history, and he earned All-American honors both as a punter and a kicker. He was twice named the Big 12 Special Teams Player of the Year. In his career, he made 50 of 59 field goals, averaged 45.9 yards per punt and missed only one extra point.
KR: Tavon Austin, West Virginia (2012) --
Austin was in the Big 12 only one season, but he was unstoppable that one season. On top of being one of the most dangerous kick returners in the country, Austin had 1,289 yards receiving and 643 rushing, and finished second in the country in all-purpose yards.
PR: Ryan Broyles Oklahoma (2008-11) --
On top of being a prolific punt returner, Broyles was one of the most efficient receivers in college football history. He finished his career with an FBS-record 349 receptions, and was a two-time consensus All-American before a knee injury cut his senior season short.
February, 4, 2010
2/04/10
11:36
AM ET
By
Tim Griffin
| ESPN.com
Kansas State Wildcats
Total class:
28
ESPNU 150:
0
By position:
CB 4, DT 3, OT 3, QB 3, ATH 2, RB 2, G 2, S 2, OLB 2, WR 2, TE 1, ILB 1, DE 1.
By state:
Kansas 11, Texas 8, Florida 3, California 2, Maryland 1, Oklahoma 1, Colorado 1, Georgia 1.
Already enrolled in school:
6.
The big ones:
RB
Demarcus Robinson
, ranked as the nation's No. 49 running back, has been favorably compared by coach Bill Snyder to Darren Sproles. DE
Adam Davis
, a productive pass-rusher at Hutchinson Community College, could immediately challenge for a starting position.
Sleeper:
OL Manase Foketi, a mammoth 350-pounder from Mount San Antonio College, will add some much-needed beef in the trenches for the Wildcats.
Needs met:
Four defensive linemen were added who could potentially challenge for immediate playing time. And with the loss of cornerback Joshua Moore to the NFL draft, any of the four arriving cornerbacks headed by
Matthew Pearson
and Darious Thomas will be useful for needed help. And underrated prospect
Billy Cosh
, son of KSU assistant Chris Cosh, will add more competition at the logjam at quarterback.
Analysis:
Snyder has a typically heavy mix of junior college players and five players who were on the roster last season but whose scholarships will kick in this season. The most important part of this class is that important depth was added along both the offensive and defensive lines. The Wildcats could have used quarterback
Cameron Newton
, who decided last month to attend Auburn. Instead, Snyder added three quarterbacks for what is a position heavy on personnel but a big question mark heading into spring practice.
What Bill Snyder said:
"It is kind of the way of the world and it is just the way of recruiting today. It's different for me and I'm still trying to get my arms around it. I am not sure that I'm fully comfortable with it." … [on the needs that the 2010 recruiting class satisfied]: "It relates to offensive and defensive line help more than anything else. We can build young guys up, but we need big guys to come in and make a contribution in the early stages of their career."
Scouts Inc. grade/rankings:
D, 12th in Big 12.
January, 22, 2010
1/22/10
1:57
PM ET
By
Tim Griffin
| ESPN.com
With all of the looking back we've done this week, I couldn't leave without picking my own All-Big 12 all-decade team.

It was a tough choice at several positions, but here's my all-decade team.

Please feel free to provide any changes you would make, and explain why you would make them.

Believe me, it's a hard choice. I spent more than an hour trying to choose between Darren Sproles and Cedric Benson and Jermaine Gresham and Chase Coffman.

OFFENSE

QB: Vince Young, Texas

RB: Adrian Peterson, Oklahoma

RB: Cedric Benson, Texas

WR: Michael Crabtree, Texas Tech

WR: Rashaun Woods, Oklahoma State

TE: Chase Coffman, Missouri

T: Russell Okung, Oklahoma State

T: Jammal Brown, Oklahoma

G: Duke Robinson, Oklahoma

G: Derrick Dockery, Texas

C: Andre Gurode, Colorado

DEFENSE

DE: Brian Orakpo, Texas

DT: Ndamukong Suh, Nebraska

DT: Tommie Harris, Oklahoma

DE: Dan Cody, Oklahoma

LB: Derrick Johnson, Texas

LB: Rocky Calmus, Oklahoma

LB: Teddy Lehman, Oklahoma

CB: Terence Newman, Kansas State

CB: Derrick Strait, Oklahoma

S: Roy Williams, Oklahoma

S: Michael Huff, Texas

K: Mason Crosby, Colorado

P: Daniel Sepulveda, Baylor

Ret: Wes Welker, Texas Tech
January, 20, 2010
1/20/10
9:05
AM ET
By
Tim Griffin
| ESPN.com
The Big 12 had two national championship teams and five others that played in the BCS title game in the decade.
The two championship teams were the best of the conference's last 10 years. Some of the other BCS title participants were good, but not necessarily among the very best teams during the conference's recent history.
Here's how I rank the Big 12's top 10 teams over the last decade.
1. 2005 Texas:
A star-studded team paced by All-Americans Michael Huff, Jonathan Scott, Rodrique Wright and Vince Young ran off 13 straight victories, capping the season with a BCS title-game victory over USC. The team averaged 50.2 points per game en route to a then-NCAA record 652 total points, earning Texas' first undisputed national championship since 1969. It was the greatest team that Mack Brown ever coached and arguably the best team in the rich football history of Texas.
2. 2000 Oklahoma:
Bob Stoops claimed a national championship in his second season coaching the Trojans behind Josh Heupel, who finished second in the Heisman race that season. All-Americans Heupel, linebacker Rocky Calmus and J.T. Thatcher helped the Sooners notch the first undefeated season and national championship in Big 12 history. After winning three of their final four regular-season games by less than five points, the Sooners dominated Florida State in a 13-2 triumph in the Orange Bowl for the national championship.
3. 2008 Oklahoma:
Sam Bradford
won the Heisman Trophy with this team, which overcame a midseason loss to Texas and still claimed the Big 12 title in a 12-2 season that was marred by a 24-14 loss to Florida in the national championship game. The Sooners rolled-up a record 702 points as Bradford passed for 50 touchdowns,
Chris Brown
and
DeMarco Murray
each rushed for 1,000 yards and Juaquin Iglesias topped 1,000 yards receiving. The Sooners scored 35 points in each regular-season game and finished the regular season with five straight games of at least 60 points before the BCS title-game loss.
4. 2004 Oklahoma:
The Sooners charged to 12 straight victories before a dropping a 55-19 decision to USC in the Orange Bowl for the national title. Freshman running back Adrian Peterson rushed for an NCAA freshman record 1,925 yards to finish second in the Heisman. Jason White claimed the Heisman the previous season and his numbers were down with Peterson's arrival, but he still passed for 3,205 yards and 35 touchdowns. This group had strength in the trenches with All-Americans like Vince Carter, Dan Cody, Jammal Brown and Mark Clayton as it claimed Bob Stoops' third Big 12 title.
5. 2009 Texas:
After streaking to a school-record 13-0 mark through the Big 12 title game, the Longhorns dropped a 37-21 decision to Alabama in the national title game in a contest that changed when
Colt McCoy
was hurt on the fifth play of the game. McCoy became the winningest quarterback in NCAA history during this season, repeatedly hooking up with favorite target
Jordan Shipley
, who snagged a school-record 116 receptions, 1,485 yards and 13 touchdowns. The Longhorns led the nation in rush defense, and All-American safety Earl Thomas tied a school record with eight interceptions. Lamarr Houston and Sergio Kindle also added playmaking abilities to the defense.
6. 2004 Texas:
The Longhorns overcame a midseason 12-0 loss to Oklahoma to finish the season with seven straight victories in a season capped by a dramatic 38-37 victory over Michigan in the Rose Bowl. The Longhorns ranked second nationally in rushing offense and seventh in total offense as Young gradually found his confidence as a passer late in the season. Cedric Benson rushed for 1,834 yards and 19 touchdowns, and Young chipped in with 1,079 rushing yards and 14 touchdowns. This team showed a knack for comebacks, overcoming an early 35-7 deficit against Oklahoma State and also coming from behind in an early-season victory at Arkansas.
7. 2007 Oklahoma:
Bradford led the first of two consecutive Big 12 championships on a team that enabled the Sooners to become the first Big 12 school to win back-to-back titles. The Sooners dropped road games to Colorado and Texas Tech but still overcame Missouri in the Big 12 title game behind a huge defensive effort keyed by Big 12 defensive player of the year Rufus Alexander. Bradford led the nation in passing efficiency, but the Sooners' bowl struggles continued in an embarrassing 48-28 loss to West Virginia in the Fiesta Bowl.
8. 2003 Kansas State:
Don't let the Wildcats' 11-4 record fool you. After an early three-game losing streak to Marshall, Texas and Oklahoma State (by a combined margin of 15 points), Bill Snyder's team won its final seven regular-season games by a combined margin of 271-66. That streak was culminated by a stunning 35-7 upset victory over Oklahoma in the Big 12 title game -- the last victory by a North Division team in the title game. The Wildcats ranked in the top 10 nationally in rushing, scoring, total defense, scoring defense and pass defense as Darren Sproles rushed for 1,986 yards and 16 touchdowns. The Wildcats dropped a 35-28 Fiesta Bowl loss to Ohio State in a game they fell into an early 21-0 deficit and had a chance to tie on the final play of the game after a frantic comeback directed by Ell Roberson.
9. 2007 Missouri:
Chase Daniel led Missouri into the Big 12 title game for the first time in school history, taking the team to No. 1 nationally heading into the conference championship game. The Tigers lost twice to Oklahoma during a 12-2 season that was capped by 38-7 beatdown over Arkansas in the Cotton Bowl. Tony Temple made that game memorable by rushing for a record 281 yards and four TDs that pushed Missouri to No. 4 nationally at the end of the season. A star-studded collection of talent including Daniel, Jeremy Maclin, Chase Coffman, Martin Rucker and Sean Weatherspoon helped the Tigers rank among the top-10 teams nationally in passing, total offense and scoring and 11th in turnover margin.
10. 2007 Kansas:
The Jayhawks earned Mark Mangino the national coach of the year award by running to an 11-0 start before losing to Missouri in the regular-season finale. The Jayhawks rebounded for a 24-21 victory over Virginia Tech in their first BCS bowl appearance in school history, finishing a 12-1 season that set a school record for victories.
Todd Reesing
passed for 33 touchdowns to highlight a high-powered offense that scored 76 points against Nebraska and scored at least 43 points in eight games. The Jayhawks were a balanced team that ranked second nationally in scoring offense, fourth in scoring defense and in the top 10 nationally in eight different team statistics. Anthony Collins and Aqib Talib earned consensus All-America honors.
January, 19, 2010
1/19/10
11:00
AM ET
By
Tim Griffin
| ESPN.com
An array of memorable moments from the past decade in the Big 12 still resonate. Here are some of the most unforgettable to me.
1. Vince Young's game-winning touchdown in the 2006 Rose Bowl: Anyone who was there or saw it will never forget Young's 8-yard touchdown run with 19 seconds left that led Texas to a 41-38 triumph over USC and the 2005 national championship.
2. Michael Crabtree's last-second grab stuns Texas: Crabtree's game-winning 28-yard catch with one second left did more than merely wrap up the biggest victory in Texas Tech history, a 39-33 win over Texas. It heralded a national coming-out party for Crabtree and the rest of the Tech program, setting the stage for the wild three-way South Division tie in 2008.
3. Superman's leap: Roy Williams' dramatic blitz forced Chris Simms to throw an interception to Teddy Lehman, who returned it for the game-winning touchdown in Oklahoma's 14-3 triumph over Texas in 2001.
4. Torrance Marshall's theft saves the season: Texas A&M was driving, but Marshall's 41-yard fourth-quarter interception return provided a game-winning touchdown and a 35-31 triumph over the Aggies at Kyle Field. The big play preserved Oklahoma's victory in the Sooners' toughest challenge en route to the 2000 national championship.
5. Eric Crouch's catch cements Heisman bid, beats Oklahoma: Crouch's 63-yard TD reception on a throwback pass from freshman receiver Mike Stuntz was Crouch's signature moment on his path to the 2001 Heisman Trophy and sparked a 20-10 triumph over Oklahoma.
6. Darren Sproles sparks Kansas State's stunning 2003 Big 12 title game upset: Darren Sproles rushed for 235 yards -- the most gained against an Oklahoma defense ever to that point -- and Ell Roberson added four touchdown passes to help Kansas State claim its first Big 12 title in a 35-7 upset over No. 1 Oklahoma.
7. Hunter Lawrence's kick pushes Texas into national title game: Despite a sputtering performance by Colt McCoy that included nine sacks and three interceptions, Texas held on for a 13-12 victory over Nebraska in the 2009 title game on a 46-yard field goal by Hunter Lawrence on the final play of the game. Lawrence's game-winning kick came only after McCoy nearly squandered the opportunity by throwing the ball out of bounds on the previous play as the clock originally appeared to have expired. Officials put time back on the clock, setting the stage for Lawrence's heroics.
8. Chris Brown gashes the Cornhuskers: Colorado running back Chris Brown ripped Nebraska for 198 yards and six touchdowns, boosting the Buffaloes to a wild 62-36 victory over Nebraska that snapped a nine-game losing streak against the Cornhuskers. Brown's big game sent the Buffaloes to the 2001 Big 12 title game, which they won the following week against Texas.
9. Postgame clash of the titans: Oklahoma State's 49-45 victory over Texas Tech in 2007 produced one of the most memorable games in Big 12 history. The teams compiled 94 points, 62 first downs and 1,328 yards. But all of the action on the field was upstaged in a wild postgame battle of soundbites when Mike Leach questioned the toughness of his defense and Mike Gundy berated an Oklahoma City columnist who he felt had unfairly portrayed quarterback Bobby Reid.
10. Kyle Field's nod to patriotism: Texas A&M's 21-7 victory over Oklahoma State wasn't what was so memorable. It was that the Aggies fans decked out Kyle Field in red, white and blue in the first game after the 9/11 attacks on the country in 2001. Thousands of fans transformed the old stadium into a patriotic rainbow in a memory that endures to this day.
Posted by ESPN.com's Tim Griffin
1. Texas
(8-0, 5-0 in South): The Longhorns' movement in the BCS standings and the national polls Sunday was largely superficial. All they have to do is keep winning and they'll be playing in the BCS title game. The Longhorns' secondary is playing at levels reminiscent of the 2005 title team with Earl Thomas developing into a legitimate Thorpe Award candidate. The running game is a concern, but the Longhorns have a few weeks to work on that before it will really become a worry.
2. Oklahoma State
(6-2, 3-1 in South): We saw how much
Dez Bryant
and a healthy
Kendall Hunter
really were needed against Texas. The Cowboys had a strong defensive plan and shut down the Longhorns for much of the game, but struggled offensively with mistakes that were returned for touchdowns and a bad case of the dropsies by
Hubert Anyiam
. The loss assuredly dims their divisional hopes. But the Cowboys can play in a New Year's Day bowl game and still have a slim hope at a BCS bowl if there's a lot of implosion in front of them during November.
3. Oklahoma
(5-3, 3-1 in South): The Sooners have won two straight since the Texas loss and are heading into Nebraska with some momentum.
Landry Jones
appears to have found another productive receiver with the emergence of
Dejuan Miller
, who adds another weapon for the Sooners. The Sooners showed some uncharacteristic struggles against Kansas State in the second half, but still had enough offense left to enable them to claim the victory. It will be more of a challenge this week in Lincoln -- even with the Cornhuskers' recent struggles.
4. Texas Tech
(6-3, 3-2 in South): Mike Leach's trip to the ESPN studios in Bristol, Conn., Monday and his team's bye week will be much happier after the Red Raiders' comeback against Kansas on Saturday. The victory enabled Leach to tie Spike Dykes as the winningest coach in school history with 82 triumphs. Taylor Potts' heroics off the bench throw the quarterback situation back into a quandary. But the biggest story was the comeback of the Tech defense, which bounced back from its struggles against Texas A&M to limit Kansas to 258 yards while recording six sacks and recovering four fumbles.
5. Kansas State
(5-4, 3-2 in North): The gutsy Wildcats might have shown more in their loss to Oklahoma than in any of their previous victories. Despite spotting the Sooners an early 21-0 lead, they came storming back to make it a competitive game in the second half. That game should provide Bill Snyder's team with a shot of momentum heading into the Kansas game that will be pivotal in their improbable trip to the Big 12 North title. The biggest reason for their recent success has been
Brandon Banks
, who had a career game with 351 all-purpose yards against Oklahoma, equaling the school single-game record set by Darren Sproles.
6. Texas A&M
(5-3, 2-2 in South): The Aggies took another step to a bowl berth by manhandling Iowa State. The developing running game keyed by
Cyrus Gray
and
Christine Michael
has helped them soar to No. 23 in rushing offense. A&M now is the nation's only team to rank in the top 25 in the four major offensive categories of rushing offense, scoring offense, passing offense and total offense. Jerrod Johnson's offensive statistics are as good as any quarterback in the league. The Aggies' recent surge has enabled them to win back-to-back Big 12 victories by more than 20 points for the first time since beating Baylor and Kansas in 2002.
7. Nebraska
(5-3, 2-2 in North):
Cody Green
was the first freshman quarterback to start for Nebraska since Tommie Frazier in 1992, and his magic worked in the first half to spark the Cornhuskers' victory at Baylor. Whether it will pass muster against Oklahoma is an entirely different story. The Cornhuskers' inconsistency in the second half won't give Bo Pelini much confidence as he prepares for the Sooners. But the defense, which has held the last seven opponents to 280 yards or less, will give them a chance to be competitive.
8. Kansas
(5-4, 1-3 in North): Are the Jayhawks heading into meltdown mode? With the stunning benching of
Todd Reesing
, it appears that coach Mark Mangino is looking for some kind of spark to get them back on track. And it won't be easy Saturday at Kansas State, in a stadium where Bill Snyder has defeated the Jayhawks the last eight times he coached against his archrivals. With the recent slump in production and all of the offensive turnovers, it will be a big change to turn that around.
9. Iowa State
(5-4, 2-3 in North): Even after the loss at Texas A&M, the Cyclones' bowl hopes look pretty good. All they need to do is win one of their last three games of the season in a gauntlet that starts Saturday against Oklahoma State.
Alexander Robinson
was back against the Aggies, although
Austen Arnaud
was missing. His return will be vital for any upset bowl hopes they might have, even with Jerome Tiller's strong recent play.
10. Missouri
(5-3, 1-3 in North): The Tigers still have a shot at the North championship if they can run the table. Their offense perked up with the use of a two-back alignment that boosted their running game against Colorado. And
Blaine Gabbert
didn't look like his ankle was bothering him nearly as bad against the Buffaloes. Dave Steckel's defense produced eight sacks against
Tyler Hansen
, the most since 2006 and a good sign heading into the Baylor game on Saturday.
11. Colorado
(2-6, 1-3 in North): There's no doubt that Colorado doesn't like to play Missouri. After the Buffaloes fell into an early 33-0 hole against the Tigers, it marked a streak of 139 consecutive points scored by the Tigers against Colorado's defense over two-plus seasons. And it won't get any easier against Texas A&M. Colorado fans are becoming more vocal about a coaching change after the end of the season. And it won't be a picnic for the struggling Colorado offensive line, which will try to contain the nation's sack leader, Von Miller, a week after allowing eight sacks against Missouri -- the most by a Colorado team since 1984.
12. Baylor
(3-5, 0-4 in South): Bowl hopes aren't officially dead, but they have been on life support since Robert Griffin's injury. The Bears' woes on offense continue as the conference losses in the tough South Division keep mounting. Baylor's only TD against Nebraska came on an interception return. In four conference games, the Bears have averaged 8.5 points per game and have scored no more than 10 points in any single game. Missouri's improving defense will provide a huge challenge to surpass those numbers.
December, 5, 2008
12/05/08
9:38
AM ET
Posted by ESPN.com's Tim Griffin
KANSAS CITY, Mo. -- We're here for the 13th edition of the Big 12 championship game, something most coaches still aren't exactly excited to be playing in the first place.
Coaches went on record before the conference was even formed that they weren't crazy about the addition of an extra game after the regular season ended. The vote was 11-0, with then-Texas A&M coach R.C. Slocum unable to attend. He's said he would have voted against it as well if he had gotten the chance.
Most have remained adamant about not wanting the game, but it's done little good. The extra money provided to cash-strapped athletic departments has become an expected revenue source. For better or worse, the title game has become a part of the Big 12's landscape.
That's not to say we haven't had some memorable moments over the years. Take a look at some of stunning upsets in which teams in AP's top 3 have lost in the Big 12 title game.
1996 -- A gutsy fourth-down pass from deep in his own territory helped John Mackovic and Texas claim a 37-27 stunner over No. 3 Nebraska.
1998 -- Texas A&M's wild 36-33 double-overtime victory over No. 2 Kansas State denied the Wildcats a chance to play in the national championship game.
2001 -- Colorado took advantage of a rash of early mistakes by Chris Simms and withstood a furious late comeback rally by Major Applewhite to dash the No. 3 Longhorns' BCS hopes in a 39-37 victory.
2003 -- Many were calling No. 1 Oklahoma one of the best teams of all time before they ran into Darren Sproles and Kansas State. Sproles gashed them for 235 yards to key a 35-7 upset that remains Bob Stoops' only Big 12 title game loss.
2007 -- Curtis Lofton keyed a second-half run with a pivotal interception, sparking Oklahoma's 38-17 upset over No. 1 Missouri.
And games like those are precisely why the title game is such a good idea. It focuses national attention on the conference and has sparked some intriguing games over the years.
Sure, the games has become one-sided since that Kansas State victory in 2003. Big 12 South teams have won the last four games by a combined core of 171-30 and have trailed for a grand total of 3 minutes, 22 seconds during that 240-minute span.
But who knows what could happen Saturday night at Arrowhead Stadium? Maybe Derrick Washington morphs into a version of Sproles on a similarly icy field.
Or Jeremy Maclin erupts for a huge game, slicing through Oklahoma's much-maligned special teams like so many other kick returners have done this season.
Or Sam Bradford leads the Sooners to a convincing victory to put an exclamation mark on his Heisman Trophy bid.
I'm just glad the coaches got outvoted way back when. The Big 12 has benefitted from having the title game.
October, 22, 2008
10/22/08
6:04
PM ET
Posted by ESPN.com's Ted Miller
Arizona running back Keola Antolin is thickly built and, well, dinky. He looks like a weeble.
And he played like one against California, refusing to fall down after first contact from hulking defenders on his way to 149 yards rushing and three touchdowns in the Wildcats 42-27 victory.
Antolin said after the game he was "5-foot-7 1/2," though he immediately laughed after saying so.
Recall that the last time an unranked team defeated a ranked opponent in a Pac-10 game it was Jacquizz Rodgers gashing USC for 186 yards on the ground.
Rodgers is 5-foot-6, 180 pounds.
Hmm.
Turns out that five of the nation's top-10 rushers tip the scales at under 190 pounds, according to their official weights.
Only two are taller than 5-foot-11. Only two weight more than 210.
Recruiting powers like LSU (221-pound Charles Scott), USC (215-pound Stafon Johnson) and Penn State (212-pound Evan Royster) will continue to haul in prototypical backs with size as well as speed, but it seems a lot of non-traditional powers and mid-level teams are stocking their rosters with undersized guys who have two things in common.
They are short. And they produce.
Besides Antolin and Rodgers, Cal uses a pair of sub-200 pounders in Jahvid Best and Shane Vereen. Antolin displaced Nic Grigsby from the lineup last week, but the 178-pound Grigsby has scored nine touchdowns and averaged 5.9 yards per carry.
Arkansas' Michael Smith is 5-7, 173 pounds and is averaging 132 yards per game. Would Ball State be nationally ranked without MiQuale Lewis, who's listed at 5-7, 175? Southern Miss' Damion Fletcher tips the scales at 175 pounds yet averages over six yards per carry.
Michigan State workhorse Javon Ringer weighs 202 pounds, but that's because he's packed his 5-foot-9 frame with a freakish about of muscle over his four-year career (how does this guy find a pair of pants that fit?).
Perhaps the secret of the dinks is out and there will be a big run on little running backs working their magic off the radar of the national recruiting scene where measurables are so important.
"I don't think there will be any more than normal," Oregon State coach Mike Riley said. "I think it's just a matter of good players. And I really believe they come in all different packages. If you are short or smaller, what are your compensating factors? These guys obviously have compensating factors to not being 6-feet tall."
Fact is, there are some advantages to being small. We snarked about USC's players claiming they couldn't find Rodgers, but Rodgers and Antolin both said they use their lack of size as an advantage.
"I hide behind the linemen all day -- just like [NFL players] Darren Sproles and Maurice Jones-Drew," Antolin said after the Cal game. "It's the exact same. I stay low and hide and explode through the hole."
Score one -- or a few -- for the little guys.