NCF Nation:

Darrington Sentimore
October, 16, 2012
10/16/12
3:35
PM ET
It's not every day that an opposing player calls out Nick Saban, especially with No. 1 Alabama coming to town in a few days.
Nonetheless, Tennessee defensive end
Darrington Sentimore
, who started his career at Alabama, didn't hide his ill feelings for Saban when asked Tuesday about his former coach.
Sentimore said he wishes now that he wouldn't have signed with Alabama out of high school. He was indefinitely suspended by the Crimson Tide following the 2010 season after multiple off-the-field issues and then left the program to attend Gulf Coast (Miss.) Community College for a year.
"It's his personality," Sentimore said of Saban. "It's like some players ... he will see you in the hallway and he will walk right past you like he don't even see you. I don't like stuff like that. I ain't going to lie to you. I want this game more than any other game because I want to beat Saban.
"I have had this game on the calendar for a long time."
Sentimore went on to acknowledge that Saban runs a tight ship at Alabama.
"You can't get into no trouble. You can't get into the doghouse. You have to stay focused," Sentimore said. "If Saban sees you are focused, he will play you. Saban is on those guys. He's a defensive-minded coach. He's in the meetings and everything with the defense. It's all about the defense. You have to play for 60 minutes (against Alabama) because they are going to go hard and out-physical you. You have to play for 60 minutes.
"They want to out-think you and out-smart you. You have to study film and be on top of your game."
Saban was asked about Sentimore during his Monday press conference, which was prior to Sentimore popping off about Saban.
"He was a good player when he was here," Saban said. "We're happy that he's doing a good job and having success. I hope he's doing what he needs to do off the field and in school. His problems here were not relative to being a football player, so it had nothing to do with pass rush or sacks or any of that."
When Sentimore takes his shot at the NFL in a couple of years, think he will ask Saban for a reference? Something says NFL teams will ask Saban about Sentimore, who has 10 total tackles through six games, including three sacks.
September, 16, 2012
9/16/12
1:31
AM ET
KNOXVILLE, Tenn. – Good thing the Knoxville Police Department put out that warning earlier in the week about fans rushing the field at Neyland Stadium.
The next time, somebody might want to instead put out a warning about expecting a different ending to a movie we've all seen over and over again for much of the last decade.
In this case, it's eight years and counting.
That's how many times Florida has beaten Tennessee in a row after the latest flop on Rocky Top,
a 37-20 romp
by the Gators on Saturday night that spoiled what the Vols had hoped would be their breakout party.
The buildup was as loud as Tennessee's shade of orange.
ESPN's "College GameDay" was in the house. The Vols were ranked nationally for the first time since the beginning of the 2008 season, and Tennessee defensive end
Darrington Sentimore
even went semi-Joe Namath on us earlier in the week when he said, "I think people want to wait and see how we do against Florida, but I'm here to tell them that we're going to beat them."
For a while, it looked like Sentimore might be a prophet and that the Vols would make the splash they were looking for on this big stage.
But a 20-13 Tennessee lead midway through the third quarter turned into one big Gator-chomping party. Florida reeled off 24 unanswered points to rudely remind the Vols of their place in this rivalry, which really hasn't been much of a rivalry at all for a long time.
Since the SEC's divisional split in 1992, Florida has won 16 of the 21 meetings between the schools.
"They're front-runners. They talk a lot," Florida running back
Trey Burton
said of the Vols. "As soon as we got up, their fans started leaving. It's a big win for us."
Indeed, the anticipated rush of the field became a rush of the aisles, as frustrated Tennessee fans scurried to the exits.
Afterward, the Vols' coaches and players sounded equally frustrated. They talked about crumbling under the pressure, not responding to adversity, not making the proper checks on defense and being confused at times by what the Gators were doing on offense.
[+] Enlarge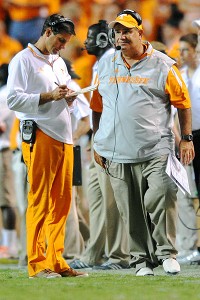 Randy Sartin/US PresswireCoach Derek Dooley and the Vols brain trust couldn't find any answers during the second-half meltdown.
"Once you get in the heat of battle and once adversity hits, you've got to respond to adversity and not crunch under adversity, and that's what we did," Tennessee linebacker
Herman Lathers
lamented.
The Vols' defense was torched for 555 total yards, including 336 rushing. Burton's 80-yard touchdown run out of the Wildcat package tied the game at 20-20. Then came a three-play, 70-yard drive by the Gators with
Jordan Reed
catching a 23-yard touchdown pass from
Jeff Driskel
.
The Gators' third touchdown in the decisive spree was
Frankie Hammond
gathering in a short toss when the Vols came on a corner blitz and then sprinting through the Tennessee secondary for a 75-yard touchdown.
"You can't give up those in this league and expect to win the football game. You just can't," said Derek Dooley, who dropped to 0-11 against nationally ranked teams as Tennessee's coach.
The truth is that the Vols didn't do much of anything it takes to win in this league.
Getting gashed for 336 rushing yards is one thing. But the Vols looked slow in trying to recover when they were out of position, and there were more than a few orange-shirted players with their hands hanging for much of the fourth quarter.
"We've got to go to work on that and keep guys motivated for 60 minutes," Tennessee cornerback
Prentiss Waggner
said.
It wasn't all on the Tennessee defense, either.
The Vols melted on offense after Florida tied the game at 20-20. They managed just five total yards in the fourth quarter. Quarterback
Tyler Bray
, who threw a pair of touchdown passes in the first half, was 1-of-10 in the fourth quarter and wasn't helped much by his two star receivers.
Cordarrelle Patterson
couldn't pull in a deep pass down the left sideline that might have been a touchdown, and
Justin Hunter
dropped one over the middle on the next possession that would have been a first down.
"It looked like we lost a little juice at the end, on both sides," Dooley said. "When the ball broke out, it looked like we were lumbering on both sides."
The Vols also seemed to panic in the play-calling department. They had 67 rushing yards at the half, but forgot about trying to run the football in the second half. In fact, after Florida tied the game at 20-20, Tennessee threw the ball on 11 of its next 13 plays.
"We weren't responding well," said Bray, whose intentional grounding penalty after the Vols snuffed out a Florida fake punt in the third quarter was when the game turned in the Gators' favor.
"We knew that we were going to be the ones that stopped us. We just fell apart."
Dooley did his best to emphasize that it was just one game. But this was more than just one game for the Vols, who get Akron at home next week before starting a grueling stretch that includes away games at No. 7 Georgia, Mississippi State and No. 9 South Carolina and a home game with No. 1 Alabama.
Nope, this was a chance for Tennessee to make some real noise with the rest of the country watching and serve notice that the Vols were at least on their way back.
The only thing they're back to is the proverbial drawing board, and Dooley didn't sound like he had a lot of answers.
"We felt like we were equipped to go toe-to-toe with them for four quarters," Dooley said. "There's no excuses. We didn't get it done and give Florida the credit. They did what they needed to do. I don't know what else to say."
September, 12, 2012
9/12/12
9:00
AM ET
The programs at Florida and Tennessee right now mirror each other in a number of ways.
Both are looking to break back through in the Eastern Division, and both need a signature win in the worst way.


They'll get their chance this Saturday.
Derek Dooley is 0-10 against nationally ranked opponents at Tennessee, and Will Muschamp is 0-5 against nationally ranked foes at Florida.
The No. 23 Vols have lost 11 straight and 17 of their past 18 to ranked teams. Their last win over a ranked opponent was 31-13 against No. 21 South Carolina in 2009.
The No. 18 Gators have lost nine straight to ranked teams. Their last win over a ranked opponent was 51-24 over No. 4 Cincinnati in the Sugar Bowl to end the 2009 season.
Saturday's game in Knoxville marks the first time both teams have been ranked since 2007. The No. 5 Gators routed the No. 22 Vols 59-20 that day in Gainesville.
Tennessee's appearance in the Top 25 this week marks the first time the Vols have been ranked since the opening week of the 2008 season.
Florida has won seven in a row over Tennessee. Even during the Vols' dizzying run in the 1990s, which produced back-to-back SEC championships in 1997 and 1998, the Gators have dominated this series. The two teams have played 20 times since the SEC's divisional split in 1992, and Florida owns a 15-5 record during that span.
The Vols' players don't seem too concerned about the past.
"I think people want to wait and see how we do against Florida, but I'm here to tell them that we're going to beat them," Tennessee defensive end
Darrington Sentimore
said.
The truth is that this rivalry needed a little spice, and it's been a while since it really meant something.
Maybe that all changes on Saturday in Neyland Stadium.
August, 24, 2012
8/24/12
11:15
AM ET
As the season gets closer we're continuing to look at some of the SEC's newcomers in 2012.
This time, we're taking it a little further by involving all of the new faces that could see the field this fall.
Today, we're looking at true freshmen, redshirt freshmen, transfers and junior college transfers who could help teams right away. So we don't get too cluttered, we're picking three players from each team.
I'll take a look at the candidates in the Eastern Division, while Chris will pick his Western Division players later today.
Let's see who could strut his respective stuff in the East this fall:

FLORIDA

GEORGIA

KENTUCKY

MISSOURI

SOUTH CAROLINA

TENNESSEE

VANDERBILT
July, 14, 2012
7/14/12
10:05
PM ET
While it's true there's no such thing as trading in college football, the transfer market can get quite active.
The SEC is no exception.
The biggest names leaving the SEC following this past season were former Auburn tailback
Michael Dyer
and former Alabama quarterback
Phillip Sims
.

Dyer was second in the SEC in rushing last season with 1,242 yards and became the first player in Auburn history to rush for 1,000 yards in each of his first two seasons. But he found his way into Gene Chizik's doghouse, was suspended for the Chick-fil-A Bowl, and wound up transferring to Arkansas State.
The NCAA recently denied Dyer's request to be eligible this season, meaning he will have to sit out and won't be able to play until 2013.
Sims, who lost the quarterback battle at Alabama to
AJ McCarron
last season, will be on the field this fall. The NCAA granted his waiver for immediate eligibility, and Sims will compete for the starting quarterback job at Virginia.
While Dyer and Sims are on their way out, Auburn welcomes fullback
Jay Prosch
from Illinois and Vanderbilt welcomes quarterback
Austyn Carta-Samuels
from Wyoming.
Prosch, wanting to be close to his ailing mother in Mobile, Ala., will be eligible to play right away and figures to make a big impact in the Tigers' running game. Carta-Samuels sat out last season after starting for two years at Wyoming. He will battle incumbent
Jordan Rodgers
for playing time this fall.
Running back
Corey Grant
will also be eligible this fall at Auburn after transferring from Alabama. Grant hasn't played in two years. He redshirted in 2010 at Alabama and sat out last season at Auburn to satisfy NCAA transfer rules.
Another transfer to watch is Tennessee defensive end Darrington Sentimore, who started his career at Alabama. Sentimore spent last season at Gulf Coast (Miss.) Community College before returning to the SEC and signing with the Vols in December.
The highest-profile transfer in the SEC heading into the season just happens to be the best defensive player in the league.
Outside linebacker
Jarvis Jones
led the SEC in sacks (13.5) and tackles for loss (19.5) last season. It was his first season on the field for the Bulldogs after transferring from USC.
Ironically enough, Jones left USC after injuring his neck and not being cleared to play by the Trojans' medical staff. He's originally from Columbus, Ga.
June, 29, 2011
6/29/11
8:53
AM ET
Alabama's Nick Saban has
suspended a pair of players
at positions where the Crimson Tide needs help next season.

Redshirt freshman receiver
Keiwone Malone
and sophomore defensive end Darrington Sentimore have been indefinitely suspended for an unspecified violation of team rules. Also, Saban announced that senior defensive back Robby Green would not return this fall after missing the entire 2010 season because of an NCAA-mandated suspension.
Green's dismissal is not a surprise. He was all but done after Saban suspended him this past spring. Sentimore was competing for a starting job at one of the end spots on defense and had shown some signs of being an effective pass-rusher in the spring. Malone was one of two redshirt freshmen (
DeAndrew White
being the other) that the Crimson Tide were hoping could help fill the void at receiver with the early departure of Julio Jones to the NFL.
Green is the sixth player to leave the football program since the end of the 2010 season, joining running back
Corey Grant
, running back
Demetrius Goode
, defensive end Glenn Harbin, cornerback B.J. Scott and linebacker Petey Smith. In addition, defensive lineman Kerry Murphy is expected to go on medical scholarship because of recurring knee problems, which would end his playing career at Alabama.