NCF Nation:

Darryl Baldwin
January, 8, 2015
Jan 8
10:30
AM ET
COLUMBUS, Ohio --
Taylor Decker
heard the doubters after Ohio State's offensive line couldn't block Virginia Tech in a Week 2 loss.
"A lot of people were against us after that loss," the junior left tackle said. "A lot of people said we couldn't play at this level, that we weren't good enough."
The group entered the 2014 season as a major question mark after losing four starters, and the Virginia Tech game seemed to solidify those concerns. The Buckeyes gave up seven sacks and rushed for just 108 yards on 40 carries against the Hokies' aggressive scheme.
[+] Enlarge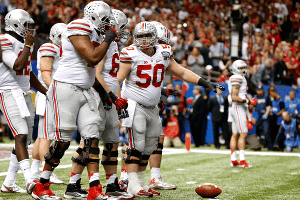 Matthew Emmons/USA TODAY SportsCenter Jacoby Boren (50) hasn't let being undersized stop him from being a force. "He plays mad," teammate Taylor Decker said.
But Ohio State is playing for the College Football Playoff National Championship presented by AT&T on Monday night versus Oregon in large part because its offensive line has developed into one of the best in the nation. That was obvious in last week's 42-35 semifinal win over Alabama in the Allstate Sugar Bowl, even though skeptics said the Buckeyes couldn't run up the middle against the Crimson Tide's massive defensive front.
"Everybody kept saying that," center
Jacoby Boren
said. "But ultimately, we knew that's something we take pride in, and we had confidence in knowing we would be able to do it."
Ohio State ran for 281 yards versus Alabama, which led the FBS in rushing defense during the regular season. The Crimson Tide hadn't allowed a 100-yard rusher all season until
Ezekiel Elliott
set a Sugar Bowl record with 230 yards. Elliott rumbled for 220 yards in his previous game against Wisconsin, another team that had one of the country's best rush defenses before getting bulldozed by the Buckeyes.
"The offensive line is opening up big holes for me," Elliott said.
The nature of Urban Meyer's offense is a power run game based out of a spread set, and it all starts with a strong effort up front. It took a while for this year's unit to jell because of youth and inexperience, but it is now operating at peak efficiency.
"No question, this is as well as they have played," Meyer said Tuesday.
This group was a bit more of a project than Meyer's first two O-lines in Columbus. It includes a fifth-year senior in right tackle
Darryl Baldwin
, who began his career on the defensive line and had never started before this year. There's a redshirt freshman in
Billy Price
at left guard and a sophomore in right guard
Pat Elflein
, who proved himself in an emergency start in last year's Big Ten title game.
The line is perhaps personified by Boren, an undersized junior who Meyer thought might project as a fullback when he first saw him. Ohio State brought in Alabama transfer
Chad Lindsay
this summer as its potential starting center, but Boren just worked even harder to beat him out. That was nothing new for him. Boren is such a grinder that he helped plow snow all night for his family's business last winter, showing up for 6 a.m. workouts on little or no sleep.
"Yeah, maybe he's not as tall or as heavy as you want him to be," Decker said. "But you can't teach that scrappiness, that edge he has to him. He plays mad. I think that's probably just a product of people telling him he can't do things. Without him, our offensive line wouldn't play as well as where we're at."
Decker is the star of the group, a 6-foot-7 road grader who was the only returning starter from 2013. Yet even he had to make adjustments this year as he moved from right to left tackle. Decker is an outgoing animal sciences major who interned at the Columbus Zoo last year and aspires to wrangle big cats one day when his playing days are done. For now, he's taming opposing pass-rushers.
"I would take him over any tackle in college football," Boren said. "I think he's done a great job out there."
The season didn't start out great for the offensive line, but Decker said the players never listened to critics or lost confidence. That's because they believed in position coach Ed Warriner. And rightly so. Warriner is a big reason three starters from last year's line -- Jack Mewhort, Andrew Norwell and Corey Linsley -- started in the NFL as rookies. Meyer will likely promote Warriner to offensive coordinator to replace Tom Herman after the national title game.
Just as Ohio State keeps pumping out successful quarterbacks, there also is now a tradition for "The Slobs," as Norwell nicknamed the offensive line last year.
"We always talk about theory and testimony," Meyer said, "and when Ed Warriner teaches an offensive lineman, that's the way it's supposed to be, it's not theory anymore."
The last challenge for this O-line comes against Oregon, which presents different obstacles than Alabama did. The Ducks show a lot of odd-man fronts, and while their front doesn't have the bulk of the Crimson Tide, they have speed and length -- especially with defensive ends
Arik Armstead
(6-8) and
DeForest Buckner
(6-7).
"We can't get a lot of double-teams, and that's kind of our strength as an offensive line," Decker said. "If people line up and play four down, we're going to kill them.
"So that makes it hard, because there are a lot of one-on-one base blocks, and they have long athletes pretty much across the board. They extend off blocks well, they use their hands well and they shed blockers well. They're going to be flying all over the field. But without a doubt, I think we'll be able to move the ball and score on them."
No one should be skeptical of this offensive line's ability anymore.
June, 7, 2011
6/07/11
10:30
AM ET
Being one of the top-rated recruits in the country is a double-edged sword. You get all the attention and hype you'd ever want coming out of high school. But there is also more pressure on you to succeed once you step foot on campus. And there's more pressure on coaches and programs to get the most out of their big-time prospects. As the old saying goes, potential will get you fired.
With that in mind, today we're taking a look back at the top Big Ten recruits from the 2010 class and seeing where they stand. It's not fair to judge these guys until the end of their college careers, and in several cases these players haven't even gotten on the field yet. But it's never too early to take stock.
We're going to use the
ESPNU150 list from 2010
as our guide. The Big Ten had 14 players make that elite list. We'll divide the players into three categories: those who've made the biggest impact so far, those who have played but for whom the jury is still out and those who haven't played yet. (One interesting thing to note: None of the 14 made Adam's
2010 Big Ten All-Freshman team
):
Away we go ...
Biggest impact
Rob Bolden, QB, Penn State (No. 112 overall, No. 4 position rank)
[+] Enlarge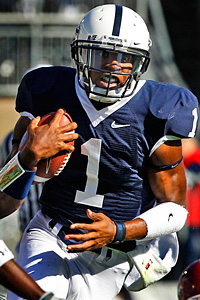 AP Photo/Gene J. Puskar, FileRob Bolden made a big impact as a freshman, but his future remains up in the air.
You all know the Bolden story. He started the first seven games as a true freshmen and eight games overall, throwing for 1,360 yards, five touchdowns and seven interceptions. Then he lost his job to walk-on
Matt McGloin
after suffering a concussion against Minnesota, and there was a heated quarterback battle this spring. The
last we heard
, Bolden hadn't decided whether he'll stay at Penn State or transfer before the 2011 season.
Corey Brown, WR, Ohio State (No. 137 overall, No. 20 position rank)
"Philly," as he's called, played in all 13 games last season and saw time on the kick and punt return teams as well as at receiver. He caught eight balls for 105 yards and a touchdown, which came in the win over Purdue. He won the outstanding first-year player award from the coaching staff. But he also had trouble with drops this spring. With the Buckeyes' lone returning starter at receiver,
DeVier Posey
, out for the first five games, Brown will need to become a consistent force.
Khairi Fortt, LB, Penn State (No. 66 overall, No. 2 position rank):
Will Fortt be one of the next great players at Linebacker U.? He saw action in nine games last year, including a start against Illinois in which he recorded 11 tackles. Penn State is loaded at linebacker, but Fortt saw a lot of time with the first-team defense this spring and will be hard to keep out of the lineup this fall.
William Gholston, DE, Michigan State (No. 42 overall, No. 3 position rank)
The Big Ten's highest-rated recruit in 2010 served as the Spartans' backup left end and played in 10 games before suffering a season-ending shoulder injury against Minnesota. He collected 13 tackles and a half-sack as a true freshman and had five stops and an assisted tackle for loss against Iowa. The 6-foot-7, 265-pounder should slide into a starting role in 2011.
Jury's still out
C.J. Fiedorowicz, TE, Iowa (No. 82 overall, No. 6 position rank)
Fiedorowicz saw action in all 13 games but did not record a catch as a true freshman as he saw most of his time on special teams. The 6-foot-7 sophomore is expected to back up starter
Brad Herman
this season but could see time when the Hawkeyes use two tight ends.
Devin Gardner, QB, Michigan (No. 128 overall, No. 5 position rank)
Gardner got to play in three games as a true freshman. He threw for 85 yards and a touchdown against Bowling Green and also ran for a score in that game. Then he hurt his back and missed the rest of the season, and Michigan is hoping to get a medical redshirt year for him. Of course, his opportunities were limited anyway and figure to be the same for the foreseeable future because he's stuck behind another pretty good quarterback. Fella named Denard. You might have heard of him.
Andrew Rodriguez, OG, Nebraska (No. 147 overall, No. 7 position rank)
The 6-foot-6 Rodriguez got his feet wet with five appearances in 2010, becoming the first true freshman to play on the offensive line for Nebraska since 2006. With starting guards Ricky Henry and Keith Williams now departed, there's a good chance Rodriguez fills one of those spots in 2011.
Look out for
Darryl Baldwin, DE, Ohio State (No. 131 overall, No. 13 position rank)
Baldwin took a redshirt year in 2010 and should see some snaps this year, albeit most likely in a backup role.
Miles Dieffenbach, C, Penn State (No. 118 overall, No. 1 position rank)
Dieffenbach redshirted in 2010 as senior Doug Klopacz held down the center spot. Dieffenbach is expected to back up junior Matt Stankiewitch in 2011.
Evan Hailes, DT, Penn State (No. 88 overall, No. 9 position rank)
It may be a while before we know anything about Hailes. He redshirted in 2010, and Joe Paterno said after the spring game that Hailes could miss the entire 2011 season with an undisclosed illness.
James Louis, WR, Ohio State (No. 80 overall, No. 12 position rank)
Louis redshirted in 2010 and was inconsistent this spring, like most of the Buckeyes' young receivers. At least the opportunity for playing time is there.
C.J. Olaniyan, DE, Penn State (No. 148 overall, No. 16 position rank)
Olaniyan redshirted last season and got some first-team reps this spring with starters Jack Crawford and Eric Latimore slowed by injuries. Those two will start when they get healthy, but Olaniyan should see time in the rotation along the defensive front.
Dakota Royer, LB, Penn State (No. 70 overall, No. 7 position rank)
A defensive end in high school, Royer is battling for playing time at the crowded linebacker position with the Nittany Lions. He redshirted in 2010 and will have to fight to get on the field behind an experienced crew this season.
Rod Smith, RB, Ohio State (No. 56 overall, No. 7 position rank)
Smith reported late to preseason camp last year while he worked on some academics and ended up redshirting. Now he's part of a group of tailbacks battling for carries while starter
Dan Herron
is out for the first five games. The 6-3, 230-pound bruiser impressed during bowl practice last year, had seven carries for 36 yards in the spring game and could become the featured back in Herron's absence. But the running back competition figures to continue into fall camp.
February, 4, 2010
2/04/10
10:02
AM ET
Ohio State Buckeyes
The class
Recruits:
18 (16 high school seniors, two prep school players, one player enrolled already)
Top prospects:
Defensive back
Christian Bryant
should see the field early. Running back
Roderick Smith
could be a factor as the starting job remains a bit unsettled. Linemen
Darryl Baldwin
and
Andrew Norwell
and wide receivers
James Louis
and
Corey Brown
also come in with plenty of accolades.
Sleepers:
Speedy
Bradley Roby
is a late signee who only gained major attention in recruiting after switching from wide receiver to cornerback as a senior. Quarterback
Taylor Graham
struggled with injuries in high school but has a good pedigree as the son of former NFL QB Kent Graham. Defensive tackle
Johnathon Hankins
is a big body on the interior.
Needs met:
Ohio State addressed a mini need in the secondary with Bryant and Roby. The Buckeyes would have liked one more offensive lineman --
Seantrel Henderson
or Matt James -- but they added depth at both wide receiver and running back.
Analysis:
Ohio State might not have hit a home run with this class, and the Buckeyes lost a few key in-state products to other teams, namely
Jordan Hicks
. But Jim Tressel and his staff brought in plenty of speed and versatility, and added several key wide receivers who could contribute early following graduation losses and Lamaar Thomas' transfer. Unless Henderson dumps USC in the coming weeks, Ohio State will need to add more offensive linemen in the 2011 class.
Scouts Inc. grade:
B
What Jim Tressel said:
"If you asked coach [Jim] Bollman how many offensive linemen he would have liked, we had pigeonholed two. He probably would have liked three or four, but we could afford two within our budget. So we'll see how we end up there."

"With the way the game has changed, you need so many guys who can play out in space. In this class, we have a lot of guys with skills and speed."
February, 1, 2010
2/01/10
5:00
PM ET
Jordan Hicks' decision to leave the state of Ohio and
play his college ball at Texas
didn't come as a major surprise.
Though Hicks attended high school in the Cincinnati suburbs, he only moved to Ohio in the sixth grade from South Carolina and had family connections to the Texas coaching staff. As he told reporters Friday after
announcing his choice
, "I don't feel like I turned my back on Ohio State. ... I wasn't born here. ... Ohio State is an Ohio school. I'm not from Ohio. I really don't have that connection there from growing up liking them."
Sounds reasonable enough. But any time an elite high school prospect leaves a Big Ten state to play elsewhere, it creates anxiety among fans. And this year, Ohio State has struggled a bit to seal off its borders.
Of ESPN Scouts Inc.'s top 15 ranked players from Ohio, only four are heading to Ohio State. Prospects like Hicks (Texas), running back Spencer Ware (LSU), quarterback Andrew Hendrix (Notre Dame), safety Latwan Anderson (West Virginia) and offensive lineman Christian Pace (Michigan) will play for other teams.
It's important to remember Ohio produces a ton of great high school players, and not all of them will end up in Columbus. Ohio State has landed highly-rated local products like Darryl Baldwin, an ESPNU 150 player, as well as Andrew Norwell and Tyrone Williams. The Buckeyes also are in the mix for offensive lineman Matt James from Cincinnati.
But on the whole, Ohio State likely will sign fewer in-state players than most years.
The Buckeyes currently have eight in-state commitments from a class of 18. Last year, Ohio State signed 14 Ohio products in a class of 25. In 2005, Ohio State signed 11 Ohio products out of 18. Ohio State signed a small class of 15 in 2003, but all but three players came from the state. In 2002, Ohio State's 24-man class featured a whopping 18 players from the state.
So is this year an anomaly or a cause for concern? To get a better perspective, I checked in with Scouts Inc.'s Midwest recruiting expert
Bill Kurelic

, whose blog is a must read.
Here's what Kurelic had to say: "They have done OK in Ohio this year, but they certainly haven't dominated like in most years. But I don't see it as a trend. They lost out on Welch and Hendrix, but those two are from Catholic high schools and it was going to be a tough sell for OSU to keep them away from Notre Dame. They lost out on Ware, but he just never seemed overly interested.
"On the good side of things for OSU fans is that [Jim] Tressel may be set to dominate Ohio again next year like he has in most years. He has two of the top 5 Ohio juniors committed and he seems in good position to get the top six or seven guys in Ohio on his list. So I think this year is just one of those years."
Kurelic is referring to defensive ends Kenny Hayes and Steve Miller, both of whom are on the
ESPNU 150 watch list

.
Bottom line: Ohio State's in-state recruiting should be fine in the long term, though the Buckeyes must beware of intruders after this year.