NCF Nation:

Darryl Gamble
September, 27, 2013
9/27/13
7:00
AM ET
ATHENS, Ga. – As an SEC West school, LSU is hardly a fixture on Georgia's annual football schedule. But when the Tigers and Bulldogs do get together, the results are almost always memorable.
Just think back over the past decade. Two meetings in the SEC championship game – one won by each school. The phantom celebration penalty against Georgia receiver A.J. Green in 2009, helping pave the way for LSU's comeback victory. Georgia putting huge point totals on LSU's defending BCS champion teams in 2004 and 2008.
There's a lot to remember – and just like in Saturday's meeting between No. 6 LSU (4-0, 1-0 SEC) and No. 9 Georgia (2-1, 1-0) – there are often major SEC and BCS implications in play.
"[I told the younger players] any game can go down to the last second, but what kind of fight that they're going to have to be ready for," said Georgia fifth-year senior receiver
Rantavious Wooten
, one of the few Bulldogs who were on the team when LSU last visited Athens in 2009. "They've got aspirations just like we do. They want a championship and we want a championship and this game right here, this is the game for it. So I just let them know what to expect and how it's going to be and just to get ready for it."
Georgia coach Mark Richt is 3-4 against LSU since arriving at UGA in 2001 and Tigers coach Les Miles is 2-2 against the Bulldogs. Let's take a look at the last five times their programs squared off:
[+] Enlarge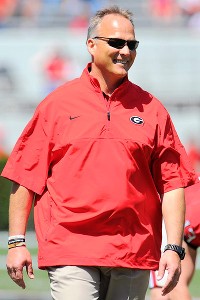 Dale Zanine/USA TODAY Sports Mark Richt and the Bulldogs hope to give LSU its first loss of the season on Saturday.
2011 SEC Championship Game (Atlanta): No. 1 LSU 42, No. 16 Georgia 10
In one of the most bizarre games of Richt's tenure, Georgia's defense thoroughly dominated the first half. LSU didn't muster a single first down and was in danger of falling down by a big margin, but Georgia receivers dropped a pair of potential first-half touchdown passes and LSU punt returner Tyrann "Honey Badger" Mathieu took a kick back for a touchdown to make it 10-7 Georgia at halftime. The second half was a completely different story, as the Bulldogs committed a couple of turnovers, LSU's pounding rushing attack began to have its intended effect and Todd Grantham's defense seemed helpless as the Tigers rushed for 202 yards and three touchdowns after intermission, turning the game into a rout.
Oct. 3, 2009 (Athens): No. 4 LSU 20, No. 18 Georgia 13
This one will forever be remembered among Georgia fans for a referee's questionable decision to penalize Georgia superstar Green for excessive celebration following his leaping, go-ahead touchdown catch with 1:09 to play, giving Georgia its first lead at 13-12. The penalty forced the Bulldogs to kick off from their own 15 and LSU return specialist Trindon Holliday made them pay by returning the kickoff to the Georgia 43, with a 5-yard penalty against the Bulldogs on the kickoff moving LSU even closer to the UGA end zone. Two plays later, Charles Scott rushed for his second touchdown of the fourth quarter, a 33-yard run with 46 seconds to play allowing LSU to improve to 5-0.
Oct. 25, 2008 (Baton Rouge): No. 7 Georgia 52, No. 13 LSU 38
As wild as the ending of the 2009 game was, this one was crazy from the very beginning. Georgia linebacker Darryl Gamble returned an interception for a 40-yard touchdown on the first play from scrimmage and added a 53-yard pick six in the game's closing minutes as the Bulldogs hung half-a-hundred on LSU's porous defense. The Tigers surrendered 50-plus twice that season – the first time in school history that had happened – leading Miles to dump co-defensive coordinators Doug Mallory and Bradley Dale Peveto after the season in favor of former Tennessee coordinator John Chavis, who has been in Baton Rouge ever since.
2005 SEC Championship Game (Atlanta): No. 13 Georgia 34, No. 3 LSU 14
Although fellow receiver Sean Bailey caught a pair of first-quarter touchdowns from D.J. Shockley that got Georgia off on the right foot, Bulldogs senior Bryan McClendon – now the team's running backs coach – might have delivered the play of the game when he blocked a punt midway through the second quarter deep in LSU territory. That helped Georgia score to take a commanding 21-7 halftime lead which LSU never threatened. The Bulldogs' defense also did its job that day, limiting an LSU rushing attack that dominated in their 2003 meeting in Atlanta to just 74 rushing yards.
Oct. 2, 2004 (Athens): No. 3 Georgia 45, No. 13 LSU 16
Nick Saban's final game against Georgia while at LSU ended with a humiliating loss, as the Tigers surrendered the most points allowed by an LSU defense since Florida hung 56 on them in 1996. Georgia quarterback David Greene threw only 19 passes, but set a school record by completing five of them for touchdowns. The Bulldogs had lost twice to Saban's Tigers in 2003 – 17-10 in Baton Rouge and 34-13 in the SEC Championship Game – but they quickly exacted a degree of revenge by jumping out to a 24-0 lead before LSU could answer. The Bulldogs also generated three turnovers and sacked LSU quarterbacks Marcus Randall and JaMarcus Russell five times.
Both teams have been ranked in the top-20 in all seven of their meetings in the Richt era, and this will be the second time they've both been in the top-10. While not every meeting between the two has produced a close contest, they've all been memorable – and almost always impacted their respective championship chases.
"They've been great games. ... Just about every one of them, both teams are ranked teams and at least in the Top 25," Richt said. "It is a cross-conference rival, so it doesn't hold quite the weight of an Eastern Division [game] when it comes to who plays in Atlanta. We could lose the game and still control our destiny, and they could lose the game and still control their destiny, so it's not do-or-die as far as league play, but it's very important for any national title hopes."
July, 30, 2010
7/30/10
9:23
AM ET
Todd Grantham got a glimpse of the hand he was dealt in the spring.
The first-year Georgia defensive coordinator will get a more definitive look beginning Monday when the Bulldogs open preseason practice.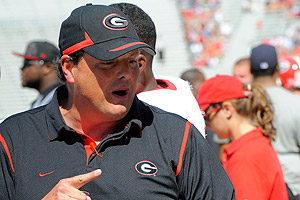 Dale Zanine/US PresswireDefensive coordinator Todd Grantham says he has a better feel for his second unit after spring practice.
The freshmen and players who were injured during the spring will be added to the mix as Georgia completes its move to the 3-4. Grantham, whose previous 11 seasons were spent coaching in the NFL, is one of three new defensive assistants on the Bulldogs' staff.
Their challenge is pretty straightforward: to return the edge to Georgia's once-proud defense. The Bulldogs were 10th in the SEC last season in scoring defense and have given up 34 or more points in 10 of their 26 games over the last two seasons.
I caught up with Grantham recently to get his thoughts on the upcoming season, his first in college football since 1998 when he was the assistant head coach/defensive line coach at Michigan State under Nick Saban.
Where will the hottest battles be this preseason?
Todd Grantham:
The corner position will be interesting. Brandon Boykin, Vance Cuff and Branden Smith will all play, but they will be battling it out for the two starting spots. At safety, we have Bacarri Rambo starting at one, but [junior college transfer] Jakar Hamilton and Nick Williams will be a good battle at the other safety. We moved Darryl Gamble from inside linebacker to outside linebacker, and we'll see how that turns out with Cornelius Washington. I'm also curious to see what freshmen T. J. Stripling, Dexter Morant and Brandon Burrows do at linebacker and how they fit in. On tape, I like Stripling at our will linebacker position [weakside linebacker] behind Justin Houston. We'll see how it plays out when everybody gets here.
How much will you experiment this preseason, especially given the move to the 3-4?
TG:
I come from pro football, and you're going into the game with 21 or 22 guys on defense, and that's it. What you learn is that you have to be flexible, and we will be. If somebody goes down, I'd rather play the next best guy instead of the next guy at that position, and there's a difference in that. We're going to find out which guys can play different roles.
What will be key for you up front defensively?
TG:
We've got to develop a rotation up there, and those guys have to be relentless. DeAngelo Tyson will start out at nose, and Kwame Geathers is behind him. We also have Justin Anderson moving over from the offensive line. If those other two guys come on, it might give us a chance to move DeAngelo around and see what we can do with him at end. I just believe you have to play a lot of guys up there. You expend so much energy playing in the defensive line. If a guy feels like he has to play 60 plays, he's going to coast. But if he knows he only has to play 35, he will give you more and knows when he gets tired that he's going to come out and the next guy's going in. We've got to find a way to develop that kind of rotation. If you don't, when the fourth quarter comes around and it's time to win the game, your best guys are going to be tired.
What kind of outside linebacker will Houston be in your scheme after recording 7.5 sacks last season at defensive end?
TG:
I'm expecting a big year out of him and have talked to him about that. Everybody on your team isn't the same, and he's got to be one of those guys who rises above for us. We need to expect more out of him. You have to manufacture production from your linebackers in the 3-4, particularly your outside guys, because that's where you generate your pass rush. I think Justin is made for the 3-4, and it's a very good fit for him. That showed up in spring ball with some of the things he did.
Georgia was tied for next to last nationally last season with 12 forced turnovers. How do you turn that around?
TG:
It starts with the quarterback. In pro football, we did a study, and the guy who fumbles the ball the most is the quarterback. He's also the guy throwing the ball, so the more you can do to disrupt him, the more you're going to create turnovers. You can do that a lot of ways -- disguising what you do, by bringing pressure, four-man and six-man rush, and the biggest thing is the disruption of routes. You can't allow free access. If you disrupt them and jam them, they're not always going to be in the spot they're supposed to be. There's no question that we need to create more turnovers. Again, going back to the NFL, the teams that were plus-1 in turnover margin over the last 11 years won 80 percent of their games.
Will you call the defensive plays from the booth or be on the sideline during games this season?
TG:
I'll be on the sideline. You have more time to get the calls in when you're on the sideline. You have more time to think about what you want to do, and you also get a better feel for the players down there. I was on the sideline in the NFL and am used to it. You get used to watching the game from down there and seeing everything develop from down there.
What do you hope the Georgia fans see in this defense?
TG:
What I want them to see is improvement and that we're aggressive, fundamentally sound and relentless in our pursuit of the ball. I want them to see a defense that doesn't give up explosive plays, a defense that plays with a swagger. I know this, that the Georgia fans have a passion for defense, the "Junkyard Dawg" defense that is so famous around here. I anticipate working toward giving them the things they have a passion for.
April, 8, 2010
4/08/10
8:00
AM ET
When spring practice began in March, Georgia senior Darryl Gamble said the Bulldogs needed to play more as a team defensively and less as individuals.

For Gamble, that wasn't just lip service.

With the Bulldogs hurting at outside linebacker, Gamble slid over from the inside -- where he's worked all spring -- to the outside in Todd Grantham's 3-4 defense.

Georgia was looking for more depth at outside linebacker after Montrez Robinson was dismissed from the team last weekend.

Gamble and Grantham had already been talking about Gamble learning to play on the outside in a cross-training move, but those talks became reality after Robinson was sent packing following his third arrest in five months.

Gamble joins Justin Houston and Cornelius Washington as the top outside linebackers and will attempt to shore up his pass-rushing skills. He was one of the Bulldogs' more versatile linebackers a year ago, and most importantly, a team guy to the core.

"Coach Grantham is trying to bring us more together," said Gamble, who started in 11 games last season and was sixth on the team with 47 tackles. "We want to do everything as one pack and one defense this year. There's not going to be any room for individuals."
March, 5, 2010
3/05/10
4:15
PM ET
ATHENS, Ga. -- All of a sudden, Darryl Gamble is one of the veterans on Georgia's team.
[+] Enlarge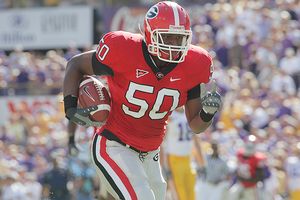 Derick Hingle/Icon SMIDarryl Gamble thinks there are more players on Georgia's defense willing to take leadership roles.
The 6-2, 250-pound senior linebacker thinks the leadership will be shared by several people in 2010 based on what he's seen this offseason. He also thinks there are more guys on this defense willing to take accountability for what happens on the field.
"There was too much waiting for somebody else to make a play last year," Gamble said. "Guys were being too relaxed. It's time to turn things around and get back to the way things used to be."
Gamble said his idea of leadership is making sure everybody is pulling in the same direction. He said there won't be any excuses next season.
"I'm just going to try and take what I know and spread it throughout the team," Gamble said. "The good thing is that we have a lot of seniors on defense now. A lot of us came in together, but there's one thing missing."
Gamble, who signed in 2006 and redshirted that first season, pointed out that there's not a player on this team now who's won an SEC championship.
"We don't want to be the only class since coach Richt has been here that hasn't won an SEC championship," Gamble said. "This is our last shot, but we've got to make it happen, got to do extra stuff and make sure everybody's doing extra stuff.
"The main thing is that we're going to be more player-driven this year than coach-driven. We're going to make sure as players that we're more disciplined and doing the things it takes to win an SEC championship every day."