NCF Nation:

Darryl Monroe
July, 23, 2014
7/23/14
8:57
PM ET
Some thoughts, observations and musings about Day 1 of Pac-12 media days from the Pac-12 blog's Kevin Gemmell, Kyle Bonagura and Chantel Jennings.
Biggest football-centric takeaway?
[+] Enlarge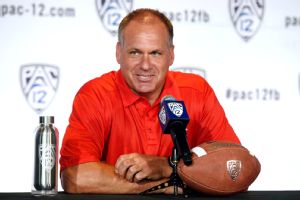 Kelvin Kuo/USA TODAY SportsRich Rodriguez said on Wednesday that he hasn't determined who will start at QB for Arizona this fall.
Kevin Gemmell
: Arizona still doesn't have a quarterback. Not that that's shocking. We knew it was going to take awhile for Rich Rodriguez to find the right guy to run things in 2014. But with a really talented stable of wide receivers ready to break out and get all freaky on secondaries, you'd think he'd be at least a little bit closer to whittling down his pecking order. You'd be wrong: "Even if I knew who the starter was, I wouldn't tell you all. Why would I tell you and tell our opponents? I really don't know who not just No. 1 is, but I don't know who No. 1, 2 or 3 is." Maybe it's a lot of coachspeak and he knows exactly what the offense will look like. Maybe he really doesn't know. Feel like we've been here before …
Chantel Jennings
: I knew there was a high interest in USC this year, but I guess I didn't realize how high. The reporter crowd around Steve Sarkisian was about three times as large as for any other coach who attended today (including Mark Helfrich, whose team is the favorite for the Pac-12 title). Obviously, it's USC and by nature, people will care. But with the program being back on track, a new coach, some exciting players and a new offensive scheme, the Trojans are going to be in a complete pressure cooker. Quarterback
Cody Kessler
talked about how last year -- and the amount of change and adversity they faced -- will help them this season. Yes, certainly the whole "what doesn't kill you makes you stronger" argument is valid. But how much stronger is USC? And are the Trojans strong enough to put up a fight in the South? Are they strong enough to handle the growing pains under a first-year coach? Are they strong enough to handle the increasingly high expectations of the public?
Kyle Bonagura
: When it comes to quarterback play, believe the hype. And while, by nature, these types of events exist almost primarily to generate hype, everyone seemed to be in agreement that the quarterbacks have a chance to be considered one of the best conference groups in college football history. That's not hyperbole, either. There have been comparable years if you take a look at the top five or six, maybe, but to have 10 returning quarterbacks — and so many decorated players among that group — might be unmatched.
Biggest nonfootball takeaway
Gemmell
: Oregon and Washington fans might not like this, but the chances their bitter rivalry will grow frostier are slim. When asked about his relationship with new Washington coach Chris Petersen, Oregon coach Mark Helfrich offered this: "My relationship with Pete will be great forever. I'm going to hate him on certain days and some days he'll hate me, whether it's recruiting or on game day. But the guy is a lifelong friend of mine and that won't change. I know that's going to make both of our fan bases very unhappy." But it's oh-so bromantic.
Jennings
: The event today had a few different activities set up for the players, including a game of corn hole (for you non-Midwesterners, you'll know this as "the game with the angled boards with holes in them that you try to get bean bags in"). I, myself, am a connoisseur of the sport and will challenge anyone. However, I wasn't too impressed with some of the guys and coaches playing today. Especially some of the QBs. You can throw a football 60 yards, but you can't toss a bean bag 20 feet? C'mon.
Bonagura
: The conference's new buzzword is "innovation." Commissioner Larry Scott used it nine times in his lengthy opening remarks to begin the day and seems focused on using the conference's home near Silicon Valley to help aid the use of technology in as many ways as possible. He specifically referred to a partnership with AT&T, Sporting Innovations and Stanford that includes the development of an app that will supposedly make more information — videos, stats, etc. — more accessible to fans while in attendance. I'll take a wait-and-see approach on how innovative this innovation ends up being, but long term it's not a bad thing.
Best quote of the day
Gemmell
: Had a nice little chat with WSU linebacker
Darryl Monroe
about the fallout from the bowl game and what he thinks when he hears someone use the expression, "Coug'd it": "For me, Coug'd should mean you just went out there and dominated. I don't understand where this impression of 'Coug'd it' means you did something in a negative light. Maybe the Urban Dictionary should think about rewriting that definition to 'Coug'd it means completely dominated your opponent.'"
Jennings:
Can we just insert Mike Leach's news conference transcript here? (Follow up: Can we just give Mike Leach a reality TV show?) But really, to give you the full experience … I walked up to the media scrum midway through Leach's news conference. This is the exact moment I walked in. Enjoy.
"The gnats rarely got too hot, I guess. And then finally this one high school coach, as I'm recruiting there, he says, 'Try this.' Now I have big, old fat lips, so it didn't work very good. But he could fire up a little pucker, kind of blow the gnats off, then they had Skin So Soft [lotion], which is big. And I don't know what that is, but evidently gnats don't like it. They rub that all over [their faces]. But it looked kind of oily, you know? What I think is the gnats don't care about it, but it probably puts a little sheet of oil on there so it's harder to bite you. You don't feel the bite. That's just one guy's theory. I'm sure I'm wrong."
Bonagura
: "We've got a brand-new facility that's great, but everybody's got new stuff. Oregon changes it out like Porta-Potties. Like every four or five years like we need a new this, and they go do it." --
Arizona coach Rich Rodriguez on the facilities arms race in the conference
A couple of things to address here: (1) He's right. As a whole, the conference has done a great job upgrading its facilities across the board. It's nearly impossible to get a sense of how each construction project has helped each individual school — mainly from a recruiting standpoint — because it's about keeping up with the Joneses as much as anything. (2) Who knew RichRod had a working knowledge of Porta-Potty lifespans?
[+] Enlarge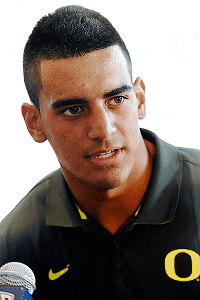 Kelvin Kuo/USA TODAY SportsMarcus Mariota, a topflight NFL prospect, said he isn't sure if he will turn pro after this season.
Best lie of the day
Jennings
:
Marcus Mariota
said he hasn't made his mind up on whether or not he'd leave for the NFL after this season. Now, I will say that this is a hard case because it's a "damned if you do, damned if you don't" situation. If he came in and said, "Yep, no matter what happens, I'm out," then he'd be criticized. So I'm not necessarily criticizing him for this -- he's saying what he needed to say and that's the right thing to do. But the moment it came out of his mouth, all the reporters silently went, "Riiiiiiiiiiiight."
Bonagura
: Agree wholeheartedly with Jennings. When asked if this will be his final year at Oregon, Mariota simply replied: "I'm not sure." He sounded sincere, too, but it's tough to envision a scenario in which he's not beginning training camp with an NFL team at this time next year. Seeing one of the best talents in college football pass up potentially becoming the No. 1 overall pick in the NFL draft back-to-back seasons doesn't happen.
Gemmell
: Have to agree with my colleagues. It was nice for Mariota to say there is a chance he could come back for another season. And everyone in emerald land just got all giddy at the prospect of maybe seeing Mariota rocking the "O" beyond 2014. But I think we all know it ain't going to happen. He took out an insurance policy for a reason. Enjoy him while you can for now, Oregon fans. Because he's as good as gone.
Which player made a good impression on you?
Gemmell
: I've long been a fan of
Connor Halliday
's play. Is he reckless sometimes? Sure. Does he throw too many interceptions? Yeah. But I also like a guy who will throw a pick and then on the next drive make the exact same throw for a 60-yard touchdown. I like the moxie. And I thought that confidence came through during his podium session. He fielded all of the questions about turnovers and bowl games and still had time to crack wise about his head coach. You need poise to play for Mike Leach. And Halliday showed me a little of that today.
Jennings
: Utah WR
Dres Anderson
isn't a guy who has had a ton of media training or been in too many situations in which he's crowded by the media. But even so, he handled it very gracefully. He was energetic, funny and engaging without seeming disingenuous (which some players do when they're so over-the-top). He told anecdotes without needed to be asked, "OK, do you have any examples of that?" by reporters. He was a player who it seemed was really just having a bunch of good conversations with strangers.
Bonagura
: Cal quarterback
Jared Goff
was in a tough spot last year getting thrown into the fire as a true freshman on a historically bad team, but you wouldn't have known that based on his demeanor today. Goff was polished, personable and said all the things you'd want your team's starting quarterback to say. If there were any doubts about how well he'd evolve into a leadership role, there shouldn't be. With 10 returning starters at the position, Goff might fly under the radar in the conference, but he's as talented a young quarterback as there is in the country and has a chance to compete statistically with the nation's best.
And of course, no recap would be right without a series of Leach tweets:
Swing your snow cone. pic.twitter.com/yDxek7JqH4

— Kevin Gemmell (@Kevin_Gemmell) July 23, 2014
Mike Leach playing corn hole? Mike Leach playing corn hole. pic.twitter.com/mQAOdu7XBT

— JB Long (@JB_Long) July 23, 2014
My heart is so full pic.twitter.com/5E82c8hSXi

— Sarah Kezele (@SarahKezele) July 23, 2014
September, 23, 2013
9/23/13
11:00
AM ET
Taking stock of Week 4 in the Pac-12.
Team of the week:
While the Pac-12 blog has been hard on Stanford for
giving up 21 unanswered points
to Arizona State in the fourth quarter, the fact remains the Cardinal posted a
two-touchdown win over a ranked team
. And that first half showed folks why Stanford is a national title contender. Need to tighten some things up? Absolutely. But Stanford at its best has plenty of irresistible force and unmovable object to it.
[+] Enlarge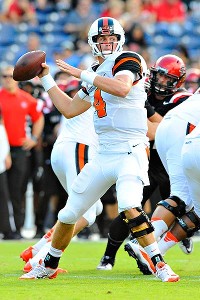 Christopher Hanewinckel/USA TODAY SportsWill Oregon State QB Sean Mannion miss coach Danny Langsdorf, who is heading to the NFL? Sure, but it shouldn't affect his production.
Best game:
Oregon State fans let out a massive, "Whew," after the Beavers overcame a 13-point fourth-quarter deficit at San Diego State and
won 34-30
. While the game was far from pretty, it was a win, and the Beavers seem like a team right now that should just be grateful to collect one. Further, the weekend was otherwise devoid of nail-biters, though USC allowed Utah State to stay unnecessarily close.
Biggest play:
Oregon State's defense has been mostly horrible, but it provided the winning margin against San Diego State when CB
Steven Nelson
returned an interception 16 yards for a TD with 2:31 remaining. The play might have saved the Beavers' season.
Offensive standout:
Oregon State can't run the ball or play defense, but QB
Sean Mannion
can throw the rock around with WR
Brandin Cooks
. Mannion completed 38 of 55 passes for 367 yards with three touchdowns and no interceptions in the Beavers' comeback win over San Diego State. Cooks was his chief weapon, catching 14 passes for 141 yards.
Defensive standout:
Utah State couldn't block USC DT
Leonard Williams
, who had eight tackles with three coming for a loss in the Trojans' 17-14 win over
Chuckie Keeton
and the Aggies. The Trojans held a previously potent offense to just 285 total yards.
Defensive standout II:
Sure, it came against woeful Idaho, but Washington State DT Xavier Cooper dominated inside. Of his five total tackles, 3.5 came for a loss, including 1.5 sacks. He was a key part of a surging defense that held the Vandals to 253 total yards. LB
Darryl Monroe
, who led the Cougars with 12 tackles, including 2.5 for a loss, also merits note.
Special-teams standout:
Think you had a long Saturday? Utah punter
Tom Hackett
punted 11 times for the Utes against BYU, averaging 44.2 yards per boot with a long of 61 yards, though that one was returned 58 yards to the Utah 13. That's 486 yards of punting from the Australian! Three were downed inside the Cougars' 20-yard line. G'day to that.
Frowny face:
USC and Oregon State were both ranked in the preseason but both appear to be significantly flawed. The Trojans can't do anything on offense, and the Beavers are struggling on defense. Hmm. Maybe if they combined forces we could generate another national title contender?
Smiley face:
The
Pac-12 is 29-4 in nonconference play
, including 21-3 against FBS teams, with just three matchups with Notre Dame left to play. That is by far the most distinguished mark in the nation. Remember when the Mountain West Conference was -- rightfully -- talking smack about the Pac-12? Well, the Pac-12 is 10-0 versus the MWC this year.
Thought of the week:
While the season is only hitting the quarter pole, we should learn a little about the conference's South Division contenders -- and pretenders -- this weekend. Arizona has played three overmatched foes and was off over the weekend. The visit to Washington should be revealing. We have no idea who the Wildcats really are. They seem much improved on defense and limited throwing the ball. A victory over the Huskies would thrust them into the top 25 and announce them as contenders in the South Division. Meanwhile, the Arizona State-USC game also seems to serve as a critical separation game in the South.
Questions for the week:
Will Lane Kiffin's last stand be in the desert? If Kiffin and the Trojans prevail and improve to 4-1, Kiffin might buy himself some goodwill -- and top-25 votes. The season would still offer plenty of hope. If the Trojans lose, they will fall to 0-2 in the conference, a major hole in the division race. At that point, reporters covering the Trojans likely would start writing speculative articles about USC's next coach.
April, 26, 2013
4/26/13
9:00
AM ET
Darryl Monroe
represents grounds for hope for Washington State, hope that the beleaguered program will trend up in 2013.
It's not only that he played well last fall as a redshirt freshman starting at middle linebacker in the Pac-12, which is pretty rare. It's his makeup. When coach Mike Leach griped about the focus, work habits and mental toughness of his team last year, he wasn't talking about Monroe.
"Definitely an impressive guy," Leach said. "A good individual to build a defense around."
Want to know why Leach calls Monroe "impressive" and why we're pulling out the word "makeup," one of those vague, football scout-type terms, as one of his positive qualities?
[+] Enlarge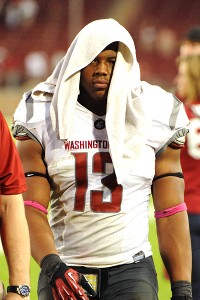 AP Photo/Rob Holt"The struggle is something you've got to embrace," Darryl Monroe said. "It's what's going to make you better in the long run."
How about this: Monroe was asked about the Cougars' dramatic 18-point fourth-quarter comeback and overtime victory over the archrival Washington Huskies.
"It will be one of the games I'll remember for the rest of my life," he said. "We played that game for
Travis Long
. He was holding back tears because he couldn't play. We got him an Apple Cup before we were out of here. That's what it meant to me: Getting that win for Travis."
That is a good answer in so many ways. Yet perhaps there's not enough Husky hate from the Orlando, Fla., native, who admits to not knowing much about the rivalry before he arrived in Pullman?
"We bleed crimson and we don't like Washington," he said.
Other than the Apple Cup, the 2012 season was tough on the Cougars. The great hope inspired by Leach's hiring quickly spiraled into the muck of a 3-9 finish and another campaign -- no winning seasons since 2003 -- spent looking up from the bottom of the Pac-12. It became clear there would be no quick fix, and Leach repeatedly promised an escalation in the intensity of his demands.
Monroe described the offseason work as "brutal ... and it's not even over." But that's not the important part of his thinking.
"The struggle is something you've got to embrace," he said. "It's what's going to make you better in the long run."
As we said: Makeup.
Know that Monroe isn't just a smooth talker. The 6-foot-1, 215 pounder earned All-Pac-12 honorable mention, finishing second on the team with 80 tackles. His 8.5 tackles for a loss, including three sacks, ranked third on the team.
Another aspect of his makeup: He didn't bail out on the program.
Monroe picked the Cougars over Cincinnati and South Florida because of his relationship with Chris Ball, the defensive coordinator under Paul Wulff. His true freshman season ended with a torn Achilles, which was a bummer. When Wulff was fired, Monroe seriously considered leaving so he could start over somewhere else.
Pullman, after all, is a long way from home, both literally and figuratively. Orlando doesn't have too many days when the temperature is in the single digits, for one.
"It was a stressful time, period," he said. "It was pretty tough. It was a time of uncertainty for me, whether I would still be a Cougar or not."
But his parents pretty much advised him to suck it up. So he did. By midseason, he became one of the Cougars' best leaders, earning game captain honors three times, including for the Apple Cup.
He's not the conference's biggest or fastest linebacker. He makes up for that, though, with his brain.
Said Leach, "He really plays well from the neck up. He's a really smart guy."
Coaches often talk about "attention to detail," and Monroe uses that phrase three times in a 15 minute interview. When asked about what aspect of his game he's working on, he talks about reading his keys and leadership.
He sounds very "coachy." It's not difficult to imagine Leach nodding with approval after his every answer.
For Cougars fans looking for grounds for hopes, Monroe is a good place to start.