December, 11, 2013
12/11/13
9:00
AM ET
The final power rankings before bowl season:

1. Baylor (11-1, 8-1 Big 12, last week 2):
The Bears have a chance to put the finishing touches on a tremendous season with a favorable matchup in the Tostitos Fiesta Bowl against Central Florida. Baylor better win for conference pride/bragging rights, as the Big 12 is an underdog in four of its other five bowl matchups.
2. Oklahoma (10-2, 7-2 Big 12, LW 4):
If Bob Stoops somehow pulled off the upset of Alabama, it would constitute his best coaching job since the national championship season in 2000. That Stoops even got OU in the Allstate Sugar Bowl is remarkable. This might be the least talented 10-win team Stoops has ever had. But this is also a team that found a way to get to 10 wins when it didn't look possible.
3. Oklahoma State (10-2, 7-2 Big 12, LW 1):
Oklahoma State's football history is filled with Bedlam disappointments. But 2013 will rank at the very top. The Cowboys were in control for most of the game against Oklahoma. But they were a disaster on special teams and third downs, and when the game was on the line, a defense that had been terrific all year capitulated against a third-string quarterback. A win over Missouri in the AT&T Cotton Bowl will ease the sting, but this one will sting for awhile.
4. Texas (8-4, 7-2 Big 12, LW 3):
With a chance to win the Big 12 outright, Texas' up-and-down season ended with a thud in Waco. As a result, Mack Brown's seemingly impending resignation will dominate the conversation in Austin while the Longhorns attempt to prepare for a very difficult matchup in the Valero Alamo Bowl against Oregon.
5. Kansas State (7-5, 5-4 Big 12, LW 5):
The Wildcats won't have the matchup with old conference rival Nebraska in the Buffalo Wild Wings Bowl. But they will have the chance to beat a name program (Michigan), which would cap a very nice end to a season that began very badly.
6. Texas Tech (7-5, 4-5 Big 12, LW 6):
Losing five in a row after a top-10 ranking is not how Kliff Kingsbury wanted to close out his first season. Losing six would be even worse. But the Red Raiders have an opportunity against Arizona State in the National University Holiday Bowl. Win that game, and nobody will be talking about the five-game losing streak. Instead, they'll be talking about one of the biggest upsets of the bowl season, which would give Tech some momentum going into the winter.
7. TCU (4-8, 2-7 Big 12, LW 7):
The Horned Frogs will have a new offensive coordinator (reportedly Doug Meachem) and a new quarterback (who knows?), but will that translate into more points? It better if TCU is to bounce back from two mediocre-to-bad years in the Big 12.
8. Iowa State (3-9, 2-7 Big 12, LW 8):
With wins over Kansas and West Virginia to finish out the season, along with their impending stadium expansion, the Cyclones have some momentum again. Head coach Paul Rhoads getting the right offensive coordinator to jump-start a unit that has talent is the next step.
9. Kansas (3-9, 1-8 Big 12, LW 9):
Did the Jayhawks show improvement in Year 2 of the Charlie Weis era? Not really. Which is why Year 3 will be a defining one. Kansas needs to win more than one Big 12 game. The key will be rising sophomore QB
Montell Cozart
. If he can make a jump to the next level, so too will the Jayhawks.
10. West Virginia (4-8, 2-7 Big 12, LW 10):
Last week, athletic director Oliver Luck issued a statement backing coach Dana Holgorsen. But Luck's statement sure seemed to emphasize the 2014 season. Problem is, West Virginia opens with Alabama, goes to Maryland, Texas Tech, Oklahoma State and Texas, and plays Oklahoma and Baylor at home. The Mountaineers would have to win one of those games just to become bowl eligible. On top of that, they'll be replacing easily their best offensive (running back
Charles Sims
) and defensive (safety
Darwin Cook
) players from this past season. Good luck, Dana.
August, 1, 2012
8/01/12
10:30
AM ET
To begin the season, I see six teams with a legitimate chance to win the Big 12. Today we'll continue our series looking at why each team will or will not win the league. Next up: Newcomer West Virginia.
More contenders:
Why the Mountaineers will win the Big 12
[+] Enlarge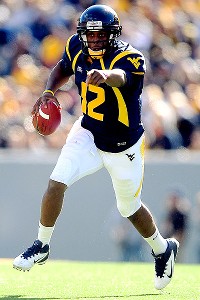 Andrew Weber/US PresswireWest Virginia's Geno Smith passed for 4,385 yards and 31 touchdowns last season.
1. They have the most explosive offense.
Nobody's got a better, more experienced pass-catch combo than Big 12 Preseason Player of the Year
Geno Smith
and his top two targets, receivers
Tavon Austin
and
Stedman Bailey
. The running game with
Dustin Garrison
and
Shawne Alston
isn't going to scare too many folks, but it's definitely good enough to make defenses respect it, and it benefits from the play of Smith, Austin and Bailey. WVU is entering Year 2 with Dana Holgorsen, and there's not a lot of reason to believe the trio won't be even better in 2012.
2. They've got plenty of inside knowledge.
Dana Holgorsen's been in the Big 12 for nine of the past 12 seasons, and his new defensive coordinator, Joe DeForest, spent more than a decade at Oklahoma State. Running backs coach Robert Gillespie and new graduate assistant Andrew McGee, a former OSU cornerback, can help provide some insight into what the Mountaineers will expect on the field in the pregame preparation.
3. They're an unknown entity.
Oklahoma has to make a trip to West Virginia on Nov. 17 in a game that may decide the league title. Nobody in the Big 12 has ever played this band of Mountaineers, and WVU can perhaps use that to their advantage. Big 12 defensive coordinators are familiar with Holgorsen's schemes, but nobody was really able to stop it when he was at Oklahoma State. Don't expect that to change with WVU this year, especially with the kind of talent he's fielding offensively.
Why the Mountaineers will not win the Big 12
1. Where's the defense?
West Virginia lost essentially its entire pass rush from last year's team, which ranked essentially in the middle of the pack in the offensively-challenged Big East. It's a whole new world in the Big 12. Defensive backs
Darwin Cook
and
Terence Garvin
return, along with defensive lineman
Will Clarke
and cornerback
Brodrick Jenkins
, but this isn't the Big East, and WVU is changing schemes from Jeff Casteel's 3-3-5 to a 3-4 with Joe DeForest and Keith Patterson. There could be a rough road ahead of the Mountaineers when it comes to trying to stop Big 12 offenses, which are in another stratosphere compared to what WVU traditionally sees on game day. The one advantage? They've gotten plenty of work in practice this offseason.
2. The Nebraska Effect: They've got too much to learn.
Nebraska was picked by plenty of folks to win the Legends Division in its first year in the Big 12. The Huskers had the talent, but instead, went 5-3 and finished third in the division behind Michigan and Michigan State. West Virginia has the talent to win the Big 12, but has to study up on nine new teams. The rest of the Big 12 only has to adjust to two new teams. NU got rocked by Wisconsin and Michigan, teams that weren't nearly as good as Nebraska's inexperience in the league made them look. WVU may see the same fate against unfamiliar opponents.
3. The inconsistency will catch up to the Mountaineers.
Everybody remembers that nationally-televised bludgeoning WVU handed out to ACC champion Clemson. Doesn't seem like enough people remember a 26-point blowout loss to five-win Syracuse, or narrow wins over sub-.500 teams like Pitt and South Florida. West Virginia wasn't as impressive on a week-to-week basis as they were in their most prominent game in 2011. Even coach Dana Holgorsen admits that game has plenty of people thinking his team is better than it actually is. Will they improve enough between January and September to be a consistent team capable of winning a much tougher league? We'll find out soon.
April, 23, 2012
4/23/12
1:00
PM ET
MORGANTOWN, W.Va. --
Darwin Cook
's life changed with one look on one day during his sophomore year of high school.
He arrived home and hid his report card from his mom, Corie Cook, a single mother raising two high-school boys and working two jobs. Cook's older brother had his report card though, so it wasn't long before his mom came calling for Darwin's.
"I had like a 0.3 GPA," Cook said. "I was in the wrong crowd doing the wrong things."
[+] Enlarge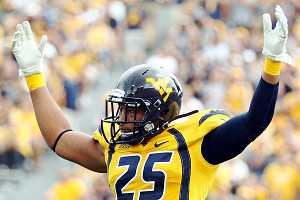 AP Photo/Chris JacksonDarwin Cook blossomed during his sophomore campaign and had 85 tackles -- second most on the Mountaineers last season.
Normally, he'd be in for a loud lecture or a screaming match. This time, it was different.
"She had just a look of disgust on her face," Cook said. "She had that look of sadness and disappointment and just told me to go upstairs and pray to God."
Cook did. For the first time in his life, he really thought about what his life would look like if he continued down his current path. He decided to make some changes.
"My life just changed," Cook said.
The rest of his high school career, Cook says he managed a 4.0 GPA and was on the honor roll. That's only half the story, though.
Cook's relationship with football was always an odd one. He played in youth leagues growing up, but when he showed up to high school to play as a freshman, his coaches put him at fullback and on the offensive line, mostly at left tackle.
"I didn't enjoy that one bit," said Cook, who's now a 5-foot-11, 204-pound junior safety for the Mountaineers. "I used to play left guard, too. I used to pull. That's crazy, ain't it?"
Motivation to play the game waned. His grades rendered him ineligible as a sophomore while his brother, a year older, played for his team in East Cleveland, Ohio.
"I used to go out in the high school practices just to watch. You
know how Radio was
?" Cook said. "I used to just watch, even in the rain. I used to be the kid on the sidelines just watching, don't nobody know I can play football."
He'd played with his brother growing up, and knew he could compete. As a junior, with his grades in order, he tried out for the team. His coaches put him at defensive end.
"I was like, I don't care. It's football," he said. "I just wanted to hit some people. I don't care about no college or nothin'."
After his junior year, Cincinnati offered him a scholarship.
"And at that point, I'm like, I really didn't know what the scholarship was for, because I wasn't reading into that," Cook said.
He quickly realized football could be the key to attending college based on his on-field efforts. A couple years after that day when his mom's disappointed face changed his life, he picked West Virginia.
Without it?
"I don't know where I'd be right now," Cook said.
He came to Morgantown as a defensive back, but when he stepped on campus, he'd never actually backpedaled. His first drill in his first practice came against Jock Sanders, who graduated as the school's all-time leader in reception. It ended with Cook futilely grasping at Sanders' jersey and being sent into the stands.
"It was a rough time my first year, but I kept learning my first year and coach [Steve] Dunlap, he stuck with me and he showed me the techniques and basics of the game," Cook said. "Without him, I'd probably not be here right now."
Off the field, though, his transition was easier after developing good study habits in high school. He's a sports and exercise psychology major with a 2.72 GPA.
"I was really on my books and studying a lot, so that wasn't really a bad transition, but on the football field?" Cook said. "It was terrible."
That changed his sophomore season in 2011, when he was the Mountaineer's second-leading tackler with 85 stops. Cook memorably scored a 99-yard touchdown on a fumble return in WVU's 70-33 Orange Bowl win, tackling the rotund bowl mascot at the end of his sprint into the end zone.
Cook's younger sister just enrolled in college and he's happy to set an example for his seven-year-old brother, too.
"Growing up, we didn't have a lot. We didn't have anybody to look up to," Cook said. "Now, they don't have a choice. It's either college or college. Because their brothers both grew up and went to college and that's all they know."
As for his mom's face when she sees her son? It's a whole lot different these days.
"I just see her smiling all the time," Cook said. "It's a good feeling."
January, 13, 2012
1/13/12
9:00
AM ET
Without further adieu, here is your 2011 Big East All-Bowl team:
OFFENSE
QB:
Geno Smith
, West Virginia. Smith was named the Discover Orange Bowl MVP after the Mountaineers routed Clemson 70-33. Smith ended up with Orange Bowl records for passing yards (401), touchdowns responsible for (six) and total offense (433). He threw just 11 incompletions and had zero interceptions.
RB:
Isaiah Pead
, Cincinnati. The Big East Offensive Player of the Year turned in a terrific final performance as a member of the Bearcats in the AutoZone Liberty Bowl against Vanderbilt. Pead set a school bowl record with 149 yards rushing in a 31-24 win, his sixth 100-yard game of the season. His 12-yard touchdown run with 1:52 remaining sealed the team's first bowl victory since 2007.
RB:
Jawan Jamison
, Rutgers. The Scarlet Knights run game was inconsistent all season, but the redshirt freshman stepped up against Iowa State in the New Era Pinstripe Bowl. Jamison was named MVP of the game after gaining 131 yards and two touchdowns on 27 carries. It was his third 100-yard game of his career. All of them happened this season.
[+] Enlarge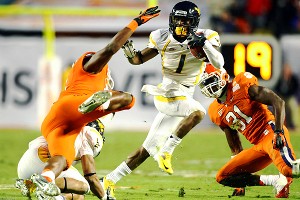 Douglas Jones-US PRESSWIREWest Virginia WR Tavon Austin had 280 all-purpose yards in the Orange Bowl.
WR:
Tavon Austin
, West Virginia. The best playmaker on the Orange Bowl field was pretty much unstoppable. Austin racked up an Orange Bowl record with 280 all-purpose yards, including 117 yards receiving, 46 yards rushing and 117 yards on kickoff returns. He also set Orange Bowl records for receptions (12) and receiving touchdowns (four).
WR:
Josh Bellamy
, Louisville. Bellamy set a season-high with 98 receiving yards in a loss to NC State in the Belk Bowl. Still, he had the most receiving yards by a Cardinal in a bowl game since Harry Douglas had 165 against Wake Forest in the 2007 Orange Bowl. His 53-yard reception in the first quarter was a career long and the second-longest pass play for Louisville this season.
OG:
Randy Martinez
, Cincinnati. Martinez has been one of the most consistent offensive linemen for the Bearcats over the past two seasons, and he graded out near the top once again in the Liberty Bowl. Martinez helped pave the way for 221 rushing yards -- second most against FBS competition this season.
OG:
Betim Bujari
, Rutgers,
OT:
Desmond Wynn
, Rutgers. Bujari made just his third start of the season, on the left side no less. Wynn slid over from guard to tackle. But the combination worked for the Scarlet Knights, who put together perhaps their best effort on the offensive line all season. Rutgers ran for 173 yards -- their second-highest total of the season. And they did not allow a sack.
OT:
Don Barclay
, West Virginia,
C:
Joe Madsen
, West Virginia. One of the biggest knocks against the Mountaineers this season was their inconsistency on the offensive line. In the days leading up to the Orange Bowl, Madsen said he felt the unit had played to the level of its competition. The hope was that facing several NFL draft prospects on the Clemson line would help West Virginia play better. Whatever works, right? West Virginia ran for 188 yards and did not allow a sack in its domination of the Tigers.
DEFENSE
DL:
Myles Caragein
, Pitt. The Panthers may not have had the greatest game in the BBVA Compass Bowl against SMU, but Caragein was solid for most of the afternoon, with six tackles, 2.5 for loss, 1.5 sacks and a pass breakup.
DL:
Derek Wolfe
, Cincinnati. Wolfe ended his Co-Defensive Player of the Year season with six tackles, including two for loss, against Vanderbilt.
DL:
Aaron Donald
, Pitt. Donald did his part for the Panthers, with one sack, a forced fumble, a tackle for loss and five tackles in all. Pitt racked up four sacks on the day and held SMU to 61 yards rushing in the loss.
LB:
Najee Goode
, West Virginia. Goode was a part of an outstanding defensive effort, with 1.5 tackles for loss, one sacks, one pass breakup and one fumble recovery against Clemson.
LB:
Khaseem Greene
, Rutgers. After posting one of the best regular seasons in school history, Greene finished everything off with a team-high 13 tackles in the Pinstripe Bowl to finish the year with 140, tied for fifth in the school single-season record books. Unfortunately, he could not complete the game after breaking his ankle. He is expected to be fine for 2012.
LB:
JK Schaffer
, Cincinnati. Schaffer had nine tackles, a sack and a tackle for a loss in a win over Vanderbilt. He closes out his career with 337 stops, a mark that ranks him ninth on the Big East career list.
LB:
Nick Temple
, Cincinnati. The true freshman saved his best performance of the season for the final game of the season. Temple had a career-high eight tackles, a forced fumble and his first career interception in a win over Vanderbilt. Simply put, he was everywhere for the Bearcats.
S:
Darwin Cook
, West Virginia. Cook had perhaps the play of the game in the Orange Bowl, when he scooped up a fumble by
Andre Ellington
and returned it 99 yards for a touchdown to seize momentum in the second quarter against Clemson. West Virginia ended up scoring 35 points in the frame to put the game way, way, way out of reach.
S:
Eain Smith
, West Virginia. With starting
Terence Garvin
out because of a knee injury, many wondered whether Cook and Smith would take more on their shoulders. They both delivered in a big way. Smith finished with a game-high 13 tackles, including 12 solo stops, and assisted on a tackle for loss.
CB:
Keith Tandy
, West Virginia. Tandy had six tackles and an interception on the night, and was part of a secondary that completely shut down
Sammy Watkins
, holding him to 66 yards on five catches. After a shaky start, West Virginia hunkered down and gave up just 78 yards passing in the second half.
Tajh Boyd
completed only 52 percent of his passes.
CB:
Logan Ryan
, Rutgers. Ryan really seemed to grow up throughout the season and ended the year with another big performance. Logan had seven tackles -- 2.5 for loss -- one interception and half a sack in the win over Iowa State.
SPECIAL TEAMS
PK:
Tyler Bitancurt
, West Virginia. Bitancurt was 10-for-10 on extra-point attempts in the Orange Bowl, setting a new record for extra points attempted and made in any bowl game.
P:
Justin Doerner
, Rutgers. Doerner had a terrific performance against Iowa State with a season-best 49.7-yard average on six punts. Two of them went inside the 20. One of them went 57 yards. His average was tops among the five Big East punters in bowl games.
KR:
Ralph David Abernathy IV, Cincinnati. After Vanderbilt went up 21-17 early in the fourth quarter, Abernathy took the ensuing kickoff and returned it 90 yards for a score to put the Bearcats up for good. It was the first return for a score in his career.
AP
: Austin. See above.
January, 12, 2012
1/12/12
11:00
AM ET
Now it is time to relive the top moments in the Big East for 2011 -- both the good, and the bad.
1. Eric LeGrand returns.
Not only was this the top moment in the Big East, it was one of the
top moments in all of sports in 2011
. Seeing the injured LeGrand lead his Rutgers teammates onto the field in his wheelchair before the start of the West Virginia game Oct. 29 in middle of a snowstorm had to soften the hearts of even the most jaded. What LeGrand has been able to do is truly inspiring in the year since he was paralyzed making a hit against Army in 2010. He has gone further than anybody ever anticipated -- he has started rehab work on a treadmill and gotten twitches and sensations throughout his entire body. And he has begun to do radio and television work for Rutgers, as well.
[+] Enlarge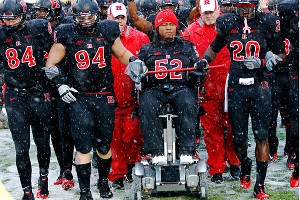 Noah K. Murray/The Star-Ledger via US PresswireEric LeGrand, injured in 2010, led his Rutgers teammates onto the field Oct. 29.
2. Expansion.
This is the storyline that eclipsed most everything else for the entire season. First it was Pitt and Syracuse leaving, seemingly catching commissioner John Marinatto off guard. Then TCU jumped ship. Then West Virginia. When everything was tidied up in December, the Big East had gone Big Country, adding Boise State, San Diego State, SMU, UCF and Houston. West Virginia's fate remains tied up in pending lawsuits. However that saga plays out, the Big East is prepared to launch Version 3.0 in 2013.
3. West Virginia goes BOOM!
You could make the case that the way the Mountaineers dismantled Clemson in the Discover Orange Bowl should be ranked higher. In any other season, it would be No. 1. But when folks look back on the 2011 season, I think the first two stories are more likely to come to mind because of the way they transcended sports, and signaled the dawning of a new era. If we are going with purely on-the-field stories, then this one is the hands-down choice. West Virginia scored a bowl-record 70 points on the Tigers. For perspective, not even the worst teams in the nation -- New Mexico, FAU, Indiana and Akron -- had 70 scored on them this year. The ACC champ did. Unforgettable moment: Darwin Cook returning a fumble 99 yards to swing momentum, then taking down Obie the Orange Bowl mascot.
4. Down goes Collaros.
One play changed the entire complexion of the Big East race. Too simple to say? Nope. Cincinnati had a two-game lead on everybody else on Nov. 12 when West Virginia came to town. In the second quarter, Bruce Irvin sacked
Zach Collaros
, who fumbled on the play. Julian Miller recovered in the end zone for a touchdown but the damage was done for the Bearcats. Collaros broke his ankle, and Cincinnati dropped two straight. West Virginia won out and finished in a three-way tie with Cincinnati and Louisville. The Mountaineers clinched the BCS berth -- leading to the eventual walloping of Clemson -- because they finished as the highest-ranked team in the final BCS standings.
5. Todd Graham bolts.
In one of the most stunning turns of events this season, Todd Graham decided he had enough of Pittsburgh after 11 months on the job and a 6-6 record. He bolted for Arizona State without saying good-bye to his players, gleefully spewing the same speech he gave to the Panthers when he was hired for his "dream job." His coaching move drew universal scorn, and outrage from his players, as well. They took to Twitter to lambaste their former coach for his lies and unseemly departure.
6. Four clutch plays.
West Virginia faced a must-win against USF in the regular-season finale Dec. 1. With the game tied at 27 and 5 minutes left in the fourth quarter, the Bulls embarked on a drive that took them down to the West Virginia 28. That's when clutch play No. 1 happened. Najee Goode forced
B.J. Daniels
to fumble and the Mountaineers recovered.
Geno Smith
took over with 3:02 left. Clutch play No. 2:
Stedman Bailey
makes an unbelievable catch on fourth-and-10 for 26 yards, down at the USF 16. Clutch play No. 3:
Shawne Alston
drags Bailey back to the line of scrimmage
after the catch so the Mountaineers can get the snap off without a penalty. Clutch play No. 4: Tyler Bitancurt hits a 28-yard field goal to win the game 30-27 and a share of the Big East title.
7. Ray Graham gets hurt.
Pitt running back Ray Graham ranked second nationally and led the Big East in rushing yards per game (134.1) headed into Week 9 against UConn. But early on against the Huskies, Graham crumpled to the ground while making a cut, clutching his right knee. He had torn his ACL, and his season was over. You could almost say the same for the Panthers, who struggled to do anything on offense without their best player.
8. Charlie Strong, surfer.
You know how momentous Louisville's 38-35 victory over West Virginia was this season? So momentous it sent coach Charlie Strong bodysurfing over his players in a jubilant locker room afterward. He had Adrian Bushell and
Andrew Johnson
to thank. On the first play of the fourth quarter, West Virginia lined up for a 23-yard field goal to tie the game. Bushell blocked the kick; Johnson returned it 82 yards for a touchdown and the momentum went to the Cardinals. It was their first win in Morgantown since 1990, and third win ever in the series.
9. Syracuse does what?
Surely Syracuse's win over West Virginia in Morgantown in 2010 was a fluke. Surely the Mountaineers would gain revenge in the Dome. Yeah. About that. The Orange schooled West Virginia and reintroduced the Mountaineers to the tight end, pulling the biggest upset of the season 49-23. Syracuse had not scored that many points in the series since 1960. The game also marked the triumphant return of
Chandler Jones
-- who had two sacks and six tackles in his first game back from a knee injury.
10. USF collapse.
The Bulls began the year 4-0 with a national ranking and a victory at Notre Dame. Then Big East play happened. USF lost seven of its final eight games and missed a bowl for the first time as members of the Big East. The Bulls also posted their worst record in Big East play (1-6). A team pegged as a dark horse disappointed in every possible way, losing five games by six points or fewer.
January, 12, 2012
1/12/12
9:00
AM ET
Here are some of the highs and lows of Big East bowl season:
Best performance, team:
West Virginia. The 70-33 win over Clemson in the Discover Orange Bowl goes down as one of the best team performances in bowl history. The Mountaineers set a bowl record for points scored, and another bowl record for points scored in one quarter (35, second); an Orange Bowl record for touchdowns (10); and tied an Orange Bowl record for first downs (31). Theirs was the most dominating bowl win of the season.
[+] Enlarge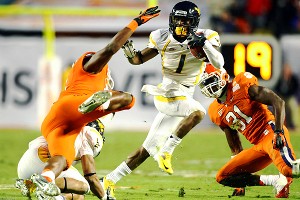 Douglas Jones-US PRESSWIREWest Virginia wide receiver Tavon Austin set records in the Mountaineers Orange Bowl victory.
Best performance, individual:
Tavon Austin
, West Virginia.
Geno Smith
won game MVP honors, but I thought the biggest difference maker was Austin. He set Orange Bowl records for total yards (280), receptions (12) and receiving touchdowns (4) and his versatility was a major reason why the Mountaineers won. Smith said this about Austin after the game: "He won me an MVP. I should give him a trophy."
Worst performance, team:
Pitt. The numbers on offense were ugly once again in the BBVA Compass Bowl against SMU. The Panthers had season lows in points and yards rushing (10), and their 205 total yards were second-worst this season. They also were 6-of-17 on third down, and had no touchdowns in four trips inside the SMU 25. Pretty sure Pitt is happy to turn the page on this season.
Best comeback:
Zach Collaros
, Cincinnati. In the weeks leading up to the AutoZone Liberty Bowl, we could only guess about whether Collaros would make it back from a broken ankle. He was weeks ahead of rehab, but there was still soreness and he was not running all that well. But Collaros is such a gamer, he refused to be held out of the game. He made his triumphant return and the Bearcats beat Vanderbilt 31-24.
Worst injury:
Khaseem Greene, Rutgers. It looked gruesome on television -- Greene went down hard on his ankle against Iowa State in the New Era Pinstripe Bowl, and we were all thankful when the television replays stopped. It was a tough end to the season for the co-Defensive Player of the Year, who had one of the finest defensive performances this bowl season with 13 tackles, half a sack and a forced fumble. Greene ended up with a broken ankle, but should be just fine for the start of training camp this summer.
Worst loss:
Louisville. Yes, we can say Pitt had a terrible loss, but the season had gone horribly for the Panthers and after another coaching change, you almost understood why they failed to show up. But the Cardinals finished the season with wins in four of their final five games, and earned a share of the Big East title. They were riding high going into their game against NC State in the Belk Bowl. An NC State team, by the way, that Cincinnati clobbered earlier in the season. I fully expected a win. But Louisville came out flat and trailed 31-10 before a valiant attempt at a comeback. Too many mistakes did in the Cardinals and they lost 31-24. I give a hand clap to the comeback, but I firmly believe this is a game the Cardinals should have won.
Best momentum swing (1):
Clemson running back
Andre Ellington
was on his way in for a short touchdown in the second quarter against the Mountaineers. But he lost the football, and Darwin Cook returned it 99 yards for a score. West Virginia ended up scoring 35 points in the second quarter -- including 21 off three turnovers.
Best momentum swing (2):
Cincinnati trailed Vanderbilt 21-17 early in the fourth quarter, after
Larry Smith
connected with
Chris Boyd
on a 68-yard touchdown pass. Ralph David Abernathy IV took the ensuing kickoff and returned it 90 yards for a score to put the Bearcats ahead 24-21. It was the first return for a score in his career. Even better -- Cincinnati would never trail again.
Worst series:
Louisville scored to make it 31-24 with 4:29 left in the fourth quarter. Plenty of time to kick it deep and then trust your defense to get a three-and-out to set up good field position for a game-winning drive. Charlie Strong opted for an onside kick, and NC State recovered. Luckily for the Cardinals, NC State coach Tom O'Brien made a move that was even more head-scratching when he decided to go for it on fourth-and-1 from the Louisville 33. The Cardinals stopped them to get great field position with 1:35 remaining. But
Teddy Bridgewater
took two sacks on the drive, and ended up throwing his third interception to end the game.
Best turnaround:
Rutgers. The Scarlet Knights went into their game against Iowa State averaging 2.6 yards a carry and 91.5 yards a game on the ground. They nearly doubled those numbers in the bowl game, rushing for 173 yards and 4.1 yards a carry, as
Jawan Jamison
had 131 yards and two touchdowns.
January, 5, 2012
1/05/12
12:26
AM ET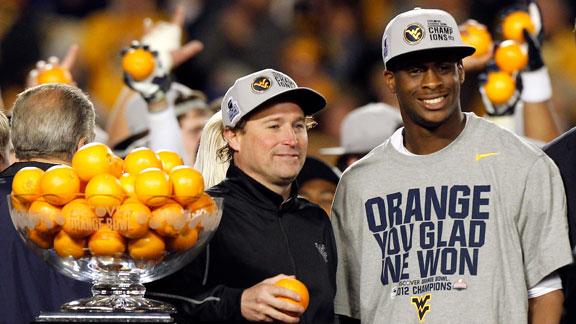 MIAMI -- West Virginia beat Clemson
70-33
in the Discover Orange Bowl on Wednesday night, putting up an NCAA record for points scored in a bowl game. Here is a quick instant analysis:
How the game was won:
The second quarter. West Virginia went on a scoring blitz, thanks to its impressive and opportunistic defense. Darwin Cook got the spree started when he picked up an
Andre Ellington
fumble and returned it 99 yards -- the longest defensive score in school bowl history. It was the fourth defensive score of the year for the Mountaineers, the most since 2007. After that turnover, it was all downhill for the Tigers -- who turned the ball over a total of three times in the second quarter. West Virginia turned that into 21 points, and when halftime came the Mountaineers had outscored Clemson 35-3 in the period.


Turning point:
That Cook fumble recovery changed everything. Clemson was down 21-17 and about to go in for the go-ahead score. Instead, Ellington fumbles and Clemson did not get a touchdown again until late in the third quarter. That one turnover brought Clemson's momentum to a halt and had a snowball effect. The Tigers simply could not get out of their own way.
Stat of the game:
Hard to top the incredible bowl-record 70 points the Mountaineers scored. Consider this: West Virginia scored a TOTAL of 75 points in its final three games.
Player of the game:
West Virginia receiver
Tavon Austin
. The best, most versatile player on the field, Austin finished with four receiving touchdowns, a career, Orange Bowl and BCS record. That also tied the record for all bowl games. He ran the ball, he caught the ball, he returned the ball to the tune of over 280 yards in yet another stunning display of his speed and escapability. Folks in the Big East knew all about his talents. Hopefully the entire nation knows as well.
Unsung hero of the game:
West Virginia defensive coordinator Jeff Casteel. Clemson ran up and down his defense, scoring touchdowns on two big plays and taking a 17-14 lead after the first quarter. It appeared a shootout would be in order. But the Tigers scored 16 points the remainder of the game, and the defense created four turnovers -- including its third score in the past four games.
Tajh Boyd
and
Sammy Watkins
were completely shackled and ineffective after that opening period. Speculation has swirled about Casteel's future in Morgantown, so if this was indeed his last game with the Mountaineers, it was his best of the season.
What Clemson learned:
It's not so easy being the ACC rep in a BCS game. The league moved to 2-13 in BCS bowls, including 0-2 this season. It's one thing for Virginia Tech to be the punching bag because it has represented the league so many times in BCS games, but no ACC team has ever been embarrassed this badly in a BCS game. It's one thing to lose. It's another to give up a bowl record for points scored. This is a young team, and will have every opportunity to bounce back from this loss. But it's going to be a stinging offseason.
What West Virginia learned:
This team has one heck of a future in the Big 12. The Mountaineers showed they can score with the best of them, and their bowl record for points scored just surpassed the 67 points future conference partner Baylor put up in the Alamo Bowl against Washington.
Geno Smith
and nearly every skill player returns on offense, and Dana Holgorsen won 10 games in his first season as a head coach. It's also West Virginia's first 10-win season since 2007.
Record performance:
Where to begin? You already saw the scoring record. Geno Smith had a career-high six touchdown passes, breaking an Orange Bowl and BCS record, held by USC quarterback Matt Leinart against Oklahoma in 2005. His 401 passing yards also set an Orange Bowl record, surpassing Michigan quarterback Tom Brady, who had 369 against Alabama in 2000.
January, 4, 2012
1/04/12
10:35
PM ET
MIAMI -- West Virginia blew open the Discover Orange Bowl against Clemson with a huge second quarter and leads 49-20 at halftime. Here is a quick first-half analysis.


Turning point:
Easy. Clemson running back
Andre Ellington
was going in for the go-ahead touchdown from the 3-yard line when he fumbled in the middle of a huge scrum. West Virginia safety Darwin Cook picked up the ball and ran 99 yards for a touchdown to give the Mountaineers a 28-17 lead and send all the momentum the Tigers had to a screeching halt. That was the first drive of the game that the Tigers failed to score, and they managed only a field goal the rest of the way.
Stat of the half.
69. The teams set an Orange Bowl and BCS record for total points in a half. The previous record for the Orange Bowl: 48. West Virginia's 49 points in the first half were the most scored by any team in any bowl game ever.
Best player in the half:
West Virginia all-everything man
Tavon Austin
. With three touchdown receptions and 158 total yards, Austin has been everywhere on the field. He has touches as a receiver, running back and kickoff returner, and has been incredibly hard for Clemson to tackle.
What Clemson needs to do:
Ask for a do over. The Tigers had three turnovers that led to 21 West Virginia points in the second quarter. They actually ended the quarter with three turnovers on their final four possessions. The Ellington fumble was an absolute killer and essentially began their nightmarish second quarter.
What West Virginia needs to do:
Continue to be aggressive. This defense has come to life in the past four games, and now has defensive scores in three of their past four games. This team is playing inspired football right now, and is absolutely dominating in every area. It is an understatement to say this is the team's best game of the year, on the biggest stage of the year.
January, 4, 2012
1/04/12
9:31
PM ET
MIAMI -- Hello, offense! We have been expecting you.
Clemson and West Virginia were locked in the expected fireworks show in the highest-scoring first quarter ever of the Discover Orange Bowl. Clemson running back
Andre Ellington
opened the scoreing on a 68-yard run right up the middle of the West Virginia defense. Linebacker Jared Barber could not get off a block, and Darwin Cook took a bad angle for a tackle -- and Ellington was off for the third-longest run in Orange Bowl history.
Then it was
Shawne Alston
with a 4-yard touchdown run to get West Virginia on the board. True freshman
Andrew Buie
had the highlight on the drive, when he rolled over the back of would-be tackler Rashard Hall without allowing his knee to touch the ground.
Sammy Watkins
answered with a 27-yard touchdown reception of his own later in the quarter -- marking the first time this season the West Virginia defense has given up multiple scores of 20-plus yards in a game. The touchdown also was the Tigers' 56th of the season, a new school record.
Then it was time for
Tavon Austin
, who scored on a 5-yard run. Austin, who came to West Virginia as a running back, is being used plenty out of the backfield -- he already has three carries for 25 yards and a score -- with
Dustin Garrison
on the sideline.
The longest scoring drive of the four in the first quarter belongs to West Virginia: Two minutes, 39 seconds. Each team has a touchdown drive that lasted under 2 minutes. Yup, this one has the feel of the back-and-forth shootout we all expected.
October, 29, 2011
10/29/11
7:42
PM ET
West Virginia overcame a 10-point halftime deficit to continue its dominance over Rutgers, beating the Scarlet Knights
41-31
to remain in the hunt for the Big East title.
The difference in the second half for the No. 25 Mountaineers (6-2, 2-1): the defense shut out Rutgers, and forced several critical turnovers. Plus, a huge play on special teams helped turn the tide. Leading 31-28 early in the fourth quarter, Rutgers coach Greg Schiano decided to fake a field goal attempt. Holder Patrick Kivlehan floated a pass for
Brandon Coleman
in the end zone. Darwin Cook stepped in at the last minute to break up the pass, and the Scarlet Knights (5-3, 2-2) settled for no points.


West Virginia took the lead on the ensuing drive when Dana Holgorsen decided to got for it on fourth-and-goal.
Geno Smith
scored his first career rushing touchdown from 1 yard out, and the Mountaineers never trailed again. They added to their lead after
Gary Nova
fumbled on the next possession. Julian Miller had his second fumble recovery of the day, and
Tavon Austin
scored on a 20-yard touchdown pass to seal the win.
The Mountaineers ended the game with 20 unanswered points, in what has got to be a heartbreaking loss for Rutgers. The Scarlet Knights have lost 17 straight to West Virginia, and failed to take advantage of an opportunity to break that streak. Consider how well Rutgers has done in turnover margin this season. But in two straight losses, the Scarlet Knights have seven combined turnovers and are minus-5 in turnover margin.
Nova could never get into a good rhythm in the snow, going 18-of-46 for 235 yards with two touchdowns and two interceptions. Nova has thrown five interceptions in the last two games.
The Rutgers run game was pretty effective -- but West Virginia did a much better job on the ground. The Mountaineers were able to utilize bruising back
Shawne Alston
perfectly in a game that needed a big guy to carry the load in the inclement weather.
Alston finished with 14 carries for a career-high 109 yards and two touchdowns. But they were also effective in flipping the ball to the speedy Austin out of the backfield. He had two carries for 96 yards -- including an 80-yard touchdown run.
April, 15, 2010
4/15/10
7:30
AM ET
MORGANTOWN, W. Va. -- Wednesday was a fun and enlightening day at West Virginia. I spent a lot of time with the always gregarious Bill Stewart and even got to see
Geno Smith
go through a quarterback meeting with offensive coordinator Jeff Mullen. And of course I watched practice. Here are some quick thoughts and observations:
The team that came out for practice No. 6 won't be the same team you see this fall. At least Stewart hopes not. Several walking wounded wore non-contact jerseys, including receiver Bradley Starks (ankle) and running back Noel Devine (quad). Smith only participates in individual and skeleton drills, no team competitions. Cornerback Brandon Hogan didn't practice as he is concentrating on his academics. And Jock Sanders missed practice because of class. So it was far from a full deck, and Stewart said he was frustrated by a number of busted assignments and broken plays. You could tell the coaching staff's frustration, because after practice several defensive players were made to do up-downs, while the offensive guys ran sprints. Some defensive players argued with each other coming off the field."You have a couple of guys in [non-contact] jerseys, and all of a sudden your leadership starts spiraling down," Stewart said in disgust. "We may be a .500 football team, that's it."
Coley White is a busy man with Smith limited. White takes every snap during the 11-on-11 and other team drills. He's had a good spring and showed off a stronger arm than I -- and even other frequent Mountaineers observers -- expected a couple of times on Wednesday, on a touchdown pass to Stedman Bailey and a long one to Starks. Smith is almost certain to be the starter, but White can win games if needed at quarterback. The only bad news is his time is so important at quarterback that he can't work on his desired transition to receiver.
Only saw a little bit of Smith, but he made some nice throws. He's much bigger than last year, too. In fact, he later told me he's put on 25 pounds since the Gator Bowl, which is amazing.
Bailey, by the way, looked pretty good and made a nice adjustment on one ball. He could be important with very little depth at receiver now that Deon Long and Logan Heastie are gone (and barring a miracle, they aren't coming back).
Former cornerback Eddie Davis continues to work at receiver, but while he looked fast on the practice field, Stewart called him out as one of many players who did not know their assignments and plays Wednesday.
I'm very high on Ryan Clarke. The big, bruising runner steamrolled defensive back Darwin Cook at one point. No surprise, since Cook was yielding about 45 pounds in that matchup.
Stewart said he's happy with the left side of his line (Don Barclay and Josh Jenkins) and center Joe Madsen. But he wants to see much more improvement from the right side, where Eric Jobe is at guard and Matt Timmerman is at tackle.
The oddest sight during practice occurred in the end zone, where a couple of players apparently being punished had to slam a giant tire with a sledgehammer repeatedly. Reminded me of something out of "The World's Strongest Man" competitions. But it provided a good drum beat for practice.
Most discombobulating sight: Starks wearing No. 5 (Pat White's old jersey number) and Devine sporting No. 10 (Steve Slaton's former digits) in their green non-contact shirts.
Knee-jerk reaction of questionable merit: Hard to make a solid judgment on this team with so many important players out. But you'd think the Mountaineers would be a little sharper just because of all the returning starters who are back. It's still early in the spring for them, and there's plenty of time to turn things up. This team is too talented and experienced not to be a major factor in the Big East race.