November, 7, 2013
Nov 7
10:15
AM ET
Clemson and Georgia Tech have the weekend off. The other 12 ACC teams take the field for Week 11, which includes two nonconference contests, with one serving just
slightly
bigger than the other.
Here is what to keep an eye on as we enter the home stretch in the ACC:
1. FSU looks to avoid letdown:
The Seminoles have a lot to lose the rest of the way, starting Saturday in Winston-Salem, N.C., where they lost two years ago. It is telling, in a good way, that the word "adversity" has been thrown around so much in regard to Florida State's most recent contest. It was a 41-14 win against a previously undefeated and seventh-ranked Miami team. And its quarterback, despite whatever criticisms were lobbied his way, finished with an adjusted total QBR of 94.6, sixth best in the nation for the week. If this team ever got its act together …
2. Wake adjusts to life without Campanaro:
Wake Forest is without all-time leading receiver
Michael Campanaro
, probably for the season, after the redshirt senior broke his collarbone in a loss at Syracuse. Coach Jim Grobe was honest about how difficult things now are offensively without Campanaro, who, despite missing the first game of the season, had 67 catches -- or 52 more than
Jonathan Williams
and
Sherman Ragland III
, the Demon Deacons' next-highest catchers, with 15 apiece.
[+] Enlarge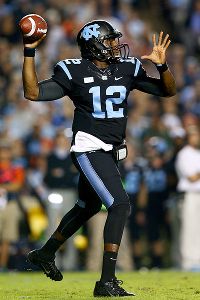 Streeter Lecka/Getty ImagesCan Marquise Williams lead North Carolina to a bowl game?
3. Marquise Williams' time at UNC:
Bryn Renner
's North Carolina career is over because of a detached labrum and fracture in his non-throwing shoulder suffered in a win over NC State. He had split plenty of time lately with Williams, who started the Virginia Tech game, but now it is the redshirt sophomore's chance to carry the Tar Heels to the postseason. They can inch a step closer toward with a win over Virginia that would make them 4-5. Williams has completed better than 60 percent of his passes this season for 537 yards with six touchdowns and three picks, adding 201 yards and a score on the ground.
4. C.J. Brown's return:
Maryland is on the brink of its first bowl berth under third-year coach Randy Edsall, and the expected return of its quarterback should provide a big boost against Syracuse.
Caleb Rowe
has been so-so in Brown's place as starter, going 1-2. Brown's return after a concussion and then a "trunk injury" cannot come at a better time for a Terrapins team that has dropped three of four, though he will have to adjust to a receiving corps that has been decimated by season-ending injuries to
Stefon Diggs
and
Deon Long
.
5. Terps honor former Cuse halfback:
Kudos to Maryland, which will pay tribute Saturday to Wilmeth Sidat-Singh, who was barred from the Syracuse-Maryland 1937 game because he was black. Orange players will wear No. 19 decals on their helmets in memory of Sidat-Singh, whose family will join both schools' athletic directors and Maryland pioneer Darryl Hill between the first and second quarters for an on-field tribute. Sidat-Singh had joined the Army after Pearl Harbor and was in the first graduating class of the group later known as Tuskegee Airmen. He was killed on a training flight in 1943 and is buried at Arlington National Cemetery.
6. Duke looks to finish strong:
Whether it is fair to criticize the Blue Devils' late-season slide last season, the fact remains that they went winless after clinching bowl eligibility in 2012. Things are different this time around, especially with a defense playing night and day from earlier this season and with the Coastal Division potentially up for grabs. Duke will need to keep its foot on the pedal as it comes off a historic win and a bye week to face a desperate NC State team that has dropped four straight and remains winless in ACC play.
7. Logan Thomas looks to rebound:
Virginia Tech's redshirt senior quarterback
was unusually defiant this week when speaking to reporters in Blacksburg, Va., about criticism that has come his way
. Thomas had appeared to turn a corner midseason but his turnovers woes have bubbled to the surface these last two weeks, as he threw four picks in a loss to Duke and threw two more, and lost two fumbles, in a loss at Boston College. Still, a strong performance at a Miami team coming off its first loss of the season could play the Hokies right back into the thick of things in the Coastal Division race.
8. Crawford, Miami look to rebound:
It's
Dallas Crawford
's time to step up, as the Hurricanes will turn to the redshirt sophomore first after losing
Duke Johnson
for the season. In looking to rebound from its loss No. 1 and maintain control of the Coastal Division, coach Al Golden said all three backs will probably see time in the first quarter Saturday against Virginia Tech. Crawford is expected to get the bulk of the carries after rushing for 294 yards and nine touchdowns so far this season.
9. ND-Pitt theatrics:
Will it be like the four-overtime game from 2008? The ugly 15-12 contest from 2011, a game that, fittingly, featured 666 total yards of offense? Or last year's triple-overtime near upset? When the Irish and Panthers take the field, craziness ensues, and who knows what awaits a prime-time audience at Heinz Field in a game featuring two banged-up teams.
10. Pitt's offense looks to get it together:
The Panthers defended the option well in recent weeks, holding Navy and Georgia Tech to 24 and 21 points, respectively. But the offense simply has to score points after breaking the 21-point plateau just once in its past five games, against Old Dominion (35). The run game in particular has struggled, tallying minus-5 yards last week against the Yellow Jackets, but the passing game could use some big plays as well.
March, 7, 2013
Mar 7
5:00
PM ET
Head coaching salaries have been on the rise for years. So have assistant coach salaries, sparking a further separation between the programs that can pay and the programs that cannot.
Therefore, it should come as no surprise that athletic directors have seen their salaries grow as well.

USA Today, which annually compiles head coaching salaries, recently found FBS athletic directors make
an average of $515,000
. That is an increase of more than 14 percent since USA Today last reported on AD salaries in 2011.
The ACC beats that average. Of the
available salaries compiled by USA Today
, ACC athletic directors were set to make an average of $602,829 in 2013. All but two made more than $500,000 -- Kevin Anderson at Maryland ($499,490), and Randy Spetman at Florida State ($350,00).
That doesn't count incoming Louisville athletic director Tom Jurich, who makes a cool $1.4 million -- the highest paid athletic director at a public school. Only nine athletic directors make $1 million or more. The next highest paid public school AD is Dan Radakovich at Clemson, checking in at $725,000.
Boston College and Miami, two private schools, did not disclose figures.
While Spetman's salary has remained the same for the past several years, it still surprises me that the athletic director at one of the most high-profile football programs in the nation is the lowest paid in his league. And one of the lowest paid in the entire state of Florida. Florida AD Jeremy Foley makes more than $1 million; USF AD Doug Woolard makes nearly $500,000; Todd Stansbury at UCF makes just a smidge more ($375,000); and FIU AD Pete Garcia makes $441,832.
I know Spetman has faced his share of criticism, and the Noles have fought through some financial problems. They do pay Jimbo Fisher $2.75 million -- the highest paid coach in the ACC. But something seems off when the ADs at FIU, UCF and USF make more than the guy at Florida State.
Here are is the complete list of AD salaries in the ACC, thanks to USA Today.
Tom Jurich, Louisville: $1.4 million*
Kevin White, Duke, $906,536
Dan Radakovich, Clemson: $725,000
Ron Wellman, Wake Forest: $688,000
Mike Bobinski, Georgia Tech: $625,000
Jim Weaver, Virginia Tech: $621,529
Steve Pederson, Pitt: $596,595
Craig Littlepage, Virginia: $586,750
Daryl Gross, Syracuse: $570,057
Bubba Cunningham, North Carolina: $565,000
Debbie Yow, NC State: $500,000
Kevin Anderson, Maryland: $499,490**
Randy Spetman, Florida State: $350,000
Brad Bates, Boston College: NA
Blake James, Miami: NA
*Louisville expected to join ACC in 2014
** Maryland will depart ACC in 2014
January, 9, 2013
Jan 9
3:00
PM ET
The buzzword today and the rest of the week at Syracuse: #continuity.

That is what the Orange desperately need. And that is why athletic director Daryl Gross turned to defensive coordinator Scott Shafer, a man completely immersed in the Orange turnaround who knows what it takes to finish the job Doug Marrone began. That, above all else, is the No. 1 priority as Syracuse moves into the ACC.

Not splashy, flashy hires.

Not winning news conferences.

Merely winning.

In the end, this was the only move -- the best move -- Gross could make. Hiring coaches in January is vastly different from hiring coaches in early December. Gross said as much during a radio interview earlier this week. When head coaches move on so late in the process, college teams have a tendency to promote from within for a host of reasons. There is a time crunch. There is recruiting. There are talented coaches on staff deserving of an opportunity. There is the hope for continuity.

Stanford did it two years ago when Jim Harbaugh moved on. David Shaw just won the Pac-12 and the Rose Bowl.

Rutgers did it last year when Greg Schiano moved on. Kyle Flood just won Co-Big East Coach of the Year honors and led the Scarlet Knights to a share of their first-ever league title.

Where Syracuse differs, however, is where this program stands. Schiano spent 11 seasons building Rutgers; Harbaugh won an Orange Bowl. Syracuse is in a much more tenuous spot than those two programs, when you consider the looming conference move and its inability to string together success on a consistent basis. Harbaugh only stuck around Stanford for four years -- the same as Marrone at Syracuse.

Both inherited giant messes. But Harbaugh did have winning seasons his final two years there, including the BCS berth. Syracuse has not posted winning records in consecutive seasons since 2000-01.

The goal, of course, is to get back to the BCS and make Syracuse nationally relevant again. Shafer has shown his defenses are perfectly capable of leading the way, especially after some monster games this year against Louisville and West Virginia. Of most immediate concern is replacing offensive coordinator Nathaniel Hackett, headed to Buffalo with Marrone.

And while promoting from within has worked some places (see: Stanford) and not at others (see: West Virginia), this decision is a no-brainer. Shafer knows what to do. Continuing the momentum is up to him.
January, 9, 2013
Jan 9
11:26
AM ET
Syracuse officially announced Wednesday that defensive coordinator Scott Shafer has been promoted to head coach, replacing Doug Marrone.

Shafer has spent the past four seasons as Orange defensive coordinator working under Marrone, who left for the Buffalo Bills. Here are a few statements. Syracuse has scheduled a news conference for Friday afternoon.
Shafer:
"I look forward to representing the hard-nosed city of Syracuse and the great state of New York as the head coach of Syracuse University. We will go to work every day to put a quality product on the field as we storm our way into the Atlantic Coast Conference. We are very motivated to start preparing for the 2013 campaign with our current team and incoming student-athletes."
Athletic director Daryl Gross:
"Scott Shafer is an experienced, intelligent, motivating coach who has dedicated his life to coaching and developing college student-athletes. I can't think of a coach in America who is more deserving of having an opportunity to be a head coach. His commitment to developing the total student-athlete is unmatched. We have all seen the attitude of his defense which consists of unity, toughness and persistence. I know and trust Coach Shafer will enhance the momentum that has been created in the program. He is a brilliant coach, a tireless worker and a relentless recruiter who believes that we can create a sustainable championship culture. I am convinced Coach Shafer will successfully carry the torch of the Syracuse football legacy."
Chairman of the Syracuse Board of Trustees Richard L. Thompson and Chancellor and President Nancy Cantor:
"Coach Scott Shafer has been an important factor in why the winning tradition has returned to our program. He has the vision, commitment, and energy necessary for our team to be successful on the field and for our student-athletes to succeed off-the-field, both academically and personally. As we continue to strengthen the program, his outstanding abilities, developed over 20 years of coaching, make him the right leader to build on Syracuse football's strong momentum in the years ahead. We congratulate Dr. Daryl Gross who undertook a swift, intensive search process that identified the right candidate -- while ensuring stability, continuity, and quality in our football program."
Marrone:
"As a Syracuse letterwinner, I am proud to have Scott Shafer leading the football program. He is a person of high integrity who cares about the student-athletes and their development on and off the field. Scott has proven his expertise as a defensive coordinator and is ready to lead the program. I wish him all the best as the head coach of the Orange."
January, 8, 2013
Jan 8
8:20
AM ET
Syracuse defensive coordinator Scott Shafer
is expected to replace
Doug Marrone as head coach, a source told Brett McMurphy of ESPN.
Shafer has been the Orange defensive coordinator since 2009. He also was defensive coordinator at Northern Illinois, Western Michigan, Stanford and Michigan. CBSSports.com first reported the expected hire.
Marrone left Monday to take the Buffalo Bills job. During an interview Monday with ESPN Radio CNY, Syracuse athletic director Daryl Gross said he
would move quickly
to replace Marrone, and said he would be "foolish" if he did not consider in-house candidates. He also said he wants to maintain as much of the status quo as possible.
"We've developed some unique things and we need to keep a lot of those concepts moving forward," Gross told the radio station. "We're looking to compete for conference championships right away. We don't want to destabilize too much. We want to make sure we keep our philosophies and direction going the way it's going right now."
January, 7, 2013
Jan 7
1:00
PM ET
In the middle of Syracuse's biggest win in 2012, athletic director Daryl Gross stepped out of his box inside the Carrier Dome and beamed.
The Orange were crushing then-No. 9 Louisville. All those questions about whether Syracuse coach Doug Marrone belonged on the hot seat disappeared as quickly as the Cards' unblemished record.
Gross looked vindicated, his faith and trust in Marrone rewarded with a breakthrough performance that eventually led Syracuse to a share of its first Big East title since 2004.
"See why we always believed in Doug?" he said. "He is the right man for the job."
[+] Enlarge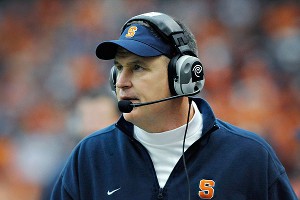 Cal Sport MediaSyracuse had one of the nation's worst major-college football programs before Doug Marrone took over four seasons ago.
Marrone was better than the right man for the job. He was the perfect man for the job, the biggest reason why his departure to the Buffalo Bills is a huge blow to a program just regaining its footing. A three-year starter at Syracuse in the early 1980s, Marrone has special affection for this job, and for this university, living out his dream as Orange head coach.
He reiterated that during his introductory news conference Monday in Buffalo, saying, "I had said that Syracuse was my dream job, and I meant that when I said it. Having the opportunity to restore the great tradition of Syracuse football made my dream a reality. Today, I'm experiencing another dream come true."
So Marrone leaves to live out another dream, some four years after taking on the reclamation job that was Syracuse in 2008. When that season ended, Syracuse was one of the worst programs in the entire country. Greg Robinson won 10 games in four years -- including three total wins in Big East play.
No program had fallen further in such a short period of time, and many wondered whether Syracuse would ever be nationally relevant again. Marrone would need time to turn around the program, because just about everything had to be revamped -- beginning with the culture.
Some players meshed with the new style, while others did not. That ended up costing the Orange players -- some were kicked off the team. Others left. But Marrone knew he needed a disciplined team to get this program headed in the right direction.
After winning four games in Year 1, Syracuse went 8-5 and back to a bowl game in 2010 -- its first bowl appearance in six years. This past season, the Orange also went 8-5 with a win in the Pinstripe Bowl and finished 5-2 in Big East play -- their best league mark since 2001.
They ended the year as the hottest team in the Big East, winning six of their final seven games. That impressive turnaround suggested Syracuse was on an upswing headed into its first year in the ACC.
Marrone was building something here, even though the results have been inconsistent. His overall record may not look great to outside observers (25-25), but it is downright Herculean when you consider the task that was in front of him when he took this job. Those results, combined with his NFL background, made it pretty clear he would be the next Big East coach on general managers' speed dial.
The Big East has bled good coaches for years now. Marrone is only the latest in a long line to leave for a better job and bigger opportunity. But his departure comes at a more critical time than just about all the others. Guys like Greg Schiano, Brian Kelly and Butch Jones left their respective programs in good shape.
Syracuse is at a more fragile place than Rutgers or Cincinnati. Though the Orange made strides this year, the rebuilding job is far from over. Syracuse has not been ranked or won 10 games since 2001. The last BCS appearance? The 1998 season. The last time the Orange had back-to-back winning seasons? Try 2000-01.
That is why Gross faces such an important decision. He made a great hire in Marrone. He needs another great hire to keep this program from slipping backward again.
January, 7, 2013
Jan 7
12:29
PM ET
The
Buffalo Bills
formally introduced
Doug Marrone as its new head coach Monday.
Marrone leaves Syracuse after four seasons as head coach, going 25-25 with two bowl wins and a share of the Big East title this past season. Here are a few statements from Syracuse leaders:
Syracuse athletic director Daryl Gross:
"Doug has restored Syracuse football to its rightful place and we are appreciative of the foundation he has laid on and off the field for the future success of the program. We wish him the absolute best in his opportunity in the NFL. We look forward to improving on our success, as we have great momentum heading into the ACC. We will put a head coach in place who will continue down the successful path we are on."
Syracuse chairman of the board of trustees Richard L. Thompson and chancellor and president Nancy Cantor:
"We congratulate Coach Marrone on having this opportunity to become a head coach at the highest level. Under his leadership, we have restored the rich, winning football tradition at Syracuse, and we wish him continued success as he moves to the National Football League.
"We are fully committed to continuing SU football's successful trajectory and the commitment, work ethic, integrity, and support for the personal and academic development of our student-athletes that Doug and his coaching staff embedded in the program. Moving forward, we have full confidence in Dr. Daryl Gross to find the right successor to build on this success."
June, 27, 2012
6/27/12
2:55
PM ET
Folks in the Big East have high hopes for the future four-team playoff, and the place the league will have in it should a member team go undefeated.
Interim commissioner Joe Bailey said in a phone interview Wednesday, "This gives every team in every conference an equal opportunity to compete for the national championship. And in terms of the other bowl games, while there's plenty of things to be decided upon, we're pretty confident based on the recent performance of our programs we'll be participants in a number of high-level bowl games. The bottom line is the Big East will be well represented in a lot of the bowl games, and certainly in the top four."
Bailey went on to list the performance of current and future Big East members, noting teams like Boise State, Louisville and Cincinnati have finished in the Top 10 going back to 2006. But the last Big East team to play for a national title was Miami in the 2001 season.
Still, there is hope the Big East can get there again. USF coach Skip Holtz said in a phone interview Wednesday that the four-team playoff is a "true play-in" system, with the elimination of automatic qualifying status.
"This is a landmark," Holtz said. "The thing that excites me so much about what they decided to do is it is the first time we've had an actual playoff system where it's going to four teams, but even moreso what excites me is there are no tie-in connections so to speak. It is a true play-in system, not to be influenced but public opinion or public bias but to be decided on a committee by the body of work a team puts together that season. It will continue to put a premium on the season and a premium on nonconference scheduling."
Syracuse athletic director Daryl Gross echoed the hopeful sentiments in a statement, saying, "We are extremely pleased with the new structure, especially as we transition into the ACC. This gives Syracuse football a clear vision as we continue to enhance our program and strive to compete amongst the best in the country."
The hope is that a cross-section of people will be on the selection committee, and seriously consider the merits of winning a conference championship, along with strong nonconference play and quality wins. That may go a long way toward removing ingrained biases, and misperceptions about the Big East.
At one point, the Big East was not in favor of a selection committee. But now Bailey sees some merits to the system.
"At the end of the day, while they'll take into consideration strength of schedule, they'll look at performance on the field, and take all the noise out of the evaluation of a team's performance. That, I suspect, will ultimately be the way they operate. The other good thing about a committee -- they're concentrating on the teams and they're doing it over a long period of time over the course of a season. It's not as if there's some sort of randomness about it. They will see all the teams. So we think for a variety of reasons such as those, it will be a much more focused, concerted effort on the evaluation of teams and team performance. That's very good."
While that may give some fans hope, there are others who wonder whether a selection committee can truly remove the bias and choose the four most qualified teams to make the playoff. Many, myself included, have
wondered whether a committee
would pick an undefeated Big East team over a one-loss team from a conference that has a better national reputation.
Holtz has no fear of that, at least not at this point.
"I'm not going into this with a negative concern," he said. "I'm going in with a trusting opinion that the committee they put together is going to make the right choice and take the body of work and evaluate it over the course of the season and who they played. There's not a conference that says they're a shoo-in. I think the whole thing we're trying to do is take the bias out and let that decisions be made on the field."
November, 17, 2008
11/17/08
12:00
PM ET
Posted by ESPN.com's Brian Bennett
What's next for Syracuse in the wake of Greg Robinson's firing? The Syracuse Post-Standard's Donnie Webb writes that Randy Edsall is athletic director Daryl Gross's top choice, but that he'll also make some longshot grabs at people like Boise State's Chris Peterson and Texas Tech's Mike Leach.
Gross had this to say on Sunday, according to Webb's story:
"I love watching Texas Tech play. It's my favorite offense to watch."
And:
"I think Randy Edsall is a fine coach. He obviously demonstrated that again last night and he's done a terrific job. And there are some other wonderful people out there as well. Hopefully, maybe you can get me an interview (laughs)."
Luring Edsall away could cost close to $20 million, when it comes to his contract, his buyout and paying off Robinson's final year.
• Robinson said he "
ran out of time
" to turn around the Syracuse program. There are plenty of fans who are grateful he didn't get more time.
• Post-Standard columnist Bud Poliquin says Robinson is a good man, but was the wrong man for the job. Poliquin also writes, "Well, now it's up to Gross and his people to fine-tune the contract that they'll soon be presenting to Randy Edsall, the UConn coach whose Huskies routed the Orange in the semi-abandoned Carrier Dome on Saturday 39-14. Indeed, there is every indication that if Randy isn't in the Syracuse saddle by next month, it'll only be because he chose not to climb aboard."
• Edsall isn't
talking about Syracuse
, Desmond Conner writes in the Hartford Courant.
• Short-yardage situations are still plaguing West Virginia, Dave Hickman says in the Charleston Gazette.
• Jim Lewis is ready to return to the Mountaineers after a six-game absence, and maybe the special teams whiz can shore up the nation's worst kickoff coverage team, Mike Casazza writes in the Charleston Daily Mail.
• Senior defensive back Carlton Williams told his younger South Florida teammates to remember how Rutgers was still throwing the ball deep in the fourth quarter in Saturday's blowout. He hopes they can use it for revenge next year, Greg Auman writes in the St. Petersburg Times.
• Aditi Kinkhabwala examines at Rutgers' bowl prospects in the Bergen Record.

November, 16, 2008
11/16/08
12:51
AM ET
Posted by ESPN.com's Brian Bennett
| | |
| --- | --- |
| | |
| | AP Photo/Kevin Rivoli |
| | Coach Greg Robinson is 9-36 overall and 3-23 in the Big East. The Orange finished with just 147 yards on 59 plays against Connecticut and was 1-for-14 on third-down conversion attempts. |
SYRACUSE, N.Y. -- Mark Beckel sat in Carrier Dome section 333, way up in the corner of the end zone, alone among rows of empty bleachers.
A few feet above him hung banners celebrating Syracuse's 1959 national championship team, the great Ernie Davis and eight of the school's members of the college football Hall of Fame. Beckel saw some pretty great Syracuse players during his undergraduate days in the school, cheering guys like Donovan McNabb and Marvin Harrison before earning his degree in 1995. He even attended the team's 1993 Fiesta Bowl win over Colorado.
Beckel, who wore a No. 44 jersey Saturday, only makes it to about one home football game per season from his home in Washington, D.C. Memories and traditions are about all that bring him back these days. It sure isn't the promise of more Orange victories.
"This is painful," the 35-year-old said as he stuck through the closing minutes of a 39-14 loss to Connecticut. "I look down at the student section, which used to be such a great atmosphere, and now it's just sad because none of those kids get to see any good football."
Saturday marked the last home game for Syracuse (2-9, 1-6 Big East) this season and in all likelihood the final Carrier Dome appearance by coach Greg Robinson. The loss dropped his record to 9-36 at the school and just 3-23 in the Big East. Only athletic director Daryl Gross knows for sure when the axe will fall on Robinson, though, and he's not saying.
Gross slipped out of his suite with about two minutes left in the game and did not stick around for reporters to speak to him. Not that there's much chance he would have talked. Gross hasn't given an interview since the week of Sept. 23, when he called ESPN.com's Ivan Maisel unprompted and said "it isn't working out" with Robinson. Team spokeswoman Sue Edson said Saturday that Gross had no plans to comment on the coaching situation until after the season.
Robinson said the thought "didn't enter my mind" Saturday that this was his last home game. Fans were sure thinking about and hoping for it and wondering why Robinson remains in place while schools like Tennessee, Clemson and Washington are already searching for new coaches.
"This is brutal," said Max Pelifian of Messena, N.Y., who's been attending Syracuse games for 42 years. "I don't know what they're waiting for."
It's bad enough for fans to sit through loss after loss. It's even worse to see Connecticut -- a team that didn't even play Division I-A football until 2002 -- come in and whip Syracuse for its first-ever win in the Carrier Dome. And of course it hurts to see Orange alumnus and former longtime assistant Randy Edsall lead the Huskies to victory. Edsall is 48-34 since 2002, including 16-7 the past two years. Syracuse has not had a winning season since Connecticut moved to I-A.
Reports have suggested that Edsall heads Gross's wish list, and that preliminary contact has already been made between the two camps. Edsall chided a reporter who asked him about it immediately after the game by calling the question "inappropriate," then issued another non-denial denial in his news conference.
"I just know that my paychecks are signed by the University of Connecticut, the state of Connecticut, and all I care about is us winning 39-14 tonight," Edsall said. "I'm not worried about anything else other than my team and our program. I'm not worried about anybody else's program right now."
The latest Robinson loss looked like so many others. Inept offense, defensive breakdowns leading to big plays and a complete second-half meltdown. If you believe halftime adjustments are the mark of good coaching, here's some damning evidence: Syracuse trailed 9-3 at halftime against Northwestern and lost 30-10. It led Pittsburgh 17-10 at the break and lost 34-24. It was down 21-13 at intermission at South Florida and lost 45-13. It was tied at 14 after two quarters at Rutgers before losing 35-17. On Saturday, UConn scored the game's final 24 points.
After beating Louisville, Syracuse has scored a total of two offensive touchdowns in back-to-back losses to regional rivals Rutgers and UConn, two schools who have set up camp in what used to be the Orange's fertile recruiting base.
"It's gone dormant," Robinson said of an offense that generated only 147 total yards Saturday, but he could have been talking about the whole program.
"We're not functioning, obviously. We had a period of time there where it looked like everything was heading in the right direction, and the last two weeks ... it's a shame. It really is."
Give long-suffering Syracuse fans credit. If they didn't exactly pack the Dome (the announced crowd of 28,081 seemed a least a few thousand on the generous side), they showed up on a rainy evening and showed support on Senior Day. There were no boos or signs asking for Robinson's resignation or people wearing paper bags on their heads.
But after a UConn punt return for a touchdown made it 32-14 with 19 seconds left in third quarter, the stands began to empty. And after the next play from scrimmage, when Andrew Robinson threw a pick six, the concourses swelled with exiting fans.
Fewer than 2,500 remained until the bitter end. One was 53-year-old John Macauley, who decided to purchase season tickets when his son moved back to this city -- which unfortunately for him coincided with beginning of the Robinson era.
"Look at this," he said, scanning the empty stadium with four minutes left in the game. "This is a joke."
The players are trying to stick by their coach. Quarterback Cam Dantley said Robinson's postgame locker room speech began with him saying he was ready to go and fight next week at Notre Dame. Dantley said the team was still behind him.
"I know the fans are very frustrated," said senior running back Curtis Brinkley, who went over 1,000 yards for the season during the game. "Change is going to come. We've got some good players on this team. Everybody just has to come together.
"(Robinson's future) worries me and it bothers me, just knowing our relationship and what we have grown into. I want him to be my coach when I leave."
Robinson issued a passionate defense of his team when a reporter asked if this felt like a long season.
"I've enjoyed this season of football, coaching this team, as much as any team I've been a part of coaching," he said. "I don't know if I've ever been around a more special group of young people than this group.
"There have been years when I've been here that have been harder than this year. I know what I'm getting with their response. They truly are trying to do their very best, they really are. Unfortunately at times, it doesn't look very good."
It hasn't looked very good at Syracuse in a long time. Not up in Section 333, or anywhere else.
TOP 25 SCOREBOARD
Thursday, 12/5
Friday, 12/6
Saturday, 12/7
TOP PERFORMERS