February, 19, 2013
2/19/13
4:00
PM ET
Head coach Kyle Flood and new offensive coordinator Ron Prince have a shared vision for Rutgers' offense this coming season, another pro-style attack that they believe can look a lot of different ways when executed properly.
"My hope and my vision going forward, and I think is one of the things that Ron will really be able to bring to the table for us, is the ability to use all the personnel groups, the ability always to get the ball in the hands of the better playmakers in your offense," Flood said Tuesday during an introductory teleconference. "And I think you'll see more of that as we go forward."
[+] Enlarge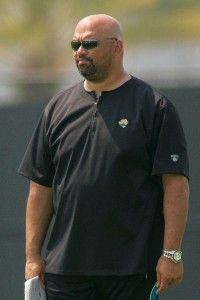 Phil Sears/USA TODAY SportsFor the past three seasons, Ron Prince has been an assistant offensive line coach for the NFL's Jaguars and Colts.
Prince, who spent the last three seasons in the NFL working with the offensive lines of the Jaguars and Colts,
will be the Scarlet Knights' fourth different offensive coordinator in the past four years
. But he doesn't foresee potential problems with getting on the same page as his new players.
"I wasn't a part of any of those other systems or personality changes," said Prince, who was Kansas State's head coach from 2006-08. "All I can do is try to build the best player-coach relationship that I can, and that's all I've ever done. Change is a function of our game -- players have opportunities sometimes to move on to the pro game before maybe anticipated, coaches make some changes and move around. Each team and each year the personality of the team is going to be unique and different, and so we just want to do our part to help this upcoming year and develop this team the very best we can."
Rutgers struggled last year offensively, ranking 104th nationally under coordinator Dave Brock, who moved on to become the head coach at Delaware. Flood said replacing both coordinators this year was rather easy compared to piecing most of the staff together last year when Greg Schiano jumped to the Buccaneers.
With spring practice kicking off March 26, Prince said there is no set date for having the playbook mastered, so long as all are on the same page come Aug. 29 at Fresno State.
"The way it goes now in college football, one of the most important things we'll do is integrate the talent that will come in in the fall into our training camp going forward into the first game," Prince said. "All of this is a process moving towards that, so I don't think that the looming spring date is the final date really, but the final date, the most important date is when we kick off opening week. Everything will be toward making that successful if at all possible, so that's where our mindset is. A lot of this is a process that we'll go through.
"I don't think with the veteran coaches that we have and the returning talent that we have, I don't think that we'll have a hard time trying to get everybody on the same page. Just a matter of making sure we have people in the right places and can appropriately take advantage of their skill set."
January, 25, 2013
1/25/13
4:00
PM ET
A little light on the letters this week. The mailbag is always open, so please stay in touch!
John in Trenton, N.J., writes:
It would have been good on your part in your
grading of Rutgers
to point out there is a positive opportunity for the offense future in that a new OC will be hired to replace (Dave) Brock. Perhaps this will help Rutgers turn its fortunes around. But, that would have required a nice ending to your story. I am so glad we are going to the B1G.
Andrea Adelson:
Sorry to be Debbie Downer, John, but the grades are based on the 2012 season. And it is really hard to find silver linings with a unit that ranked No. 104 in the nation in total offense. Last I checked, Dave Brock coached every game in 2012. His departure means a time to look ahead to 2013, not to alter grades based on what could happen in the future. But hey, I am sure Brian and Adam are full of roses and daisies in Big Ten land.
---
Aaron H. in RU LA LA LAND writes:
David Brock getting the Delaware HC job ... He's to blame for
Gary Nova
's regression. He did an awful job calling the games late in the year. It all started with the Kent State game in which he made no adjustments when it was apparent to everyone watching that Kent State was just dropping back on playing middle zone. They need to hire someone who can exploit other teams' weaknesses and adjust during the game. Also put his players in the best situation to succeed.
Adelson:
I think Rutgers needs a fresh start, as I pointed out in
my video
Thursday. Given the talent this team has brought in at running back, quarterback and receiver, it is simply inexcusable to have an offense ranked No. 97 or worse in the nation for four consecutive years. Mind-boggling, really. The Scarlet Knights need somebody aggressive, and creative who -- as you suggest -- can put his players in the best possible situations. Brock did not do that with Nova.
---
Michael Medlin in Orlando writes:
Your article about the
Harbaugh influence
in the BE was good. Just wanted to add a little known fact. Jim was the best man at Coach (Willie) Taggart's wedding. People don't realize just how close those two really are.
Adelson:
Great factoid, Michael. I loved the anecdote in the Yahoo! Sports story about how Jim Harbaugh convinced Taggart
to come to Western Kentucky
. Lots of connections to that Harbaugh family.
---
JD in Orlando writes:
Andrea, It seems to me that the ultimate goal of these conferences is to continue expansion until you get to an 18 or 20 team super conference, where the need for divisional conference crossover games would go away and the championship game would never be a regular-season rematch. Do you see this as the ultimate goal of this conference expansion?
Adelson:
The scenario more people talk about is the 16-team superconference. I think the idea of an 18-/20-team superconference is unwieldy, especially when you start talking about dividing up television dollars among 20 teams. I'm not sure conferences really would go this route just to avoid a rematch in a championship game.
---
Jamie in Texas writes:
A lot of media seem to have forwarded the premise that the MWC has overtaken the Big East in terms of financial viability and prominence now that Boise State and SDSU have backed out, but nobody really seems to back it up with numbers or named sources. I suspect Mike Aresco wasn't crazy about the "western footprint" deal because it only involved football and would eventually be a conference weakness. Given competitive balance, financial backing, applicable TV markets, etc., which conference do you truly think will give its programs a more lucrative package?
Adelson:
That is a great question. I am still going to say the Big East will be able to deliver a better financial package because it has better markets in Florida and Texas. But it obviously hurts to lose its prominent programs and the basketball members that did provide a boost in negotiations. I am not going to speculate on what potential numbers are because that would be fruitless. It will be interesting to see how both these play out to see which one ends up with the "better deal." Remember, the Mountain West still has football programs like New Mexico and Wyoming. All of the incoming schools into the Big East are either in or near major metropolitan areas.
---
January, 18, 2013
1/18/13
3:02
PM ET
Rutgers offensive coordinator Dave Brock has been hired as the head coach at Delaware, leaving the Scarlet Knights looking for their fourth coordinator in as many years.

Coach Kyle Flood said in a statement: "I am very excited for Dave and Karen. Dave Brock is the perfect fit for The University of Delaware and will run a football program they will always be proud of. I have two lasting memories from my time in Newark, great people and championship football. I know the people are still great and I know Dave will bring championships back to Delaware."
Flood spent four seasons as an assistant at Delaware, from 2002-05. He and Brock worked together on the Hofstra staff from 1997-2001. Brock only spent this past season at Rutgers, and he got mixed results. The Rutgers offense remained ineffective for a majority of the season, and quarterback
Gary Nova
seemed to regress in the last month. Nobody needs to be reminded of
what happened
in the Russell Athletic Bowl.
Rutgers ranked toward the bottom half of the Big East stats in scoring offense, total offense, rushing offense and passing offense. It ranked worse in every category but rushing offense than a year ago. Rutgers scored a
total
of 33 points in its final three Big East games -- the last two losses. Had Rutgers been able to find any semblance of consistency on offense in losses to Pitt and Louisville, it would have gone to the BCS.
Instead, the Scarlet Knights ended the season on a three game losing streak. And now they need to find another coordinator, somebody whose No. 1 goal has to be to jump-start a pretty anemic group that will be missing its top player in
Jawan Jamison
in 2013.
September, 12, 2011
9/12/11
4:35
PM ET
Boston College first-year offensive coordinator Kevin Rogers has asked for a leave of absence for health reasons, and will be out indefinitely, the school announced on Monday.

Tight ends coach Dave Brock has been named acting offensive coordinator and will coach the quarterbacks. Graduate assistant Ben Johnson will be elevated to tight ends coach on an interim basis.
"Our football program operates as a family unit, and we are totally supportive of Kevin," coach Frank Spaziani said in a prepared statement. "I would like to ask our fans and followers to support Kevin and respect his privacy. I have the utmost confidence in Dave Brock, and we will begin the transition immediately."
This is most unfortunate for Rogers, who is a well-respected, well-liked coach and one of the good guys in the business. Whatever it is, hopefully it won't sideline him for too long. BC's offense, which has only averaged 10 points through two games, didn't need any more bad news, but obviously Rogers' health is the bigger concern for the Eagles.
February, 10, 2009
2/10/09
12:00
PM ET
Posted by ESPN.com's Tim Griffin
Apparently one McCoy isn't enough for Texas. The Longhorns will add another member of the family after Colt McCoy's younger brother Case arrives in Austin after the older brother finishes his senior season.
Alan Trubow of the Austin American-Statesman reports that senior-to-be Case McCoy will be the next McCoy to arrive in Austin, arriving after he finishes his career at Graham, Texas.
In a way, it's surprising that the younger McCoy chose the Longhorns, considering the presence of heralded quarterback Garrett Gilbert in the recruiting class of 2009. The younger McCoy also was considering Florida, Texas A&M and Oklahoma.
But he decided the chance to play at Texas for two years after Gilbert leaves was worth it.
So it wouldn't be surprising to see two McCoys end up starting for the Longhorns. It will be interesting to see how the younger brother develops and if he's as good a player and leader as his older brother.
Here are some other stories from across the Big 12 Tuesday:
November, 5, 2008
11/05/08
12:34
PM ET
Posted by ESPN.com's Tim Griffin
Here are a few tidbits from across the conference heading into this week's games.

1. A transformed Kansas secondary has been readied for the Jayhawks' late push for the North Division title. Kansas coach Mark Mangino has gradually broken in new cornerbacks Daymond Patterson and Justin Thornton and moved up former backup Darrell Stuckey to the starting job at free safety. Those moves have left early-season starting cornerbacks Kendrick Harper andChris Harris buried in Mangino's playing rotation. The change is being made to boost Kansas' athleticism before huge tests against the horde of playmaking wide receivers the Jayhawks will be facing against Texas and Missouri in upcoming weeks.

2. Oft-injured playmaking Oklahoma defensive end Auston English will be missed during the rest of the regular season, although Sooner coaches privately aren't disappointed that redshirt freshman Frank Alexander will be the player replacing him. Alexander's comeback from an early-season stabbing injury has been strong and he's shown some noticeable instinctive defensive moves. There will be a drop-off from English to Alexander, but not as much as might be expected.

3. One of the major reasons for Texas Tech's recent defensive success has been the simplification of schemes since Ruffin McNeill took over as defensive coordinator midway through last season. Two players who have particularly thrived up front have been defensive endsBrandon Williams and McKinner Dixon, who have combined for 17 sacks this season. And Tech's starting safeties, Darcel McBath and Daniel Charbonnet, merely are playing like the best pair at their position in the conference since the change.

4. Kansas State coach Ron Prince took over the play-calling responsibilities in the second half of the Wildcats' 52-21 loss last week at Kansas, helping spark a late offensive charge after the Wildcats had fallen into an early 31-0 hole at the half. While Prince was careful to say he hasn't lost confidence in offensive coordinator Dave Brock's calls from the press box, he wanted to provide his team immediate feedback from the sideline by taking a more active play-calling role.

5. Missouri tight end Chase Coffman has been listed as questionable for Saturday's game against Kansas State because of a sprained toe. But Coffman has a little extra inspiration to return to the lineup quicker. It's not only his final home game at Missouri, but he'll be playing against the old college team of his father, former NFL tight end Paul Coffman. And his little brother, Carson, is a backup quarterback for the Wildcats. If Chase Coffman can't go, freshman Andrew Jones would get the start, but expect him to at least to try to play early in the game.

October, 15, 2008
10/15/08
12:08
PM ET
Posted by ESPN.com's Tim Griffin
Here's a look at some tidbits from around the league that are transpiring as teams get ready for games this week.


1. Both Kansas and Oklahoma have added more playmakers to their special teams after recent struggles for both teams covering and returning kickoffs. Bob Stoops plans to add four new members to his kick coverage team that has been blistered for two TD returns, including a pivotal 96-yard return by Texas' Jordan Shipley last week that turned the game around. And Kansas coach Mark Mangino has talked about placing starters like James Holt and Joe Mortensen on his special teams as the Jayhawks rank last in the nation in kick returns. The Jayhawks are averaging 12.4 yards per kickoff -- almost three yards per return less than the next-lowest team, Kent State at 118th.

2. Iowa State has inserted freshman Jerome Tiller as its backup quarterback after Phillip Bates left school. Coach Gene Chizik hopes that he can still make it through the season using only Austen Arnaud as the quarterback and keeping the redshirts intact for Tiller and fellow freshman Bret Bueker. Early word is that Bates likely won't resurface at another Big 12 school because it would cost him an additional season in the transfer. A more likely location would be a FCS school where he could play immediately or an FBS school like Ohio University, where his family already has a strong association with coach Frank Solich. Bates' father, Phillip Bates Sr., was a running back at Nebraska who played there when Solich was his position coach under Tom Osborne.

3. Texas ditched using a tight end in favor of a four-wide receiver look as its base offensive formation against Oklahoma. And the unit's success -- 438 total yards and 20 combined catches from Quan Cosby and Shipley -- make it likely to be used more during the rest of the season. Starting tight end Blaine Irby's season-ending injury robbed the Longhorns of their top receiving threat at the position. The four-receiver sets have made the Longhorns lethal in terms of big-play capabilities, but a little weaker trying to consistently run the ball.

4. Considering the recent injury to Lamark Brown, it wasn't surprising that quarterback Josh Freeman emerged as a key rushing threat in the Wildcats' victory last week over Texas A&M. Freeman produced career-high totals of 18 carries, 95 yards and four rushing touchdowns against the Aggies. In the philosophy of Kansas State quarterbacks coach Warren Ruggiero and offensive coordinator Dave Brock, the quarterback is used as more of a rushing weapon. Freeman has gained positive rushing yards in each of his six starts this season. Before this season, Freeman had netted positive yards in only eight of his 20 previous career starts.

5. Texas A&M coach Mike Sherman is doing what he can to instill discipline on his team, even if it affects its performance in the short term. Key players Michael Bennett andMike Goodson weren't in the starting lineup last week against Kansas State after discipline issues, paving the way for the Wildcats to jump to an early 27-3 lead over Sherman's beleaguered team. Sherman is hoping that his struggles bottom out as he tries to make the Aggies know they've got a firm leader running the program.