May, 2, 2013
5/02/13
10:00
AM ET
The Kansas Jayhawks' narrow losses to Texas, Texas Tech and Oklahoma State showed they made some progress in 2012. But the Jayhawks suffered a 49-point drubbing to West Virginia and the Big 12's co-champions -- Kansas State and Oklahoma -- both beat KU by at least 40 points.
Iowa State and Baylor handed the Jayhawks a pair of losses by four touchdowns, too. There was progress throughout the parade of lowlights in the midst of a 21-game losing streak in Big 12 play, and additions following Charlie Weis' first season in charge should help Kansas finally end the infamous slide.
[+] Enlarge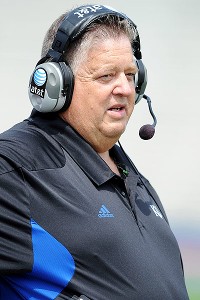 John Rieger/US PresswireCharlie Weis has brought in nearly 20 junior-college transfers in hopes of invigorating his program.
"I think we're going to be much more representative of a Big 12 football team," defensive coordinator Dave Campo said of the Jayhawks' 2013 team. "I didn't feel like that was the case a year ago. I felt that we were playing with a bad hand, and I think the addition of the junior college players give us at least a chance to be more competitive."
Kansas is adding almost 20 junior college players -- most often used as quick fixes for smaller deficiencies -- to a program that needs to compensate for a talent gap that's hounded the Jayhawks since Turner Gill took over for Mark Mangino following the 2009 season.
"We weren't talented enough as a football team to really compete," Campo said. "I feel good with the guys we've got, and with the addition of the quarterback, I think that's a tremendous addition."
"The quarterback" is BYU transfer
Jake Heaps
, but the Jayhawks signed five of the nation's top 100 junior college prospects, including former Jayhawk Dexter McDonald, who left the team before the 2012 season and returned this spring. Cornerback Cassius Sendish stood out this spring, too, and fellow newcomer
Ty McKinney
, a defensive tackle, made an early impact for the defense.
"One of the advantages we had this year, in my opinion, is with Charlie's background and my background in the NFL, we were able to sign some guys that we might not have been involved in without NFL experience," Campo said. "Those guys are looking at the next level, and that gave us a chance to bring in some guys that we feel like were a little bit farther along and we could get them on the field."
That's a big advantage, but it comes with its own set of challenges, which Weis and Campo began tackling in the spring and will have to continue overcoming in the fall.
"They have had a number of different coaches in their career and you have to get them acclimated to what you're doing, but in all honesty, we're so young in our system right now, that it's a little easier for guys to jump in and get going because we're not complicated at this point," Campo said. "Our whole thrust is to get the guys on the field, get them playing, don't give them too much, and if we have to play with two or three defenses rather than 20 defenses or coverages or whatever, that's what we're going to do. We're going to give our guys a chance, athletically, to compete."
Moreso than last year, Campo says, he's excited to take his new defense on the field. The Jayhawks need Heaps to provide the biggest impact at quarterback, but a fresh-looking depth chart and a big boost in athleticism could help the Jayhawks finally get over the hump and turn those close losses into wins.
The risks of fixing the program with an army of junior college transfers is obvious and has been well-chronicled, but that's the road Kansas has taken. This fall, we'll finally see if it works.
"I thought we made some progress last year, some progress in the attitude of the football team and the way our guys went about their business, but we weren't talented enough as a football team to really compete," Campo said. "I feel good about the guys that we got."
April, 30, 2013
4/30/13
9:00
AM ET
Kansas defensive coordinator Dave Campo sat down with Charlie Weis last January to talk about the possibility of joining the Jayhawks staff, but had one big question among many, even as a defensive coach?
What's the deal with the quarterbacks?
[+] Enlarge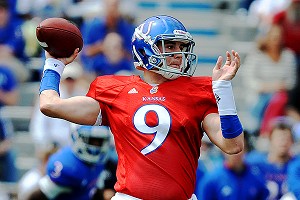 John Rieger/USA TODAY SportsKansas' coaches have been encouraged by Jake Heaps' leadership and accuracy.
Weis explained that a pair of transfers --
Dayne Crist
from Notre Dame and
Jake Heaps
from BYU -- were in the fold, and Campo took notice. He knew Heaps from the passer's days in Washington as the nation's No. 7 quarterback in the 2010 recruiting class, where he originally signed to be a Cougar and won playing time immediately.
"I felt, hey, the program has a good chance to be in good hands," Campo said.
After a year turning heads on the scout team, Heaps has emerged as the Jayhawks' starting quarterback this spring, but the big question awaits: Will Heaps' experience be any different than Crist's?
Crist came to Lawrence with plenty of fanfare, but finished the season on the bench in favor of freshman
Michael Cummings
. Crist struggled, completing just 47.7 percent of his passes and throwing nine interceptions to just four touchdowns -- none to wide receivers. Two of those costly turnovers came in come-from-ahead losses in nonconference play to Rice and Northern Illinois that could have helped KU surpass its two wins from 2012, too.
"There are two things that stick out to me. No. 1, he is very, very accurate," Campo said of Heaps. "I think that's the thing that hurt Dayne the most this past year, was getting the ball to people when it really counted. Jake is very accurate."
Crist completed just 59 percent of his 294 attempts at Notre Dame in 2010, his only other season as a full-time starter, but Heaps hovered just above 57 percent in his two seasons as the Cougars' starter. In Kansas' spring game, he completed 10 consecutive passes at one point, tossing four touchdowns and racking up 257 yards on 20-of-28 passing. Campo saw plenty of that in practice this spring, and expects more in the fall.
"He's a tremendous competitor. I like the quarterbacks who are going to take the bull by the horns and get out there and get after it," Campo said. "As a defensive coach looking at it, that's what sticks out most to me, a guy that when the chips are down, a guy who can make plays. Obviously he has not been in a game here in the Big 12 yet, but I think you're going to see that this guy is a winner and a leader, and those are the things that we really need back there."
October, 19, 2012
10/19/12
2:30
PM ET
Toben Opurum
is one of the bright spots for a Kansas team that's struggled to a 1-5 start under new head coach Charlie Weis this season. The former running back led the Jayhawks in rushing in 2009 before becoming a force at the line of scrimmage for KU under Turner Gill and again this season.
He's got four tackles for loss this season and 29 total tackles. He's also forced two fumbles, broken up three passes and has a sack.
This week, he took some time out to talk to ESPN.com.
How would you describe your play so far this season?
Toben Opurum:
I feel like I've improved drastically from last year. I'd like to continue to improve and make a couple more plays on the quarterback, but I think I've been distruptive a lot in the run game and passing game in different ways without the sack number being up there.
What are you most proud of from this season?
TO:
I think from me and the defense overall, we've done a really good job of tightening up as teams get closer to our end zone and kind of protecting our home as we call it, and not letting people get in. That's one thing we've improved on. For myself, I think I've done a much better job just understanding the whole defense that we're running and understanding my role, from bouncing around multiple positions to kind of finally understanding what's expected.
This season obviously hasn't started like you guys had hoped, but how would you describe the attitude of this team right now?
[+] Enlarge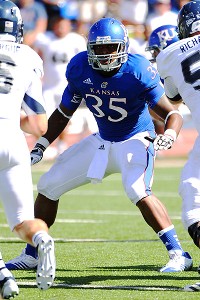 AP Photo/ David DurochikToben Opurum said he's finally getting comfortable on defense after starting his Kansas career at running back.
TO:
You would think that with our record we'd be down in the tank and dreading coming to practice, but guys are still coming in every day and enjoying practice and just doing everything we can to make sure we can turn this program around. Obviously, we're not in the position we want to be in right now, but I've got to play for these last couple games and also for the players who are coming after me.
You talked a little bit about it earlier, but where do you think this defense has improved the most from last year?
TO:
I would definitely say in the red zone again. I feel like we've done a good job of tightening up there. Teams have been able to move the ball a little better than we'd want them to between the 20-yard lines, but as soon as they get in there, the whole mentality changes and guys step up to the challenge of keeping people out of the end zone.
What's the biggest difference between the staff that was coaching you last year versus the staff you've got this year?
TO:
There's multiple differences. I really feel like the biggest change is the players more so than the coaches, though. Obviously, they've got coach Weis and coach (defensive coordinator Dave) Campo, who have got a lot of history in the NFL and coaching in the NFL and in college, so they bring a lot of experience and a big variety in their playbooks and they're able to adapt to multiple things, and that's not something we've always had available to us.
So, I think they've done a good job of being able to adjust to different offenses and defenses that we see in the Big 12.
That NFL experience you mentioned, for you as players, where does it come into play the most? Where do you see it?
TO:
They recognize talent when they see it. A lot of coaches get stuck on kind of putting players in based just off your reputation of what you can and can't do, and I think they did a good job of evaluating talent for themselves and putting players where they believe can have an impact and help us in the best way.
What has to happen for you guys to end this Big 12 losing streak?
TO:
For us to end this streak, it's going to have to start with us winning a game that no one believes we have a chance in. We've been in position to end it multiple times, against teams like TCU and even just last week against Oklahoma State. We've had opportunities to do so, but it's just something that we're not over that hump yet because we weren't able to finish.
I feel like if we were able to capitalize and do so, people would be talking about us in a different light than they are now, but it just shows that we've got a little further to go. I don't think the gap is as big as our record would indicate.
So how close is it, and what has to happen to get this team over that hump?
TO:
Hopefully, it's just a matter of days. Like I said, it's going to take us winning a game that no one believes we can win and obviously people have us losing to Oklahoma by 1,000 points, so this will be a good opportunity for us to get over that hump and it's going to take everything in our power to do so.
What has coach Weis done to change the attitude of this team and the mindset going into the season?
TO:
Well, you know he doesn't have a magic wand. He's still searching for the right way to change the attitude of every player. It's worked on a majority, but it takes everybody and you've got to have everyone with a winning attitude and guys trying to learn how to win, and not waiting for bad things to happen because that's what they're used to. You've got to get past it and be ready to step up and make the plays, rather than the guys sitting back and waiting for somebody else to do it.
October, 4, 2012
10/04/12
9:00
AM ET
The rebooting process at Kansas has come with a few bumps and bruises already. It's included a couple blown fourth-quarter leads and a 1-3 start under Charlie Weis after winning just five games and one Big 12 game in two seasons under Turner Gill.
It's been far from all bad, though. Defensive coordinator Dave Campo has the Jayhawks -- the nation's worst defense a year ago in both yardage and points -- looking a whole lot better.
"There's a lot more urgency on the field. There's a lot more hunger, and of course we have a couple better players in different positions, but guys have just honed in on their responsibility," safety
Bradley McDougald
said. "Guys are still making mistakes and doing things wrong, but we're playing at a much higher level than last year."
[+] Enlarge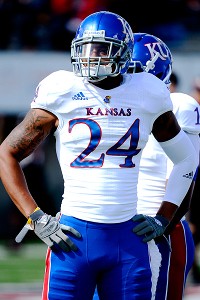 Mike DiNovo/US PRESSWIREKansas has found a playmaker on defense in safety Bradley McDougald.
Kansas has ascended from 120th in scoring defense to 54th, but the biggest change has been a ballhawking defense tied for fifth nationally with 13 forced turnovers a year after forcing just 18 for the season.
McDougald has helped produce a handful of them, ranking second in the Big 12 with two interceptions and second with a pair of forced fumbles.
"Bradley is one of the few guys on defense that you can count on to make plays," Weis said. "He's one of those athletic types that wants to come up to the line of scrimmage and make plays, but he's also made some in the secondary and in pass coverage, as far as pass breakups and a couple interceptions, so he's kind of been invaluable to our group."
The former wide receiver caught 33 passes for 318 yards as a true freshman in 2009 before moving to safety under Turner Gill and staying there once Weis arrived, retaining his starting spot.
"I wasn't really sure what to think, because athletically, from the day I saw him, he looked special," Weis said. "But when I watched on tape, I didn't see that same verified thing from what I saw in person."
So far this season, that's all changed.
"He's certainly backed up what I've seen since I've been here," Weis said. "He looks like a heck of a player."
McDougald leads the team with 34 tackles (27 solo). He's got three tackles for loss and has broken up a pass, too.
"I feel like I'm playing well, but like Coach has said, on film, I think I've left a couple plays out there," McDougald said. "Each week I just want to focus in on a different area of my game and improve it slowly but surely and by the time we get to the last couple games, just play as flawless as I can."
Said Weis: "He's playing with a lot more confidence and he's not afraid to pull the trigger, both going after a ball and going up to the line of scrimmage to make a tackle. You have to be willing to pull the trigger, because if not, you'll end up a little late to the rodeo."
This week, McDougald will take the Jayhawks on the road to face a Kansas State team that's hung 59 points on KU's defense in each of the past two seasons.
"It's of course a rivalry game, and since we no longer have Missouri, this is
the
rivalry game," McDougald said. "Everybody comes to watch rivalry games, and they're times to do something special."
He'll get his chance on Saturday.
October, 1, 2012
10/01/12
9:00
AM ET
Whole lot of fun this past weekend in the Big 12, with three of the four games coming down to the final possession. That's more like it.
Here's how I slot the league after five weeks.
1. Kansas State (4-0, 1-0, last week: 1)
The Wildcats were off, but next week should be interesting. I'd argue Bill Snyder enjoys beating no team more than rival Kansas, and the Sunflower Showdown will be on in Manhattan this weekend.
2. West Virginia (4-0, 1-0, last week: 2)
Geno Smith
broke records and the hearts of Baylor's defensive backs on Saturday, but you have to be concerned a bit about the defense. Smith is out in front of the rest of the Heisman field by about a miles after throwing 20 touchdowns without his first interception. A much tougher Texas secondary and defensive line awaits in Austin this week.
3. Texas (4-0, 1-0, last week: 3)
The Longhorns logged a huge win, but there's nowhere for them to go in these power rankings. WVU has looked pretty great every week, and hasn't allowed any room for the Longhorns to pass. We'll settle this on the field in a mammoth showdown between top-11 teams in Austin this week. Texas has tackling issues and didn't run the ball well until the final quarter at Texas, but can
Jordan Hicks
and
Malcolm Brown
getting healthy change that?
4. Oklahoma (2-1, 0-1, last week: 4)
The Sooners were off this week, but a big test awaits in Lubbock. Oklahoma hasn't won there since 2003 and Texas Tech infamously ended OU's "Chase for 8" title run a year ago -- beginning the Sooners' gradual descent to the Insight Bowl. The Red Raiders, meanwhile, are undefeated and have a lot to prove. The Sooners do too, but this should be a great matchup that perhaps gets overlooked on the national scene with WVU-Texas and Georgia-South Carolina on the slate.
5. TCU (4-0, 1-0, last week: 5)
I'm starting to wonder if TCU is in this spot on reputation alone. There's something to be said for winning despite playing sloppy, but TCU has been really, really sloppy. The rain was a factor, and SMU is a huge rivalry game, but the Frogs managed only 156 yards on offense. At West Virginia or Baylor, they call that a first quarter. The Frogs get a hungry, talented Iowa State team in Fort Worth this week.
6. Baylor (3-1, 0-1, last week: 6)
You're kidding me if you think the Bears deserve to drop for going on the road and losing by seven to a top-10 team. Would any of the three teams below them have done any better? Doubtful at best. It's a tough loss for the Bears, but they're resilient, and dropping out of the top 25 for that seems a little unfair to me. The defense has a lot to work on, and the coverage was awful at times, but you can't ignore the offense. In that environment, it's really hard to score 63 points. I don't really care what the defense does.
7. Texas Tech (4-0, 1-0, last week: 8)
Texas Tech got a huge road win on Saturday night, but let's still have a little perspective: The Red Raiders beat the No. 9 team in the league by 11 points in a game that was probably a touch closer than that. The defense is vastly improved and looked good on Saturday night. How much improved? We'll get a better idea this week when the Red Raiders host Oklahoma. Plenty of upward mobility is possible in both the polls -- Tech debuted at No. 24 in the coaches poll -- but the media remains unconvinced.
8. Oklahoma State (2-2, 0-1, last week: 7)
Oklahoma State's two losses aren't
that
bad really, but two losses is a lot more than zero losses. OSU looks likely to rebound, but for now, you've got to slot them below Texas Tech. The Red Raiders haven't been tested like Oklahoma State has, but though it's unfair to say OSU
failed
its tests, they certainly didn't pass them. The Cowboys didn't have much of a dropoff with
J.W. Walsh
, who might be the league's best backup quarterback. The Cowboys are off this week before traveling to Kansas. Will
Wes Lunt
be back by then? My guess is yes, but OSU will be fine if he's not.
9. Iowa State (3-1, 0-1, last week: 9)
The Cyclones couldn't make it three in a row against Texas Tech, but Iowa State may quietly have a case as the Big 12's best defense. We'll find out if that's the case as the season goes along, but they slowed a healthy, productive Tech offense in a big way. TCU this week in Fort Worth presents a different challenge, but Iowa State will have a chance to impress against a top-15 team it's definitely capable of beating.
10. Kansas (1-3, 0-1, last week: 10)
KU was off this week, but the Jayhawks get back in action with a trip to Manhattan against K-State. The Wildcats have lit up the Jayhawks for 59 points in blowout wins in each of the past two seasons. How much better is Dave Campo's defense? This week will be a good measuring stick.
January, 13, 2012
1/13/12
2:15
PM ET
Kansas
has hired
Dallas Cowboys
secondary coach Dave Campo as its defensive coordinator,
coach Charlie Weis announced on Friday.

Campo, who was the Cowboys' coach from 2000-02, will also coach defensive backs.
He coached in college for 18 years before joining the Cowboys on Jimmy Johnson's staff in 1989. He's been in the NFL since, including brief stints with the
Cleveland Browns
and
Jacksonville Jaguars
before returning to the Cowboys in 2008.
Campo has three Super Bowl rings, and won a national title with Miami back in 1987, but struggled as a head coach. He went 15-33 in three seasons. Dallas ranked 23rd in the NFL in pass defense this season.
It's an interesting hire, if only because it's another very recognizable name. Weis and Campo share the distinction of flaming out at high profile jobs. Weis did so at Notre Dame. Campo did so at arguably the highest-profile coaching job in football.
They've both found new homes at a place that is anything but high profile.
Will they find renewal? Time will tell.
Either way, people will be watching.