NCF Nation:

Dave Huxtable
September, 22, 2013
Sep 22
10:00
AM ET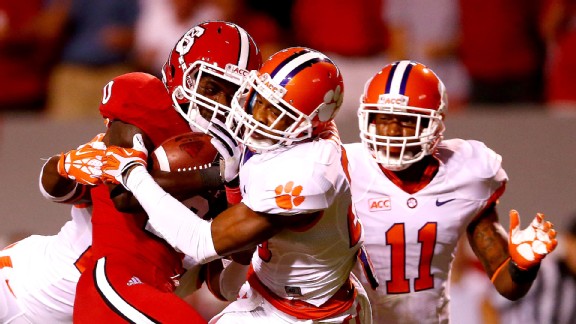 Streeter Lecka/Getty ImagesThanks to a solid defensive effort Thursday from the likes of Garry Peters, No. 3 Clemson was able to remain undefeated despite not playing its "A" game.
What did we learn in the ACC in Week 4? Glad you asked.

1. Clemson is not perfect:
The way Clemson won on Thursday night at NC State will not win the Tigers any beauty contests. They were sluggish on offense for most of the game, and nobody could quite figure out why afterward. Was it the long layoff between games against FBS teams? Was it more a product of NC State harassing
Tajh Boyd
? Were they playing too tight and not relaxed? Clemson finally got a few drives going in the second half (thanks to a call that
may or may not have been botched
) but the offense still needs some work. The defense, meanwhile, has made huge strides. Coaches thought this front seven could be good, and it was strong against the Wolfpack. But what stood out most of all was the way Clemson was able to overcome its mediocre play and win. That might not have happened two years ago.

2. Georgia Tech is in good shape:
Say this for the Yellow Jackets, they came into the season relatively under the radar but have played themselves into the Coastal conversation after a 2-0 start in division play. It is the second time under Paul Johnson that Georgia Tech has started Coastal play 2-0 (it also happened in 2011), but just the third time in the past 15 years it has won its first two league games. Georgia Tech has now won six straight regular-season ACC games dating back to last season, tied for the second-longest league winning streak in school history. Without question, this is the toughest stretch of the season for the Jackets, and if they can keep this up, they will be in the driver's seat to get back to the ACC title game. Next up is a Virginia Tech team that needed three overtimes to beat Marshall on short rest Thursday in Atlanta. Given the way the Hokies looked on Saturday, there is a decent chance Georgia Tech and Miami will be undefeated when the two teams play in Miami on Oct. 5. But it's too early to look ahead. To beat Virginia Tech, the Jackets are going to need a lot more consistency on offense than they got in their win over North Carolina.

3. Virginia Tech D is not perfect:
The Hokies went into the game with the No. 2 ranked defense in the entire nation, but they did not play that way in the first half against Marshall, giving up 21 points and 205 yards while staring at a deficit. Virginia Tech had a much harder time slowing down the hurry-up offense Marshall runs. I called this group the "hands down best defense" in the ACC but that title appears to be up for grabs right now. Virginia Tech did regain its composure in the second half and allowed just 156 yards the rest of the way, with two interceptions and a fumble recovery. But this was the most uneven performance out of this group this year. You have to wonder how much the struggles of the offense are going to start taking its toll on the defense.

4. The ACC could have another Top 25 team:
When the polls are released later today, the big question is whether Georgia Tech or Maryland (maybe both?) will be ranked for the first time this season. The ACC has five unbeaten teams to this point, a great accomplishment for a league that has struggled to change its national reputation. Maryland (4-0) completely embarrassed West Virginia in all facets, winning 37-0 while holding the Mountaineers to six first downs and 175 yards of total offense. Maryland has not beaten anybody with a winning record yet (Week 1 opponent FIU just lost 72-0 to Louisville), so its undefeated start is not wildly unexpected. Still, it is quite an achievement for a program that has won six total games over the past two seasons.


5. Pittsburgh and Duke could use some defensive help:
Both teams went into the season with high expectations for their respective groups. Pitt had a veteran group returning; Duke believed it had made strides from a unit that crumbled in the second half of 2012. Neither one showed much progress in a 58-55 Pitt win. The early results we saw from the Duke defense have been put into perspective now that the Blue Devils have played better teams in Georgia Tech and Pitt. The Blue Devils had a hard time getting off blocks Saturday, Blue Devils coach David Cutcliffe said. To make matters worse, linebacker
Kelby Brown
got hurt. Pitt is a team that clearly misses defensive coordinator Dave Huxtable. That was made more apparent after watching his game plan to slow down Boyd and Clemson in his new job as NC State defensive coordinator. Pitt has given up 123 points in three games. If it can get a defense to pair with what looks like a solid offense, watch out.
May, 10, 2013
May 10
4:00
PM ET
NC State defensive coordinator Dave Huxtable is in his first season with the Wolfpack and coach Dave Doeren, and he is also coaching the linebackers. His resume also includes stops at Pittsburgh, Wisconsin, North Carolina and Georgia Tech. I caught up with Huxtable recently to get his take on the transition going on in Raleigh. Here are the highlights of our conversation:
How was the spring for you?
Dave Huxtable:
It was a good spring. Being new, the coaching staff and players getting familiar and getting to know us, there were some positives, and getting to know each other and installing the defense, and learning the terminology and schemes, I thought the guys did a good job of it this spring. We're nowhere near where we want to be yet, but we got a lot of good work done.
[+] Enlarge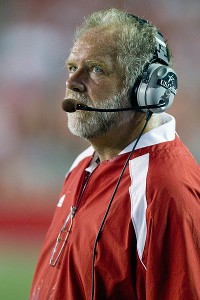 AP Photo/David StlukaNew NC State defensive coordinator Dave Huxtable likes what he's seen from his new players this spring.
How much of the playbook did you guys actually install?
DH:
We installed the base defense, did not really throw a whole lot at them, but that's the foundation of what we're going to do, and as we get into fall camp we'll have some new installation we'll ask them to learn, things we'll pull out of our bag of tools for the season.
I know you coach the linebackers as well, how did those guys look?
DH:
I think I saw some improvement at the end of the spring. Again, we have a lot of work left to do at that position, but I really enjoy the guys I'm coaching there. They're great character guys, they've got a great attitude, they're hard workers and good learners, and there's some talent there.
What's your biggest concern heading into summer camp? Maybe priority is a better word -- for what you want to get done by the opener.
DH:
I think there's some depth at some positions. I think our safety position is a concern with depth there, as is our defensive end position. And then, again, I think we finished strong in the spring and I'm looking forward to our guys having a great summer. I know our strength coaches are going to do a great job with them in the offseason here, and I know our guys will work hard and they'll come to camp ready and prepared. Just for us to pick up with the momentum we had at the end of spring.
How much of a whirlwind was it for you when the guys first went out there with the new staff?
DH:
Those first couple of days it was more, 'Hey you, over there!' They have their jersey numbers on, but we got a chance to know a lot of them and get familiar with the names and faces in the offseason program, but every once in a while you say, 'Hey 49, get over here!' But it was fun, and really a neat group of guys here on this football team. I think guys who really want to be coached and be coached hard. Football is important to them and winning is important to them.
What positions still have the biggest ongoing competitions?
DH:
I think at every linebacker position there's great competition going on. A lot of new guys at those positions that were not starters last year. I think there were two starters that left last year that were gone. At the linebacker spot there's a lot of competition. I would say the defensive end position. There's good competition at both of those spots.
Who are some of the guys who are in the mix for both of those spots?
DH:
At defensive end,
[Darryl] Cato-Bishop
and
Mike Rose
are competing. At the linebacker position, at mike,
M.J. [Salahuddin]
and
Zach [Gentry]
and
Robert Caldwell
came on strong at the end of spring, as did
Ryan Cheek
. At that mike linebacker position there's a lot of good competition there.
Brandon Pittman
has been a guy who played a lot here, he's fast and really finished the last couple of weeks of the spring strong. But you know, so did
Drew Davis
, a young linebacker who was very productive in our last two scrimmages. Competition is a good thing, it's going to make us all better.
Are you running a completely different style of defense?
DH:
We're a base 4-3 defense, which they have been in the past. They probably blitzed a little bit more than what we will do. Then again, the terminology is totally different. What they call apples we call oranges, so there is a terminology to learn for the players.
How have things been going with the staff?
DH:
Coach Doeren has been tremendous, just the way he's handled the staff and the players. His organization, his detail to everything he does has just been outstanding. What a neat staff, a good group of guys who are all very passionate about football and recruiting and understand the business. It's been really neat kind of being a new guy and getting to know all of the coaches. It's been a fun experience, and I really enjoy working with them.
How did what you saw on the field this spring compare with what you might have seen on film of NC State?
DH:
The players, we spent a lot of time on fundamentals and technique and not a huge amount of instillation. More just trying to be pros at our position and really sharpening the tools and fundamentals and techniques of the players. I think we've made some good ground on that from what we had seen on film. They were well-coached, and it's making our job a little easier because the former staff did a great job with them. Now we just have to get them doing the things we're going to ask them to do. We have a ways to go in that area, but with our spring practice we got some good work done.
February, 13, 2013
Feb 13
9:00
AM ET
Syracuse has
officially made the move
into the ACC football blog. Now it's Pitt's turn. The Panthers will become full members of the ACC on July 1, joining the Coastal Division with former Big East partners Miami and Virginia Tech. As far as we're concerned, here in the blogosphere, the move has been made.
Andrea Adelson and Heather Dinich are here to welcome Pittsburgh into the ACC blog. C'mon in, there's plenty of room.
Heather Dinich:
Andrea, one of the biggest surprises of the 2012 season was Pitt's 35-17 win against Virginia Tech on Sept. 15. It wasn't just that Virginia Tech lost, it was how Pitt won -- convincingly, by manhandling the Hokies up front on both sides of the ball. Few, if any, saw that coming, as Virginia Tech was outworked and outmuscled by a team that had lost its first two games of the season, including to Youngstown State. How concerned should the rest of the Coastal Division be about the 2013 Panthers?
[+] Enlarge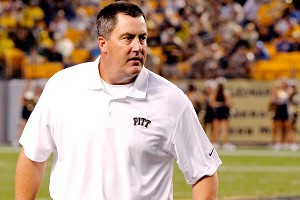 AP Photo/Keith SrakocicPittsburgh needs head coach Paul Chryst to stabilize a staff that has endured turnover in recent seasons.
Andrea Adelson:
Heather, that was a great shock to us all, because up to that point, Pitt had not proven to be very good up front. In fact, the Panthers struggled for much of the season to gain consistency on their offensive and defensive lines. That win was one of their most complete of the season, topped only by their 27-6 win against No. 18 Rutgers later in the year. I am on the record as saying I believe Pitt will have an
opportunity to contend
for the Coastal Division. First, quarterback play should be improved dramatically, with either former Freshman All-American
Tom Savage
or four-star recruit
Chad Voytik
at the helm. Second, the Panthers have a solid running back in
Rushel Shell
and an unheralded receiver in
Devin Street
. And third, the Panthers return nine starters on defense, including All-Big East tackle
Aaron Donald
. I also think this team will be better in Year 2 under Paul Chryst. It's actually the first time since 2009 and '10 that the Panthers have had the same head coach in back-to-back seasons.
Having said that, there are a few concerns. First and foremost is playing consistently week in and week out. Those who follow me on the Big East blog know I referred to this team as "Good Pitt/Bad Pitt" all season because of the Jekyll and Hyde performances. Pitt followed a lose two, win two pattern all season. Chryst needs to find a way to get his team to play at the same level every single week. Second, the offensive line has to be better, because it has been pretty bad the past several years. Pitt won't be able to play the way Chryst wants to play on offense if the line doesn't improve. And third, Pitt is searching for yet another defensive coordinator since Dave Huxtable has gone to NC State. So that's my take. What will Pitt find in the Coastal this year?
HD:
A much-improved Virginia Tech team. A Miami team ready to play for the league title (if it's eligible, of course). An eligible North Carolina team ready to contend for the Coastal Division title in the second season under Larry Fedora. A Georgia Tech team that returns the bulk of its playmakers and should get upgrades at quarterback (
Vad Lee
) and defensive coordinator (Ted Roof). Duke will have something to prove, as it has had some significant staff changes, including the departure of senior quarterback
Sean Renfree
and record-setting senior receiver
Conner Vernon
. Virginia had a staff overhaul, but coach Mike London should be feeling some heat to get back to a bowl.

Overall, the Coastal Division should be much, much better than it was last year. Heck, it can't get much worse, as the Hokies had their worst season in 20 years, two teams were ineligible, and Georgia Tech needed a waiver just to play in a bowl game. The Coastal Division is more balanced than the Atlantic Division, and Pitt will fit right in, adding to that parity. I'm looking forward to seeing Pitt-Miami and Pitt-Virginia Tech on a more regular basis. Miami has yet to play for the ACC title since joining the league, while Virginia Tech has owned it. Make no mistake -- last season was an anomaly in Blacksburg. What will it take for Pitt to follow the Hokies' path in the ACC?
AA:
Great question, Heather. No. 1 on the list has to be coaching stability. The Pitt program has been set back because of the missteps over the past three years with head coaches. Most everybody believes Chryst is a solid football coach, but he is going to need time to get this program where he wants it. And he has exceptional resources to get the job done, with state-of-the-art facilities and extremely fertile recruiting ground in the Pennsylvania area. Pitt does not have to go far to find some of the most talented players in the nation. They finished
just outside the top 40
on signing day last week. They can sell their ties to the Steelers, playing in an NFL stadium, and their incredible history, filled with national championships and Hall of Famers. Now, you could come back and say, "Well, Miami has all that, and more, and the Canes have failed to dominate the ACC as predicted." Very true. But you also make my point for me. Miami's weakness has been at the head-coaching position, as well, with Larry Coker and Randy Shannon unable to continue the success Miami had in the Big East. Al Golden now has the Canes in position to be the favorites in the Coastal.
Virginia Tech? Well, Virginia Tech has had Frank Beamer, the picture of coaching stability. After Wisconsin lost coach Bret Bielema, many wondered whether athletic director Barry Alvarez would approach Chryst, a long-time Wisconsin assistant and Wisconsin graduate. But Chryst let it be known he did not have any intention of leaving Pitt after a year on the job. He is committed to the Panthers. Now the administration has to show its commitment by giving him time to build. If he's as good as many think he can be, Pitt will be fine.
December, 17, 2012
12/17/12
11:10
AM ET
Pitt defensive coordinator Dave Huxtable has left to become defensive coordinator at NC State, after only one year with the Panthers.

Huxtable joined Pitt with coach Paul Chryst, and saw his group play much better in the second half of the season as it transitioned back to a 4-3 defense. Pitt ranked No. 16 in the nation in total defense this season, and Aaron Donald thrived as a defensive tackle, ranking No. 6 in the nation in tackles for loss en route to another All-Big East season.

There is no word yet on who will coordinate the Pitt defense for the BBVA Compass Bowl.

"We appreciate Hux's contributions to our program this year and wish him the best in his new opportunity," Chryst said in a statement.
July, 2, 2012
7/02/12
4:00
PM ET
Summertime is also a huge recruiting time. There have been big headlines out of several Big East schools, but there is one program that has given some fans cause for concern.
Here is a recent note I got into the mailbag.

Pitt-fanatic in Pittsburgh writes:
Andrea, Great job with everything that has been going on. There is no shortage of material for a Big East blogger these days. There is much speculation and concern about the future. However, my biggest concern is not related to the conference and strikes a little closer to home. Before the hiring of Coach (Paul) Chryst, the biggest question surrounding him was his recruiting skills. Question answered as the Pitt staff are getting their tails whipped and losing recruits that in the past have typically been shoe-ins. There is no doubt the man can coach, which addresses a huge need -- Pitt has had good talent and poor coaching in recent years. Is it him or Pitt?
And what is the possibility that Tom Bradley could join the staff next year? I know Pitt does not want anything to do with a coach tied up in the Penn State situation, but I have not heard his name mentioned in any of it. He was also present at Pitt's spring practices and said to have developed a good relationship with Coach Chryst. He has established himself as one of the best recruiters in the game and could be a valuable asset. As always, thank you for answering our questions.
-- Discouraged Pitt Fan
It is true that Chryst was not known as the strongest recruiter during his time at Wisconsin. But as with most every coaching transition, it might take some time to establish your footing in the area. As Jerry DiPaola wrote last week in the Pittsburgh Tribune-Review, the number of five-star prospects in the Western Pennsylvania area
has dropped as well
.
Since ESPN has a terrific staff that can answer your questions, I turned to Jared Shanker of
ESPN Recruiting Nation
to help expound upon what is going on with Pitt. Shanker said:
"Pitt's class is far from spectacular, and I can understand the frustration as top Western Pennsylvania targets like
Dorian Johnson
and Pat Kugler are going elsewhere, and Pitt isn't exactly in great shape to land other area four-star prospects such as
Robert Foster
,
Tyler Boyd
and
Delton Williams
. However, it is Chryst's first recruiting class, so I wouldn't be too hard on him yet. If the results turn around on the field, then it will help Chryst and the new staff get a stronger foothold on keeping Western Pa. recruits in the area.
"As for Bradley, not sure where he would fit on the staff. Dave Huxtable came with Chryst from Wisconsin, and (Bradley) might not be interested in being just a position coach. He is beloved in Western Pennsylvania, though."
Keep in mind that Pitt does have commitments from four-star running back
Corey Clement
, and highly regard quarterback Tra'Von Chapman, two areas of need for this team.
As for Bradley, I agree with Shanker. It took lot for Huxtable to leave his spot at Wisconsin. And if I am Pitt, I want absolutely nothing to do with anybody tied to Penn State. Bradley is a good coach, but I wonder if he is worth hiring anywhere given the enormity of the scandal in State College.
January, 20, 2012
1/20/12
11:00
AM ET
Bret Bielema made a rapid rise up the college coaching ladder.
Big Ten position coach at 26 ... Big 12 co-defensive coordinator at 32 ... Big Ten defensive coordinator at 34 ... Big Ten head coach at 36.
[+] Enlarge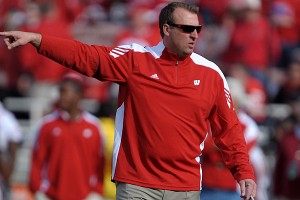 Kirby Lee/Image of Sport/US PresswireWisconsin coach Bret Bielema says he isn't upset after losing 11 assistants in the past three seasons.
Bielema's ambition helped put him on the fast track. And when he's hiring assistant coaches at Wisconsin, he wants to see the same qualities.
"When you talk to a coach, if he doesn't want to advance in this profession, we probably won't talk very long," Bielema told ESPN.com on Thursday. "I want guys that want to be coordinators, or guys that are coordinators who want to be head coaches. If they don't want to sit at the front of the room, we're probably dealing with the wrong type of coach. I want guys who want to advance."
Bielema has had plenty of assistants advance in recent years.
He lost two after the 2009 season, one of whom, Randall McCray, went from position coach to coordinator. He lost three after the 2010 season: defensive coordinator Dave Doeren became head coach at Northern Illinois, while running backs coach John Settle and nickel backs coach Greg Jackson both departed for posts in the NFL.
Wisconsin has lost six assistants in recent weeks, a number that has raised eyebrows in college football circles. The team is coming off of back-to-back Big Ten titles and back-to-back Rose Bowl appearances. Bielema's job is very secure. While one assistant (Paul Chryst) left for a head-coaching job and two others (Bob Bostad, Dave Huxtable) went from position coaches to coordinators, the exodus has left some wondering whether there's something wrong at Wisconsin.
Bielema views things differently.
"It's really not that unusual," he said. "It's unusual at a program that has as much success as we've had, where we're able to keep that continuity of winning in place. I take it as a compliment to what we've been able to do. All those coaches are moving on. Two of them didn't get coordinator jobs, but everybody else got coordinator jobs or titles that made it significantly better for them where they were going.
"To me, it's a tremendous challenge that I love, I embrace and I have a lot of fun with it."
Bielema has filled two vacancies with offensive coordinator Matt Canada and wide receivers coach Zach Azzanni. After an extensive interview process for the coordinator job, Bielema went with Canada, in large part because Canada has called plays in different systems (spread, pro style) and can adapt.
"I interviewed a lot of coaches of different levels: NFL, college, big college, small college," he said. "I'm not a résumé guy. I want a football coach. And as this thing gets moving forward, I kept coming back to him. I just think he's going to be a great fit for what we're going to blend together at Wisconsin. I'm going to hire four new offensive coaches that are going to come from different areas of the country and come together and play the style of football we like at Wisconsin."
Wisconsin's staff will be two-thirds new in 2012, but Bielema won't be surprised if he's doing more hiring a year from now.
"I have every year," he said. "Usually the NFL takes two, took two from me last year. It's just one of those things, the beauty of the beast here at Wisconsin."
January, 19, 2012
1/19/12
1:00
PM ET
When Wisconsin offensive coordinator
Matt Canada met with reporters Wednesday
, he didn't mask his excitement about his new gig.
"This isn't recruiting talk," Canada told reporters. "This is a place -- you can call my best friends, you can call anybody you want -- I wanted to be."
[+] Enlarge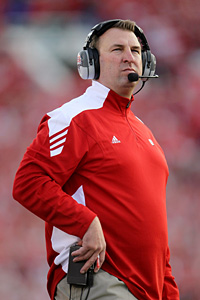 Jeff Gross/Getty ImagesWisconsin coach Bret Bielema will try to win a third straight Big Ten title in 2012 with a new-look coaching staff.
That's good news for the Badgers, especially since some are questioning how appealing it is to work for Wisconsin right now.
DeMontie Cross on Thursday became the sixth assistant coach from Bret Bielema's staff to leave Wisconsin in the past few weeks. Cross, who spent the 2011 season as Wisconsin's safeties coach/special teams coordinator, is leaving to coach linebackers on Charlie Weis' staff at Kansas.
What should we make of all the coaching departures from Madison?
When viewed individually, most if not all the departures make sense. Offensive coordinator Paul Chryst left for a head-coaching job (Pitt). Offensive line coach Bob Bostad and linebackers coach Dave Huxtable left to become coordinators for Chryst. Tight ends coach Joe Rudolph became Chryst's assistant head coach and returns to his native Pennsylvania. Wide receivers coach DelVaughn Alexander made a lateral move to Arizona State, but he's a Los Angeles native who spent much of his career on the West Coast.
Cross is leaving to coach a position (linebacker) he oversaw from 2007-10 with the NFL's Buffalo Bills. He's a St. Louis native who played at Missouri, so he'll be closer to home at KU. He also has been a bit of a job-hopper lately, spending a few weeks on Purdue's staff last winter before taking the Wisconsin job.
So you can make good cases why each coach left Wisconsin. But the entirety of it -- six coaches leaving a team that has won back-to-back Big Ten titles and reached back-to-back Rose Bowls -- is highly unusual.
Usually when six coaches are departing a staff in the same year, the head coach is part of the group. Bielema, meanwhile, is extremely secure in Madison, having built Wisconsin into a new Big Ten power.
Assistants typically want stability (i.e. Penn State) and would rather remain with a proven winner.
Bielema has hired two offensive assistants (Canada and receivers coach Zach Azzanni) and reportedly has found Huxtable's replacement (Nevada's Andy Buh). He now needs to add three more assistants to his 2012 staff.
Although coaches like to see their assistants succeed elsewhere, they also value continuity, which usually translates into success. Penn State and Iowa have had few changes until this year, and Mark Dantonio has kept his staff together for the most part at Michigan State.
Bielema might just be unlucky to lose so many assistants at once, but so much staff turnover often has consequences, at least in the short term. As Bielema continues to interview assistants, he needs to look for guys who can coach, who can recruit and who want to be in Madison for a little while.
January, 7, 2012
1/07/12
10:23
AM ET
New Pitt coach Paul Chryst announced the hiring of six assistant coaches Saturday, including three from Wisconsin -- Bob Bostad as offensive coordinator, Dave Huxtable as defensive coordinator and Joe Rudolph, who will serve as assistant head coach and quarterbacks coach.
Here is a brief profile on each:

Bostad spent the past six years at Wisconsin as offensive line coach. The past two years, Bostad coached four first team All-Americans on Wisconsin's offensive front (center Pete Konz and guard Kevin Zeitler in 2011, and tackle Gabe Carimi and guard John Moffit in 2010). The Badgers rushed for more than 3,000 yards each of the past two seasons en route to a pair of Big Ten titles.
Huxtable spent this past season coaching linebackers at Wisconsin, where he produced a pair of first-team All-Big Ten performers in Chris Borland and Mike Taylor. Before joining the Badgers, Huxtable spent seven seasons at UCF (2004-10), including the final three as defensive coordinator.
Rudolph, a graduate of Belle Vernon Area High School, returns to Western Pennsylvania after coaching the tight ends at Wisconsin the past four seasons. He also served as Wisconsin's recruiting coordinator. As a coach at Wisconsin, he oversaw the development of three NFL draft picks at tight end.
Chris Haering will serve as linebackers coach. He joins Pitt from nearby Mt. Lebanon High School, where he served as head football coach the past 17 years (1995-2011) and compiled a 111-71 record. Under Haering's direction, Mt. Lebanon won the 2000 WPIAL Class AAAA championship and advanced to the playoffs 13 times.
Jim Hueber will serve as tight ends coach. He has nearly four decades of coaching experience on both the collegiate and professional levels. Hueber most recently served five seasons with the Minnesota Vikings (2006-10) working with the offensive line. He spent 33 years coaching college football, including an exceptional tenure under Barry Alvarez at Wisconsin (1992-2005), where he helped the Badgers evolve into a national power.
Todd Rice will be strength and conditioning coach after spending the past five years as director of strength and conditioning for the NC State football team. Before his time with the Wolfpack, Rice served five years in the same capacity at Boston College.
January, 6, 2012
1/06/12
11:30
AM ET
After getting some good news Thursday on star running back
Montee Ball
, Wisconsin's personnel exodus is continuing.
Badgers star center Peter Konz will forgo his senior season and enter the NFL draft, the
Wisconsin State Journal
and
Milwaukee Journal Sentinel
are reporting. Wisconsin has yet to make a formal announcement, but it looks like Konz is gone, giving the Badgers three starting offensive linemen to replace.
Although Konz missed three games this season because of a dislocated ankle, he earned second-team All-America honors. ESPN's Mel Kiper Jr. ranks Konz as the nation's top junior center, and a source tells the State Journal that Konz "was rated very high" by the NFL draft advisory board. Konz started 31 games for the Badgers.
Wisconsin also could be losing yet another assistant, as Joe Rudolph reportedly is interviewing at Pitt today. Not sure why Rudolph would need to interview with his good friend Paul Chryst, the Panthers' new head coach and the former Badgers offensive coordinator. Rudolph recently was moved from tight ends coach to offensive line coach, but he might be angling for a position with a coordinator title in it.
The Badgers already have lost four assistants: Chryst, Bob Bostad, Dave Huxtable and DelVaughn Alexander. Bostad and Huxtable both are joining Chryst at Pitt, reportedly in coordinator roles.
Rudolph would be a significant loss for Wisconsin on the recruiting trail. He's one of the Big Ten's best recruiters and has helped Wisconsin upgrade its recruiting profile in Florida and other regions. Although coach Bret Bielema might want to hire a different offensive coordinator, he should try to hang onto Rudolph.
What a wild week in Madison.
January, 5, 2012
1/05/12
8:22
AM ET
Bret Bielema
tweeted early this morning
that he's headed out on the recruiting trail looking for players.
He's also looking for assistant coaches.
Wisconsin lost two assistant coaches Wednesday -- wide receivers coach DelVaughn Alexander and linebackers coach Dave Huxtable -- bringing the total number of departures to four. Huxtable will join former Badgers aides Paul Chryst and Bob Bostad in Pittsburgh as the Panthers' defensive coordinator. Chryst is Pitt's new head coach, while Bostad will serve as his offensive coordinator. Alexander is joining Arizona State's staff.
Bielema initially thought Bostad would be the only assistant joining Chryst at Pitt. It appears as though Huxtable will be the last departure.
It's quite a lot of turnover for Bielema, who has had to replace assistants here and there during his tenure but never four staff members at once. Huxtable was a terrific hire last year, as he left a coordinator post at Central Florida to tutor the Badgers' linebackers. Alexander had success with receivers Nick Toon and Jared Abbrederis this season.
It will be interesting to see where Bielema turns. Oklahoma's Jay Norvell, a former Wisconsin assistant, has been reported as a
candidate for the offensive coordinator spot
.
While Wisconsin is losing assistants, it could regain a huge piece soon as running back Montee Ball, the Big Ten's offensive player of the year, reportedly
will announce he's staying in school
for his senior season. Most figured Ball would bolt, so this would be a very nice surprise.
Ball would be one of the leading candidates for the Heisman Trophy this fall after finishing as a finalist in 2011.
January, 4, 2012
1/04/12
5:10
PM ET
The Todd Graham domino effect is continuing to have an impact on Wisconsin.

Graham bolted Pittsburgh for Arizona State, leading to Badgers offensive coordinator Todd Chryst getting the Pitt job. Chryst also brought offensive line coach Bob Bostad with him to the Steel City.
Wednesday, the school confirmed receivers coach DelVaughn Alexander is going to Arizona State to work for Graham. Alexander spent the past five years as an assistant in Madison. This season, both
Nick Toon
and former walk-on
Jared Abbrederis
had excellent years under his tutelage.
That may not be all the departures, either.
The Wisconsin State Journal reports
that linebackers coach Dave Huxtable appears headed to Pitt to join Chryst. Huxtable said before the Rose Bowl that he was definitely staying with the Badgers. He reportedly could become defensive coordinator for Chryst. Huxtable did good work with the linebackers, as both Mike Taylor and Chris Borland were All-Big Ten performers.
Huxtable and Alexander no longer appear on the roster of coaches on Wisconsin's official football Website.
The Wisconsin State Journal is also reporting that Oklahoma co-offensive coordinator Jay Norvell is a candidate to replace Chryst as the Badgers' playcaller. Norvell is a Madison native who coached at Wisconsin from 1990-94.
January, 19, 2011
1/19/11
1:30
PM ET
UCF took a big hit when defensive coordinator Dave Huxtable decided to leave to become linebackers coach at Wisconsin. In his three seasons as coordinator in Orlando, the Knights had one of the best defenses in Conference USA and one of the best run defenses in the country.

Here are some stats to prove it.

2008: Ranked first in Conference USA in three categories -- rushing defense, pass efficiency defense and tackles for loss. UCF recorded 8.62 tackles for loss per game, which ranked third in the country. The Knights were second in the league in total defense (333.75 yards).

2009: Led C-USA in total, scoring and rushing defense along with sacks and tackles for loss. The rush defense ranked No. 4 in the nation, allowing 82.77 yards a game, and ranking behind Texas, Alabama and TCU.

2010: Led C-USA in scoring defense, rushing defense and total defense, along with pass efficiency defense and sacks. The rush defense ranked No. 8 in the country (108.36).

Anybody who watched UCF's 10-6 win over Georgia in the AutoZone Liberty Bowl knows what a great job Huxtable has done at UCF. He got my unsung hero award in the instant analysis off the game after the Knights held the Bulldogs to single-digits in scoring. Georgia went into the game having scored 30 points in seven straight games.

He also had a big impact on his players, helping mold Bruce Miller into the two-time C-USA Defensive Player of the Year. Defensive tackle Torrell Troup was a second-round pick of the Buffalo Bills in 2010.
December, 31, 2010
12/31/10
6:53
PM ET
UCF beat Georgia
10-6
in the AutoZone Liberty Bowl on Friday afternoon. Here is a quick instant analysis:


How the game was won:
UCF had to overcome plenty of adversity. UCF had a kickoff return for a touchdown to open the game taken off the board because of a penalty. Freshman quarterback
Jeff Godfrey
hurt his ankle early in the game and was gimpy for the rest of it. He threw two early interceptions, and receivers dropped plenty of balls. UCF also lost linebacker Derrick Hallman to an ankle injury and running back
Ronnie Weaver
to a shoulder injury. But the UCF defense kept the Knights in the game, with two interceptions off Georgia quarterback
Aaron Murray
and a fierce pass rush -- what you come to expect from the top defense in Conference USA. The UCF offense was finally able to put a touchdown on the board in the fourth quarter. After that, the UCF offense went conservative, and gave the ball back to Georgia with 2:20 to go. The Bulldogs drove down the field, thanks to two fourth-down conversions. But Bruce Miller had a huge sack, forcing Georgia into a Hail Mary situation with no time on the clock. UCF batted it down in the end zone for its first bowl win in school history.
Turning point:
UCF finally took advantage of a long drive in the fourth quarter, going 11 plays for 65 yards to take a 10-6 lead with 9:01 to play.
Latavius Murray
scored on the 10-yard run, but the biggest key on that drive was a 10-yard third-down completion from Godfrey to
Brian Watters
. That conversion gave the Knights a first-and-goal at the 10 and set up the winning touchdown.
Stat of the game:
6. Georgia tied its season-low point total.
Player of the game:
Murray was able to run through some holes in the Georgia defense and also had the longest play of the day, an 18-yard run, in addition to the game-winning touchdown. He finished with 18 carries for 104 yards, his second 100-yard game of the season.
Unsung hero of the game:
UCF defensive coordinator Dave Huxtable. His game plan slowed down a Georgia offense that had scored 30-plus points in seven straight games. Georgia had no running lanes, and the UCF defense was relentless on Murray. Not only that, UCF completely took away the big play from the Bulldogs.
A.J. Green
may have led the team with eight receptions for 77 yards, but his longest reception of the day was only 18 yards.
What it means:
UCF not only won its first bowl game in four appearances, the Knights also won 11 games for the first time in school history and got their third ever victory over an FBS opponent. No question this has been the best season in school history, with the school's first Top 25 ranking and another Conference USA championship. Now the big question is whether UCF can use this as the next step to elevate its program. There has always been talk that UCF is a sleeping giant, and now finally UCF can proclaim it has something over the other FBS teams in the state -- more wins than they do. UCF cannot waste this season's success.
TOP 25 SCOREBOARD
Saturday, 12/21
Monday, 12/23
Tuesday, 12/24
Thursday, 12/26
Friday, 12/27
Saturday, 12/28
Monday, 12/30
Tuesday, 12/31
Wednesday, 1/1
Thursday, 1/2
Friday, 1/3
Saturday, 1/4
Sunday, 1/5
Monday, 1/6