March, 15, 2013
3/15/13
12:00
PM ET
You might have noticed a theme this week. We kicked off the "
Biggest Shoes
" series and had two polls (
North
and
South
) on replacing departed players. So that means it's now time for your Pac-12 bloggers to weigh in on which two players we believe leave the biggest holes. Given our penchant for quarterbacks, you might find our two choices surprising. Read on.
Ted Miller:
I do not know what size 6-foot-3, 320-pound Utah defensive tackle
Star Lotulelei
's shoes are, but I'd bet they are among the biggest in the Pac-12 -- in more ways than one.
The thing about replacing a dominant interior defensive lineman is that it's difficult to measure what you're losing. An All-America receiver or running back or even cornerback leaves, and you feel fairly comfortable quantifying what is lost and must be replaced. Lotulelei, however, was more than the sum of his stats -- 42 tackles, 10 tackles for a loss, five sacks, four fumble recoveries, three forced fumbles and a very important blocked kick.
Lotulelei changed what an offense could do. He changed blocking schemes. He demanded specific attention from an offensive coordinator and a line coach. He made sure the interior of the opposing offensive line -- even if the offense was winning the overall battle -- wanted to ask for its check.
He was a unique presence. An anomaly. A college center could start 48 games in his career and face a guy like him just once. That's why Lotulelei will be a first-round NFL draft pick, even with a heart condition. He could get picked in the top five if a team deems him healthy.
But his shoes are even bigger because Utah, after a disappointing defensive campaign in 2012, is replacing three of four defensive linemen. Moreover, the Utes were unhappy with their linebacker play last fall, even with all the protection Lotulelei provided. Opposing offensive lines, unencumbered by the need to double-team Lotulelei every play, will get a lot more hats on those linebackers in 2013. Not what coach Kyle Whittingham wants.
[+] Enlarge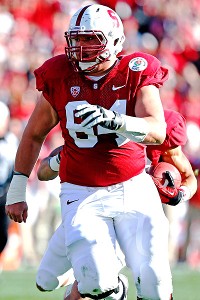 Charles Baus/CSMCenter Sam Schwartzstein was a huge piece of Stanford's recent offensive success.
The cupboard isn't empty. The Utes are high on
Tenny Palepoi
, a 305-pound senior who played well as the backup to defensive tackle
Dave Kruger
last season. And there are other big bodies:
LT Tuipulotu
, Stevie Tu'ikolovatu, a 320-pound redshirt freshman, and
Viliseni Fauonuku
will be in the mix.
Yet the Utes defensive coaches won't even pretend one of those guys will fill Lotulelei's shoes. They are just too big.
Kevin Gemmell:
This is a tough one. I've been going through a bunch of players all week long trying to come to a conclusion on which one I wanted to write about (and Lotulelei was already taken). All of them are important --
Matt Barkley
,
Khaled Holmes
,
Robert Woods
,
Jordan Poyer
,
Travis Long
,
Markus Wheaton
,
Brandon Magee
,
Desmond Trufant
,
Stepfan Taylor
,
Johnathan Franklin
,
Zach Ertz
,
Dion Jordan
and … (insert name I unintentionally omitted and now you feel wildly offended).
There really is no wrong answer here. Each player is a major contributor to his team in his own way. But the one name that kept coming back to me is Stanford center
Sam Schwartzstein
. I know, not as exciting as
Kenjon Barner
or glamorous as
Matt Scott
. But in terms of sheer contributions to the team that will be tough to replace, Schwartzstein has to be in the conversation.
In 2011, he was regarded as having the second-best football mind on the team -- behind only Andrew Luck. And he didn't lose any of that in 2012.
After the quarterback, there is no more important position on Stanford's offense than the center. He makes all of the scheme and protection calls at the line of scrimmage. He even calls plays in the huddle when the Cardinal go into the Wildcat.
Schwartzstein started every game since taking over for All-American Chase Beeler, and twice he blocked for a 1,000-yard rusher in Taylor. The Cardinal played 14 games in 2012 and allowed just 20 sacks. In the 12-game regular season, they had allowed a conference-best 17. The year before that? Just 11 in 13 games. I know for a fact that there were zero quarterback-center exchange fumbles in 2011. And none comes to mind in 2012.
Khalil Wilkes
, who started almost every game last year at left guard (one start at left tackle) moves over to compete with
Conor McFadden
for the gig. Maybe the transition from Schwartzstein to one of those guys will go as smoothly as the handoff from Beeler to Schwartzstein. After all, the new center will have one bona-fide All-American at his side and potentially a couple more on the line.
But they won't be the ones making the calls. That falls on the center -- and Schwartzstein was outstanding at it. He was second-team all-conference and honored with the school's leadership award. Not Taylor, not Ertz. Not
Shayne Skov
nor
Ryan Hewitt
nor the aforementioned All-American
David Yankey
. The center … the most crucial position in Stanford's offense that you never hear about.
Tough shoes to fill, indeed.
February, 23, 2012
2/23/12
10:00
AM ET
Pac-12 spring preview: South Division
Spring practice is almost here. Here's a snapshot at what to expect from the Pac-12 South in the coming weeks.

ARIZONA
Spring practice starts
: March 4
Spring game
: April 14
What to watch
:
Hello, my name is ... Like the other two teams in the South Division with new head coaches (Arizona State and UCLA) much of Arizona's first few weeks will be Rich Rodriguez evaluating his personnel and getting to know what he has to work with. Likewise, the players are going to have to figure out what this new coaching staff is about. Everything from how they do pre-practice stretches to how they call the cadence is going to change.
New scheme and a new scheme: A spread option on offense and a 3-3-5 on defense. That's a lot of new material to digest on both sides of the ball. Until Rodriguez can recruit the players he likes into his scheme, he's going to have to make it work with the players he has. Fortunately on the defensive side of the ball, Arizona has good depth in the secondary with Cortez Johnson, Marquis Flowers, Shaquille Richardson, Jourdon Grandon and Tra'Mayne Bondurant. The Wildcats should also get a boost with the return of injured players Jake Fischer (LB), Jonathan McKnight (CB) and Adam Hall (S).
Perfect fit? Former starter Matt Scott, who was beaten out by Nick Folesin 2009, is expected to reprise his starting role under Rodriguez. He redshirted the 2011 season and -- magically -- Foles never got hurt last year despite taking 23 sacks and countless hits. Scott is considered the more versatile quarterback and should fit nicely into the new run-based spread attack.

ARIZONA STATE
Spring practice starts
: March 13
Spring game
: April 21
What to watch
:
QB competition: We know what kind of offense new coach Todd Graham is going to run; now it's a matter of figuring out who is going to run it. Graham has his choice of three players -- Mike Bercovici, Taylor Kelly or Michael Eubank -- to replace NFL-bound Brock Osweiler. Graham said earlier this month that there are no favorites heading into the competition and each one brings his own skill set to the table. Eubank has the size (6-foot-5, 235 pounds), Bercovici (6-1, 205) is a mechanic and Kelly (6-1, 202) is a little bit of everything.
Get the locker room: By the end of the 2011 season, ASU's locker room wasn't just divided, it was completely splintered. Graham's task -- and that of his new coaching staff -- is to pick up the pieces, mend internal fences and find some chemistry on both sides of the ball. Linebacker Brandon Magee, long considered a great locker room leader, should help get the Sun Devils back on track as he returns from a season-ending Achilles injury.
Hands competition: The Sun Devils lose three of their top four wide receivers from last season -- Gerell Robinson, Aaron Pflugrad and Mike Willie. Jamal Miles returns after finishing second on the team last season with 60 catches and six touchdowns. Rashad Ross figures to be the No. 2 guy, but establishing depth in that corps -- especially if Graham wants to be up-tempo -- is key.

COLORADO
Spring practice starts
: March 10
Spring game
: April 14
What to watch:
Momentum, maybe? For as rough as 2011 was for the Buffs, they ended the year on a high note, winning two-of-three down the stretch -- including a 17-14 win over Utah in the season finale. But there is also the possibility that things might get worse before they get better. With just four returning starters on offense, spring in Boulder will likely be more about teaching and less about refining.
Where to start (offense)? Well, quarterback might be a good place. In the court of public opinion, Connor Wood, a transfer from Texas, seems to be the favorite. Nick Hirschman appeared in five games last season, mostly in mop-up time when the game was already out of hand. It's also possible a starter could be named by the end of spring ball. Finding offensive weapons to surround the new quarterback will also be a challenge. Wide receiver Paul Richardson caught 39 balls last season, and running back Tony Jones showed a flare for catching the ball out of the backfield. He'll likely step in as the new workhorse back for the departed Rodney Stewart.
Where to start (defense)? Last in this. Last in that. Last in almost every team statistic the Pac-12 has to offer. But there are some intriguing youngsters on the roster. Cornerback Greg Henderson was all-conference honorable mention as a freshman with a team-high nine passes broken up. Jered Bell also returns from injury after blowing out a knee last preseason. If healthy, he's expected to be a big contributor in the secondary. Linebacker Jon Majorreturns as the team's leading tackler, and if Doug Rippy is fully recovered from his knee injury, he'll look to build on what was a pretty good season last year before getting hurt.

UCLA
Spring practice starts
: April 3
Spring game
: May 5
What to watch
:
QB up for grabs: Like the majority of the conference, UCLA enters spring with a quarterback competition. New offensive coordinator Noel Mazzone said he doesn't care how much experience (or lack thereof) a player has -- if he can play, he wins the job. So don't be surprised if Brett Hundley passes Kevin Prince and Richard Brehautas the new man leading the Bruins. Fans have been clamoring for a change. Hundley might be it.
Attitude adjustment: One of the first things new head coach Jim Mora did was slam the team for its tradition of going "over the wall," a time-honored senior ditch day, saying if they want to jump the wall, they should just keep on going. How's that for sending a message? UCLA has earned a reputation for being soft and underachieving despite good talent. Attitude and toughness is needed -- and so far, Mora appears to be hammering that point home.
Speaking of toughness ... The defense has to get tougher. No two ways about it. It was weak against the run last season, allowing more than 190 yards per game on the ground; couldn't get to the quarterback; and couldn't get off the field almost 50 percent of the time on third down. It's time for potential all-conference players such as defensive end Datone Jones to start living up to the hype and the defense as a whole to stop getting pushed up and down the field. At 6-5, 275 pounds, Jones has the physical makeup to be a major force in the conference and catapult himself into the elite class of collegiate defensive players.

USC
Spring practice starts
: March 6
Spring game
: April 14
What to watch
:
Ignore the hype: Few teams ended last season hotter than USC and returning quarterback Matt Barkley. The Heisman talk has already started, the way-too-early rankings already have the Trojans as national championship contenders, and the public perception is that the offense is unstoppable. Nice to hear, but hype is a double-edged sword. Head coach Lane Kiffin has a knack for deflecting hype. This season will be his toughest test to date.
Insurance? The Trojans are loaded on both sides of the ball with returning players. But after the starting 22, things start to get dicey. Developing depth and keeping the starters healthy is a top priority -- particularly on the offensive and defensive lines and at running back, where experience is thin outside of the starters. The entire back seven returns on defense -- headlined by hard-hitting safety T.J. McDonald. Stopping the pass has been a major priority for Kiffin, and if this group stays healthy it should see the pass-efficiency numbers improve even more.
Other options: Along those same lines, wide receivers Robert Woods and Marqise Lee make up the most feared receiving duo in the conference -- maybe the country. But who are the Nos. 3 and 4 receivers behind them? George Farmer? Victor Blackwell? De'Von Flournoy? Don't overlook the tight end duo of Xavier Grimble and Randall Telfer, which should rival Stanford's Zach Ertz and Levine Toilolo as the best tight end tandem in the conference.

UTAH
Spring practice starts
: March 20
Spring game
: April 21
What to watch
:
Youthful approach: Head coach Kyle Whittingham turned some heads by naming former Utah quarterback Brian Johnson as his offensive coordinator. Johnson, who recently turned 25, said he's not looking to make wholesale changes to the offense, though he wants to put his stamp on it and continue to build around running back John White IV, who had a breakout season in his first year of major college football. Having quarterback Jordan Wynn back healthy should also help as the team transitions to Johnson running the offense.
Fixing the line: Who is going to protect Wynn (if he does indeed win back the starting job) and make holes for White? That's a major concern heading into spring as the Utes have to replace a pair of all-conference linemen in Tony Bergstrom and John Cullen. The Utes should be set at the interior but have to adjust to a new position coach, with Tim Davis leaving for Florida after just one season and Dan Finn -- a former Utah graduate assistant who was brought on to help Davis -- taking over the whole line following a one-year stint at San Diego State.
Work the experience: The defensive line should be one of the best in the conference, especially with the return of Star Lotulelei, who won the Morris Trophy last season as the conference's best defensive lineman. With the Kruger brothers returning to the line -- Joe at defensive end and Dave at tackle -- Derrick Shelby is the lone starter who has to be replaced. There's also some pretty good depth in the secondary that was tops in the conference last season in pass-efficiency defense.
July, 11, 2011
7/11/11
10:25
AM ET
No team in the Pac-12 wows you at defensive tackle. No team is a sure thing. There is a lot of "maybe" at the position. And probably some maybe not.
The uncertainty of quality -- both in terms of returning stars and depth -- made this a difficult position to rank. For example, Washington has a nice foursome at tackle, led by Alameda Ta'amu, who might be the best tackle in the conference.
That's great. Good for the Huskies. But they ranked 97th in the country in run defense last year. You sort of pause over that, you know?
So a lot of this ranking is feel thing, a projection of potential. And "great shape" here is relative to the conference. Nebraska, for example, wouldn't exchange its tackles -- Jared Crick and Baker Steinkuhler -- for any Pac-12 tandem.
Some of this figures to inspire a bit of debate.
Great shape
USC
: This may be in some part based on fumes from the Trojans reputation at the position. It definitely includes a vote of faith that they will get a 100 percent Christian Tupou back from the knee injury that killed his 2010 season. If so, the threesome of Tupou, George Uko and DaJohn Harris is strong. And if you toss in Armond Armstead -- who missed spring with an undisclosed medical condition that threatens his career -- you'd have a clear No. 1.
Washington
: Ta'amu seemed to find himself during the second half of last year, and the 330-pounder could end up getting some All-American consideration if he consistently plays like he did against Nebraska in the Holiday Bowl. Sione Potoa'e and Semisi Tokolahi are both experienced, and Lawrence Lagafuaina a space-grabbing, 344-pound redshirt freshman.
Colorado
: The Buffaloes are sneaky good here, even though they only ranked 48th in the nation in run defense in 2010. Both starters, Will Pericak and Curtis Cunningham, are back, but Conrad Obi was a revelation this spring. He looked like a future NFL draft choice, not a player who'd mostly been a bust. Nate Bonsu, who missed spring with a knee injury, also should help.
Good shape
Utah
: The Utes, who ranked 11th in the nation in run defense in 2010, lost Sealver Siliga, but they believe they have a budding star in, er, Star Lotulelei, while James Aiono, LT Tuipulotu and Joape Peta are solid. Also, Dave Kruger, who played end this spring, is 280 pounds and can play inside.
Arizona
: The loss of backup Willie Mobley to a knee injury hurts depth, but Justin Washington figures to take a step forward after an impressive true freshman season, Sione Tuihalamaka started four games in 2010. Depth is a question. The Wildcats ranked 33rd in the nation in run defense last fall.
Oregon
: On the one hand, Oregon lost both starting defensive tackles in Brandon Bair and Zac Clark from a unit that ranked 27th in the nation in run defense. On the other, they played so many guys last fall, the new starters are experienced players. Further, Ricky Heimuli, Taylor Hart, Wade Keliikipi, Isaac Remington and Jared Ebert played well enough this spring to suggest the position will be a strength in the fall.
Arizona State
: If Lawrence Guy didn't make his ill-fated decision to enter the NFL draft, the Sun Devils, who were 16th in the nation against the run last fall, would be in great shape here. As it was, Will Sutton had a great spring and looks like a potential All-Conference guy. Grinder Bo Moos is listed as the starter at the other tackle, though he could be eclipsed by Corey Adams. Toa Tuitea saw limited action last year.
UCLA
: The Bruins defensive line was terrible last year, ranking 108th in the nation against the run, but the talent is there for a significant turnaround. Cassius Marsh, Nate Chandler, Justin Edison, Donovan Carter and Seali'i Epenesa should do a much better job plugging the middle.
California
: Cal is actually fine here, despite the loss of NG Derrick Hill. For one, when you run a 3-4 defense, it's hard to rate your DTs, even if your DEs often operate like them. The Bears have two solid options at NG in Aaron Tipoti and Kendrick Payne, and it's also possible that touted 350-pound incoming freshman Viliami Moala will eclipse both of them.
We'll see
Oregon State
: Dominic Glover moves inside from end and Kevin Frahm has experience, but this unit didn't play well last year -- 89th in run defense -- even with one of the best DTs in the nation in Stephen Paea. 340-pound Castro Masaniai could help but he missed spring after shoulder surgery and has off-field issues. There's also Mana Tuivailala and Ben Motter.
Stanford
: Like Cal, Stanford runs a 3-4, so it naturally it is going to suffer a bit in DT rankings. More important: The loss of Sione Fua is significant. Terrence Stephens and Henry Anderson had solid springs but neither has much experience.
Washington State
: Brandon Rankin, a returning starter, was listed No. 2 on the depth chart behind Anthony Laurenzi after spring practices, with redshirt freshman Toni Pole No. 1 at the other tackle. Justin Clayton, Steven Hoffart and Xavier Cooper provide depth. It's not unreasonable for Cougars fans to expect improvement, perhaps significant improvement. But a team that ranked 115th in the nation in run defense the previous season is automatically a "We'll see" here.
May, 6, 2010
5/06/10
6:00
AM ET
2009 overall record:
10-3
2009 conference record:
6-2

Returning starters
Offense:
8, Defense: 4, Punter/Kicker: 2
Top returners
RB
Eddie Wide
, RB
Matt Asiata
, WR
Jereme Brooks
, OL Zane Taylor, OL Caleb Schlauderaff, QB
Jordan Wynn
, DB Brandon Burton, DT Sealver Siliga, K Joe Phillips, P Sean Sellwood
Key losses
OL Zane Beadles, DB Robert Johnson, DL Koa Misi, LB Stevenson Sylvester, WR David Reed, DB R.J. Stanford, LB Mike Wright
2009 statistical leaders (* denotes returners)
Rushing:
*Eddie Wide (1,069 yards)
Passing:
*Jordan Wynn (1,329 yards), *
Terrance Cain
(1,624 yards)
Receiving:
David Reed (1,188 yards)
Tackles:
Stevenson Sylvester (81)
Sacks:
*Christian Cox (5.5)
Interceptions:
Robert Johnson (6)
Spring answers
1. Reloading at receiver:
The Utes lost three of their starting four receivers from last year, but Brooks returns as the leader and the Utes got quality performances out of former quarterback
DeVonte Christopher
and newcomer
Griffin McNabb
. Coach Kyle Whittingham said he's still looking for depth at the receiver position, but he likes the direction the receivers are headed.
2. Defensive line looks deep
: There was some concern about the defensive line heading into this spring, but Sealver Siliga, Dave Kruger, Neil A'asa, James Aiono, Junior Tui'one and Latu Heimuli seemed to have solidified a line that will be the strongest area of the defense this fall. The Utes also got unexpected help from defensive end Trevor Reilly, who could be a factor in the fall.
3. Replacing Robert:
Brandon Burton returns at the cornerback position and Lamar Chapman, who started at the nickelback position last year, will start on the other side, replacing Robert Johnson. Conroy Black will be another asset at cornerback, as well. All three players are among the fastest on the team.
Fall questions
1. Linebackers lacking experience:
The Utes lost all of their stellar linebackers from a year ago and took a big hit when Nai Fotu suffered a season-ending knee injury. J.J. Williams had a good spring and former quarterback Chad Mannis likely will be in the starting rotation. Chaz Walker and Matt Martinez got some much-needed reps with Fotu out. There's some good depth at linebacker, but the experience is lacking.
2. Safeties are still a concern:
Senior Justin Taplin-Ross was the only safety on the roster with game experience. He had a good spring and was supposed to be joined by Chris Washington, who missed the 2009 season with an injury. But Washington was injured during the spring and missed the final weeks of spring practice, leaving the safety position up for grabs.
3. Still looking for a returner:
Shaky Smithson
should be the top returner once he's fully recovered from offseason surgery, but during the spring, players such as Brandon Burton and Griffin McNabb took a shot at returns. The Utes were in the middle of the pack in the Mountain West in both kick and punt returns and are hoping to improve on that number in 2010.