March, 7, 2011
3/07/11
11:00
AM ET
My hamstrings hate me. My shoulders are not my biggest fans right now, either.

For most of the past 72 hours, they and other body parts have been growling at me, wondering what in the world I was thinking when I decided on an ambitious (read: foolish) project: to try and go through the same offseason conditioning workout as the Cincinnati Bearcats players.

Now, I consider myself to be in fairly decent shape. You know, for a thirtysomething sportswriter. I'm in training for my third half-marathon in as many years and occasionally pick up some weights at the gym, of course ignoring just about everything except my chest and biceps "muscles." But years of free press-box food has taken its toll. And overall, my level of athleticism would make a long-snapper laugh.

Still, I wanted to get some idea of what college football players go through in their so-called offseason and offer you a firsthand account. Cincinnati head strength coach Dave Lawson and assistant Mike Szerszen were kind enough to guide me through the same workout circuit that I witnessed the Bearcats go through earlier last Thursday morning.

When I say the same workout, I mean the same exercises -- minus almost all the weight that the players used, minus many of the reps they took and minus the speed in which they completed each routine. Certain concessions were made to avoid the first Big East blogger death in the line of duty.

As I struggled through most of the exercises, unable to finish a couple of them, I gained a new respect for what college football players can handle. And I earned a few new enemies in my hamstrings and my shoulders.

See it for yourself in this video:


March, 7, 2011
3/07/11
9:00
AM ET
CINCINNATI -- Dave Lawson gathered the Cincinnati defensive players together at the end of their hour-long conditioning session Thursday morning. He announced he had one final exercise for them.
The players nervously looked on, dreading the possibility of more squats or chin-ups or some other devilish torture their head strength coach had devised. What they got instead was a drinking game.
Lawson assembled a group team leaders to compete in a nutrition-drink chugging contest. As shouts of encouragements and taunts filled the Bearcats' weight room, 300-pound lineman John Hughes emerged victorious with a seven-second cleanup of his Gatorade can.
"You've got to do some things to make it fun," Lawson said afterward, "because this is hard work."
This time of year might as well be called the dog days of winter for Cincinnati players. Spring practice remains three weeks away. Their 2010 season is (thankfully) a distant memory, and the 2011 campaign still seems miles away. All that's going on is the drudgery of twice-a-week morning weight-lifting sessions and agility drills in which no footballs can be present because of NCAA rules.
[+] Enlarge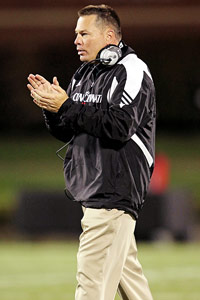 Andy Lyons/Getty Images"We pride ourselves on playing hard for six seconds and giving three great efforts," Cincinnati coach Butch Jones said. "So what we do in the weight room has to match what we do on the field."
There's no time to loaf, though. Not when the team is looking to atone for last season's disappointing 4-8 record. And not the way Lawson runs his workouts. Like the Gatorade-guzzling game that ended Thursday's hour, these sessions are defined by their speed.
When you picture football players lifting weights, you might think of beefy guys hoisting as much steel on their backs as they can, then resting to catch their breath or check out their muscles in the mirror. But Lawson's workout barely pauses. Players dash from circuit to circuit in a hurry, interrupted only by the sounds of Lawson blowing his whistle or barking out new assigned sets. "Controlled chaos" is how offensive lineman Alex Hoffman describes it.
This chaos serves a purpose. Cincinnati operates a no-huddle offense under head coach Butch Jones, who wants to play a tempo as fast as anybody in the country. To that end, signs around the Bearcats' football facility read "6-3." The six represents the number of seconds in the average play in football. The three is for first, second and third down.
"We pride ourselves on playing hard for six seconds and giving three great efforts," Jones said. "So what we do in the weight room has to match what we do on the field."
Lawson, who followed Jones from Central Michigan to Cincinnati, has tailored his program according to the team's style of play and the evolution of the sport. Gone are the massive 350-pound offensive linemen he used to train as an assistant strength coach under Don Nehlen at West Virginia. In are players who can sprint to the line of scrimmage over and over again while being in good enough shape to maintain their mental focus. Old-school strength methods like squats and dead lifts remain. But it also means heavy concentration on core muscles and flexibility.
"The spread system has really changed the way we condition," he said. "Everybody talks about sport-specific [programs]; we're training an energy-system specific in the weight room. People think conditioning is just running but ... instead of going out and pounding our legs with gassers after practice, we can get it in here with our lifting. I think that separates what we do from other places."
Players work out by position groups and are given 75 to 90 seconds to complete each circuit, which is designed to work the entire body and decrease injury risk. Most exercises include about six seconds of lifting or stretching, followed by about 20 to 30 seconds of recovery time, just like a football play. The defense and offense work out separately but follow the same routines, since the defense must play at the same pace as the no-huddle offenses it faces.
"It's all quick stuff, and we get a lot of reps, just like in our offense," Hoffman said. "It translates to what we do on the field."
The Bearcats approached their winter workouts with a renewed sense of urgency. They missed a bowl last season after winning two straight Big East titles, including a 12-0 regular season in 2009. Lawson said there was some natural resistance to a new way of doing things last winter when Jones replaced highly-successful coach Brian Kelly.
Cincinnati also did almost no agility or football-specific drills from January to March last year, because the program lacked a place to do it when bad weather made it impossible to go outside. The team's conditioning level fell behind as a result. This winter, the Bearcats have used their new bubble at the Jefferson Avenue Sports Complex, and Jones said the difference in player development is immeasurable.
Though the team struggled on the field last year, Lawson has made believers of his work in the weight room. Owing to a lack of depth in 2010, several Bearcats logged extraordinary minutes; defensive tackle Derek Wolfe, for example, played an average of about 85 plays per game while not missing a game.
"Derek Wolfe played the equivalent of two seasons last year," Jones said. "He would tell you exactly what [Lawson's] program has meant to him."
Lawson also snaps frequent before-and-after photos to show players how far they've come. Offensive lineman Andre Cureton has gone from 364 pounds last year to 301 now. Receiver
Kenbrell Thompkins
came in at a soft 182 pounds last summer as a junior-college transfer and is now a solid 195.
Will this offseason program help Cincinnati win more games in 2011? That question won't be answered until the fall. Meanwhile, the players are hoping this winter conditioning goes like that sports-drink contest: fast and fulfilling at the same time.
June, 23, 2010
6/23/10
10:02
AM ET
Strength coaches have become some of the most valuable men in a college football program, often spending more time with the players than any other coach on staff.
So who are the guys who condition the players in the Big East and supervise them in the offseason? Let's take a look:

Cincinnati:
Dave Lawson
came aboard with Butch Jones' new staff in January after spending three years with Jones at Central Michigan. Before that, Lawson oversaw the strength and conditioning programs for all of Eastern Michigan's sports teams. He was an assistant strength coach at West Virginia.

Connecticut:
Jerry Martin
oversees workout activities for all of UConn's varsity teams and works closely with the football team. He has spent the past 20 years at the school. He played for Syracuse in the 1980s, where he was a teammate of Huskies coach Randy Edsall.

Louisville:
Pat Moorer
is in his first year with the Cardinals, joining Charlie Strong's new staff. Moorer spent the previous seven seasons as the strength and conditioning coach for South Carolina. Before that, he was the strength coach at Illinois and Florida. He crossed paths with Strong at both Florida and South Carolina. Moorer was also once the personal trainer for NFL rushing champion Emmitt Smith.

Pittsburgh:
Buddy Morris
is in his third different stint as the Panthers' strength coach. Dave Wannstedt hired him back in December 2006. Before that, Morris was the school's strength coach from 1980-89 and 1997-2001. He also graduated from the school and served as the Cleveland Browns' strength coach under Butch Davis.

Rutgers:
Jay Butler
holds the title of assistant athletic director for strength and conditioning. He is entering his 10th year of overseeing the Scarlet Knights' football team, spending all of Greg Schiano's tenure in that role. Butler designed the 15,000-square foot strength and conditioning facility in the team's Hale Center complex.

South Florida:
Ron McKeefery
stayed on board for the Bulls during the transition from Jim Leavitt to Skip Holtz. He's entering his 11th season at South Florida and has worked for the Kansas City Royals, Tampa Bay Buccaneers and an NFL Europe team. He was an all-conference performer in both football and track at Ottawa (Kan.) University.

Syracuse:
William Hicks'
official title is assistant athletic director for athletic performance, and he's been at Syracuse since 2000. Before that, he coordinated the conditioning program for NC State, where he was named ACC strength coach of the year in 1999.

West Virginia:
Mike Joseph
is in his second year as the Mountaineers' strength coach, coming to Morgantown after five years as an assistant at Notre Dame. He earned his master's degree from West Virginia and served as a graduate assistant there. He was a three-year captain on the Fairmont State football team, earning conference player of the year honors in 1996.