NCF Nation:

Dave Rimington
July, 1, 2011
7/01/11
10:00
AM ET
When Dave Rimington and Boomer Esiason are out raising funds for the Boomer Esiason Foundation, they encounter plenty of people who want to talk football.
Not surprisingly, Esiason gets most of the attention.
"A lot of people who love football gravitate toward the quarterback," Rimington said.
Rimington understands. He's a center, after all. The best center in college football history, but still a center.
But there's one place Rimington and Esiason visit where their roles reverse -- Nebraska.
"When I go back with Boomer, he laughs and goes, 'They don't even know who I am here! They know more about a center than they do a quarterback,'" Rimington said.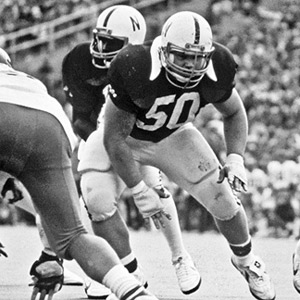 Nebraska Athletic DepartmentDave Rimington is still the only two-time Outland Trophy winner and the only offensive lineman to win Big Eight Player of the Year.
Rimington provided Nebraskans plenty of reasons never to forget him.
The Omaha native is one of the most decorated players in Huskers history. A two-time first-team All-American, Rimington anchored a line that propelled Nebraska's famed rushing attack in the early 1980s.
Rimington is still the only two-time Outland Trophy winner and became the first and only offensive lineman to win Big Eight Offensive Player of the Year honors, doing so in 1981. He earned first-team All-Big Eight honors in each of his final three seasons and capped his career with the Lombardi Trophy in 1982, finishing fifth in Heisman Trophy voting that year.
As ESPN.com wraps up its
Simply Saturday
series, a look at 50 college superstars who didn't quite replicate their success in the NFL, Rimington comes in at No. 7 on the rundown.
The former Nebraska star still has ties to football. The
Dave Rimington Trophy
is awarded annually to the nation's top center and presented every January in Omaha. Rimington also has held a summer football camp in Omaha since 1999 and attends two or three Huskers games per year.
But Rimington's primary focus is more important. Since 1995, he has served as president of the Boomer Esiason Foundation, which raises funds to support cystic fibrosis research and heightens awareness about the disease.
Rimington has been with the foundation since its inception and seen it go from generating $60,000 at its first event to now closing in on $100 million raised.
"If you looked at two former football players starting a foundation, it had disaster written all over it," Rimington said. "But Boomer was extremely motivated and I wanted to do as best I could for a friend."
It all began with a phone call.
Rimington had completed his business degree at Wisconsin -- he served as a graduate assistant football coach during his time in Madison -- and was living in Hong Kong with his wife, Lisa. He was studying Mandarin and looking for work when he received a call from Esiason, his close friend former teammate with the Cincinnati Bengals.
Esiason said he had some bad news. His son, Gunnar, had been diagnosed with cystic fibrosis, a genetic disorder that impacts the entire body.
"We were really good friends," said Rimington, who was in Esiason's wedding and visited Gunnar soon after his birth. "He asked me if I'd come back to New York to help him out, and I've been here ever since."
The foundation started with just three employees. They couldn't afford a Web designer, so Rimington learned HTML and Photoshop. He wore "a lot of different hats" in the early going.
Other than the Cystic Fibrosis Foundation, there were few charitable outlets focused on the disease. Rimington and Esiason looked at ways to leverage Esiason's celebrity -- he was playing for the New York Jets at the time -- to their advantage. Rimington's economics background also helped.
The foundation should reach the $100 million mark within the next year.
"If you had told me that when we first started, I would have laughed," Rimington said. "It's worked out pretty well."
Things worked out pretty well for Rimington at Nebraska, where he started three seasons and earned four letters. He helped the Huskers win back-to-back league championships and the 1983 Orange Bowl title.
Rimington thinks another lineman eventually will win multiple Outland Trophies, although he nearly didn't give himself the chance.
"The money is so much bigger now, and it's a lot bigger temptation to leave early," he said. "I almost tried. It got to the point where I won it the first time and I had really bad knees [and thought], 'Well, maybe I should try to jump right now.' I'm so glad I stuck around and played that senior year."
Rimington was a first-round pick of the Bengals in the 1983 draft and made the NFL's All-Rookie team that season. But his five years in Cincinnati didn't go smoothly and
ended with controversy
.
The Bengals released Rimington before the 1988 season after saying he failed a physical exam -- a questionable outcome after Philadelphia cleared Rimington to play immediately. He retired after the 1989 season.
"I went from one of the best organizations in college football to probably one of the worst organizations in the NFL," Rimington said. "I went from a weight room that was half the size of a football field to a weight room that looked like a junior high weight room, and the strength coach didn't want anybody to lift. ... It was ridiculous the stuff we had to go through there. I just had to shake my head. It's like the black hole of professional football.
"Good players go there and you never hear from them again."
Fortunately, that's not the case with Rimington, who is still doing plenty of good things with the Boomer Esiason Foundation.
"It's been a learning experience for me," he said, "and a lot of fun."
May, 17, 2011
5/17/11
11:45
AM ET
It's time to look at another new member of College Football's Hall of Fame ...

Will Shields, G, Nebraska, 1989-92

Nebraska has produced its share of exceptional offensive linemen, and Shields finished his Huskers career as one of the best to ever come through Lincoln. He made history by leaving his home state of Oklahoma for the hated Huskers -- Shields was Nebraska's first scholarship player from the Sooner State -- and flourished for a program defined by its option offense.

Few Huskers offensive linemen see the field as true freshmen, but Shields logged nine games in his first season. He went on to earn all-conference honors in each of his final three years, becoming just the sixth Nebraska lineman to do so.

Shields' college career culminated with a spectacular senior season. He became the fifth Nebraska player to earn the Outland Trophy and was selected a consensus All-American and a semifinalist for the Lombardi Trophy. How good was Shields in 1992? He even received votes for Big Eight Offensive Player of the Year.

In 1990 Shields became the first Nebraska offensive lineman since Dave Rimington to earn first-team all-conference honors. He earned second-team All-America honors the next season, and Nebraska claimed national rushing titles in three of his four seasons at the school.

A third-round pick of the Kansas City Chiefs in 1993, Shields went on to start 231 consecutive games and reach 12 straight Pro Bowls, earning nine All-Pro selections. Nebraska retired his No. 75 jersey in 1994.

A success story both on and off the field, Shields certainly deserves this honor as he becomes the fifth Nebraska offensive lineman elected to the Hall of Fame.
June, 11, 2010
6/11/10
6:22
PM ET
It will take some time to get used to
the Big Red in the Big Ten
.
College football is built on tradition and long-term associations, and Nebraska always has been linked to Colorado, Oklahoma and others from the former Big 8. It'll feel odd to see the Huskers invade the Big House, The Horseshoe, State College and even Iowa City.
That's OK. Change isn't supposed to feel normal.
But give it time and you'll realize that these Huskers are a lot like you.
They love to run the football! They love walk-ons! They don't mind cold weather!
They boast loads of tradition in football -- Nebraska is the fourth winningest program of all time and owns five national titles -- complete with legendary coaches (Bob Devaney, Tom Osborne) and unforgettable players (Mike Rozier, Dave Rimington, Johnny Rodgers), just like your favorite teams. College football is everything to their fans, just like it is in Ohio, Pennsylvania, Michigan and Iowa. Their fans live in the same area of the country and treasure the same values in both football and life as you do. Nebraska is an Association of American Universities member, just like the rest of the Big Ten.
I've never been to a
game in Lincoln
, but I can't wait to see one. You should be fired up, too.
Many folks went into this thinking only Notre Dame and Texas would add great value to the Big Ten. I'd like to direct you to Forbes' list of the most valuable college football teams. Texas and Notre Dame are Nos. 1 and 2, but
Nebraska comes in at No. 4
with a team value of $93 million and a profit of $49 million. Nebraska is ahead of both Ohio State and Michigan in the rundown.
Need more evidence? Nebraska apparently was valuable enough to several Big 12 South schools to determine whether they stay in the league. Although Nebraska chancellor Harvey Perlman said Friday that one school leaving a conference doesn't break the conference (six schools leaving does), all eyes were on the Big Red.
"I [asked Big 12 presidents] 'What if Nebraska stayed and Missouri left?' Perlman said. "The response was that they would stay. I said, 'What happens if Nebraska stays and Colorado leaves,' and the response was they would stay. I said, "What happens if both Missouri and Colorado leave and Nebraska stays?' And they could make no commitment that they would then stay in the Big 12."
So Nebraska matters, people. And it will be a strong addition to the Big Ten.
Just think of the potential rivalries. Farmageddon between Iowa and Nebraska. The Barry Alvarez Invitational between Wisconsin and Nebraska. Put Nebraska against Penn State, Michigan or Ohio State, and TV execs will drool.
I don't like shaping divisions based on geography, but Nebraska certainly strengthens the western edge of the Big Ten. While I'd urge Jim Delany to break up the Ohio State/Michigan/Penn State bloc, a division with Nebraska, Wisconsin and Iowa looks pretty solid.
Notre Dame and Texas would be slam-dunk additions to the Big Ten, but both schools bring different types of baggage with them. Nebraska isn't a prima donna. And the
Huskers really, really like the Big Ten
.
You might shake your head in disbelief when Nebraska plays its first Big Ten Conference game in 2011. But before long, you'll nod and see that this makes too much sense.