May, 24, 2012
5/24/12
2:30
PM ET
COLUMBIA, Mo. -- Gary Pinkel isn't naive. Missouri's coach understands a new recruiting game has to be played now that the Tigers are moving to the SEC.
The states of Missouri and Texas will continue to be recruiting priorities, but stretching out to southeastern states will now become very important.
"That makes sense," Pinkel said about generating more recruiting efforts in southeastern states.
[+] Enlarge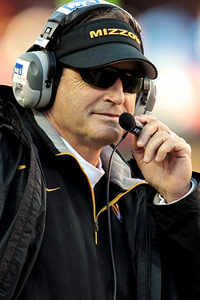 Jamie Squire/Getty ImagesCoach Gary Pinkel says he's confident that Missouri's recent track record will attract recruits from the southeast.
Pinkel said the main areas of importance outside of the Tigers' home state are Dallas and Atlanta. The good thing for Pinkel and his staff is that it's only about an hour longer drive to Atlanta compared to Dallas. It still accounts for 10-plus hours on the road, but if you're going to take the time to head to Dallas, you might as well make it out to the hub of the South.
And for Pinkel, it's well worth it.
"If you look at statistics and analysis of BCS players, they come out of the metroplex around Dallas and then you look at the greater Atlanta area," he said. "The parallels are staggering between those two cities. They produce a lot of athletes."
Currently, Missouri has just six players from SEC states -- three from Florida, two from Arkansas and one from Louisiana. Mizzou increased that number by two after signing two players from Florida in its 2012 class.
Pinkel said things are certainly different when it comes to the 2013 class. There's a lot more marketing in the South from the Tigers. Pinkel said the school is sending "thousands of pieces of information" about Mizzou to southeastern high school coaches and counselors each week. There are also Mizzou billboards in the states of Alabama, Florida, Georgia and Tennessee.
While Mizzou hasn't received any verbal commitments from southeastern prospects in its 2013 class, according to ESPN recruiting services, the coaches have issued scholarships to 19 of those prospects. Expect that number to grow as coaches get out on the road more.
While Pinkel wants to hit Atlanta hard, he doesn't have experience recruiting that area, but has recruited off and on in Florida. Here's a look at the coaches who will be patrolling the southeast:
Safeties coach Alex Grinch: Atlanta area

Running backs coach Brian Jones: Tampa and part of Orlando

Co-offensive line coach Josh Henson: Florida Panhandle, Jacksonville, Fla., and down toward Orlando

Defensive coordinator Dave Steckel: West Dallas

Co-offensive line coach Bruce Walker: East Dallas

Defensive line coach Craig Kullgowski: Houston area

Offensive coordinator David Yost: Missouri and Memphis, Tenn.
Pinkel understands that Mizzou is a foreign program to a lot of southeastern prospects, but slowly he expects that feeling to disappear. He experienced it recruiting the state of Texas as Toledo's coach and when he first arrived at Mizzou, but saw it turn around twice.
Pinkel said his first Mizzou roster had around 10 or 11 players from Texas and now has more than 30. Once southeastern players get to know his program, Pinkel insists Mizzou will be more appealing to recruits in this talent-rich part of the country.
"We've been here before," he said. "We understand it's a process.
"I also think we walk in the door with some credibility -- winning and success and graduating our players. In the last five years or six years -- I'm not sure what it is -- we're the eighth winningest BCS program in the country and we're graduating in the last six years 96 percent of our players. Those are facts."
April, 12, 2012
4/12/12
11:35
AM ET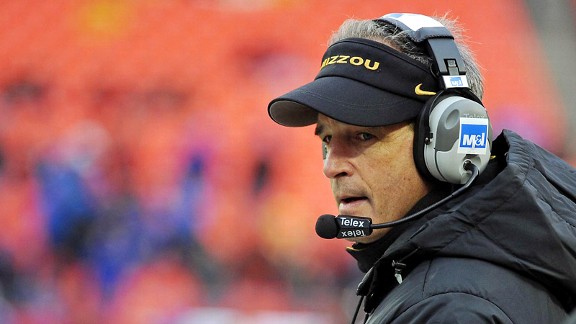 John Rieger/US PresswireMissouri coach Gary Pinkel will bring the nation's ninth-ranked rushing offense to the SEC in 2012.
COLUMBIA, Mo. -- From the moment Missouri was officially welcomed to the SEC, the questions about adjustments began.
Could Missouri's spread offense work in the bigger, badder, faster SEC? Could the Tigers hold up in the nation's best, most physical conference? Could all of this hyperbole about a college football conference get under the skin of a team and staff leaving the Big 12?
Coach Gary Pinkel and those around the program calmly answer each one of those with a simple "Yes."
Pinkel has had to answer questions about change for far too long, and just so everyone is on the same page, he's very confident the football his team has played -- both offensively and defensively -- during his 11 years in Columbia will work in the SEC. To say that there won't be tweaks made to combat the obvious speed and power the SEC is known for would be "inappropriate," Pinkel said. But to suggest that the Tigers should overhaul most of what they do is just as inappropriate.
"We're going to run our offense and we're going to run our defense," Pinkel said. "We're going to do what we do."
What the Tigers did last year was rank first in the Big 12 and ninth nationally in rushing (243.5 yards per game). Missouri was also fifth in the Big 12 in total offense (475.5). In a conference known more for burning out scoreboard lights, the Tigers averaged 32.8 points per game and 30 in league play.
Say what you will about Big 12 defenses, but the Tigers are proud of their numbers and their competition. The SEC will no doubt be tougher, but Pinkel isn't looking to change just because of a new challenge.
Most of the questions concerning change have centered on the offense. Missouri runs as true a spread as anyone. The Tigers love space for receivers and linemen. Rarely is there a tight end attached, shotgun is the primary formation, there is a lot of motion and there will be empty sets.
This is an offense built more on finesse, but offensive coordinator David Yost insists that there is power. New wrinkles were added last year to attach the tight end more and run more I-form. Both will make appearances, along with a little three-back action, if the personnel works out.
[+] Enlarge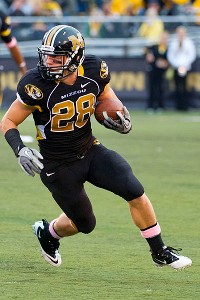 Photo by Scott Rovak/US Presswire T.J. Moe said he's confident that Missouri's spread offense will give the highly regarded SEC defenses reason for concern.
While the Tigers have been asked if they can adapt, Yost wonders if the SEC can adapt. Not a lot of spread has been used in this league, and even Urban Meyer's spread at Florida showed a lot of power plays with physical QB Tim Tebow. Auburn was much more spread out, but Yost said this will be different.
"We will be a spread team and we will try to give people fits in different ways than how other people do it," Yost said.
"There's not a lot of what we do happening in that league right now. It's a change for us going against new people, but it's also a change for them for what they're going to see because we're different and we're different in how we do it."
Wide receiver
T.J. Moe
, who led Missouri with 54 catches for 649 yards and had four touchdowns in 2011, agrees. He understands the SEC is good, but thinks SEC defenses will have to catch on as well.
"Offensively, they have to cater to us because whatever we do they have to try and defend us," Moe said. "They can't put eight in the box when we're spreading it five wide. You just can't do that.
"For us, we're going to do what we do and they're going to have to stop it."
Defensively, the Tigers feel just as confident. This group ranked fourth in the Big 12 in total defense last fall, and defensive coordinator Dave Steckel said he doesn't plan to change much -- physically or schematically -- in the move. In fact, he's been so focused on his own team and recruiting that he hasn't seen much SEC offensive tape at all. When asked about any changes he might think about making, Steckel seemed disinterested in the idea.
"I can't answer that question. I'm too old, man," he said with a laugh. "Football is football. You just play football.
"We've always emphasized since we've been here tough and physical football."
As far as taking on bigger or faster skill players, linebacker
Will Ebner
isn't concerned because he doesn't believe he'll see anything faster than what he saw in the Big 12.
"I don't agree with that," Ebner said about the SEC being a faster conference. "We play against fast guys. The Big 12 is not a bad conference. They've got a lot of skill guys, especially [with] all those spread offenses. Those guys can fly."
The defense's toughness will be constantly judged, but the offense will continue to receive the most attention this fall. Yost said change will be considered week-to-week, and until then, the plan is to make defenses answer to them, not the other way around.
"We try to do as many things as we can that defenses don't like," he said, "and try to put the onus on them to handle us and react to us as opposed to we react to what they do."
February, 7, 2012
2/07/12
3:58
PM ET
We're handing off Missouri from the Big 12 blog to the boys at the SEC blog today, and as part of the proceedings, it's time to get a bit sappy.
Ol' Mizzou, here's what I'll miss about you when you leave for the SEC.
And, if you were curious, here's our past installments of this series:
1. Columbia.
I called the city home for four of the best years of my life and earned a degree that I had so much fun earning it almost felt stolen. That doesn't affect how I cover the team, but I'd be a liar if I said I enjoyed visiting any Big 12 campus more than Mizzou. Sorry, Austin. Whether it's a Booche's burger, a slice of Shakespeare's Pizza or a stop by The Heidelberg, which somehow gets consistently left out of the "Must Go" places in Columbia, I love it. And if you didn't know, now you know, Tigahs.
2. The Border War.
Nebraska and Colorado checking out didn't cost us any big annual rivalries, but this one hurts. The Kansas-Mizzou hate flows 365 days a year, and now, they'll have no chances on the football field or basketball court to give that hate an outlet. It's a shame. Please, please, play this game. I understand Kansas' side of the debate and why it wants to end it. That doesn't make it any less ridiculous.
3. The coaching staff.
This was always a fun group to work with. Offensive coordinator David Yost --
we had some fun with him on Twitter last week
-- will tell it like it is and offer some solid insight, too. He's always good to help folks better understand what's happening on the field, but the Tigers have a great mix of coaches. The fiery nature of defensive coordinator Dave Steckel balances well with the straight-laced Gary Pinkel, who
handled an embarrassing incident this year
with about as much class as you'll ever see, personifying the idea that character isn't mistakes, it's how you react to them.
4. Senior Day at Mizzou.
The Tigers have one of the least-publicized, coolest senior day traditions around. After a player finishes his career on Faurot Field, he runs down, hops the fence surrounding the field and grabs a rock from the Rock M to keep for good.
5. Seeing DGB's career play out.
Top recruits at schools that traditionally don't get them are much more interesting than ones who go to factories like Texas and OU. Dorial Green-Beckham will be a fun, fun player to watch over the course of his career. Unfortunately, I won't get to see it. But, good luck to him in Columbia.
November, 21, 2011
11/21/11
1:00
PM ET
Time to name a few superlatives from across the Big 12 this weekend.
Best offensive player:
Robert Griffin III, QB, Baylor.
Griffin had another legendary performance with 479 yards passing and 72 yards rushing, throwing for four touchdowns. The 479 yards were a school record and Griffin set the single-season record for passing with two games and a bowl game still left on the schedule. For his efforts, he was named the Walter Camp National Player of the Year Award.
Best defensive player
:
Jackson Jeffcoat, DE, Texas
. Jeffcoat had a pair of sacks and made 3.5 tackles for loss with a pass breakup in a 17-13 loss to Kansas State. Never easy to do against K-State, who doesn't throw much and has a quarterback that's always tough to bring down.
Best game:
Baylor 45, Oklahoma 38
. This one went down to the final possession and two second-half comebacks. Lots of points and lots of fun. Polish it off with a field storming, and you've got yourself a classic. The dramatic finish gives the Bears' win an edge of the shocker in Ames.
Honorable mention:
Iowa State 47, Oklahoma State 41 (2 OT)
Best play:
Griffin to Terrance Williams for a game-winning 34-yard touchdown pass
. Griffin drifted to his left after escaping pressure in the pocket, and saw Williams in the back corner of the end zone, one-on-one. He threw across his body for Williams as he was hit, and queued up one of the craziest nights in Baylor history.
Honorable mention:
Dominique Hamilton tipping a game-sealing interception to Michael Sam.
Most immaculate reception:
Griffin to Tevin Reese's hands and head to Kendall Wright for an 87-yard touchdown
. This was a must-see play and one of the craziest we've ever seen. The big play tied the game in the third quarter, too. It was supposed to be a run play, but RG3 checked out and
Terrance Ganaway
went in motion. Wright was following coaches' advice to simply play fast, and the deflected ball ended up hitting him in stride.
Best speech:
Paul Rhoads, Iowa State
. Rhoads
delivered another beauty to his team after it upset Oklahoma State
to reach bowl eligibility. He even included a nod to his original classic, professing his pride in the privilege of being the head Cyclone.
Best halftime show:
Oklahoma and Baylor's bands
. I enjoy a little Party Rock only if it's dusted in irony. But two team bands
combining for a choreographed flash mob?
(OU gets in on the party at about 1:45 mark.) I can get behind that. It got the crowd going, too.
Honorable mention:
Texas A&M's
Block T featuring the entire Corps of Cadets
for the first time since 1956.
Funniest quote:
Michael Sam, DE, Missouri.
After intercepting
Seth Doege
to essentially seal the game, Sam remembered a piece of coaching from his acting head coach, defensive coordinator Dave Steckel. "I could hear his voice in the back of my head saying 'Get your a-- down, Michael Sam,'" he said.
Second-funniest quote:
Sam
. What happened on that game-changing play? "I was trying to hit the s--- out of the quarterback," Sam said. "He threw the ball, and then I just dropped back, and Dominique (Hamilton) batted it up." A banner day for Sam and voice recorders in Columbia on Saturday.
December, 6, 2010
12/06/10
1:01
AM ET
Missouri Tigers (10-2) vs. Iowa Hawkeyes (7-5)
Dec. 28, 10 p.m. ET (ESPN)

Missouri take by Big 12 blogger David Ubben:
Missouri didn't get passed over by the bowl committees this time. After three consecutive years of what the Tigers perceived as bowl snubs -- including the Insight Bowl taking 6-6 Iowa State over the 8-4 Tigers in 2009 -- Missouri got the nod from the folks at the Insight over Big 12 runner-up Nebraska.
That prevented a preview of the new Big Ten, and instead, the Tigers will take on Big Ten opponent Iowa. Missouri ended its season with a win over bordering Kansas, and will continue against its neighbors to the north, the Hawkeyes.
Midway through the season, Missouri looked like it might be making a beeline for the BCS, sitting at 7-1 and favored in its final four games. The Tigers stumbled, following a loss to Nebraska with another at Texas Tech, but rebounded to win its final three games and finish at 10-2 for the program's third 10-win season in four years, bringing the program to its fourth such season ever.
Iowa's
Ricky Stanzi
will provide a tough test for Missouri's much-improved defense, coordinated by Dave Steckel.
---

Iowa take by Big Ten blogger Adam Rittenberg:
Bowl games often offer a chance for redemption, and the Insight Bowl certainly provides that opportunity for Iowa.
The Hawkeyes return to the state of Arizona, where on Sept. 18 they dropped the first of five games in a disappointing 2010 campaign. They also get a chance to send out a strong senior class with a victory after dropping three straight contests to end the regular season. It certainly doesn't hurt that Iowa takes on Missouri, a team the Hawkeyes tried to schedule several years ago before an agreement fell apart.
There's no love lost between Iowa fans and Missouri fans, and while most of Hawkeye Nation was hoping for a bowl matchup against a team from another bordering state, this contest still carries some intrigue. Iowa has won back-to-back bowl games (Orange, Outback) and coach Kirk Ferentz brings a 5-3 record in postseason play to the desert.
Although Iowa's defense must contain Missouri quarterback
Blaine Gabbert
, the bigger concern for the Hawkeyes might be putting up points of their own. Missouri ranks sixth nationally in both fewest points allowed (15.2 ppg) and sacks (3.1 per game), and the Tigers will test an Iowa offensive line that has endured some ups and downs.
Stanzi had Heisman-like numbers through the first two months of the season before struggling in November. Like the rest of his Iowa teammates, Stanzi gets one final chance to get things right.
October, 16, 2010
10/16/10
2:00
PM ET
COLLEGE STATION, Texas -- Texas A&M's offense is sputtering, the defense is getting exposed by a keyed-in
Blaine Gabbert
, and the fans at Kyle Field are restless. Twice in the second quarter, the Aggies threatened to score, but failed both times, punting once and failing to convert a fourth down on another.
Jerrod Johnson
is avoiding what he's often described as "catastrophic" turnovers, but like last week's performance (15-of-40), his inaccuracy has fueled some of the frustration of the Aggies fans in attendance. He's completed just 7-of-21 passes, and missed a pair of open receivers on the final drive by the Aggies that could have moved them into the red zone.
Texas A&M trails,
16-0
, after a big stop inside the 5-yard line late in the second half.
Wes Kemp
was originally given a touchdown, but the play was reviewed and reversed, and a fumbled snap on the following play backed up the Tigers and cost them four points.
Missouri settled for a 21-yard field goal.
Stat of the half:
Sometimes its this simple. Gabbert's completion percentage: 67. Jerrod Johnson's: 33.
Best player in the half:
Gabbert. He completed 22-of-33 passes for 233 yards and a touchdown.
Record performance:
After shutting out Colorado last week, Missouri has a run of six consecutive shutout quarters for the first time since 1967.
What Texas A&M needs to do:
Johnson is having another rough day, but the Aggies still have two of the best backs in the Big 12,
Christine Michael
and
Cyrus Gray
. Use them. Michael hasn't been super effective in the first half, rushing six times for 20 yards, but Johnson has been off all day, and establishing the run might help open up some simpler throws to get the offense rolling. If Texas A&M eschews balance in favor of stepping back and slinging it for the entire second half, it will lose big.
What Missouri needs to do:
Keep preventing the big plays. That's the easiest route for Texas A&M to get back into this game.
Ryan Tannehill
nearly hauled in a deep touchdown pass, and Johnson has tested Missouri's defensive backs deep multiple times. Defensive coordinator Dave Steckel has emphasized his trust in them all season, both in words and actions -- like leaving them alone with one of the biggest receivers in the conference,
Jeff Fuller
. They've passed those tests so far, but they might want to offer some safety help on Fuller down the field in the second half to make sure they have some insurance. Make Johnson complete a lot of passes to move the ball, something he hasn't been able to do in two weeks. Don't give up the big one.
Posted by ESPN.com's Tim Griffin
1. Texas
(8-0, 5-0 in South): The Longhorns' movement in the BCS standings and the national polls Sunday was largely superficial. All they have to do is keep winning and they'll be playing in the BCS title game. The Longhorns' secondary is playing at levels reminiscent of the 2005 title team with Earl Thomas developing into a legitimate Thorpe Award candidate. The running game is a concern, but the Longhorns have a few weeks to work on that before it will really become a worry.
2. Oklahoma State
(6-2, 3-1 in South): We saw how much
Dez Bryant
and a healthy
Kendall Hunter
really were needed against Texas. The Cowboys had a strong defensive plan and shut down the Longhorns for much of the game, but struggled offensively with mistakes that were returned for touchdowns and a bad case of the dropsies by
Hubert Anyiam
. The loss assuredly dims their divisional hopes. But the Cowboys can play in a New Year's Day bowl game and still have a slim hope at a BCS bowl if there's a lot of implosion in front of them during November.
3. Oklahoma
(5-3, 3-1 in South): The Sooners have won two straight since the Texas loss and are heading into Nebraska with some momentum.
Landry Jones
appears to have found another productive receiver with the emergence of
Dejuan Miller
, who adds another weapon for the Sooners. The Sooners showed some uncharacteristic struggles against Kansas State in the second half, but still had enough offense left to enable them to claim the victory. It will be more of a challenge this week in Lincoln -- even with the Cornhuskers' recent struggles.
4. Texas Tech
(6-3, 3-2 in South): Mike Leach's trip to the ESPN studios in Bristol, Conn., Monday and his team's bye week will be much happier after the Red Raiders' comeback against Kansas on Saturday. The victory enabled Leach to tie Spike Dykes as the winningest coach in school history with 82 triumphs. Taylor Potts' heroics off the bench throw the quarterback situation back into a quandary. But the biggest story was the comeback of the Tech defense, which bounced back from its struggles against Texas A&M to limit Kansas to 258 yards while recording six sacks and recovering four fumbles.
5. Kansas State
(5-4, 3-2 in North): The gutsy Wildcats might have shown more in their loss to Oklahoma than in any of their previous victories. Despite spotting the Sooners an early 21-0 lead, they came storming back to make it a competitive game in the second half. That game should provide Bill Snyder's team with a shot of momentum heading into the Kansas game that will be pivotal in their improbable trip to the Big 12 North title. The biggest reason for their recent success has been
Brandon Banks
, who had a career game with 351 all-purpose yards against Oklahoma, equaling the school single-game record set by Darren Sproles.
6. Texas A&M
(5-3, 2-2 in South): The Aggies took another step to a bowl berth by manhandling Iowa State. The developing running game keyed by
Cyrus Gray
and
Christine Michael
has helped them soar to No. 23 in rushing offense. A&M now is the nation's only team to rank in the top 25 in the four major offensive categories of rushing offense, scoring offense, passing offense and total offense. Jerrod Johnson's offensive statistics are as good as any quarterback in the league. The Aggies' recent surge has enabled them to win back-to-back Big 12 victories by more than 20 points for the first time since beating Baylor and Kansas in 2002.
7. Nebraska
(5-3, 2-2 in North):
Cody Green
was the first freshman quarterback to start for Nebraska since Tommie Frazier in 1992, and his magic worked in the first half to spark the Cornhuskers' victory at Baylor. Whether it will pass muster against Oklahoma is an entirely different story. The Cornhuskers' inconsistency in the second half won't give Bo Pelini much confidence as he prepares for the Sooners. But the defense, which has held the last seven opponents to 280 yards or less, will give them a chance to be competitive.
8. Kansas
(5-4, 1-3 in North): Are the Jayhawks heading into meltdown mode? With the stunning benching of
Todd Reesing
, it appears that coach Mark Mangino is looking for some kind of spark to get them back on track. And it won't be easy Saturday at Kansas State, in a stadium where Bill Snyder has defeated the Jayhawks the last eight times he coached against his archrivals. With the recent slump in production and all of the offensive turnovers, it will be a big change to turn that around.
9. Iowa State
(5-4, 2-3 in North): Even after the loss at Texas A&M, the Cyclones' bowl hopes look pretty good. All they need to do is win one of their last three games of the season in a gauntlet that starts Saturday against Oklahoma State.
Alexander Robinson
was back against the Aggies, although
Austen Arnaud
was missing. His return will be vital for any upset bowl hopes they might have, even with Jerome Tiller's strong recent play.
10. Missouri
(5-3, 1-3 in North): The Tigers still have a shot at the North championship if they can run the table. Their offense perked up with the use of a two-back alignment that boosted their running game against Colorado. And
Blaine Gabbert
didn't look like his ankle was bothering him nearly as bad against the Buffaloes. Dave Steckel's defense produced eight sacks against
Tyler Hansen
, the most since 2006 and a good sign heading into the Baylor game on Saturday.
11. Colorado
(2-6, 1-3 in North): There's no doubt that Colorado doesn't like to play Missouri. After the Buffaloes fell into an early 33-0 hole against the Tigers, it marked a streak of 139 consecutive points scored by the Tigers against Colorado's defense over two-plus seasons. And it won't get any easier against Texas A&M. Colorado fans are becoming more vocal about a coaching change after the end of the season. And it won't be a picnic for the struggling Colorado offensive line, which will try to contain the nation's sack leader, Von Miller, a week after allowing eight sacks against Missouri -- the most by a Colorado team since 1984.
12. Baylor
(3-5, 0-4 in South): Bowl hopes aren't officially dead, but they have been on life support since Robert Griffin's injury. The Bears' woes on offense continue as the conference losses in the tough South Division keep mounting. Baylor's only TD against Nebraska came on an interception return. In four conference games, the Bears have averaged 8.5 points per game and have scored no more than 10 points in any single game. Missouri's improving defense will provide a huge challenge to surpass those numbers.
March, 12, 2009
3/12/09
1:00
PM ET
Posted by ESPN.com's Tim Griffin
I know it's March Madness. But spring practice is continuing across the Big 12 with plenty of interesting stories. Here are some of today's most notable:
March, 10, 2009
3/10/09
12:00
PM ET
Posted by ESPN.com's Tim Griffin
Missouri will start spring practice today in Columbia with no official announcement of who will be the Tigers' defensive coordinator.
It would be a shock if anybody but former Missouri linebackers coach Dave Steckel is serving as the group's coordinator when the Tigers start. The vacancy was created when Matt Eberflus was hired as the linebackers coach for the Cleveland Browns.
But we'll see who is calling the defenses when the Tigers work today.
Here are some other stories from around the conference.
March, 6, 2009
3/06/09
2:09
PM ET
Posted by ESPN.com's Tim Griffin
Happy Friday. Here are some delecteable links that go especially well with Lenten lunches.
Ohio coach and former Nebraska coach and player Frank Solich plans to return to Lincoln to watch practice and check out improvements in Nebraska's football facilities, the Lincoln Journal-Star's Steve Sipple reports. It would be Solich's first trip back to the program since he was fired as its coach after the 2003 season.
Legendary former Texas defensive back Bill "Super Bill" Bradley was obliging and appreciative after he was inducted into the statewide Texas Sports Hall of Fame earlier this week, San Antonio Express-News columnist David Flores writes. And Bryan-College Station Eagle columnist Robert Cessna notes that there were no Texas A&M alumni who were inducted in this year's Texas Sports Hall of Fame induction class.
Waco Tribune-Herald beat writer John Werner writes that former Waco High School standout running back Jarred Salubi of Baylor is ready to challenge for playing time after sitting out his redshirt season.
The Omaha World-Herald's Mitch Sherman provides a video breakdown of the Cornhuskers' running backs.
Pete Fiutak of collegefootballnews.com analyzes all of the Big 12 teams heading into spring practice.
An online survey commissioned by the Houston Chronicle indicated that John David Crow was the greatest Texas A&M football player in history. Other players finishing in the top five, in order, included Dat Nguyen, Ray Childress, John Kimbrough and Jacob Green.
February, 27, 2009
2/27/09
10:43
AM ET
Posted by ESPN.com's Tim Griffin
Heading into spring practice, several players across the Big 12 appear they might ready to blossom and become key contributors for their teams. Here are some of the most notable as spring practice approaches.
Missouri DE Brian Coulter -- After arriving from Florida State last summer, Coulter brashly predicted he would develop into an All-Big 12 player. He didn't do it last season, but might be ready this season as new Missouri defensive coordinator Dave Steckel rebuilds the defensive front after losing three starters.
Colorado WR Markques Simas -- After redshirting as a true freshman in 2007, Simas was academically ineligible last season. During that period, he tore it up on the Buffaloes' scout team. That performance has provided coach Dan Hawkins with hope that Simas can develop into a consistent producer with regular playing time.
Texas Tech WR Edward Britton -- Despite the presence of receivers like Michael Crabtree and Eric Morris in the Red Raiders' rotation last season, Britton produced a team-best average of 16.5 yards per catch on his 35 receptions and produced six TD grabs. With new quarterback Taylor Potts throwing, Britton might have a chance to emerge as his featured receiver without Crabtree and Morris returning.
Texas A&M DE Von Miller -- He's been known primarily for a late hit on Graham Harrell two seasons ago and his controversial horse-collar tackle that caused a broken leg for Colorado's Rodney Stewart last season. But Miller may be ready to become one of the conference's top pass-rushing threats for the Aggies after producing 3.5 sacks last season.
Oklahoma State DT Derek Burton -- A prime contributor as a starter last season at defensive end, Burton could blossom after moving inside. Developing his run-stuffing abilities will be critical as the Cowboys compensate after the loss of starters Tonga Tea and Jeray Chatham from last season.