January, 5, 2014
Jan 5
9:40
AM ET
When last seen on a football field, Auburn's offense looked unstoppable.
The Tigers mowed through Missouri for an SEC championship game record 677 total yards to pull away for a 59-42 victory. Missouri had a hard enough time finding the ball that day in Atlanta, much less slowing down Auburn's running game.
Auburn piled up 545 rushing yards in that contest and enters Monday's Vizio BCS National Championship with an astonishing 1,608 rushing yards in its past four games.
Several of the defensive coordinators who faced Auburn's offense this season told ESPN.com that clamping down on quarterback
Nick Marshall
's ability to run the football was a must if you're going to keep Auburn from revving up that offensive machine.
[+] Enlarge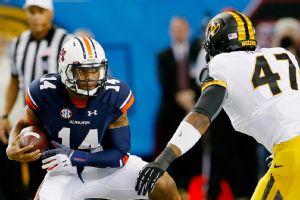 Kevin C. Cox/Getty ImagesLimiting QB Nick Marshall's ability to run is a key to containing Auburn's offense. But that's easier said than done.
Of course, that's easier said than done, especially when the Tigers are playing at breakneck pace and Marshall is averaging 9 yards per carry on zone-read plays.
"You've got to account for Marshall, which means you better have athletic safeties who can tackle him," Tennessee defensive coordinator John Jancek said. "That's where we got exposed because he's exceptional at taking off and making athletic plays in space."
Jancek saw Marshall toward the latter part of the season, when he was playing his best football. So did Georgia, and Bulldogs defensive coordinator Todd Grantham said Marshall was much improved as a passer.
"Nick has really grown into the position and is much better now than he was at the start of the season," Grantham said. "He's got a cannon for an arm and can make plays. He's really an NFL cornerback. That's what he is, but he can throw the deep ball, and he's really good in that offense and gives them another dimension because it truly is 11-on-11 with his ability to run the football."
Marshall and junior running back
Tre Mason
both rushed for more than 1,000 yards this season, a telltale sign that the Tigers were doing something right up front.
Both Grantham and LSU defensive coordinator John Chavis said Auburn's offensive line was the best one they faced all season.
"You've got to be ready to play the tempo game and tackle well, but don't let anybody kid you," Chavis said. "They've got a lot of really good football players in the offensive line. We didn't play against a better offensive line this year, and I don't think people are giving that offensive line enough credit."
LSU was the only team to beat Auburn this season after jumping out to a 21-0 halftime lead and then holding on for a 35-21 rain-soaked win back in September.
"You have to be able to handle all their different looks on the perimeter," Chavis said. "It will look like the same run, and they'll end up throwing it. They're not going to let you cheat and get an extra guy in there. They're going to put you in a lot of one-on-one situations, and you have to be able to tackle. If not, you're going to have a hard time with them."
Ole Miss defensive coordinator Dave Wommack said one of the things Auburn coach Gus Malzahn does best is disguising what he's doing.
"He'll use motion and shifts and those types of things, and it doesn't give the players enough time in their heads to recognize it," Wommack said. "He'll create the same play over and over again, but it won't necessarily look the same on the field.
"I'm anxious to see this game. Gus is going to run his offense, but it won't look the same to Florida State. That's why Gus is so good. He'll have some special things."
Grantham could see Florida State being more multiple in its defensive line and using some three-man fronts.
"An odd front gives Auburn more trouble than an even front," Grantham said. "I think they're much better at blocking an even front than they are an odd front. But Auburn is multiple enough to find something it likes and sticking with it.
"Their tempo didn't bother us. I think that's a little bit overrated. It's more their formations, movement, skill of their players and that offensive line. Florida State will have more things in [its] arsenal to stop them and may be able to create more negative plays and get them into third-and-6 or more, and that's when you've got them."
Even though Auburn doesn't throw it much, Grantham said sophomore receiver
Sammie Coates
can change the game in a hurry. Coates averages 22.1 yards per catch and has seven touchdown receptions.
"He's going to be a steal in the NFL draft," Grantham said. "With Marshall, you've got to commit extra people to get to the quarterback, which leaves you one-on-one outside with Coates. He's got the physical skill set to win most of those battles."
October, 20, 2013
10/20/13
2:00
AM ET
OXFORD, Miss. -- Even though Ole Miss coach Hugh Freeze isn't one to make excuses, he had plenty of room to do so this week. The Rebels, who had lost three consecutive games, were without five starters on defense and the team's leading rusher when they hosted No. 6 LSU on Saturday.
Turns out Freeze and the Rebels didn't need any excuses as they stunned the Tigers, 27-24.
"I couldn't be more proud of that staff and those kids to go through what they've been through, with the injuries and the outside world having their opinion of things," Freeze said. "In the back of your mind, you always wonder as a coach if you can get a team ready to do those things like this when you're shorthanded and coming off an extremely disappointing loss."
The Rebels were in a similar situation last week when Texas A&M came to town. The game was tied with three minutes left, and it was up to quarterback
Bo Wallace
and the offense to drive down the field and win the game. Instead, they went three-and-out, punted the ball and watched as the Aggies drove down and kicked the game-winning field goal.
[+] Enlarge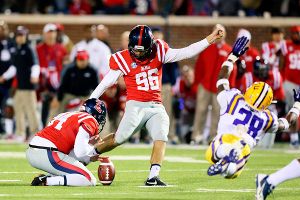 Spruce Derden/USA TODAY SportsAndrew Ritter drilled a 41-yard, game-winning field goal with 2 seconds remaining that gave the short-handed Rebels a stunning win over LSU.
"For A&M to beat us the way they did, I wasn't letting that happen to us again," Wallace said. "
Ja-Mes [Logan]
made a huge catch in the same situation that he had last week. He took a shot and hung onto it. Everybody just came together and fought hard on that last drive."
It was Ole Miss who kicked the game-winning field goal this week, but it wouldn't have happened had it not been for a number of players who stepped up when called upon.
The defense lost four starters due to injury against Texas A&M, and Freeze told his team Friday that starting cornerback
Senquez Golson
would be suspended for the visit from LSU. Four more Rebels defenders went down during Saturday's game, and yet, they forced three turnovers in the first half and held on for the upset.
"I think it was a God thing," defensive coordinator Dave Wommack said. "We sat in there on Sunday and said, 'We got 14 players, not starters, 14 players for seven spots between the defensive line and the linebackers. We tried to make
D.T. [Shackelford]
do two different things, and he was able to do that. Fortunately,
Tony Conner
made a big difference because we were able to teach him some linebacker stuff. The kids are warriors. We needed that for our program."
On offense, running backs
Jaylen Walton
and
I'Tavius Mathers
more than made up the absence of starter
Jeff Scott
. Walton finished with 106 yards rushing and two touchdowns while Mathers added 51 yards on 12 carries.
"We ran the football against a really good defense," Freeze said. "Our offensive line played against a good defensive front. I have great confidence in Jaylen and I'Tavius. Jaylen has quick acceleration. He did really well tonight and protected the ball."
It was a crushing loss for Les Miles and his LSU team, who lost any chance they had to play in the BCS National Championship, but the victory shouldn't be understated for Ole Miss. The Rebels were down, but they showed they're not out.
"We really needed a win," Walton said. "We came close last week where we should've won, but this week, we got the W and now we can keep moving forward with wins."
January, 9, 2013
1/09/13
6:00
PM ET
Ted Roof is back.
He's back at his alma mater, Georgia Tech, and the former Duke coach is back in the ACC, once again
as Georgia Tech's defensive coordinator.
[+] Enlarge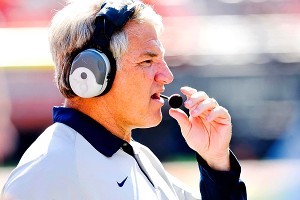 Bradley Leeb/USA TODAY SportsTed Roof returns to Georgia Tech to be its defensive coordinator.
The question is, how long will he stay?
Roof is one of the nice guys in the business, but he's moved around as much as major-league pitcher Edwin Jackson. Journeyman Jackson played for seven teams in his first 10 seasons. This will be Roof's fourth stop since 2008, as he spent last year at Penn State, 2010 at Auburn, and 2008 at Minnesota. Will Roof give Georgia Tech's defense any stability? Because it's in desperate need of some.
Paul Johnson fired Dave Wommack after the 2009 season, he fired Al Groh midway through last season, and interim coordinator Charles Kelly is expected to be hired at Florida State, according to a source. Roof's ties to Georgia Tech would indicate The Flats would make a good permanent home -- he was a linebacker for the Jackets under Bill Curry from 1982-1985. He is in the Georgia Tech Athletics Hall of Fame. He came back in 1998 as linebackers coach under George O'Leary and was defensive coordinator for three years.
He's done this before.
And he's left before.
It wasn't since Roof's tenure as head coach at Duke (2004-2007) that he stuck around anywhere for a while. Georgia Tech would benefit if it could find some consistency at the coordinator position.
Georgia Tech's defense began to make significant strides in the second half of the season under Kelly, and with eight starters returning, Roof will inherit a solid, experienced group coming off an impressive win over USC in the Hyundai Sun Bowl. The Yellow Jackets closed the season by shutting out Florida State in the second half of the ACC Championship game and holding USC to just seven points.
Georgia Tech has hired one of its own to build off of that performance. The question is whether or not Roof will really call it home again.
March, 13, 2012
3/13/12
5:00
PM ET
Hugh Freeze enters his first spring at Ole Miss with a lot of questions surrounding his new football team.
The same team that won just two games last year, watched its head coach get shown the door and has lost 14 straight SEC games.
Talk about a project.
For starters, Ole Miss is breaking in a totally new spread offense for a team that isn't exactly built for it. Plus there are four scholarship quarterbacks competing this spring and the ones who played last year had a host of issues.

Don't be surprised if junior college transfer Bo Wallace turns some heads this spring at QB because he's more familiar with Freeze's offense. He spent 2010 with Freeze at Arkansas State before going the JUCO route. While he had a record-setting season at East Mississippi Community College in 2011, Wallace has zero experience at this level. He redshirted in 2010, so he has yet to take a snap at the FBS level.
The defense will also see quite a few changes, as defensive coordinator Dave Wommack has said he plans to move the Rebels all around the field. Ole Miss ran a 4-2-5 defense last year under Tyrone Nix, but will come out in multiple sets this time around. It's going to take some time for players to adjust. It also means the Rebels might have to rely more on its secondary again. The good thing for Ole Miss is that just about everyone from the secondary is back, including standouts
Charles Sawyer
and
Wesley Pendleton
.
Sawyer might have been Ole Miss' best defensive player last year, while Pendleton has a chance to be a very solid corner in the SEC next fall. Also, keep an eye on
Aaron Garbutt
, who transferred from the JUCO ranks last year and was sixth on the team in tackles. Getting more out of them this spring will go a long way to helping this defense adjust.
At linebacker, the Rebels return all four starters, but adjusting to the new defensive formations could be more of a chore for them. But having
Mike Marry
back will be big for the Rebels this spring, considering
D.T. Shackelford
won't go through the spring as he recovers from another surgery on his knee. Marry filled in nicely for Shackelford last season, leading the Rebels in tackles as just a sophomore.
Marry will be accompanied by rising sophomores
Serderius Bryant
and
C.J. Johnson
. Bryant was the better of the two former freshmen last season and was fourth on the team in tackles. For Johnson, the spring will be crucial for his maturation. He started to come on strong toward the end of the season, but he still needs to make strides in his game before the end of the summer. Johnson could also line up at defense end, a position that must replace former star
Kentrell Lockett
.
The defense has more positives, but there are still questions surrounding where guys will lineup and how they'll take to all the changes. Plus, this is practically the same group that ranked last in total defense, rushing defense and scoring defense in the SEC last year.
On offense, finding a quarterback is priority No. 1, with improving an offensive line that took more than a few steps back in 2011 as a close second. Two starters are gone from the line and Freeze has said that the linemen he has weren't recruited for a "more power-type offense."
Freeze has a lot on his plate, but he knew that coming in. He understands that there were locker room issues in the past and the field issues are well documented. This won't be a quick fix by any means, but this spring will be really interesting for Freeze because even he'll have a lot of questions of his own to sort through when the Rebels start digging deep into spring practice.
May, 4, 2010
5/04/10
10:30
AM ET
When it comes to defense, the ACC has earned a reputation as having some of the best in the country on a consistent basis. Last year was no exception, as four teams -- Virginia Tech, UNC, Boston College and Clemson -- were ranked among the top 25 nationally in scoring defense, allowing fewer than 21 points per game. Those same four teams were ranked among the top 26 nationally in total defense.

Much of the focus, though, was on what the conference didn't do defensively -- i.e., Florida State, NC State and Georgia Tech. The latter was a middle-of-the-pack defense, hardly horrendous, but it disturbed coach Paul Johnson enough to fire Dave Wommack and hire Al Groh as defensive coordinator.

Here's a statistical look at which teams are in need of the most defensive improvement in 2010, followed by a guess at which programs will show the most progress the fastest:

MOST IN NEED OF A MAKEOVER:

1. Florida State -- The Seminoles ranked 108th in rushing defense, 110th in pass efficiency defense, 108th in total defense, and 94th in scoring defense.

2. Maryland --The best news for Ralph Friedgen last year was that Florida State's defense was worse -- and it stole the show. The 2-10 Terps, though, allowed 31.25 points per game and ranked No. 100 in the nation in scoring defense.

2. NC State -- The Pack had a young secondary and were without their best player in Nate Irving. They finished No. 99 in the country in scoring defense, and No. 106 in pass efficiency defense.

FASTEST ROAD TO RECOVERY:

1. Maryland --The Terps return all of their linebackers and should be more productive in the second season under defensive coordinator Don Brown.

2. Florida State -- The Seminoles have nowhere to go but up, and first-year defensive coordinator Mark Stoops is installing a scheme that better fits the personnel.

3. NC State --The secondary is still young, and all four starters up front must be replaced. The additions of Jon Tenuta and Irving should help.
January, 4, 2010
1/04/10
4:30
PM ET
FT. LAUDERDALE, Fla. -- Georgia Tech defensive coordinator Dave Wommack said last week he had been preparing for Iowa quarterback
Ricky Stanzi
even before he was sure that Stanzi would be healthy enough to play against the Jackets on Tuesday night in the FedEx Orange Bowl.
[+] Enlarge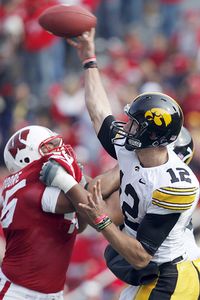 AP Photo/Andy ManisIowa QB Ricky Stanzi should be ready to go Tuesday night.
While he wasn't sure if the Hawkeyes would use one quarterback or two, Wommack was certain of one thing: "All I know is when Ricky Stanzi has been in there, they've won football games," he said, "and I know they lost the one against Northwestern when he was knocked out after I think it was the 19th play of the game. They ended up losing the game. … I think he could make most of the throws and everything. You know, he's gone against some pretty darn good defenses throughout the years. So he looks to me like he's a pretty good football player, Stanzi."
Stanzi started Iowa's first 10 games and got the Hawkeyes off to a 9-1 start before suffering an ankle injury in the second quarter against Northwestern and missing the rest of the regular season. He completed 154 of 275 passes for 2,186 yards, 15 touchdowns and 14 interceptions. His performances have been unpredictable, as he threw five interceptions against lowly Indiana, but didn't throw one on the road against Wisconsin.
Iowa coach Kirk Ferentz said that Stanzi has looked "absolutely fine" the past couple of weeks.
"He's a little sore after workouts," Ferentz said. "But, you know, he ices it up and we don't anticipate any problems with him at all this week."
The experience factor, though, should give the Hawkeyes a confidence boost.
"He just knows how to lead our team," said senior guard Dace Richardson. "He knows the right audibles if we don't have the right looks to make. He's quick on his feet. When he went down, a lot of us were upset, but luckily
James Vandenberg
came in and did real great job and almost beat a great team for us."
Georgia Tech coach Paul Johnson said the Jackets don't prepare for any one player, they prepare for the system.
'They're not going to change what they do radically, no matter who the quarterback was or who is playing or the running back or whoever it might be," Johnson said. "So you get ready for what their offense presents. And certainly he's an outstanding player and he was the starter for a reason. So I feel sure that he'll be back full speed, and we figure he's going to play a great game."
The only question is if he'll wait until the fourth quarter again to do it.
October, 13, 2009
10/13/09
9:28
AM ET

Posted by ESPN.com's Heather Dinich
Georgia Tech defensive coordinator Dave Wommack has tried just about everything. He's moved players around. He's switched from a 4-3 to a 3-4 scheme because he was running out of healthy defensive ends. Now, with the injury situation having limited his options, he's given his players one more task -- have fun.
| | |
| --- | --- |
| | |
| | AP Photo/Gregory Smith |
| | Safety Morgan Burnett knows the defense needs to pick things up. |
Georgia Tech safety Morgan Burnett said the message this week was not to become preoccupied with making mistakes or worrying about past errors made against Florida State. Instead, it was to let loose and have some fun on Saturday against the Hokies.
There's no question, though, that the Yellow Jackets' pride has taken a hit in the past two weeks. Despite winning both games, Georgia Tech allowed Florida State 539 yards of total offense and Mississippi State racked up 487. Both teams averaged 37.5 points against Georgia Tech, and with the way Virginia Tech's offense has been clicking lately, the better defense should win on Saturday in what could be a season-defining Coastal Division game.
"You take that real personal because football is a competitive sport, so no matter what you do, you want to be the best," Burnett said. "You want to be the best unit and you want to try to stop the offense. When a team puts up that many points, it's very frustrating, and it gets you really upset. But you can't get frustrated. We have to move on to Virginia Tech. We can't sit back and worry about what happened at Florida State. The only thing we can do is fix it and get better."
Georgia Tech's defense was the Jackets' lone question mark entering this year, as it lost three of four starting defensive linemen who are now in the NFL. With the exception of Burnett and defensive end Derrick Morgan, this defense lacks the superstar lineup it had a year ago, and injuries have compounded the problem.
Linebacker Kyle Jackson suffered a season-ending foot injury, and two defensive ends -- Anthony Egbuniwe and Robert Hall -- have both missed time. Hall could return from a knee injury in November, and Egbuniwe missed one game with an illness. Two star safeties -- Cooper Taylor and Dominique Reese -- have missed a combined four games. Taylor has missed the past three games with a heart problem, but began to practice lightly on Monday. Reese has a shoulder injury and missed one full game and played only a snap at MSU. Combined, those players have missed 13 games.
"You hate to sit there and say that because it sounds like you're making excuses," Wommack said, "but I think that's it as much as anything, I really do."
It's caused a lack of continuity, and the Jackets have gotten away from the experienced reps they had during spring and two-a-days. Wommack said he doesn't expect to get anyone healthy this week. Instead, he's had to move a corner who's never played safety to free safety in Rashaad Reid, and that's part of the reason he's been tweaking his defensive philosophy midseason, which is usually unheard of.
"It's the worst thing you can do, to keep changing this and that," Wommack said. "We've got new players playing different positions and so forth, but it's somewhat been out of necessity, too."
Georgia Tech is ranked 108th in the nation in pass efficiency defense. Its rushing defense is allowing 135.5 yards per game. The number that counts, though, is how many points they're allowing, and that's 26.5 points per game. None of those statistics match up well against the No. 4 ranked Hokies, who are scoring 34 points per game, and rushing for 208.5 yards per game. Virginia Tech is ranked among the top 20 in the country in both categories.
"You just fight through it, that's what you've gotta do," Wommack said. "You try to point out the mistakes to the kids when you review the film and why, where the breakdowns were, and all of a sudden you start getting better. It doesn't happen overnight. It really doesn't happen overnight."
It's got to happen by Saturday, though, or the Jackets will be behind the Hokies in the Coastal Division standings -- again.

Posted by ESPN.com's Heather Dinich
Here are this week's top performers in the ACC, and surprise, surprise, none of them are named Harris:

Georgia Tech's defense:
North Carolina's defense was the one that had people talking for the right reasons heading into this game, but it was the Yellow Jackets who forced three turnovers and
held UNC to just eight first downs
and 17 rushing yards. Defensive coordinator Dave Wommack deserves credit for being willing to change four games into the season, as adding an extra linebacker helped. UNC finished with 154 total yards. The Tar Heels converted just 1-of-11 third downs.
BC quarterback Dave Shinskie
: And the Eagles have found someone to lead them on offense. Shinskie completed 18 of 29 passes for 228 yards, three touchdowns and one interception in the Eagles'
27-24 overtime win
against Wake Forest. The 25-year-old true freshman became the first Boston College quarterback to throw three touchdown passes in a game since Matt Ryan did it against Michigan State in the Champs Sports Bowl on Dec. 28, 2007.
NC State quarterback Russell Wilson:
He's played well in each of the past three games, but this is the first game he's faced a legitimate defense since South Carolina. He threw four touchdown passes for the third straight week, kept his interception-free streak alive, and rushed for 91 yards in the Pack's
38-31 come-from-behind win
over Pitt.
Virginia Tech running back Ryan Williams:
He rushed for 150 yards and two touchdowns on a career-high 34 carries in the Hokies'
31-7 win over No. 9 Miami
. He proved his durability, and he also added two catches for 40 yards.
Virginia Tech defensive coordinator Bud Foster:
There are few coaches who can elicit such a turnaround within a week's time like Foster. Virginia Tech's rushing defense, which was ranked 107th in the nation heading into the Miami game, held the Canes to just 59 yards rushing. The Hokies were the first defense to pressure
Jacory Harris
and he was sacked twice. They forced Harris into a fumble that led to a touchdown on his fifth snap and that set the tone for the game. Miami was successful on just one third-down play.
July, 10, 2009
7/10/09
9:20
AM ET
Posted by ESPN.com's Heather Dinich
Much of the attention Georgia Tech has received this preseason has been focused on Jonathan Dwyer and the Jackets' stable of running backs. If they're going to contend for the Coastal Division title, though, the defense will have to hold its weight, too, and the Jackets have to replace three of four starters up front. I caught up with defensive coordinator Dave Wommack to check in on the defense heading into summer camp.
| | |
| --- | --- |
| | |
| | Todd Kirkland/Icon SMI |
| | Entering 2009, Dave Wommack has some holes to fill on his defensive line. |
Are you changing anything? I've heard some rumblings about maybe a different scheme this year.
DW: We may change up some things a little bit, but I think it may be based [more] on personnel than it will anything else. We'll see when we get into two-a-days, but there's not going to be any drastic changes.
Are there things you saw in the spring on the defensive line that give you concerns that are forcing you to tinker with it?
DW: [He laughed]. Just inexperience. When you lose three guys to the draft, it's just a matter of inexperience. I think we've got some good, young guys that are coming up. They just haven't played very much. That's the biggest thing, but no, that's not why we're changing. It's really our experience is more in the secondary, maybe get more five DBs on the field more than anything else.
Yeah, tell me about that group a little bit. You have a lot of guys coming back, especially with Morgan Burnett.
DW: It kind of flips. Now your most-experienced players are guys that have played one year. I'm looking forward to the secondary. I think it will be a strength for us with Morgan leading the way.
What more can he do? What are you expecting from him this year?
DW: Really that's the thing that concerns me as much as anything, because Morgan wants to make every play. It's really, Morgan, stay within the framework of your defense. Don't let your eyes get you in trouble. The play is going to come your way. You're a featured stop for us on defense, so don't try to do more than what you need to do because the defense will break down. So I don't think it's so much asking him to do more, just really do what you've done. Don't try to do too much.
August, 1, 2008
8/01/08
8:12
AM ET
Posted by ESPN.com's Heather Dinich
HAPPY AUGUST!
Games will be played this month! I will be traveling all over ACC country starting Monday from Blacksburg, Va.
Let the madness begin ...
The Tar Heels start practice today motivated by last year's close losses and an opportunity for their first bowl game since 2004. Here's more on the buzz on Butch.
Clemson also starts today and here are five players to watch. Except practice is closed. Don't worry, you'll see 'em later. And it's one of my stops this month, so I'll take a peek for ya. Until then, here are some pressing questions facing the Tigers.
Wake Forest has redshirted 114 of 119 players under Jim Grobe, but as practice starts today, he's still worried about his depth on the o-line.
It seems likely that NC State rookie QB Mike Glennon will redshirt, according to Ken Tysiac, who saw Glennon at practice yesterday.
Here's the final word on who showed up and who didn't yesterday in Coral Gables. The number appears to have increased from seven earlier this week to eight.
Here's an honest assessment of Georgia Tech's new defensive coordinator, Dave Wommack, compared with the former one, Jon Tenuta:
Former Yellow Jackets defensive coordinator Jon Tenuta, now at Notre Dame, was often brusque, frequently loud, and viewed at least from afar as intimidating. He did not evoke warm or fuzzy in seven distinguished years at Tech.
The new staff is doing something right if they're getting players like Roderick Sweeting.
And, finally, for those of you who will be watching your team play East Carolina this season (NC State, Virginia, Virginia Tech), I thought you might be interested in this one.