NCF Nation:

David Bakhtiari
April, 26, 2013
4/26/13
1:00
PM ET
Five Pac-12 players were selected in the first round of the NFL draft on Thursday.
Here's the chart:
So... what's our take?
Thanks for asking.
Kevin Gemmell
: I must say, very, very interesting first round. And one that I think most Pac-12 fans can be relatively pleased with. The five players drafted Thursday night are the most since the league sent six in 2008. So that's progress.
Two things really stood out as surprising to me. First, it's not that
Dion Jordan
went third overall to the
Miami Dolphins
. It's that he went to a 4-3 defense. Perhaps Jeff Ireland is a huge fan of the Pac-12 blog and was reading our
Take 2 from a few weeks ago
. And if that's the case, you're welcome, Jeff.
[+] Enlarge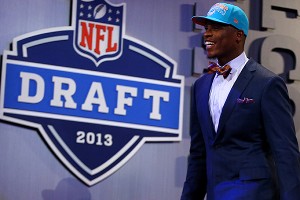 Al Bello/Getty ImagesThe Dolphins traded up from No. 12 to No. 3 in the first round to select Oregon's Dion Jordan.
Jordan is pretty good at stopping the run -- but it's not the strength of his game. As every draftnik in the world noted before and after the selection, he's a beast at speed rushing off the edge, but has some work to do in other aspects of his game. They also made the apt comparison to former Dolphin defensive end Jason Taylor. Fitting since both players have similar frames and skill sets. He had an OK career, so maybe it all works out.
The second thing that surprised me was that
Star Lotulelei
was not the first defensive tackle taken. We figured he could go pretty much anywhere in the top 15 -- most mocks had him where he landed at No 14 to the
Carolina Panthers
. One pick earlier, Missouri's
Sheldon Richardson
went at No. 13 to the
New York Jets
. I admit I don't know a ton about Richardson. I just know that Lotulelei graded out higher, had a comparable 40 time (though it was inconsistent because it was at a pro day, not the NFL scouting combine) and he had eight more reps on the bench. Maybe it's just personal preference, but I was pretty surprised he wasn't the first defensive tackle off the board.
Liked the pick of Oregon's
Kyle Long
by the Bears. They are getting a versatile player who could really fit in at any position across the line after he gets a little seasoning. We've seen him slowly creep up in mock drafts -- starting several months ago in the third-round range -- and that buzz was legitimized with his pick at No. 20.
And I liked that Atlanta had
Desmond Trufant
targeted and they traded up to get him. It was a need position and they jumped at the chance to get an NFL-ready starter. Good pick.
Datone Jones
is a guy Ted and I have been talking about for a couple of years now -- how we just kept waiting for him to breakout. And then UCLA switches to the 3-4 and he blows up. He could be a real solid player for years in Green Bay's 3-4 front.
Overall, I'd call it a fair-to-good first day for the Pac-12.
Ted Miller
: Of course, the big question many will ask is how did the Pac-12 compare to the other conferences.
Here are the first-round numbers. Yes, there will be SEC crowing, with some justification.
SEC – 12

ACC – 6

Pac-12 – 5

Big 12 – 3

Independent – 2

MAC – 1

C-USA – 1

Big East - 1

Big Ten - 1
The SEC's 12 picks ties the record set by the ACC in 2006. Don't forget the SEC now has 14 teams. Or, for that matter, the Big 12 has 10.
My first-round takeaways? Well, the above numbers are meaningful.
The SEC? Well. I'll let you guys try to explain those away. (Good luck with that.) I
tweeted this story the other day
, and I think it well relates how SEC dominance, once a chimerical creation from a region that often doesn't fret the truth getting in the way of a good story, has become a self-fulfilling prophecy.
The bottom, however, is almost as telling -- see the Pac-12's Rose Bowl partner, the Big Ten with just one selection. That certainly validates the perception that conference has slipped, something we've seen on the field in recent years.
As for the five Pac-12 picks, I had a nice conversation with Jordan at the Fiesta Bowl about
how his fortunes had turned
. He seemed genuinely awed by it. And grateful. After the game, I was standing there when his mother worked here way through the crowd to give him a hug. Apparently it was raining inside University of Phoenix Stadium.
One of the things I always think about on draft day is how through-the-looking-glass strange it's got to feel for guys, at least the reflective ones. Sure, most top picks get fronted money by their agents, so they've been living the life for a few months. But when it becomes official, a guy in his early 20s suddenly become certifiably rich.
The third pick last year, Cleveland's Trent Richardson, got four years at $20.4 million. Just imagine yourself at 23 having a conversation about $20 million. And how it's a bit low.
[+] Enlarge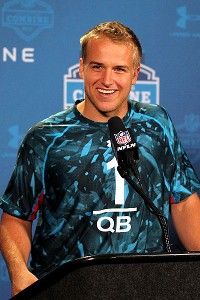 Brian Spurlock/USA TODAY SportsMatt Barkley could be the next Pac-12 alum off the board.
As for the rest, the Panthers got a steal with Star Lotulelei at No. 14. The Panthers just put a checkmark in the box for the middle of their defensive line. And I think Jets fans will remember in a very Jets fans way that the Jets took Missouri DT Sheldon Richardson a pick before the Panthers.
Oregon O-lineman Kyle Long at No. 20 was a mild surprise, but the Bears probably swooned over his obvious upside. You can't beat his bloodlines either.
The Trufant pick
clearly validates the Pac-12 blog
at the expense of Washington fans. See... we told you he was good.
Wait. I may not be recalling that accurately. Two words: Kevin's fault.
And Jones, whom we've been touting pretty much since he arrived at UCLA, obviously found his rhythm over the past year.
As Kevin noted,
there are a lot of good Pac-12 players left on the board
, including a substantial handful who figure to get selected in the next two rounds. Things should continue to be interesting, starting with who steps up and picks USC quarterback
Matt Barkley
.
April, 26, 2013
4/26/13
12:41
AM ET
It didn't take long for there to be some drama in the 2013 NFL draft. And former Oregon Duck
Dion Jordan
was right in the middle of it.
Jordan, the hybrid defensive end/outside linebacker, was selected by the
Miami Dolphins
with the No. 3 pick ...
much to the surprise of the ESPN draft coverage crew. And Jordan
.
After offensive tackles went first and second, Jordan was the first defensive player taken in the draft when the
Oakland Raiders
traded the pick to the Dolphins.
Jordan's selection was met with mostly positive, yet still mixed responses. Mel Kiper Jr., Jon Gruden and Chris Berman praised Jordan's athleticism and ability to rush off the edge. But they also questioned whether that's worth the No. 3 overall pick. Obviously, the Dolphins thought it was.
Many believed that former Oregon coach Chip Kelly, now the head coach with the
Philadelphia Eagles
, was going to take Jordan with the fourth pick. Instead, the Dolphins moved one spot ahead, leaving Kelly to take Oklahoma offensive tackle
Lane Johnson
.
"I was surprised ... I wasn't expecting that," Jordan told ESPN's Suzy Kolber. "I'm very blessed. I'm going to bring tremendous athletic ability … I'm ready to get in there and work with the guys."
Jordan, Oregon's highest drafted player since Joey Harrington went No. 3 overall in the 2002 draft, was the first of what turned out to be five first-round picks for the Pac-12 on Thursday night. It was the most first-round picks since the league had six in 2008.
After the Jordan selection, things quieted down for the league until the 14th pick, when the
Carolina Panthers
selected Utah defensive tackle
Star Lotulelei
. He was the second defensive tackle taken in the draft after Missouri's
Sheldon Richardson
went at No. 13 to the
New York Jets
.
"He is a space-eater," said Kiper after the selection. "He's a stay-at-home type defensive tackle. He won't give you a lot of pass rush. But he's strong. He's quick. He's a tough kid. I thought a very good player, but the pass rush wasn't there."
ESPN's Pat Yasinskas has a good breakdown of
what this means for the Panthers
.
The second "
surprise
" pick of the draft also involved a Duck – when the
Chicago Bears
drafted Oregon offensive guard
Kyle Long
.
Said Kiper: "He has the kind of skill set you want. [But] he needs a lot of coaching ... he's a developmental prospect … [His] versatility and mean streak intrigued a lot of people."
Just two picks later,
the
Atlanta Falcons
traded up to get Washington cornerback
Desmond Trufant
at No. 22. After posting a 4.38 at the NFL scouting combine -- third fastest among the defensive backs -- his stock jumped from early second round to first-round selection.
Said Kiper: "He's an instinctive ball hawk. A guy I think really got better as his career moved along … this is a need area and [Atlanta] went up aggressively to get him."
UCLA defensive end
Datone Jones
became the league's fifth selection when the
Green Bay Packers
took him at No. 26. ESPN's Jon Gruden was a fan of the pick.
"If you're into combine workouts, you're into Datone Jones. Because he dominated the combine," Gruden said. "The arrow is going up on this kid. He's my sleeper of the first round. He has NFL movement skills ... he can play on a tight end. He can play inside. And the Packers need a dominant inside defender. Good pick."
There is still plenty of intrigue looking ahead with names like
Zach Ertz
,
Robert Woods
,
Matt Barkley
,
Keenan Allen
,
Matt Scott
,
Brian Schwenke
,
Steve Williams
,
Markus Wheaton
,
Jordan Poyer
,
David Bakhtiari
,
Chase Thomas
,
Kenjon Barner
,
Johnathan Franklin
and about a dozen more from the league still on the board.
Settle in for a draft-filled weekend.
February, 25, 2013
2/25/13
11:00
AM ET
Some tough news coming out of the scouting combine this weekend for Utah defensive tackle
Star Lotulelei
. ESPN's Chris Mortensen first reported that Lotulelei -- a projected top-five pick --
would not be allowed to work out today
with the rest of the defensive lineman after an echocardiogram revealed a heart condition that requires additional testing.
From Mortensen's story:
Lotulelei was discovered to have an abnormally low Ejection Fraction, detecting that the left ventricle of his heart was pumping at only 44 percent efficiency, sources said. The normal range is between 55-70 percent efficiency.

The 6-foot-2, 311-pound Lotulelei will undergo further testing in Salt Lake City in an effort to seek more clarity with the condition, a source said. If it's a confirmed chronic condition, medical experts consider it an indication of possible heart damage.
The All-American posted 42 tackles in 2012, including 10 tackles for a loss and five sacks. He's expected to visit a specialist this week and plans to participate in Utah's Pro Day on March 20.
Scouts Inc. ranks Lotulelei as the No. 1 overall player in the draft.
Schwenke rising
Former Cal offensive lineman
Brian Schwenke
, longtime
friend of the Pac-12 blog
, had a strong combine performance. He was among the top performers in the 3-cone drill and 40-yard dash (see results below). Daniel Jeremiah of NFL.com said Schwenke's stock is
trending up
.
Writes Jeremiah:
I really liked Schwenke on tape and he continued to impress with an excellent week at the Senior Bowl. On Saturday, his draft stock received another boost. Schwenke posted a great 40 time (4.99) and enjoyed a fine field workout. I could see his name being called in the early portion of the third round.
Zach Ertz versus Tyler Eifert
One was a unanimous All-American. The other won the Mackey Award for the nations' best tight end. The battle for the top tight end taken in the draft might be too close to call at this point.
Per ESPN's Todd McShay
,

Ertz had a good day, but Eifert may have closed the gap.
Depending on who you ask, there are varying opinions on which of the two is the best tight end. If you took a poll, it would probably come out even at this point. So, of the two who are jockeying for position as the top TE in this class, Eifert won the day. It doesn't mean he'll be the first TE drafted, and if he is, it doesn't mean he's going to be the better NFL player. But for what it's worth, he had the better Saturday. At 6-foot-5½, 250 pounds, he's slightly bigger and longer. He ran an unofficial 4.6 in the 40 and had an impressive 35-inch vertical leap.
Here's John Clayton's take
:
Notre Dame's Tyler Eifert and Stanford's Zach Ertz were considered the top two tight ends in the draft, and it's starting to look like it will be a good battle for the top spot. Eifert may have challenged for the lead after running a 4.68 compared to Ertz's 4.76.
40 times/bench
For complete workout results, you can check out the
NFL.com combine page
. Here's some of the top results for the fleet-footed and pectorally gifted (per NFL.com).
Running backs

Johnathan Franklin
, UCLA: 4.49/18 reps
Kenjon Barner
, Oregon: 4.52/20 reps
C.J. Anderson
, Cal: 4.60/17 reps
Stepfan Taylor
, Stanford: 4.76/17 reps
Wide receivers

Markus Wheaton
, Oregon State: 4.45/20 reps
Marquess Wilson
, formerly of Washington State: 4.51/7 reps
Robert Woods
, USC: 4.51/14 reps
Quarterbacks

Matt Scott
, Arizona: 4.69/Did not lift
Offensive line

Kyle Long
, Oregon: 4.94/Did not lift
Brian Schwenke, Cal: 4.99/31 reps
Jeff Baca
, UCLA: 5.03/ Did not lift
David Bakhtiari
, Coloraod: 5.09/28 reps
Khaled Holmes
, USC: Did not run/13 reps
Tight end

Nick Kasa
, Colorado: 4.71/22 reps
Zach Ertz, Stanford: 4.76/24 reps
Levine Toilolo
, Stanford: 4.86/17 reps
February, 8, 2013
2/08/13
10:00
AM ET
The official list of college players invited to the NFL combine is out and 38 from the Pac-12 made the cut. At least one player from every team in the conference was invited. A total of 333 players were invited and workouts begin Feb. 23. You can see
the complete list here
.
September, 18, 2012
9/18/12
11:00
AM ET
Washington State and Colorado, which will meet on Saturday, sit at the bottom of the
Pac-12 power rankings at 11 and 12
, respectively. But the drop-off from 11 to 12 appears to be fairly steep.
Both teams suffered Week 1 losses to FBS teams, Washington State to BYU and Colorado to Colorado State, but the Cougars have been able to bounce back and string together a couple of victories. Colorado, however, hasn't yet found the right strings to pull.
Still, these teams might have more in common than you'd think.
[+] Enlarge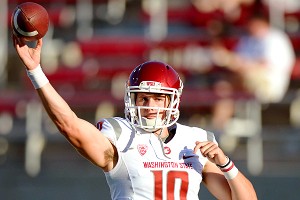 Jake Roth/US PresswireJeff Tuel and the Cougars are looking for a third-straight win against the Buffs on Saturday.
"I think we're similar teams from the standpoint of we don't quite have a tent over our circus right now," said Washington State coach Mike Leach.
Both teams will be playing a ton of youngsters on Saturday and both have questions at quarterback.
The Buffs used three --
Jordan Webb
,
Connor Wood
and
Nick Hirschman
-- in their 69-14 loss to Fresno State last week. Washington State starter
Jeff Tuel
sat out last week with a knee injury and
Connor Halliday
took the opportunity to throw four touchdowns on 26 of 45 passing for 378 yards in a win over UNLV. But he also had a pair of interceptions. Who starts this week for the Cougars is anybody's guess.
"You're going to have to stay tuned and watch very closely," said the always-quotable Leach. "The anticipation is killing everybody including me. We'll have a good week of practice and see where that ends up."
How about Tuel's knee?
"He's ridiculously healthy," Leach said. "He's one of those guys that Tony the Tiger would be proud of to be in a commercial and have him eat cereal. I do think he'd represent the whole thing well."
Jokes, however, aren't on the schedule in Colorado. While the Cougars are looking for their first three-game win streak since 2006, the Buffs are off to their worst start since 2006.
"I've seen shining moments on offense and shining moments on defense," said Colorado offensive lineman
David Bakhtiari
. "I've seen halves played by offense, and halves played by defense. I've seen four quarters that are not played by either side of the ball. No execution at all. And if you want to win, you have to execute at a high level. This is Division I football. We can't just go out and hope for the best. We don't have the slack to do that. We have to go out and execute."
Both teams are looking for consistency -- though the Cougars have had more success. After failing to reach the end zone in the season opener against BYU, they scored 24 in a win over FCS Eastern Washington and 35 last week against UNLV.
"We're really good at going down field, but then there's intermediate stuff and stuff underneath when downfield's not perfect that we need to utilize," Leach said. "... We're explosive, but we're not consistent. We're more consistent than we were several weeks ago."
Consistency has been an issue with Colorado as well. And though there have been calls in the local media for changes on the coaching staff, Bakhtiari still believes in what the Buffs and the coaches are trying to do.
"I've told the kids on our team, these are the best coaches I've ever been coached by," he said. "They know how to win. They are trying to instill that into these guys. They are trying to get the depth; get the players they need and get the mentality they want. You look at these coaches, there's something like 66 years or NFL experience. I have high respect and high regard for [offensive coordinator] Eric Bieniemy ... These coaches know what they are doing. We just need to execute their plan. It can't be one or three or five guys doing it. It has to be all 22 guys, as a whole, executing it for four quarters. That's all they want. If we lose off of that, so be it, I don't think they would care. But I don't think we'd lose if we execute at that level."
Leach anti-injury report
The idea of a mandatory, standardized Pac-12 injury report has been floated. Leach said he's not a fan.
"I would still refuse," he said. "I would still be very elusive on it. It would also violate the HIPAA law which would be interesting to me if the [conference] could get that law overturned. It's nobody's business. And obviously, if some kid doesn't want you to know, why should you? I still wouldn't tell."
August, 29, 2012
8/29/12
9:00
AM ET
It's time for our preseason All-Pac-12 team.

Most of this won't be surprising, though making distinctions at receiver and running back was particularly difficult. If you were to magically switch out our two receivers and replace them with USC's
Marqise Lee
and Cal's
Keenan Allen
you wouldn't get much objection.
You might notice that USC and Oregon dominated the team: Seven Trojans and seven Ducks made the cut. That's sort of what happens when your team is ranked in the preseason top five.
Nine teams are represented. Only Arizona, Arizona State and UCLA didn't provide players.
And making Oregon's
De'Anthony Thomas
just a return guy felt too underwhelming for us.
Offense
QB
Matt Barkley
, USC
RB
Stepfan Taylor
, Stanford
RB
Kenjon Barner
, Oregon
TE
Austin Seferian-Jenkins
, Washington
WR
Robert Woods
, USC
WR
Marquess Wilson
, Washington State
OL
David Bakhtiari
, Colorado
OL
Khaled Holmes
, USC
OL
Carson York
, Oregon
OL
Matt Summers-Gavin
, California
OL
David Yankey
, Stanford
K
Andre Heidari
, USC
FANCYPANTS De'Anthony Thomas, Oregon
Defense
DE
Dion Jordan
, Oregon
DT
Star Lotulelei
, Utah
DE
Ben Gardner
, Stanford
LB
Chase Thomas
, Stanford
LB
Dion Bailey
, USC
LB
Shayne Skov
, Stanford
LB
Michael Clay
, Oregon
CB
Nickell Robey
, USC
CB
Jordan Poyer
, Oregon State
S
T.J. McDonald
, USC
S
John Boyett
, Oregon
P
Jackson Rice
, Oregon
April, 4, 2012
4/04/12
1:30
PM ET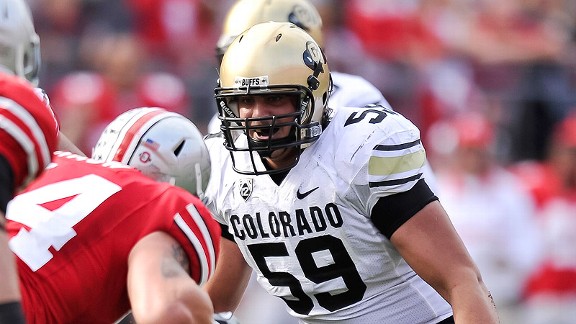 Jamie Sabau/Getty ImagesOffensive tackle David Bakhtiari has high expectations for the Buffaloes this season.
Receiver
Paul Richardson
is Colorado's best player. He's got Pac-12 speed, which the Buffaloes were sorely lacking in 2011. Coach Jon Embree's chief task in recruiting is to get more Paul Richardsons -- speedy guys for both sides of the ball.
But the rebuilding project in Boulder is going to require just as much
David Bakhtiari
as Paul Richardson. Bakhtiari, the Buffs' left offensive tackle, earned second-team All-Pac-12 honors in 2011 as a sophomore, the only Colorado player to get an All-Conference nod.
He's a want-to guy. A guy who talks about chemistry and a sense of urgency. A guy willing to lead. A guy who seems slightly bothered -- politely so, of course -- when a reporter notes the Buffs' significant holes heading into 2012.
Why should folks believe Colorado can improve on a 3-10 finish despite losing its top passer, top rusher and top-two receivers (Richardson missed four games due to injury)?
"There is definitely a sense of urgency that I can see from last year's team to this year's team," Bakhtiari said. "People are moving around with a purpose. They are buying into our common goal, which is a bowl game. We've decided we are tired of going home in December and watching all these games."
Bakhtiari has been impressed with QB
Connor Wood
, the Texas transfer who has the inside track to replace
Tyler Hansen
. He raves about RB
Tony Jones
, who will step in for
Rodney Stewart
. Stewart only led the Buffs in rushing four consecutive years and now ranks second on the school's all-time rushing list. And a healthy Richardson is the obvious choice to replace the receptions that departed with Stewart (45) and
Toney Clemons
(43).

But if the Buffs are going to improve, they are going to need to score more than 19.8 points per game, a total that ranked last in the Pac-12 in 2011. That starts with Bakhtiari and the O-line, which is replacing guards
Ethan Adkins
and
Ryan Miller
.
Offensive line coach Steve Marshall,
speaking to B.G. Brooks
, called Bakhtiari "probably was our most productive player (in 2011) game in and game out." He'll be protecting Wood's blindside as well as leading the charge for a rushing offense that needs to do better than 3.5 yards per carry and 109 yards per game.
Like most Colorado players, Bakhtiari was recruited by Dan Hawkins, a far softer touch than the demanding, straight-talking Embree. (Said Bakhtiari, "Embree is a little more, 'I want production and I'm going to get it.'"). Unquestionably, there was an adjustment to the change in styles in 2011. There was a lot less nurturing and a lot more barking at practices. And Embree isn't afraid to publicly question his players commitment to winning.
But there were hints of accord late last season between coaching staff and locker room. After a 1-9 start, the Buffs won two of their final three games, including a shocking and impressive 17-14 win at Utah, which knocked the Utes out of the Pac-12 title game.
"Guys are now understanding what these coaches want and how they want it to be," Bakhtiari said. "Last year, we were kind of chickens with our heads cut off."
That's a start. It's probably going to take a few more Richardsons and Bakhtiaris to get the Buffs into Pac-12 South Division contention. But that's a start.
January, 20, 2012
1/20/12
1:30
PM ET
While recruiting season is heating up for its home stretch, national signing day is about the future. The present matters, too, and there are plenty of present matters that need attending.
What are the main areas of focus in advance of spring practices? Glad you asked.
1.
Hello, my name is Coach ____________:
There are four new Pac-12 head coaches: Rich Rodriguez at Arizona, Todd Graham at Arizona State, Jim Mora at UCLA and Mike Leach at Washington State. That's a lot of turnover -- one third of the league. Further, none of the four retained many members of the previous staffs. So there will be a lot of "Getting to know you" in advance of spring practices. Also, beyond head coaches, Norm Chow left Utah to become Hawaii's head coach, so the Utes need a new offensive coordinator. Washington rebuilt its defensive staff. Coach Steve Sarkisian fired defensive coordinator Nick Holt and two other coaches and saw defensive backs coach Demetrice Martin bolt for UCLA. He then raided Tennessee, California and Oregon State to replace them. Because of the Huskies, Cal will have two new assistants this spring and Oregon State one.
[+] Enlarge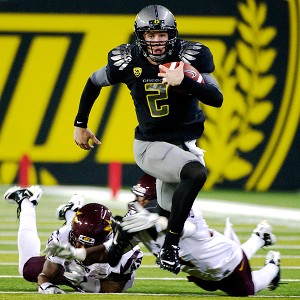 Jim Z. Rider/US PresswireBryan Bennett is the favorite to take over for Darron Thomas at Oregon.
2.
Settled at quarterback
? The only teams that have certainty at quarterback are: California, Oregon State, USC and Washington -- and some Cal fans might even harrumph that assertion. You can probably throw Arizona's
Matt Scott
in there as a certainty, both because he has quality starting experience and because there's no one around to unseat him. UCLA, Utah and Washington State have returning starters, but they also have plenty of intrigue. It's uncertain who takes the first snap in the opener. For Oregon, most would favor
Bryan Bennett
stepping in after
Darron Thomas
' surprising decision to enter the NFL draft, but his name isn't written atop the depth chart in ink just yet. Arizona State, Colorado and Stanford are wide-open competitions. It would be wise for any quarterback who wants to be in the starting mix to be laying groundwork with his teammates and coaches well in advance of the first spring practice.
3.
Line up
: Arizona welcomes back five starters on its offensive line, while USC and Washington get four starting offensive linemen back. Every other team has some degree of uncertainty with at least two voids to fill. Perhaps more than any position, the quality -- and depth -- of an offensive line can be advanced during the offseason. Hit the weight room, training table and the track -- get stronger, quicker and work off the baby fat and turn that into quality size. Right now just about every team has a guy who thinks he's going to automatically advance on the depth chart who is going to be overtaken by a youngster who is eyeballing his slack, er, rear end while doing an extra set of power cleans.
4.
Taking the next step
: At this point last year, Oregon defensive end
Dion Jordan
and Utah defensive tackle
Star Lotulelei
were just promising guys, not first-team All-Pac-12 defenders. Wide receivers
Keenan Allen
of Cal and
Robert Woods
of USC were coming off impressive freshman seasons but were facing the inevitable, "What's next?" questions, which implied the possibility of sophomore slumps. But, of course, Allen and Woods joined Jordan and Lotulelei on the All-Conference first team. Did you know that USC offensive tackle
Matt Kalil
wasn't even honorable mention All-Pac-10 in 2010? Kalil was a big-time talent who had yet to make a statement -- you know, the "I'm a top-five pick as the best left tackle in the NFL draft" statement. There are a lot of players who had good seasons in 2011. Good for them. But just like Oregon coach Chip Kelly, the Pac-12 blog is a forward-thinking operation. Yes, we were very impressed
De'Anthony Thomas
,
Marqise Lee
,
John White
,
Ben Gardner
,
Nickell Robey
,
Marquess Wilson
,
Dion Bailey
,
Hayes Pullard
,
Brian Blechen
,
Austin Seferian-Jenkins
,
Keith Price
, Tramayne Bondurant,
Mustafa Jalil
,
Stefan McClure
,
David Bakhtiari
,
Colt Lyerla
,
Scott Crichton
,
Sean Mannion
,
Ty Montgomery
,
Sean Parker
,
John Fullington
, etc. But what are you doing to get better right now? Yes, right now. So stop reading this, wondering why your name isn't listed and go do some wind sprints.
5.
Don't believe the hype -- either way
: Everyone is massively overrating USC and Oregon. Top-five teams? Pfftt. So stop staring at yourself in the mirror in your tighty-whiteys, doing a most-muscular pose. I talked to your mammas and they said you ain't all that. California, Washington and Utah are eyeballing your girlfriends. Better watch out. If you don't do the work, you won't be top-five anything. And what about you Colorado, UCLA, Arizona, Oregon State, Washington State -- are you going to hear those national yawns and assume there's no hope? Are you expecting to lose and using that as an excuse to eat a Twinkie on the sofa while watching "Caddyshack" again instead of going to a workout? From now until opening day, there will be endless fan and media chatter decided how every Pac-12 teams' season is going to go. Hey, it's fun. But that doesn't decided a season. The 100 guys in the locker room do. Oh, and one final thought. Stanford? You're done. You ain't poo without
Andrew Luck
.