NCF Nation:

David Blackburn
July, 15, 2011
7/15/11
3:24
PM ET
Scratch Georgia Tech's Dan Radakovich from Tennessee's list for a new athletic director.
Georgia Tech's recent NCAA troubles and the NCAA's assertion that Georgia Tech officials attempted to "manipulate the information surrounding potential violations" makes Radakovich untouchable for a school that appeared before the Committee on Infractions just last month for major violations in both football and men's basketball.
Tennessee should find out sometime next month what sanctions it will face for violations that occurred on the watch of former athletic director Mike Hamilton, who stepped down in June.
[+] Enlarge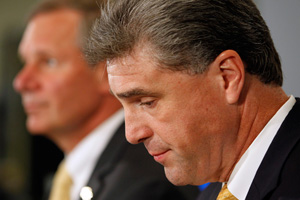 AP Photo/John BazemoreGeorgia Tech athletic director Dan Radakovich had been a front-runner to take the same job at Tennessee.
In the meantime, Tennessee is left to pick up the pieces now that Radakovich is out.
What's most troublesome for Tennessee supporters is that the university forked out six figures to the Parker Executive Search firm to help identify candidates, gather information … and conduct background checks.
If that's the case, how does a guy like Radakovich emerge as the front-runner when his own shop is about to get hit with NCAA penalties?
Given what Tennessee has gone through with the NCAA over the past year or so, the first directive Tennessee chancellor Jimmy Cheek gives to the Parker search firm is to make sure that any and all serious candidates don't have even a trace of NCAA baggage.
Yet, until the news broke Thursday that Georgia Tech was being stripped of its 2009 ACC championship and going on NCAA probation, the feeling of many in and around the Tennessee athletic department was that Radakovich was clearly the guy to beat in the Vols' search for a new athletic director.
Again, good thing they forked over all that money to the Parker search firm, which has collected nearly $300,000 of Tennessee's money when you throw in the searches that led to the hiring of football coach Derek Dooley and basketball coach Cuonzo Martin.
And one more thing: Who is Cheek listening to?
Better yet, is he purposely trying to botch this one even worse than he did the Bruce Pearl situation?
Cheek openly supported Pearl after the former basketball coach admitted to lying to the NCAA and was adamant that Pearl was going to be the Vols' coach. Cheek reiterated that support even after the SEC suspended Pearl for eight games. And then after allowing the whole thing to fester for a season and Tennessee to take a public relations bloodbath nationally, Cheek then decided it was time to pull the plug on Pearl.
Needless to say, his handling of the matter didn't exactly inspire confidence among the Big Orange Nation.
He faces an even more important decision in this next hire, because if Tennessee football doesn't get back to playing for and winning championships -- and doing it the right way -- Cheek might be the next one Tennessee is searching to replace.
No word yet on whether a search firm would be necessary.
As for the athletic director candidates remaining on Tennessee's board, Tulsa's Bubba Cunningham, Buffalo's Warde Manuel and Cincinnati's Mike Thomas appear to be at the top of the list.
From the day Hamilton stepped down, Cheek's initiative was to attract an established athletic director from a bigger school, and he assured key people it would be somebody with a strong football background.
Tennessee took its shot at several so-called bigger names, but those candidates weren't interested in making the move. It's no secret that righting the Vols' ship is going to be a major undertaking for anybody.
Part of Tennessee's problem in this whole search might be that it hasn't looked closely enough within the family.
Senior associate athletic director David Blackburn is a candidate. Where he is in the pecking order at this point is anybody's guess.
But if Cheek genuinely wants to get this one right, Blackburn ought to be at the very top.
He's a Tennessee guy. He understands what's important to the Tennessee people. He's willing to fight for Tennessee, and he's also willing to fight against those (coaches, boosters, anybody) who put Tennessee at risk.
It was Blackburn who saved Tennessee's football program from a failure to monitor charge in the whole Lane Kiffin-NCAA mess. For that matter, Blackburn saved Tennessee football from much worse charges because of his diligence, his integrity and his willingness to stand up to people.
Simply, he's the right fit at Tennessee, the kind of person and the kind of administrator the Vols' athletic department desperately needs.
And it doesn't take a $100,000 search firm to figure that out.
June, 10, 2011
6/10/11
10:18
AM ET
At some point USC and Lane Kiffin will get to focus on the football part of football. But not yet.
Kiffin still has his own dirty laundry -- all of it bright orange -- to tend to: He's in Indianapolis this weekend discussing the alleged transgressions that occurred while he Tennessee's head coach with the 10-member NCAA Committee on Infractions.
[+] Enlarge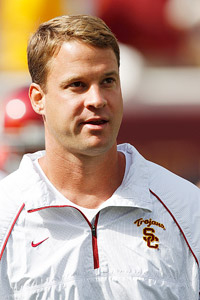 AP Photo/Andy KingUSC coach Lane Kiffin is set to face the NCAA Committee on Infractions this weekend.
Kiffin will try to defend himself against the NCAA and Tennessee, which is trying to heap the entire mess on Kiffin's and, by association, USC's doorstep.
Kiffin was cited with a failure "to promote an atmosphere for compliance within the football program and failed to monitor the activities regarding compliance of several assistant football coaches" as well as two specific violations:
The NCAA alleges between Jan. 3 and Jan. 9 of 2010 Kiffin or his assistant coaches made 16 "impermissible recruiting telephone calls" to three prospects.

The NCAA alleges Kiffin allowed a recruiting intern, Steve Rubio, "to make in-person, off-campus contacts with high school administrators during a recruiting trip" to St. Thomas Aquinas High School in Fort Lauderdale, Fla.
In both of the alleged violations, Kiffin was told in advance by Tennessee not to do what he ended up doing, according to the NCAA. That's good for the Volunteers, not so good for Kiffin. (You can read the complete
Notice of Allegations
here if you so desire.)
Said the NCAA of the calls: "These calls were placed subsequent to the football staff's receipt of information in December of 2009 from the institution's compliance staff that such telephone calls were impermissible."
Said the NCAA of the trip: "This trip and these contacts occurred after David Blackburn, the institution's director of football operations, informed both Kiffin and Rubio ... that Rubio was not permitted to enter a high school's property while accompanying a football coach on a recruiting trip."
So what's going to happen? The short answer is "heck if I know."
Using logic, reason and a sense of fairness last June, I predicted, using Alabama's 2002 pay-for-play case as a precedent, that USC would get hit hard but
not hammered by NCAA sanctions
. The NCAA opted instead to be unfair and arbitrary and pounded the Trojans with a loss of 30 scholarships and a two-year postseason ban.
There was no way to justify what the NCAA did -- good luck coming up with a more severe penalty against Ohio State -- but the organization tried on its
new enforcement web page
: "Each case is unique, and applying case precedent is difficult (if not impossible) because all cases are different. Each case has its own aggravating and mitigating factors, and the committee considers both sides in assessing penalties."
If applying precedent is "impossible," then your enforcement arm can do anything it wants. Imagine if the police and courts operated this way.
Judge: You shot him for jaywalking?

Police: Yes.

Judge: Isn't that little harsh?

Police: He was wearing a Reggie Bush jersey.

Judge: A USC Reggie Bush jersey or a New Orleans Saints Reggie Bush jersey?

Police: USC.

Judge: Oh, aggravating and mitigating factors. Well, then. Good job.
Know this: Kiffin is going to suffer some sort of sanction specific to himself, likely one that limits him in recruiting. While the NCAA doesn't want us to pay attention to precedent, I covered a strikingly similar case in 2002, when then-Washington coach Rick Neuheisel was grounded for eight months for violations he committed while coaching at Colorado.
The interesting difference is the NCAA ruled Colorado failed to properly monitor Neuheisel's activity. It appears the COI -- with the overwhelming support of Tennessee -- has the option here of ruling Kiffin went rogue versus his compliance department. That might cast Kiffin's transgressions in a harsher light.
On the plus side for Kiffin, he's kept his nose clean at USC, which athletic director Pat Haden noted in a statement last February when the notice of allegations was published: "Since his return to USC last year as our head football coach, Lane has been vigilant in making sure he and the football program follow the NCAA's rules and compete the right way. Lane has my support as our head football coach."
USC's exposure here will likely be nothing more than collateral damage resulting from sanctions against its head coach, which might be substantial. Kiffin is an outstanding recruiter -- see his top-five 2011 class, despite the NCAA sanctions shadow -- so removing him from the equation for a period of time will further hurt the Trojans efforts to remain competitive.
Of course, after Kiffin and the NCAA chat this weekend, it will be weeks before the COI publishes its findings.
So -- Fight On!... and on and on -- USC fans can look forward to more embarrassing headlines generated from behind the closed doors of conference rooms.
February, 23, 2011
2/23/11
3:38
PM ET
Behind closed doors at Tennessee, Lane Kiffin is referred to sarcastically as the gift that keeps on giving.
His lasting "gift" was an NCAA investigation.
But with the release Wednesday of the
NCAA's notice of allegations
, the guy who had to come in and clean up Kiffin's mess, Derek Dooley, can finally see the finish line in this whole ordeal, one that has festered ever since Kiffin left town in January 2010 to the smell of burning mattresses.
Some of the students on Tennessee's campus went into semi-riot mode the night it was announced Kiffin was bolting for USC.
[+] Enlarge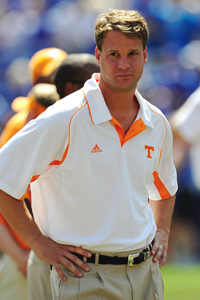 Sam Greenwood/Getty ImagesFormer Vols coach Lane Kiffin was cited for failure to monitor an atmosphere of compliance within the Vols program.
The real riot, though, may be that Kiffin, even though he's now on the West Coast, may be the one who gets spanked the hardest by the NCAA for his refusal to adhere to the simplest of NCAA rules and monitor his assistant coaches.
Even when warned, Kiffin found a way to sidestep NCAA rules.
What's it all mean for Tennessee football?
The Vols are by no means completely in the clear, nor should they be. After all, current Tennessee athletic director Mike Hamilton is the one who hired Kiffin. But what is clear is that the NCAA seems a lot more intent on going after Kiffin than the Tennessee football program.
The violations outlined in the NCAA's report could end up costing the Vols some recruiting visits, limit who goes out on the road during contact periods and maybe even dock them a scholarship or two, although precedent in similar cases suggests scholarship reductions probably won't be one of the penalties handed down by the NCAA.
But the more serious charge of failure to monitor was slapped on Kiffin … and not Tennessee.
For Dooley and the current team, that's a huge win.
Recruits have no doubt been pestering Dooley for the last year about what kind of punishment the Vols can expect to receive and whether or not major probation was on the way for the football team.
The Vols still won't find out their specific punishment until after they go before the NCAA's Committee on Infractions in June. But reading between the lines, at least based on what was in the notice of allegations, those penalties figure to be minor in nature.
Keep in mind, too, that there was real concern by Tennessee officials that the Vols' football program would get hit with a failure to monitor charge along with Kiffin, but Tennessee fought hard against that the whole way and was able to avoid that stain on the program.
If there's a hero for Tennessee in this whole mess, it's senior associate athletic director David Blackburn, who was put in charge of football administration and operations during Kiffin's 14-month reign of terror.
Blackburn, a stickler for doing things the right away and universally respected by everyone on Tennessee's campus, tirelessly monitored the program under Kiffin and was continually warning Kiffin what he could and couldn't do with regard to recruiting.
Sometimes Kiffin listened, and sometimes he didn't listen.
The key element here is that Blackburn wasn't in any way negligent. He obviously couldn't go on recruiting trips with coaches and wasn't around for every recruiting call, but he stayed on top of things. He watched. He listened, and he didn't bury his head in the sand.
If not for Blackburn's diligence and his professionalism, there likely wouldn't be a finish line in sight right now for Tennessee's football program.
In fact, the Vols might well be finished.