March, 28, 2014
Mar 28
12:00
PM ET
WEST LAFAYETTE, Ind. -- Purdue quarterback
Danny Etling
showed up to a recent interview holding a piece of paper marked with X's, O's and notations.
It wasn't a play sheet for that afternoon's practice. Etling had created most of the page himself. Boilers offensive coordinator John Shoop provides his quarterbacks with general concepts, and then lets their minds run wild. He encourages Etling,
Austin Appleby
, 2014 signee
David Blough
and the other signal-callers to submit plays for review. Some will be used in practice. Some will even be used in games this season.
[+] Enlarge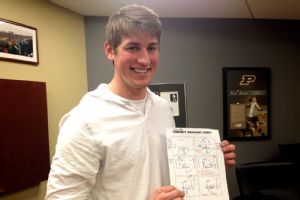 Adam Rittenberg/ESPNPurdue QB Danny Etling shows off the sheet where he creates plays that could find their way into a game.
"You just throw it on a piece of paper," Etling told ESPN.com "He'll be like, 'Terrible, terrible, terrible ... that one's not bad. Let's talk about it.' That's how our plays develop, by that thought process. Out of every 10 plays you draw, nine of them suck but one might be good and that's the one you might run on Saturday."
Shoop is the "puppet master," as Etling puts it, and has final say on all play calls, but Purdue's quarterbacks are very involved in the planning process for practices this spring -- and will be for games this fall.
"I value that," Shoop said. "It's our job as a staff to make our team feel empowered, like they're in control. These guys are not robots. Our staff takes a great deal of pride that the men who come and play for us are going to learn the game of football."
After a 1-11 season, where one of Purdue's biggest problems -- not lining up correctly -- occurred before the snap, you would expect the coaches to take even greater control of the learning process. The classic scenes of coaches and players -- red-faced coaches screaming and pounding on tables, players scared out of their cleats -- would seem likely inside the Mollenkopf Center this spring.
But there's a problem with that teaching model.
"They'll just sit there and nod their heads, say they got it," defensive backs coach Taver Johnson said, "and then we'll go down to the field and they'll have absolutely no clue."
Purdue has chosen a different direction this spring. There's plenty of teaching being done, but the Boilers' coaches are doing all they can to involve players in the process.
"Every time you take over a new program, your staff has to teach everything," coach Darrell Hazell said. "How do you line up, how do you break a huddle, where you are on the field. Now it's becoming fun, because you don't have to worry about all those little things.
"You can concentrate on ball and getting guys better."
It beats the alternative.
For Shoop, it means having quarterbacks present their own plays at each meeting, and seriously considering them for use. For Johnson, it's having a player stand at the front of the room and teach his teammates press technique. For wide receivers coach Kevin Sherman, it's having each wideout prepare a report on a concept or set of concepts, while encouraging them to get creative.
Sophomore receiver
Cameron Posey
took it to heart.
"

It's our job as a staff to make our team feel empowered, like they're in control. These guys are not robots. Our staff takes a great deal of pride that the men who come and play for us are going to learn the game of football.

"

-- Purdue offensive coordinator John Shoop
"Cameron used little Indians and cowboys on a cardboard," Sherman said. "He used different color lines on his routes. Very creative. I was very proud of them. They were very, very invested in what we're trying to do."
Etling admits the plays he submitted last year were "high school stuff," possibly because he had just come from high school. But he eventually learned all that goes into a play and what Shoop likes. One of his submissions made it into a game against Illinois and went for a completion.
Although the players' submissions still need refining, Shoop never writes them off immediately. He fully expects to use an Etling play or an Appleby play in games this fall.
"These coaches are very unique, especially with Coach Shoop in the way he challenges us mentally, physically, emotionally, spiritually," Appleby said. "Coach Shoop says if you never walk into this room comfortable, we're not doing our jobs and we're not getting better.
"The only time I would say I wouldn't be able to develop as a complete quarterback is if there was a ceiling put over my head. There is no ceiling."
Appleby hopes to pursue coaching after his playing career and would like to be an offensive coordinator in college.
"I can't get enough of it," he said. "It's my favorite class. I know we're student-athletes, but my football class is what I look forward to all day. I get a chance to learn from [Shoop], not only as a player, but if I pursue a coaching career, it's going to pay dividends."
The coaches have successfully created more player investment in the learning process. The next step: translating it to the field when it matters.
"Any time you can get the players thinking like the coaches," Hazell said, "you have a chance to move forward."
January, 24, 2014
Jan 24
1:00
PM ET
The last two seasons have shown that two-quarterback systems can work in the Big Ten.
Northwestern recorded 10 wins in 2012 while rotating
Kain Colter
and
Trevor Siemian
. Indiana led the Big Ten and ranked ninth nationally in total offense last fall while alternating between
Tre Roberson
and
Nate Sudfeld
.
[+] Enlarge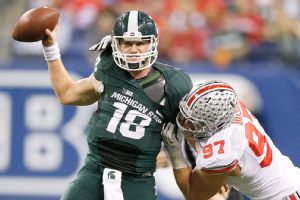 Gregory Shamus/Getty ImagesAfter taking over the quarterback job in Week 5, Connor Cook led the Spartans to 10 consecutive wins.
Given the recent success, my next statement might surprise you: Every Big Ten team would be best served picking one quarterback and sticking with him in 2014. That includes Indiana and Northwestern.
Quarterback rotations can be successful in the short term, but they are rarely sustainable or desirable. We saw this at Northwestern last fall, as the Wildcats never established a consistent offensive rhythm and operated with a reduced playbook, in part because of injuries but also because the unit lacked a clear identity. Northwestern finished 10th in the league in scoring.
Minnesota alternated between quarterbacks
Philip Nelson
and
Mitch Leidner
during several games, including the Texas Bowl against Syracuse. Although the Gophers had a nice surge during Big Ten play and recorded eight wins, they also finished 11th in the league in scoring and last in passing.
Nebraska had some success using two quarterbacks (
Tommy Armstrong Jr.
and
Ron Kellogg III
) last season but did so out of necessity following
Taylor Martinez
's injury. The Huskers also struggled to pass the ball, finishing 11th in the league.
The strongest argument for picking a quarterback and sticking with him comes from the Big Ten's best team in 2013. Michigan State's offense was a train wreck in non-league play as the Spartans used three quarterbacks. After a Week 4 loss to Notre Dame, the coaches decided
Connor Cook
would be their guy. You all know what happened next, but what struck me was Cook's mindset at the time.
"We went through spring ball competition and fall camp competition, it was the most stressed out I've ever been in my entire life just trying to be the quarterback," Cook said last month before the Rose Bowl. "After I got the starting job and started a couple of games, the stress went away and it turned to focus, me being focused and knowing they're not going to use other quarterbacks in the game and not stress too much that go if I make a bad play I'm going to be pulled.
"That's when the stress went out the window."
Players like Northwestern's Siemian and Indiana's Roberson and Sudfeld are more accustomed to sharing time than Cook was, but each of them, like any quarterback, would rather be the clear-cut starter.
Illinois'
Nathan Scheelhaase
is another good example of a player who benefited from an unambiguous role. He struggled
from the middle of the 2011 season through all of 2012, raising the possibility of a rotation last season. Instead, Scheelhaase started every game and led the Big Ten in passing (3,272 yards).
[+] Enlarge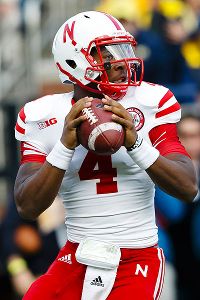 Rick Osentoski/USA TODAY SportsAfter playing well in place of Taylor Martinez, sophomore signal-caller Tommy Armstrong Jr. is the favorite to start for the Cornhuskers in 2014.
I'm all for competition at quarterback, and the Big Ten will feature plenty of it this spring and summer. Only five quarterbacks -- Ohio State's
Braxton Miller
, Penn State's
Christian Hackenberg
, Michigan State's Cook, Iowa's
Jake Rudock
and Michigan's
Devin Gardner
-- can feel pretty secure about their starting roles. Gardner has been mentioned as a possible rotation candidate with
Shane Morris
-- some Michigan fans wouldn't mind seeing Gardner line up at wide receiver, a position of need -- but I'd be surprised if Morris leapfrogs the senior.
I'm also OK with teams employing change-up quarterbacks for a package of plays, be it the Wildcat or something else. Michigan State could be a candidate for this in 2014 with dynamic redshirt freshman
Damion Terry
possibly spelling Cook from time to time.
The first few games also provide a platform to use multiple quarterbacks in settings that can't be replicated on the practice field. Former Ohio State coach Jim Tressel often did this with his younger quarterbacks, giving them a first-half series or two. It makes sense. But by Week 4, roles must be identified.
The offseason is full of Big Ten quarterback questions:
Will Oklahoma State transfer Wes Lunt take the reins at Illinois?

How will Gardner and Hackenberg fare with new offensive coordinators?

After Nelson's transfer, who emerges at Minnesota among Leidner, Chris Streveler and possibly a young quarterback such as Dimonic McKinzy?

Nebraska's Armstrong went 6-1 as a freshman starter, but can he hold off Johnny Stanton?

Can Gary Nova retain his job at Rutgers?

Will Danny Etling keep the top job at Purdue, or will Austin Appleby and possibly early enrollee David Blough enter the mix?

How does Siemian bounce back at Northwestern, and do the Wildcats look at Matt Alviti and Zack Oliver?

Will either Roberson or Sudfeld finally separate himself at IU?
Ultimately, these questions must be answered. The teams that avoid prolonged rotations should be better off for it.
January, 15, 2014
Jan 15
1:00
PM ET

Before we close the book on the 2013 season, here's the final version of the Big Ten power rankings. Bowl performances were factored in, as well as how teams finished the season, although there aren't too many changes from the
previous version of the power rankings
.
Let's get started ...
1. Michigan State (13-1, previously: 1):
The Spartans rallied to beat Stanford in the Rose Bowl Game presented by VIZIO to record their team-record 13th victory. Thanks to stifling defense and improved quarterback play, Michigan State had its best season since the mid-1960s. The Spartans return QB
Connor Cook
and most of the skill players on offense, but must replace a lot of production on defense.
2. Ohio State (12-2, previously: 2):
After winning 24 consecutive games to open the Urban Meyer era, Ohio State dropped consecutive games on big stages. The Buckeyes' defense couldn't slow down Clemson's pass game in the Discover Orange Bowl, and turnovers doomed Ohio State in the second half. Meyer's defensive staff will have a different look with new assistants Chris Ash and Larry Johnson.
3. Wisconsin (9-4, previously: 3):
Like Ohio State, Wisconsin ended its season with a thud and a sloppy bowl performance against South Carolina. The Badgers received big performances from running backs
Melvin Gordon
and
James White
but couldn't stop South Carolina quarterback
Connor Shaw
or hang on to the football.
4. Nebraska (9-4, previously: 6):
All roads lead to 9-4 for Bo Pelini's team, but the Huskers are much happier to be there after an upset victory over Georgia in the Taxslayer.com Gator Bowl. An improved defense did a nice job of keeping the Bulldogs out of the end zone, and seniors such as wide receiver
Quincy Enunwa
stepped up in their final college game.
5. Iowa (8-5, previously: 4):
A stout Hawkeyes defense kept the team in the Outback Bowl, but the offense never truly got going and lost starting quarterback
Jake Rudock
to injury. Iowa had its chances for a quality bowl win, but has to settle for a strong regular-season improvement and raised expectations entering the 2014 season.
6. Penn State (7-5, previously: 7):
An impressive victory at Wisconsin marked the final game of the Bill O'Brien era. New coach
James Franklin
has brought a lot of enthusiasm to Happy Valley and should sparkle on the recruiting trail. His management of talented quarterback
Christian Hackenberg
and an undermanned defense will loom large this fall.
7. Minnesota (8-5, previously: 5):
The Gophers had by far the most favorable bowl matchup but didn't reach the end zone for more than three quarters against Syracuse. Although a special-teams play ultimately doomed Minnesota, the Gophers' inability to establish a better passing game was a key element in a very disappointing loss. Minnesota should expect more in 2014.
8. Michigan (7-6, previously: 8):
You knew it would be tough for Michigan in the Buffalo Wild Wings Bowl when quarterback
Devin Gardner
hobbled off of the plane on crutches. But the Wolverines never gave themselves a chance in the game, caving defensively against Kansas State's
Jake Waters
and
Tyler Lockett
. A blowout loss ended Michigan's highly disappointing season and marked the end for offensive coordinator Al Borges. Can coach Brady Hoke get things turned around in 2014?
9. Northwestern (5-7, previously: 9):
Northwestern is awaiting confirmation that running back
Venric Mark
can return for a fifth season, and should get it in the next few weeks. Mark will help an offense that never truly got on track last fall and might need to be more of a pass-first unit if
Trevor Siemian
remains the starting quarterback. The defense returns nine starters.
10. Indiana (5-7, previously: 10):
It took a little longer than expected, but coach
Kevin Wilson
fired defensive coordinator Doug Mallory last week as Indiana again will try to upgrade a perennially porous unit. The Hoosiers will be more experienced throughout the roster this fall, but the defense must change the script under new leadership as they enter the brutal East Division.
11. Illinois (4-8, previously: 11):
While Wilson made a change at defensive coordinator, coach Tim Beckman is sticking with Tim Banks and the rest of his staff for a pivotal 2014 season. Like Indiana, Illinois will be more experienced on defense but must replace
Nathan Scheelhaase
at quarterback. A favorable schedule gives Illinois a chance to make a bowl game.
12. Purdue (1-11, previously: 12):
No Big Ten team is more excited to start working this offseason than the Boilers, who are rebuilding through the quarterback spot with
Danny Etling
and early enrollee
David Blough
, who officially arrived this week. Purdue must improve along both lines and replace veteran defenders such as cornerback
Ricardo Allen
and tackle
Bruce Gaston Jr.
May, 21, 2013
5/21/13
10:00
AM ET
Gerad Parker and his fellow Purdue assistants need no tutorial on what the state of Texas means to the Boilers' program.
They get a reminder every time they turn on the television every Sunday during the NFL season. Former Purdue coach Joe Tiller built his program largely on recruiting the Lone Star State, and the centerpiece of Tiller's efforts plays quarterback for the New Orleans Saints.
"We knew from what Coach Tiller was able to do here at Purdue," Parker, Purdue's recruiting coordinator and tight ends coach, recently told ESPN.com. "The players that came out of [Texas], the first one obviously being You Know Who in Mr. [Drew] Brees. Those guys did a good job in Texas."
[+] Enlarge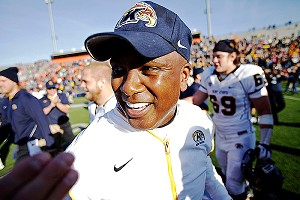 AP Photo/J.D. PooleyNew Purdue coach Darrell Hazell and his staff will be making recruiting talent out of Texas a priority.
Purdue's 2000 team that won the Big Ten and reached the Rose Bowl included 12 Texans on the roster, including Brees, first-team All-Big Ten linebacker Akin Ayodele, linebacker Landon Johnson and safety Ralph Turner. The Boilers currently have five Texans on the roster, including starting defensive end
Ryan Russell
.
Those numbers could increase under the new staff. Although head coach Darrell Hazell and several of his assistants have ties to the East Coast and, of course, to Ohio, Texas will be a priority for Purdue's recruiting in the coming years. Parker had two assistants each spend a week recruiting in Texas during the post-spring evaluation period.
Purdue's lone commitment so far for the 2014 -- wide receiver Trae Hart -- hails from Texas. The Boilers are
pursuing other Texas prospects
like quarterback David Blough, a Carrolton native recently selected for the Elite 11 finals. Blough learned he had made the finals when
Brees tweeted about it
.
"Texas is another state that has great football, great tradition, those kids grow up playing, they're well-coached" Parker said. "So we wanted to get back and put our feet in the ground and obviously get some kids from that area."
Purdue's previous coaching staff didn't hide its preference for Florida recruits, and there are 19 Floridians on the current roster and five in the incoming recruiting class. Although the team's recruiting map will spread out a little more under Hazell and his assistants, they aren't going to neglect the Sunshine State.
Three of Hazell's assistants -- offensive line coach Jim Bridge, defensive line coach Rubin Carter and secondary coach Jon Heacock -- all have recruited Florida for years and will continue to do so.
"We've got Florida still covered, there's no question about it," Parker said. "With the players we have currently, who are all pretty good players, we want to keep that tradition alive, and the only way you do that is continue to sign kids from that area."