NCF Nation:

David Brandon
September, 7, 2014
Sep 7
3:06
AM ET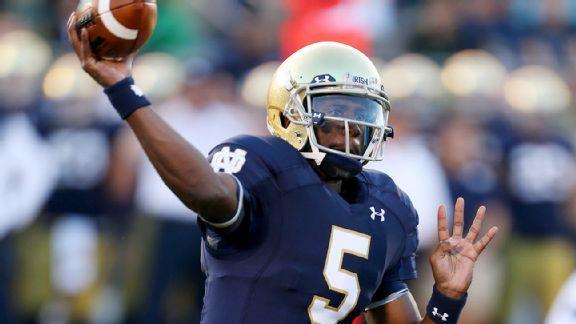 SOUTH BEND, Ind. —
Joe Schmidt
is a former walk-on who worked his way to a scholarship before earning Notre Dame's starting middle linebacker role. He is a coach's dream who never makes one game or snap out to be bigger than it really is.
Yet when Schmidt entered the media room after Notre Dame's
31-0 win
over Michigan, the optimist in him was outdone by the sheer absurdity of the goodbye his young and unproven defense had just delivered the Wolverines.
"You want to believe that this is something you can accomplish every time you go on the field," Schmidt said. "And there's still a lot of things we could've done better today, but …"
He paused for three seconds and collected himself with a deep breath.
"Shoot. This is a great feeling right now."
As finales go, this was more
Sopranos
than
Breaking Bad
, a much-hyped shootout that turned into a dramatic letdown. Notre Dame didn't just send Michigan back to Ann Arbor with a 1-1 record and a bad taste in its mouth from being on the losing end of these programs' final meeting. No, the Irish flat-out demoralized the Wolverines. They bullied their hapless offensive line, shredded their patchwork secondary and delivered one indignity after another following a week that did nothing but suggest the visitors would be the ones who would enter with chips on their shoulders.
[+] Enlarge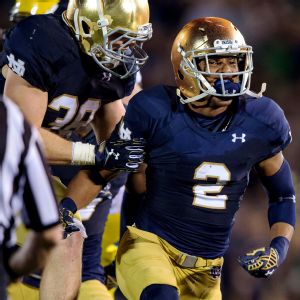 Matt Cashore/USA TODAY SportsCody Riggs, right, and Joe Schmidt celebrate one of Notre Dame's three interceptions against Michigan quarterback Devin Gardner.
Michigan had played 365 straight games in which they scored points before Saturday. These Irish met them in a dark alley here in Week 2, and they rendered them rudderless.
"I just got the stat from [SID Michael] Bertsch: 1984 was the last time these guys were shut out?" Schmidt said as he double-checked with reporters. "I think that kind of speaks for itself on how great this feels right now for me and for this defense and for this team."
Michigan left here last time feeling disrespected, with athletic director David Brandon on the receiving end of a cancellation letter from counterpart Jack Swarbrick. The Wolverines had said what Notre Dame did to them was a slap in the face. To add insult to injury, the Irish announced Thursday they would play a future series against Michigan's arch-rival, Ohio State.
What Notre Dame did to Michigan before a sellout crowd under the lights was far more humiliating.
The Wolverines seemingly dared
Everett Golson
to beat them with his arm. He looked every bit as lethal as he did last week against Conference USA member Rice and completed 23 of 34 passes for 226 yards with three touchdowns.
Michigan's quarterback,
Devin Gardner
, received help from no one but
Devin Funchess
, which led coach Brady Hoke to defend why he stuck with his signal caller after Gardner threw three interceptions and lost a third-quarter fumble on a reckless spin move Schmidt saw coming from a mile away.
"Sometimes it just opens up, and as a defensive player, that's the stuff you lay awake at night dreaming of," Schmidt said. "Quarterback's back, ball's right there, you know you can force the fumble."
Gardner's predecessor, Denard Robinson, had tossed four picks and lost one fumble in a 2012 loss to Notre Dame. That was against the No. 2 scoring defense in the country, the catalyst behind an Irish team that went all the way to the BCS title game.
This year's defense started eight new faces from a year ago in its second game under new defensive coordinator Brian VanGorder,
who himself turned into an overnight internet celebrity for a raucous late-game celebration
.
"I would say it really just ceases all the doubts about, We're young, 'Can we execute?'"
Jaylon Smith
(10 tackles) said.
VanGorder can be forgiven for his excitement, but the best was yet to come.
Whereas Hoke had quipped last year that Notre Dame was chickening-out of this rivalry — a brushfire Michigan threw gasoline on by playing the "Chicken Dance" after its win over Notre Dame in 2013 — Notre Dame fans took matters into their own hands in the closing minutes and started a
stadium-wide rendition of "Na Na Hey Hey Kiss Him Goodbye."
And that wasn't even the final indignity.
On what looked like it would be the final play of the game, Gardner was picked off one last time by
Elijah Shumate
, who returned it 61 yards for a touchdown. Michigan personnel had already made their way to the locker room, having escaped the hysteria engulfing Notre Dame Stadium — except the officials ruled
Max Redfield
had roughed the passer on the return, the touchdown didn't count and the game couldn't end on a defensive penalty. This made for an awkward delay, as the playing grounds cleared and a chunk of the Wolverines' roster
made the long walk back through the tunnel and onto the FieldTurf
before going right back up after the Irish showed mercy and took a knee.
"We temper it by knowing that we got a long season ahead of us, and it counts as one, it doesn't count as two," said coach Brian Kelly, who tried so hard all week to not give in to the hype. "If it counted as two, we would probably be a little bit happier, but it counts as one.
"But there's no question -- I would be lying if I told you that it doesn't feel great to shut out Michigan 31-0."
September, 5, 2014
Sep 5
10:00
AM ET
SOUTH BEND, Ind. -- Divorce is always messy, especially when the opposing attorneys are two of the biggest fan bases in all of college football.
[+] Enlarge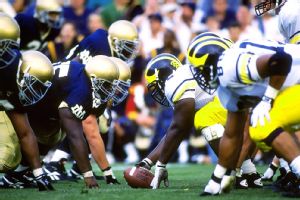 Jonathan Daniel/Getty ImagesA rocky relationship may finally come to an end when Notre Dame and Michigan meet Saturday.
Notre Dame broke up with Michigan. Heck, the Fighting Irish had been flat-out flirting with other prospects beforehand, arranging to see the ACC five times a year from 2014 to 2025. The Wolverines are the scorned ex-spouse, refusing to see the Irish for the foreseeable future while letting it be known at every turn that
"they"
started it, not
"us."
The Wolverines accused the Irish of chickening-out, and in case that had gotten lost on anyone, they made darn sure to serve a reminder by playing the visitors out of the Big House last year to the tune of the "Chicken Dance."
The Irish? Why, the Golden Domers are way too cool for Michigan anyway. It's the Wolverines who are distraught, remember?
"We"
dumped
"them."
"They"
need
"us"
more, because Michigan doesn't have another big game (or two) to circle on its calendar every year. Nope. And in case you weren't already convinced just how little Notre Dame concerns itself with Michigan, Irish fans
are shelling out only $349 per person to get into the building Saturday
. You know, just to prove that they don't care.
Michigan and Notre Dame will have gotten together only 42 times after this weekend. But the fact this relationship has been put on hiatus so often speaks to the complicated feelings between the two sides. Breaking up is hard to do.
Want mixed messages? Notre Dame athletic director Jack Swarbrick may have delivered the divorce papers to Michigan AD David Brandon before the 2012 game, but the Wolverines had given off the vibe that this was an open relationship. Less than three weeks before delivering the edict, the Irish had set up future dates with the ACC and were feeling a little claustrophobic. There was a three-year out clause in the Michigan agreement that simply made this affair the easiest for Swarbrick to get out of. Four months beforehand, Brandon himself
had been non-committal about anything long-term
. And there was already a fork in the road awaiting both parties in 2018 and 2019.
Brandon said he was blindsided in 2012. Swarbrick
told the AP this week that he had let Brandon know in a phone call beforehand
. In case that wasn't clear, Notre Dame announced Thursday -- two days before its last meeting with Michigan -- that
it has a pair of dates with Ohio State
.
We've heard you've been talking about us, Michigan. Now excuse us while we make arrangements to see the homecoming queen down the road ...
"For a team to opt out of that contract, and to opt out of playing another team that is a great rival and is one of those great games, it's almost like a slap in the face," Michigan defensive end
Frank Clark
told reporters.
Countered Notre Dame quarterback
Everett Golson
: "I don't think I get into all of the hype of the game and things like that. But at the same time, you have to take care of business and you have to prepare."
This latest wave of accusations from each side of the family simply follows what's in their bloodlines.
Michigan may have taught Notre Dame how to play football ... but then the Wolverines blocked the Irish from Big Ten entry.
Michigan may have canceled the 1910 game a year after its first defeat in the series ... but Notre Dame had been using ineligible players.
On and on it goes,
from the Fielding Yost-Knute Rockne feud that kept the union on ice for a 32-year stretch
, to the
tit-for-tat on the all-time winning percentage record
-- a battle that, fittingly, is at stake Saturday.
"Who knows when is going to be the last game?" Wolverines coach Brady Hoke said. "We just know we aren't going to play them in the near future."
Irish coach Brian Kelly is also looking ahead.
"We understand the great tradition and the rivalry of the Michigan game, and if it could have worked, it would have worked," Kelly said. "But it does open up some pretty exciting games in the future."
It was hardly a picture-perfect marriage, but it was far more than a fling. Here's to one more fond memory Saturday night.
May, 20, 2014
May 20
10:30
AM ET
This September's 42nd Notre Dame-Michigan matchup is likely the last between the schools for the foreseeable future. That doesn't, however, mean that the appearances of Big Ten teams on the Irish's schedule are coming to an end.
Michigan State and Purdue have been stalwarts on Notre Dame's slate -- more than Michigan. And athletic directors from both schools are happy to see their respective rivalries with the Irish continue, even if they're on an abbreviated basis.
Among imminent matchups, Notre Dame will "host" the Boilermakers Sept. 14 at Lucas Oil Stadium in Indianapolis for its annual off-site Shamrock Series game. The Irish have a home-and-home scheduled with the Spartans for 2016 (at ND) and 2017 (at MSU).
"[Notre Dame athletic director] Jack [Swarbrick] and I are in constant communication, and it's not adversarial whatsoever. But it's a situation where, both with us going to nine [conference] games and with them having to move into the ACC scheduling model, it's created some significant challenges for both of us," Michigan State athletic director Mark Hollis told ESPN.com. "And right now we're kind of in a position of, we know the next two, we know we have two more in the future and we're just kind of taking it one step at a time. We've been in constant communication."
The future, Hollis told local reporters last week, includes an agreement to play a home-and-home in 2026 and 2027, as well as a neutral site game, possibly in Chicago, in 2023.
Notre Dame and Purdue, meanwhile, have five more scheduled games -- Sept. 19, 2020 at Purdue; Sept. 18, 2021 at Notre Dame; Sept. 14, 2024 at Purdue; Sept. 13, 2025 at Notre Dame; and in 2026 on a date and in a neutral site that has yet to be determined.
"I think the relationship between the schools is -- you're not going to take it to San Juan," Purdue athletic director Morgan Burke told ESPN.com. "But we have alums all over the country, too. Strong populations in Texas, in California, in Florida. The likely sites are Chicago and Indianapolis."
Notre Dame coach Brian Kelly
said last week that most of his scheduling conversations with Swarbrick start with Michigan, Michigan State and an SEC team
. But Wolverines athletic director David Brandon told ESPN.com's Adam Rittenberg in an email that there had been no discussions with the Irish.
The mood might have soured between the two schools -- Sept. 7 at Notre Dame will be their last matchup following the Irish's 2012 exercising of a three-year opt-out clause in the series -- but that has not been the case between the Irish and the rest of the Big Ten.
"Jack and I have known each other for a long, long time," Burke said. "He had a hard deal because when the Big East went the way it went, he had to find a home for lots of sports. What he had to do then was to negotiate, he had to use some of the football inventory to do that, and that's what created the issue. There's no issues with wanting to play Purdue or Michigan State. The Michigan thing there's a little bit of a tiff, I guess. But I don't think so.
"Our history goes back a long time. So what we tried to do was to make sure that there was at least a path forward. In other words, don't just announce Lucas Oil and it stops, but try to show people that we're going to play more than just once every 10 years. That's the best we could do now. Who knows what the landscape will be down the road? My hope is that someday, I hope we don't look back and say we lost something that started in 1946, because there are Purdue and Notre Dame folks who have been going to those games for years and tailgated. And you've had some great athletic contests with some great family relationships. And as we break some of this stuff apart and get bigger leagues, do you lose some of those relationships, and 10 or 15 years from now, does that hurt you?"
With Purdue having played Notre Dame 85 times, and with Michigan State having played the Irish 77 times, both schools are hoping that the answer to that question is a resounding no.
"There's going to be fewer games with Notre Dame because of the national landscape, and that's one of the unfortunate parts of conference expansion, is those nonconference games take secondary step," Hollis said. "But it's important to Michigan State that we continue to play on a national stage, so we'll have Notre Dame as much as we can have Notre Dame. They want as many games, we want as many games, it just all has to fit."
March, 27, 2013
3/27/13
1:50
PM ET
Cincinnati will play inside college football's biggest stadium in four years, as the school announced Wednesday that it will face off against Michigan at the Big House on Sept. 9, 2017.

The Bearcats will receive $1.2 million for the game. The school announced a home-and-home series in men's hoops between the 2015-16 and 2018-19 seasons as well.
Michigan Stadium seats 109,901, the highest capacity of any college football venue.
"It is ideally our preference to sign home and home non-conference games," Cincinnati athletic director Whit Babcock said in a statement. "However, the chance for our fans to have a relatively short drive to see us play a great opponent, plus the men's basketball scheduling component above and beyond the single football game in Ann Arbor, made it a good one-off decision for us. I want to thank Deputy Director of Athletics Bob Arkeilpane for his creativity in getting this deal done from our side and to thank Michigan's Dave Brandon and his administrative team for their collaboration. We will continue to look at the best scheduling opportunities for UC moving forward, and for the chance to promote the Bearcats on a national stage."
Cincinnati opens this season against Purdue before traveling to Illinois a week later. The Bearcats will travel to Purdue open the 2016 season, and they have two road dates set up with Ohio State (2014, 2016) as well.
Connecticut
announced a nonconference agreement with Boise State on Wednesday
, another boost to the strength of future schedules of Big East teams.
September, 25, 2012
9/25/12
3:02
PM ET
From 2009 to 2011, Notre Dame and Michigan produced three of the most thrilling finishes in college football. This past Saturday was far from picture-perfect, but Irish fans won't be apologizing, nor should they.
Regardless, memories like Saturday night's inside Notre Dame Stadium will naturally take on a little more significance following
the news Tuesday that this series will be off the table come 2015
.
Don't cry about the absence. And don't get too used to it, either.
For one, these schools have met only 40 times. The rivalry originated 125 years ago, but it went through a number of hiatuses before producing some signature moments over the past three decades. More importantly,
as friend Pete Sampson points out
, both schools have bigger rivalries on their annual schedules, in USC and Ohio State.
The Navy rivalry for Notre Dame provides unmatched history as well, and the Irish hope to keep that along with an annual West Coast trip, which would mean having Stanford on the schedule every year in addition to USC.
The key point, however, might be in the letter Irish athletic director Jack Swarbrick delivered to Wolverines AD David Brandon before kickoff Saturday.
"While this move is a necessary precaution as we begin the process of meeting our new scheduling commitment to the ACC," Swarbrick wrote in his letter to Brandon, according to the Associated Press, "please know that Notre Dame very much values its relationship with Michigan. [We] look forward to working with you to ensure that our great football rivalry can continue."
The Irish had to gain as much flexibility as possible after their announced five-game scheduling agreement with ACC schools, which is likely to be implemented in the 2014 season. And the school's contract with Michigan allows for a three-year opt-out clause, meaning Swarbrick had little choice but to deliver his notice before Saturday's tilt in order to maintain as much flexibility as possible.
"It's certainly something down the road we'll look at starting up again," Irish coach Brian Kelly
told SiriusXM Radio on Tuesday, adding
, "The reality is the schedule now is going to put us in a position where we've gotta start balancing with the teams we have."
So the winningest and third-winningest programs in the land will meet next Sept. 7 in Ann Arbor before reconvening at Notre Dame Stadium on Sept. 6, 2014.
Just hold off on the goodbyes for that one. So much remains up in the air with future schedules that writing off this rivalry would be premature.
September, 25, 2012
9/25/12
1:24
PM ET
Michigan
is the first casualty of
Notre Dame's
new arrangement with the ACC. The Fighting Irish notified the Wolverines that they are exercising a three-year out in their series contract, meaning the last meeting between the historic rivals will occur in 2014.
Through a Freedom of Information Act request, the Associated Press obtained a letter Tuesday from Notre Dame athletic director Jack Swarbrick to Michigan AD David Brandon, canceling the games from 2015 to 2017.
The schools had extended their contract in 2007, taking the series through the 2031 season. But it was on a three-year rolling basis, giving either side the chance to opt out with three years' notice.
Notre Dame and Michigan announced this summer that a two-year break is coming in the 2018 and 2019 campaigns, but that they intended to resume the series in the years following.
"The decision to cancel games in 2015-17 was Notre Dame's and not ours," Brandon said in a release. "We value our annual rivalry with Notre Dame but will have to see what the future holds for any continuation of the series. This cancellation presents new scheduling opportunities for our program and provides a chance to create some new rivalries."
To read the rest of the story, click
here
.
June, 27, 2012
6/27/12
1:20
PM ET
Notre Dame and Michigan will
take a two-year break in their rivalry
in 2018 and 2019, Michigan
announced Wednesday in a release
. They intend to resume the series in the years following.
The two schools last took a two-year break in the 2000 and 2001 seasons.
Michigan, which released its 2014-16 nonconference schedules Wednesday, will play Notre Dame in the second week of the season in each of the next four years. (The schools meet in Week 4 this year.)
Here
are the future dates:
Sept. 7, 2013: at Michigan
Sept. 6, 2014: at Notre Dame
Sept. 12, 2015: at Michigan
Sept. 10, 2016: at Notre Dame
Michigan did not release its 2017 schedule.
The two schools
agreed to a 20-year extension of their rivalry in 2007
, taking the series through the 2031 season. But the series was on a three-year rolling basis, giving either side the chance to opt out with three years' notice.
Wolverines athletic director David Brandon
was noncommittal during a May interview with the Chicago Tribune's Brian Hamilton
.
"What I personally know at this point is that we're going to play for the next three years," Brandon said. "I don't have any control over what Notre Dame may be thinking moving forward beyond that. And the world is changing pretty rapidly. All I can assure you of is we're going to play them the next three years.

"Once we play them this year, it will be another three years. It's kind of an 'evergreening' contract, that we're going to keep playing them with a three-year commitment, but that can change if conference realignment occurs, if there's a number of different variables that occur. That would be something both schools would have to look at."
December, 21, 2010
12/21/10
5:00
AM ET
1. Oregon climbed to national power with the significant financial and emotional support of Nike founder Phil Knight for the past two decades. Now it's Maryland's turn. The Terps fired Ralph Friedgen and are looking at former Texas Tech coach Mike Leach. He has the backing of UnderArmour founder Kevin Plank, who a) sponsored the Red Raiders and b) is a significant emotional and financial supporter of his alma mater. I don't know about you, but I'm already thinking how much fun an Oregon-Maryland title game would be.

2. The trickle-down effect of the win-now mentality is evident at UCLA, where Rick Neuheisel is remaking his staff after a 4-8 season. Two assistants are gone, including defensive coordinator Chuck Bullough. At least Neuheisel wasted little time. As Michigan athletic director David Brandon considers -- and considers -- whether to retain Rich Rodriguez, the lack of a decision is eating away at Rodriguez and the program. Rodriguez shrugs it off. But he doesn't know what Brandon is waiting for, either.

3. Like J.K. McKay returning to USC, Indiana head coach Kevin Wilson will reap a lot of benefits by bringing a Mallory back to Indiana. Bill Mallory remains the most successful head coach of the Hoosiers in the past four decades. His son Doug, a well-respected defensive assistant, returns to Bloomington as co-defensive coordinator for Wilson. It's not much, but a program bereft of history can use all the legacy it can generate.
March, 18, 2010
3/18/10
2:37
PM ET
For years, night football at Michigan Stadium has been brought up, only to be shot down.
Michigan's brass has been generally opposed to night football, so games remained early-afternoon affairs. It didn't help that the tradition-bound Big Ten has scheduled fewer night games than the other major conferences.
[+] Enlarge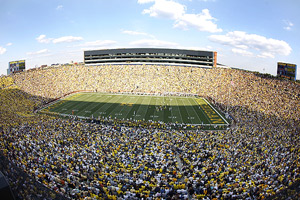 Gregory Shamus/Getty ImagesThe lights will be on in Michigan Stadium when the Wolverines and Irish meet in 2011.
But Michigan now has a head football coach (Rich Rodriguez) open to night football and ramping up the in-game atmosphere. And, more importantly, UM has a new athletic director in David Brandon who doesn't mind shaking things up.
As a result,
night football finally will come to the Big House
.
Michigan announced Thursday that it will host Notre Dame under the lights on Sept. 10, 2011, marking the first night football game at Michigan Stadium. The game will kick off at 8 p.m. ET and be televised nationally by ESPN or ESPN2.
My guess is most Michigan fans will welcome this news. Getting the Michigan-Notre Dame rivalry under the lights should create an unbelievable atmosphere, the one Rodriguez wants to create, at the renovated Big House.
"Our players have always enjoyed playing night games and I think it's something that our fans will truly enjoy and embrace," Rodriguez said in a statement. "I expect the atmosphere will be electric for this match-up at the Big House."
Michigan owns a 22-11 record in prime-time games (kickoff after 5 p.m. local time), having won 11 of its last 14 appearances. U-M is 19-5 on the road and 3-6 in bowl games. The Wolverines are 0-3 in night games against Notre Dame, playing three times under the lights at Notre Dame Stadium (1982, 1988, 1990).
It's amazing to see how a new athletics director can change long-held views on scheduling issues. Brandon clearly understands the value night football can bring to a school, and it's a huge advantage for the home team.
Michigan-Notre Dame is almost always a huge deal, but playing under the lights enhances things.
February, 23, 2010
2/23/10
4:22
PM ET
Michigan officials today addressed the NCAA's report that details
five allegations of violations
against the football program between January 2008 and September 2009.
The NCAA sent the notice Monday morning, and Michigan now has 90 days to respond. Michigan then will appear before the NCAA's Committee on Infractions at a hearing in August.
You can read the NCAA's report
here
, as well as a
letter sent to head football coach Rich Rodriguez
, who appeared alongside incoming athletics director David Brandon and university president Mary Sue Coleman at today's news conference.
Here's a summary of the five allegations:
1.
Five Michigan quality control staffers regularly engaged in both on-field and off-field coaching activities that are prohibited by NCAA rules. By engaging in these activities, Michigan exceeded the limit on number of coaches who can engage in these activities. Quality control personnel are alleged to have coached players two days a week in offseason workouts, warm-up activities during the season and film study, and they also attended meetings that involved coaching activities.
2.
Michigan violated NCAA rules by having football staff members "monitor and conduct voluntary summer workouts, conduct impermissible activities outside the playing season, require football student-athletes to participate in summer conditioning activities for disciplinary purposes [missing class], and exceed time limits for countable athletically related activities during and outside the playing season." This seems to be the most serious charge and the one that sparked the
Detroit Free Press report
and the investigation. Here are some of the specifics:
In two separate offseason periods in both 2008 and 2009, football players were sometimes required to participate in up to 10 hours of athletic activities or weight training/conditioning, which exceeds the limit of eight hours.
During the 2008 season, players were sometimes required to participate for up to five hours a day in "countable athletically related activities," exceeding the maximum of four hours. The staff exceeded the 20-hour-a-week limit by 20 minutes during the week of Oct. 19, 2008.
During September 2009, football players were required to participate in four and a half hours of activities per day, exceeding the NCAA limit by 30 minutes. The report identifies four dates in question: Sept. 7, Sept. 14, Sept. 21, Sept. 28.
3.
Graduate assistant Alex Herron is accused "providing false and misleading information" to both Michigan and the NCAA enforcement staff when asked about the allegations. He denied being present for 7-on-7 passing drills in the summers of 2008 and 2009 when he allegedly conducted the sessions.
4.
Because of the first two allegations (detailed above), Rodriguez is alleged to have "failed to promote an atmosphere of compliance within the football program and failed to adequately monitor the duties and activities of the quality control staff members, a graduate assistant coach and a student assistant coach, and the time limits for athletically related activities."
5.
Because of the first two allegations, Michigan's athletics department is alleged to have "failed to adequately monitor its football program to assure compliance." Compliance staff members became concerned about the duties of the quality control coaches in the winter of 2008 but didn't gather enough information to determine potential problems. The strength and conditioning staff didn't calculate time limits for offseason workouts or effectively communicate information to the compliance office. This resulted in the compliance office approving miscalculated activities and failing to follow its own policies for monitoring these activities. Athletics staff also failed to provide the forms showing countable activities to the compliance office.
So how serious are these allegations?
In the letter to Rodriguez, the NCAA writes that "all of the allegations charged in the notice of allegations are considered to be potential major violations of NCAA legislation, unless designated as secondary violations." In its response to the NCAA, Michigan has the right to point out why alleged violations should be considered secondary. You can bet Michigan will do so.
Brandon told reporters today that while Michigan takes any allegations seriously, "there was no charge of loss of institutional control, none whatsoever." We don't know yet whether these violations will be labeled as major, which has historical significance because Michigan has never been hit with major violations before. But "major violations" can sound worse than they actually are, and these allegations certainly don't fit into the same category of recruiting improprieties, paying players, etc.
Brandon reiterated that Rodriguez will be Michigan's head coach in 2010 and that he has seen nothing to indicate a change at the top is necessary.
Michigan could be termed a repeat violator of NCAA rules because these allegations occur within the five years since the school was sanctioned for much more serious violations involving its men's basketball program. It's unlikely Michigan gets nailed for this, but it's within the realm of possibility.
A few takeaways from the news conference:
Brandon and Rodriguez repeatedly stated they take the allegations seriously, which was the right move. But when the seriousness of the allegations keeps getting questioned, it probably means the repercussions won't be too bad for Michigan.
The investigations were all sparked by allegations from current and former players that Michigan had grossly exceeded NCAA time limits for practices, offseason workouts and other team activities. Going 20 minutes beyond the weekly limit or 30 minutes beyond the daily limit is hardly extreme. It happens everywhere. If anything, the NCAA report helps Rodriguez and Michigan on this issue.
Michigan's decision to put its CARA forms online -- logs sent from teams to the compliance office to monitor countable activities -- is much needed. Brandon acknowledged Michigan wasn't being diligent enough with these forms in the past.
Brandon declined to discuss personnel decisions, so it will be interesting to see if any heads roll. It's noteworthy that Adam Braithwaite, a quality control assistant named in the NCAA's report, recently was elevated to a full-time assistant coach position. The allegations against Herron certainly suggest some disciplinary action will be taken.
The size of coaching "staffs" is getting out of hand. Michigan's case should alert others to the potential problems of having so many quality control staffers.
Prediction:
Michigan will be hit with some penalties, and "major violations" are possible. But these allegations don't seem to be overly extreme, despite some harsh language in the report. Michigan could be hit with probation or scholarship losses, and it will need to be more careful on these issues going forward. I'll repeat what I've said all along: Rich Rodriguez's fate ultimately comes down to whether or not he wins games, not what the NCAA decides in August.
February, 23, 2010
2/23/10
11:49
AM ET
Michigan has announced that it will address the NCAA's report about the investigation into the football program at a media briefing scheduled for 1 p.m. ET in Ann Arbor.
Head football coach Rich Rodriguez, university president Mary Sue Coleman and incoming athletics director David Brandon will be present to answer questions. The university isn't releasing any more information at this time.
Both Michigan and the NCAA have launched investigations into alleged time-limit violations by the football program that first surfaced in a Detroit Free Press report in August. Former and current players said the coaches far exceeded NCAA time limits for practices and training sessions.
The NCAA
sent Michigan a notice of inquiry
in late October and hoped to conclude its investigation by Dec. 31.
Michigan's Board of Regents
held a closed-door meeting
Feb. 3 that included an update on the NCAA's investigation. A Michigan alum has since sued the board for holding the closed meeting.
I'm sure Michigan fans are holding their breath, and I'll have much more later today following the media briefing.