NCF Nation:

David Cornwell
July, 30, 2014
Jul 30
2:13
PM ET
In a way, this seems to be about taking the pressure off of Jacob Coker. To give into the public narrative and anoint him
Alabama
's next starting quarterback this early would go against Nick Saban's instincts. He'd be putting the weight of the world on Coker's shoulders, giving him nowhere to go but down. After all, it's a lot less stressful to compete for a job than to defend one.
So Saban went to SEC media days and said things like, "I don't want to minimize the other quarterbacks," and insisted that, "This is an open competition, no doubt."
"Everyone knows that," he added for emphasis.
Except Coker is the clear favorite. He fits the system best, has the most talent and may be the most mature after three years of ups and downs at Florida State. He may not be as popular among teammates as incumbent
Blake Sims
, but he's ingratiating himself quickly if you take the word of wideouts
Christion Jones
and
Amari Cooper
, who described him as laid-back off the field and take charge between the lines.
"He looks great," Cooper said. "Strong arm, takes command in the huddle, which I think is very important. You can tell he's experienced. I'm ready to see how he progresses in fall camp."
"Jacob's doing a great job since he arrived in May," Jones said. "He's done an awesome job with our wide receivers, with our coaches, learning and doing all the little things right trying to become the quarterback we want him to be.
"But it's a competitive job for him as well, and he understands that, because we have three or four other guys that can help us win."
Really, though, it's not three or four guys competing for the starting job. It's Coker vs. Sims, to be sure. And if you believe Saban, it might be both.
"It's not something that I would hope would happen," Saban said. "Is it something that I can totally rule out? Not really because I think the skill set of Blake Sims can create problems for a defense. If we wanted to utilize him to do that in some kind of way, I guess you could say that we could possibly have a two-quarterback system."
That's right, folks, a two-quarterback system. Brace yourselves.
But to say that Sims' skill set is so different from Coker's isn't exactly true. Coker does have the tools of a prototypical pocket passer in that he's 6-foot-5 and 230 pounds with above average arm strength. He's also an athlete, though. The former All-Metro basketball player at St. Paul's High School has speed and agility, and knows how to run the read-option having played quarterback in a wing-T offense as a prep.
"He's a different type of quarterback than Alabama has had," Jones explained. "I see no similarities with him or AJ [McCarron] or any other QB that's been here. He's a different type of release. He's bigger in size. He can move faster and quicker than most guys his size. He brings a lot to the table."
He brings
the most
to the table, which is why he will be Alabama's next starting quarterback.
Sims will push him. So will
Alec Morris
,
Cooper Bateman
and
David Cornwell
. But it's Coker's job to lose, whether Saban wants to come out and say it or not.
It may be a lot of pressure for a quarterback with zero career starts to handle, but at least one person thinks he can take it. It just so happens to be the one person who continues to try and keep the focus off of him.
"Let me just say this: Whoever the quarterback is at Alabama, they need to be able to manage external factors because there are lots of them," Saban said. "The clutter outside -- what people say, what people think -- you have to be able to stay focused on the process of things you need to do to play well and not worry about that stuff.
"So I would say that if you are putting too much pressure on him, that's his fault, and he needs to learn how to deal with it.
"He's never complained about it. I don't see him pressing. I like his disposition with the other players, how he engages with the other players. He just has to get comfortable with the offense. He's in a competitive situation with some other good players. It will just take a while for it to sort itself out."
How long, though, remains to be seen. Until then, prepare yourselves for plenty of coachspeak and very little talk of where each quarterback stands. We may believe it's Coker's job to lose, but don't hold your breath waiting for confirmation. Saban isn't going to tip his hand or handicap the race anytime soon.
It's an open competition, remember? Everyone knows that.
April, 21, 2014
Apr 21
10:00
AM ET
TUSCALOOSA, Ala. -- It made sense for Nick Saban to begin his post A-Day spring game news conference with a caveat. After what everyone had seen that Saturday afternoon, a reasoned voice was needed, and Saban stepped to the podium to deliver his own sense of perspective.
"Nobody ever has a bad spring game," Alabama's head coach told reporters. "Let's start with that."
Fourteen practices behind closed doors led to a great deal of expectation surrounding A-Day, where the biggest question was, of course, at quarterback. Everything uttered about
Blake Sims
had been positive heading into the weekend. He'd improved his mechanics, they said. He'd made progress at becoming a better pocket passer, they added. Saban praised Sims for his command of the offense, his accuracy and his consistency. Throw in some pretty remarkable statistics provided by the school -- 515 yards, five touchdowns and no interceptions in two scrimmages -- and it amounted to the kind of credentials that would lead anyone to believe that Sims had really turned the corner, that he was indeed the front-runner to replace
AJ McCarron
.
[+] Enlarge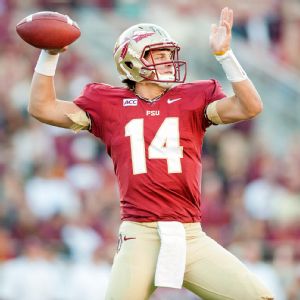 Jeff Gammons/Getty ImagesAs Alabama's quarterbacks struggled in the spring game, the spotlight on incoming transfer Jacob Coker becomes even brighter.
Then practice No. 15 arrived.
Much of the controlled environment from earlier practices and scrimmages was removed on Saturday. Saban, for instance, wore a tan suit and played the role of commissioner. A television audience and more than 73,000 fans looked on. Sure, it was a far cry from the usual 100,000-plus fans and the buzz that accompanies a regular-season game, but A-Day offers its own brand of pressure. If you mess up on that stage, not only is it a very public experience, but you'll also have to dwell on for the months to come.
And given the way Sims and the rest of the quarterbacks closed out the spring, they enter the offseason with a sour taste in their mouths.
Sims was a shell of himself, completing 13 of 30 passes for 178 yards, one touchdown and two interceptions. A first-half pass over the middle should have been turnover No. 3, if
Landon Collins
hadn't dropped it. And the other quarterbacks?
Cooper Bateman
,
Alec Morris
,
Parker McLeod
and
David Cornwell
went 14-for-33 for 165 yards, one touchdown and two interceptions. Alabama's combined effort equaled an 86.37 passing efficiency rating -- lower than any of the top 104 quarterbacks in the FBS last season.
Saban did his best to downplay the significance of A-Day after the game ended, but it did little to erase what everyone saw. In fact, when put up against his comments only a few days earlier, his plea for reason came off as hollow.
"It's an opportunity for them to go out and play a game-like circumstance, a game-like situation," Saban said Thursday about the A-Day game. "It's really your first opportunity as an individual, as a unit or as a team, to really create an identity for who you are and how you play."
By that standard, his quarterbacks failed miserably.
"Blake had a really good spring, and he did a really good job in the scrimmages," Saban said when asked to measure the performance of his quarterbacks, again attempting to weigh a poor spring game against a previously solid spring. "I thought in the game he was trying to speed everything up a bit. ... It's like when a baseball pitcher tries to throw the ball a little harder and all of a sudden he can't throw a strike."
In other words, the pressure got to Sims. Though Saban would raise some valid points about how the setup of A-Day robbed Sims of some of what made him an effective quarterback, the bottom line was unavoidable. Sure, wearing a no-contact jersey kept Sims from taking full advantage of his athleticism to escape the pocket and buy time. But, to be fair, it also removed the pressure of facing a threatening pass rush.
"There's a lot of things [Sims] could do to be an effective quarterback that he didn't do in this game today," Saban explained before changing directions. "We recruited a guy. Blake knows this and Blake embraced the guy before the game. They're going to compete through the summer and through fall camp."
Ah,
Jacob Coker
.
If there was a bright spot amid the sloppy offense Saturday, it was the 6-foot-5 quarterback on the sideline wearing a crimson polo and camouflage hat. Coker, who backed up Heisman Trophy winner
Jameis Winston
at Florida State, is due to graduate from FSU and enroll at Alabama later this spring, when he'll immediately join the race to earn the starting job.
"It was awesome," Coker said of his visit to Tuscaloosa. "Excited about getting there."
In a way, Coker went to A-Day with the possibility of seeing just how far the other quarterbacks had come. He might have been worried that if someone stood out, they could carry a lead into the offseason that would be hard for him to overcome.
But Coker had to leave A-Day feeling good about his chances. Nothing he saw there should have scared him. Hearing Saban mention him afterward in regard to the quarterback competition should have only reaffirmed his standing as a favorite to replace McCarron.
While it's true that you can't win or lose anything during a spring game, you can take a step back. There's always ground to lose. And Sims & Co. did just that on Saturday, yielding momentum to Coker. Whatever standing they built through 14 practices seemed to vanish with each errant pass and interception.
The perspective Saban pushed so hard for in his postgame news conference was hard to swallow considering the sour taste the passing game left behind. A-Day isn't everything, but it was the last thing this spring, and it wasn't the note any quarterback would have wanted to go out on.
April, 7, 2014
Apr 7
9:00
AM ET
TUSCALOOSA, Ala. -- Score scrimmage No. 1 in favor of
Blake Sims
.
Yes, he's something of a work in progress at quarterback. And, yes, it's fair to say that his skill set doesn't quite fit what Alabama and coach Nick Saban typically do on offense. But when it came down to proving it on the football field Saturday, Sims did exactly that, completing a team-high 16 of 23 passes for 227 yards, two touchdowns and no interceptions.
[+] Enlarge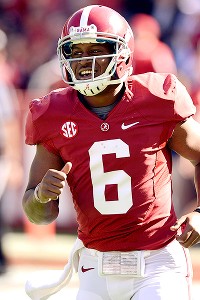 John David Mercer/USA TODAY SportsBlake Sims has accounted for just 244 passing yards in his Alabama career.
Considering only two touchdowns were thrown during the two-hour scrimmage, that's saying something. His 70 percent completion percentage, no matter how you slice it, is promising, considering his career average is less than 59 percent.
So maybe, just maybe, we're seeing Sims mature as a quarterback. He's still a 6-foot former running back and wide receiver with a sometimes awkward throwing motion, but until he's officially out of the race to replace
AJ McCarron
, there's no counting him out. He's easily the most experienced option
and
the most dangerous with the football in his hands.
"There are two plays with Blake: the one they call on offense and then when that one doesn't go right, it's the one he makes with his feet," senior safety
Nick Perry
said. "We've seen that in college football and even in the NFL with players like
Robert Griffin III
and
Johnny Manziel
. He's a dangerous player."
RG3 and Johnny Football, Sims is not. Put simply, he's a senior hoping that opportunity and maturity converge at the perfect moment.
Alabama coaches know what Sims can do running the football. All told, he's carried the ball 67 times for 355 yards and two touchdowns in his career. The real question, though, is whether he can stay in the pocket, set his feet and read a defense. He has a history of being erratic throwing the football, but has that improved with time and the added motivation of competition? Saturday's scrimmage seemed to indicate a move in a positive direction.
Saban didn't say much about the play of each quarterback, but he did note that Sims has had a "really good spring" and has "taken some command."
But the job isn't guaranteed to anyone. Along with Sims,
Alec Morris
and
Cooper Bateman
are in the mix.
"Those three guys have sort of emerged as the three guys that look like they're most ready to play," Saban said. "Nobody's disappointed in anybody else. We actually feel like our freshman (
David Cornwell
), who is coming off of an injury, has a lot of potential. He's just not 100 percent healthy yet.
"So we're pleased with the progress those guys have made."
Sims is clearly doing everything he can to separate himself. Instead of going to the beach and relaxing during spring break last week, he went to Florida and trained with quarterback coach Ken Mastrole.
The two worked on technical aspects like footwork, being on time with the football and reading coverages, Sims said, but it went beyond that. As much as he wants to improve as a passer, he's hoping to become more of a leader as well.
"[Mastrole] was a quarterback, so he gave me the knowledge of how to pick up your teammates and go at them so you're not a nagging quarterback," Sims said. "You're supposed to be a motivation and keep them positive and keep a great mindset with them."
In other words, Sims isn't letting the heat of competition get to him. When asked about soon-to-be Florida State transfer
Jacob Coker
, Sims said he loved his personality and looked forward to welcoming him "with open arms."
"We're not thinking about the battle against each other," Sims said. "We're just trying to think of how we can make Bama the best way they can be, and how can we have good communication with the players if we're with the ones or we're with the twos or with the threes. We're just trying to play harder and make each group better."
Of course, Sims isn't getting ahead of himself, but admitted, "It's very fun to see where your ability can take you in life."
"It would be nice," said Sims of potentially being named the starter. "It would be nice for me and I think I would like it. Watching AJ do the great thing that he did at the University of Alabama -- if I am the one that's chosen to be the quarterback at Alabama, I'd like to keep it going."
He might be the more unorthodox option, but if Sims keeps playing like he did Saturday and continues improving as a passer, he'll have a shot to do just that. The competition won't be decided until the fall, but Sims is off to the right start.
March, 6, 2014
Mar 6
9:00
AM ET
TUSCALOOSA, Ala. -- Nick Saban has hosted enough quarterback competitions to know how this oncoming saga will play out. From now until the moment he names a starter under center, the entire state of Alabama will be in a panic over who will become
AJ McCarron
's successor. The rest of the country will be watching, too.
Is Cooper Bateman really ready to take a step forward after redshirting last season? What about Parker McLeod and Alec Morris? Would Saban dare gamble on the run-oriented Blake Sims? Is it possible that true freshman David Cornwell could get a look? My goodness, what about Jacob Coker?! Isn't the job really his anyways?!
As Saban sat down with a group of reporters on Wednesday to discuss the start of spring practice and a number of other issues facing his Crimson Tide, he seemed resigned to the oncoming quarterback drama. Asked what he was looking for in the next starter, he listed a number of qualities: the ability to process information quickly, to make good decisions, to throw the ball accurately, to manage the game and make the correct calls.
[+] Enlarge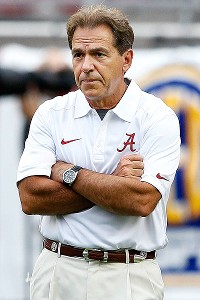 Kevin C. Cox/Getty ImagesIf you think Nick Saban is just going to open up daily about the QB competition, think again.
"Whoever can do that on the most consistent basis and have the kind of leadership to affect the people on offense around them is the guy that will probably have the best possibility to win the job," Saban explained.
And then came the disclaimer.
"But let me be very clear about this," he said. "We're not going to be in any hurry to decide who the quarterback is."
That's right, folks. Saban and his staff plan on taking their time with this decision. So hold your questions, please. Whatever opinions you have on who should start and why, keep them to yourselves until this is over.
"We're not going to be in any hurry to decide who the quarterback is," Saban said. "We're going to give everybody a lot of opportunity to compete. You guys are going to ask me at least 1,000 times between now and the first game who's the first-team quarterback, and I'm telling you right now you're probably going to get a 1,000 'We're going to wait and see.'"
Saban's been through this before. If you count John Parker Wilson, he's been a part of naming three starting quarterbacks at Alabama. He did the same at LSU and Michigan State plenty of times before that. And each and every time he's been content to employ the wait-and-see approach.
When the temperature rises and the competition heats up in the coming months, Tide fans will do well to remember that Saban didn't rush naming McCarron the starter in 2011, and that worked out to the tune of two national championships and a slew of new school passing records.
"When AJ became quarterback him and Phillip Sims actually alternated quarters in the first two games, I think, to see who played the best," Saban said, drilling the point home now. "And it really was hard on all you guys.
"I think it's important to get it right. ... And we have one candidate in this horse race who's not even going to be here until May, till he graduates where he is now. He's certainly a guy that's going to compete for the position too."
Ah, Jacob Coker.
Whatever we think we're able to learn this spring will come with the caveat that the primary competition hasn't even arrived yet. Coker, who will make his transfer from Florida State complete in May if he passes all his remaining classes, is the presumed frontrunner to win the job. He's
not bowing to the pressure
that comes with that, but it won't change the perception around camp this fall that he's the man to beat.
Saban would cringe at such assumptions. But his desire for less talk and more patience will do nothing to change what's sure to develop into a circus-type atmosphere as we inch closer to the start of the season. Between Coker's hype, the other quarterbacks competing and the arrival of Lane Kiffin as offensive coordinator, all eyes will be squarely on who's under center in Alabama. Every day a starter isn't named will be a day someone somewhere will talk about who it should be rather than who it actually is.
Just don't look for the competition itself to play itself out publicly. Scrimmages at Alabama are closed to the general public and media. Reporters only see the first few minutes of practice each day, and it's never enough to glean any real information. Getting insight from coaches and players will be next to impossible. None of the quarterbacks are likely to be made available to reporters while the competition is ongoing, and teammates who do speak won't stray from the company line. If you're looking for Kiffin to talk, he'll have his one and only media obligation of the year in early August, and even then he's never been one to show his cards. Which leaves Saban, who won't deviate from his steadfast policy to divulge nothing and speculate on even less.
So trade predictions at the water cooler, shout at the talking heads on television and scream at talk radio all you want. Whatever you do, though, have a little patience. Because whatever soap opera you were hoping for just isn't going to happen. This is The Nick Saban Show and it has very little in the way of drama.
February, 24, 2014
Feb 24
9:00
AM ET
Over the span of their careers they threw for 48,824 passing yards. There were a total 403 touchdown passes among them, and they won 184 games in which they appeared, including 11 bowls and two national championships. They were, arguably, the most talented and productive class of quarterbacks ever to play in the SEC at one time. And now they're all gone.
[+] Enlarge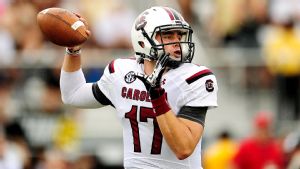 Stacy Revere/Getty ImagesDylan Thompson saw a lot of playing time last season when Connor Shaw went out.
The SEC had to say goodbye to
James Franklin
,
Johnny Manziel
,
AJ McCarron
,
Zach Mettenberger
,
Aaron Murray
and
Connor Shaw
in January. The void they leave behind is enormous, and while some programs already have an idea of who will take their place next season, not all are so lucky.
We're counting down the five most pressing questions facing the SEC this spring, in no particular order of importance. First, how do you replace all the veteran quarterbacks the league enjoyed in 2013?
When spring camps open over the next few weeks -- the first being Texas A&M on Friday -- that question will begin to be answered. With each snap and each team meeting, leaders will emerge. Some staffs will look for a winner heading into the summer so they can avoid a quarterback controversy come fall, while others will have to sweat it out through the offseason.
Texas A&M:
Surprises will undoubtedly occur, as we saw only a few years ago when a scrappy freshman from Kerrville, Texas, beat out the presumptive favorite to land the starting job at Texas A&M. The Aggies stumbled upon Manziel, and
Jameill Showers
was quickly forgotten.
Kenny Hill
and
Matt Joeckel
are this year's frontrunners, but they'll have competition in another freshman nipping at their heels in
Kyle Allen
. The Arizona native is more of a pure passer than a running quarterback, but he has the tools to sling the ball around in Kevin Sumlin's offense.
South Carolina:
Steve Spurrier didn't mince words when he said
Dylan Thompson
is "without question going to be our quarterback." He even asked, "Why open it up when he's the only one who's played?" Thompson, a rising senior, doesn't have the athleticism to break containment quite like Shaw, but Thompson can still move the chains with his feet when necessary. The 6-foot-3, 218-pound South Carolina native doesn't lack for arm strength and might even have more pure throwing ability than Shaw. But where Thompson must match Shaw is intangibles. There wasn't a more dynamic leader in the SEC than Shaw last year, and the Gamecocks will miss that kind of will power under center in 2014. While the starting job is Thompson's to lose, don't sleep on redshirt freshman
Connor Mitch
. The former four-star recruit could push Thompson this spring.
Missouri:
The race to replace Franklin comes down to one quarterback and one quarterback alone:
Maty Mauk
. The rising redshirt sophomore showed last season that he can control the offense, starting four games in which he averaged 227.5 yards, 2.5 touchdowns and 0.5 interceptions per game. More importantly, he won three of the four games with the only loss coming in double overtime against South Carolina. He'll learn from that experience and take over a team that will be moving on from the loss of big-time playmakers
Henry Josey
,
L'Damian Washington
and
Marcus Lucas
. Having the ultra-talented
Dorial Green-Beckham
back will help, but an arrest on drug charges in January has clouded his future.
[+] Enlarge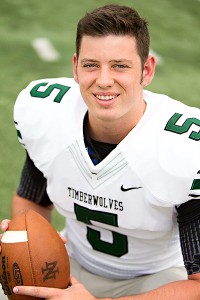 Courtesy of Cornwell familyEarly enrollee and former four-star recruit David Cornwell will get his shot at Alabama's starting QB job this spring.
LSU:
The Tigers faithful got a sneak peek at their next quarterback,
Anthony Jennings
, after Mettenberger tore his ACL and was forced to miss LSU's bowl game. The rising sophomore didn't drop anyone's jaw against Iowa, but he did just enough, throwing for 82 yards on 7 of 19 passing, while letting his supporting cast do the heavy lifting. At 6-2 and 205 pounds, Jennings has the look of a starting quarterback in the SEC. The former four-star recruit played sparingly in 2013, though, attempting just 10 passes prior to the Outback Bowl. He'll have to contend with
Brandon Harris
, ESPN's No. 37 overall prospect and No. 2 dual-threat passer in the 2014 class, along with rising senior
Rob Bolden
and rising sophomore
Hayden Rettig
.
Georgia:
Despite what wasn't a great performance to end last season -- 21-of-39 for 320 yards, a touchdown and an interception against Nebraska --
Hutson Mason
is still the overwhelming favorite to replace Murray. Why? Because Mark Richt and the coaching staff have essentially been grooming Mason to take over for years now, redshirting him in 2012 so he would have a year left to play in 2014. Mason was once a three-star quarterback who put up huge numbers running the spread at Lassiter High School in nearby Marietta, and with
Todd Gurley
behind him, he won't be asked to do too much his first year starting. While he might be a year away, don't write off
Faton Bauta
just yet. The 6-3, 216-pound redshirt sophomore has impressed the staff with his work ethic and could find his way into some playing time.
Alabama:
Oddly enough, the quarterback many presume will take over for McCarron won't actually arrive until the summer.
Jacob Coker
, the heralded transfer from Florida State, will be a little late finishing his degree in Tallahassee, which leaves a big opportunity for the rest of Alabama's quarterbacks to make a first impression. New offensive coordinator Lane Kiffin will instead have his focus on
Blake Sims
,
Alec Morris
,
Parker McLeod
and
Cooper Bateman
this spring. Sims, who best fits the mold of a run-first quarterback, has a lot of work ahead of him to prove he can play from the pocket. Morris, meanwhile, didn't get much time as a redshirt freshman last season and needs to improve his decision-making from the last time we saw him at A-Day. Bateman and McLeod are relative unknowns after redshirting last season, but Bateman, a four-star recruit, does come with a lofty pedigree. The wild card is
David Cornwell
, the four-star recruit who enrolled in January and will benefit from the fresh start all of the quarterbacks will get under Kiffin.
February, 5, 2014
Feb 5
9:35
PM ET
TUSCALOOSA, Ala. -- Nick Saban isn't a particularly joyous man in front of a microphone. Speaking with the media is more an obligation he suffers through for the greater good. He doesn't enjoy previewing games; he's too worried about the process of preparing. He doesn't enjoy the postmortem following games either; win or lose, he's too concerned about the next challenge that awaits.
But the 62-year-old head coach of the
Alabama Crimson Tide
does allow himself a respite from the pain of constantly looking ahead at least one day during the year. He is in his element more than ever on signing day. And despite the media hubbub that surrounds the counting of stars and the faxing of paperwork, Saban appears happy, relieved even. A smile shows on his tanned face and he looks like a man who genuinely loves his job no matter its obligations. At least for a moment, he's willing to take a deep breath and reflect.
Christmas in July? Try Christmas in February, at least in Alabama.
[+] Enlarge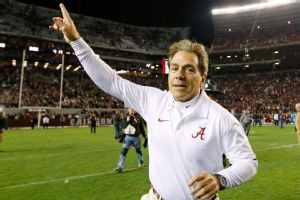 Kevin C. Cox/Getty ImagesIf there's anything that can get Nick Saban smiling, it's the process of building and signing a recruiting class.
Maybe it was the prospects hung like ornaments on the "Big Board" that created the festive atmosphere at Alabama's football offices.
Derek Kief
, a four-star wide receiver from Ohio, was the first to fax in his letter of intent early Wednesday morning.
Da'Shawn Hand
, the No. 2 defensive end in the ESPN 300, and
Bo Scarbrough
, the No. 2 athlete in his class, would join him as the 15th and 27th signees, respectively. Eight early enrollees beat everyone to the punch by starting class in January, including the top offensive tackle and the second-best cornerback in the country.
Jacob Coker
, a highly sought after quarterback from Florida State, signed his paperwork to transfer to Alabama weeks earlier. By the time signing day was over and all the faxes had rolled in, Saban counted up five five-stars, 17 four-stars and the
No. 1 recruiting class in the country
for the third consecutive year.
"Certainly great to see everybody here again," Saban said that afternoon, giving the media assembled for his annual news conference a knowing, sarcastic smile. "I've missed you all since Jan. 1. I think you know how much."
Sporting brownish slacks, a crimson coat and a matching crimson and cream tie, Saban looked the part of a proud University of Alabama salesman, a veteran campus recruiter ready to give a campus tour on the spot.
Before gushing over his prized signees, he allowed himself to look back on the process as a whole, calling the day "an accumulation of a lot of hard work and a lot of time spent by a whole bunch of people." His laundry list of thank-yous included everyone from the president of the university to the athletic director to the academic support staff. He even thanked fans who come out to games and events, such as A-Day.
It was as though he had to go around the table once and say a few words before digging into a holiday feast. He didn't want to leave anyone out on a day like this.
"We had a good class and we sort of identified our needs," Saban said. "I think the key to that is that we satisfied our needs because we identified those needs early on in the recruiting process and evaluated the players we thought fit in best for what we want to do. I think that we did a good job of going out and getting a lot of those players."
Alabama needed a quarterback. So it went and got Coker to go along with
David Cornwell
, the No. 4-rated pocket passer in the country.
Alabama needed a couple of cornerbacks. So it signed
Tony Brown
and
Marlon Humphrey
, two five-stars.
Alabama needed help on the offensive line. So it put together maybe the best O-line class in school history with not only Robinson, but
Dominick Johnson
, the top junior college offensive tackle.
[+] Enlarge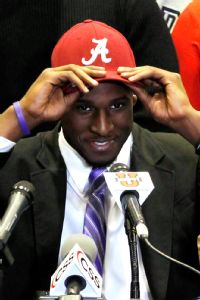 AP Photo/Butch DillTaking Rashaan Evans out of Auburn's backyard put a bow on top of another top-ranked recruiting class.
Finally, Alabama needed more athletic defensive linemen and outside linebackers to create pressure off the edge. So it signed some of the best pass-rushers available, pulling off a huge coup by
nabbing four-star Rashaan Evans
out of Auburn's backyard.
"One of the goals we had was to get a little more fast-twitch, quicker-body-type guys to play on the edges for us," Saban said. "We're playing against a lot more spread. I feel between the outside backer types we got, as well as some of the more athletic kind of defensive ends we got, that maybe we satisfied that need as well.
"We also needed a punter and we feel good about the punter we were able to attract in this class."
Whatever Saban needed, he got. Prospects were just waiting for him under the tree as if it were Christmas morning. His haul turned out to be the envy of every program in the country.
But why was Saban so happy? It wasn't that he won signing day or that he had all the best toys when it was over. No, he has had plenty of wins in his career. He's not one to bask in a trophy, real or imagined.
Rather, he was pleased because this is what he does year-around. This is what he works for and what the NFL could never offer him: a chance to develop relationships. Getting to know recruits, establishing trust and convincing them to come to his program is the first step in his life's calling as a college football coach. It's Part 1 in his beloved "Process" -- the second step being to develop his players and win games. But even winning means recruiting to Saban, who famously said after winning the national championship in 2013 that it took time away from talking to prospects.
He could smile on signing day because it's the end of something challenging. He can laugh and poke fun at the media because there's not something dreadful that lies ahead. Instead, signing a recruiting class is both the end and the start of something special.