February, 18, 2015
Feb 18
12:00
PM ET
Is February the new March?
Perhaps it is in the ACC.
Four league teams have opted to open spring football practice this month, more than any other Power 5 conference. That number is double what it was a year ago, when Duke and Boston College opted to start in February.
Miami and Syracuse decided to join them this year. The Hurricanes opened Tuesday while Syracuse made the most dramatic change, moving its first spring practice up three weeks. The Orange open Sunday thanks in large part to their newly completed indoor facility.
[+] Enlarge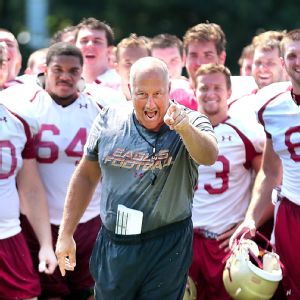 John Tlumacki/The Boston Globe/Getty ImagesSteve Addazio and Boston College are enjoying the benefits of starting spring practice earlier.
Why the shift? For one, it helps teams get a jump on their evaluations. It also allows for injured players a little longer time to heal before the season while lengthening the offseason strength and conditioning program.
Duke coach David Cutcliffe
shifted to an early February spring practice
start date last year, hoping to capitalize on momentum from its bowl performance. It worked out so well for his team that he has no plans to go back.
Boston College starts Feb. 25 with one practice, then resumes in March after spring break, the same schedule coach Steve Addazio used last year. Addazio wanted to practice a few more days in February this year, but could not alter the schedule after he had to make several coaching hires this month.
Still, the one-day February practice is beneficial because it builds in more time spent working on the team.
"The reason I love it is because I want to have as much time post-spring until the start of the season so if you get an injury, you can get a guy back," Addazio said. "My whole thing is I want to get spring ball in, I want to see where our team is and really figure out what we're all about."
Then there are the recruiting considerations, also a big factor in the earlier start dates.
"Our biggest recruiting time is then," Addazio said. "We get our recruits to come through during practice, and I love it, they get here and we spend a lot of time with them, that's where we build our bonds. That's the early bite that we get, and that's critical to our recruiting. The earlier our spring practice is, the faster we get a bite into our players."
Earlier spring practices also allow teams to figure out what positions they need to target on the recruiting trail earlier.
"In years past, we were trying to evaluate our spring practice and our depth chart and recruit at the same time," Syracuse coach Scott Shafer said. "Now, we're going to be able to say, 'Let's take the first week after spring ball, reevaluate everything we did during the spring, what was good, what wasn't as good as we needed it to be and then close that chapter and jump full steam ahead into the recruiting process,' which will help us be a little bit more on targets with who we need to go after. That is another area that's going to be helpful in our process."
More teams might follow suit in the near future. Second-year Wake Forest coach Dave Clawson also moved spring practice up three weeks to March 3 now that he is firmly in place with the Demon Deacons and not scrambling around in the first few months of the job.
Clawson said he would consider moving practice into late February next year once the new indoor practice facility is completed.
"When we had our spring game last year the third week in April, our coaches weren't on the road until early May, and so other coaches in our division who had earlier spring football were out recruiting two weeks before we were, and in a day and age in which kids are committing earlier and earlier and changing their mind later and later, it was a recruiting disadvantage for us to not get out," Clawson said. "We'd be out evaluating a kid and another school had been there twice before we even saw him."
For staffs without much coaching turnover, the advantages are there. Makes spring football take on a slightly different meaning.
Spring start dates across the ACC
Duke, Miami already started
Feb. 22:
Syracuse
Feb. 25:
Boston College
March 1:
North Carolina, NC State
March 2:
Clemson
March 3:
Wake Forest
March 15:
Pittsburgh
March 17:
Virginia
March 23:
Georgia Tech
March 24:
Virginia Tech, Louisville
TBA:
Florida State