NCF Nation:

David Posluszny
August, 31, 2010
8/31/10
4:41
PM ET
Brian Kelly sensed his players were feeling uptight as they entered Notre Dame Stadium on Friday night for a practice session. So Kelly had a message for them.
"I told them to stop thinking about being Notre Dame football players and just play the game," Kelly said. "Just go play."
It's advice the first-year head coach also follows. Kelly said he couldn't come to work every day thinking that he's the Notre Dame football coach or he'd get overwhelmed. So he just focuses on the process and the preparation, and that's what he wants his players to do.
Several freshmen or first-year players will be hitting the field for the first time on Saturday against Purdue, and they'll all be nervous just like their coach. For a little while.
"I'll be excited running out and being on the field for the first time," Kelly said. "But that will go away, just like it goes away for a player when you get that first hit. It goes away when you make that first play call. Especially if they boo you. That gets your attention right away."
Of course, Kelly hopes the home crowd doesn't have to voice too much displeasure. Opening his tenure with a win is obviously the best-case scenario for all involved.
"There's no question that if you win everybody is feeling pretty good about things," Kelly said. "But I'm about concerned about if we have a loss or a hiccup during the season that those guys are going to go, 'This guy doesn't know what he's doing.'"
Kelly's credibility, he says, comes from the trust and relationship he's built with the players. Their confidence should come from the way they've prepared, which Kelly says is as well as anyone in the country. Just don't expect any "Win one for the Gipper" pre-game orations.
"I'm not going to be giving any big rah-rah speeches," Kelly said. "I just don't do that. Most of my work comes during the week."
Some other quick notes from Kelly's first game-week Irish news conference:
Tommy Rees is listed as the No. 2 quarterback on the depth chart, but only because Kelly said he couldn't list a 2a and a 2b. Rees and Montana are still locked in a competition which could last throughout the season. Montana, by the way, has been put on scholarship.
Starting quarterback Dayne Crist won't feel his first hit since last year's knee injury until Saturday. "We did not have the luxury to bang him around," Kelly said.
Linebacker Steve Paskorz is out at least three weeks with a leg injury, while David Posluszny is doubtful for Saturday with a hamstring issue. In better linebacker injury news, Anthony McDonald is recovering from a leg injury and may play Saturday.
Braxston Cave won the center job thanks in large part to an injury that limited Dan Wenger this fall camp. But Kelly said Wenger and Chris Watt will play a lot on the offensive line even if they do not start.
August, 6, 2010
8/06/10
4:02
PM ET
SOUTH BEND, Ind. -- The image on the cover of Notre Dame's media guide tells the story of what kind of team Brian Kelly wants. Instead of depicting any current players or the new head coach, the guide has a portrait of old-school, anonymous players emerging from the stadium tunnel in leather helmets.
Kelly is seeking a return to the glory days of Irish football, which some cynics may say has been gone as long as that leather headgear.
"I think that is the pervasive theme here," Kelly said. "Let's get back to understanding the great tradition, who we are and how we play the game. I won't go as far as no facemasks. But I will tell you that toughness, the Fighting Irish theme, is what I want to continue to advance forward."
[+] Enlarge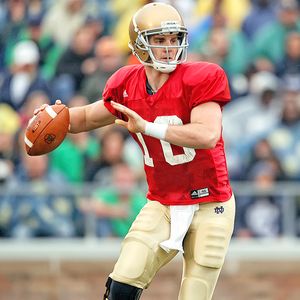 Robin Alam/Icon SMIDayne Crist is the only Irish quarterback with game experience.
Kelly didn't make any grand pronouncements at Friday's kickoff luncheon, held one day before Notre Dame opens fall practice. He seemed more upbeat about the team's prospects than he did at times during the spring when the players were still learning the system. Kelly said the Irish have strengths, vulnerabilities and questions marks, which he listed as the following:
Strengths: Depth on the offensive line, "great depth" at running back and defensive playmakers on the perimeter.

Vulnerabilities: Experience at quarterback (only Dayne Crist has played in a game, and he's never started) and depth on the defensive line.

Question marks: Consistency from the secondary and kicking game.
Kelly said the key battles of fall camp will occur on the offensive line, where he believes he has 10 players capable of contributing; at one of the inside linebacker spots, where Anthony McDonald, Steve Paskorz and David Posluszny are among those fighting for time; and safety.
Dan McCarthy, Zeke Motta, Jamoris Slaughter and Harrison Smith are all in the mix for starting safety spots. Behind them, the team is thin with Spencer Boyd transferring and Chris Badger opting to go on a Mormon mission to Ecuador. Kelly said he'll consider moving some players there from the offense, but he wouldn't disclose who that might be until he has discussed it with them.
Of the freshmen who arrived this summer, Kelly singled out receivers Bennett Jackson and Austin Collinsworth as having impressed the most and having perhaps the best chance to make the travel roster. One freshman who appears to have a long way to go is highly touted defensive lineman Louis Nix.
Nix weighed in at a whopping 350 pounds, or about 35 pounds more than he was listed at on signing day. Defensive coordinator Bob Diaco said Nix was working with the training staff to shed the weight.
"It's going to be a while," said Diaco, who added that he wants his noseguards to weigh between 290 and 300 pounds.
Kelly said he usually wishes he had more time when fall camp rolls around, but that he can't wait to get back to work with this group. He wants the players to embrace the tradition and take on a tough attitude. And he only mentioned one goal.
"We're here to win championships," he said.
May, 4, 2010
5/04/10
6:06
AM ET
Notre Dame

2009 overall record:
6-6
Returning starters
: Offense: 6. Defense: 8. Punter/kicker: 2
Top returners
: WR
Michael Floyd
, RB Armando Allen, TE
Kyle Rudolph
, OL Chris Stewart, OL Trevor Robinson, LB Brian Smith, LB Manti Te'o, DE Ethan Johnson, DE Kapron Lewis-Moore, S Harrison Smith, LB Darius Fleming
Key losses:
QB Jimmy Clausen, WR Golden Tate, C Eric Olsen, OT Sam Young, OT Paul Duncan, S Kyle McCarthy
2009 statistical leaders (* returners)
Rushing:
Armando Allen* (697 yards)
Passing:
Jimmy Clausen (3,722 yards)
Receiving:
Golden Tate (1,496 yards)
Tackles:
Kyle McCarthy (101)
Sacks:
Ethan Johnson* (4)
Interceptions:
McCarthy (5)
Spring answers
1. Picking up the pace:
When spring practice began, first-year Irish coach Brian Kelly lambasted his team's inability to work at the break-neck speed his system requires. It was a culture shock for players groomed in the more NFL-style practices of Charlie Weis. By late spring, though, both Kelly and his team seemed comfortable in the new tempo, which should help both sides of the ball be in shape this fall.
2. There is a backup quarterback on campus:
Dayne Crist
entered the spring after ACL surgery, and there was precious little depth behind him at quarterback. Nate Montana stepped forward in the spring game, though, completing 18-of-30 passes for 223 yards and three touchdowns. You shouldn't read too much into a spring game performance -- Montana himself said it was his best practice of the year -- and Joe Montana's son could easily get usurped by one of three freshmen this fall. But at least the cupboard isn't completely bare behind Crist.
3. Defensive fits:
The Notre Dame defense will remain a concern until it actually stops people on a consistent basis. Still, Kelly sounded pleased with where the defense was at the end of spring. Guys like Ian Williams, Ethan Johnson, Darius Fleming and Manti Te'o just look like they fit in their spots in a 3-4 defense more than they did in last year's 4-3. That and added experience could make the Irish a little stronger on that side of the ball in 2010.
Fall questions
1. The offensive line:
Kelly mixed and matched players on the O-line this spring, trying Trevor Robinson at tackle at one point. There's no depth chart, so it's hard to say what mix the Irish are looking at right now. But tackle and center appear to be question marks, which is no surprise following the graduations of Sam Young, Paul Duncan and Eric Olsen.
2. For Crist's sake:
The public didn't get a chance to see Crist in many competitive situations this spring, and let's remember that he was limited in his mobility because of that ACL surgery six months earlier. Still, he threw two interceptions in the spring game without a defensive pass rush to worry about, and Kelly is notoriously hard on his quarterbacks. The Irish offense should be loaded in 2010, but Crist will have to continue to develop and improve this summer.
3. Inside linebacker depth:
Te'o has a chance to emerge as a superstar at middle linebacker, but the true sophomore might be the most experienced player at his position right now. Carlo Calabrese, Anthony McDonald, David Posluszny and
Steve Paskorz
-- who moved over from fullback -- have to establish themselves in the middle to make the 3-4 defense really work.