NCF Nation:

David Richards
September, 25, 2013
9/25/13
12:00
PM ET
Is Arizona ready? After rolling through a Downy-soft nonconference schedule the competition level gets raised dramatically as the Wildcats head north to Seattle to face No. 16 Washington. Did the sacrificial trio of Northern Arizona, UNLV and Texas-San Antonio do enough to prepare the Tucson crew for the rigors of the Pac-12?
"Heck, I think we were ready to play a league game the first week," Arizona coach Rich Rodriguez said. "Our schedule is what it was. Those teams, even though we were favored to win them all, you still have to go out there and play well and win them. I think San Antonio is going to win games. I think UNLV is going to win games. I think Northern Arizona is going to win league games at their level. We try to prepare for the first game no matter who we're playing and I thought we were ready then.
"But tough environment against good players and a good coaching staff, it will be a challenge."
[+] Enlarge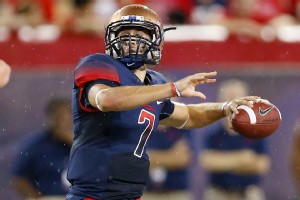 Christian Petersen/Getty ImagesArizona's passing offense has gotten off to a slow start in 2013 behind new starting quarterback B.J. Denker.
One of the biggest questions surrounding the Wildcats was whether they would be improved on defense. With the entire starting cast back, they are allowing an average of just 8.7 points per game, though the aforementioned trio is hardly considered a suitable measuring stick for what Arizona will face in Pac-12 competition.
And the Huskies should prove to be suitable competition. Through their first three games, which included wins over then-No. 19 Boise State and a road win against Illinois in Chicago, Washington is averaging almost 43 points per game and more than 625 yards of total offense.
"Our season started during week one," quarterback
B.J. Denker
said. "There are no pretend games in football, you only get 12. Yes, this is Pac-12 play and we understand this is a bigger deal and this is going to be the best team we will have played. We can only play who is put on the schedule, I don't think the normal fan appreciates that if they are I-AA (FCS) or you are a lower-tier Division I football team, this game is rough. You can't just go out on the field and expect a victory because somebody will come and smack you in the mouth."
The pressure is on Denker to revitalize a passing attack that flourished last year under
Matt Scott
, but has been a work in progress the first three weeks. The Wildcats average only 108 yards per game in the air -- a surprisingly low number for a Rodriguez-coached team. Denker is completing just 56.4 percent of his throws with two touchdowns and no interceptions. Part of that is a new quarterback getting to know new wide receivers. Another part is 151 carries through three games.
"I don't think the chemistry was the issue," Denker said. "Most of the reason the numbers weren't so good was because we were running the ball so well. It's not like I don't know what our receivers are going to do. It's just being young and not really having to throw the ball every down. We have been working on that since the season started and during this bye week. I feel like it is getting better and as the season progresses, you will see that on the field."
Rodriguez said improvement in the passing game was his top priority during the bye week. And he seems pleased with the progress.
"It's gotten better, I have to judge it in practice," he said. "We really struggled beginning of August; it was a combo of new receivers with a new quarterback. We've gotten a whole lot better the last three weeks, particularly in practice. We know we have to throw the ball. Everyone is going to put everybody in the box to try to stop the run game. We've worked harder on that than anything else we've done offensively."
The wide receiving corps could also get a boost with the return of
David Richards
, who has been nursing a foot injury. Rodriguez said he's been practicing this week and a decision on whether he'll play will be made either Wednesday or Thursday.
The sidebar to this game is the running backs: Arizona's
Ka'Deem Carey
and Washington's
Bishop Sankey
. Sankey has one extra game on Carey, who sat out the season opener for disciplinary reasons but is averaging 149.5 yards per game since his return. Sankey averages 148.6. Both have four rushing touchdowns and average 6.9 yards per carry.
While some postseason honors might hinge on who plays better, that's not even on Rodriguez's radar.
"I don't think the players of the coaches on either side look at individual matchups like that," he said. "We know Sankey has been a huge part of their success and Ka'Deem has been a huge part of ours. That's going to be the case for the rest of the season. We look at the overall picture."
February, 22, 2013
2/22/13
9:00
AM ET
Here are some keys and storylines to watch this spring in the South Division. Yesterday Ted looked at
the North Division.
ARIZONA WILDCATS

Start date:
March 3
Spring game:
April 13
What to watch:
New battery: The Wildcats are looking to replace a top-notch quarterback-center combo in Matt Scott and Kyle Quinn. The rock-solid duo helped produce one of the top offenses in the league. Jesse Scroggins and B.J. Denker are among those in the mix to run the offense and several returning offensive linemen are versatile enough to move around. Chris Putton and redshirt freshman Beau Boyster could be in the mix at center.
Many happy return(er)s: Arizona returns a big chunk of its offensive production -- including running back Ka'Deem Carey and receiver Austin Hill. Both should be on all sorts of preseason teams and awards watch lists. But behind the big names, there's also David Richards, Johnny Jackson, Tyler Slavin and Garic Wharton back in the mix.
No learning curve: Last spring, the talk was about Rich Rodriguez calling out his team for its lack of physical conditioning. The fact that the majority of the team understands what is expected -- and they don't need to spend the whole spring learning new systems, should be a huge help. Consider that the Wildcats return their entire defense from a group that was, at times, shaky, but will certainly benefit from another full season of playing in the 3-3-5 scheme.
ARIZONA STATE SUN DEVILS

Start date
: March 19
Spring game:
April 13
What to watch:
Plugging the middle: One of the few losses to ASU's roster is middle linebacker Brandon Magee -- a leader on and off the field and an all-around heck of a player. Carlos Mendoza looks to be a good fit -- though he's likely to miss spring while continuing to recover from a shoulder injury suffered against Illinois. Folks might remember his two interceptions before going down for the year.
Catching on: Unlike last spring, the Sun Devils have their quarterback. And he's a good one. Now, they need to find folks he can throw to. JC transfers De'Marieya Nelson (H-back, 6-3, 230) and Jaelen Strong (WR, 6-4, 205) are both big bodies who could step in and contribute immediately.
Wait and see: The kicker here is a lot of these players who are expected to compete won't arrive until the fall. So in the meantime, a lot of the younger players and redshirts will get a ton of reps in the system. And speaking of kicker, don't underestimate how much of an impact Josh Hubner made at punter. Iowan Matt Haack, who arrives in the fall, is a rugby-style kicker who can kick with either foot. That's just cool.
COLORADO BUFFALOES

Start date:
March 7
Spring game
: April 13
What to watch:
Meet your QB: Whomever it will be. There are five on the roster and a sixth coming in. Safe to say, quarterback play was extremely inconsistent last season for the Buffs. With an entirely new coaching staff coming in and installing the pistol, this could be one of the more interesting and wide-open position battles in the league.
Curious defense: One needs only to review Colorado's national rankings last year to realize they struggled. As one Buffs insider mentioned to me, they were ranked No. 1 in a lot of categories. Unfortunately, that "1" was followed by two more numbers. Only three defensive ends have playing experience. However a secondary that lacked experience in 2012 has a lot more looking into 2013.
Receiver options: The Buffs welcome back Paul Richardson, who missed all of last season with a knee injury. Colorado's premier offensive playmaker will be a nice veteran presence to whomever wins the quarterback job. Grayshirt Jeff Thomas also is back. An improved passing attack should help give the quarterback some confidence and open up the running game.
UCLA BRUINS

Start date:
April 2
Spring game
: April 27
What to watch:
Life after Franklin: The Bruins say goodbye to the best statistical back in school history -- leaving a huge void in the backfield. Johnathan Franklin was a great presence for young quarterback Brett Hundley, but now someone has to step up to fill that role, either solo or along with a committee. Look for Jordon James, Steven Manfro and Damien Thigpen to all get looks.
New No. 1: The Y-receiver, aka hybrid tight end, was filled wonderfully by Joseph Fauria -- Hundley's favorite red zone target. Darius Bell and Ian Taubler both had looks last year, but Fauria too will be tough to replace. Shaq Evans, Devin Fuller, Jordan Payton and Devin Lucien round out a pretty good receiving corps.
Secondary solutions: The Bruins must replace two corners and a safety -- Sheldon Price, Aaron Hester, Andrew Abbott -- and there isn't a ton of starting experience. Randall Goforth has five starts, but veterans such as Brandon Sermons and Anthony Jefferson have more special-teams experience than actual secondary play. Keep an eye on the secondary too when the Bruins start fall camp to see if any freshmen jump into the mix immediately.
USC TROJANS

Start date
: TBD
Spring game
: April 13
New defensive scheme: The Trojans will move to a 5-2 defensive scheme under Clancy Pendergast, and the spring drills will be the first opportunity to see the defense in action. The Trojans will have an experienced front seven, but four new starters are expected in the secondary.
Replacing Barkley: Max Wittek got the first extended audition in the battle to take over for Matt Barkley, but he didn't do enough in two late-season starts to claim the job. Cody Kessler and freshman spring enrollee Max Browne also will be looking to take the reins at one of the glamour positions in college football.
Lane Kiffin on the hot seat: The Trojans are coming off a disappointing season, and the fans are howling in protest, but so far his boss Pat Haden has maintained full support for his coach. Now is the time for Kiffin to show why that support is warranted. -- Garry Paskwietz, WeAreSC
UTAH UTES

Start date
: March 19
Spring game:
April 20
What to watch:
Erickson impact: The biggest question was what sort of role Dennis Erickson would play in the offense once he arrived. We'll know sooner than later. He already has talked about putting an identity on the Utah offense. That starts in spring when routines are established and expectations are set. And with Erickson on board to give the offense a push, the expectations will be much higher.
Wilson maturing: That leads us to the presumptive starting quarterback -- Travis Wilson -- who jumped in midseason after Jordan Wynn got hurt and Jon Hays struggled to produce. Wilson went from OK to pretty good in just a few weeks. A nice jump considering his experience level. With an entire offseason knowing he'll be the starter -- and with Erickson and Brian Johnson molding him -- it will be interesting to see what progress he makes this spring.
D-line makeover: The Utes lose some talent on the defensive line -- specifically All-American defensive tackle Star Lotulelei. Look for DE/LB Trevor Reilly to spend more time with his hand down. Tenny Palepoi, LT Tuipulotu and JC transfer Sese Ianu could all see time in the mix at defensive tackle.
November, 24, 2012
11/24/12
1:56
AM ET
It was a tough night for Arizona quarterback
Matt Scott
. And the
Arizona State Sun Devils
made him pay for each and every mistake.


ASU intercepted Scott three times and forced a fumble from the signal-caller. All four turnovers were converted into touchdowns as the visiting Sun Devils erased a 10-point fourth-quarter deficit to top the rival Wildcats
41-34
in the Territorial Cup.
Marion Grice
rushed for 156 yards and three touchdowns to lead a Sun Devils attack that stalled at times -- but used the momentum of the turnovers to outdistance the Wildcats.
They also blocked a punt in the fourth quarter deep in Arizona territory that
Cameron Marshall
turned into a touchdown on the next play. The fourth turnover -- an interception from
Robert Nelson
-- was returned 66 yards to the Arizona 2-yard line late in the fourth.
Michael Eubank
took a quarterback sneak in from a yard out to give the Sun Devils (7-5, 5-4 Pac-12) a 41-27 advantage with less than three minutes left in the game.
No. 24 Arizona (7-5, 4-5), however, didn't go away quietly -- not surprising since the last three meetings between the schools have come down to the final play. It took just 57 seconds for the Wildcats to get a quick score -- a 17-yard pass from Scott to
David Richards
with 1 minute, 54 seconds to play.
But Arizona failed to recover the onside kick and Sun Devils were able to run out the clock.
Arizona running back
Ka'Deem Carey
, the nation's leading rusher, carried 25 times for 172 yards and a score. He did, however, miss a few series with an undisclosed upper-body injury -- but did return later in the game.
Though Scott finished with three touchdowns, the three interceptions and the fumble were killers. ASU quarterback
Taylor Kelly
was far more protective of the ball, completing 16 of 29 throws for 191 yards with no touchdowns -- but also no interceptions.
The victory moves Arizona State in front of the Wildcats in the final Pac-12 South standings and likely means a higher-profile bowl game for ASU.
August, 2, 2012
8/02/12
11:00
AM ET
Arizona might go to a bowl game.
Or
the Wildcats might not.
Or
they might win two games.
Or
more.
Or
less.
Or
,
or
,
or
.
Arizona's latest depth chart has 24"ors" on it.
Dan Buckner
at wide receiver, or
David Richards
.
Derrick Rainey
at cornerback, or
Jonathan McKnight
.
John Bonano
place-kicking, or
Jake Smith
.
Or ...
"I didn't help you with a lot of the 'ors,'" head coach Rich Rodriguez said in a news conference Wednesday. "It wasn't just a coach kind of deal, we really don't know for sure in a lot of positions. I think 15 practices in spring told us a little bit ... really, I think we'll get a better idea at the end of camp and at the end of the next 30 days. But I really won't know until we play a couple of games. There are a lot of 'ors.' I want our guys to compete for their jobs. If they've played in the past, that's good and that experience should help them. But we're starting all over again. A clean slate. Everyone has to earn their spots."
[+] Enlarge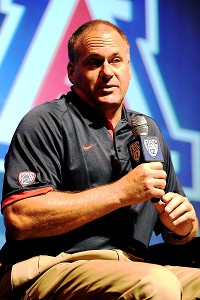 Jayne Kamin-Oncea/US Presswire"Everyone has to earn their spots," coach Rich Rodriguez said in explaining Arizona's uncertain depth chart.
Wildcats players reported Wednesday and will start practice today. And if the depth chart is any indication, Rodriguez has a lot of decisions to make over the next month.
Here are some more highlights from his news conference:
On the linebacking corps: "For us, that's certainly our thinnest position and it's an area of concern. There are probably some guys we're going to have to push to get ready [sooner] than they may be ready for or we may be ready for. In particular some freshmen. It's wide open. Jake Fischer is the only guy right now that we know has a lot of experience and we feel pretty comfortable with him at linebacker. Outside of Jake, it's kind of a wide-open deal. We have concerns, but what we have is what we have. Hopefully these freshmen will grow up in a hurry and coach [Jeff] Casteel will get them ready to play."

Rodriguez said staying healthy in camp is going to be crucial because the Wildcats aren't a particularly deep team yet. That's going to affect how they practice: "Where we're at right now with our depth -- or lack of it in some spots -- it's going to be critical. We've talked as coaches, you have to practice physically sometimes. You have to hit at times. We need to get tougher and more physical. Yet we don't want to beat ourselves up and have a lesser team come Sept. 1. How do you balance that? We will have some physical times and physical practices. But they won't be all day, every day. The message to our team will be when we have those moments when we go live, we need to really get after that and develop the mentality we want from a toughness standpoint. Because they will be few and far between. When we do it's got to be really, really intense and we have to make the most of it ... it's concerning and it limits you a little bit."

Offensive lineman Jack Baucus might have to retire because of injury.

Rodriguez said some of his coaching staff knew some players on Penn State's roster and that "a handful" reached out and talked with Arizona, but he said they are not actively pursuing anyone.

On how receptive his players have been to changing in coaching staffs: "I think they've been really receptive. I think our guys are hungry. At least I hope. When you're not going to a bowl game and you're sitting there at the bottom of the league, I think our guys were a little bit embarrassed and certainly they weren't happy because I met with all the guys in December. But how upset were they and how angry were they? I hope they are very angry and you use that anger and channel that in a positive [direction] with a chip on their shoulder to prove themselves ... I want them to be really mad. There was some of that and I think our players have a lot of pride. But we should be more upset and channel that in the right way."

Rodriguez called some of the NCAA's non-contact rules "silly," saying that two hours a week in the month of June would be beneficial -- especially for a new coaching staff trying to learn about their players: " It's really silly. It makes no sense. I think our guys -- college athletes in particular -- are better off with more guidance and more eyes."

The players will undergo a physical evaluation after the first practice. You'll recall that back in March, Rodriguez said his team was "weak, really weak." He'll see how much the summer conditioning has paid off: "The first practice will tell me a lot. Guys that struggle tells us they didn't do a whole lot this summer. We'll have a conditioning test at the end of the first practice. Those that worked out and are in shape shouldn't have any problems passing it. Those who didn't will have a big problem."