October, 10, 2011
10/10/11
4:30
PM ET
The two worst teams in the Big East last season are now among the two best.
How has it happened for Cincinnati and Rutgers?
Defense.
Both teams feature aggressive, opportunistic units that have made huge strides defending opponents, and that is a big reason each team has gone from 4-8 in 2010 to 4-1 at the midway point of the season. A quick check of the stats show how far both defenses have come.
Last season, Rutgers and Cincinnati were the two worst defenses in total defense, scoring defense, pass efficiency defense and sacks. Cincinnati was the worst team in the league in turnover margin.
[+] Enlarge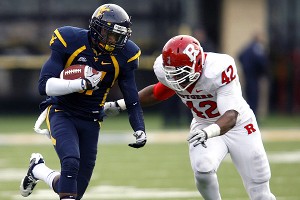 Charles LeClaire/US PresswireSteve Beauharnais has been a key part of an improved Rutgers defense.
Now? Rutgers is No. 1 in scoring defense; Cincinnati is No. 3. Rutgers is No. 2 in total defense; Cincinnati is No. 4. The Scarlet Knights lead the league with 20 sacks. Cincinnati is third with 17.
And the two teams lead the nation in turnover margin. Rutgers has 22 takeaways -- tying the total amount from 2010. Cincinnati is second with 18 takeaways -- four more than all of last season.
Rutgers has gotten so many solid performances from so many of its players, coach Greg Schiano demurred when asked for an MVP.
"The group," Schiano said. "The thing that I really enjoy most about coaching these guys is there is an unselfishness about us. That is the MVP."
There are a few big reasons Rutgers is playing well on defense. Schiano began moving players around the defense to help get more speed on the field.
Among the most significant moves -- Justin Francis to defensive tackle; Khaseem Greene to weakside linebacker; and David Rowe to safety. Greene is in contention for Big East defensive player of the year, as he averages nine tackles a game. Francis leads the league with 4.5 sacks. Rowe has two interceptions this season.
Schiano, whose background is on defense, is now calling the plays for the first time since 2008. Linebacker Steve Beauharnais said that has had a huge impact. At the beginning of training camp, Schiano showed a tape to his entire defense that essentially set the tone for what he wanted out of them.
The tape showed animals in the wild hunting for food. Specifically, Beauharnais remembers seeing lions taking down zebras as their prey. Schiano used it as an analogy for his players -- they needed to be relentless in pursuit of what they wanted. In their case, that meant going after the ball and their opponent.
"At first I was like what does this have to do with football?" Beauharnais said in a phone interview. "But when he stopped to explain it, everybody got the picture. You see us all swarming, attacking. We are real aggressive, and we are always running to the ball."
Schiano also stressed the need to play as one before every practice during training camp. He would hold his two hands far apart, then join them together in a fist. That was his way of showing his players how they needed to come together.
"We've always been friends, but I don't think we've ever been this close," Beauharnais said. "Everybody talks to everybody, and everybody hangs out with everybody. It's like a family."
The mentality has been much the same at Cincinnati. Coach Butch Jones has stressed becoming a more physical team. In fact, there are signs hanging up in the locker room that say, "Live Toughness Daily."
That has shown. The Bearcats have used an aggressive defensive front to help them set the tone in their games. Dan Giordano and Derek Wolfe have four sacks each, and Wolfe is third in the league with seven tackles for loss. In their last two outings, they have held their opponents to negative rushing yards.
What has helped has been the return of all 11 starters on defense. They have gained another year of experience, which means they are another year more mature, and another year more responsible to each other.
"The overall maturity and bond that our team has now is really starting to come into effect," Cincinnati linebacker JK Schaffer said. "Even when the offense isn't putting points up on the board sometimes, we're not saying, 'What is the offense doing? They need to put some points on the board.' No we're like, 'OK, let's go out there and play.' The whole mindset changed. Our team had to grow up. We were immature last year, a little resistant to some of the things we were doing. Now that the team's grown up, we've accepted our jobs and responsibilities. Coach Jones talks about indisputable role understanding and guys are doing that."
September, 10, 2011
9/10/11
4:03
PM ET
Rutgers had plenty of chances to beat North Carolina, but in the end the Scarlet Knights could not take advantage of five Tar Heel turnovers and
lost 24-22
.


The offense could never get the run game going and was plagued by shaky offensive line play and several big drops from receivers. Still, they had a shot to at least get into field goal range late in the fourth quarter. Facing fourth-and-7 from its own 42,
Chas Dodd
threw incomplete.
That essentially summed up the day. Rutgers could not make the big plays happen when it needed them. Dodd went 25-of-47 for 243 yards and two touchdowns but was hit and knocked down more times than he probably cares to remember. The ground game was nonexistent -- Rutgers finished with 1 yard rushing on 25 carries because of the scrambles and sacks on Dodd.
Mohamed Sanu
finished with 13 catches for 119 yards and a touchdown, but he should have had a score in the second quarter when a ball slipped out of his hands. That drive ended with no points after Rutgers failed to score on four attempts inside the 2.
Mark Harrison
also had two critical drops.
David Rowe had a big game, having a hand in three of the five turnovers. But in the end, they weren't enough. North Carolina ended with 405 yards of offense.
September, 10, 2011
9/10/11
1:57
PM ET
Rutgers is hanging with North Carolina thanks to three defensive turnovers. But Scarlet Knights fans are probably shaking their heads because Rutgers has only converted them into six points.
The first provided the best chance for a touchdown. After Duron Harmon returned an interception to the 2 in the first quarter, Rutgers made it to the goal line but was stuffed. Two throws and a run on the first three downs yielded no points. Rutgers went for it on fourth-and-goal, but
DeAntwan Williams
was stuffed.
David Rowe recovered two fumbles and Rutgers turned those into two field goals from San San Te. His second was from 50 yards out, tying a career high.
Turnovers are the biggest reason Rutgers is in the game,
down 14-6
in the second quarter.
Bryn Renner
has started 11-of-13 for 189 yards with a touchdown and an interception. The two fumbles off completions certainly were not his fault. He basically has picked up where he left off last week and is threading passes to open receivers. The run defense had been doing a nice job until Giovani Bernard broke through several missed tackles to score on a 60-yard run. Until that dash, UNC had 3 total yards on the ground.
Meanwhile, the Rutgers offense has not been able to do much of anything against a UNC defensive front that has shut down the run and consistently harassed
Chas Dodd
.
Mark Harrison
has two critical drops that would have probably been touchdowns.
June, 7, 2011
6/07/11
9:00
AM ET
Rutgers coach Greg Schiano is a realist. Last season was as much of a disappointment to him as it was to everyone, and he is eager to quickly get his program back to a bowl game.
But has going 4-8 increased his sense of urgency?
[+] Enlarge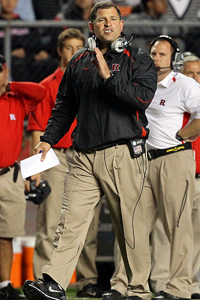 Jim McIsaac/Getty ImagesGreg Schiano looks to get things back on track after a challenging 2010 season.
"I always have an intense sense of urgency," Schiano said in a recent phone interview. "My whole thing is we try to be the best that we can be. As I often say, 'If I have something else extra to give you now, then you should have fired me five years ago because hopefully I have given you everything I've got and my players, too. We have a talented team that's a little green in some spots but not any more than other teams. We've just got to go out and get better and perform."
It is no secret the Scarlet Knights struggled on offense last season, and were devastated when Eric LeGrand was paralyzed making a tackle against Army. Rutgers did not win a game following the injury, and the team seemed in disarray at times. The offense ranked No. 114 in the nation and had no identity. The offensive line gave up a nation-worst 61 sacks. Schiano made changes to his staff, hiring Frank Cignetti as offensive coordinator.
Rutgers will get back to being a pro-style offense behind quarterback
Chas Dodd
. Schiano was pleased with the transition following spring practice, saying, "Chas is comfortable with what we're doing, although it's different than what he's done in the past. He looked very proficient in what he was doing, and we also ran the ball better than we have."
There is plenty of talent at the skill positions, though the starting running back job is still up in the air. But the biggest question of them all is the offensive line. Rutgers took a big hit when junior college transfer Dallas Hendrickson was lost for the season after getting hurt in spring practice. Schiano said the line did show improvement, and noted that there were changes to the scheme to help out.
Antwan Lowery, Desmond Wynn, Desmond Stapleton and Andre Civil earned praise from Schiano, and so did David Osei, who is bigger and stronger. "He really hit his stride," Schiano said of Osei.
"Those guys should be really improved," Schiano said. "Really, it's consistency. As a group we weren't consistent, but we were more consistent this spring than any time last year. Does that mean we're going to be world beaters? I don't think we're going to get out of it overnight, but I anticipate we'll be a lot better."
Schiano was happy with the position changes that were made in the spring, but said there may be more coming in the fall. Some players may be moved back to their original positions. The coaches are going to spend the next month going over the roster to potentially make more changes. But Khaseem Greene, David Rowe, Manny Abreu and
Jeremy Deering
are solid at their new spots. "We're going to try to start training camp with guys in the right place," Schiano said.
Schiano definitely has a plan for getting Rutgers back into position to contend for a league championship. Some fans are getting restless because he has been at Rutgers for 10 seasons without a league title. But consider where Rutgers was when he took over and where the program is now. Add in his excellent track record in graduating players, and Schiano has done plenty to make everyone proud.
"We had a tough year last year for a lot of reasons, but we've been to five straight bowl games. We've been consistent," Schiano said. "We'll be fine. We just have to work hard and be the best we can be. The next few years are going to be fun around here, I can tell you that."
June, 1, 2010
6/01/10
4:15
PM ET
It's time to get back to our post-spring rankings of each Big East position group. A lot of teams have question marks in their secondaries heading into this summer; let's look at how they stand in comparison to one another:
[+] Enlarge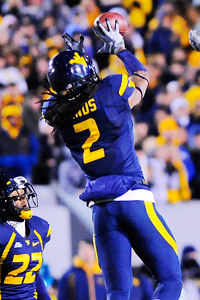 AP Photo/Jeff GentnerRobert Sands snagged five interceptions last season.
1. West Virginia:
The Mountaineers play five defensive backs in their 3-3-5 alignment and should be well stocked for 2010. Safety Robert Sands should compete for league defensive player of the year honors if he continues his rapid development, while senior Sidney Glover is an experienced playmaker at one of the other safety spots. West Virginia needs Brandon Hogan to rediscover his form and for Keith Tandy to keep improving, and this could be one of the team's strongest units.
2. Rutgers:
The Scarlet Knights lost the best cornerback in the Big East when Devin McCourty took his skills to the NFL, but I still like the group that's returning. Joe Lefeged should step up and assume McCourty's leadership role as a senior safety, while Khaseem Greene looks ready to become a front-line safety. David Rowe is a solid corner, and either Brandon Bing or Logan Ryan should fill the other spot. The Scarlet Knights have a lot of talented young players here to provide quality depth, as well.
3. Syracuse:
The Orange officially have five returning starters in the secondary because of injuries last year, and several players gained valuable experience during 2009. There's a good mixture of veteran leadership with guys like seniors Mike Holmes, Da'Mon Merkerson and Max Suter as well as rising stars like Shamarko Thomas and Phillip Thomas.
4. Pittsburgh:
Antwuan Reed helped answer a big question with a strong spring at cornerback. The other corner spot will likely be filled by either junior college transfer Saheed Imoru or Buddy Jackson, with Ricky Gary around to add depth. The safety position should be in good shape when Dom DeCicco and Andrew Taglianetti return from their injuries, while Jarred Holley established himself as a dependable safety last year.
5. South Florida:
The Bulls lost a pair of draft picks in Nate Allen and Jerome Murphy and have some young players moving into key roles this season. The good news is those youngsters have talent. The key will be whether Quenton Washington and Kayvon Webster can hold down the cornerback spots.
6. Cincinnati:
There's healthy competition in the secondary for the Bearcats, who increasingly gave up big plays in the passing game as the 2009 season wore on. Dominique Battle, Camerron Cheatham, Chris Williams and Reuben Johnson all vied for playing time at corner this spring. Drew Frey is a steady safety. The group needs to make more plays than it did a year ago but should embrace a more aggressive scheme this year.
7. Connecticut:
The Huskies ranked last in pass defense last season and lost two senior stalwarts from the secondary. The defensive backfield was in disarray at times this spring. The return of Blidi Wreh-Wilson from his shoulder injury this summer should help out the cornerback spot with Dwayne Gratz. Jerome Junior should be solid at one safety spot, while Kijuan Dabney is trying to win the other job after moving from linebacker. The Huskies are counting on a lot of young players to improve quickly before the season begins.
8. Louisville:
The Cardinals had so much trouble finding playmakers in the secondary this spring that running back
Darius Ashley
moved to corner to help out. Johnny Patrick is one of the league's better cornerbacks but needs help in the defensive backfield. The healthy return of safety Terence Simien would provide a boost, but this remains a trouble spot heading into the fall.