January, 31, 2012
1/31/12
9:00
AM ET
The big day is so, so close. National signing day will get started bright and early Wednesday morning, but it's time to take a look at where the Big 12 teams sit with one day left before players can officially sign.
This will change quickly in the next couple days, but here's how they look before things get real crazy. Here's
how the rankings looked two weeks ago, when we last updated the Big 12 scorecard.
This scorecard is written in pencil. Tomorrow, players will sign in ink.
1. Texas Longhorns
National ranking:
No. 3
Total commits:
27
ESPNU 150 commits:
11
Key commits
: RB
Johnathan Gray
, DT
Malcom Brown
, WR
Cayleb Jones
, QB
Connor Brewer
Latest news:
Texas recently added the nation's No. 1 inside linebacker, former Tennessee commit Dalton Santos. That may help its national ranking, which fell from No. 2 to No. 3 since our last update. The Longhorns also added No. 14 ATH Daje Johnson, a former TCU commit. Both were ESPNU 150 prospects. Texas also added defensive end Bryce Cottrell, who had previously been committed to Oregon.
2. Oklahoma Sooners
National ranking:
No. 10
Total commits:
20
ESPNU 150 commits:
5
Key commits:
RB
Alex Ross
, WR
Sterling Shepard
, WR Durron Neal, OL Ty Darlington, WR Trey Metoyer
Latest news:
Oklahoma surpassed Texas A&M since our last update, and added Sam Grant, the nation's No. 18 TE. David Smith, the nation's No. 124 ATH, also joined the fold for the Sooners. One of the nation's top juco offensive tackles, Will Latu also pledged to Oklahoma and could make an immediate impact. Oklahoma swiped Zack Sanchez on Monday, a cornerback who had been committed to Baylor since July.
3. Texas A&M Aggies
National ranking:
No. 12
Total commits:
22
ESPNU 150 commits:
5
Key commits:
OLB
Jordan Richmond
, RB
Trey Williams
, ATH
Bralon Addison
, QB
Matt Davis
Latest news:
The nation's No. 33 defensive end,
Polo Manukainiu
, became a late addition to the Aggies' class, and the nation's No. 30 safety, Edward Pope, also gave new coach Kevin Sumlin a commitment.
4. Texas Tech Red Raiders
National ranking:
No. 17
Total commits:
26
ESPNU 150 commits:
3
Key commits:
WR
Reginald Davis
, WR Dominique Wheeler, OT
Michael Starts
, QB Clayton Nicholas
Latest news:
The Red Raiders added juco cornerback Ola Falemi to their class, but look out for Tuberville on signing day. Switches on the big day are no surprises with him at Tech.
5. Baylor Bears
Total commits
: 22
ESPNU 150 commits
: 0
Key commits
: ATH
Corey Coleman
, OT Kyle Fuller, DT Javonte Magee, OLB Brian Nance
Latest news:
Baylor swiped Kansas QB commit Seth Russell, No. 47 nationally at the position, to make a big wave across the Big 12. It also grabbed cornerback Patrick Levels out of Dallas. Nance and Magee both pledged to Baylor after the new year.
6. Missouri Tigers
Total commits:
18
ESPNU 150 commits:
1
Key commits:
OG Evan Boehm, QB Maty Mauk, ILB Donavin Newsom, OLB Torey Boozer
Latest news:
Missouri may be in the lead in the DGB sweepstakes after hosting the nation's No. 1 receiver on a visit on the final weekend of the recruiting season. The nation's No. 105 ATH John Gibson and No. 151 DT, Harold Brantley, are the latest additions to Mizzou's class.
7. Oklahoma State Cowboys
Total commits:
21
ESPNU 150 commits:
1
Key commits:
TE
Dominic Ramacher
, OLB
Jeremiah Tshimanga
, OT Michael Wilson, QB Wes Lunt
Latest news:
OSU has added five commits since our last update, including Wilson, the nation's No. 22 offensive tackle. Receiver Chance Allen (No. 141) joins the squad as well. CB Kevin Peterson came to OSU after originally committing to Oklahoma. OSU also added receiver Jhajuan Seales. Juco offensive tackle Chris Grishby committed on Jan. 22.
8. Iowa State Cyclones
Total commits:
21
ESPNU 150 commits:
0
Key commits:
OT Daniel Burton, WR P.J. Harris, WR
Quan West
, ATH Damien Lawry
Latest news:
The Cyclones have two fewer commits than the last time we checked in, but added Devlyn Cousin, the nation's No. 154 defensive tackle.
9. Kansas State Wildcats
Total commits
: 18
ESPNU 150 commits
: 0
Key commits:
WR
Vernon Vaughn
, DT Travis Britz, RB Jarvis Leverett, QB Tavarius Bender
Latest news:
Kansas State added five commitments in the last two weeks, highlighted by Demonte Hood, the nation's No. 111 DT. RB Charles Jones is headed to Manhattan via Louisiana, too. S Donovan Starks is coming from Crosby, Texas, and receiver Judah Jones is a Wildcat after wrapping his high school career at power Evangel Christian in Louisiana. OT Ellwood Clement gave K-State five juco players in this class, low by Bill Snyder's standards.
10. Kansas Jayhawks
Total commits:
18
ESPNU 150 commits:
0
Key commits:
TE Jordan Smith, OG Brian Beckmann, S Gregg Allen, DT Tyler Holmes
Latest news:
New coach Charlie Weis has added four commits since our last update. QB Seth Russell, the team's top commit, is gone, but the Jayhawks have the QB spot settled for the next three years with transfers Dayne Crist and Jake Heaps. Greg Allen (No. 89 safety) is the top new addition, and Charles Brooks gives the class a second tight end. The Jayhawks also added a pair of juco defensive tackles that figure to have immediate impacts, Chaquil Reed and Jordan Tavai.
September, 15, 2011
9/15/11
10:15
AM ET
For the first time in conference history, the ACC is hosting four ranked teams. That alone is enough to keep you busy this weekend. But you're going to need more than four TVs. We've got the South's oldest rivalry in Chapel Hill, and somebody has to get a win in Chestnut Hill. There's plenty to watch. Here are a few that top my list, in no particular order:
[+] Enlarge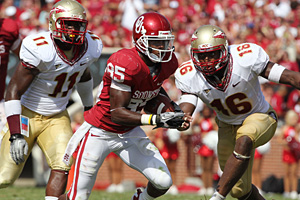 Matthew Emmons/US PresswireOklahoma receiver Ryan Broyles had a huge day against the Noles last season, catching 12 passes for 124 yards and a score.
1. Florida State's secondary against Oklahoma's receivers.
Ryan Broyles
and
Kenny Stills
make one of the best wide receiver duos in the country. The Seminoles' secondary also has been billed as one of the best. They were out of position in this game at times last year, though, and got beat. Will this year be a more favorable matchup for FSU?
2. FSU's running game and offensive line.
Florida State won its first two games convincingly, but if there were any areas that showed some need for improvement, it was up front and in the running game. The offensive line needs to do a better job of sustaining its blocks, and the running backs need to work harder to create their own yards.
3. Miami quarterback Jacory Harris.
All eyes will be on Harris as he makes his first start since a forgettable performance in the Sun Bowl last year. Harris threw four interceptions against Ohio State last year, but first-year coach Al Golden is confident enough in him to name him the starter ahead of
Stephen Morris
.
4. Turnovers in Chapel Hill.
UNC turned the ball over five times last week, and Virginia had five turnovers – all interceptions – the last time these two teams met. UNC's secondary is still looking for its first interception of the season, and UVA quarterback
Michael Rocco
threw one in last year's meeting.
5. Virginia Tech's punters.
There's a competition still going on. Scott Demler won the starting job this summer, but has punted 10 times for an average of 35.1 yards, with a long of 44.
Danny Coale
is still an option, and coach Frank Beamer said they could give true freshman Michael Branthover a look.
6. NC State's defense.
South Alabama is in a transitional phase to FCS status, and will become full members in 2013. You would think that even with a few injuries, the Wolfpack could show some improvement. NC State has allowed an average of 422 yards of total offense, and 27. 5 points per game.
7. Maryland's pass defense.
West Virginia has yet to really find a replacement for Noel Devine and the running game has struggled, leaving too much depending on the arm of
Geno Smith
. Fortunately for West Virginia, he's good enough to get it done. Smith has completed over 66 percent of his passes and will challenge Maryland's secondary.
8. Defense in Death Valley.
There hasn't been much of it for either Clemson or Auburn, so somebody will have to show improvement. Clemson ranks No. 90 in the nation in total defense, and Auburn is 111th. Both teams are allowing over 200 yards rushing per game.
9. Clemson's offensive line:
The Tigers allowed four sacks against Wofford, and failed to pick up a fourth-and-1. The pass protection has to improve, and earlier this week, Clemson coach Dabo Swinney said left guard David Smith struggled, and fans could see more of Mason Cloy and Brandon Thomas at the guard positions.
10. BC's secondary vs. the 'Killer V's':
The Eagles' depleted secondary could have its work cut out for it against
Donovan Varner
and
Conner Vernon
. BC learned this week that cornerback C.J. Jones will miss the rest of the season with a knee injury. Jones is the third player in what was projected to be BC's starting secondary who won't be in the lineup for various reasons.
September, 15, 2011
9/15/11
8:29
AM ET
Clemson starting left guard David Smith will undergo arthroscopic shoulder surgery today and will miss Clemson's game against Auburn on Saturday, the school announced. Smith suffered the injury at practice on Tuesday.

Smith had started the first two games and has 16 career starts. Mason Cloy will start in his place. Cloy is a veteran with 19 career starts entering Saturday's game.

Smith's injury adds even more concern to an offensive line that coach Dabo Swinney has not been entirely pleased with. The Tigers allowed four sacks in their win over Wofford, and failed to get a critical fourth-and-1. On Swinney's Sunday teleconference, he publicly called out Smith's poor play, and said that fans could see more of Cloy and Brandon Thomas at the guard positions.

Ironically, Smith was injured in the closing moments of last year's overtime loss to Auburn when he suffered a high-ankle sprain and missed the next two games.
June, 24, 2011
6/24/11
2:00
PM ET
Ranking offensive linemen is not easy. But hey, either is being an offensive lineman. Here are your best "big uglies."

1. North Carolina:
Three starters and one part-time starter return from last year's team, and this line could be the biggest and best since Butch Davis was hired. Guard Jonathan Cooper (22 starts), center Cam Holland (20) and tackle James Hurst (12) have combined for 54 career starts. Travis Bond has four starts and is the leading candidate to take over at the other guard position.

2. Miami:
The Canes return nine of their top 10 offensive linemen including four starters from last year, and Joel Figueroa was granted a sixth season of eligibility. Even with the coaching change, the Canes should be strong up front. Center Tyler Horn is a veteran, Brandon Washington is a difference-maker, and there's enough competition that Seantrel Henderson spent most of the spring as a backup.

3. Clemson:
First-year offensive line coach Robbie Caldwell has four returning starters to work with in Landon Walker, Antoine McClain, Dalton Freeman and David Smith. They also have top reserve Mason Cloy, who has 19 career starts and has played in 38 games. There is plenty of depth for a dependable rotation.

4. Virginia Tech:
All four returnees started every game last year, and there is enough depth that the Hokies should be able to rotate the most players up front they ever have. It's a veteran group led by Blake DeChristopher, Andrew Lanier, Jaymes Brooks and Greg Nosal.

5. Florida State:
Despite the losses of Rodney Hudson and Ryan McMahon, there's experience up front. This fall, the starting lineup will consist of tackle Andrew Datko, left guard Bryan Stork or David Spurlock, center Jacob Fahrenkrug, right guard Spurlock or Stork, right tackle Zebrie Sanders. Just how good they'll be remains to be seen as the majority of them were out with injuries this past spring.

6. NC State:
The Pack lost Jake Vermiglio and will be without injured left guard Andrew Wallace for about half of the season, but Zach Allen, Camden Wentz and R.J. Mattes are returning starters. There's also a lot of talent waiting to emerge with young players like Duran Christophe, Rob Crisp, Tyson Chandler, Torian Box and Andy Jomantas.

7. Virginia:
Four players return with a combined 64 career starts in Anthony Mihota, Austin Pasztor, Oday Aboushi and Morgan Moses, who started the final seven games of the season as a true freshman. Pasztor is in his fourth season as a starter and has 32 career starts.

8. Boston College:
Despite the losses of Anthony Castonzo, Thomas Claiborne and Rich Lapham, the Eagles are almost settled up front, it's the experience behind the starters that's reason for concern. The No. 2 offensive line is comprised entirely of redshirt freshmen. Mark Spinney returns at center, the projected starting guards are Nathan Richman and Ian White, who started three games as a freshman, and the tackles are Emmett Cleary and John Wetzel.

9. Maryland:
It's been an injury-prone group the past two seasons and that didn't change this past spring. Left tackle Justin Gilbert, one of the top linemen on the team, reinjured the same knee he had ACL surgery on and will be out until October. R.J. Dill was also injured this spring, though he played in the spring game, and Justin Lewis was rehabbing from offseason surgery. Pete White also missed practices, so the group needs to solidify the two-deep roster.

10. Georgia Tech:
The Jackets return three starters in guard Omoregie Uzzi, guard Will Jackson and tackle Phil Smith. Sophomore Jay Finch played extensively last season and Ray Beno and Nick McRae were key reserves. Redshirt freshmen Catlin Alford and Morgan Bailey could also work their way into the rotation. Uzzi will be the leader of the line, but they were outplayed by the defense this spring.

11. Wake Forest:
Four starters are back, but the Deacs will sorely miss the experience and leadership of former center Russell Nenon. Garrick Williams started the final three games of 2010 -- two at guard and one at center, but he struggled with the snaps towards the end of spring and isn't where the staff needs him to be yet.

12. Duke:
The Blue Devils should take another step forward this season under offensive line coach Matt Luke, and they need to -- Duke's running game was last in the ACC last year and 104th in the country. Brian Moore replaces a three-year starter at center, but given his experience at right guard the past two seasons, it should be a smooth transition. That will leave a hole, though, at the right guard position, where Laken Tomlinson and John Coleman are the top candidates.
September, 30, 2010
9/30/10
3:47
PM ET
There has been no shortage of drama between Miami and Clemson, as the past three games have been decided in overtime and won by the visiting team.
Enjoy Saturday's game in Death Valley while it lasts, because it will be the last time the cross-divisional programs meet again until 2014 -- and this one is going to mean something.
The winner of this game will be in an extremely favorable position to make a run at the ACC championship game, as both one-loss teams are among the best in the conference this year. Miami has already begun to separate itself from the rest of the Coastal Division, and Clemson proved a formidable opponent for No. 10-ranked Auburn in a 27-24 overtime loss on the road. Miami's only loss has come at No. 2 Ohio State. There's no shame in either nonconference loss, but this will be the first ACC game for both teams and mark the beginning of nine straight weeks without a break.
[+] Enlarge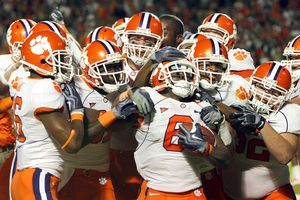 AP Photo/Lynne SladkyJacoby Ford scored the game-winning touchdown in overtime against Miami last season.
"It's a big game, very big," said Clemson safety DeAndre McDaniel. "It's an ACC game first, and I know a lot of people want to see what Clemson is made of."
The same can be said for Miami.
"We're kind of excited about it to see where we are at in a conference game and against Clemson," coach Randy Shannon said. "Last three games we have played Clemson went into overtime … thrillers at the end. This is also another opportunity to be on national television which is really good for the University of Miami, our program, and our football players to go out and perform out at a high level."
The season is far from over, but a win on Saturday will separate both teams in their respective divisions. Florida State is one of the toughest opponents remaining for both teams, and Clemson still has to face an NC State team that is currently undefeated.
"This is the opportunity for us to work toward our next goal and defend our Atlantic Division title," coach Dabo Swinney said. "This is a huge game for both teams in that regard. We've played three games and I like our personnel."
Both teams have had weaknesses revealed against better competition. Miami's biggest problem in September was turnovers. For Clemson, it was a lack of consistency on defense. Miami quarterback
Jacory Harris
has thrown six interceptions in the past two games, and Auburn outgained Clemson 258-46 in the third quarter.
Clemson will be without injured starting left guard David Smith, and the Tigers will need to play a nearly flawless game up front to keep the pressure off of quarterback
Kyle Parker
. Miami is leading the nation in tackles for loss, second in sacks, eighth in total defense and No. 11 in scoring defense, allowing just 13 points per game.
"It's a big challenge for us and we're going to have to execute at a high level," Swinney said. "They're second in the nation in sacks and we're not giving up many sacks. That will be a battle between their defensive line and our offensive line. Plays have to be made. There are big plays there that need to be made and this is the game to make them."
October, 29, 2008
10/29/08
12:02
PM ET
Posted by ESPN.com's Heather Dinich

CLEMSON: Entering Saturday's game at Boston College, the Tigers have a chance to be as healthy as they've been all year, and that's saying a lot. Clemson has had 12 injured players miss games and seven are offensive or defensive linemen. As a result, Clemson has started five different offensive line combinations in the first seven games and it could have another different lineup in Chestnut Hill. Starting defensive tackle Rashaad Jackson, a team leader who hurt his knee during summer camp and hasn't played a down all year, has been practicing this week. Running back C.J. Spiller, who hasn't played the past seven quarters, has looked pretty mobile at practice, and starting guard David Smith, who hasn't played since he sprained his ankle in the first half against South Carolina State, could also be back. The bye week might have been the best thing to happen to the Tigers this season.

FLORIDA STATE: The Seminoles' run-based offense took a hit last weekend when leading rusher Antone Smith and his backup, freshman Jermaine Thomas, were both injured against Virginia Tech. Smith's biggest concern right now seems to be his ribs, but he is expected to play. Thomas, though, had a concussion and his availability is less certain even though he practiced this week. Depending on how much they've healed, it's possible that receiver Preston Parker could be used more in the running game like he was last year against Maryland. He was forced into the starting role after all three of the Noles' scholarship runners were injured. Both Smith and Thomas, though, seemed determined to play at Georgia Tech. Smith is the fourth-leading rusher in the ACC with 77.1 yards per game, but leads with 11 touchdowns.


VIRGINIA: Virginia coach Al Groh said this week that he expects tight end John Phillips to be among the leading tight ends in the nation before the season is over. Last year, with receiver Kevin Ogletree injured and the production from the receivers down, three Cavs' tight ends combined to catch 93 passes. Some of those plays this year have gone to Ogletree and Maurice Covington. This year, Groh said he expects his tight ends to get 50-55 passes. Phillips has shown his versatility this season and is second on the team and tied for fifth in the ACC with 35 catches for 300 yards and a touchdown. That's more production than he had in his first three seasons combined (21 catches for 285 yards and three touchdowns).


DUKE: The Blue Devils' coaching staff faces an interesting challenge this week. For the first six games of the season, Wake Forest ran a spread offense, and then last week, the Deacs made a sudden change to the I-formation and surprised Miami by throwing the ball just eight times. Duke's staff is now forced to prepare for two different offensive styles. While the Blue Devils are comfortable with their base defense, they're expecting to have to make adjustments. Duke's defense has been inconsistent this season, looking good against Navy's run, but unable to stop anything at Georgia Tech. Odds are Duke will see a more balanced Wake Forest offense on Saturday.

WAKE FOREST: Filming for the movie "The 5th Quarter" will take place during Saturday's home game against Duke. The movie is based on the Demon Deacons' 2006 championship season during which linebacker Jon Abbate was driven by the death of his 15-year-old brother, Luke. The crew purchased about 150 tickets for the game and will sit in section five, where Abbate's parents used to sit. The actors will be reacting to the game as it goes on, but since some scenes take place in September and others in November, they're going to have to change from short-sleeves to parkas during the game.
August, 23, 2008
8/23/08
12:38
PM ET
Posted by ESPN.com's Ted Miller
One week and it begins...
August, 6, 2008
8/06/08
8:25
AM ET
Posted by ESPN.com's Heather Dinich
It's ba-ack!
But Bobby Bowden might not be.
Wow. Sounds like he really is sick of mediocrity. Bowden said Tuesday the Seminoles "have got to do better or I'm going to have to get out of here." Another 7-6 season just might be his breaking point, but Bowden said he was afraid to make such a statement because nailing down a bottom line would get "too much ink."
You better believe it would.
Nothing against Jimbo Fisher, but I wouldn't mind two more seasons with Bowden.
Of course, it's not going to be an easy year for him to make a comeback. Not with Tommy Bowden's loaded team on the schedule.
Then again, much of Clemson's success this season will be determined by how quickly the o-line comes together. Five days of practice hasn't quite done the trick. And David Smith is falling further and further behind.
Cullen Harper isn't the best player in the ACC, but he's the best quarterback, writes Caulton Tudor. Does that mean he should get the Player of the Year award at the end of the season? One thing's for sure -- it is a defensive league.
Just ask Virginia Tech. The Hokies have had one of the best defenses in the country in recent years. They've got a lot to replace on both sides of the ball, though, including their top four receivers.
Virginia Tech's not the only team with some work to do on defense.
NC State defensive coordinator Mike Archer wants -- and needs -- to see vast improvement on his side of the ball this season. Nobody in the ACC had fewer turnovers than the Wolfpack and the rushing defense was the worst in the league. Can he fix it?
Of course, it wouldn't hurt for Tom O'Brien to find a quarterback, either.
Maryland needs to make a decision, too.
Duke coach David Cutcliffe already has one of the best in the ACC.
Still, he is recruiting the state of North Carolina hard to find future Blue Devils.
It looks like Virginia stole a kicker from the soccer team. Not the worst place to find one.
Is any of the shine coming off of Miami's No. 1-ranked recruiting class since so many players are missing? Randy Shannon says he's happy with the players he has on campus. Those are the guys who will make an impact this season anyway.
Miami's d-line is trying to cope with injuries and inexperience, while a few players were having trouble with the heat on Tuesday.
Byrd Stadium is expanding, but season-ticket sales apparently are not. Maybe that's because there aren't any superstars to watch - save for Darrius Heyward-Bey.
Wake Forest has a star.
Running back Josh Adams is only unassuming off the field.
No Mailblog today, however if you've got a question or comment, holla at yo girl. I'll be chatting today at noon.