NCF Nation:

David Williams
July, 25, 2014
7/25/14
1:30
PM ET
BLYTHEWOOD, S.C. -- South Carolina running back
Mike Davis
enjoyed quite the breakout season in 2013, but bigger things could be in store for one of the SEC's best offensive weapons.
Built like a miniature tank, Davis could build on his 1,183-yard, 11-touchdown performance in 2013 with a run at the Heisman or at least a spot on the All-SEC first team. But the junior also has a chance to propel himself into the mix of players vying for the coveted spot of being the first running back taken in next year's NFL draft.
And if Davis has another good year, his head coach would have no problem wishing him a fond farewell.
[+] Enlarge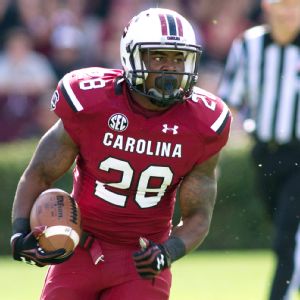 Jeremy Brevard/USA TODAY SportsWith a strong season, Mike Davis is likely headed to the NFL in 2015.
"Mike Davis, if he has a big year, he's going to go pro," South Carolina coach Steve Spurrier said after his annual media golf event Thursday. "And we're going to tell him to go pro, because he should. The lifespan of a running back is only a certain amount of years. If a young man after three years can go, we're going to shake his hand and let him go. That's why you keep recruiting more running backs."
Davis was a highly touted prospect coming out of the 2012 recruiting class, and even before he arrived in Columbia, most thought he might have a three-year lifespan with the Gamecocks. And after reshaping his body after his freshman year, Davis tried his best last season to reserve a spot in the NFL draft's green room in 2015.
Overshadowed by conference mates
Todd Gurley
and
T.J. Yeldon
, Davis averaged 5.8 yards per carry, registered seven 100-yard rushing outings and averaged 103.8 rushing yards in conference play last fall.
So yes, if Davis even comes close to duplicating last season's production, he should pack his bags and head straight for a life in the NFL. With the NFL not-so-subtly devaluing running backs more and more, Davis would be crazy not to make the leap and get a jump on pro life early.
"The thing as a running back is your life expectancy isn't long in the NFL," South Carolina running backs coach Everette Sands said Thursday. "Here in the SEC, it's probably the closest thing to the NFL."
Sands doesn't want to restrict his prized running back, but he also understands that more wear and tear to Davis' body could hurt him in the long run when it comes to a future in the NFL. The good news for Sands is that he has a solid stable of backs to work with.
Brandon Wilds
, who has 707 career rushing yards, is back and
Shon Carson
, who suffered a shoulder injury during the Gamecocks' spring game, has bulked up and should be 100 percent healthy entering fall camp next week. Also, redshirt freshman
David Williams
has the talent to be the back of the future for South Carolina.
Help is there for Davis, and Sands doesn't think he'll have any trouble taking it this fall.
"Something that he understands, now more than ever, is that, 'Hey, I can't be the only guy. If I'm the only guy, then by the end of the season I'll be beat up,'" Sands said. "I have to make sure that I'm not putting him in there on every third-and-1."
The only other thing Davis has to worry about is overconfidence, but Sands doesn't seem too worried about that either. He sees a more mature Davis who knows his own potential, but also understands that there's more to be done before he can set foot in the NFL.
"There's no doubt in Mike's mind that he can make it in the league," Sands said. "The big thing that Mike has to understand is that it's not done yet. ... I think he understands that as well. There's the other side of it of, 'Yes, I know I'm going to the league, but I just have to make sure I handle my business right now. If he does that, he'll be fine."
March, 31, 2014
3/31/14
9:00
AM ET
Mike Davis
came on so strong last season it was as if Marcus Lattimore had never left. South Carolina didn't have to deal with the pain of losing its legendary running back because Davis stepped right into his place, seamlessly providing the same kind of power and speed at the position fans and coaches had become accustomed to.
Steve Spurrier knew Davis would be special even before last season's season opener. He told anyone who would listen how good his sophomore would be. But even now, some seven months after South Carolina blistered North Carolina on primetime television, the head coach of the Gamecocks is marveling at how some people are still sleeping on his running back.
[+] Enlarge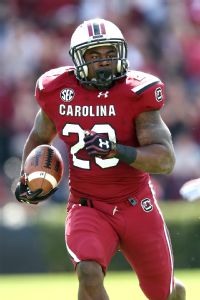 Jim Dedmon/Icon SMISouth Carolina is counting on a big season from Mike Davis.
"In practice yesterday we were watching him run a little bit and somebody says, 'People don't realize how fast he is,' " Spurrier told ESPN.com. "The first game last year he ran sort of an off-tackle play against North Carolina, and their defensive back took a bad angle and he broke down the sideline and I think, man, he's going to have a 40- to 55-yard run and he ends up going all the way 75 yards, and they couldn't catch him. We said, 'Wow.' He's sort of sneaky fast."
Davis ran for 100-plus yards in seven of his first nine games last season, outpacing SEC favorites
Todd Gurley
,
T.J. Yeldon
and
Tre Mason
. Through the first week of November, Davis ranked ninth in the country in total rushing yards (1,058) while also averaging the 13th-best yards per carry (6.37, minimum 100 attempts). He carried a heavy load with 166 carries, but he didn't lack burst, rushing for 10 or more yards 26 times -- more than Mason, Yeldon and a fella by the name of
Johnny Manziel
.
But the wear and tear eventually caught up with him. Davis would rush for only 54 yards against Florida, miss the next game against Costal Carolina and fail to break the 50-yard rushing mark in each of South Carolina's final two games against Clemson and Wisconsin. Even though he finished a respectable fourth in the SEC in rushing yards and fifth in all-purpose yards, it wasn't his best. He simply wasn't himself.
"It slowed me down a lot," Davis said. "I don't think people realized how much I was injured. The small injuries added up and hit me toward the end."
Thankfully for South Carolina, Davis doesn't appear to have the injury concerns of Lattimore before him. It was a series of minor injuries that took their toll, and now after a few months off, Davis is back to being fully healthy, he said. He's taking it easy this spring and enjoying the emergence of his fellow running backs, most notably
Shon Carson
and former four-star
David Williams
, whom Davis called "electrifying" and someone "you like to watch in practice."
All eyes are still on Davis, though. The rising junior has gone from unknown to a marked man in the SEC in one season. According to one sports betting site, Davis is at 18-to-1 odds to win the Heisman Trophy, trailing names such as
Jameis Winston
,
Braxton Miller
and
Marcus Mariota
, while also coming in ahead of the likes of
Nick Marshall
,
Trevor Knight
and
Dak Prescott
.
"

It's kind of like you're playing Madden or something. If you need yards, you just hand it off and let him go. It's cool.

"

-- South Carolina QB Dylan Thompson on RB Mike Davis
What does Davis think of the attention?
"It's an honor, especially coming from where I'm from," he said. "Everybody still calls me Little James or James Davis' brother. I kind of wanted my own name growing up."
Those who saw him play last season understand that Davis is his own man. When he's healthy, he is as good as any running back in the country. Spurrier didn't hesitate to say he could be the best running back in the SEC.
Dylan Thompson
, who has already been named the full-time starter at quarterback by Spurrier, said it's almost unfair to have someone like Davis to hand the ball off to.
"It's kind of like you're playing Madden or something," Thompson said. "If you need yards, you just hand it off and let him go. It's cool."
The good news for both South Carolina and Davis is that he won't have to carry the entire load this fall. Spurrier said he'll give the ball to Davis only three or four times during scrimmages this spring, noting how he has the enviable problem of having "too many running backs" to incorporate into the lineup.
Beyond Carson and Williams, whom Thompson said ran a sub-4.4 second 40-yard dash in spring testing, South Carolina also has
Brandon Wilds
to turn to.
There's no question, though, that Davis will be the centerpiece.
Now at "110 percent," he wants to get even better than he was last season.
"If there's anything I can do to get better and have an edge on my opponent, I'm always down for it," he said. "So as far as getting faster, getting in the weight room and getting stronger, I'm always for it."
March, 12, 2013
3/12/13
11:00
AM ET
UCLA's Dan Guerrero is the Pac-12's top paid athletic director,
according to recently released figures from USA Today
, while Colorado's Mike Bohn ranked last in the conference among the public schools that are required to disclose salaries.
The salaries for Stanford's Bernard Muir or USC's Pat Haden are unavailable because they work for private schools.
Vanderbilt's David Williams tops the list at $3.24 million, but he's a special case. The "true" leader is Louisville's Tom Jurich at $1.412 million.
Nine athletic directors make more than $1 million a year, though none in the Pac-12. It's also notable that the cost of living is much higher in Pac-12 cities compared to cities in just about every other conference.
Guerrero's total pay of $715,211 ranks 18th in the nation.
February, 6, 2013
2/06/13
7:40
PM ET
Steve Spurrier's not one to sweat a whole lot.
That's whether he's standing over a 10-foot birdie putt while playing golf with buddies in the offseason or watching from the sideline with South Carolina facing a crucial fourth-and-goal in the final minutes of a game.
It shouldn't come as any surprise then that Spurrier isn't sweating that seven SEC teams finished ahead of South Carolina in the latest
ESPN recruiting rankings

.
The Gamecocks checked in at No. 17 nationally this year. That's after finishing No. 16 a year ago, No. 15 in 2011 and No. 23 in 2010.
On the field, though, they've fared much better, and that's all that matters to the Head Ball Coach.
[+] Enlarge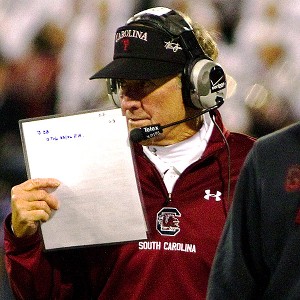 Joshua S. Kelly/USA TODAY SportsSteve Spurrier isn't too worried that South Carolina's recruiting class isn't tops in the SEC.
"It's important to recruit well, but it's not the only thing," said Spurrier, who's guided the Gamecocks to back-to-back top-10 finishes in the final polls.
"I tell people all the time that we're never going to out-recruit Alabama, LSU, Florida, Georgia, Tennessee and a lot of those schools, but that doesn't mean they're going to always beat us. Shoot, we've been beating them more than they've been beating us lately.
"So, yeah, it's important, but it's what they do after they get here that counts."
Going back to the 2010 season, South Carolina is a combined 9-2 against Alabama, Florida, Georgia, LSU and Tennessee -- the teams the Gamecocks are "never going to out-recruit." And if you throw in-state rival Clemson into that mix, the Gamecocks are 12-2.
Not only that, but South Carolina is one of only two SEC teams (along with Alabama) to have won 11 or more games each of the past two seasons.
Such unprecedented success at South Carolina has also helped to open up the checkbooks of donors, leading to much-needed facility upgrades.
"We've been fortunate to get the facilities up to speed," Spurrier said. "Some of our boosters with big money have contributed very well. I think before I got here, they'd had one person give over a million bucks (to athletics) and now we've got about 10. So we've added about eight or nine since I got here.
"Every school has millionaires out there with lots of money. But when you start winning, fundraising becomes a lot easier."
Already South Carolina's all-time winningest coach, Spurrier will turn 68 in April. But in his mind, his business at South Carolina won't be finished until the Gamecocks add some SEC hardware to their trophy case.
"Hopefully, the next step is an SEC championship. It's as simple as that," said Spurrier, who won six SEC titles at Florida. "The first thing we've got to do is get back to the game. We beat Georgia every year and then lose two, and they don't lose again.
"But we hope to win an SEC (title). That hasn't changed."
Right now, everybody in the SEC is chasing Alabama, which has won three of the past four national championships.
But Spurrier said the gap's not so wide that the Crimson Tide are poised to run off and leave everybody.
"No, they can be beat," Spurrier said. "LSU had them beat this year. A&M managed to get them, and Georgia had a shot at them. Now, talent-wise, they're way ahead of everybody. Gosh, they've got what … five first-round picks projected. We don't have any projected and we went 11-2.
"Some days, you just have to play better than the other guy. If you play better than him, you can win."
Spurrier points to South Carolina's 35-21 victory over then No. 1-ranked Alabama in 2010 as proof.
"We had basically eight possessions and scored five touchdowns," Spurrier said. "That's what you call playing well. I don't know if they've given up 35 points since."
He's right. They've haven't. In fact, they've given up more than 20 points only four times to FBS foes since losing to the Gamecocks in 2010.
Still, Spurrier knows that everything will need to fall just right for the Gamecocks to win their first-ever SEC title.
They're losing a lot of firepower on offense, but he's excited about the overall strength of this signing class. Spurrier said he felt like ESPN 300 quarterback signee
Connor Mitch
, who's already enrolled, was one of the best quarterback prospects in the Southeast.
In addition, running back
David Williams
of Philadelphia was ranked by ESPN as the No. 13 running back prospect nationally, and the Gamecocks also stocked up in the offensive line and at linebacker.
"It's hard to say how far away we are (from winning an SEC title), but we're going to keep pushing and see if we can get there," Spurrier said.
It's the reason he took the South Carolina job in the first place.
He revels in doing what everybody else says can't be done.
December, 5, 2012
12/05/12
6:10
PM ET
As Ohio State's NCAA infractions case dragged on month after month last year, athletic director Gene Smith and other top officials reiterated that they didn't think the violations would merit a postseason ban.
When you take that position for so long, you can't change course to say Ohio State wasn't merely in jeopardy of a one-year postseason ban, but a multiyear ban.
But that's exactly what our friend The Bowtie, aka university president E. Gordon Gee, told
The Columbus Dispatch
on Wednesday while the 12-0 Ohio State football team toured the Statehouse in Columbus.
"We were caught in the tsunami of all the things that were going on and we were the big fish on the line, and the NCAA was under great pressure to impose sanctions and my strong belief is … if we would have self-imposed, we still would've had a bowl ban," Gee told The Dispatch.
But if the violations, in Ohio State's estimation and through its research with NCAA infractions case experts, didn't merit even a one-year bowl ban, why would the NCAA's infractions committee (not the NCAA itself, by the way) go for two?
Gee also noted in his interview with The Dispatch that he worked with NCAA president Mark Emmert, former NCAA executive committee chair Ed Ray (president of Oregon State) and NCAA infractions committee member David Williams earlier in his career.
"So no one knows more about this than I do," he said.
Hmmm, if that's the case, why was Ohio State so surprised when it received the one-year bowl ban, effective for the 2012 season? And if the NCAA was under so much pressure, why wasn't Ohio State proactive with self-imposed penalties to show just how seriously it took the violations?
Again, this is extremely faulty logic by Gee, who has proved to be a very smart guy who sometimes says dumb things.
Ohio State's problem all along, one that barely gets mentioned, is that the second wave of infractions, unveiled during the 2011 football season, pushed back the date of its infractions ruling. Remember when Ohio State was supposed to learn its fate in October? If that had been the case, any bowl ban -- and I do think it would have been a one-year ban -- would have gone into effect for the 2011 season. But the delayed date for the ruling, which came down in December, led to the bowl ban impacting the 2012 campaign.
As I wrote last year,
Ohio State took a minimize-until-forced-to-maximize
approach with the violations, cooperating with the NCAA but never admitting systematic problems. All along, the school maintained that the violations didn't merit a postseason ban.
Ohio State gambled and lost. It happens. But trying to claim a multiyear bowl ban was inevitable is nothing more than damage control.
December, 3, 2012
12/03/12
9:22
AM ET
With SEC schools scrambling to find a new head coach to run their programs, Vanderbilt made sure it kept its current guy for even longer.
Just before Vanderbilt celebrated its selection in the Franklin American Mortgage Music City Bowl against NC State, the school announced that coach James Franklin
received a contract extension
that includes more money and guarantees more facilities upgrades. Franklin's assistants are also expected to receive raises.
Athletic director David Williams called the well-deserved extension a "long-term" contract that will keep Franklin at Vandy for "a number of years."
[+] Enlarge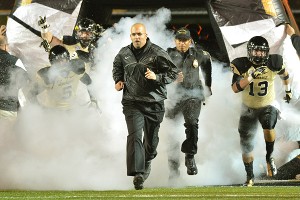 Don McPeak/US PresswireHead coach James Franklin got a raise for a second year in a row after leading the Commodores to their first eight-win season in 30 years.
I guess that does it for Franklin's name being thrown out for a few jobs around the country, including in the SEC.
This is the second year in a row that Franklin has received a contract extension. Because Vandy is a private institution, the terms of his new deal weren't released, but you can imagine that he was compensated nicely after two tremendously successful years with the Commodores.
He's currently 14-11 at Vandy and is fresh off guiding the Commodores to their first eight-win season since 1982. Vandy also ended the season on a six-game winning streak, a streak that hasn't occurred since 1955. The Commodores also won five SEC games for the first time since 1935.
"James has been a tremendous success here and by any right he does deserve a raise anyway," Williams said. "We've tried to put him in a position where he and his family will be very, very happy and very comfortable here in Nashville, and I think that's the case."
Franklin has done an excellent job in his two seasons at Vandy. Not only are the wins coming but the vibe around the program is completely different compared to when Franklin first arrived. Players, coaches and administrators are more confident and have the expectation to win whenever they take the field.
That wasn't always the case before Franklin's tenure began.
This extension shows you the dedication both sides have when it comes to this football program. It would have been easy for Franklin to take a hard look at other opportunities. No one would have questioned him if he decided to leave for a bigger opportunity, but he's committed to Vandy and is looking to build, not coast. He is looking to really make Vandy as competitive as possible in the SEC, not just on the field. He wants better surroundings for players and fans.
He didn't just ask for the weight room to be spruced up -- he wants administrators to take a look at what can be done to Vanderbilt Stadium, which is the SEC's smallest football venue (40,350 capacity).
Franklin is making sure Vandy continues its ascent through the SEC ranks. He's proved to be both an excellent recruiter and motivator and wants championships. Franklin truly believes he can build a championship-caliber program at Vandy.
"This is about continuing to make progress, continuing to take steps in the right direction, so we can build a program for the long haul that people can be very, very proud of," Franklin said.
December, 2, 2011
12/02/11
5:03
PM ET
After leading Vanderbilt to a bowl game in his first season, James Franklin is sporting a brand new contract.
Franklin
"We have torn up the contract for James Franklin and rewarded him and his family with a new contract with extended years and a substantial increase in compensation," Vanderbilt vice chancellor for athletics David Williams said Friday during a news conference. "Vanderbilt's position has been and continues to be to not go into details of a contract. But let it be said that we have awarded the coach and his family a new contract, not only for what he has brought here, but what he will bring in the future."
Here's the best part for Franklin, over and above a sweeter deal: It sounds like Vanderbilt is going to finally pony up when it comes to improving facilities. It's been talked about, discussed and proposed for several years now, but Williams said Friday that a new indoor multi-purpose practice facility would be in place no later than the 2014 season. And over the next two years, Williams said Vanderbilt Stadium would be getting a new JumboTron, new field turf and new lighting.
Franklin's name was already starting to pop up in connection with other head coaching vacancies around the country, and Vanderbilt didn't want to take any chances.
"I'm really proud of the team," Franklin said. "I'm really proud of the staff, the administration, the whole community for the support in the things we've been able to do in a very short period of time. But let me also say this, by no means, and I know everybody realizes this, have we arrived. This is a real positive step in the right direction, and we have a lot more work to do in a lot of different areas. But this is a really positive step in the right direction. I couldn't be more excited about the direction we're going in from so many different ways."
Obviously, that edge Franklin brought to Vanderbilt's program this season hasn't gone unnoticed by school officials. In fact, it might even be infectious.
Get a load of Williams' response when he was asked Friday why a stronger commitment to the football program took so long. Former coach Bobby Johnson had also been promised some of these same things, particularly after leading the Commodores to a 7-6 record and bowl victory in 2008.
"'I'm going to take a page out of my coach's book: Why do you want to talk about the past?" Williams said. "We're going to build the damn thing. Who cares why we didn't do it in the past? We're going to build the damn thing. I can't change what we didn't do. What I can tell you is we have basically changed the direction at this university. We can sit here for weeks and I can give you all sorts of reasons why it didn't get done in the past. The thing to celebrate is whatever was in the way ... ain't in the way no more. We're going to build it. "
May, 18, 2011
5/18/11
8:00
AM ET
Vanderbilt was the lone SEC football program to receive a Public Recognition Award of outstanding classroom performance and graduation success, according to an Academic Progress Rate (APR) report released Tuesday by the NCAA.

The Commodores were among the top 10 percent of football teams in the latest multiyear APR scores, which takes into account measurements from the 2006-07, 2007-08, 2008-09 and 2009-10 academic years. Fourteen FBS teams received public recognition.

In addition to football, Vanderbilt also received special recognition from the NCAA in baseball, men's cross country, men's tennis, women's basketball, women's cross country, women's golf, women's soccer, women's bowling and women's swimming.

"We are not the least bit surprised that we are again the conference leader in the Academic Progress Report and among the leaders nationally," Vanderbilt vice chancellor David Williams said. "We take academic achievement and student-athlete welfare very seriously, so we expect to have a leadership role. That we can provide the Southeastern Conference with nearly 50 percent of its APR leaders makes a statement about how our coaches and our student-athletes value our mission."

Vanderbilt was one of nine SEC schools that had at least one team to earn public recognition status. No other SEC member had more than three teams recognized.

APR results for all NCAA teams will be released next Tuesday. Teams with an APR below 925 can lose scholarships and face other penalties.
January, 26, 2011
1/26/11
1:30
PM ET

Andrea Adelson talks with UCF's David Williams about the rise and future of the program.