NCF Nation:

Davin Meggett
June, 20, 2011
6/20/11
5:00
PM ET
The ACC position rankings continue today with the running backs.
Sean Meyers/Icon SMIMontel Harris is the ACC's leading returning rusher, coming off a 1,243-yard season.
1. Montel Harris, Boston College:
Until proven otherwise, this record-setter is tops in the ACC. He's currently the league's most accomplished back, and has topped the 100-yard mark 21 times.
2. David Wilson, Virginia Tech:
He was the team's third-leading rusher a year ago with 619 yards and 5.5 yards per carry. Now he's got the spotlight to himself, and has a chance to become an All-American in both track and football.
3. Lamar Miller, Miami:
He had one of the best spring games in the conference, and averaged six yards per carry last year with only 108 carries for 646 yards and six touchdowns. He also had 11 catches for 96 yards.
4. Chris Thompson, Florida State:
He led FSU with 845 yards and 6.3 yards per carry last year. He also had 19 catches for 155 yards.
5. Andre Ellington, Clemson:
He could break 1,000 yards if he stays healthy, but a nagging toe injury has kept him from reaching his potential. He ran for 686 yards, (5.8 ypc), and 10 touchdowns in less than nine full games.
6. Josh Harris, Wake Forest:
He ranked fifth in the ACC last year with 65.5 yard per game and finished with 720 yards on 126 carries and seven touchdowns. He made a name for himself with 241 rushing yards against ACC champ Virginia Tech.
7. Davin Meggett, Maryland:
He was the Terps' leading rusher with 720 yards, 5.7 yards per carry, and four touchdowns. He also has 29 career pass receptions for 313 yards and a touchdown.
8. Mustafa Greene, NC State:
He led the team in rushing as a freshman with 597 yards and four touchdowns. He also had 30 catches for 272 yards.
9. Ryan Houston, North Carolina:
He has broken out of the mold of the Tar Heels' short-yardage back and is ready to be the every-down guy. Houston sat out last year because of a suspension, but he led UNC in rushing in 2009 with 713 yards and nine touchdowns.
10. Orwin Smith, Georgia Tech:
He's an A-back, which is more of a slot back, but he was Tech's third-leading rusher last year with 516 yards and 9.7 yards per carry with four touchdowns. He was also the second-leading receiver on the team with 12 catches for 195 yards and a 16.2 yards-per-play average.
June, 20, 2011
6/20/11
3:52
PM ET
Last week we looked at how the quarterbacks stacked up in the ACC. This week, we'll take a closer look at the running backs. Again, the position rankings by team put heavy weight on the depth of the position -– hence the
team
ranking, not individual. Just because Virginia Tech has one of the best running backs in the ACC doesn't mean that collectively, as a group, Virginia Tech is the best team in the league at the position. Florida State? Loaded. Wake Forest? Not. These are based on the best combination of talent, experience and depth.
Here's a look at how each team ranks in the position:
[+] Enlarge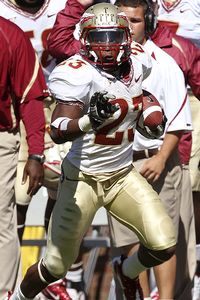 Lee Coleman/Icon SMIChris Thompson averaged 6.4 yards per carry for the Seminoles last season.
1. Florida State:
Chris Thompson
,
Ty Jones
and
Jermaine Thomas
combined for 1,862 yards, 6.1 yards per carry, and 17 touchdowns last year. Thompson had 1,000 yards combined from both rushing and receiving last year, and Thomas enters his senior season with 1,084 career yards -- the second most of any active ACC runner, behind only
Montel Harris
(3,600).
2. Boston College:
Montel Harris could break a 33-year-old ACC rushing record this fall, and his backup,
Andre Williams
, is a bigger back who has proven more than capable of shouldering the load himself. Together they're one of the best one-two combos in the league.
3. Miami
: The transfer of
Storm Johnson
hurt, but
Lamar Miller
should be one of the best in the ACC, and
Mike James
was ahead of Johnson on the depth chart. The Canes also have
Darion Hall
,
Maurice Hagens
and incoming freshman Kevin Grooms.
4. Clemson
:
Andre Ellington
will be the leader of the pack, but true freshman Mike Bellamy could also make an immediate impact, and the group runs deep with
Roderick McDowell
,
D.J. Howard
and
Demont Buice
.
5. Virginia Tech:
Had Ryan Williams and
Darren Evans
returned, this would have been one of the premier groups of running backs in the country. Instead, it will be the
David Wilson
show (and
Josh Oglesby
). Not that the Hokies will have any problem with that.
6. Maryland:
Davin Meggett
and
D.J. Adams
are a talented duo, but depth should be a concern. Meggett posted a team-high 720 rushing yards in 2010, while Adams had a freshman school-record 11 rushing touchdowns.
7. NC State:
The Wolfpack are in a much better position at running back than they were a year ago, when nobody with starting experience returned.
Mustafa Greene
,
James Washington
and
Brandon Barnes
should make NC State's running game a bigger factor this fall.
8. Georgia Tech:
Coach Paul Johnson isn't concerned about his B-back position because it's one of the deepest on the team. There isn't one superstar like in recent years, but
Richard Watson
,
Charles Perkins
and
Preston Lyons
will work together to keep the Jackets one of the top rushing teams in the country.
9. North Carolina:
The Tar Heels have to replace three tailbacks who accounted for 96 percent of their rushing last year.
Ryan Houston
is back for his sixth season of eligibility, but he is the only one who has seen significant playing time.
Giovani Bernard
,
Hunter Furr
and Travis Riley help the depth.
10. Wake Forest:
Josh Harris
could crack the 1,000-yard mark if he stays healthy, and
Brandon Pendergrass
is a capable backup. There are three true freshmen at the position, and it's one area coach Jim Grobe can't afford any injuries.
11. Virginia
:
Perry Jones
and
Kevin Parks
are talented, but the Cavaliers will miss the production of
Keith Payne
, who accounted for 14 of the team's 17 rushing touchdowns. Jones started all but one game last year, but only scored one touchdown.
12. Duke:
The Blue Devils' running game is starting to show progress, but last year it still ranked 104th in the country. Depth isn't a problem, as
Desmond Scott
,
Josh Snead
and
Juwan Thompson
should help make it a more productive group this year.
Stay tuned for the top 10 ACC running backs for 2011 ...
March, 30, 2011
3/30/11
9:00
AM ET
COLLEGE PARK, Md. -- Maryland began spring practices on Tuesday with a new coach, new schemes and enough new terminology that quarterback
Danny O'Brien
compared it to learning a foreign language.
Many of the players, though, are the same ones who brought the Terps within two wins of clinching the Atlantic Division title last year.
[+] Enlarge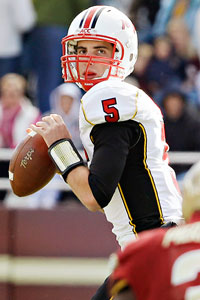 AP Photo/Stephan SavoiaMaryland quarterback Danny O'Brien and 13 other starters return to the Terps in 2011.
There are plenty of questions surrounding the program as Maryland begins its first week of spring practices under first-year coach Randy Edsall, but the players are confident there is enough talent remaining on the roster to build upon the success of last year's nine-win season.
"The reality is all of those things are outside the box," running back
Davin Meggett
said of the coaching transition. "The box is the white lines and the grass fields. We're all the same. We lost a few key playmakers, but there's no doubt in my mind we can't match up, or replace them, or match up even better in between those lines. That really gives us a good look on how well we'll play as far as next season."
There's reason for confidence in College Park. The Terps return 14 starters, including O'Brien, the 2010 ACC Rookie of the Year. Four offensive linemen return along with Meggett, the team's leading rusher (720 yards). Defensively, seven of the top 10 tacklers return.
Maryland's biggest holes to fill are at linebacker, where Alex Wujciak and Adrian Moten have graduated, and at receiver, where standout
Torrey Smith
left early for the NFL.
The biggest reason for concern, though, isn't in College Park. It's in Tallahassee, where Florida State is seemingly on cruise control heading into coach Jimbo Fisher's second season. The Seminoles eliminated Maryland from the division race last year with a 30-16 win in Byrd Stadium.
Despite Florida State's success and Maryland's transition year, the Terps agree there's no excuse not to be in hunt again.
"As players we feel like we're contenders for the ACC championship," said receiver
Kerry Boykins
. "We're just buying into what the coaches say and what the coaches believe because we know they want what's best for us. They're here to win championships just as well."
Boykins said the receivers and O'Brien met separately throughout the season and then had seven-on-seven drills every Wednesday, when O'Brien would help them grasp the concepts of what they were studying. They watched film of LSU, where offensive coordinator Gary Crowton was hired from. The biggest change in the offense will be the tempo, and the Terps will run more no-huddle, but how much is yet to be seen by even the players.
O'Brien said the offensive players are "not anywhere close to where we were last year by any means as far as familiarity with the offense," but that they're still probably further along than one might expect.
"There's been a lot of change, but I think we're really excited because it's the same team coming back," O'Brien said. "We might have a new scheme, new terminology, but it's a lot of the same guys, and we're a really tight family here at Maryland. We're excited about what we're going to put on the field this fall."
January, 24, 2011
1/24/11
9:00
AM ET
It's time to reload in the ACC. Here's a look at the position needs for each team in the Atlantic Division for the 2011 signing class:
BOSTON COLLEGE
Offensive linemen:
Six players on the final two-deep roster for 2010 were either juniors or seniors, and the Eagles will have to find replacements for Anthony Castonzo, Rich Lapham and Thomas Claiborne. There were two juniors at center in 2011, and the recruiting overall at this position hasn't been as strong in recent years.
Defensive linemen:
The Eagles have been thin at the position to begin with since the departures of Ron Brace and B.J. Raji. The interior line should be a priority, as tackle Damik Scafe will graduate, and Kaleb Ramsey will be a senior. Defensive end Brad Newman will also graduate.
CLEMSON
[+] Enlarge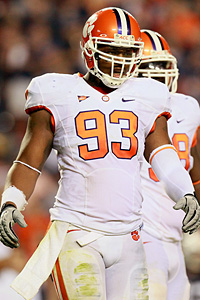 Kevin C. Cox/Getty ImagesReplacing Da'Quan Bowers is a top priority for Clemson.
Defensive line:
The early departure of defensive end Da'Quan Bowers and the loss of Jarvis Jenkins makes this group a priority. Seven of the eight players up front on the final two-deep roster were either juniors or seniors.
Quarterback:
Prior to the early enrollees, Clemson only had one scholarship quarterback on the roster -- projected starter
Tajh Boyd
. The depth needs to be rebuilt after the loss of starter
Kyle Parker
and transfer of backup Willy Korn.
Running back:
The early departure of
Jamie Harper
to the NFL left a hole in the Tigers' lineup. It's not completely empty, as
Andre Ellington
remains the best back on the roster and
Roderick McDowell
was a redshirt freshman backup to Harper.
FLORIDA STATE
Offensive lineman –
The departures of Rodney Hudson and Ryan McMahon will leave gaping holes up front, and A.J. Ganguzza and Antwane Greenlee aren't expected to return. Overall, the staff is looking for bigger, better players. With the exception of right guard, this was a veteran group.
Running back:
Despite the current depth, the coaching staff still wanted to sign about three more running backs in this class.
Wide receiver:
This would be the third priority for the staff.
Bert Reed
and
Taiwan Easterling
will both be seniors, but the team has lacked some dynamic playmakers at the position.
Linebacker:
The Noles lost two starters from last year's Atlantic Division championship team, and there are several young players on the rise like Jeff Luc and Telvin Smith, but the staff wants more numbers at the position.
Safety:
The Noles need an upgrade at this position.
Defensive line:
This is a matter of mostly building depth and size and continuing to get better.
MARYLAND
Kicker/ Punter:
Nick Ferrara has the ability to do both, but he also struggled at both in 2010. Travis Baltz was a four-year starter at punter who has to be replaced. The kicking game should be a top priority in this class, and a concern if Ferrara doesn't become more consistent.
Wide receiver:
The early departure of standout
Torrey Smith
to the NFL leaves quarterback
Danny O'Brien
without a favorite target. Seven of the nine receivers listed on the most current depth chart for 2010 were either juniors or seniors.
Running back:
The Terps have to replace starter Da'Rel Scott, and
Davin Meggett
will be a senior. There is some talent behind Meggett in
D.J. Adams
, but the position could use more depth.
Secondary:
Six of the top 10 players in the secondary were either juniors or seniors in 2010, including safety Antwine Perez, who will graduate. Kenny Tate and Cameron Chism will both be seniors, and the corner position is the biggest need.
Defensive end:
Defensive coordinator Don Brown would like to bring in at least one player who can really bring some speed off the edge.
NC STATE
Kickers:
The Wolfpack lost their starting punter and place-kicker, easily making kickers the biggest need in this recruiting class.
Defensive linemen:
With the exception of sophomore Brian Slay, the entire 2010 line was comprised of juniors and seniors. The Pack have to replace two starters, and two returning starters, Jeff Rieskamp and J.R. Sweezy, will be seniors.
Linebackers:
This was another veteran group for NC State, with five of the six players on the two-deep either juniors or seniors. Nate Irving's graduation will be a big hit and Audie Cole will be a senior.
Quarterback:
If
Russell Wilson
leaves early, the position will be even thinner, but backup
Mike Glennon
will be a junior, so the staff needs to build more depth.
WAKE FOREST
Offensive linemen:
The Deacs will have four redshirt juniors returning up front, and have to replace redshirt senior center Russell Nenon. The staff is looking to increase the depth and talent up front.
Linebackers:
The position hasn't been the same since the 2008 class (Aaron Curry and Stanley Arnoux). They were both drafted and two of the fastest players the program has ever seen. The staff needs to bring in more talent and speed here.
June, 18, 2010
6/18/10
9:00
AM ET
On Monday, NC State quarterback
Russell Wilson
buried his father. Our thoughts and prayers are with him this weekend as our fathers are celebrated. Wilson's father, Harrison, died on Friday after a long illness, but at his funeral, his son remembered fondly what an impact he had on his athletic career. Russell's father played football at Dartmouth and then made it to the last cut for the San Diego Chargers AFTER completing his law degree.
According to school spokesman Annabelle Myers, Russell and his brother spoke at the funeral and told countless stories about their dad waking them to throw baseballs to them, and how the three of them would go out and one would play quarterback, one would play wide receiver, and one would play running back.
These are the moments and memories our dads deserve a big thanks for this weekend. In honor of Father's Day, here's a look at some of the ACC's 'Famous Fathers,' and the players who share their legacies. Thanks to the sports information directors in the league and Mike Finn in the Greensboro office for making this post possible:
BOSTON COLLEGE
Redshirt freshman defensive end Max Holloway's father (Brian) played 10 seasons in the NFL (with Patriots and Raiders). His maternal grandfather, Johnny McKenzie, played 19 seasons in the NHL, winning two Stanley Cups with the Boston Bruins.
Junior wide receiver Chris Fox's father (Tim) was an All-American at Ohio State under Woody Hayes and played 10 years in the NFL (with the Patriots, Chargers and Rams).
Redshirt freshman wide receiver Hampton Hughes' father played for six years for the Dallas Cowboys.
Junior linebacker Mike Morrissey's father (Jim) played nine seasons in the NFL for Chicago and Green Bay.
CLEMSON
QB Mike Wade, LB Chris Richardson and Landon Walker: Their fathers, Mike Wade Sr., Chuckie Richardson and Gary Walker, played on the national championship team in 1981.
DUKE
Kicker Paul Asack's father Phil Asack was a 1971 Duke graduate who lettered for three seasons before joining the San Diego Chargers.
Redshirt sophomore offensive tackle Conor Irwin's father Tim Irwin played football at the University of Tennessee and in the NFL from 1981-94 with the Minnesota Vikings, Tampa Bay Buccaneers and Miami Dolphins. As an aside, his uncle, King Irwin, played football at Georgia Tech.
Wide receiver Matt Pridemore's father Tom Pridemore played at West Virginia and for the Atlanta Falcons.
Receiver Brandon Braxton's father David Braxton played for the Minnesota Vikings, Phoenix Cardinals and Cincinnati Bengals.
FLORIDA STATE
QB Christian Ponder's father, David, was a defensive lineman at FSU from 1980-83.
Redshirt freshman defensive end Dan Hicks' father is former FSU standout and NFL veteran Dan Footman.
Incoming freshman linebacker Christian Jones' father, Willie Jones Sr., was a standout defensive end for the Seminoles (1975-78) and a second-round draft choice of the Oakland Raiders in 1980 and returned to FSU as a graduate assistant football coach in 1988.
Quarterback Clint Trickett, who enrolled as a freshman in January and took part in spring practice, is the son of FSU assistant head coach/offensive line coach Rick Trickett. Travis Trickett, another son who has been a videographer in the FSU football program, will be the graduate assistant on offense this season.
GEORGIA TECH
Junior safety Cooper Taylor's father, JimBob Taylor, played quarterback at Tech.
Senior wide receiver Kevin Cone's dad, Ronnie, played running back at Tech.
Senior running back Lucas Cox's brother, Michael, was a three-year starter at fullback for Tech and now plays for the Kansas City Chiefs.
MARYLAND
Defensive lineman Joe Vellano's father, Paul, played for Maryland (1971-73). He was an All-American defensive lineman in 1972 and All-ACC in 1972-73.
Defensive back Austin Walker and defensive lineman Alex Walker are the sons of Doc Walker, who starred at UCLA from 1974-77 before being drafted by the Cincinnati Bengals. He also started at tight end from 1980-85 for the Washington Redskins, playing for the 1982 Super Bowl championship team. Their father is currently a local sports-talk radio host for Sportstalk 980 and also covers ACC football for Raycom television.
Running back Davin Meggett's father, Dave, played in the NFL for three different teams -- the New York Giants (1989-1994), the New England Patriots (1995-1997) and the New York Jets (1998).
MIAMI
Backup quarterback A.J. Highsmith's father, Alonzo Highsmith, and running back Damien Berry's father, Kenny Berry, played for Miami. Highsmith played at Miami from 1983-86 and in the NFL for seven years. Berry was at Miami from 1987-89.
Backup quarterback Spencer Whipple is the son of assistant head coach and offensive coordinator Mark Whipple.
NORTH CAROLINA
Punter C.J. Feagles's father, Jeff, is currently the New York Giants punter and has played 21 seasons in the NFL.
Backup quarterback Bryn Renner's father, Bill, was a punter at Virginia Tech and for the Green Bay Packers.
Offensive tackle Brennan Williams' father, Brent, played in the NFL from 1986-93 with the Patriots, Seahawks and Jets.
Linebacker Shane Mularkey's father, Mike, is the offensive coordinator for the Atlanta Falcons.
NC STATE
R.J. Mattes' father, Ron, played at Virginia, where as a senior in 1984 he was an all-ACC defensive tackle for George Welsh. He also played offensive tackle in the NFL for the Seahawks, the Bears and the Colts. He is now coaching at Virginia as offensive line coach.
VIRGINIA
Wide receiver Jared Green is the son of Darrell Green, who was a standout cornerback for the Washington Redskins and a 2008 inductee into the Pro Football Hall of Fame. Jared gave his father's induction speech at the ceremony.
Cornerback Chase Minnifield is the son of Frank Minnifield, a Pro Bowl cornerback for the Cleveland Browns, playing from 1984-92.
VIRGINIA TECH
Zac Evans is the son of George Evans, who was a starter on the Hokies' offensive line and lettered from 1979-82.
Kenny Lewis, Jr., is the son of Kenny Lewis, Sr., a standout running back for the Hokies who is enshrined in the Tech Sports Hall of Fame.
Beau Warren's father, Donnie Warren, played 14 years in the NFL for the Washington Redskins.
Freshman linebacker Chase Williams, who entered school in January, is the son of Gregg Williams, the defensive coordinator of the Super Bowl Champion New Orleans Saints.
Linebacker Jeron Gouveia-Winslow is the son of Kurt Gouveia, who was also a starter for the Redskins.
Wiley Brown's father, Chuck Brown was deemed the Godfather of GoGo music.
WAKE FOREST
Quarterback Brendan Cross is the son of former 49ers center Randy Cross.
Linebacker Joey Ehrmann is the son of Joe Ehrmann, who played for the Colts and Lions.
Center Chance Raines' father, Mike, was an All-American at Alabama under Bear Bryant.
Quarterback Ted Stachitas' father, Len, is vice president of the National Football Foundation and the executive director of the NFF's Play It Smart Program, a highly successful youth development program.
April, 23, 2010
4/23/10
2:03
PM ET
Being a leader is many things. It's difficult, for one. And necessary for a quarterback.
But it also can be amusing, at least that's what
Jamarr Robinson
has discovered as he's solidified his standing as Maryland's No. 1 quarterback this spring.
"I find myself yelling at people and then laughing at myself afterwards," said Robinson, who will lead the offense in Saturday's Red-White spring game at Capital One Field at Byrd Stadium.
[+] Enlarge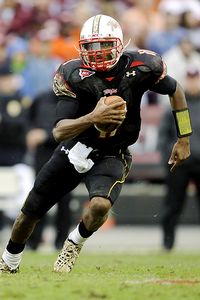 Ben Solomon/Icon SMIJamarr Robinson hopes to build on his experience from last season.
What's not funny is 2-10, at least if that's your record, as it was the Terrapins' in 2009. It was their worst finish in nine seasons under coach Ralph Friedgen and their worst year since 1997, when they went 2-9 under Ron Vanderlinden.
Of course, that '97 team got beat up just about every week, losing eight games by at least 11 points and two by more than 40 points. Last fall, Maryland found ways to lose. Seven losses came by 11 or fewer points and four by four points or fewer. The Terrapins were good enough to beat Clemson but bad enough to lose to Middle Tennessee at home.
While there were many culprits in 2009 -- youth and injuries are two -- the fundamental problem was a bad offense. And the predominant blame there falls on a line that gave up 36 sacks, which ranked 110th in the nation, and couldn't open holes for the running game, which ranked 105th.
Three starters are back from a unit that must improve -- and probably couldn't get much worse.
"I'm very encouraged by the progress of our offensive line, which was a concern going into spring practice," Friedgen said.
Therein lies reason for hope. If the line holds together, the offense could improve dramatically because there's plenty of skill surrounding Robinson.
There's
Da'Rel Scott
and
Davin Meggett
at running back -- "They're going to be a good one-two punch," Friedgen said. There's the return of nine of the top 10 receivers, topped by
Torrey Smith
, who ranked second in the ACC in receptions with 61 in 2009.
And there's Robinson, who saw significant action last fall, including starting two games when
Chris Turner
was hurt. He completed 54 percent of his passes for 459 yards with two touchdowns and no interceptions. He also rushed for 229 yards, 129 of which came against Virginia Tech.
Making his first college start against a rugged Hokies defense wasn't easy, but it should help Robinson in 2010. When he takes the field against Navy on Sept. 6, he won't be nearly as wide-eyed as a quarterback seeing his first playing time.
"It was critical for me going into this season we're about to go into," he said. "Those four games let me know what it's really like to play in a game. If I didn't have it, I'd still have those first-game starting jitters, like I had against Virginia Tech."
His athletic ability should make the offensive line's job easier, but Robinson doesn't want to just be a scrambler. His focus this spring was refining his understanding of the offense and his decision making.
"I have to know where my checkdowns are instead of taking a sack," he said.
Friedgen seemed mostly pleased with all three of his quarterbacks, including
Danny O'Brien
and
C.J. Brown
. But Robinson clearly asserted himself.
"Jamarr Robinson has had an excellent spring," Friedgen said. "He has matured. He is playing at a very high level. I've been very pleased with him. Right now, he is the starter."
Robinson said last year's team was young and lacked confidence. No surprise there. Finishing 2-10 will kill a team's confidence. Finishing 2-10 isn't much fun.
The expectation, Robinson said, is things will be a lot more amusing this fall.
"We're going to make a drastic change from what we were last year," he said. "We're a lot better. We're more together."
November, 15, 2008
11/15/08
5:18
PM ET
Posted by ESPN.com's Heather Dinich
COLLEGE PARK, Md. -- Remarkable. Not the game, the straight-out-of-a-painting rainbow that stretched right over Byrd Stadium and into the baseball field in the second quarter. Seriously, weirdest weather here, and it's only fitting, because just like Maryland, it's been impossible to predict.
What stands out in this game so far is that Maryland's running game does indeed exist. It helps that fullback Cory Jackson is healthy and able to block. Da'Rel Scott and Davin Meggett are taking turns eating up the clock and wearing out the Tar Heels' defense. Both are en route to 100-yard performances. UNC linebacker Quan Sturdivant can't stop them by himself, although he's giving it his best shot.
In the first quarter alone, Maryland had the ball for 11:46 compared to UNC's 3:14. The Tar Heels only ran eight plays, compared to Maryland's 25. Funny thing is, they haven't needed the ball long in this game to take the lead. Everytime it looks like Maryland is finally going to separate itself, UNC manages a big play.
For Maryland to win, the Terps need to keep doing what they're doing. UNC needs to win the field position battle in the second half, hang onto the ball, convert on third downs, and make some stops on defense.
If they can continue to do that and hold onto the ball in this rain, the Terps should beat their sixth ranked team in as many tries.