January, 24, 2011
1/24/11
10:00
AM ET
This morning we looked at the main recruiting needs for the Atlantic Division. Here are the priorities for each team in the Coastal Division:
DUKE
Offensive line:
The Blue Devils will have to replace one starter in center Bryan Morgan, and it's still a relatively young group, but with several redshirt sophomores on the roster, the staff wants to load up two grades behind them to fully stock the position for the future.
Defensive line:
This has always been Duke's deficiency, which means it will always be a priority to catch up and build depth. The Blue Devils will have to replace two starters in Wesley Oglesby and Patrick Egboh. Noseguard Charlie Hatcher will be a redshirt senior.
Cornerback:
Duke only loses one starter, cornerback Chris Rwabukamba, but it's another position that has been weak and needs better athletes.
GEORGIA TECH
Offensive line
: The early departure of Nick Claytor to the NFL didn't help the depth, but there were still several young players who gained valuable experience and others who redshirted to help the depth. While no true freshman is likely to make an immediate impact, the staff is still looking to build the numbers up front.
Linebacker/defensive line:
The Jackets need to find more athletes who are suited for Al Groh's 3-4 scheme. Fast athletes who are versatile enough to play a hybrid role, with the ability to move in space, will be a priority in this class.
MIAMI
Quarterback:
With
Jacory Harris
being a senior, A.J. Highsmith moving to defense, and
Spencer Whipple
struggling in what little time he has played, the position needs a boost. It didn't help that Teddy Bridgewater reneged on his commitment.
Linebacker:
This is a position former coach Randy Shannon had put an emphasis on building, and there are young players and depth, but it was also a veteran group in the 2010 two-deep, with mainly juniors and seniors.
Wide receiver:
The upperclassmen did all of the work in 2010, with
Leonard Hankerson
leading the way.
Travis Benjamin
,
Aldarius Johnson
and Laron Byrd will all be seniors. An influx of young talent is needed.
Defensive end:
The staff is looking to improve the depth here, get stronger up front, and build upon the success from 2010. Marcus Robinson, Adewale Ojomo, and Micanor Regis will all be seniors.
NORTH CAROLINA
Tailback:
Injuries depleted this group in 2010, and
Anthony Elzy
,
Johnny White
and
Shaun Draughn
were both seniors.
Ryan Houston
was able to redshirt and will return as a fifth-year senior, but the Tar Heels need more dependable runners and a foundation for the future.
Defensive line:
The Tar Heels have to prepare for some departures, especially on the interior, where all four players on the two-deep roster in 2010 were juniors.
Secondary:
UNC will have to replace three starters in the secondary this spring, and three backups this year were juniors. Because of the NCAA investigation, this is a group in which backups had to develop quickly, so there are some experienced younger players, but the group still needs to reload.
Tight end:
The loss of Zach Pianalto and his backup,
Ed Barham
, leaves the position thin.
VIRGINIA
Offensive line:
With starting right guard B.J. Cabbell gone, starting center Anthony Mihota a senior, and starting left guard Austin Pasztor a senior, the staff has to prepare for some departures. Morgan Moses and Oday Aboushi are talented young players, but the rotation needs more of them.
Defensive line:
End Zane Parr's decision to leave early for the NFL draft hurt the position's depth, and the Cavs will also have to replace John-Kevin Dolce at tackle. Three other players in the two-deep will be rising seniors, and with Virginia switching back to a 4-3 defense under Mike London, the Cavs have to rebuild up front.
Secondary:
Cornerback is of particular concern, as Chase Minnifield will be a senior, and starter Mike Parker will graduate.
VIRGINIA TECH
Running back:
The early departures of
Ryan Williams
and
Darren Evans
to the NFL left
David Wilson
as the only tailback with any significant experience. Overall, the Hokies have four tailbacks on their current roster.
Defensive line:
The Hokies will have to replace redshirt senior starters Steven Friday and John Graves, and starting left end Chris Drager will be a redshirt senior this year.
Wide receiver/tight end:
Starters
Jarrett Boykin
and
Danny Coale
will be seniors, and tight end
Andre Smith
will graduate.
Secondary:
Half the players on the two-deep roster against Stanford were either juniors or seniors, and the Hokies will have to replace rover Davon Morgan and cornerback Rashad Carmichael.
January, 2, 2011
1/02/11
1:00
PM ET
This is the big one for the ACC, a chance for Virginia Tech and the conference to make a statement on the national stage against the No. 4 team in the country. Virginia Tech enters this game with an all-time record of 1-26 against teams ranked in the top 5 of the AP poll, and the Hokies are 0-22 in such games away from Blacksburg, Va.


This is Stanford's first Orange Bowl appearance and second BCS bowl appearance. At 11-1, Stanford is trying to finish a season with as few as one loss for the first time since 1940 (10-0). The Cardinal have already set a school record for most wins in a season. There's plenty to play for in the Discover Orange Bowl. Here's a quick preview:
WHO TO WATCH:
The quarterbacks. Stanford's
Andrew Luck
is a projected first-round NFL draft pick, and Virginia Tech's
Tyrod Taylor
was the ACC's Player of the Year after leading the Hokies on an 11-game winning streak. They're major reasons why their teams are ranked among the top 20 in the country in scoring offense. Both have been invaluable to their respective teams, both have given defenses fits, and both are too good to miss.
WHAT TO WATCH:
Virginia Tech's secondary against Stanford's receivers. Cornerbacks Jayron Hosley and Rashad Carmichael will have to win their matchups, especially when safeties Davon Morgan and Eddie Whitley line up closer to the box. Stanford receiver
Doug Baldwin
is one of Luck's top targets, and Carmichael will be tasked with disrupting that connection. The Hokies' pass efficiency defense is No. 8 in the country, while Stanford is No. 7 in passing efficiency.
WHY WATCH:
These programs have gone on remarkable runs this season and come a long way. Stanford made a turnaround from 1-11 in 2006 to a school-record 11-1 this year. Virginia Tech made a turnaround from its 0-2 start to win 11 straight and become the first team to go undefeated in ACC play since Florida State in 2000. Both have an opportunity to finish the season with unprecedented success.
PREDICTION:
Stanford 35, Virginia Tech 31. The difference in this game will be Stanford's ability to run the ball. If there has been one weakness in the Hokies' defense this year, it's been at linebacker, where injuries and youth have provided some bumps. Virginia Tech's run defense has been average, but when the Hokies dare to load the box, Luck can beat them with his arm.
December, 31, 2010
12/31/10
3:00
PM ET

The linebacker talks about the challenge of facing Stanford's Andrew Luck.
February, 11, 2010
2/11/10
9:20
AM ET
The Hokies' defense will be one of the biggest questions in the ACC this preseason, as Virginia Tech has to replace six starters. Still, expectations are high heading into 2010 that Virginia Tech will be one of the best teams in the country. Much of that confidence comes from defensive coordinator Bud Foster's proven ability to reload.
Can he do it again?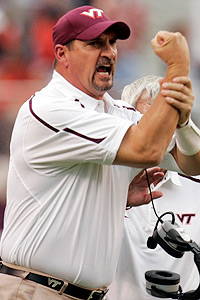 AP Photo/Steve HelberBud Foster will have some new pieces to work with this season.
Here's a closer look at exactly what Virginia Tech's situation is on defense heading into spring practice, and how much work the Hokies have to do:
Overall, Virginia Tech needs to replace three of four starters up front, outside linebacker, cornerback and free safety.

The only defensive ends with any significant playing time are Chris Drager, who the staff wanted to move back to tight end, and Steven Friday. There are a few redshirt freshmen you might get to know: Duan Perez-Means, Tyrel Wilson, James Gayle and J.R. Collins. Of course, the only problem with redshirt freshmen is that they haven't played yet. Isaiah Hamlette is the only other defensive end who has played, but that was extremely sparingly. It's possible the staff could move tackle John Graves back to end, where he practiced last spring, or possibly look at moving other players.

At defensive tackle, Antoine Hopkins will be the front-runner to replace Cordarrow Thompson, and he has experience so that shouldn't be too much of a concern.

At outside linebacker, Cody Grimm and Cam Martin have to be replaced, leaving a wide open competition.

At cornerback, Jayron Hosley or Cris Hill will likely take over for Stephan Virgil. No worries there.

At free safety, Eddie Whitley was Kam Chancellor's backup, and the staff is confident in him. Antone Exum will also be given an opportunity.

The good news? Virginia Tech returns cornerback Rashad Carmichael, rover Davon Morgan, Graves at defensive tackle, and Lyndell Gibson at inside linebacker.
It's a lot to ask for a team that faces Boise State's offense on Labor Day, but the Hokies wouldn't be so highly ranked this preseason if people didn't think they could do it.
Posted by ESPN.com's Heather Dinich
Three things stand out about the ACC at the midpoint of the season: First, the league isn't as bad as it appeared in Week 1. Second, the defenses are dominating and third, it's time for some separation.
The ACC is 32-10 against its nonconference opponents, and Clemson's woes aside, the loss to Alabama seems less damaging when the Crimson Tide is ranked No. 2 in the nation. No, the ACC is not the best BCS conference, but good luck finding one that's more competitive from one through 12. The league has been impossible to predict, from Maryland's losses to Middle Tennessee and Virginia, to Clemson's utter meltdown.
Youth and quarterback changes have overtaken the league, and Florida State seems to be ahead of Miami in the race to resurrect their once-mighty programs. Still, the Seminoles are one of a handful of teams with a chance to win the Atlantic Division.
None of the teams have emerged as clear frontrunners to win the ACC championship. If the title game were played today, Wake Forest and Virginia Tech would be the Tampa-bound teams, and only the Hokies were predicted as preseason favorites. Even Virginia Tech, though, which holds a comfy 2-0 edge over its Coastal Division opponents, has shown its vulnerabilities. Considering how wide-open the league is, it would have been the perfect opportunity for Clemson to take advantage of it.
Instead, teams like North Carolina and Georgia Tech have. Here's a look at how the league has fared so far:
BIGGEST SURPRISE: Georgia Tech. Paul Johnson is two wins shy of bowl eligibility in his first season (two wins are over FCS opponents, and only one counts towards bowl eligibility). Johnson is winning with a new offense, a new defense and one of the youngest rosters in the ACC. The Jackets were picked by the ACC media to finish fourth, and instead are off to their first 5-1 start since 1990.
BIGGEST DISAPPOINTMENT: Clemson is easily the biggest bust of the year. Once ranked No. 9 in the nation, the Tigers have since lost three games, their head coach and their offensive coordinator. Injuries to the offensive line made an already tough job even more difficult for assistant coach Brad Scott, and it has had an impact on the entire offense.
MIDSEASON OFFENSIVE MVP: UNC wide receiver Brandon Tate. No, this is not a sympathy vote. He earned it with his ACC-leading 163.7 all-purpose yards per game. Tate finished his injury-shortened career as the NCAA's all-time leader in combined kick return yards with 3,523. Through the first six games, Tate had 376 receiving yards, 305 kickoff return yards, 158 punt return yards and 143 rushing yards.
MIDSEASON DEFENSIVE MVP: Georgia Tech defensive tackle Vance Walker. The spotlight is on Michael Johnson, but Walker has been the top performer on one of the nation's best defensive lines, and is a first-round draft pick. He consistently gets the job done, has six tackles for loss and epitomizes the Yellow Jackets' defense -- underrated.
MIDSEASON COACH OF THE YEAR: Frank Beamer. Few realized just how little the Hokies had to work with this season, and in addition to the depleted roster he started with, Beamer also lost running back Kenny Lewis Jr., safety Davon Morgan, receivers Zach Luckett, Ike Whitaker and Brandon Dillard to suspensions and injuries. He made the right call at quarterback in the face of criticism and has Virginia Tech at the top of the Coastal Division once again.
BOWL BOUND: Georgia Tech, Virginia Tech, North Carolina, Wake Forest, Florida State, Boston College, Maryland, Clemson, Miami
October, 3, 2008
10/03/08
11:23
AM ET
Posted by ESPN.com's Heather Dinich
1. Miami quarterback Robert Marve vs. Florida State quarterback Christian Ponder -- Youth versus youth, and the future of both teams. Who has the better day in this storied rivalry, and how will their heralded backups be used this time?
2. Virginia Tech rover Dorian Porch -- He took over for Davon Morgan, who tore his ACL in the Nebraska game. Porch was also the top backup at free safety, and has played about a quarter of the games at rover.
3. The Carolina quarterbacks -- NC State's Russell Wilson will be making a comeback against Boston College after missing the South Florida game with an undisclosed injury, and North Carolina quarterback Cameron Sexton is looking for a repeat performance against UConn.
4. Positive signs in Charlottesville -- Literally and figuratively. The 1-3 Cavaliers need to show fans they're not destined for doom, and the fans need to show them support now that signs are once again allowed in the stadium.
5. Duke's offensive line against Georgia Tech's veteran front four -- This will be the Blue Devils' toughest test to date, and while mobile quarterback Thaddeus Lewis can make things happen, he'll need some time to do it.
6. Paul Johnson vs. David Cutcliffe -- This could be a Coach of the Year elimination game, no? Both of these guys have their programs ahead of schedule in their first seasons. Can Cutcliffe take the next step, and win an ACC road game, or will Johnson stay in the hunt for his first Coastal Division crown?
7. Boston College's passing game -- Have they found it? Offensive coordinator Steve Logan knows the Eagles won't survive the second half of the season without it. There has been instability at quarterback, and either Chris Crane or Dominique Davis needs to assert himself as the leader of the offense.
8. Florida State's defense against Miami's tight ends -- It's been something the Seminoles have been working on all week, and historically a matchup that's made a difference in this game. Miami's Dedrick Epps, who caught the game-winner last year, is the one they're most likely to key in on.
9. Interceptions in Dolphin Stadium -- If there are any. So far, both Florida State and Miami have just one interception each. Both programs are tied for last in the FBS in this category with five other teams.
10. Maryland receiver Darrius Heyward-Bey -- Somehow, he left Death Valley with just one touch -- albeit a 76-yard run on a reverse -- and somehow, the Terps still won. Odds are Virginia won't keep one of the most exciting receivers in the league quiet again.