NCF Nation:

Davonte Lambert
December, 2, 2014
12/02/14
2:30
PM ET
Will Muschamp is
a wanted man
. The former Florida coach was once a premier defensive coordinator in college football, and now he's being sought out for the same position by both Auburn and Texas A&M.
Muschamp isn't the only name to have come up. Others have been linked to the two openings, including former Nebraska coach Bo Pelini, who won a national championship as LSU's defensive coordinator in 2007, as well as current Houston defensive coordinator David Gibbs, who spent a year at Auburn in 2005 and is not far from Texas A&M.
The question is – whether it's Muschamp, Pelini or even Gibbs – which defensive coordinator job is more attractive to potential suitors, Auburn or Texas A&M?
Greg Ostendorf:
If the goal is to play for national championships, then this is a no-brainer. Auburn won a national championship in 2010 and played for another one just last season. As long as Gus Malzahn is the head coach, the Tigers will be good enough offensively to make the playoff year in and year out.
They're also better suited to make a run next year. Despite all the young talent on the Aggies' roster, I argue that an incoming defensive coordinator will have more to work with at Auburn than he would at Texas A&M.
Assuming nobody leaves early, the Tigers will have seven starters returning on defense, including the top three leading tacklers (
Johnathan Ford
,
Cassanova McKinzy
and
Kris Frost
), the team leader in sacks (
DaVonte Lambert
) and the team leader in interceptions (
Jonathan Jones
). Can Texas A&M say the same thing?
The defense will also welcome back
Carl Lawson
, the team's top pass rusher who missed the entire season due to injury. Lawson didn't have the same type of production as the Aggies'
Myles Garrett
did his freshman year, but when healthy, he still has NFL potential written all over him.
That alone is a solid group, especially with Lawson coming back, but when you throw in
Tre' Williams
,
Nick Ruffin
and
Stephen Roberts
, a trio of promising young freshmen who all played this season and gained valuable experience, the potential for a turnaround is there as long as Auburn finds the right guy to take charge.
Some argue that Malzahn focuses primarily on offense when it comes to recruiting, but Auburn's current 2015 class has three linebackers ranked in the ESPN 300, and the right hire could be just what the Tigers need to land a star like
Jeffery Holland
or
Daron Payne
. Can you imagine the success Muschamp would have in Florida, a state Auburn recruits well already? He would have no trouble convincing top defensive targets to join him on the Plains.
The question I have for the future defensive coordinator at Texas A&M is how long will your head coach be around? Kevin Sumlin's name has been linked to NFL jobs the past two seasons, and it will likely come up again this offseason. Granted, Malzahn might also have a future in the NFL, but Sumlin seems closer to realizing that dream.
Let's be honest. Both schools have money, both have top-notch facilities, and both have the resources to be successful. The difference is Auburn has better players and a better opportunity to win next year. For a defensive coordinator who might want to coach again soon, i.e. Muschamp or Pelini, there's not a better job out there.
Sam Khan:
Texas A&M's defensive coordinator position is an appealing opportunity for prospective defensive coaches.
For starters, there is nowhere to go but up. The Aggies ranked last in the SEC in yards per game allowed in each of the past two seasons, so the room for improvement is plentiful.
The real reason it's a good opportunity though, is the personnel. The Aggies have ripe young talent to work with. Myles Garrett.
Armani Watts
.
Otaro Alaka
.
Josh Walker
.
Zaycoven Henderson
. Those are all true freshmen who started games for the Aggies this year.
Garrett is a bonafide star. He shattered Jadeveon Clowney's SEC freshman sack record (Garrett has 11 sacks this season) and is the type of player the Aggies' next defensive coordinator can build around the next two seasons (let's be honest, the chances of Garrett exhausting his college eligibility seem slim given his production so far).
Watts showed promise at safety this season with three interceptions and seven pass breakups. Alaka and Walker performed admirably when inserted into the starting lineup late in the season and look like the linebackers of the future. Henderson is a big body with quickness to plug in the middle. And that's not to mention a host of other underclassmen who were forced into action each of the past two seasons who will continue to grow in the coming years.
The Aggies have more young talent coming in via the 2015 recruiting class, like 5-star defensive tackle
Daylon Mack
, four-star defensive end
James Lockhart
and ESPN 300 safeties
Larry Pryor Jr
. and
Justin Dunning
. The foundation for future success is there.
Money won't be an issue for the Aggies when it comes to paying their defensive coordinator of choice. The school is in the middle of spending nearly $500 million on football facilities upgrades and shelled out $5 million per season for Kevin Sumlin. They're not going to go cheap on the defensive coordinator, which is a pivotal hire heading into Sumlin's fourth season in Aggieland, just for the sake of saving a few bucks. They have to get this hire right, and they'll spend what's necessary to do it.
The resources to attract more defensive talent is there. The player's locker room and lounge is second-to-none. The Aggies have one of the best weight rooms in the country. Sumlin is a master recruiter who excels at closing the deal with elite recruits.
And Sumlin is willing to give his choice a chance. Auburn has had seven defensive coordinators in the past 10 seasons. Sumlin, who has been a head coach since 2008, is going on his fourth. Sumlin has no problem making changes when necessary, but he usually isn't the type to overreact to one season's worth of results.
October, 10, 2014
10/10/14
1:15
PM ET
AUBURN, Ala. – Before the season, everybody talked about Nick Marshall and this Auburn offense. How was anybody in the SEC going to stop the Tigers? The only thing holding them back was their defense, a unit that finished No. 79 in total defense in 2013.
Five games into this season, the defense hasn't been holding them back. In fact, it's been the catalyst for Auburn in several games this season.
In the season opener against Arkansas, an interception return for a touchdown by Jermaine Whitehead changed the complexion of the game. When the offense struggled on the road at Kansas State, the defense stepped up and held the Wildcats to 285 total yards and 14 points. In Auburn's most recent victory over LSU, the offense was clicking, but the defense did its part too, holding LSU to 0-of-13 on third down.
[+] Enlarge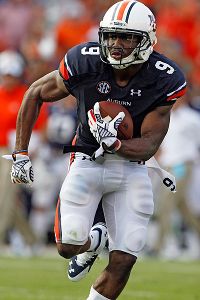 AP Photo/Butch DillJermaine Whitehead's interception return for a touchdown helped Auburn pull away from Arkansas.
Still skeptical? Take a look at these stats:
Auburn has only surrendered 24 second-half points this season (4.8 per game).

Auburn has allowed 21 or fewer points in five consecutive games for the first time since an eight-game stretch in 2007-08.

Auburn has allowed just one passing touchdown in the last 18 quarters.

SEC opponents have converted first downs on 2 of 24 chances on third down this season (8.3 percent).
"Our defense has played outstanding, and we've played some pretty good offenses," Auburn coach Gus Malzahn said. "It's the second year in the system. Our front is a very physical front. They've done a great job against the run. And our back end has done a great job.
"Even though we've got a lot of inexperienced guys -- we've got two freshmen running around back there -- I've been very pleased with the way those guys have played."
Despite losing its top pass rusher and top cornerback from last year, the Tigers have made strides in Ellis Johnson's second season as defensive coordinator.
What's the biggest reason for improvement? The unit still returned seven starters, and a handful of newcomers from Auburn's 2014 recruiting class – players such as Davonte Lambert and Nick Ruffin -- have already made an impact. But senior defensive tackle Gabe Wright believes it has more to do with the bond they have developed with their coaches in the second year.
"I would say guys have bought in," Wright said. "Trust is a big factor between your coaches. I feel like cohesion really didn't settle in, and that's kind of obvious your first year. You've got to be able to build those relationships, and as the season went on last year, we drastically progressed. Going through another spring and fall, I feel like that really helped us."
As good as the defense has been to this point in the season, Wright says there are still plenty of mistakes that can be cleaned up. The Tigers haven't even reached their full potential.
That's the good news. The bad news is that Auburn travels to Starkville, Mississippi, on Saturday to face a Mississippi State team that's averaging 42 points per game. The Tigers haven't seen a quarterback as talented as the Bulldogs' Dak Prescott since Jameis Winston in last year's BCS title game.
"[Prescott] puts a tremendous amount of pressure on you," Wright said. "He is a dual-threat quarterback, and I think that in itself already speaks volumes."
The Mississippi State quarterback is getting plenty of Heisman buzz after a five-touchdown performance against Texas A&M last Saturday.
"Honestly, that's not something that we really talk about a lot or as much as you might think," Wright said when asked about facing a Heisman Trophy contender. "We enjoy the challenge, and like Coach G [Rodney Garner] always says, this is why we came to the SEC. Ultimately, that's why we came to Auburn –- to play these big games."
Saturday is a big game, and while most people will be talking about the Auburn offense, it's the defense that holds the key.
"They're certainly well-deserving to be one of the top defenses in the country," Mississippi State coach Dan Mullen said.
July, 23, 2014
7/23/14
10:30
AM ET
HOOVER, Ala. -- At SEC media days,
Auburn
coach Gus Malzahn confirmed the worst -- sophomore defensive end
Carl Lawson
had indeed undergone ACL surgery on the knee that he injured the last week of spring practice.
[+] Enlarge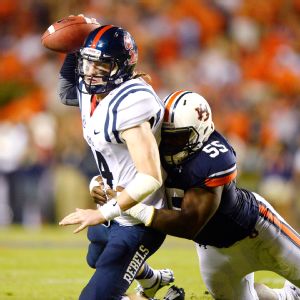 AP Photo/Todd J. Van EmstCarl Lawson's absence at defensive end will be felt, but Auburn has capable bodies ready to fill in.
Lawson waited until the first week of May to have the surgery, and now, the Auburn coaches are hoping to get him back "toward the end of the year."
"That's yet to be determined," Malzahn said of Lawson's return date. "But he is an unbelievable worker. He's a physical specimen, put together extremely well. He's very determined, so we'll see where that goes."
The former five-star recruit, ranked No. 2 overall in the 2013 class, was in line to replace top pass-rusher
Dee Ford
this fall. Ford led the team with 10.5 sacks and 14.5 tackles for loss last season, but Lawson showed glimpses of greatness when he got the opportunity. As a freshman, he was second on the team with four sacks.
However, it's time for Auburn to move on. If the Tigers get him back for the last two, three, four games, it would be a huge lift, but they have to worry about how to replace his production prior to his return, if he comes back at all.
Senior
LaDarius Owens
is already penciled in at one of the two starting defensive end spots. He started 12 games a season ago, and, though he missed all of spring practice, he's expected back for the beginning of fall camp.
The question will be who starts opposite of Owens and who else will be in the rotation once the season gets underway.
The candidates
Elijah Daniel, sophomore:
If not for Lawson, Daniel might have been talked about more last season. He too was a top recruit coming out of high school, ranked No. 34 overall in the ESPN 300, and he wasn't far behind his teammate with 2.5 sacks as a freshman. The plan was for the duo to play opposite each other down the road, but with Lawson out for the foreseeable future, the time is now for Daniel. Can he step out of Lawson's shadow and make his own mark?
DaVonte Lambert, junior:
Fans don't know his name yet, but Lambert might prove to make the biggest impact of anyone in Auburn's 2014 recruiting class. He arrived on campus last month, meaning he'll have to pick up the defense in a hurry, but there's no doubting his physical tools. The 6-foot-2, 275-pound junior college transfer was the top-rated defensive lineman in the ESPN JC50, and he's eager to get on the field for the Tigers.
Andrew Williams, freshman:
As the other newcomer on this list, Williams has yet to go through an organized practice with his new team. He was in high school just two months ago. Don't be fooled, though. That didn't stop Lawson and Daniel from making an impact their freshman season, and Williams could be on a similar path. The Georgia native practically lives in the weight room, which should help ease his transition at the next level.
Gabe Wright, senior:
The Auburn coaching staff experimented with Wright at defensive end this spring due to injuries and a lack of depth at the position, but nobody thought it would stick. That sentiment has since changed with Lawson's injury, and there's a chance the so-called "Rhino Package," with Wright on the edge, will be used more often than not.
Montravius Adams, sophomore:
Wright wasn't the only defensive tackle to try his hand on the edge this spring. Adams, who measures in at 6-foot-4, 306 pounds, took reps at defensive end, and Malzahn mentioned his name, along with Wright's, as a player who could help fill the void left by Lawson's injury.
Analysis
The early leader in the clubhouse is Daniel because he has the experience to go along with the talent, and both Wright and Adams are better suited for defensive tackle. However, fall camp will be critical for the newcomers, specifically Lambert. If he can pick up the defense and impress the coaches, he has as good a chance as anybody to start the season opener.
Regardless of who starts, expect Ellis Johnson and Rodney Garner to rotate a lot of bodies throughout the game and use a variety of packages. The key will be generating a pass rush, an area in which they struggled last season when Ford wasn't on the field.
The loss of Lawson shouldn't be understated -- the coaches will try to get him back as quickly as possible -- but there are enough capable bodies to make do without him.