NCF Nation:

Dawgs-Tigers-111203
December, 3, 2011
12/03/11
11:27
PM ET
ATLANTA – Like waves rolling over rocks, the Tigers just keep coming.
Sometimes, there's a lull – that moment of naivety – where it seems like the surge won't come. But that feeling is always temporarily, as the Tigers find a way to kick their game into another gear.
"You want to be like a machine and you just keep on working," LSU offensive lineman T-Bob Hebert said.
That machine has proved to be unstoppable for 13 weeks now, as the Tigers are headed to the Allstate BCS National Championship Game riding an undefeated season and the endurance to maul anyone.
This team not only doesn't understand how to quit, it gets stronger as the clock ticks. Opponents can take leads or find weak spots, but that lasts long enough just to make LSU mad.
It happened last week when LSU outscored Arkansas 41-3, after trailing 14-0, and it happened again in the SEC title game, when Georgia jumped out to a 10-0 lead in the first half.
The Tigers found their switch, flicked it on, and went to pounding Georgia into the artificial surface inside of the Georgia Dome.
After spending the first 30 minutes setting offenses back 100 years, the Tigers strutted out in the second half with their usual bully demeanor. As usual, the defense feasted and the LSU ground game went to clubbing away.
LSU ran for a measly 5 yards in the first half, but at the end of
the Tigers' 42-10 victory
over Georgia had 207 debilitating rushing yards against the beat-up Bulldogs.
It was a complete change from a first half that featured some pretty revolting play by quarterback
Jordan Jefferson
. He was 2-of-8 passing for 7 yards and was getting eaten up in the pocket.
He overthrew and underthrew open receivers, while trying his hardest to turn the ball over with throws into double coverage.
In the second half, Jefferson and his coaches turned to handing the ball off more and it worked. Jefferson said his running backs took the pressure off him and bailed him out.
When you have four backs who average 223 pounds of pure hurt, it isn't that hard to get on a ground-game roll.
"We're very powerful because there are too many of us back there," said running back
Alfred Blue
, who led all rushers with 94 yards, including a 48-yard touchdown run. "We knew going into halftime that we were down and their defense was going to eventually wear out and we were going to start pounding them."
And did they.
LSU transformed in the second half. That solid Georgia defense that entered the game fifth in total defense and sixth against the run, looked tired and hopeless before the third quarter even ended.
Tyrann Mathieu got LSU's 42-0 run going with his 62-yard punt return for a score, but an
Aaron Murray
fumble and another scintillating Mathieu return nearly buried the Bulldogs as they set up LSU's first two offensive scores almost minutes apart.
It all cascaded down on the Bulldogs when
Kenny Hilliard
, the man behind LSU's first two third-quarter touchdowns, bulldozed over a helpless Brandon Boykin before walking into the end zone on an 8-yard reception to make it 28-10.
"When someone punches you in the mouth, you can either back down or you can come and punch them right back," Hebert said.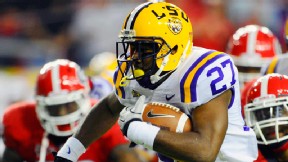 Dale Zanine/US PresswireKenny Hilliard had three touchdowns -- two rushing, one receiving -- in the third quarter.
LSU punched, kicked and totally had its way with Georgia. LSU forced three turnovers, harassed a completely flustered Murray and made Georgia's running game nonexistent until garbage time.
As frustrated as Murray looked after the handful of drops his receivers delivered him in the first half, the downtrodden expressions he showed in the second half appeared far more painful.
But it was the Georgia defense that looked even more abused. This group outplayed LSU's offense in the first half, but didn't have enough steam thereafter.
"It happens to every team we play," Blue said. "We know we're a four-quarter team and once we start going, it's on."
And the waves just keep coming.
December, 3, 2011
12/03/11
10:59
PM ET
ATLANTA -- They say the Honey Badger takes what he wants.
On Saturday, with the LSU offense running on embalming fluid in the first half,
Tyrann Mathieu
plucked the SEC championship right out from under the noses of an inspired Georgia team. In the process, he sent the No. 1 Tigers on their way to the Allstate BCS National Championship Game.
They're crazy about Mathieu on the Bayou, for sure. But the BCS organizers might be even bigger fans, because without his heroics in jump-starting LSU to its
42-10
dismantling of Georgia, there could have been utter chaos when those final BCS standings come out on Sunday night.
Not anymore.
Mathieu took a snooze-fest in the first half and turned it into his own little highlight show.
"Everybody calls him the Honey Badger. I call him the Chosen One," LSU receiver
Russell Shepard
said. "When we need a play, he makes that play. The dude is a great testament to those kids who didn't get recruited highly and just got overlooked.
"He's not the fastest, and he's not the biggest. But he plays with a lot of passion."
[+] Enlarge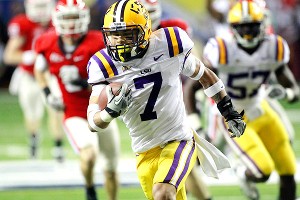 AP Photo/John BazemoreTyrann Mathieu's punt return for a touchdown in the second quarter sparked LSU's win over Georgia.
Mathieu, making yet another case as to why he belongs at the Heisman Trophy ceremonies next weekend, broke loose on a 62-yard punt return for a touchdown in the second quarter -- his fourth touchdown of the season.
Remember, he hasn't taken an offensive snap all season.
"Last night, I envisioned having three touchdowns," Mathieu said. "I think I came close to that. What it came down to is me trying to do what I can for my team. I put the pressure on myself at times."
And when it comes to the other team, he keeps applying that pressure.
Georgia, playing great defense, managed to get into halftime with a 10-7 lead.
But then on the first possession of the second half, LSU defensive tackle Michael Brockers leveled a scrambling Georgia quarterback
Aaron Murray
. The ball popped loose, and Mathieu was there to pounce on it at the Bulldogs' 27, setting up the Tigers' second touchdown.
Georgia again couldn't go anywhere on its next possession and did the unthinkable. The Bulldogs kicked it to Mathieu again, and he turned in his second dazzling punt return of the night to send the Bulldogs packing for good.
On this return, as many as seven Georgia defenders had chances at Mathieu. He was eventually dragged down at the Bulldogs' 17-yard line.
"He breaks people down. He breaks their spirit down," LSU defensive end Sam Montgomery said. "That's what you've got to do, take away people's heart, and he does that."
Mathieu, voted the SEC championship game MVP, called it an "honor" to pick up his team.
And, man, did the Tigers needed a pick-me-up. They didn't manage their first first down until the 13:26 mark of the third quarter. That's after netting 1 yard of total offense in the second quarter.
"My teammates do a great job of having my back," said Mathieu, who's now forced six fumbles and has recovered five this season. "Anything I can do for those guys to lift their spirit, I think the Honey Badger [does] that sometimes."
In a lot of ways, he embodies this entire LSU football team.
Mathieu's one-game suspension for testing positive for synthetic marijuana back in October was the kind of thing that would have rocked a lot of teams. Teammates
Spencer Ware
and Tharold Simon were also suspended against Auburn.
Obviously this isn't just any team.
The Tigers have weathered bar brawls, suspensions and injuries. They even came back after offensive coordinator Steve Kragthorpe gave up play-calling duties in August after announcing that he had Parkinson's disease.
But as LSU coach Les Miles said last week following the Tigers' 41-17 rout of Arkansas, this team doesn't flinch.
"We've just been through so much together," Mathieu said.
When Mathieu rejoined the team in October, he was determined to make amends.
"He just said, 'I'm going to make it up,'" Shepard recounted. "It was a short statement, but it meant a lot. He knew he was one of our leaders. We're all brothers, and we're in this together.
"We want to make history. Our ultimate goal is to be one of the best teams in college football history."
Mathieu said he'll let the voters determine whether he'll get a trip to New York City next week for the Heisman Trophy ceremonies.
"I just try to go out there and play my best football for my team and my coaches," said Mathieu.
The replay on his punt return for a touchdown looked like he might have tossed the ball to the official prior to crossing the goal line.
"I could see the referee looking at me kind of strange," Mathieu conceded. "I'll be sure next time to make sure I cross the goal line."
It's about the only thing he did wrong Saturday.
The ultimate compliment came from Georgia coach Mark Richt.
"I'll be honest with you," Richt said. "I enjoy watching the guy play football other than when he plays against us, because when you see a guy like that, you can appreciate it. You appreciate it because of how he plays.
"There's something about him that he seems to find a way to do something special just about every game … and he did it again."
Something says it won't be the last time, either.
December, 3, 2011
12/03/11
8:13
PM ET
ATLANTA -- LSU has taken the SEC title and is headed to the national championship with its
42-10 win
over Georgia. Here is the instant analysis:


How the game was won:
After LSU showed the country how to not play offense in the first half, it rebounded in the second to go on one of its patented runs. Things started with
Tyrann Mathieu
's 62-yard punt return for a touchdown in the second quarter, and ended with LSU just wearing down and laying a beating on Georgia's rush defense. LSU ran for 203 yards in the second half, scoring three rushing touchdowns in the process. LSU's defense also smothered Georgia after the first quarter. The Bulldogs gained 134 yards in the first quarter, but finished with 296 and turned the ball over three times.
Turning point:
LSU had no life until Mathieu's return in the second quarter to make it 10-7 Georgia. The play shouldn't have been ruled a touchdown, as video evidence showed Mathieu pitched the ball to the referee before he crossed the goal line. The ball looked like it went through the end zone, so Georgia should have gotten the ball back. The play was never reviewed and LSU scored 42 straight points and sucked the life out of Georgia.
Player of the game:
When LSU needed a big play on special teams, Mathieu delivered with the touchdown. On Georgia's first drive of the third quarter, Mathieu recovered a fumble at the Bulldogs' 27-yard line and set up the Tigers' second touchdown of the game. After a quick three-and-out, Mathieu returned a punt for 47 yards that led to LSU's third score. He also disrupted Georgia's passing game with blitzes and by blanketing receivers.
Unsung hero of the game:
With a first half consumed with atrocious offense from LSU's side, the player who made sure Georgia didn't get into good position to score was LSU punter Brad Wing. He punted the ball seven times in the first half and averaged 54.1 yards per kick, including a long of 67 yards. He pinned Georgia inside its 20 once and the Bulldogs recorded zero yards on four returns.
What it means:
LSU will now play for the Allstate BCS National Championship Game, and it will likely do so against Alabama, which the Tigers beat 9-6 in Tuscaloosa, Ala., earlier this year. LSU is now 13-0 for the first time in school history and will compete for its second national title in five years. Georgia is now most likely headed to the Outback Bowl.
December, 3, 2011
12/03/11
7:28
PM ET
ATLANTA -- Georgia might have been leading at the half, but it didn't look like the Bulldogs showed up in the second half.
That was because LSU absolutely dominated all aspects of the third quarter.
Two turnovers and a scintillating punt return by Tyrann Mathieu set up the Tigers' three touchdowns in the third quarter -- the most scored in a single quarter by a team in the SEC title game.
LSU went from down 10 to scoring 28 consecutive points on the Bulldogs in the past two quarters.
If the game wasn't totally in LSU's hands when Tharold Simon made a tremendous play on the ball to intercept
Aaron Murray
's pass, it certainly was when running back
Kenny Hilliard
caught a pass from
Jordan Jefferson
and trucked Georgia's Brandon Boykin before walking into the end zone for the 8-yard score to put the Tigers up 18.
That play drew little celebration from LSU's side, almost like the players and coaches knew they had sucked all of the life out of Georgia.
Barring a total collapse, it looks like LSU will head to the national title game undefeated.
December, 3, 2011
12/03/11
7:14
PM ET
ATLANTA -- We just received word in the press box that Georgia running back
Carlton Thomas
injured a knee and his return is uncertain.
Thomas, who started over
Isaiah Crowell
, had carried the ball seven times for a team-high 28 yards, including a long of 16.
Now, Crowell, who has limped on and off of the field a few times Saturday night, must step up more for the Bulldogs. He has carried the ball nine times for just 14 yards, including a long of 11.
Maybe this team will even turn to freshman
Brandon Harton
instead.
December, 3, 2011
12/03/11
5:40
PM ET
ATLANTA -- If LSU ever needed some sort of momentum, it was right before Tyrann Mathieu touched the ball on a Drew Butler punt.
LSU had zero first downs in the game with just over six minutes remaining in the second quarter and had gone three-and-out five times.
Georgia had held the Tigers to just 16 yards of total offense. LSU quarterback
Jordan Jefferson
is 1-of-6 passing for minus-2 yards.
With LSU fans itching to get back into this game, Mathieu fielded Butler's sky-high, 59-yard punt and went to work. The Honey Badger juked a defender, went right, stepped past a couple of more defenders, cut up through the middle of the field and jogged in while Butler tried helplessly to catch up.
Mathieu's 62-yard return gave LSU and its fans new life. It also quieted a Georgia crowd that has been overwhelmingly loud all day.
Is this the play that turns the game for the Tigers? Remember what he did against Arkansas last week and what it did for LSU?
December, 3, 2011
12/03/11
5:11
PM ET
ATLANTA -- The big-game jitters must have gotten to LSU and Georgia.
The first quarter was full of mistakes on both sides. Georgia's might have cost the Bulldogs a three-score lead over LSU.
There were a handful of drops by Georgia receivers, including two sure touchdowns, that caused some not-so-happy reactions from quarterback
Aaron Murray
, who has commanded the pocket well against this LSU defense.
Georgia responded well with a 44-yard drive that Murray beautifully orchestrated. He ended things with a 12-yard strike to tight end
Aron White
to make it 10-0 Bulldogs.
LSU's offense hasn't done much of anything, so far. A few drops of their own cost the Tigers as well. A couple of them came on potential first-down plays. Then there were costly penalties that backed up the Tigers. A holding penalty cost LSU its only first down of the half on a nice run by quarterback
Jordan Jefferson
.
Together, both teams have combined for seven penalties, so far. But Georgia has a 10-0 lead and is dominating LSU in the yards game with 134 to LSU's 11. This Georgia defense has loaded the box and stuffed LSU thus far.
December, 3, 2011
12/03/11
4:47
PM ET
ATLANTA -- The Bulldogs might only
have three points
late in the first quarter, but you can tell that offensive coordinator Mike Bobo decided he wanted to be very aggressive against this LSU defense.
We've seen wide receiver
Malcolm Mitchell
almost throw the ball on a reverse, quarterback
Aaron Murray
launch a handful of deep passes to the end zone and some of the nifty wrinkles coach Mark Richt hinted at during the week.
The only thing keeping this a one-score game is the fact Georgia receivers have dropped two touchdowns. First it was
Tavarres King
, who let a perfectly good pass slip through his hands in the middle of the end zone on the opening drive.
On the next drive, Mitchell, a true freshman, dropped a pass steps away from the end zone with no Tigers around him. Mitchell would have walked into the end zone to make it 10-0, but decided to run before he caught the ball. The freshman stood there shocked for a handful of seconds before walking back to the sideline.
He'll have to toss that drop out of his mind as soon as possible with so much time left in this one. He can't be bothered by such a blunder.
December, 3, 2011
12/03/11
4:22
PM ET
ATLANTA -- Georgia freshman running back
Isaiah Crowell
was announced as a starter before the game, but didn't start for the Bulldogs Saturday.
Junior
Carlton Thomas
started in his place.
Crowell has battled an ankle injury that he suffered two weeks ago in the Kentucky game and missed last week's game at Georgia Tech. He practiced this week.
Crowell is dressed and has his helmet on, but didn't play on Georgia's opening drive.
December, 3, 2011
12/03/11
4:08
PM ET
ATLANTA -- If No. 1 LSU wins Saturday over Georgia in the SEC championship game, an Alabama-LSU rematch is the likely pairing in the Allstate BCS National Championship Game.

As for the rest of the SEC teams, it looks like South Carolina is headed to the Capital One Bowl, which gets first choice out of the SEC after the BCS bowls make their selections. That's according to several bowl officials and league officials attending the SEC championship game, although nothing is official until Sunday.

That would send Arkansas to the AT&T Cotton Bowl and Georgia to the Outback Bowl.

The Chick-fil-A Bowl is set to take Auburn, with Florida headed to the Taxslayer.com Gator Bowl, Mississippi State to the Franklin American Mortgage Music City Bowl and Vanderbilt to the AutoZone Liberty Bowl.

If Georgia wins on Saturday, the outlook would change some. The Bulldogs would go to the Sugar Bowl as the SEC champion, and LSU and Alabama would still be in good shape to play in the BCS National Championship Game as long as the Tigers don't lose badly Saturday.

In that scenario, South Carolina would still probably go to the Capital One and Arkansas to the Cotton, but the Outback would have a choice to make among Auburn, Florida, Mississippi State and Vanderbilt and then everybody else would move up.
December, 3, 2011
12/03/11
4:01
PM ET
ATLANTA -- Greetings from the SEC championship game here inside the Georgia Dome.

We might have the two calmest teams out on the field right now.

LSU's national title hopes are almost written in pen, while Georgia doesn't have much pressure on it. The Bulldogs have already accomplished more in the last 10 weeks than many expected of them when their season started 0-2. Just getting here is huge for this team.

Watching them walk into the Georgia Dome earlier, you could feel how calm they were. Heads were bobbing, jokes were being told and everyone, including coach Mark Richt, had gigantic smiles on their faces.

Georgia isn't fighting for a national championship. LSU is, so the pressure is off the Bulldogs.

Georgia's entire team even slowly walked toward LSU's students and started with some playful taunts before the game.

As for the Tigers, all the talk leading into this one has been about how LSU doesn't need to win and how the Tigers are headed to the national title game regardless of what happens this afternoon.

Well, LSU's players certainly aren't giving into that mindset. These players have stressed all week about how they want multiple rings. They know a win guarantees their trip to the national championship. A loss hands the SEC over to Georgia, and that's something the Tigers don't want.

Reid announced as a starter: LSU safety Eric Reid was bouncing around during warm-ups better than he did a week ago.

After missing the Arkansas game with a quad injury, Reid was announced as a starter for Saturday's game. Cornerback Tyrann Mathieu filled in well for Reid last week, but having both of them on the field makes LSU's secondary that much more dangerous.