NCF Nation:

Dawgs-Vols-100811
October, 9, 2011
10/09/11
2:24
AM ET
KNOXVILLE, Tenn. – Mark Richt has been around the SEC long enough to know how quickly things can change.
He's also been around long enough to win 100 games.
And in the dog-eat-dog world of the SEC, simply making it to 100 games as a head coach is an accomplishment.
"I'm just glad I'm here to enjoy it," said Richt, whose Bulldogs handed him his 100
th
career victory on Saturday night with a 20-12 dissection of Tennessee in Neyland Stadium.
[+] Enlarge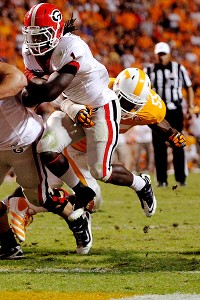 AP Photo/Wade PayneIsaiah Crowell converted all three fourth-down attempts Mark Richt went for at Tennessee.
Only a few short weeks ago, it was difficult for Richt to enjoy much of anything.
Georgia was 0-2 after losing to Boise State and South Carolina to open the season, and the climate was such that an executive board member (Tommy Lawhorne) of the UGA Athletic Association was making unsolicited comments at an open meeting about having confidence in athletic director Greg McGarity to "get us where we want to be."
Well, where the Bulldogs are is sitting atop the Eastern Division standings in a tie with South Carolina and having a very manageable schedule the rest of the way.
"After that South Carolina loss, people were throwing us out with the trash," Georgia senior cornerback Brandon Boykin said. "We all felt like we still had what it took to be champs, and we're on the right track right now."
Indeed they are, and while it wasn't perfect Saturday night on Rocky Top, the Bulldogs (4-2, 3-1) rocked the Vols in the third quarter to pull away and win their fourth consecutive game.
While Tennessee managed just 11 yards on 11 offensive plays in the third quarter, Georgia scored a touchdown on its first possession of the third quarter to snap a 6-6 halftime tie and broke the game open with another touchdown on its second possession.
Backed up on their own 7, the Bulldogs called freshman receiver
Malcolm Mitchell
's number, and he sprinted past Tennessee cornerback Marsalis Teague for a 71-yard catch.
Two plays later, fellow freshman
Isaiah Crowell
raced 17 yards for a touchdown, and suddenly, that same Georgia team that was "thrown out with the trash" a few weeks ago was in business.
"We're coming," said Mitchell, who pulled his hamstring on the play. "We're going to keep working, and we're going to keep doing what it takes to get where we want to go."
Richt said afterward that he didn't think Mitchell's hamstring injury was too serious, although Richt said Mitchell might be iffy next week at Vanderbilt. The Bulldogs are off that following week and then face Florida on Oct. 29 in Jacksonville.
Having already lost to South Carolina, Georgia would need the Gamecocks to lose another game somewhere along the way. The Gamecocks own the head-to-head tiebreaker right now.
But four of the six teams in the East have already lost at least two conference games.
"It's a long season. You never know what can happen in the SEC, and you're never really out of it," said Georgia quarterback
Aaron Murray
, who was 15-of-25 for 227 yards, wasn't sacked and didn't throw an interception.
"We've got to keep chugging. We're still not in control right now of our own destiny. We can't worry about that. We have to worry about Vanderbilt next week and continue to get wins."
The best news for the Bulldogs is that they don't have to play any of the three Western Division heavyweights the rest of the way. They avoid Alabama, Arkansas and LSU, and the only true road game they have left is at Vanderbilt.
South Carolina, meanwhile, still has to play at Mississippi State, at Tennessee and at Arkansas.
"We're in the race, and that's exciting for us, exciting for the fans, exciting for me personally," said Richt, who was doused with Gatorade by his players after the game.
A big part of Richt's excitement stems from how much his team has improved since that 35-21 loss to Boise State to open the season and the way it stuck together when so many people were talking more about Richt's future than they were about any future this team might have.
"If this were the second year of my career at Georgia, all this stuff wouldn't even be cropping up," Richt reasoned. "We had two years that weren't very exciting, last year especially."
He admits now that his team wasn't ready for that opener, at least not ready to beat a team as experienced and talented as Boise State.
But in the 45-42 loss to South Carolina that next week at home, Richt said he could see a ray of sunshine. The entire team could.
"We knew we played well enough that we could compete in the Eastern Division," Richt said. "We didn't like being 0-2, but we weren't down on ourselves. We were thinking more about the possibilities of what could be rather than what we may have lost.
"Somebody asked me how we turned it around. Sometimes you have to rally the troops somehow. We never had to rally the troops. The troops were already there ready and fighting and believing. We have great chemistry and a great bunch of guys. We've just been fighting hard."
And all the while, his defense just seems to get better every week.
In their last four games, the Bulldogs have allowed just two defensive touchdowns. The past three starting quarterbacks they've faced haven't finished the game. Tennessee's
Tyler Bray
left the game in the final minutes with an injured thumb on Saturday.
Bray entered the game red-hot and having thrown at least two touchdown passes in 10 consecutive games. He didn't throw any against the Bulldogs.
The Vols ended up throwing it 40 times, because the Bulldogs stuffed their run. Tennessee finished with minus-20 yards on 23 attempts.
"I know this: To win in this league, you've got to play good defense and hold people to low numbers on the road," Georgia defensive coordinator Todd Grantham said. "If you do that, you're going to have a chance to be in every game you're in.
"I think we've played better, and I think the guys are getting more confident and they've embraced their roles."
That's not all they've embraced. They've also embraced being right back in the East race.
"Now we've got to finish this thing off," Mitchell said.
October, 8, 2011
10/08/11
11:53
PM ET
KNOXVILLE, Tenn. -- Tennessee sophomore quarterback
Tyler Bray
will have an X-ray on his right thumb to see if he broke it, coach Derek Dooley said Saturday night following the Vols' 20-12 loss to Georgia.
Bray was unable to finish the game after hitting his hand on the facemask of a Georgia defender while attempting a pass in the final minutes. Senior
Matt Simms
finished the game at quarterback for the Vols and led them to their only touchdown.
There were rumblings around the Tennessee team that Bray did indeed break his thumb. Replays showed that he hit his hand extremely hard against the Georgia player's facemask, and he winced in pain and immediately came to the sideline.
"He doesn't know. ... He's not a doctor," Dooley said when told Bray could be seen mouthing on television that he broke his thumb. "He hurt his thumb. That's what we know, and we will find out when we X-ray it."
Bray had gone 10 straight games with at least two touchdown passes, but was held without any touchdowns on Saturday night.
October, 8, 2011
10/08/11
10:22
PM ET
KNOXVILLE, Tenn. -- Tennessee quarterback
Tyler Bray
left the game in the final minutes after being hit while delivering a pass.
He was holding his right wrist and hand when he came off the field, and the Vols' medical staff heavily wrapped his wrist/hand with tape. But senior quarterback
Matt Simms
remained on the field and led the Vols to their first touchdown, cutting Georgia's lead to 20-12 with 2:45 to play.
October, 8, 2011
10/08/11
10:08
PM ET
KNOXVILLE, Tenn. -- One of the big stories of this game has been the job Georgia's secondary has done on Tennessee receiver
Da'Rick Rogers
.
Branden Smith and Brandon Boykin have both been on him at different points in the game, and Rogers has just three catches for 38 yards late in the fourth quarter. His longest catch is 13 yards.
He came into the game with 27 catches for 442 yards and six touchdowns, but hasn't been much of a factor in this game.
Being from Calhoun, Ga., and having initially committed to Georgia during the recruiting process before switching to Tennessee at the last minute, Rogers had said this game was personal for him.
It's also been a big disappointment, at least to this point.
October, 8, 2011
10/08/11
9:37
PM ET
KNOXVILLE, Tenn. -- Georgia quarterback
Aaron Murray
said in the summer that freshman
Malcolm Mitchell
was one of the fastest guys he's seen on a football field.
Mitchell has turned on the jets a couple of different times in this game and is a big reason Georgia is leading Tennessee 20-6 late in the third quarter.
The Bulldogs, backed up on their own 6, got single coverage on Mitchell, and he burned Tennessee cornerback Marsalis Teague on a 71-yard bomb, setting up an
Isaiah Crowell
17-yard touchdown run.
In the first half, Mitchell beat Tennessee cornerback Izauea Lanier for a 43-yard gain, setting up a short Blair Walsh field goal.
The Bulldogs have taken several shots down the field in this game, as the Vols haven't been shy about giving Mitchell single coverage.
October, 8, 2011
10/08/11
9:27
PM ET
KNOXVILLE, Tenn. -- Georgia can thank replay for still being ahead in this game.
Tennessee's
Marlin Lane
appeared to break away on a 66-yard touchdown catch after twisting out of a tackle attempt by Georgia's Michael Gilliard.
But television replays clearly showed that Lane's knee was down, and the replay official saw the same thing -- wiping out the touchdown.
October, 8, 2011
10/08/11
9:26
PM ET
KNOXVILLE, Tenn. -- If Georgia goes on to win this game, it's one Tennessee linebacker Daryl Vereen won't remember fondly.
He's been flagged for two pass interference penalties that have led to Georgia points.
The first one -- which was pretty questionable -- came in the first half, keeping alive the Bulldogs' second field-goal drive.
But this latest one was even most costly. He was called for interfering with
Orson Charles
in the end zone on third down, and the Bulldogs got the ball at the 2 with
Isaiah Crowell
scoring a few plays later on a 1-yard touchdown run to give Georgia a 13-6 lead midway through the third quarter.
Charles was a non-factor in the first half and really wasn't on the field very much, but had a couple of key plays in the Bulldogs' touchdown drive.
It looks like the Vols will have to go the rest of the way without senior running back
Tauren Poole
, who has a leg injury and isn't expected to return.
Of course, the only success Tennessee has had against Georgia's defense is through the air.
But to this point, the Vols have refused to abandon the run, even though Georgia's defensive front is getting a monster push up the middle.
October, 8, 2011
10/08/11
8:50
PM ET
KNOXVILLE, Tenn. -- Georgia and Tennessee played a game of field goals in the first half Saturday at Neyland Stadium and went into halftime tied 6-6.
Here's a quick halftime analysis:


Turning point:
Georgia led 6-3 and looked like it would go into the half with a three-point lead after a 15-yard personal foul penalty on the Vols backed them up to their own 39 with less than a minute to play. But on second-and-25,
Marlin Lane
gathered in a screen pass and rambled 27 yards for a first down. Tennessee capitalized with a 43-yard Michael Palardy field goal to tie the game on the final play of the half.
Stat of the half:
The four scoring drives were all eight plays or longer, but neither team could get the ball into end zone. Three of the four scoring drives were 11 plays or longer.
Stat of the half II:
The Vols had almost as many penalty yards (23) as they did rushing yards (29).
Player of the half:
Tennessee tight end
Mychal Rivera
caught four passes for 66 yards.
Best call:
Georgia went for it three times on fourth down and converted all three. Tennessee also converted its only fourth down.
October, 8, 2011
10/08/11
7:59
PM ET
KNOXVILLE, Tenn. -- Say this for Georgia: The Bulldogs aren't going the conservative route.
They lead Tennessee 3-0 early in the second quarter and have gone for it on fourth-and-short three times and converted all three. Two of those conversions came on Georgia's side of the 50.
The Vols have been able to get decent pressure on
Aaron Murray
, but Murray has been able to pick up yards a couple of different times on quarterback draws or by scrambling.
Tennessee's defensive backs have also done a nice job of staying with Georgia's receivers. Murray has misfired a couple of times, but the Vols' defenders were usually right there in good position.
October, 8, 2011
10/08/11
7:08
PM ET
KNOXVILLE, Tenn. -- Georgia's Dallas Lee will start at left guard in place of Kenarious Gates, and Chris Burnette will start in place of Lee at right guard.

On defense, Chase Vasser will start at outside linebacker for the Bulldogs. Cornelius Washington is the normal starter there, but is suspended for this game following his DUI arrest earlier this week.
October, 8, 2011
10/08/11
6:23
PM ET


KNOXVILLE, Tenn. -- Georgia and Tennessee have played every year in football since the SEC expansion and division split in 1992.

But their matchup later Saturday night in Neyland Stadium is one of their most anticipated ones in a long time.

There's genuine hope in both camps that this could be a swing game of sorts.

Georgia, after opening the season with back-to-back losses to Boise State and South Carolina, could really position itself nicely in the Eastern Division race with a win over the Vols. In fact, the Bulldogs might be the favorite in the East if they can win tonight when you consider they don't have to play Alabama, Arkansas or LSU the rest of the way.

The Vols, meanwhile, are still looking for that first signature win under Derek Dooley and feel like they've got a real shot against the Bulldogs.

This game is a big measuring stick for how much Tennessee has improved in Year 2 under Dooley. The Vols were blown out 41-14 last season in Athens.

Georgia, on the other hand, hasn't won in Neyland Stadium since 2005. The Bulldogs' last two losses here were by a combined 47 points.

The other thing that makes this game so big is that four of the six teams in the East are likely to have two losses or more by the end of the night.

Florida is losing to LSU, and Vanderbilt has to play at Alabama.

A two-loss team is almost certainly going to win this division, which probably makes tonight's game an elimination contest.