February, 15, 2011
2/15/11
9:00
AM ET
It's that time of year, ACC fans. Duke kicks off the ACC's spring football schedule with practice tomorrow, so it's time to take a look at three storylines to watch for each program. We'll start with the Atlantic Division:

BOSTON COLLEGE
Spring practice starts:
March 15
Spring game:
April 16
What to watch:

CLEMSON
Spring practice starts:
March 7
Spring game:
April 9
What to watch:

FLORIDA STATE
Spring practice starts:
March 21
Spring game:
April 16
What to watch:

MARYLAND
Spring practice starts:
March 29
Spring game:
April 30
What to watch:

NC STATE
Spring practice starts:
March 17
Spring game:
April 16
What to watch:

WAKE FOREST
Spring practice starts:
March 15
Spring game:
April 16
What to watch:
November, 11, 2010
11/11/10
10:15
AM ET
Here's a look at the top 10 things to keep an eye on this week in the ACC, in no particular order:
Pass-rushers in Tallahassee.
Clemson at Florida State will feature two of the ACC's top pass-rushers in Clemson defensive end Da'Quan Bowers and FSU defensive end Brandon Jenkins. They're No. 1 and No. 2, respectively, in the ACC in both sacks and tackles for loss. FSU's offensive line has allowed 2.11 sacks per game (19 total), while Clemson has allowed nine total.
[+] Enlarge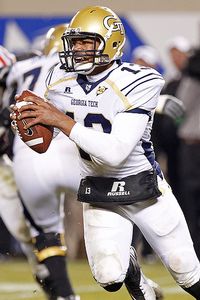 Geoff Burke/Getty Imagestbd by editor
Rookie quarterbacks in Atlanta.
Miami rookie
Stephen Morris
and Georgia Tech backup
Tevin Washington
will both take center stage Saturday in Bobby Dodd Stadium at the expense of injured starters. Morris already has one start under his belt and played well in last week's win over Maryland, but Washington has been in the system longer and took the first-team reps this spring when starter
Joshua Nesbitt
was out with an ankle injury.
Replacements in Chapel Hill.
There will be plenty of them. With UNC tailback
Johnny White
out for the rest of the season, the Tar Heels' tailback situation remains a question as of now. Will
Ryan Houston
redshirt? Will
Shaun Draughn
(ankle) be cleared to play? The Hokies have their own problems, as defensive end Chris Drager, tailback/returner
David Wilson
and receiver
Dyrell Roberts
are all out. All of the backups will be forced into key roles.
Scoreboards in Chapel Hill and Atlanta.
These are the two games to watch, as a Virginia Tech win coupled with a Miami loss will lock up the Coastal Division for the Hokies. The Atlantic Division race is more complicated, as no outcome will determine the division winner, but a Clemson win in Tally opens the door for a four-team race.
Turnovers in Durham
. The one thing that's been going right for Duke in its two-game winning streak is it hasn't been turning the ball over like it was in its losses. That could change against a BC defense that ranks third in the country in turnovers gained with 26. The Blue Devils have turned it over just one time in the past two games compared with an average of three per game in the previous seven.
Virginia Tech's secondary vs. T.J. Yates & Co
. Yates has thrown for over 400 yards twice this season, and the Tar Heels are No. 33 in the country in passing offense (258.44 yards per game). Virginia Tech is No. 22 in the country in passing defense (187 yards per game).
Keith Payne and Perry Jones against Maryland's rushing D
. Virginia has two of the ACC's top 10 leading rushers, as Payne is No. 7 (74.8) and leads the ACC with 14 rushing touchdowns, and Jones is No. 10 (61.9). Maryland is holding ACC opponents to just 2.6 yards per carry, the best in the league.
Virginia receiver Dontrelle Inman.
Against Duke, he caught 10 passes for 239 yards and a touchdown. On the season, Inman is sixth in the ACC with 66 receiving yards per game. He'll face an underrated Maryland secondary that features playmakers Kenny Tate and Antwine Perez.
Cursed kickers.
Clemson missed two field goals last week, Florida State's wide right curse continued in the loss to North Carolina, and NC State will be without senior Josh Czajkowski for the rest of the season after he injured his hamstring in the loss to Clemson. Sophomore Ellis Flint and freshman Chris Hawthorne were competing for the job this week.
Running back rotations
. NC State's
Dean Haynes
is back after missing the Clemson game with a head injury, but coach Tom O'Brien did not say which of his top three tailbacks will start against Wake Forest. At Miami,
Lamar Miller
had the best performance of any Miami running back this season against the Terps, but
Damien Berry
returned to practice. He is still listed as questionable, and Miller, Mike James and Graig Cooper should again carry the load. UNC's running back situation remains a question, and
Ryan Williams
and
Darren Evans
will carry the load without No. 3 tailback David Wilson.
October, 28, 2010
10/28/10
9:37
PM ET
RALEIGH, N.C. -- Here's a quick breakdown of the first half
between Florida State and NC State
:


Turning point:
In the second quarter, NC State halfback
Dean Haynes
fumbled, and Kendall Smith recovered it on the Pack's 18-yard line. Haynes, the Pack's second-leading rusher, suffered a possible concussion and was sidelined for the rest of the game, and Florida State took the lead, 14-7, for the first time five plays later.
Stat of the half:
14. That's how many total yards NC State had in the second quarter. The Pack was outgained 167-14.
Russell Wilson
was sacked three times, including twice on back-to-back plays. Brandon Jenkins, Markus White and Nigel Bradham each have one quarterback sack so far.
Best player in the half:
FSU quarterback
Christian Ponder
. He entered the game with lingering soreness from an elbow injury he sustained in the win over Boston College, but showed no signs of it as he accounted for all three of the Seminoles' touchdowns. He threw only five incomplete passes, rushed for two touchdowns and threw for another.
October, 28, 2010
10/28/10
9:12
PM ET
RALEIGH, N.C. -- NC State halfback
Dean Haynes
will miss the rest of the game with a possible concussion. Not good news for the Wolfpack, as Haynes is the team's second-leading rusher.
September, 11, 2010
9/11/10
9:18
PM ET
Surprise -- NC State is winning with its running game. Quarterback
Russell Wilson
has had a pedestrian first half, and he hasn't had to be a superstar. Rookie running backs
Mustafa Greene
and
Dean Haynes
have each rushed for at least 40 yards and a touchdown. It's not easy to win on the road no matter who it's against, and NC State's defense has helped by shutting down UCF on third downs and stopping the run. Keeping the game plan for the second half should help the Pack take another step forward.
September, 2, 2010
9/02/10
8:14
AM ET
There's plenty on tap this weekend in the ACC, starting Thursday night with Miami and Wake Forest. Here are 10 things worth keeping an eye on in Week 1:
1. North Carolina's revamped starting lineup:
So far, we know standout defensive tackle Marvin Austin has been suspended, and more announcements are expected by the time the team boards the bus at 9:30 a.m. on Friday. Every time UNC makes a statement, the Tar Heels situation only seems to get worse.
2. Comeback kids
: NC State linebacker Nate Irving is listed as the starter at middle linebacker against Western Carolina after sustaining serious season-ending injuries last summer. Boston College linebacker Mark Herzlich is likely to play against Weber State after recovering from Ewing's Sarcoma cancer and then suffering a broken foot this summer, and Virginia Tech running back
Darren Evans
is back to full speed after missing 2008 with a torn ACL. Maryland running back Da'Rel Scott, another 1,000-yard rusher, is also healthy after missing six games with injuries last year.
3. First-year coaches:
It's starting to become a trend in the ACC. This year, the Jimbo Fisher era has begun at Florida State and Mike London is looking to turn around a struggling Virginia program. Both coaches will be facing programs they once coached and attended.
4. First-year quarterbacks:
At Duke,
Sean Renfree
takes over for one of the most accomplished quarterbacks in school history, and
Ted Stachitas
is going through the same thing at Wake Forest, where he will replace the winningest quarterback in school history.
Jamarr Robinson
enters his first full season as a starter at Maryland, and
Marc Verica
takes over at Virginia.
5. Boise State's rushing defense vs. Virginia Tech's dynamic duo.
The Broncos were ranked No. 28 in the country last year in rushing defense (120.36 yards per game), but struggled against some of the country's better runners. Darren Evans and
Ryan Williams
have each had 1,000-yard seasons, and
David Wilson
could give Boise State additional concerns.
6. Miami's running back rotation.
The Canes have
Damien Berry
and
Mike James
listed as No. 1 and No. 2, respectively, but
Lamar Miller
also had an impressive camp, and if the conditions are right, coach Randy Shannon said he'd like to get
Graig Cooper
in the game.
7. NC State running back Dean Haynes.
He has only recently switched to offense, and now he's listed as the starter for the Western Carolina game. Tom O'Brien wouldn't have promoted him to the top of the depth chart had Haynes not impressed him, but not even O'Brien knows what to expect.
8. Georgia Tech's new 3-4 defense:
The Yellow Jackets have been working on first-year coordinator Al Groh's scheme all summer, and this will be the only chance for players to get comfortable in it before back-to-back road trips at Kansas and Coastal Division opponent UNC.
9. Virginia Tech linebacker Bruce Taylor.
He's expected to fill in for injured starter Barquell Rivers, and while there has been a lot of praise heaped upon Taylor this summer, ESPN's Scouts Inc. says Rivers is "by far the unit's best returning starter," and that having Rivers sidelined will be "a major blow" to the defense.
10. UNC's offensive line vs. LSU's defensive line.
The Tar Heels return more experience up front, and both of the Tigers' defensive ends are first-year starters.
T.J. Yates
, who threw 15 interceptions a year ago, will need time and protection in order to avoid being pressured into mistakes against LSU's fast, talented secondary.