NCF Nation:

Deandre Coleman
January, 24, 2014
1/24/14
9:30
AM ET
Earlier this morning, we took a look at who might replace the guys who jumped to the NFL in the South Division. Here's a look at the North.
Leaving:
Brendan Bigelow
, RB, Cal
The replacement
:
Khalfani Muhammad
and
Daniel Lasco
are both coming back, so there is at least some experience at the position.
Jeffrey Coprich
and
Darren Ervin
could also see some time. Incoming freshman
Devante Downs
is built more like a fullback but could also see some carries in the running game.
Leaving
:
Richard Rodgers
, WR, Cal
The replacement
:
Stephen Anderson
is a possibility to emerge at inside receiver.
Darius Powe
is going to see action regardless of whether it's inside or outside and
Raymond Hudson
,
Jacob Wark
, and
Drake Whitehurst
are all possibilities.
Leaving
:
Khairi Fortt
, LB, Cal
The replacement
:
Nathan Broussard
is coming off an injury and
Raymond Davison
and
Jason Gibson
are moving back to linebacker from safety. Juco transfers
Sam Atoe
and
Jonathon Johnson
could help. Also, Downs (see the Bigelow section) comes in as an athlete, and putting him on the defensive side of the ball is a possibility.
Leaving
:
Kameron Jackson
, CB, Cal
The replacement
:
Darius Allensworth
and
Trey Cheek
will get the most looks.
Cedric Dozier
saw some starting time last season. He's not a lock but has some experience.
Isaac Lapite
,
Adrian Lee
and
Joel Willis
are also possibilities.
Stefan McClure
should also be back from his 2013 injury, and
Cameron Walker
, who was playing out of position at safety, might move back to corner.
Leaving
:
Viliami Moala
, DT, Cal
The replacement
:
Jacobi Hunter
should be the main guy, but transfers Trevor Kelly and
Marcus Manley
should help out across the line.
Austin Clark
is still waiting to hear about his sixth year of eligibility, but if he gets it, he and
Mustafa Jalil
could shuffle up and down the line as they look to replace the graduated
Deandre Coleman
as well.
Leaving
:
Chris McCain
, DE, Cal (Previously dismissed from team)
The replacement
:
Kyle Kragen
and
Puka Lopa
were the top two guys to replace McCain after he left.
Brennan Scarlett
is also expected back and Johnson could be in the mix. The coaching staff seems to be really high on him.
[+] Enlarge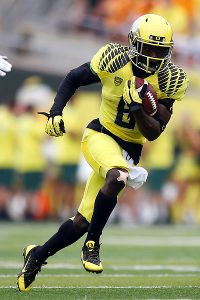 Jonathan Ferrey/Getty ImagesDe'Anthony Thomas' unique set of skills will be hard for Oregon to replicate.
Leaving
:
De'Anthony Thomas
, RB, Oregon
The replacement:
Unless Oregon is hiding another multitalented back who can run like DAT, there is no "real" replacement.
Byron Marshall
and
Thomas Tyner
should continue to get the work as the primary 1-2 punch, but it will be interesting to see if the Ducks use either in a more dynamic way like they did Thomas.
Leaving
: Colt Lyerla, TE, Oregon (Left the team earlier in the season).
The replacement:
Pharaoh Brown
,
Evan Baylis
and
John Mundt
will all continue to get work, probably in that order. They all pitched in in some capacity after Lyerla left the team, so the Ducks should be in good shape at the position.
Leaving
:
Terrance Mitchell
, CB, Oregon
The replacement
: That
Ifo Ekpre-Olomu
opted to return bodes well for the Ducks.
Troy Hill
would have been the obvious selection, but he remains suspended indefinitely, and his future with the program is in question.
Dior Mathis
has experience and the coaching staff is high on redshirt freshman
Chris Seisay
. Juco transfer
Dominique Harrison
enrolled early and will participate in spring ball, so there are options.
Leaving
:
Brandin Cooks
, WR, Oregon State
The replacement
: Much like USC's dilemma with
Marqise Lee
, The Beavers' task of replacing a Biletnikoff winner is no easy one.
Victor Bolden
is the logical choice. He returned kicks, ran a few fly sweeps and was Cooks' immediate backup. But a big wide receiver class last year that included Bolden,
Hunter Jarmon
and
Walter Jones
could make things more interesting in the spring.
Leaving
:
Scott Crichton
, DE, Oregon State
The replacement
:
Lavonte Barnett
was the backup all season but didn't have much production.
Jaswha James
has bounced around a bit -- mostly at linebacker -- but has finally settled at DE and had a nice bowl performance.
Titus Failauga
is also a possibility as Mike Riley went out of his way to specifically mention him during a recent teleconference. There are also rumblings that
Obum Gwacham
-- a talented athlete who hasn't worked out at wide receiver -- could move to defensive end.
Leaving
:
David Yankey
, OL, Stanford
[+] Enlarge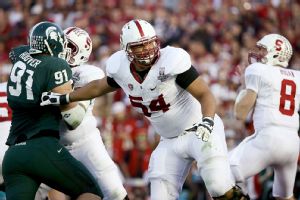 AP Photo/Ben LiebenbergStanford has a lot of offensive linemen with experience, but replacing an All-American such as David Yankey is never easy.
The replacement
: A member of Stanford's lauded offensive line recruiting class of 2012,
Joshua Garnett
has already seen his share of playing time. That's one of the big advantages of being an offensive lineman at Stanford. With their multiple offensive-linemen sets, there is plenty of rotation. Then again, Yankey was a two-time All-American -- it's tough to replace that.
Leaving
:
Cameron Fleming
, OL, Stanford
The replacement
: Like Garnett,
Kyle Murphy
was part of the '12 class and has also seen his share of action on the offensive line. The Cardinal are replacing four offensive linemen, but most of those replacements -- such as Garnett and Murphy -- already have some playing experience.
Leaving
:
Ed Reynolds
, FS, Stanford
The replacement
: Good question. All of Stanford's free safeties are gone, while returning strong safeties include
Jordan Richards
and
Zach Hoffpauir
. Someone could make a switch, or it's possible that former quarterback
Dallas Lloyd
, who is now making the transition to safety, could play here.
Leaving
:
Bishop Sankey
, RB, Washington
The replacement
:
Jesse Callier
started the 2012 season, but a season-ending injury gave rise to Sankey.
Dwayne Washington
seems like he could be an every down-type back, while Callier excels in third-down situations or as a changeup back.
Deontae Cooper
will also see carries.
Leaving
:
Austin Seferian-Jenkins
, TE, Washington
The replacement
:
Joshua Perkins
was the No. 2 all season, so there's little reason to think he won't graduate to No. 1. He's more receiver than blocker, but he's got talent and shouldn't have a problem assuming the role of the outgoing Mackey winner.
August, 21, 2013
8/21/13
11:00
AM ET
Changing the perception of a league is no easy task. And for the Pac-12, bucking its offense-first image may never happen.
As long as Oregon keeps gobbling up points by the minute and yards by the mile; as long as Rich Rodriguez does what RichRod does and there are Air Raids and Bear Raids about, offense will always be associated with the Pac-12. As long as De'Anthony Thomas and Marion Grice can score from anywhere; as long as Marqise Lee keeps turning a 4-yard slant into an 80-yard touchdown; as long as Ka'Deem Carey is running wild and Marcus Mariota and Brett Hundley are burning up stat sheets, Pac-12 defenses will continue to be overshadowed.
And yet …
[+] Enlarge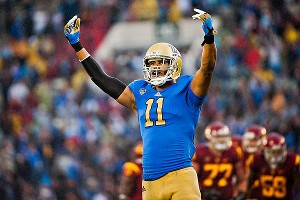 Jonathan Moore/Getty ImagesUCLA linebacker Anthony Barr leads an impressive group of defenders in the Pac-12.
"I would love to see an all-star game with our conference's defensive players on the same team," said Stanford coach David Shaw. "I think it would be phenomenal, and scary. Anthony Barr is borderline unblockable. Will Sutton gets in the backfield seemingly every play, single block, double block, whatever. Morgan Breslin, Sutton and Ben Gardner on the line and Shayne Skov sideline to sideline with Barr coming off the edge.
"Maybe we're getting to a golden era for defensive players in this conference because you've got good defensive units and some really elite standout players."
Last season, five Pac-12 teams ranked in the top 15 nationally in sacks per game including Stanford (first), Arizona State (second), USC (fourth), UCLA (eighth) and Washington State (14th). That's up from three teams in the top 20 in 2011, two teams in the top 20 in 2010 and zero teams in the top 10 in 2009.
ASU and Stanford were first and second, respectively, in tackles for a loss per game, and WSU and USC ranked in the top 11. It's a given that a lot of points will be scored in the Pac-12. But defenses are making it tougher.
"It's been an interesting evolution," said Oregon State coach Mike Riley, the dean of the Pac-12 who is entering his 13th season. "What you're seeing is a premium on speed and guys with a lot of flexibility. There are still big people that need to play on the interior. But your edges -- if you're going to lead the league in sacks -- then having a great edge rusher is always at a premium."
Guys like the aforementioned Barr, Sutton and Breslin, Stanford's Trent Murphy, Oregon State's Scott Crichton, Cal's Deandre Coleman and ASU's Carl Bradford are in that conversation. All of them are expected to rank among the nation's best in sacks and TFLs. That should make for a heated debate when picking the league's defensive player of the year.
And who says it will be someone from the front seven? Four Pac-12 teams were among the top 20 in interceptions last year, and Oregon led the country. The Ducks have the nation's best cornerback duo with Ifo Ekpre-Olomu and Terrance Mitchell, while Stanford boasts the outstanding safety tandem of Ed Reynolds and Jordan Richards. Oregon State's Ryan Murphy, USC's Dion Bailey and WSU's Deone Bucannon are also elite safeties.
Washington might have the best young defensive player in the league in Shaq Thompson.
"You can have a high-powered offense that puts up big points, but if you can't stop anybody, it's anyone's game," said Sutton. "With a great defense, you can accomplish anything."
Those who follow the league know there have been great defenses in the past. Washington in the early '90s and Arizona's Bear Down defense come to mind. Behind all of USC's Heisman quarterbacks a decade ago were outstanding defenses.
"I think what we're starting to see is the individual players and coordinators starting to get some notoriety," said Shaw, whose team ranked fifth nationally against the run last year -- an amazing statistic considering the running backs they faced in 2012. "When Oregon started being really good and scoring a ton of points, people didn't realize they were keeping people from scoring too and playing great defense. To this day I still think they have the most underrated defensive coordinator [Nick Aliotti] in the country."
One of the major challenges of being a defensive coach in the Pac-12 is the diversity of offenses. Oregon's spread is considered run-based, yet the Ducks had the most efficient passing attack in the league. Arizona's spread is considered pass-based, yet its running back led the nation in rushing. Stanford is considered "conventional" with its pro-style, but it'll use personnel groups with seven offensive linemen.
"I don't even know what pro-style means anymore," said UCLA coach Jim Mora. "The perceptions are distorted. You can break down a spread offense or a pro-style and they'll have the same route concepts. There are only so many. But the formations are different. The personnel is different. The motion before the snap is different. The league has so many speed athletes so one of the reasons we play a 3-4 is to get more speed athletes on the field."
It's time, says Bucannon, to let rest of the country know the Pac-12 can play a little defense, too.
"We have fast, up-tempo teams and marquee offensive players. At the same time, there are some great defensive players on that side of the ball," he said. "And we refuse to be overshadowed."
March, 6, 2013
3/06/13
1:00
PM ET
So much of the excitement around the Sonny Dykes hire at California was that he was going to bring an exciting, up-tempo offense to Berkeley that would, presumably, fit in nicely in the Pac-12.
After all, Dykes' former team, Louisiana Tech, led the nation in total offense last season. Then again, in a statistical anomaly, they were also dead last in total defense nationally.

Enter Andy Buh, formerly of Wisconsin, Nevada, Stanford and Cal among others, and the 4-3 defense. With all the chatter about the exciting new offense, it's easy to forget that the Bears are also transitioning from the 3-4 under previous defensive coordinator Clancy Pendergast. And for as much as the offense and quarterback battle are in the spotlight, Cal's defense could use a good re-tooling as well after the Bears allowed 33.1 points per game in 2012 -- ninth in the Pac-12.
However, it's the new offense that is actually going to make the defense better -- at least in theory. Well into spring ball, some of Cal's defenders are already noticing the up-tempo offense is pushing them to be better defensive players.
"It's a good offense, a really great offense," said linebacker
Nick Forbes
. "I tell people all the time, boys play offense, men play defense. The boys are out there having a lot of fun running around. But as a defense, we're doing a good job of stopping it and playing it really well. We're testing them and they need a good test to work out the kinks.
"The other thing it will do is make us really athletic on defense. As a linebacker when you're isolated on the slot, that's a worst-case scenario for some defenses. For us, we're doing it every practice so it's preparing us really well to face the talent we see in the Pac-12."
Buh's roots are in the 4-3. In a recent interview with Jeff Faraudo of the "San Jose Mercury News," he explained why in an era of 3-4 teams,
he prefers the even front
.
First of all, it's what I know -- that's probably the most significant reason. Any time you coordinate a defense, you want to be a master of it.

It can defend all the different types of offenses we're going to face. I believe in the way football has become where the quarterback is such a threat, both run and pass, that four defensive linemen are almost critical in terms of keeping linemen off the linebackers, having good pass-rush lanes, squeezing and constricting gaps and not making it such a space game. Those are all the principles of the 4-3. We'll sit more on our technique and our fundamentals than our scheme.
Obviously, the transition is a work in progress as ends and linebackers learn their new roles.
"It's still early," defensive lineman
Deandre Coleman
said. "We've only had four practices, but I feel like everyone is getting the hang of it and everybody is learning. I feel like we're moving fast."
Buh is already receiving rave reviews from his players -- particularly for his teaching style.
"We're starting off really simple to really learn the fundamentals and how it works and why we're calling some of the calls," said Forbes, who notched 85 tackles (45 solo) last season. "We're going to be a very smart defense and understand why we're doing what we're doing."
May, 17, 2012
5/17/12
11:00
AM ET
Every spring, players break out. Here are a few that stood out in the Pac-12.

Ka'Deem Carey, RB, Arizona
: Carey was a hyped recruit from Tucson -- Canyon del Oro High -- and the local boy seems likely to make good this year after rushing for 425 yards as a freshman. He led a solid crew of backs this spring.
Brice Schwab, OT, Arizona State
: It's been a long time coming for Schwab, who has gone from heralded junior-college transfer to bust to likely starting right tackle. Schwab's problem when he arrived was conditioning: He was huge but it wasn't good weight. And he was way too weak. He started four games in 2010 and struggled, then redshirted last season in order to get in better shape. Once a 340-pounder, he's now 6-foot-7, 295. And he's a better player.
Deandre Coleman, DE, California
: Said coach Jeff Tedford of the 6-5, 311-pound junior: "He may be one of the best that we've ever had." That about sums it up. Coleman dominated this spring, looking like an all-conference candidate.
Tony Jones, RB, Colorado
: Replacing the highly productive Rodney Stewart was a spring priority and Jones, a sophomore, answered the bell. Jones is built a little like the diminutive "Speedy" -- 5-7, 175 pounds -- and he has a versatile range of skills, just like Stewart. With questions at quarterback, he will be asked to do a lot. Just like Stewart.
Colt Lyerla, TE, Oregon
: Lyerla should be a big weapon for whomever wins the Ducks' quarterback job. The 6-5, 238 pound sophomore should step in for the departed David Paulson and could end up as one of the Ducks' leading receivers. He caught just seven passes last year, but five went for touchdowns. He's a special athlete with a year of seasoning, which often is the foundation for a breakout.
Brandin Cooks, WR, Oregon State
: Cooks has speed and quickness and will play opposite one of the best receivers in the conference in
Markus Wheaton
. He caught 31 passes for 391 yards and three TDs last year while being extremely raw. He's less raw now and has good upside. And it will help that defenses will obsess over Wheaton.
James Vaughters, LB, Stanford
: The coaches have said they are going to let the leash off of this aggressive, physically imposing linebacker and see what happens. We know he'll be at middle linebacker (as opposed to just a third-down specialist last year) where he's expected to wreak havoc.
Steven Manfro, RB, UCLA
: Speed and quickness. There is a difference, but Manfro has both. He excelled in the spring sessions and though he sits third on the UCLA depth chart, he might work his way into carries if he continues to show explosive breakaway ability.
Isiah Wiley, CB, USC
: Wiley quietly started the final six games in 2011 and played fairly well. While he's a senior, this is only the JC transfer's second year in the program. This spring, he took a step forward and seems likely to start opposite
Nickell Robey
.
V.J. Fehoko, LB, Utah
: With possibly the best defensive line in the conference in front of him and offenses keying in on
Trevor Reilly
, Fehoko could be in position to be extremely productive filling the shoes of
Chaz Walker
. Similar build as Walker, who tallied 118 tackles last year.
James Johnson, WR, Washington
: After an injury-plagued career, Johnson is finally healthy and in the starting lineup. The physical tools are all there and the quarterback is in place for him to put up some solid numbers -- if he can stay on the field.
Andrei Lintz, WR, Washington State
: This converted tight end was the talk of WSU's spring session. He has the hands and size to be effective over the middle and he showed great chemistry with
Jeff Tuel
during the 15 practices. The more attention
Marquess Wilson
draws, the more opportunities there will be for Lintz to excel.
May, 14, 2012
5/14/12
4:00
PM ET
How much can we really learn from spring? Funky scrimmages with backwards scoring systems; depleted depth charts; completely new installs for four teams. Actually, more than you'd think. Here are five things we learned about the Pac-12 during spring.

Quarterbacks are still in limbo: Be it Stanford, Arizona State, UCLA, Oregon or Colorado, almost half of the teams still don't know who is going to be under center when the season starts. Stanford funneled its list of five down to two, Josh Nunes and Brett Nottingham. ASU still has a three-way battle with Michael Eubank, Mike Bercovici and Taylor Kelly -- though coach Todd Graham said they have a better idea than they are probably letting on publicly. The very private competition between Marcus Mariota and Bryan Bennett at Oregon remains in question -- though Mariota was spectacular in the spring game while Bennett faltered. Still, coach Chip Kelly said that one game isn't going to be his basis for comparison. UCLA coach Jim Mora wanted to name a starter by the end of spring, but no one has "grabbed" it, so we'll have to wait until August before learning whether Brett Hundley, Kevin Prince or Richard Brehaut gets the gig. And at Colorado, the competition was put on hiatus when Nick Hirschman broke a bone in his foot and couldn't compete in spring drills. One has to think that was a huge advantage for Connor Wood to get almost all of the reps with the first-team offense.
Not everyone has quarterback issues: Teams thought to have quarterback question marks heading into spring seemed to have resolved them. In Utah, Jordan Wynn is completely healthy, and both coach Kyle Whittingham and offensive coordinator Brian Johnson have declared Wynn their guy. While Mike Leach hasn't officially declared Jeff Tuel his starter, it's hard to imagine anyone else winning the job in the fall, short of Tuel suffering a significant injury or amnesia. He had a splendid spring, and appears to be a great fit for Leach's offense. And at Arizona, Matt Scott seized the job early and left little room for any competition. Coach Rich Rodriguez has been gushing about how quickly Scott has adjusted to the offense. At Cal, Zach Maynard, once thought to be challenged by freshman Zach Kline, appears to not only have held on to the job, but distanced himself from pursuers.
Wide receivers aplenty: And there are plenty of those in the conference. USC has probably the best tandem in the country in Robert Woods and Marqise Lee. Cal's Keenan Allen (though he missed spring drills) should continue to put up big numbers, and Washington State's Marquess Wilson should flourish in the Cougars' new system with Tuel as his quarterback. Markus Wheaton and Brandin Cooks could challenge the USC duo statistically if quarterback Sean Mannion continues to develop. There are stars on the rise at Arizona State (Jamal Miles) and Stanford (Ty Montgomery), and a potential star at Washington (James Johnson). Look out Biletnikoff, the Pac-12 is a comin'…
The conference of defense? The Pac-12 might never bunk its reputation as an offensive-centric conference (especially when it keeps churning out offensive talent). But there is a surplus of talented defenses and defensive players who were on display this spring. Washington seems to have plugged its leaks with new defensive coordinator Justin Wilcox. There's a 3-4 trend sweeping the conference, and with notable playmakers like Star Lotulelei (Utah), John Boyett (Oregon), Dion Jordan (Oregon), Chase Thomas (Stanford), Josh Shirley (Washington), T.J. McDonald (USC) and DeAndre Coleman (Cal), it's easy to see why some of the Pac-12 defenses will get the same kind of love as the offenses do in 2012.
Confidence is at an all-time high: As it should be in the spring. The four new coaches all feel confident about the systems they have installed. Stanford feels as good as it ever has about its running game. USC and Oregon should get lofty preseason rankings, and this is the time of the year when fans go through the schedules game by game and always seem to come up with a minimum of six wins. Sorry to say, there are teams in the conference that won't make it to a bowl game this season. But when you hear the coaches talk about their teams, you'd think the conference is going to go 12-0 in the postseason. This is a magical time for fans filled with hope and possibility. Enjoy it while it lasts.
April, 27, 2012
4/27/12
12:00
PM ET
A so-called "breakout" player can be a solid player who becomes very good or a guy who comes from nowhere to fill a critical role.
It's not a one-size-fits-all deal. Which makes it perfect for our weekly Take 2: Who is a potential breakout player in the Pac-12 this year?
[+] Enlarge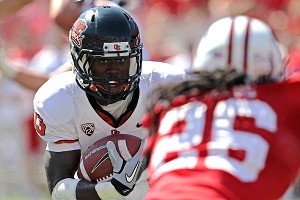 Jonathan Daniel/Getty ImagesBrandin Cooks is looking to improve on his freshman season -- where he ranked third on the team in receptions and receiving yards.
Kevin Gemmell
: I talked with Mike Riley earlier this week and mentioned to him I was thinking of picking
Brandin Cooks
as my potential breakout candidate in the conference this year. I could almost see his eyes light up over the phone lines. Riley loves this guy, and said he's going to play a big role in the OSU offense.
There are a few factors that led me to picking Cooks even before I talked with Riley.
First, he has the one thing that, as the old cliché goes, you can't teach. And that's speed. He's incredibly fast -- maybe even faster than the guy who starts opposite him,
Markus Wheaton
. He doesn't have the size of Wheaton (Cooks is 5-foot-9, Wheaton is 6-foot) but he makes up for it in quickness.
Riley even went so far as to compare the two -- noting that Cooks is a lot like Wheaton was two years ago. Lots of speed, but needs to become more polished on his route-running.
And that leads me to point No. 2. He's had an entire offseason to work with quarterback
Sean Mannion
. Last year, neither of them knew if they were going to play, so the chemistry wasn't always there. This season, Mannion knows he's the guy, and he knows who his receivers are going to be, and they've all been working out, developing their timing.
Third, he's learning from one of the best receivers in the conference. Cooks, who caught 31 balls for 391 yards and three scores last year, can use the veteran Wheaton as a sounding board, and also a measuring stick. Talking with Wheaton earlier this week, there is a friendly rivalry going on between the two -- which will likely equal more production for them both.
Also, Cooks is likely to see more one-on-one coverage as Wheaton ascends to the top of the Pac-12 receiving hierarchy. The veteran will probably draw more help over the top, leaving the other safety to handle the third receiver. If Cooks gets into a one-on-one footrace with a cornerback, chances are he's going to win it.
Finally, the Beavers have re-committed themselves to the running game. Whether it actually produces is another question. But if it does (and there are still concerns on the offensive line to consider), then Wheaton and Cooks will both enjoy a boost in their numbers.
I'd put Cooks on pace for about 55-60 catches, about six or seven touchdowns and around 800-900 yards receiving. If he hits those numbers, that strikes me as a pretty good breakout year.
[+] Enlarge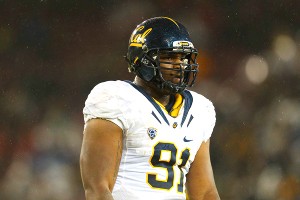 Jason O. Watson/US PresswireThe Bears expect Deandre Coleman to develop into a leader on their defense.
Ted Miller
: Kevin went with offense, I'm going with defense. And I'm going big. As in 6-foot-5, 311 pounds.
Those are the dimensions of California's junior defensive end
Deandre Coleman
, who was a beast this spring and could play his way onto the All-Pac-12 team by season's end.
Those who regularly read the blog know I've already crossed this road with Coleman. After an early April visit to Berkeley,
I wrote this about the reloading Bears defense
, which contained plenty of input from coach Jeff Tedford and defensive coordinator Clancy Pendergast.
Start up front, where Pendergast and Tedford are practically giddy over the maturation of 6-foot-5, 311-pound end Deandre Coleman. Said Tedford: "He may be one of the best that we've ever had." Keep in mind that Bears have produced two first-round NFL draft choices at end -- Tyson Alualu and Cameron Jordan -- over the past three seasons.
"Best we've ever had?" That's high praise for a player who had only 19 tackles last year. But inside that tepid number is this: six tackles for a loss and two sacks (sure three tackles for a loss were against lowly Presbyterian, but work with me here).
Here's how you extrapolate a breakout. You take a guy with impressive physical talent who saw regular action behind good players as a redshirt freshman and sophomore, and then toss in his better play over the final third of last season. Then you watch him push people around this spring and record five tackles in the spring game. Then you just, well, look at the dude. Let's just say he carries his 311 pounds well.
Further, the supporting cast on the Bears D-line is strong. Folks aren't going to be able to commit two guys to Coleman and not pay for it.
Bottom line: Coleman, with his size, should be able to hold up well versus the run, and, with his athletic ability, could record eight or so sacks.
The bad news for Cal fans is that if he has the sort of season that Tedford and Pendergast believe he can, he might not return for his senior year.
April, 13, 2012
4/13/12
11:00
AM ET
BERKELEY, Calf. -- California's defense needs to replace both starting defensive ends from 2011. And both safeties. And both inside linebackers, including Pac-12 Defensive Player of the Year
Mychal Kendricks
.
Looks like the Bears won't have much of a chance to lead the conference in total defense a third consecutive season, right?
Looks, however, can be deceiving. And, in fact, looks are also a good reason to suspect the Bears are going to be pretty salty on defense this fall. During a scrimmage-heavy and rare open practice last weekend, they looked big up front, fast in the back half and athletic everywhere. This is a young but fairly experienced unit with plenty of upside. It would be surprising if it doesn't rank near the top of the Pac-12 in most categories in 2012.
"I see us playing faster and faster every practice," coordinator Clancy Pendergast said.
Young? Based on conversations with Pendergast and head coach Jeff Tedford, the Pac-12 blog has calculated that about 28 guys are in line for action next fall. Six are seniors and 17 are sophomores or younger.
Experienced? Eight of those youngsters saw significant action in 2011. Five started games.
[+] Enlarge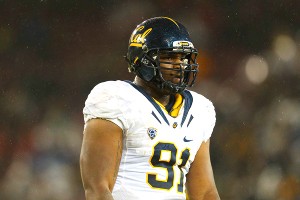 Jason O. Watson/US PresswireThe Bears are excited about the development of DE Deandre Coleman, whom coach Jeff Tedford said may be "one of the best we've ever had."
Further, this will be the Bears' third year using Pendergast's 3-4 scheme. Unlike the previous two seasons, the Bears have mostly grown up with this system while landing three consecutive top-25 recruiting classes that were particularly strong on defense.
"The biggest thing to me is this is the third year in the system," Pendergast said. "These guys know a lot more about this system than they did two years ago and even a year ago. We've got it built here now where as guys come up through the program, they are learning the defense, and when it's their time, they understand what they are supposed to do by learning from guys ahead of them."
Start up front, where Pendergast and Tedford are practically giddy over the maturation of 6-foot-5, 311-pound end
Deandre Coleman
. Said Tedford: "He may be one of the best that we've ever had." Keep in mind that Bears have produced two first-round NFL draft choices at end -- Tyson Alualu and Cameron Jordan -- over the past three seasons.
At the other end is true sophomore
Mustafa Jalil
, who surged late last season.
Kendrick Payne
and 347-pound sophomore
Viliami Moala
give the Bears a good combo at noseguard, while 2011 noseguard starter
Aaron Tipoti
is playing nose and end.
While this line might not have a dominant edge pass-rusher, it's deep with guys who will be difficult to account for with just one blocker, which should make things much easier for the linebackers.
As for replacing Kendricks and
D.J. Holt
at inside linebackers, veterans
Robert Mullins
and
J.P. Hurrell
, both seniors, are battling to hold off a youth movement that includes
David Wilkerson
,
Nick Forbes
,
Jalen Jefferson
and
Jason Gibson
, who are all sophomores or younger. This is the most competitive spot on the defense.
"It's not really like the well is empty there, but it's which guy or two is going to step up," Tedford said.
At outside linebacker,
Chris McCain
had six tackles for loss as a six-game starter in 2011. Returning starter
Dan Camporeale
holds down the opposite side, but true sophomore
Brennan Scarlett
could make a move when he returns in the fall from a knee injury. Scarlett's potential as a pass-rusher should get him on the field, and the same can be said for
Cecil Whiteside
, who started three games in 2011 and recorded three sacks.
[+] Enlarge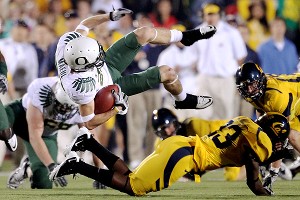 Ezra Shaw/Getty ImagesJosh Hill (23), a cornerback last season, is in the mix for starting at safety in 2012.
Finally, there's also talent, depth and experience in the secondary, even with two 2011 safety starters to replace. Pendergast is particularly high on
Josh Hill
, who moves to free safety from corner.
Alex Logan
leads the competition at strong safety, but
Avery Sebastian
(who changed his last name from Walls) and the injured Michael Lowe (who changed his last name from Coley) saw action last year and could push for starting jobs.
There are three experienced, top-flight corners in
Marc Anthony
,
Steve Williams
and
Stefan McClure
, who is sitting out spring practices with a knee injury.
Of all these guys, only Payne, Tipoti, Hurrell, Mullens, Anthony and Hill are seniors. So the future looks perhaps even brighter than the intriguing 2012 present. For one, Coleman, Moala and Jalil across the defensive front look like a troika of potential All-Pac-12 performers in 2013, if Coleman opts to return for his senior season.
This depth and veterans vs. youth dynamic can be constructive, too. The fluidity of the depth chart ensures players take competition seriously this spring and into fall camp. Serious competition means quality reps in practice, which means you have a two-deep full of guys who are ready to play because they were forced to practice hard in order to stay in the mix.
Or as Sebastian, a true sophomore, explained it: "We want to come out and be better than the people who are in front of us. We want to take their spots. That's our mentality."
In 2010, Pendergast and then-Stanford defensive coordinator Vic Fangio brought 3-4 schemes from the NFL to the Pac-12 when everyone else was running a 4-3. It's meaningful that six conference teams will be base 3-4 in 2012 (including Arizona with its 3-3-5) and a couple of others will extensively use odd-front looks. The 3-4 seems to work well against the proliferation of spread teams in the conference, and it's easier on the West Coast to find linebacker recruits than defensive tackles.
But no matter how many teams adopt the scheme, it's reasonable to project that this Cal defense will remain atop the conference pecking order.
April, 11, 2011
4/11/11
8:29
PM ET
BERKELEY, Calif. -- California has something sort of old and something sort of new this spring on both sides of the ball.
On defense, Clancy Pendergast is back for his second season coordinating the Bears defense. On offense, Jim Michalczik is back in town after spending a couple of years with the Oakland Raiders. Pendergast turned in a successful first campaign, with his more aggressive version of a 3-4 scheme ending up ranked third in the Pac-10 in scoring and first in total defense. And from 2002-2008, Michalczik might have been the best offensive line coach in the conference.
Here are some notes from chats with both coordinators as well as head coach Jeff Tedford.
Other than a blowout loss to Stanford, the Bears defense turned in its best work in November, most notably holding Oregon to just one offensive touchdown in a 15-13 Ducks win. Pendergast didn't think that was a coincidence: "I think our guys trusted the system, trusted each other. Had better eyes. All those things." As for year two, the longtime NFL coach, probably has a better grasp on some of the quirky offenses he'll face in the conference. "Anytime you go into a second year, you're going to be more comfortable," he said.

Pendergast on former defensive end Cameron Jordan, who is expected to be a first-round NFL draft pick on April 28: "He'll be solid, consistent player at next level who can do a lot of different things."

[+] Enlarge

Chris Morrison/US PRESSWIRECal's Clancy Pendergast expects to be more comfortable coaching against Pac-12 offenses in his second season.

Pendergast is clearly high on the incoming freshmen. He repeatedly mentions them -- first and last names -- when talking about his potential depth chart. When asked if he expects a handful to play, he said, "No question." Names he -- and later Tedford -- mention: defensive tackle Todd Barr, defensive tackle Viliami Moala, defensive end Brennan Scarlett, and cornerbacks Stefan McClure, Joel Willis and Kameron Jackson.

The top three defensive ends are Trevor Guyton, Deandre Coleman and Ernest Owusu. At nose tackle, both Aaron Tipoti and Kendrick Payne are out with shoulder injuries. Guyton has had a good spring, while Tedford said, Coleman "should be much better this year."

The inside 'backers are Mychal Kendricks, who put up huge numbers last fall playing outside, and D.J. Holt, also a returning starter. As for Kendricks move inside, Pendergast said, "He's probably a better fit as a stack inside linebacker than an outside linebacker."

There will be two new starters at outside linebacker. At present, Ryan Davis and David Wilkerson (strongside) are with the ones, with Chris McCain, Cecil Whiteside and Lucas King providing depth.

In the secondary, Marc Anthony and Steve Williams are the corners. The depth appears unsettled -- see Pendergast and Tedford both listing three freshmen who are not on campus yet as being in the mix. Pendergast seemed most pleased with Anthony, whom he said was playing physically and with a lot of confidence. At safety, there's Sean Cattouse and D.J. Campbell, with Adrian Lee, C.J. Moncrease, Alex Logan and Michael Coley earning note. It's hard to say if true freshman Avery Walls, who's participating in spring practices, will get into the mix.

On offense, Michalczik is mostly focused on the offensive line. Tedford will call plays this fall and is working with the quarterbacks as well, while receivers coach Eric Kiesau is the passing game coordinator and running backs coach Ron Gould is the running game coordinator. So there will be plenty of input on offense.

Michalczik wouldn't commit too much on the offensive line: "We've got some young guys and we've got some time," he said. Left tackle Mitchell Schwartz and center Dominic Galas are likely starters, but both are sitting out with injuries. Matt Summers-Gavin has bounced from guard to right tackle. Brian Schwenke and Justin Cheadle are the No. 1 guards at present. Youngsters to watch include Chris Adcock and Mark Brazinski at center, as well as Alejandro Crosthwaite, Bill Tyndall and Tyler Rigsbee.

Marvin Jones and Keenan Allen are set at receiver, but the No. 3, 4 and 5 options are not. Michael Calvin -- yes, him again -- Coleman Edmond and Kaelin Clay earned note from Tedford, who said of Clay, "He's been very good, very fast, brings big-play potential."

Tedford isn't very happy at running back behind Isi Sofele. His highest praise goes to walk-on Mike Manuel, who was impressive in the scrimmage Saturday. Injuries are a big issue at the position, but it seems as though Tedford isn't happy with the group, which includes a number of touted recruits. "As of right now, it looks like to me we are going to have to rely on younger guys who are coming in," he said.

Quarterbacks? It's still wide open, but it shows how serious Zach Maynard's candidacy is that Tedford said he doesn't expect to announce a starter until well into fall camp, specifically because he wants to give Maynard, who transferred from Buffalo last year, as much time as possible to digest the offense. Said Tedford, "He does have some athleticism. He can make plays with his legs. He throws the ball accurately. He can throw all the balls on the field. He's a lefty. He can throw the deep ball. He's got zip on the ball. His main thing is just going to be the mental part of understanding our offense and understanding what we're looking for."

As for Brock Mansion, who started the final four games after Kevin Riley went down, Tedford said, "You can tell that Brock is better because of the experience he had last year. He's more comfortable. And he's even learned some things physically. You can see the maturity there a little bit. Still not where we need to be."

As for Allan Bridgford, the question might be athleticism. Said Tedford, "Smart guy. Can throw the ball. He can throw all the balls on the field. Escape dimension? Haven't seen that yet. That's a concern, but he's not a led-foot by any means."

One problem for the Bears this spring is injuries. There are a lot of them, which makes it more difficult to give the QBs full-tilt, looks. "That's a challenge, to get QB's enought reps without beating up the whole team," Tedford said.
August, 15, 2008
8/15/08
11:17
AM ET
Posted by ESPN.com's Ted Miller
Two weeks from today and we'll all be reading about Oregon State's visit to Stanford -- Thursday night football, baby!
July, 18, 2008
7/18/08
11:24
AM ET
Posted by ESPN.com's Ted Miller
Top o' the morning to ya...
It's a make-or-break year for Washington coach Tyrone Willingham. Everybody knows that -- even recruits, apparently. The Huskies don't have any commitments yet -- every other Pac-10 team has at least four -- and recruiting observers are starting to wonder if something is amiss, according to the Seattle Times. Husky fans can take some solace in this: Garfield defensive tackle Deandre Coleman, the state's top recruit, told the Times that UW is No. 1 on his list. "I like Tyrone," Coleman said. "I would like [the coach] to be Tyrone. I like the way he runs the team."
Here's an optimistic take on Arizona. And, by the way, it's not unreasonable. Of course, this is the third consecutive year I've predicted a Wildcats breakthrough.
Bruins Nation looks at the Bruins uncertain situation at quarterback.
The LA Daily News reports that backup defensive tackle Jess Ward isn't 100 percent after offseason knee surgery.
Don Ruiz of the Tacoma News Tribune offers up his Pac-10 picks; he's got the Huskies higher than most at No. 6.
Will California's $140 million athletic training facility ever get built or will the Tree Sitters triumph? A decision may be getting close.
More on the Cal front from the Contra Costa Times: A year after his talented team imploded, Jeff Tedford has found a book that underscores the situation perfectly -- "Talent is Never Enough" by John Maxwell.
Speaking of talent: The Orange County Register caught up with USC super-recruit, quarterback Matt Barkley.
Oregon has set up a memorial fund for Todd Doxey's family. Doxey, a Ducks defensive back, drowned last weekend.
Is your team a favorite or an underdog? The Web site Vegas Insider will tell you with its point spreads for the opening week. Of note: California -7 over Michigan State; Oregon -10.5 over Washington; Oregon State -5 over Stanford; Oklahoma State -6 over Washington State; USC -17 over Virginia; Arizona -28 over Idaho. The UCLA-Tennessee line isn't posted yet, likely because of injury questions at QB.
The Bleacher Report offers up some predictions for 2008, including this nugget: "Jake Locker will be first-team All-Pac-10 in leading the Washington Huskies to their first bowl game in five years. And saving Ty Willingham's job."
Many are picking Washington State to finish last in the Pac-10. Well, one Web site thinks the Cougs are No. 1, at least in terms of logo design.
Finally... got the above link from my friends at the "WSU Football Blog," which is way more creative and entertaining than its name. They also said some nice things about this blog and then posted my old Seattle P-I mug shot -- a big, meaty face on display to keep me humble, I suspect. Then they issued this challenge:
"So, with that in mind, Ted, I offer you a one-of-a-kind cyber deal. We finish tenth in the PAC as you predicted and I will perform any reasonable act of self-humiliation and/or homage as you desire on this blog or through any feasible media outlet. However, if we finish seventh or better as I predict, then you come on this Blog for a Brinkhater exclusive."

Me say: You're on.