NCF Nation:

Deandre Martin
August, 9, 2013
8/09/13
9:00
AM ET
You want to find a good quarterback in the ACC? Plenty of places to look.
A solid receiver? Plenty of places to look.
A game-changing running back? Well, let's just say this is not a position of strength for the ACC headed into 2013.
Both 1,000-yard rushers from a year ago are gone. So are five of the top 10 rushers in the league. Now factor in recent developments from the offseason:
Virginia Tech back Michael Holmes was kicked out of school following his arrest after the spring game.

Pitt Rushel Shell decided to transfer, to hated rival West Virginia no less.

Maryland back Wes Brown has been suspended for the season after an offseason arrest.

Wake Forest leading rusher Josh Harris is not with the team while the Deacs wait for an answer from the NCAA on his eligibility.

NC State running back Shadrach Thornton was suspended one game after being charged with misdemeanor assault on a female following a June 6 arrest.
[+] Enlarge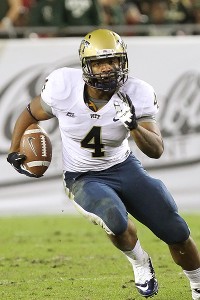 Kim Klement/USA TODAY Sports Running back Rushel Shell left Pitt for rival West Virginia.
Holmes and Brown were expected to be significant contributors this year; Shell and Harris were expected to start; Thornton led the Wolfpack in rushing last year.
So let us take stock of who remains. Essentially, the ACC has one big-time headliner in
Duke Johnson
at Miami, and several teams with talent and depth.
Take Florida State. The Noles have a great duo in
James Wilder Jr.
and
Devonta Freeman
. Syracuse has a 1,000-yard rusher returning in
Jerome Smith
, plus more depth than nearly everyone in the league. Duke has its top six rushers back from a year ago.
Still, the league overall has improving to do in this important category. In 2012, the ACC had the fewest 1,000-yard rushers of the five biggest conferences. It also only had two teams ranked in the Top 30 in rushing offense (Georgia Tech and Florida State), tied with the SEC for fewest among the top five conferences.
But here is the big distinction between the two. The SEC only had one team ranked in the bottom 30 in rushing offense last season: Arkansas. The ACC had a whopping six -- Virginia, Duke, NC State, Maryland, Wake Forest, Boston College -- the most among the power five.
Will fortunes improve this season? Let us take a look at one key statistic that could have some bearing. I broke down how many returning carries there are per team headed into 2013.

DUKE
Top returners: Jela Duncan, Josh Snead

Percent carries returning: 87 percent

What it means: Duke has perhaps the best opportunity of any team in the league to boost its rushing numbers this year, with its top six rushers back, a more mobile quarterback in Anthony Boone and four starters returning on the offensive line.

SYRACUSE
Top returners: Jerome Smith, Prince-Tyson Gulley

Percent carries returning: 82 percent

What it means: Syracuse has had a 1,000-yard rusher in five straight seasons, and has pretty terrific depth going into the season. It is a pretty safe bet the Orange will make it six straight 1,000-yard rushers.

BOSTON COLLEGE
Top returners: Andre Williams, Dave Dudeck

Percent carries returning: 75 percent

What it means: Though the Eagles don't have much in the way of depth, they do have experienced players returning in Williams and Dudeck. Given the way Steve Addazio likes to run the football, expect to see the Eagles much better than No. 115 in the nation in rushing.

VIRGINIA TECH
Top returners: Logan Thomas, J.C. Coleman

Percent returning carries: 70 percent

What it means: Even though this was a weak spot for the Hokies, they do return their top rushers even with Holmes gone. Thomas led the team in carries and rushing last season. Virginia Tech wants to change that this year.

GEORGIA TECH
Top returners: Zach Laskey, David Sims

Percent returning carries: 68 percent

What it means: Tevin Washington and Orwin Smith take nearly all the missing carries (176), meaning the Jackets have plenty of experienced players and depth to fill all their running back spots. Shouldn't be a drop-off here.

NC STATE
Top returners: Shadrach Thornton, Tony Creecy

Percent carries returning: 63 percent

What it means: Once he returns from suspension, Thornton will carry the load with Creecy, the way they did last season. Given the emphasis Dave Doeren puts on the run in his offense -- Northern Illinois ranked No. 12 in rushing offense last season -- the Wolfpack should not be in the bottom 30 again.

CLEMSON
Top returners: Tajh Boyd, Rod McDowell

Percent returning carries: 62 percent

What it means: Interesting stat here, considering the Tigers lose 1,000-yard rusher Andre Ellington. He is one of the biggest losses this team has to replace on offense. Having Boyd run as much as he does certainly helps these numbers, but there's no question Clemson has to find a way to replace Ellington's production.

MIAMI
Top returners: Duke Johnson, Eduardo Clements

Percent returning carries: 59 percent

What it means: Miami loses Mike James, but that just means Johnson moves into a starting role and will get more carries. If he continues the work he did last season, Johnson should be the leading rusher in the ACC this season.

WAKE FOREST
Top returner: Deandre Martin

Percent returning carries: 57 percent

What it means: Wake Forest is still waiting to see whether Harris will be eligible this season. There are serious concerns about this position right now, as coach Jim Grobe has said he still hasn't seen anybody step up and prove they can be an every-down back.

NORTH CAROLINA
Top returners: A.J. Blue, Romar Morris

Percent returning carries: 56 percent

What it means: The prevailing storyline in Chapel Hill has centered around replacing Giovani Bernard, the other 1,000-yard rusher in the ACC last season. Blue and Morris combined for 151 carries a year ago, so there might not be as big a drop-off in total production as some might anticipate. Each averaged more than 5 yards per carry.

MARYLAND
Top returners: Brandon Ross, Albert Reid

Percent returning carries: 48 percent

What it means: The Terps lost significant carries from Brown (90) and Justus Pickett (69). I also did not count Shawn Petty's 58 carries, because he went back to defense. Overall, Maryland feels good about Ross and Reid being able to carry the load, but questions still remain about whether this group can be consistent.

FLORIDA STATE
Top returners: James Wilder Jr., Devonta Freeman

Percent Returning carries:45 percent

What it means: This one is the most misleading among all ACC teams, because the Noles do return two terrific talents and expect contributions from a third in Mario Pender. Those lost carries are from Lonnie Pryor and EJ Manuel, along with Chris Thompson (who was out for the second half of the season anyway). Florida State should continue to be an excellent running team.

VIRGINIA
Top returners: Kevin Parks, Khalek Shepherd

Percent carries returning: 44 percent

What it means: UVa lost carries from Clifton Richardson, Perry Jones and Phillip Sims, but the Hoos believe they will be better running the ball this season -- especially if Taquan "Smoke" Mizzell is as good as advertised. He could be a breakout star.

PITT
Top returners: Isaac Bennett, Malcolm Crockett

Percent returning carries: 9 percent

What it means: I thought this number would be low with Shell and Ray Graham gone. But this is actually worse than anticipated. Pitt has little in the way of experienced players or depth at running back, and we are talking about a team that relies heavily on the run.
July, 23, 2013
7/23/13
10:30
AM ET
Wake Forest could be without leading returning rusher
Josh Harris
this season because of academic issues.
Coach Jim Grobe said Monday from the ACC Kickoff that he didn't know whether Harris would be eligible to participate when fall practice opens Aug. 2. Grobe said Harris didn't make grades at the end of the spring semester, and now he is awaiting word from the NCAA on Harris' eligibility.
As for when he would have an answer, Grobe said, "Stay tuned."
Harris led the Deacs with 608 yards and five touchdowns last season and was penciled in to start once again. Wake Forest has struggled to run the ball consistently over the past several seasons, and last year was no exception as Wake Forest ranked No. 113 in the nation. Coaches pushed Harris to improve his work habits this past offseason, hoping he could take the next step and be more effective.
Now, the entire running back position is up in the air.
Deandre Martin
would be next in line, but Grobe says the entire group has a lot of growing up to do. Grobe also said he's still searching for the guy who can be the next Chris Barclay, somebody who can handle the lion's share of the load without any doubts from the coaching staff.
"We've got some guys that aren't showing a lot of maturity right now as far as the workout habits, the classroom habits," Grobe said. "That running back group is probably the biggest disaster we've got right now. We don't have a dependable guy right now. We'll see how it sorts out. We've got a guy in Deandre Martin that could be that guy. He's physically capable of being that guy. But he's got to show us a little bit more resolve off the field to have confidence with him on the field."
May, 8, 2013
5/08/13
5:00
PM ET
The ACC's leading active career rusher does not play for heavyweights Florida State or Clemson.
Surprise: That distinction belongs to Wake Forest, which had one of the worst running games in the country last year.
[+] Enlarge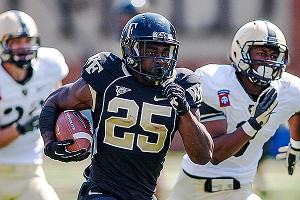 Jeremy Brevard/USA TODAY SportsCoach Jim Grobe said Wake Forest will be relying heavily on Josh Harris and the run game in 2013.
Senior
Josh Harris
enters this fall as the league's leading active career rusher with 1,760 career rushing yards and a 4.8 per-carry average. Needless to say, the Deacs are still looking for more this fall from both Harris and the entire running game. Wake Forest ranked No. 113 in the country last season in rushing offense.
While Harris has been a highlight for the Deacs' offense, his success has been fleeting and his durability questioned, thanks in part to a nagging hamstring injury. This spring, emphasizing the run was a priority in the playbook, and offensive coordinator Steed Lobotzke said three running backs the staff thinks it can count on have emerged.
Heading into fall camp, Harris is leading the depth chart as expected, followed by
Deandre Martin
and Josh Wilhite, who redshirted last year. Lobotzke compared Wilhite to former Deac and all-time leading rusher Chris Barclay in that he's quick, shifty, and can stop and start. The staff is also willing to give Dez Wortham from Texas a shot at playing time.
"Last year we were just abysmal at running the ball, from start to finish," Lobotzke said. "We really couldn't get much going. We dedicated most of the spring to trying to run the ball better in different ways to get them between the tackles, get them in space, one-back sets, two-back sets, gun, pistol, everything, just trying different things and studying every good running team that's out there in college football, trying to steal stuff from people."
They've also asked quarterback
Tanner Price
to get more involved in the running game.
"We've really got to get back to running the football," coach Jim Grobe said. "The key to that is having him run the football. We did that as a freshman, then we got him knocked out at Florida State running the football. It panicked us a little bit. Then we went back to being more of a pocket football team and making him throw the football all the time. You know, you really need a good offensive line and a great group of receivers to do that.
"But this past year when we weren't as strong at receiver and had all those issues with injuries and whatnot on the offensive line, we just put too much on Tanner to throw the football," he said. "So we've got to get back to where we know Tanner can throw the football, but we've got to get back to where we don't live and die with the throw game. I think asking him to run the football more is going to be the thing that our offense needs."
October, 13, 2012
10/13/12
1:26
PM ET
Wake Forest backup safety
Duran Lowe
and reserve offensive tackle
Devin Bolling
have been suspended indefinitely
for a violation of athletic department policy, the school announced on Saturday. Six other players -- including four starters -- were suspended for last week's game against Maryland. Coach Jim Grobe could not be immediately reached for comment.
Lowe has 28 tackles this season and one fumble recovery.
Last week, the Deacs suspended cornerback
Merrill Noel
, safety
Daniel Mack
, linebacker
Mike Olson
, guard
Frank Souza
, running back
Deandre Martin
and receiver
Airyn Willis
, but announced they will be eligible to be reinstated for the next game at Virginia on Oct. 20. The Deacs have a bye this week.
October, 6, 2012
10/06/12
10:24
AM ET
They haven't even taken a snap yet in College Park, and already the Deacs are playing from behind.

Wake Forest announced
six players will be suspended
for today's game at Maryland, including four starters. The Deacs will be without their leading tackler, linebacker
Mike Olson
, and second-leading rusher,
Deandre Martin
. This is devastating news, as it was a challenging game for Wake Forest to begin with, considering they have to play on the road, Maryland had a bye week to prepare, and Wake Forest was already without its top offensive playmaker in injured receiver
Michael Campanaro
. The numerous suspensions are also very uncharacteristic of a Jim Grobe-coached team. Discipline is usually never a problem, especially of this magnitude. We'll see if the Deacs can overcome it on the field against the Terps.
September, 24, 2012
9/24/12
10:00
AM ET
Here's a look back at Week 4 in the ACC:
The good:
Florida State remained in national championship contention after its come-from-behind 49-37 victory over No. 10 Clemson. The Seminoles went on a tear in the second half, erasing a 14-point deficit with 35 points -- including 28 straight. The last time FSU won after trailing by 14 or more points was at North Carolina on Oct. 22, 2009. In that game, the Seminoles trailed 24-6 before winning 30-27. In the win over Clemson,
EJ Manuel
got his Heisman campaign going and led Florida State to 667 yards of total offense -- its highest total since racking up 771 yards against Clemson in 2000. For those inquiring minds, West Virginia had only 595 total yards in the Orange Bowl against Clemson.
The bad:
Clemson was not the only team that blew a double-digit second-half lead on Saturday. Georgia Tech lost a 17-point lead to Miami, blowing its biggest lead in a loss since the 2007 Toyota Gator Bowl, when Tech led 35-17 and lost to West Virginia. Georgia Tech has now lost two overtime games on the young season. The last time Tech played two overtime games in a season was 2001, when the Jackets lost to Clemson and Maryland. But if you want to know how bad it was on defense for Georgia Tech, let's move on to the next category.
[+] Enlarge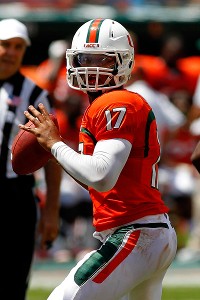 Robert Mayer/US PresswireStephen Morris' sizzling finish to this season is part of the reason why Miami coach Al Golden says he's so optimistic for 2013.
The ugly:
Miami was the first team this season to have an offensive play longer than 46 yards against the Yellow Jackets, and the first team to score a rushing touchdown on this defense. Georgia Tech allowed more than 20 points for the first time this season. The Yellow Jackets allowed more than 500 yards in total offense for just the fourth time in Paul Johnson's five seasons and for the first time since 2010. And Miami's 609 yards of total offense is the third-highest total Georgia Tech has allowed all time and the second-highest total in an ACC game. Miami's 30 first downs are the most allowed under Johnson.
The ugly II:
Virginia had its second straight disappointing performance, and in back-to-back losses, the Hoos have six turnovers and 650 yards of total offense. That is fewer than Florida State had on Clemson, by the way. In the loss to TCU, Virginia just hurt itself with all the mistakes, not to mention going 3-of-16 on third-down conversions.
The surprise:
Miami pulled the biggest surprise of the weekend, winning its fourth straight on the Yellow Jackets behind inspired performances from
Stephen Morris
and
Mike James
. I would be remiss if I did not mention
Anthony Chickillo
, who was terrific up front for Miami. Chickillo recorded career highs with seven solo tackles and three tackles for loss. More on Miami below.
The surprise II:
Maryland lost 31-21 to No. 8 West Virginia, but the Terps continued to show signs that they may be all right this year. First area of note: The defense held West Virginia to 1 yard per carry. The Mountaineers had averaged 226 rushing yards per game but against the Terps had only 25 yards on 25 carries.
Demetrius Hartsfield
,
Joe Vellano
and
A.J. Francis
got after
Geno Smith
, as the Terps totaled nine tackles for loss and two sacks on the day. Meanwhile, freshman quarterback Perry Hills had the best game of his career, going 20-of-29 for 305 yards and three touchdowns, all career highs. His lone interception came on a fourth-down desperation heave late in the fourth quarter. Fellow true freshman
Stefon Diggs
had his second straight game with 200-plus all-purpose yards. He had a team-high 113 receiving yards and two touchdowns on three receptions. Diggs also had 25 punt return yards and 63 kickoff return yards.
The stat:
Miami is 4-0 in road overtime games since becoming a part of the ACC in 2004. In Miami, though, the Canes are just 1-4 for an overall 5-4 overtime record.
The stat II:
Morris had a career-high 436 yards passing against Georgia Tech -- the second-highest total in the ACC this year. It was also the most yards by a Miami quarterback since Gino Torretta threw for a school-record 485 yards against San Diego State in 1991.
The stat III:
Clemson quarterback
Tajh Boyd
was unable to evade Florida State's pass rush, completing 20 percent of his passes while throwing under duress. According to ESPN Stats & Information, Boyd completed 1 of 6 passes for minus-5 yards and an interception while facing pressure in the second half.
The record:
North Carolina quarterback
Bryn Renner
threw for 321 yards in a win over East Carolina, and set a school record for most passing yards in consecutive games. Renner threw for a career-high 363 yards a week ago at Louisville, giving him 684 yards passing in two straight games. The previous record was 683, shared by T.J. Yates (2007, against East Carolina and Virginia) and Darian Durant (2002, against Arizona State and NC State). Renner also set the total yardage mark in back-to-back games with a total of 713 yards. The previous record was 712 by Ronald Curry against Marshall and Georgia Tech in 2000.
The runners:
As
noted Sunday
, Virginia Tech, Wake Forest, NC State and Duke all had season highs in rushing on Saturday. The Deacs had
Josh Harris
and
Deandre Martin
go over 100 yards, while the Wolfpack relied on true freshman
Shadrach Thornton
, Duke got a season-high 88 yards from freshman
Jela Duncan
and Virginia Tech went for more than 200 yards rushing for the first time this season. Last year, the Hokies hit 200 yards six times, and won all six games.
The overmatched:
The Citadel looked pretty strong headed into its game against NC State. But this team was no match for the Wolfpack, trailing 42-7 before losing 52-14. The Bulldogs had 12 first downs and 226 yards of total offense. The Citadel's first third-down conversion came early in the third quarter. Dating back to the end of the Connecticut game, the Pack has kept opponents from converting on 16 straight third-down attempts.
September, 23, 2012
9/23/12
9:00
AM ET
Time to give out a few helmet stickers for a job well done.
EJ Manuel, QB, Florida State.
Manuel had the best game of his career in a
49-37 win
over No. 10 Clemson. Manuel had 482 yards of total offense -- 380 yards passing and 102 yards passing -- to become the first FSU quarterback to throw for 300 and rush for 100 since former Heisman winner Charlie Ward did it against Maryland in 1992, throwing for 395 yards and rushing for 111. He led the team flawlessly when it trailed headed into the second half, kept his cool, and made no bad decisions. It was the third 300-yard passing game of his career, and he most certainly boosted his Heisman buzz after this performance.

Mike James, RB, Miami.
What a day for James, who scored a career-high four touchdowns to key a
42-36 overtime victory over Georgia Tech
. James had the game-winning 25-yard run in the extra period for his third rushing touchdown of the afternoon. His 10-yard touchdown reception with 27 seconds remaining in regulation sent the game into overtime. James also set new career highs with 89 yards rushing and 15 carries.
North Carolina defense.
The Tar Heels did a fantastic job in shutting down East Carolina in a
27-6 win
, and a big reason was because of its reinvigorated pass rush. North Carolina recorded seven sacks after tallying six combined in the opening three games of the season. The seven sacks ties the top mark in the ACC this season after NC State posted seven against South Alabama.
Kevin Reddick
deserves special mention for his performance, as he finished with nine tackles, a sack and a forced fumble.
Shadrach Thornton, RB, NC State.
Thornton started the
52-14 win
over The Citadel and finished with 145 yards on 21 carries with two touchdowns. He is the first NC State running back to go for more than 100 yards this season, the first freshman to gain at least 100 yards in a game since Andre Brown had 248 against Southern Miss in 2005, and the first freshman to go over 100 yards in his very first collegiate game since Joe McIntosh had 131 yards against Richmond in 1981.
Josh Harris and Deandre Martin, RBs, Wake Forest.
Harris and Martin each rushed for more than 100 yards in a
49-37 win
over Army. Harris finished with 129 yards on 12 carries and two touchdowns while Martin posted 115 yards on 13 carries and two touchdowns. They are the first Wake Forest tandem to rush for more than 100 yards in a game since Chris Barclay (210) and Micah Andrews (142) each ran for more than 100 yards against East Carolina on Sept. 17, 2005.
September, 22, 2012
9/22/12
4:21
PM ET
Wake Forest had problems all season getting its ground game going. But the Deacs had no such problems against Army on Saturday in a
49-37
victory.


After failing to rush for over 100 yards in the first three weeks of the season, Wake Forest racked up nearly 300 yards on the ground and also had two rushers go over 100 yards in the game.
Josh Harris
had his finest game of the season, running for 129 yards and two touchdowns on 12 carries. His 19-yard touchdown run in the third quarter was a thing of beauty, as he eluded a tackler, spun, put his hand down for balance and kept his knee from touching the field. He added a 63-yard score later in the period.
Deandre Martin
also had two touchdown runs and finished with 115 yards on 13 carries.
The last time Wake Forest had two rushers go over 100 was against East Carolina in 2005, when Chris Barclay and Micah Andrews each hit the century mark. And the last time Wake Forest ran for this many yards -- 296 -- was when it had 415 against Presbyterian in 2010.
The Deacons needed every bit of those rushing yards to hold off a strong performance from Army, which had its way with the Wake Forest defense for most of the game. A week after giving up 385 yards on the ground to Florida State, Army racked up 429 yards rushing. Of course, the Black Knights do rely on the run in its triple-option attack, but Wake Forest also had many missed tackles that helped add to the yardage.
The teams scored touchdowns on the first five possessions of the game, and at one point the lead changed seven times. But the Wake defense made several key stops in the second half -- none bigger than a fourth-and-3 from the Wake 31 with the Deacs leading 42-37. Martin scored on a 37-yard run on the next possession to seal the game.
One other performance to note for Wake Forest --
Michael Campanaro
had 12 catches for 153 yards and two touchdowns, and ran for another.