NCF Nation:

De'Anthony Curtis
September, 2, 2011
9/02/11
10:30
AM ET
When Arkansas opened spring practice earlier this year, the Hogs were seemingly overflowing with depth at running back.
They were so deep, in fact, that De'Anthony Curtis was a mere afterthought. He didn't even end the spring on offense and was instead working at cornerback.
Needless to say, the landscape has changed.
Broderick Green
, the Hogs' power back, tore his ACL the week of the spring game, and then to open this preseason,
Knile Davis
went down with a fractured ankle. Davis led all SEC running backs a year ago with 1,322 rushing yards.
[+] Enlarge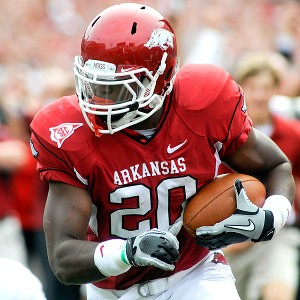 AP Photo/Beth HallArkansas will call on Ronnie Wingo to carry a heavier load this season.
Suddenly, Curtis was needed again at running back and was moved back there two weeks ago. It's a good thing, too, because senior running back
Dennis Johnson
has battled hamstring issues.
That leaves junior
Ronnie Wingo
, who will start Saturday at running back against Missouri State, but Curtis will be the Hogs' No. 2 guy. He's flashed some of the same speed and moves in practice that made him the top prospect in the state of Arkansas and one of the most sought-after running backs in the country back in 2008 when he signed with the Hogs.
"He's come back over to running back, and his quickness really shows up. His toughness really shows up," Arkansas coach Bobby Petrino said. "We're going to play him. He's going to be in there carrying the ball and catching the balls."
Petrino went on to call Curtis the "ultimate team guy" for his willingness to play anywhere the Hogs put him.
After moving from running back to receiver and then to cornerback, it looks like he's back at running back to stay.
The Hogs need the help.
Wingo still has to prove that he can be an every-down running back. What made Davis so valuable was his ability to get the tough yards, but he could also turn around and break a 75-yard touchdown run a few plays later.
At 6-foot-3 and 231 pounds, Wingo has all the physical tools to be a big-time back in this league. He's also one of the fastest players on the team and has been a guy Petrino has pointed to for two years now as being poised to take off and become a consistent game-changer.
Well, here's his chance.
"I want to be a complete back, and what I've got to understand is that every play's not going to be a 30- or 40-yard run," said Wingo, who has 572 career rushing yards and four touchdowns. "You're going to take a beating in this league and get 3 yards here and there. But if you keep grinding, the big play will come.
"I'm going to let the game come to me and not try to force everything. In the past, I've done too much thinking. It's time to get past that now and just play."
Following Davis' surgery, he called the running backs together and had a message for them.
"He just told us that the season was in our hands now, as far as the running game," recounted Johnson, who missed most of last season with an injury. "We take that to heart."
If Johnson is unavailable for the opener because of his hamstring issues, Wingo will be the only running back on the roster who carried the ball last season in a game.
Curtis' last carry came two years ago, and ironically enough, it came against Missouri State in the opener.
As sick as everybody in the Arkansas program was to see Davis go down, there was never any panic about what it would mean for the Hogs' running game this season.
Arkansas offensive coordinator Garrick McGee said there's a reason for that.
"Knile Davis was a really good player, probably one of the best college football players in the country," McGee said. "But we're really fortunate. We've recruited well at the position. We have kids who understand our offense, our system and the way we go about our business, so nothing changes with us."
The way the schedule sets up for the Hogs, they're probably not going to have a real feel for their running game until the fourth week of the season when they travel to Alabama.
Nobody needs to remind them that they were unable to run the ball against the Crimson Tide last season and protect their lead, which ultimately cost them the game.
Arkansas finished with just 64 rushing yards in that 24-20 loss, and Davis only carried the ball six times -- twice in the second half.
It was in the weeks after that bitter loss that Davis separated himself from the rest of the pack, and Arkansas' offense became even more explosive.
"Knile took over last year, and all of us have to have that same attitude," Wingo said. "We've got to step up more than ever, and the whole state of Arkansas is counting on us. We're not going to wait to get our running game going like we did last year. It starts now."
August, 15, 2011
8/15/11
9:34
AM ET
Arkansas wasted no time getting back to business this weekend.
Losing dynamic running back
Knile Davis
was a crushing blow to the Razorbacks' offense, but Arkansas has options and coach Bobby Petrino has moved one player from the defensive backfield to running back.
Freshman cornerback Kelvin Fisher Jr. was that player. He played some running back in high school.
[+] Enlarge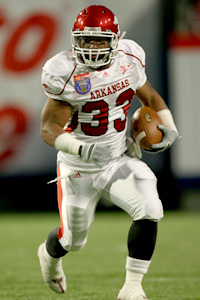 Nelson ChenaultDennis Johnson averaged 9.2 yards per carry in limited action last season.
"We recruited him off of running back tape," Petrino said of Fisher. "And he's very explosive, very quick, has great hands. We worked him one day in camp, both with the running backs and wide receivers, just to see what type of offensive skill he has. He has very good skill."
Senior cornerback De'Anthony Curtis, who played running back during his first two seasons with the Hogs, could also be used at running back. In 2008, Curtis was Arkansas' third-leading rusher with 23 carries for 76 yards. He also had eight catches for 68 yards. A year later, his production went down as he grabbed four receptions for 54 yards and a touchdown. He also had just one carry for three yards.
As for the two players asked to replace most of Davis' production,
Dennis Johnson
and Ronnie Wingo Jr. understand they are attempting to fill pretty big shoes and that there are plenty of doubters out there.
"Me and Wingo have a lot to prove," Johnson said. "Look on Twitter and people are doubting us. So we're just going to go out there and prove them wrong and show the world that we can run the ball."
So far, both backs have responded well in practice, but game production is where it counts. Petrino has been down this road before. As the head coach at Louisville in 2006, he lost starting running back Michael Bush during the season opener, but used a stable of running backs in his place that accumulated more than 2,000 yards and nearly 30 touchdowns.
Can Petrino find some of that magic again?
"We're going to have to find a way to cover for his production in a number of different ways," Petrino said. "But the good thing is we have depth at the position. We have guys that are proven that they can play in this conference and be very, very productive."
For more information on Arkansas' situation at running back check out The Arkansas News Bureau
here
and
here
. There are also more notes
here
.
September, 19, 2010
9/19/10
2:17
PM ET
ATHENS, Ga. -- Arkansas coach Bobby Petrino calls them his team's bread-and-butter plays.
Whatever the No. 12 Razorbacks call them, quarterback
Ryan Mallett
ran the plays to perfection in the final minute of Saturday's thrilling 31-24 victory over Georgia at Sanford Stadium.
After the Razorbacks blew a 14-point lead in the fourth quarter, the Razorbacks took possession at their 27-yard line with the score tied at 24 with 47 seconds to play. Mallett fired two passes to tight end
D.J. Williams
to move the Hogs to Georgia's 40, then fired a pass down the left sideline for receiver
Greg Childs
, who slipped a tackle and ran into the end zone for the winning touchdown with 15 seconds left.
"It's something we work on a lot during the week," Petrino said. "We always go to what we call our bread-and-butter plays. It was a hard football game. They came back in the second half. We were able to execute our two-minute offense and score to win the game."
The Razorbacks also ran their two-minute offense to perfection at the end of the first half. Leading 14-7, the Hogs took possession at their 20 with 46 seconds to play. Mallett completed a 39-yard pass to
Joe Adams
on first down, then threw a 15-yard pass to
De'Anthony Curtis
for a first down at Georgia's 31 with nine seconds left.
Zach Hocker made a 48-yard field goal with four seconds left in the half to give Arkansas a 17-7 lead. In the end, the last-second field goal was big.
Mallett, who was criticized for his poor play in four road losses last season, completed 21 of 33 passes for 380 yards with three touchdowns. His best work came at the end of both halves.
"It just shows how tough he is, how mentally and physically tough he is," Petrino said. "He really stood in there, and you can't say enough about how he executed that two-minute drive."